February 1947 Headlines
Baby Boomer Trivia From February 1947: Worst Canadian Railway Blizzard, Polaroid Instant Camera, Dior's New Look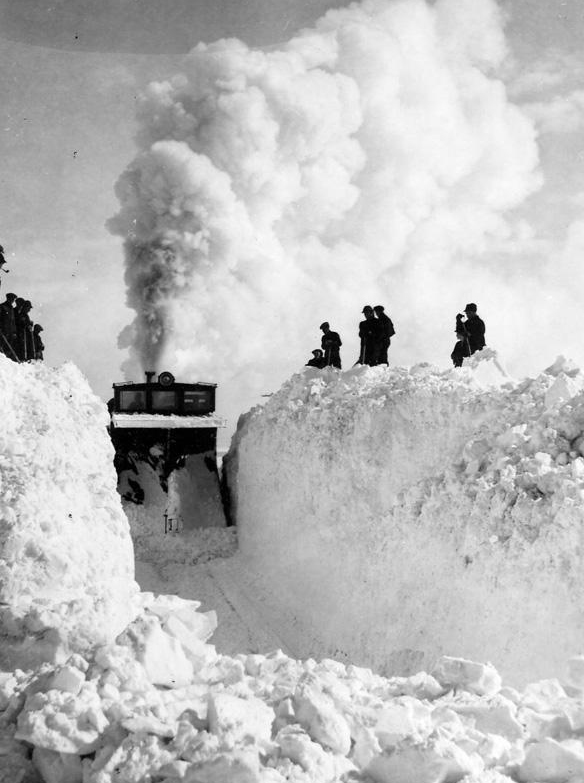 According to Environment and Climate Change Canada, on February 8, 1947 the ten-day snowstorm dubbed the Worst Blizzard in Canadian Railway History ended. Prairie trains and towns from Calgary, Alberta to Winnipeg, Saskatchewan, were snowed in.
(Photo: Saskatchewan Archives Board)
Canadian senior citizens that grew up on the prairies may remember that power lines were partially buried and legend has it a farmer in Moose Jaw had to cut a hole in the roof of his barn in order to get in and feed his cows. 
Some Saskatchewan rail lines and roads weren't passable until the spring. 
American scientist and inventor Edwin Herbert Land, co-founder of the Polaroid Corporation, demonstrated his new instant Polaroid Land Camera and film on February 21, 1947 to the Optical Society of America. By the end of 1948 the camera was being sold commercially and baby boomers grew up with Polaroid instant cameras.
Edwin Land had already developed the first polarizing film (Polaroid film) while he was a freshman at Harvard University. Sheet polarizers developed by Edwin Land under the Polaroid trademark were used during World War II on smart bombs, and dark-adaptation goggles. 
French fashion designer Christian Dior's "New Look" for women's fashion was revealed on February 12, 1947. The New Look signaled the end of World War II rationing and austerity and a unique new silhouette that emphasized women's waists and busts, with longer more voluminous skirts.
(Photo: Pinterest)
Christian Dior had worked for fashion designer Robert Piguet beginning in 1937, but left to join the French military when World War II broke out in 1939. When his military serviced ended in 1942, Dior worked at Lucien LeLong fashion house with fellow designer Pierre Balmain.
Christian Dior left to start his own fashion company in December 1946, and the February 12 1947 fashion show was his first. 
Upon viewing the 90 new Christian Dior fashions, Harper's Bazaar editor-in-chief Carmel Snow's exclamation "It's such a New Look!", became the byword for the new fashions from Dior.
More "1947 Headlines":

March 1947 Headlines
April 1947 Headlines
May 1947 Headlines
June 1947 Headlines
July 1947 Headlines
August 1947 Headlines
September 1947 Headlines
October 1947 Headlines
November 1947 Headlines
December 1947 Headlines