Happy Canada Day, O Canada
What does Canada, or being Canadian, mean to you?
A Place on the Map
A collection of geographically disparate territories and provinces that cover almost 10 million square kilometres, bounded by the mighty Atlantic, Pacific, & Arctic Oceans on 3 sides and the United States on the fourth.
O Canada, The Canadian National Anthem
Which by the way, didn't become the official national anthem of Canada until 1980, about 100 years after it was first written.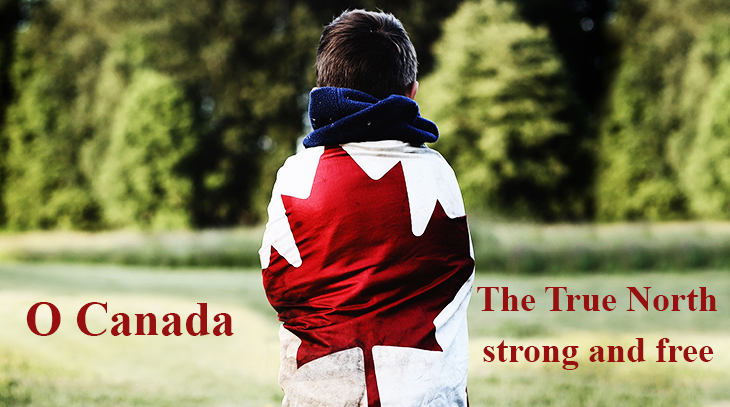 (Canadian Child and Flag Photo: Ksenia Makagonova via Unsplash)
Canadian Flag & Red Maple Leaf
Symbol of the majestic maple trees that populate our vast forests, and gives us hard timber and yummy maple syrup. The current white flag with the red maple leaf became "official" in 1965 – 40 years after a committee first began looking into designs. 
Beaver, a hard-working and unassuming mammal (ok, it's the second largest rodent in the world) that lives beside rivers and streams, industriously building dams and lodges to raise their families in.
Moose, the most majestic and largest of the deer family, that lives a solitary existence in it's forest habitat. Sightings of moose in the wild are rare, but occasionally some candid moments are caught on camera or video, like the playful mother moose & twin calves family scene below.
Gray Jays (aka Canada Jay or Whiskey Jack), proclaimed as the National Bird of Canada in 2016. Perhaps a surprise for the Toronto Blue Jays fans, or Snowy Owl lovers, but the gray jay is found in forests across all of Canada's provinces and territories.
Canadian Horse, a national horse breed prized for it's glossy dark coat, endurance, smarts, & lovely temperament. 
National Sports of Canada
Hockey, the national winter sport that started as a game with sticks & balls to be played on frozen outdoor ponds & rinks. 
Lacrosse, the national summer sport, another sticks & balls game that originated with the Iroquois tribe, and is played on fields of green.
Canadian Visual & Performing Arts and Entertainers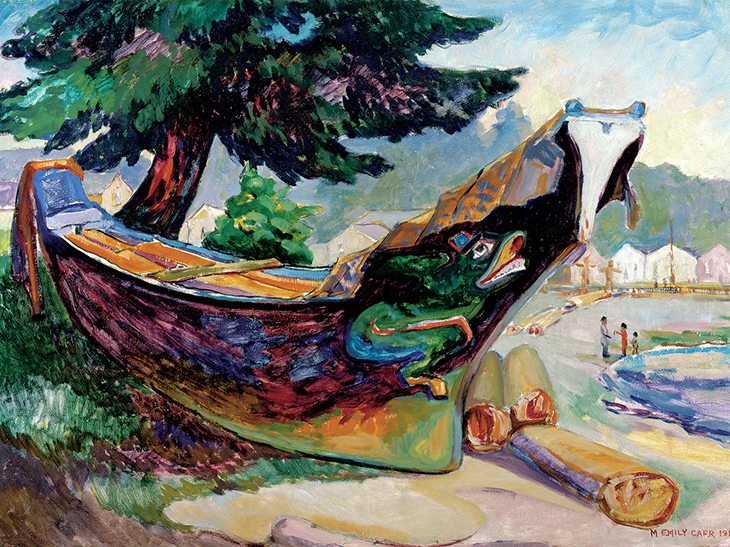 (Indian War Canoe Painting 1912 Oil on Panel: Emily Carr)
Visual artists, like the Group of Seven landscape painters, Emily Carr, naturalist Robert Bateman, and others.
Singers, songwriters & musicians, from Leonard Cohen, The Band, Buffy Sainte-Marie, Gordon Lightfoot, Bachman-Turner Overdrive (BTO), Anne Murray, Paul Anka, Avril Lavigne, Murray McLauchlan, Bryan Adams, Dan Hill….and the list goes on. Below, Canadian folk singer-songwriter Murray McLauchlan performs his classic nod to nostalgia and our rural roots with the 1970's Farmer's Song.
Comedians, dancers & actors of stage, television, and movies – Ryan Reynolds, Michael J. Fox, Karen Kain, Rachel McAdams, Christopher Plummer, Frank Augustyne, Ryan Gosling, William Shatner, Dan Aykroyd, Jim Carrey, and many more. Silent film pioneers, including Keystone Studios founder Mack Sennett, Toronto-born Gladys Louise Smith – aka "America's Sweetheart" Mary Pickford (co-founder of United Artists),and MGM co-founder Samuel Goldwyn (aka Samuel Goldfish), etc.
Canadian Foods & Farmers
Tim Hortons coffee, butter tarts, poutine, beavertails, nanaimo bars (thank you, British Columbia).
Corporate and family-owned farms with fields of wheat, straw, hay, soybeans, strawberries, apples, pumpkins, and more.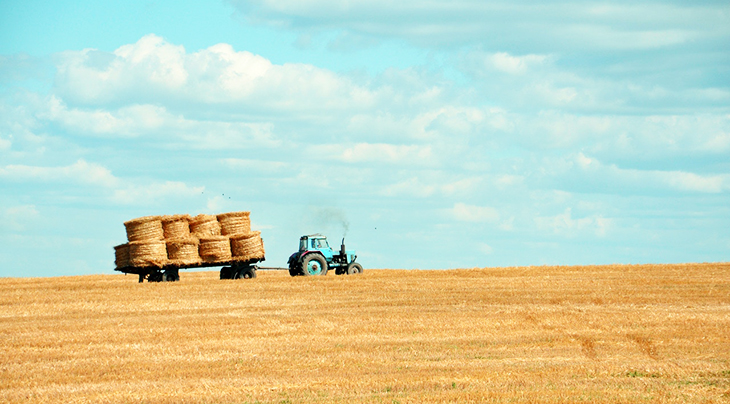 (Photo: Gozha Net via Unsplash)
Canadian Culture, Customs & Laws
A cultural mosaic, not a melting pot. Courtesy and respect for others, cultural diversity, accessible and free healthcare, gun control & low crime rates, democratic system of government, military peacekeepers, and more.
Happy Canada Day!
Note: This article was first published in 2020. It  has been updated with new & additional content.
Check out our shareable, blended Happy Canada Day images:
Happy Canada Day People & Culture