Mona Lisa and The Spendthrift
The Los Angels Belasco stock theatre company established singer-actress Thais Magrane as their new leading lady in 1909.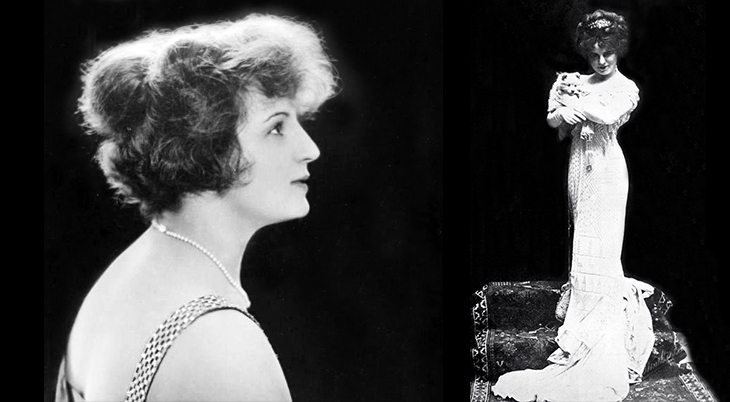 (Thais Magrane 1920 Merchants of Venus, and in 1909 for the Belasco Company)
Theatre productions in the early 1900s often had elaborate costumes, with women's gowns occasionally made by designers and sometimes even imported. 
That could have been the end of this article, but the curse of wanting to know more struck again.
The Story Behind the Story
I came across a striking picture – from 1909 – of a woman with a Mona Lisa smile, holding a puppy and wearing a beautiful gown, and thought "I'll share that on social media". I didn't recognize the woman's name and assumed she was a silent film actress, until I read the fine print and discovered she was a stage actress named Thais Magrane. I had the picture cleaned up and ready to post and then realized I should include a short write-up about my 1909 Mona Lisa.
After quickly checking online for some relevant facts about Thais Magrane, I discovered…nothing.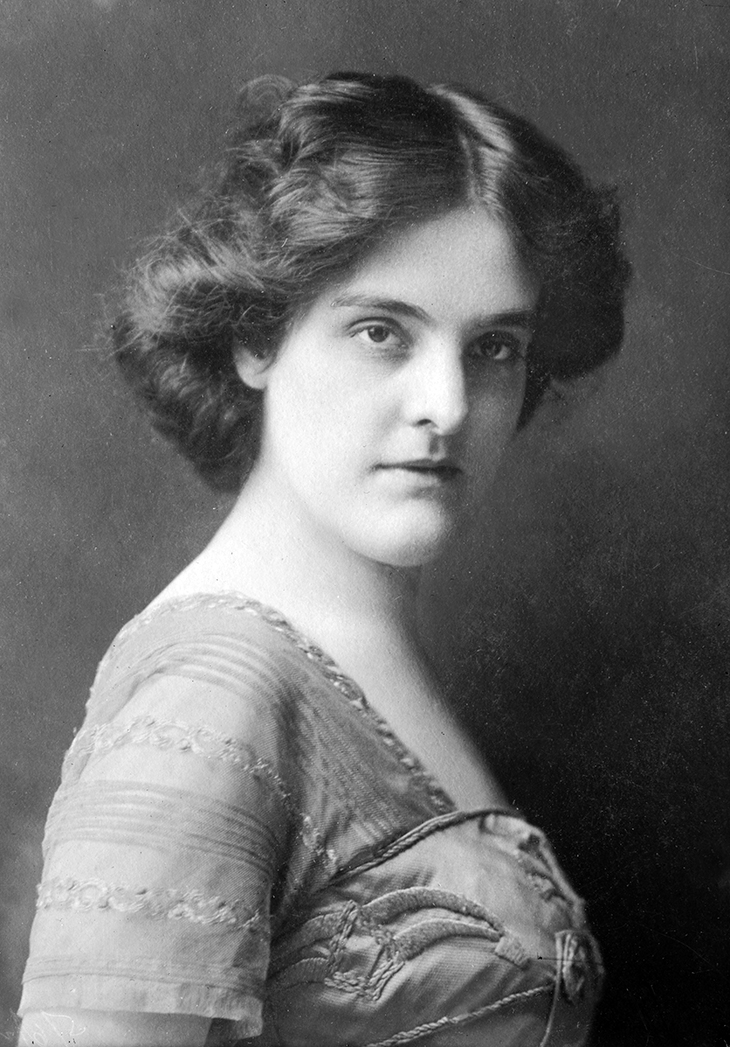 (Thais Lawton 1915 Photo: George Grantham Bain Collection, Library of Congress)
No mention of any Thais Magrane on Wikipedia, although I did find a page for Thais Lawton, the daughter of Joseph Eugene Lawton and Caroline Thais Magrane, born in 1879. Thais Lawton had quite a few New York stage credits from 1900-1940, and her page mentioned she had also performed in the theatre in San Francisco. I wondered if "my" Thais Magrane and Thais Lawton were the same person? The chin and nose were different though…
Eugenie Thais Lawton from Louisville, Kentucky arrived in San Francisco to begin appearing in plays in June 1900. By 1908, Eugenie had dropped her first name professionally and was billed as Thais Lawton, and was appearing in San Francisco plays opposite leading man Bertram Lytell (aka, later  silent film star Bert Lytell).
In 1910 Thais Lawton was still working in San Francisco, now for the Belasco stock company in that city (Belaso had several stock companies on the east and west coast).
When I did more searching for information about Thais Magrane, I discovered that she had made her debut as the Los Angeles Belasco Company's leading lady in 1909, while her cousin (aha!) Thais Lawton worked for the Belasco in San Francisco.
Sharing the same profession and unusual first name as her cousin Thais Lawton must have been as confusing for theatre fans and producers in the 1900's – especially since they were acting at the same time for different Belasco productions in Los Angeles and San Francisco – as it was for me, 115+ years later.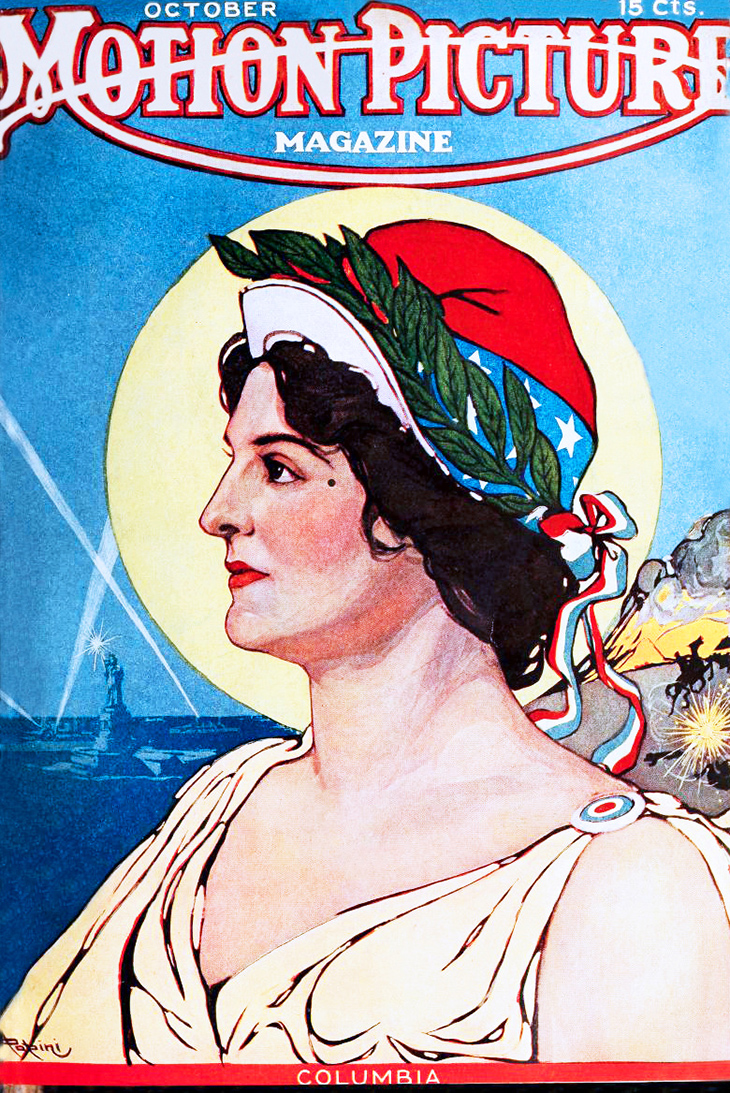 (Thais Lawton 1915 "The Battle Cry of Peace")
Although Thais Magrane never appeared in silent movies, Thais Lawton does have a couple of 1915 silent movie credits. Painted above as Columbia in The Battle Cry of Peace (1915) cover of Motion Picture Magazine.
Unfortunately, I was already intrigued – which means, I couldn't let it go at that. This beautiful woman with the unusual name, important enough to have her picture in a magazine, but nothing else could be found out about her? More research was in order. 
What follows are the facts I uncovered from articles and interviews in newspapers and magazines at the time(s), although not in the order I found them. I was also fortunate enough to later connect with Thais Magrane's granddaughter Joan in September of 2020, and she filled in some blanks. Joan graciously shared some family stories with me of her Grandpa "Boppy" and her grandmother Thais Magrane, whom she took elocution lessons from:
"My deah, you must speak as if you were reaching the last row in the theatah." 
Joan was also generous enough to share many additional treasured vintage articles and family photos from scrapbooks she'd had in her attic since the 1960s – a treasure chest indeed!
Along the way of researching and writing this article, there were a few completely unexpected news items that astonished me, and were also news to Thais' descendants.
The Early Years
Born in Lincoln, Nebraska in 1878, Thais Bibaud Magrane was the oldest of six children born to parents Kathleen and Albert Magrane. Albert was born in Louisville, Kentucky, c. 1854; one of ten children born to Thomas John Magrane and his French-Canadian wife Thais Pompose Bibaud
Thais Magrane's paternal grandfather Thomas John Magrane was born in Ireland in 1814 and emigrated to America in the 1800s. Her paternal grandmother Thais Pompose Bibaud Magrane was born in Montreal in 1819; the Bibaud family emigrated to Canada from France in the late 1700s.
The unusual first name of Thais – pronounced Thay-iss by family, and by French friends and relatives as Tie-ees – originated from Thais Bibaud's father Pierre Bibaud (born in Montreal in 1787), who was a classical scholar in Montreal and named several of his ten children after literary figures. 
Thais Magrane's father Albert's 9 siblings included sister Caroline Thais Magrane Lawton (mother of the actress Thais Lawton), and brother Thomas George Magrane (Thais uncle).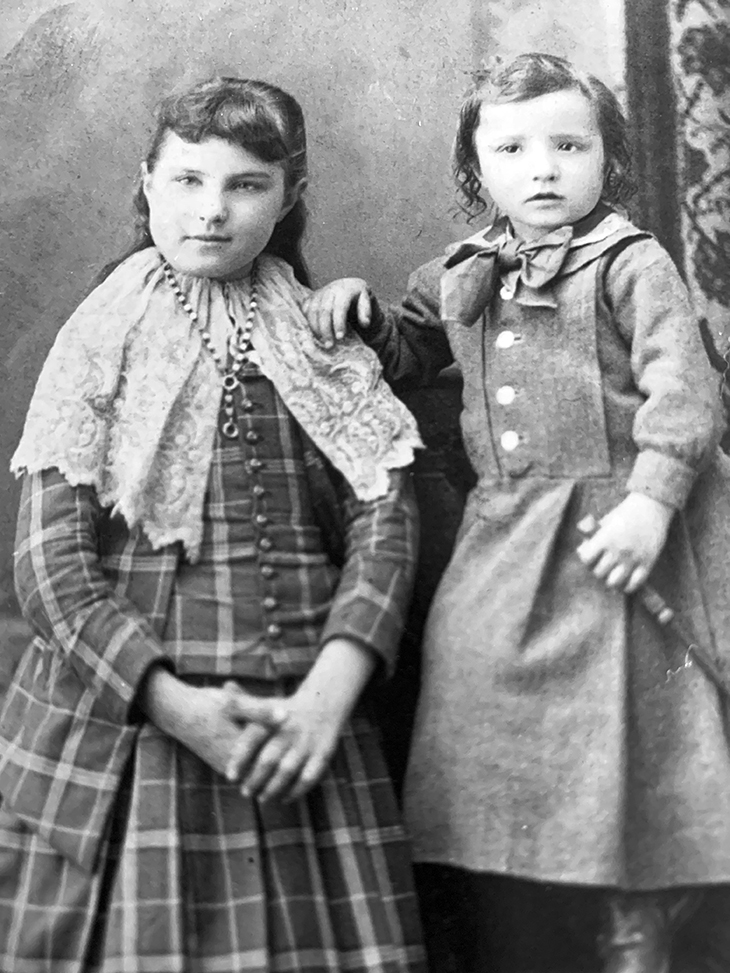 (Thais Magrane and younger brother Frank Magrane c. mid-1890s: © Prescott Family Archives)
Albert and Kathleen Magrane moved their family from Nebraska to Chicago for his work around 1885 when Thais was 7, then moved again to St. Louis.
As a child, young Thais Magrane required an emergency tracheotomy when she had diptheria; this left a visible scar on her throat/neck. She later had early plastic surgery to remove a bump on her nose that left a small scar. These two seemingly minor scars would have a lasting negative impact on her future career as an actress, putting close-ups in films out of her reach. 
Thais graduated from Central High School in St. Louis at the age of 16, and taught public elementary school (Grade 7) for a couple of years. She told an interviewer that some of the boys in her class were older than her, and tried to flirt with her. Thais seized opportunities to speak in public and on stage, and after deciding she disliked teaching, decided to pursue the profession of acting. At a time when actresses and actors were considered "fast", her family was not enthused.
"They begged her to give up on the idea. They said she would never get beyond a chorus girl. They warned her that it was hard work, and that her way would be beset with temptations."
She took a year leave of absence from teaching in case things didn't work out, and set off to follow her dream.
Some breaks began to come her way in 1901. Thais spent a season with Shakespearean actor Lawrence Hanley and playwright-actor John Ravold, in their St. Louis-based World's Fair Stock Co., playing small parts. A few years later, the 1904 St. Louis World's Fair was the inspiration for the classic Judy Garland movie musical, Meet Me in St. Louis (1944).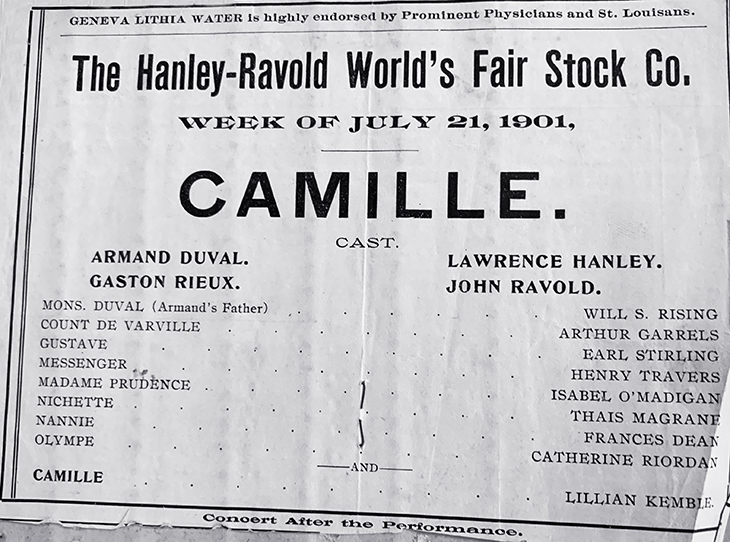 Three months after joining the company Thais Magrane was the leading lady. When that run ended, she went to New York and was snapped up for a production of playwright and theatre impresario David Belasco's Naughty Anthony, with future silent film star Marie Doro.
Newspaper reviews of the time describe Thais as a very pretty redhead with beautiful auburn or "titian" color hair.
In a 1901 St. Louis Globe-Democrat interview, Thais' strong will to succeed is apparent, despite the lack of a financial backer for her chosen career:
"I am pushing myself, and intend to employ only my own energy and whatever talents that I have been endowed with."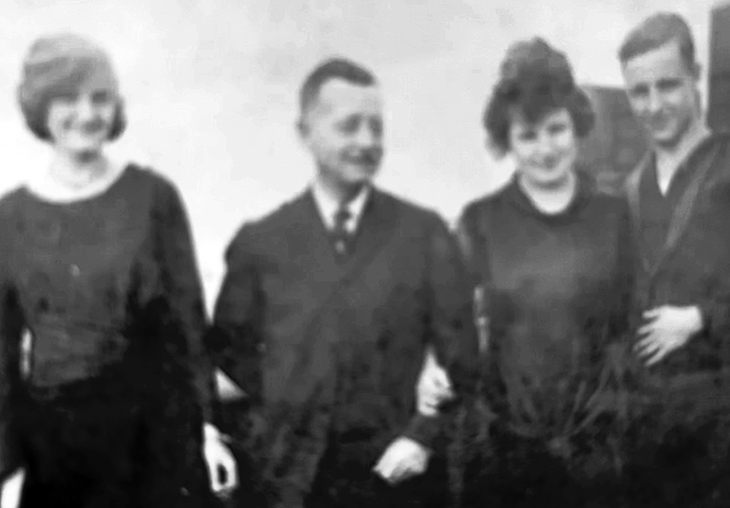 (Thais Magrane with her sister, father Albert Magrane, and brother Frank c. 1905-1909 © Prescott Family Archives)
Thais began doing repertory work in other stock companies, traveling across the country – and – as the oldest of six children, sending money home to help support her family. She summed up her experiences of this time for an interviewer in late 1906:
"It's not all flowers and applause, pretty clothes to wear and nice people to meet. I have known what it means to be hungry and cold, and without a friend in the world…Once, when I started on the road, I did not get paid for several weeks. The company [was] stranded in a little town where I was a stranger. I was without a cent, and had a board bill staring me in the face at the end of the week. But I was determined not to let my folks know of my distress, though I cried myself to sleep that night as I thought of home and the comfort and security I might have there if I went back. The next morning I started out early and sold some of my clothes to get the money to take me back to New York, where I secured another position, which soon set me on my feet again."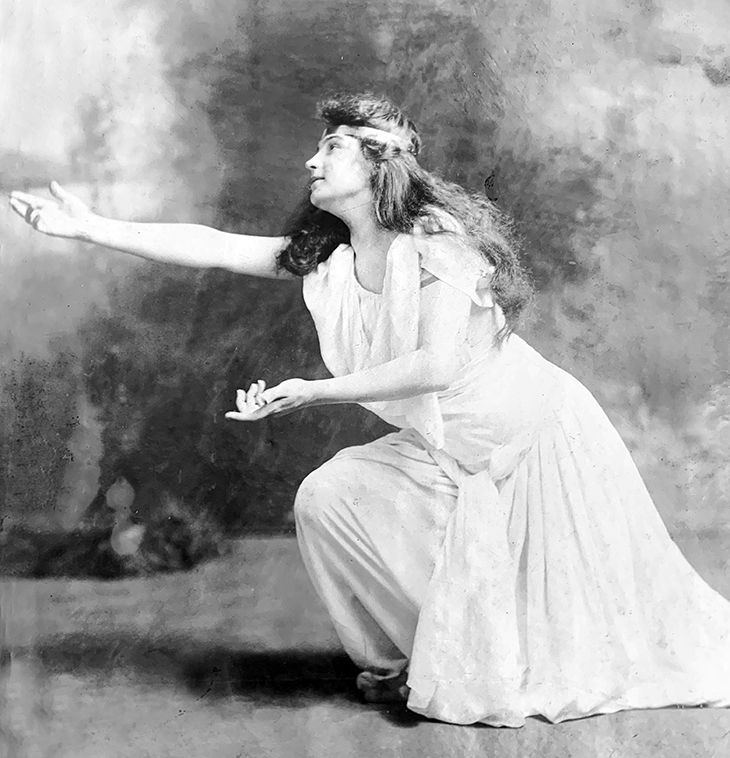 (Thais Magrane c. 1904-1905 'Corianton' Salt Lake City Photo: © Prescott Family Archives)
By this time, Thais Magrane had met fellow actor Guernsey Palmer Prescott (aka John, or Jack Prescott). They were married in New Orleans on Dec. 14, 1905.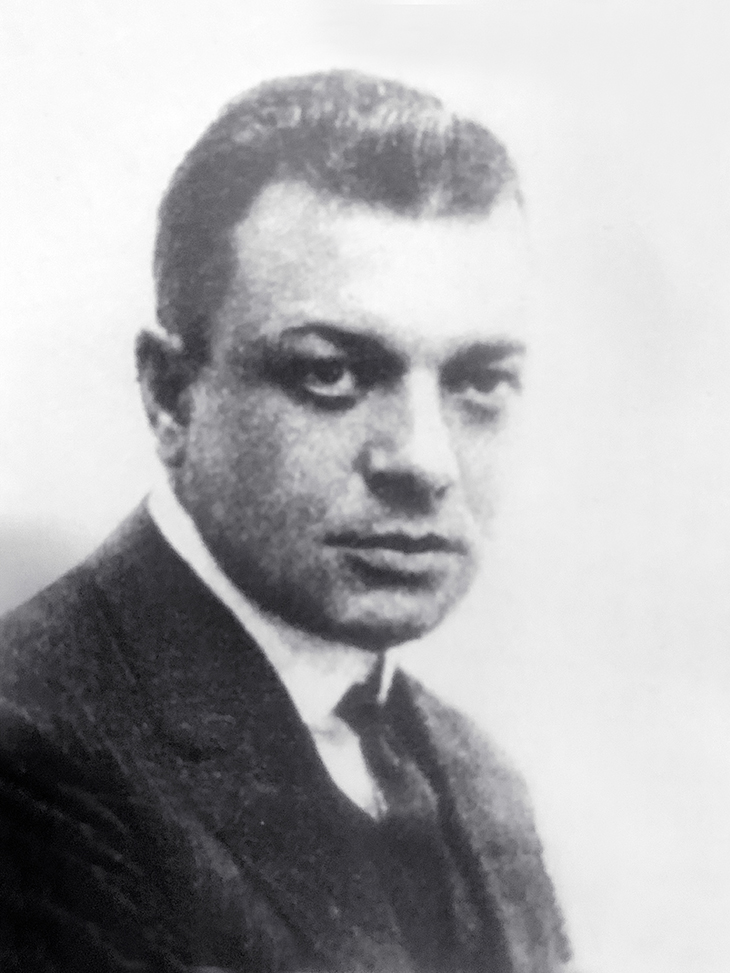 (Jack Prescott 1915 Photo: American Film Company Studios /  Prescott Family Archives)
The Motion Picture Studio Directory and Trade Annual (1917) has this biography of John Prescott in the director's section:
"also leading man; b. 1879; stage career, dir. stk Chicago, St. Louis; screen career, American Film…Hght, 5'9″; dark complexion." 
Their son Raymond Magrane Prescott was born in the spring of 1906. It fell to Thais' mother Kathleen to raise Raymond while Thais and Jack continued to pursue their acting careers on stage. Now Thais had an additional person to send money home to support; with some periodic contributions from Jack.
Fashion & Stage Queen for Belasco
As mentioned before, Thais Magrane was established as the new leading lady of the Belasco Theatre Company based in Los Angeles, in September 1909.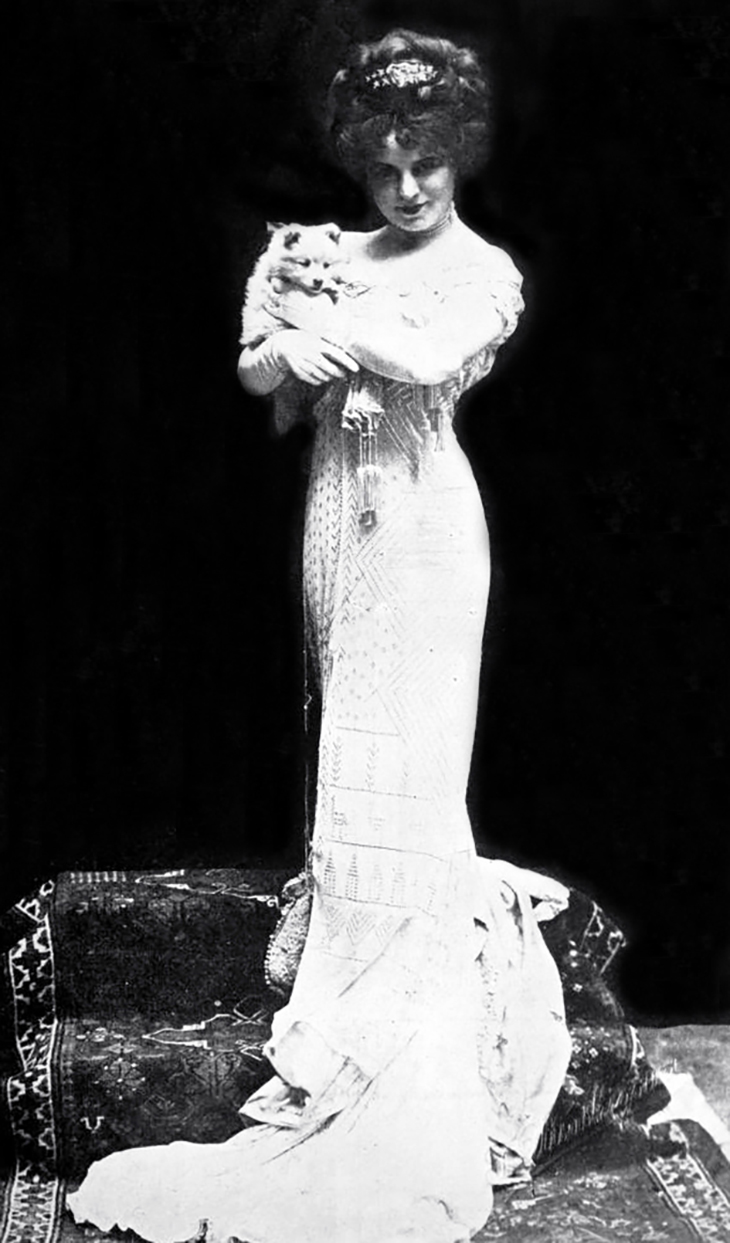 (Thais Magrane 1909 Photo: San Francisco Dramatic Review)
"The very remarkable and remarkably beautiful picture of Thais Magrane that appeared in our Christmas number last week (above) has excited great interest in that clever young actress…Miss Magrane's artistry is marked by much authority, conscientious effort, and an intelligent grasp of the character she is interpreting, together with a keen appreciation of the values of stage technique…There is a deft feminine touch in all the work that she does and she has endeared herself most emphatically to the woman patrons of the Belasco Theatre. Miss Magrane has the reputation of being one of the best dressed women of the American stage. Some of the gowns that she has displayed on the Belasco stage are veritable revelations of the dressmaker's art – sartorial creations that are masterpieces. – San Francisco Dramatic Review, 1909″
In the Belasco stock company with her, were several actors and actresses who later became notable silent film stars and/or directors in that emerging industry – Charles Ruggles, Harry Spear, Adele Farrington, Fay Bainter, Lewis Stone, and Bebe Daniels. 
The Los Angeles Times reported that in the Belasco production of Du Barry,
"Miss Magrane wore eight or nine gowns…by the last curtain of the last act, she had worn about $3000 (in 1909!) worth of clothes." 
One of the designer creations "made in New York and sent west with it's pedigree", was described as a "Redfern butterfly gown" – stolen from Thais Magrane's Los Angeles theater dressing room.
Note: Founded by John Redfern in the mid-1800s, Redfern & Sons was a British label high fashion house with a couture branch in Paris, and tailoring locations in London, Edinburgh, and New York. 
Several dressmakers had to work quickly to recreate the stolen Redfern gown in time for Thais Magrane's next performance a few days later.
Joan recalled for me that as a child in the 1940s and 1950s, she would dress up in her grandmother's old stage costumes, which (sadly) were not carefully preserved or stored in any way…the value and significance of these expensive and unique vintage garments, was lost on a young girl 30-40 years later.
Broadway Success and Style Icon
In March 1910 Thais Magrane appeared on Broadway in The Spendthrift, to rave reviews from New York critics – who also praised her wardrobe. An interviewer from this time described her thusly:
"Great histrionic power…She is somewhat reserved….light brown hair, near being Titian, brown eyes and full regular features."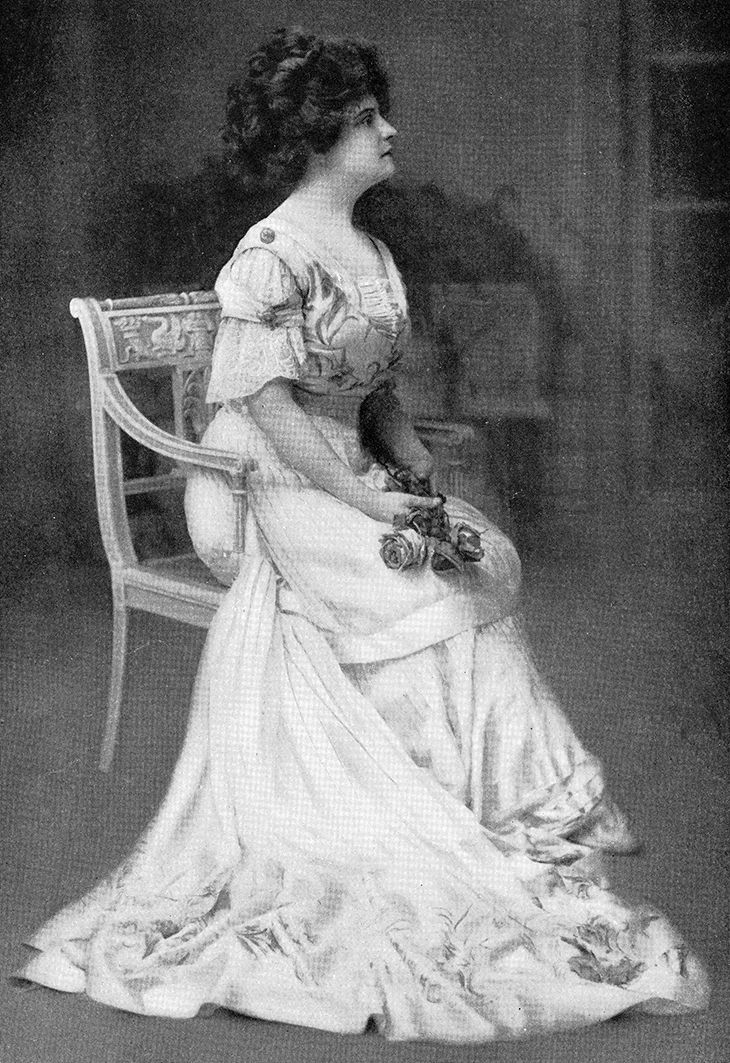 (Thais Magrane 1910 The Spendthrift Photo: Munsey's Magazine | Moffett Chicago)
The Spendthrift (initially called Waste when it premiered in Los Angeles), was Thais Magrane's first big Broadway success. She created the role of the titular spendthrift wife, and toured with the play and company to other cities after it closed on Broadway. The Spendthrift is the play she was most closely associated with for the next decade, although she also appeared in Every Woman on Broadway (1911-1912).
Thais Magrane returned to the Belasco theatre company in Los Angeles for a summer engagement in 1911 and was interviewed by Los Angeles Herald about her impeccable style, and the fashionable dresses she wore on stage.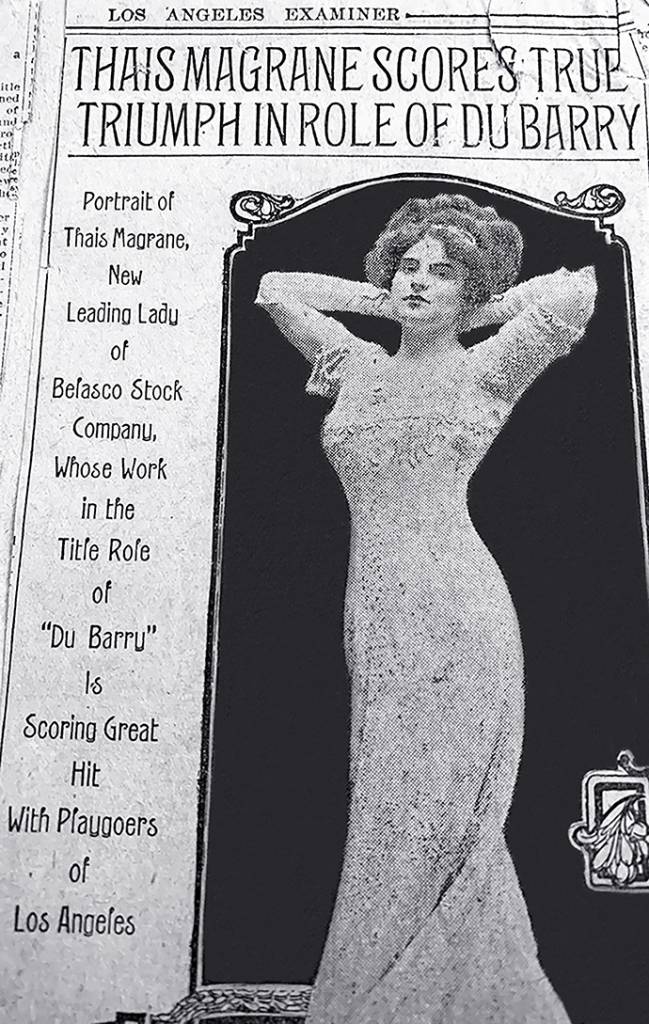 (Thais Magrane c. 1909-1911 Du Barry Costume Photo: © Prescott Family Archives)
"When I first played 'The Spendthrift' here I had only the shortest possible time to plan the gowns and hats that I wore….This is one of the most important factors in the expense of stock work…this constant buying of costumes. Nearly always there are two or three a week, and aside from the money they require an even greater expenditure of thought and time."
It wasn't unusual for stage actors and actresses at that time such as Thais and Mary Scott, to source and purchase their costumes, a considerable expenditure of time and money.
"You mustn't think that I always select the material, because sometimes I could not take the time for that…but I could furnish an idea to the dressmaker….about the quality of the material."
During this summer engagement for Belasco, the Herald also reported that Thais had received a telegram on August 1, 1911 informing her that her 23-year-old brother Frank Magrane of St. Louis, had died suddenly of typhoid. Frank was a newlywed, having gotten married that past January, and he left behind an 18-year-old widow. Despite this sad news of her brother, Thais went on the stage the next day for her scheduled performance. 
Dueling Divorce Suits
Thais Magrane left her husband Guernsey (Jack) Prescott in December 1911, but they reunited in February 1912 because (she said) he promised to reform. They separated again in July 1912. When Jack Prescott filed suit for divorce in December 1912, his suit was dismissed.
The following year, Thais Magrane Prescott filed her own suit for divorce. The February 6, 1913 St. Louis Post-Dispatch noted she was currently appearing in a play in Philadelphia, wished to revert to her maiden name, and wanted custody of their son Raymond.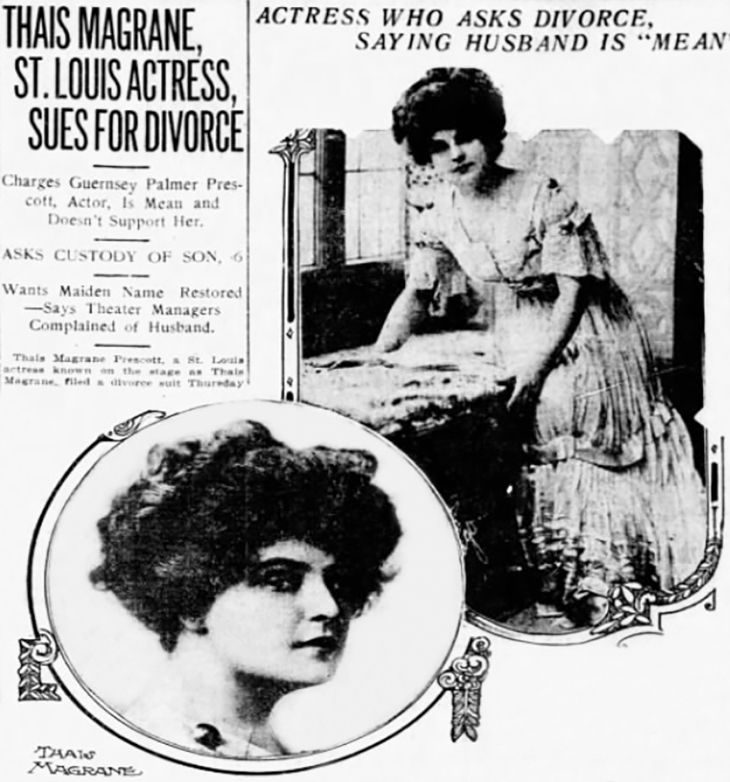 (Thais Magrane 1913 Photo: St. Louis Post-Dispatch)
The suit cited her grounds for the divorce from her husband Guernsey Palmer Prescott (aka Jack Prescott):
his "mean, sullen, morbid, jealous and incompatible temperament" 
he was often idle; when he did work he squandered his earnings (a spendthrift, in other words)
he failed to support her
she often had to pay his board bills and other expenses
he collected her salary and sometimes spent it
he'd hide her jewels and enjoy seeing her worry over their loss
he often accused her of being in love with other men
he tried to spy on her by loitering in the lobbies of theatres where she was appearing, to the point that theatre managers complained to her about it and asked he be kept away from the theatre
in January 1906 while they were in New Orleans, he held a razor to her throat in a threatening manner
in June 1910 in New York City, he pointed a gun at her head and told her he would shoot her
Since a previous judge had denied Jack's first divorce suit, obviously sterner measures were required on a subsequent attempt.
Her divorce request was granted in 1913, and Thais Magrane and Jack Prescott could go their separate ways. Thais performed in The Spendthrift periodically over the next few years, as well as many other plays. She was in the Oletangy Stock Co. in 1913 with actor Robert Warwick (an early film actor, with an onscreen career that lasted until 1962) as her leading man. 
Motion Picture Actor & Director Jack Prescott
The year after his divorce from Thais was finalized, Jack Prescott (sometimes billed as John Prescott) began acting in silent movies. His first credited film on IMDB is The Key to Yesterday (1914), a drama produced by Favorite Players Film Co. and starring famed silent screen actor Carlyle Blackwell.
(Jack Prescott, Charles Chardenal & Ethel Teare 1915 A Bold, Bad Burglar)
Jack Prescott (billed as John Prescott in the film credits) starred in at least 3 comedy film shorts for the Kalem Company filmed at their Santa Monica studios, and released in early 1915. His Kalem leading lady was usually Ethel Teare, an actress who appeared in 160 silent movies between 1914-1924.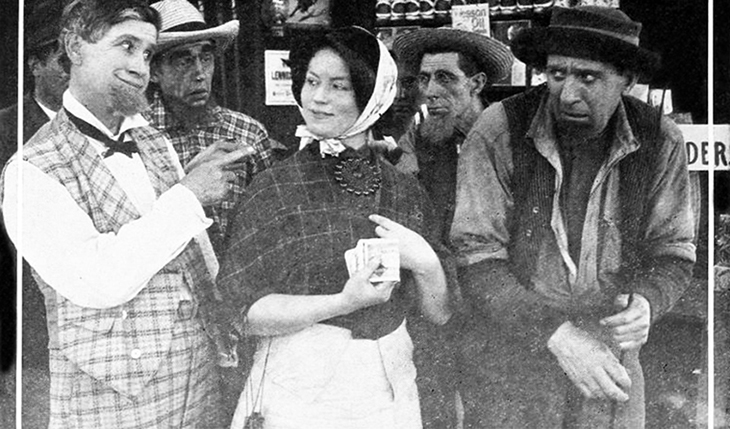 (Jack Prescott, Ethel Teare & Joseph Singleton 1915 Cornelius and the Wild Man)
Several silent film studios were based in Santa Barbara, California in 1915, employing between 400-600 people. Jack Prescott was listed as part of the Santa Barbara Motion Picture Company that year. While at Santa Barbara, billed as Jack Prescott, he co-starred with silent movie actress Fritzi Brunette in four 1915 films – The Price She Paid, Back of the Shadows, The Emigrant's Peril, and The Greater Power.
Jack Prescott moved on from Santa Barbara to become a leading man at the Universal Film Manufacturing Company. Once again, he was paired with leading lady Fritzi Brunette in a few more 1915 silent movies, among them A Case of Beans and Her Wedding Night.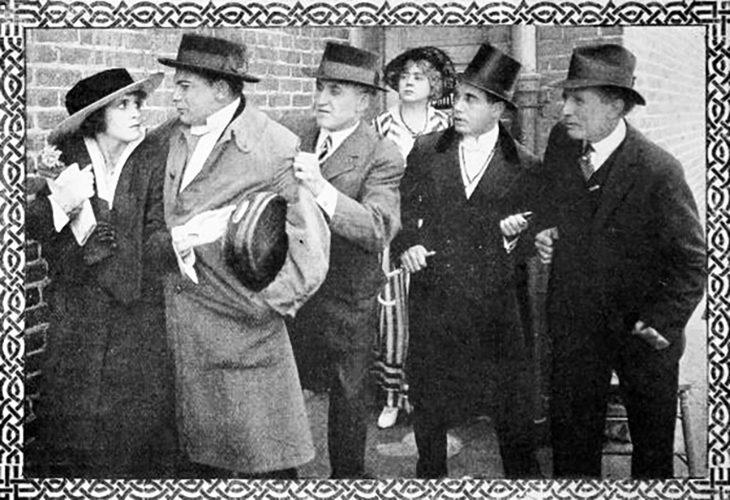 (Helene Rosson & Jack Prescott 1915 The Idol)
American Film Manufacturing Company cast him as a supporting player in The Idol (1915), starring Forrest Taylor and Helene Rosson.
Although the IMDB credits for Curse of the Black Pearl (1915) only mention star Edward Alexander, in 1919 Kriterion advertised Jack Prescott as co-starring with Florine Garland in this Alhambra production. Jack Prescott appeared in at least 7 more silent films, and directed 7 (possibly more) movies, in 1916.
He worked frequently with American Film Manufacturing Company-Mutual Star Production film studio in Santa Barbara, and their silent film stars William Stowell, William Russell and Charlotte Burton. Of the many films released in 1916 starring William Russell and Charlotte Burton:
5 were directed or co-directed by Jack Prescott – The Highest Bid, The Torch Bearer / From the West, The Love Hermit, Soul Mates.
2 movies had Russell and Prescott co-directing, as well as co-starring – The Strength of Donald McKenzie, and The Guide.
2 had Russell as a supporting actor – The Silent Trail, and The Thoroughbred.
One of the last silent films that Jack Prescott is recorded as having appeared in, is the Christy Cabanne-directed comedy Cyclone Higgins, D.D. (1918), starring silent screen idols (and offscreen couple) Francis X. Bushman and Beverly Bayne, for Metro Pictures Corporation.
Hello, Denver!
After her divorce, Thais Magrane continued acting on stages around the country and in New York, on and off Broadway. She played a lady vampire in a production of A Fool There Was with Robert Hilliard c. 1913, and was his leading lady in The Avalanche. The following year, she was back on stage in Los Angeles in January, then worked with the Davis Players at the Duquesne Theatre in Pittsburgh as their leading lady.
(Thais Magrane & Bruce McRae 1914, Elitch Gardens © Prescott Family Archives)
Thais spent the summer of 1914 as leading lady at Denver's historical Elitch Gardens Stock Company / Theatre, playing opposite popular stage leading man and silent film star Bruce McRae in her signature role of The Spendthrift, among other plays..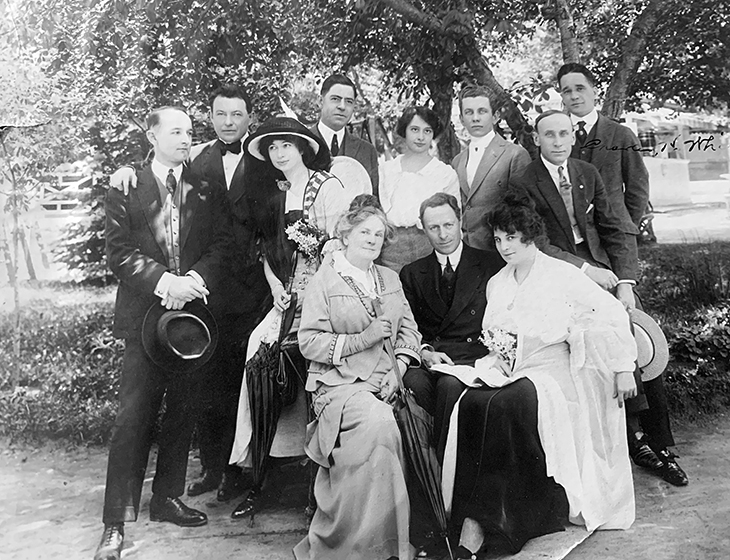 (Elitch Theatre Company c. 1914 – front row, centre Bruce McRae, right Thais Magrane: © Prescott Family Archives)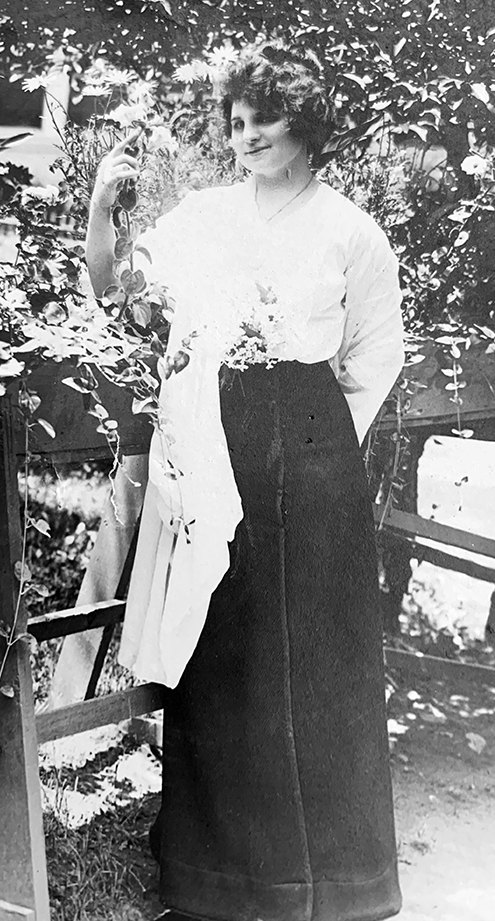 (Thais Magrane c. 1914 Elitch Theatre Company, Denver, Colorado: © Prescott Family Archives)
Denver newspaper critic F.W. White described one of her Elitch Theatre performances, in Years of Discretion:
"Miss Magrane was remarkably interesting, gayly fetching as the widow. She is an uncommonly good actress."
While staying in Denver, Thais conducted a lecture on fashion and style for red-heads, advertised in the local newspapers.
"A free lecture for women, on the subject of 'Dress', at the Broadway theater…Miss Thais Magrane, leading woman of the stock company at Elitch's gardens, will deliver the talk. She will speak particularly on 'My Ideas of How the Red-Headed Woman Should Dress', and she will illustrate her talk with the choicest costumes of her elaborate wardrobe."
"Miss Magrane is red-headed. She is also a beautiful woman. And she has one of the finest wardrobes ever brought to Denver – perhaps the very finest ever seen here." 
"She has made a very painstaking study of the colors and styles of goods that are most becoming to women with red hair. in fact, that is her hobby. Probably no woman on the American stage has made so thorough a study…Miss Magrane will take a score or more of her prettiest frocks to the Broadway and wear them each in turn before her audience."
Assault with Intent to Kill
Although Thais Magrane and Jack Prescott had been divorced for a couple of years by 1915, Prescott may indeed have been the jealous man that Thais claimed in her 1913 divorce suit.
Los Angeles Herald (August 10, 1915), ran an article titled Threats to Kill, Charge of Tom Poste. 
"Tom Poste, debonair clubman and well known haberdasher, who charges Jack Prescott, motion picture actor, with an attack and threats to kill….The case involving Poste and the film actor revolves round Thais Magrane, well known actress, and who, Prescott says, was formerly his wife…Prescott, believing that Poste was showing more than a friendly interest in the beautiful stage star, attacked Poste in a downtown cafe, threatened to kill him and in the melee exacted on the spot a shylock payment for damages in the way of a small piece of flesh that is alleged to have [been] bitten off Poste's face….Poste and Miss Magrane had been friends for a number of years, dating from the time the actress played leads in a local stock company. This friendship at no time approached the courtship stage, according to Poste."
Los Angeles Herald (August 21, 1915), noted that Prescott changed his plea from "not guilty" to "guilty".
"This trouble was over a woman, wasn't it?" asked the court
"Yes," answered Prescott.
"Your wife – you're divorced from her, aren't you?"
"Yes," said Prescott.
Judge Richardson imposed a fine of $10.
World War I, Broadway and Beyond
During the latter half of World War I, Thais appeared with actor Conrad Nagel in a New York play produced by the Shuberts, announced in June 1917 Variety.
Soon after, she began volunteering with the Women's Auxiliary, promoting war efforts and spearheading fundraising efforts for the Tupper Lake Veterans' Mountain Camp project, for soldiers suffering from PTSD, requiring post-war convalescence and rehabilitation. The camp operated from approximately 1921 – 1981.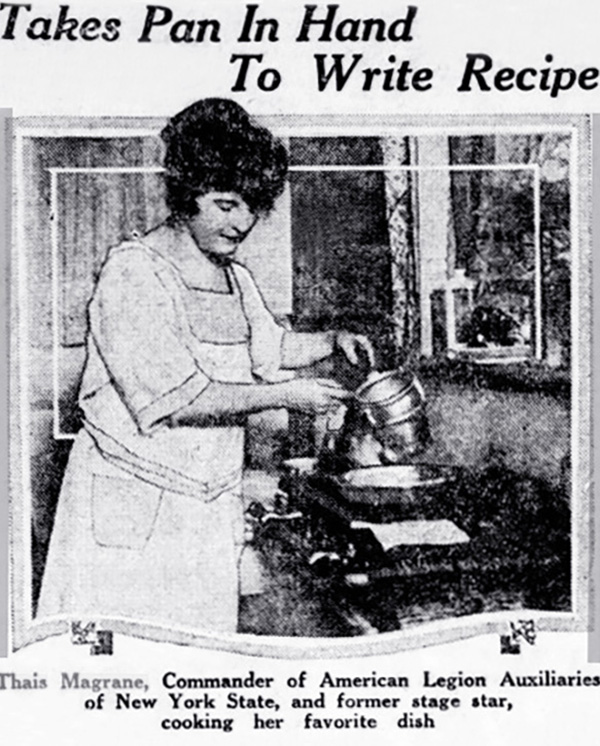 (Thais Magrane Oct. 8, 1922 Photo: Sacramento Union)
"Miss Magrane…showed us how to prepare RICE, SPANISH STYLE."
Contrary to what was implied in this article, Thais Magrane was not retired from acting in 1922. She was back on stage and returned to Broadway and off-Broadway in 1920; some of her plays and co-stars included Because of Helen, A Steam Roller, The Apache, The Unknown Purple, and Lonely Lee (1923) which starred leading lady Helen Hayes.
The jazz age of the 1920's was her Broadway stage heyday. Thais made enough money to invest in a brownstone apartment building in New York City (apartments were usually rented to theatrical types), as well as purchase a farm and house on a large property north of New York, not far from the Hudson River, in Pomona. Her granddaughter Joan recalled that her parents would be exasperated because Thais was too soft-hearted to evict non-paying tenants. No doubt hearkening back to her own experiences, Thais understood that these non-working actors were simply "between parts". 
In 1923, Thais Magrane was still a well known enough personality for the Motion Picture News to note her attendance at a Broadway film premiere of The Green Goddess, starring George Arliss and Alice Joyce. Among the crowd of silent film stars were Jetta Goudal, David Powell, Anita Stewart, Mae Marsh, Marion Davies, Alma Rubens, Madge Kennedy, and film studio founders, producers and directors Lewis J. Selznick, William Fox, Albert E. Smith (Vitagraph co-founder), L. Seligman, and Joseph M. Schenck.
Her last known appearance on Broadway was in The Steam Roller (1924).
WWI Liberty Camp & Silent Picture Theatre Manager
With America on the cusp of engagement in WWI in 1917, Jack Prescott was one of the Metro-Quality film studio members who enlisted as part of a patriotic cadre of motion picture industry members who envisioned forming a regiment if needed.
Although his film career was rapidly winding down, Jack continued working as an actor in touring stock repertory companies in 1917, where he was more often billed as John Prescott. One of his co-stars was silent film star Alice Terry. 
Liberty Camp Theatres across the United States provided entertainment for American WWI soldiers, in the form of vaudeville stage productions, silent films, and concerts. John Prescott was appointed as the permanent manager of the Camp Taylor, Kentucky Liberty Theatre around August of 1918. When WWI was over, Jack continued to thrive in his new career as a silent movie theatre manager, usually mentioned as John Prescott.
The spring of 1920 saw him managing the elaborate, newly constructed Regent Theatre in Flint, Michigan for Col. W.W. Butterfield's chain of silent picture theatres.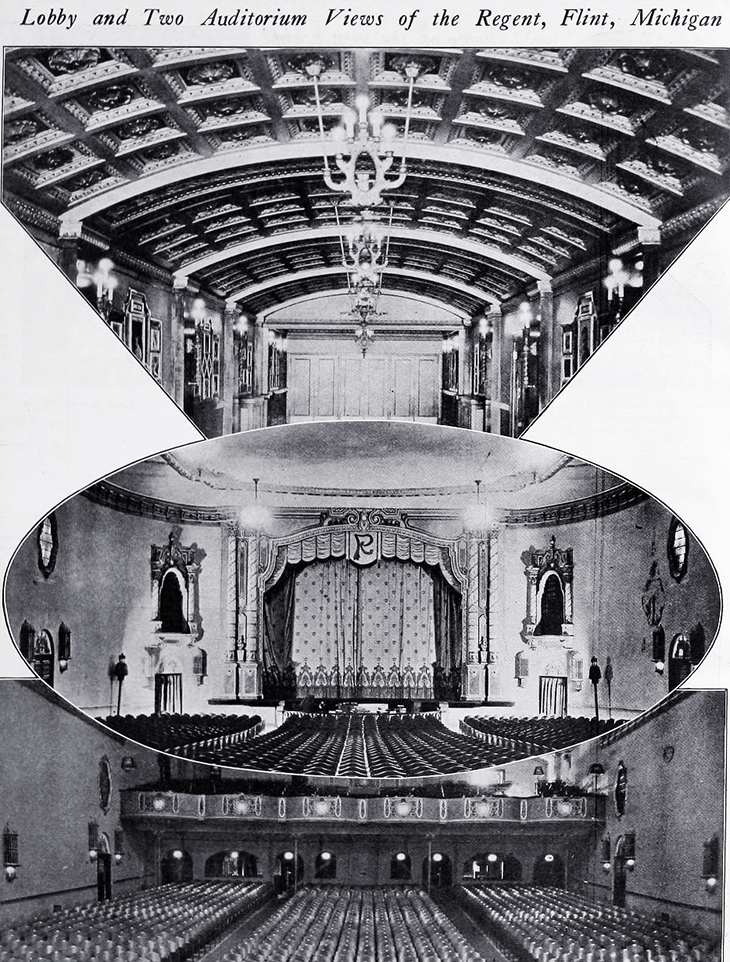 "Mr. Prescott is a showman of many years' experience. In the early days of the picture industry he directed one-reel westerns, has had charge of stock companies in several large cities and been company manager of such well known stars as Robert Edeson and Elsie Ferguson – Motion Picture News." 
The following year, Prescott moved on to the Lyric Theatre in Minneapolis, where his marketing campaign (called exploitation campaigns back then) drew attention from the press once again.
Black Beauty Exploitation Campaign, New Lyric Theatre, Minneapolis 1921 Photos: Exhibitor's Herald
Quite often before the showing of a silent movie, small skits would be performed on the stage in front of the screen. The Exhibitor's Herald references John Prescott's "exploitation campaign" for the premiere of the 1921 silent movie Black Beauty, which included showing the film first to Minneapolis school teachers, holding a coloring contest, displays, singers and actors, and much more.
When The Inside of the Cup (1921) was playing at the New Lyric, Jack arranged co-promotions and displays with a local coffee company and a jeweler. From the New Lyric, Jack moved on to manage the Minneapolis New Garrick & Loring Theatres in the summer of 1921, and from there, was manager of the Capitol Theatre in Winnipeg, Manitoba (Canada) by the fall of 1921.
It came as a surprise to his granddaughter Joan Prescott, when I discovered that somewhere in between the New Lyric and the Capitol Theatre, Jack Prescott married Mona Cooley (b. 1893) in late June/early July of 1921. Mona Cooley was head of the Michigan State School for the Deaf and Dumb, and the daughter of a Flint, Michigan jeweler. 
When The Sheik (1921) starring Rudolph Valentino and Agnes Ayres played at the Capitol Theatre, manager Jack Prescott's marketing campaign once again made the trade news.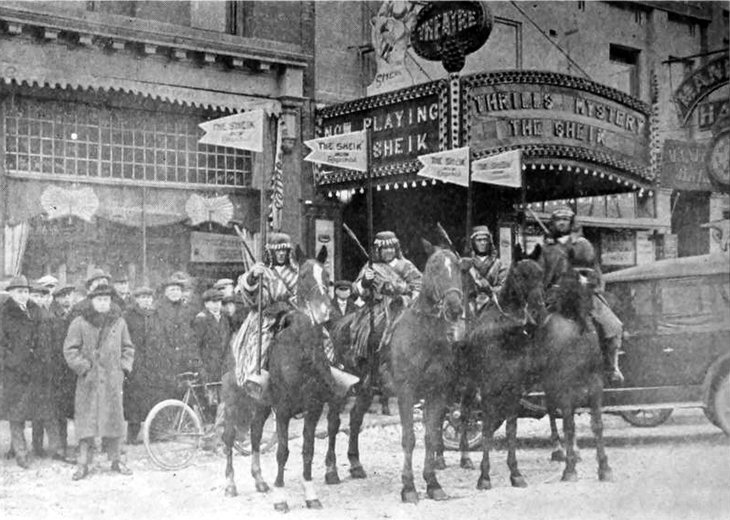 (Capitol Theatre 1921 Promotion for The Sheik Photo: The Moving Picture World)
Four horsemen dressed as Arabians (clothed in red and white) paraded down the streets, and a stage setting included an Arab camp with live costumed actors and a quartet of singers. 
The Motion Picture News of February 1922 noted that Jack Prescott had left the Capitol Theatre in Winnipeg to manage the Tower Theatre in St. Paul. By January of 1923, he had moved again and was managing the Strand Theatre in Lansing, Michigan.
As manager of The Alhambra Theatre at the advent of sound films in the late 1920s, Jack Prescott was quoted in The Best Sound in Town: DeForest Achievements (1930). Dr. Lee DeForeest "Father of Radio and Talking Motion Pictures" was an engineer of General Talking Pictures Corporation and invented Phonofilm. The first public performance of the first installation of DeForest Phonofilm, was in the Alhambra Theatre in Canton, Ohio in the late 1920s:
"After the first performance one of the newspaper critics said to John Prescott, the manager, 'You've got the best sound in town'."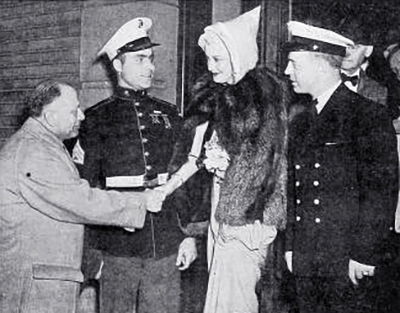 (Jack Prescott, Capitol Theatre Manager in Kalamazoo, Michigan, greets singer-actress Jeannette MacDonald for premiere of her film Cairo, 1942 Photo: Motion Picture Herald)
Jack continued managing movie theatres into the 1940s. 
When he wasn't on stage or managing theatres, Jack Prescott formed part of legendary actor, womanizer, and alcoholic John Barrymore's (b. 1882 – d. 1942) entourage of rakehell friends. He helped steer "The Great Profile" home or bail him out as the situation demanded. When exactly their friendship first began isn't known, but Barrymore's close friend and biographer Gene Fowler drew on many of Jack Prescott's anecdotes and memories of escapades with John Barrymore for his book Good Night, Sweet Prince (1944). 
In the 1940 Census, Mona Cooley Prescott was living with her mother Delia Cooley in Flint, Michigan; Mona died in 1976. 
Is Love Sweeter the Second Time Around?
I almost fell off my chair when I found this announcement in Variety:  
"The marriage of Thais Magrane to Jack Prescott in New York on November 16, 1932. They were married about 20 years ago and then divorced."
My Mona Lisa had married her formerly spendthrift ex-husband again, 20 years after their acrimonious divorce.
It must have been true love after all…or at least some long-lasting mutual attraction coupled with shared interests.
Amongst the press clippings and photos Joan shared was an excerpt of a letter from Jack to Thais, written in 1927: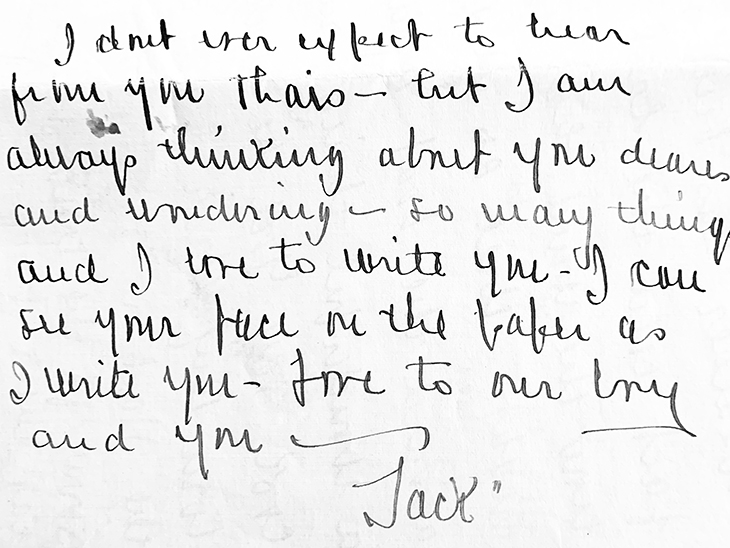 "I don't ever expect to hear from you Thais – but I am always thinking about you dearest and wondering – so many things and I love to write you. I can see your face on the paper as I write you. Love to our boy and you – Jack." (© Prescott Family Archives)
Obviously Jack had continued to harbor strong feelings for his ex-wife Thais, although their granddaughter Joan explained that "they were never compatible"; or at least, not meant to live together under the same roof. Mutual friends convinced them that it would be romantic for them to remarry; and when Jack proposed, Thais accepted "in a moment of weakness". Thais Magrane and Jack Prescott's second marriage lasted for the remainder of their lives.
During the 1930s and 1940s, both Thais and Jack would periodically get involved with small acting roles and occasionally produce and/or direct plays together in local theatres, sometimes with schoolchildren.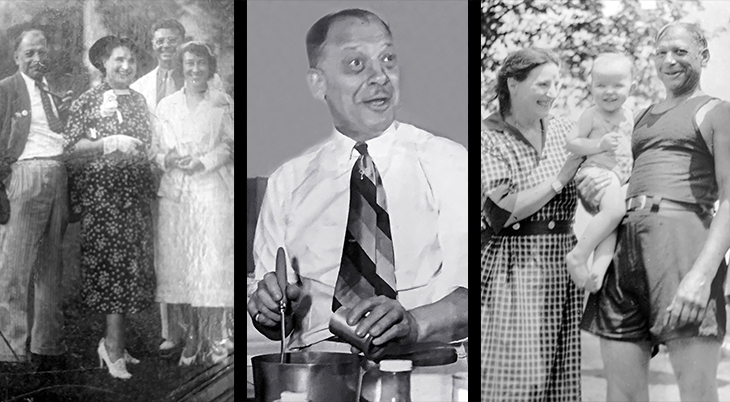 Above, from left to right: Jack Prescott, Thais Magrane, Raymond Prescott & his wife Olive c. mid-1930s; Jack in a late 1940s commercial pose; Thais and Jack with a friends child in the 1930s – © Prescott Family Archives)
When Thais retired as a professional actress in the 1930s, she moved to her Pomona farmland. Thais converted from the Roman Catholic faith to Christian Science, and was a disciple of founder Mary Baker Eddy during the late 1930s and 1940s. She retained ownership of the New York apartment building until the 1950s. 
Joan recalls three houses on the Pomona estate. Thais lived in the main house, with son Raymond and his wife (and later Joan, her sister, and brother) in another. An additional, smaller cottage was built behind the main house for Jack Prescott to live in. Jack had signs made up for the houses; "Thaisville", and his cottage – "The End of the Road".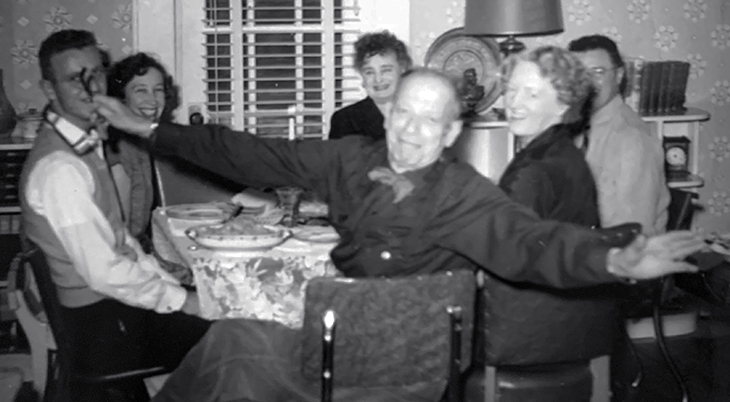 (Jack in foreground, Thais opposite him, Olive to her right and Raymond to her left c. 1950 Pomona © Prescott Family Archives)
Joan can recall as a girl, that periodically a long limousine would draw up to the Pomona estate and "Bappy" would emerged dressed up in an opera cape, and head off for an evening at the theatre in New York. After John Barrymore passed away, Jack stayed on close terms with Barrymore's son, John Drew Barrymore. When John Drew Barrymore visited the Pomona house he made quite an impression on Joan because "he was so handsome"; Joan didn't know who he was at the time.
Jack was a member of both the Lambs Club (which his son Raymond also belonged to), and Players Clubs in New York, men's clubs popular with the theatre crowd.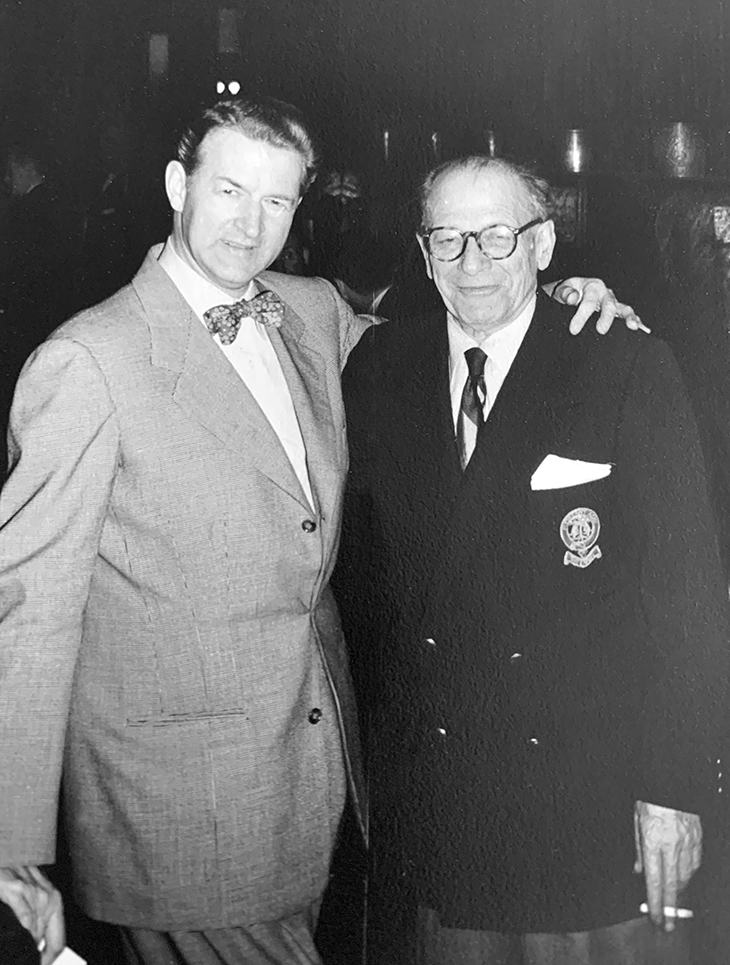 (Jack Prescott and Radio/TV actor Jay Jostyn at NYC Lamb's Club © Prescott Family Archives)
Jack Prescott may not have always been on stage or in front of the camera as a professional actor, but he remained a bon vivant engaged in the theatrical world behind the scenes, to the very end.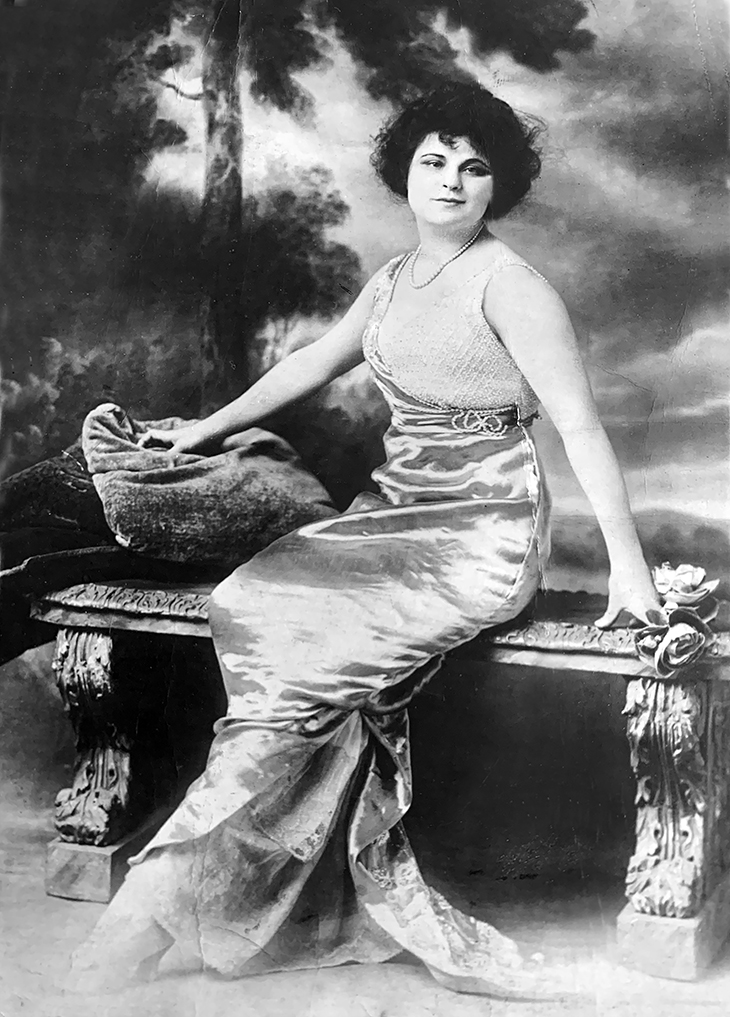 (Thais Magrane © Prescott Family Archives)
Joan recalled her grandmother Thais as private and a bit shy off stage, but when she spoke, she commanded attention. They'd play dolls together, and Thais would tell stories about her time on Broadway stages. 
Thais and Jack's son Raymond Magrane Prescott died in October 1955 at the age of 48 from a heart attack, and was survived by his parents. They never really recovered from their beloved son's untimely death. Thais Magrane Prescott died January 28, 1957 at the age of 78, and Jack Prescott died a couple of years later, in 1959.
So ends the tale and mystery of my Mona Lisa and her Spendthrift.
Additional Resources:
In addition to accessing family history and genealogy records, these other resources were invaluable:
California Digital Newspaper Collection – UCR | Center for Bibliographical Studies and Research
Motion Picture News
Motography
The Moving Picture World
Motion Picture Studio Directory and Trade Annual
*Images are believed to be in the public domain and/or Creative Commons licensed & sourced via Wikimedia Commons, Vimeo, YouTube, or Flickr, unless otherwise noted*