Mary Scott's Affair With D.W. Griffith
Pretty San Francisco socialite turned stage actress Mary Scott's' affair with famous movie director D. W. Griffith during his "missing" years at the turn of the 20th century wasn't newsworthy at the time. Her mysterious disappearance in 1901 and a shooting at the Waldorf-Astoria Hotel in 1909 DID make front-page headlines across the United States.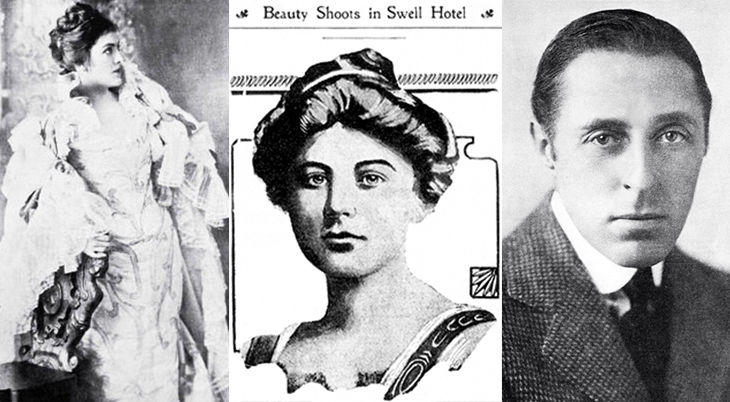 (Mary Scott 1900 & 1909 | D.W. Griffith 1923)
Presidential Family Connections
Actress Mary Crittenden Scott's family was wealthy, with far-reaching connections in the military, political, and social scenes of San Francisco, Virginia, New York, and Washington.
Father Henry Harrison Scott

(Henry Harrison Scott 1892: The Morning Call) 
Mary Scott's grandfather John B. Scott moved from Virginia to California in 1951 with his son (her father) Henry Harrison Scott (b. 1844 in Virginia). Henry H. Scott attended public school in San Francisco, then Georgetown College and the Virginia Military Institute. Author Ira H. Gallen (D.W. Griffith: Master of Cinema, 2015) noted that Henry was a Colonel in the Confederate Army during the Civil War.
Henry began practicing law and moved to Elko, Nevada with his wife Annie Robinson Scott. He served as County Clerk of Elko County from 1866 to 1870, then was elected Elko Sheriff from 1870-1874.
Henry and Annie's daughter Mary Crittenden Scott was born while they were living in Elko, in 1873, and her brother Henry Harrison Scott was born in 1876. In all, Annie and Henry Harrison Scott had seven children.
Annie and Henry Scott moved their young family back to San Francisco in the latter half of the 1870s, where he began working as a mining broker for one of the city's biggest stock firms. He co-founded the coal company Scott & Greenberg, before leaving it to go into the coal business for himself.
President Grover Cleveland (1885-1889 term) appointed John B. Scott as Agent for The Duck Valley Indian Reservation in Nevada, and Henry H. Scott as Deputy Revenue Collector for the Port of San Francisco.
"Related by birth and marriage to many of the most prominent Southern families*…Mr. [Henry] Scott was appointed under President Cleveland's first administration as Deputy Revenue Collector under John S. Hagan, where he made himself prominent in unearthing the spurious Chinese certificates and in causing the arrest of opium smugglers, many of which were indicted by the Grand Jury and convicted of their crimes, and in many ways made terror to all evil-doers against the Federal Government."  – The San Francisco Call, April 26, 1895
Annie's sister Kate Crittenden Robinson had married Monroe Salisbury in 1874, and although the couple originally lived in Salt Lake City, they too had moved to San Francisco by the 1880s. Kate Salisbury's activities were regularly remarked on in the San Francisco newspaper society columns. Her husband Monroe Salisbury owned race horses and according to the Sacramento Daily Union, was a "ten times millionaire" by 1890.
Mary's mother Annie Robinson Scott died in November 1894, and her father Henry Harrison Scott died on April 25, 1895 of pneumonia.
*Presidential Connections
Although Henry Harrison Scott and John B. Scott weren't related to President Grover Cleveland, they were related to "The" Harrison family of Virginia.
The Harrison / Scott family tree included founding father Benjamin Harrison V (b.1726-d.1791), one of the signors of the Declaration of Independence; and two Presidents – Benjamin's son, General William Henry Harrison (b. 1772-d.1841), 9th President of the United States (March 4, 1841-April 4, 1841; died in office); and William Henry Harrison's grandson, Benjamin Harrison (b.1833-d.1901), 23rd President of the United States (March 4, 1889-March 4, 1893)
The latter Benjamin Harrison who served as 23rd President, married Caroline Scott in 1953. Their daughter Mary Scott Harrison was born in 1858. To make matters even more confusing, while they were living in the White House, Caroline's niece, widowed Mary Scott Lord Dimmick came to live with them, and act as a secretary to the First Lady. In 1896, four years after Caroline died and when he was no longer in office, former President Benjamin Harrison married Mary Scott Lord Dimmick.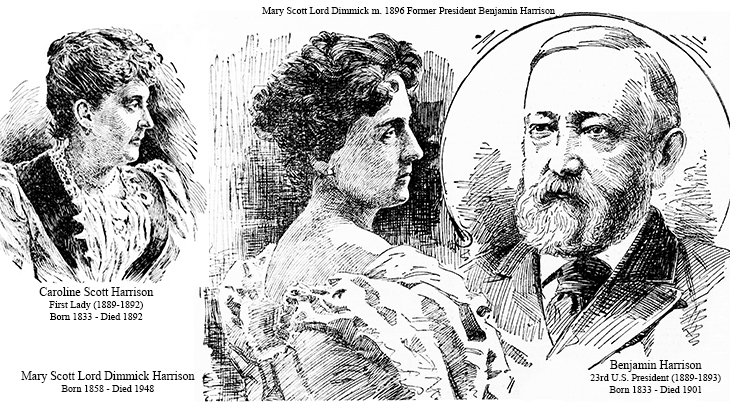 (Caroline Lavinia Scott Harrison, Mary Scott Lord Dimmick Harrison & President Benjamin Harrison)
Mary Crittenden Scott claimed the relationship of cousin to both Caroline Scott Harrison and Mary Scott Lord Dimmick Harrison.
San Francisco Socialite Mary Scott Marries Neville Castle
Mary Scott attended finishing schools growing up in San Francisco, and mingled with the elite members of that city's social scene courtesy of her parents and her mother's sister, Kate.
After losing both their mother and father within 6 months of each other by April 1895, Annie and Henry Scott's seven children, including Mary and her brother Henry, moved from their parent's home on Washington Street, into their Aunt Kate's home in San Francisco. 
Wealthy lawyer Neville Hart Castle (born on January 1, 1863 in San Francisco) was ten years older than Mary Scott. A graduate of Yale Law, he had built a thriving practice in San Jose.
"The engagement is announced of Miss Mary Crittenden Scott, daughter of the late Mr. and Mrs. H.H. Scott and niece of Mrs. Monroe Salisbury to Neville Castle of San Francisco. Miss Scott made her debut some four years ago under the chaperonage of Mrs. Salisbury, and has been among the most popular society girls of the city ever since." – The San Francisco Call, September. 1, 1895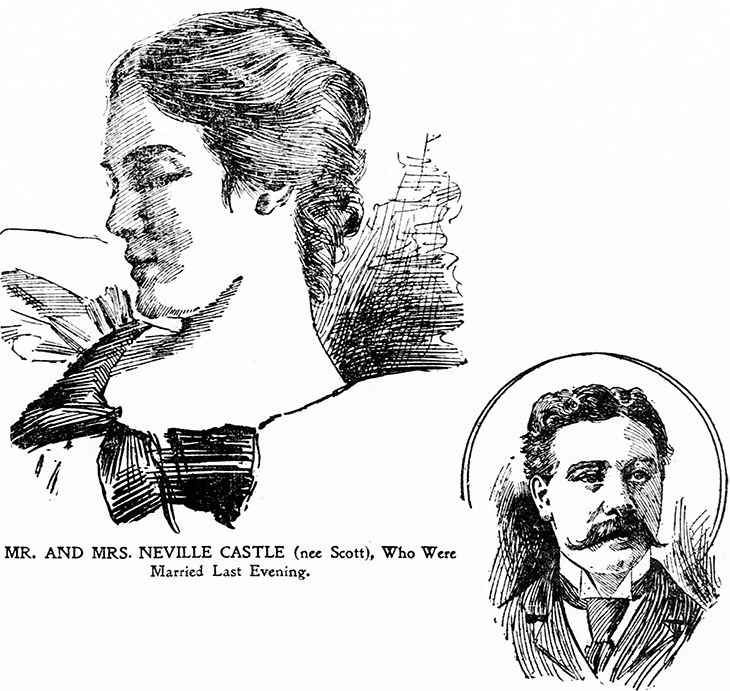 (Mrs. & Mrs. Neville [Mary Crittenden Scott] Castle1897 Sketches: The San Francisco Call)
Mary Scott and Neville Castle were married on February 4, 1897 at Kate and Monroe Salisbury's San Francisco home on Vallejo Street. The bride was in her 24th year, the groom in his 34th; his father, lawyer Michael Castle, had recently passed away. News accounts noted that the groom gave his beautiful wife a diamond star as a wedding gift, and her attendants were her younger sisters Laura and Katherine. 
In between hosting and attending San Jose society affairs, Mary began studying acting.
"I always wanted to be an actress but my family and friends discouraged me. When I promised Mr. Castle to be his wife I confided to him my ambition and he said, 'Wait, and if in two years you still desire to enter the profession and those capable to judge decide you have talent for it, I will not withhold my consent." – The San Francisco Call, December 31, 1899
By the end of their first year of marriage, husband and wife Neville and Mary Scott Castle had performed together in the skit "A Happy Pair" for their San Jose friends, and she had come to the attention of Daniel T. Frawley of the Frawley Stock Company.
Mary's younger brother Henry Harrison Scott had started off his military career in the Marine Corps, then transferred to the Army. He served during the Spanish-American War in 1898, while at the same time managing his father's coal company. That same year his engagement to Olive Farrington Sampson (b. 1877), daughter of Navy Rear Admiral William Thomas Sampson, was announced.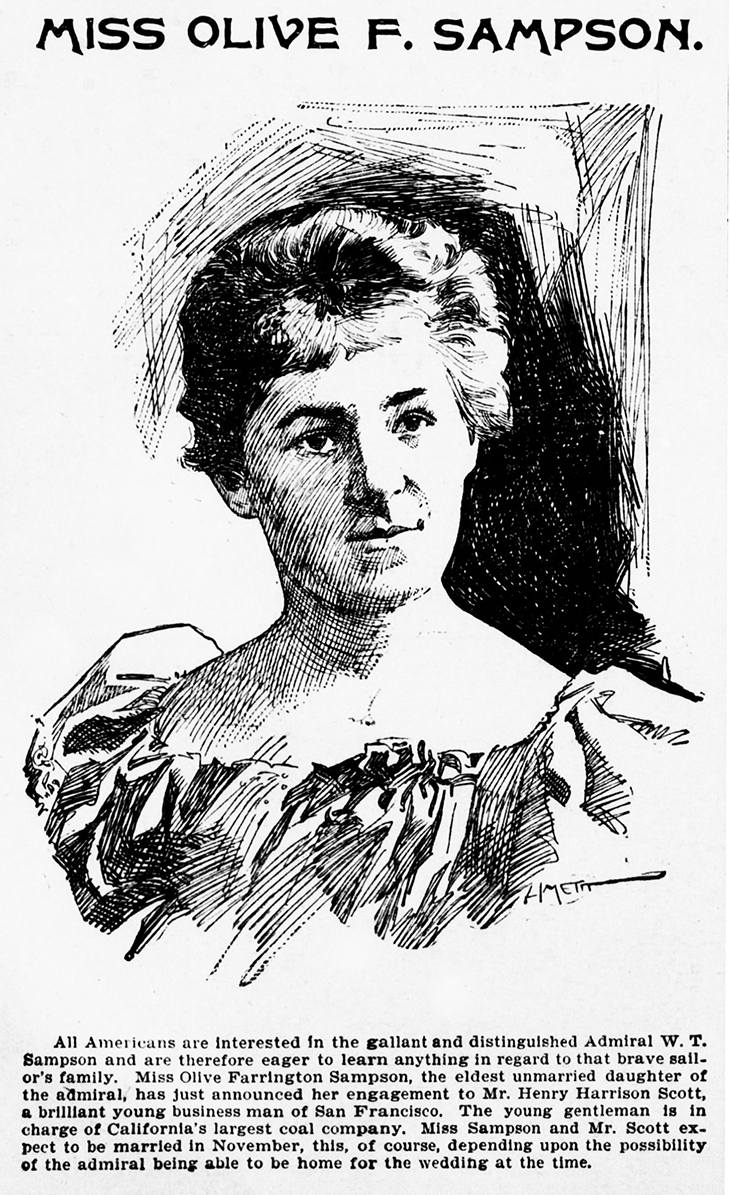 (Olive Farrington Sampson Scott 1899 Sketch: The Pacific Commercial Advertiser Dec. 27 1898)
Olive Sampson and Henry Harrison Scott were married by Reverend Frank J. Goodwin on January 4, 1899, at the Congregational Church in Glen Ridge, New Jersey. President McKinley sent a letter of regret that he was unable to attend, and as a gift, an original telegraph dispatch of Admiral Sampson's efforts during the Spanish-American War. They lived in New York City after their wedding and had three children – sons Sampson Scott and Henry Harrison Scott Jr., and a daughter, Olive Sampson Scott (b. 1904-d. 1905).
Mary and Neville Castle moved back to San Francisco when his personal fortune was depleted due to business lawsuits. Mary's attitude may not have been the most helpful – she liked to spend money, and when it came to him garnering new clients:
"When Mrs. Neville Castle, who is now plain Mary Scott, a wage-earner of the stage, became a social leader in San Jose, it was, I understand, with serious misgivings regarding the tone of some of the aspirants for social distinction. In order to purge her set of the plebian element – so the story goes – she issued an edict to the effect that daughters of shopkeepers need not apply. Now it happened that Mr. Neville Castle coveted the patronage of the shopkeepers of San Jose, but the edict of his wife was in the nature of a boomerang. As a consequence Mr. Neville Castle met with reverses in San Jose, and Mrs. Neville Castle found that social leadership in a jay town was not all that it was cracked up to be." – Town Talk, The Leading Weekly of San Francisco, January 27, 1900
According to author Gallen, Mary Scott had been performing in some local amateur theatre shows in San Jose and in San Francisco on her return to that city, and had already acquired a reputation as a competent actress with an explosive temper, in between bouts of depression.
D.W. Griffith & Mary Scott's Disappearing Acts
Daniel T. Frawley hired Mary Scott Castle as the leading lady of the Frawley Stock Company in the hopes her social connections would bring in theatre-goers. She made her professional stage debut in January 1900.
"Mrs. Neville Castle of San Francisco…has joined the Frawley Company, and will make her debut in "The Princess and the Butterfly". It is intended that she shall become the leading player of the Frawley organization. Her stage name will be Mary Scott, her middle name." – The Pacific Commercial Advertiser Jan 15, 1900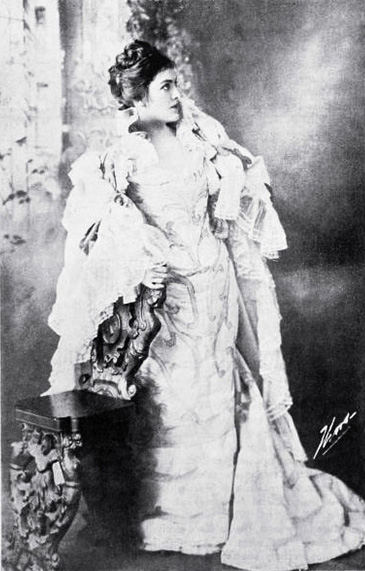 (Mary Scott February 1900 Photo: San Francisco Dramatic Review
By the time of her debut with the Frawley Stock Company, Mary and her husband were broke.
Family friends paid for the gowns she wore in the play, it being a common practice at the time for stage actors and actresses such as Thais Magrane to provide their own costumes.
Young stock actor Lawrence Griffith had joined the Frawley Company soon after Mary. 
"Before the play had been driven from the stage, after a few weeks of constant failure, the woman [Mary] went to her husband [Neville Castle] and told him frankly that she loved Lawrence Griffiths." – New-York Tribune, June 26, 1910
Quite possibly relieved that their marriage was over, Neville Castle headed north to Alaska in the wake of the Nome gold rush, putting as much distance as possible between his wife and himself.
In February 1900 it was announced in the San Francisco Dramatic Review that Mary [and Lawrence Griffiths] would be touring with the stock company of Timothy Daniel Frawley and L. R. Stockwell:
"Mary Scott, who goes out next week as leading woman of the Frawley & Stockwell Co. presenting, In Paradise, is one of our younger actresses with a most promising career before her. Besides possessing great beauty, she has an intelligence and real adaptability for stage work…Miss Scott's most notable success is associated with the difficult role of Fay Zuliana, in Pinero's Comedy, The Princess and the Butterfly, presented a few weeks ago by the Frawley Company. The consensus of critical opinion was that the role of Fay was excellently handled and, to quote the words of the eminent theatrical reviewer of the Chronicle, Peter Robertson, 'She had an attractive character in the piece and she played it with ease, vivacity and control…Fay Zuliana suited her and it is not an easy role. It should not be difficult for Miss Scott to win a prominent place on the stage, for she has the temperament and instinct for the work.'"
During the tour, Mary's mental health quickly deteriorated; she had fainting spells and was hospitalized. This was followed by anxiety attacks, violent outbursts, and a threat to kill another actress. In one attempt to calm her down, a bucket of water was dumped on her. 
Mary's great stage career wasn't the only aspect of her life that was faltering. After an argument, Lawrence Griffith joined another stock company and went to New York without her. She followed him to New York, and they made up – a cycle that would be repeated.
Lawrence Griffith and Mary Scott Castle were no more successful professionally or personally in New York than they had been elsewhere, moving from one stock company to another. Eventually Griffith persuaded her to try a vaudeville sketch "In Washington's Time" in the spring of 1901
"Mary Crittenden Scott…in private life she is Mrs. Neville Castle, of San Francisco, where she was one of the leading belles of the Golden Gate City. Two years ago she astonished her friends and relatives by abjuring a life of luxury for the toil and turmoil of a theatrical career, to which her husband reluctantly yielded consent. She is a niece of the late ex-President Harrison, a cousin of Admiral Watson, and a sister-in-law of Admiral Sampson's daughter, who was married recently to her brother, Lieutenant Scott of the Marine Corps…She is an expert whip, a devotee of fencing and boating, and finished in all the accomplishments of one of the smart set." – The Times, Washington, April 28, 1901 
It was newspaper headlines in New York and San Francisco, when actor Lawrence Griffiths reported his "cousin" Mrs. Neville Castle as missing.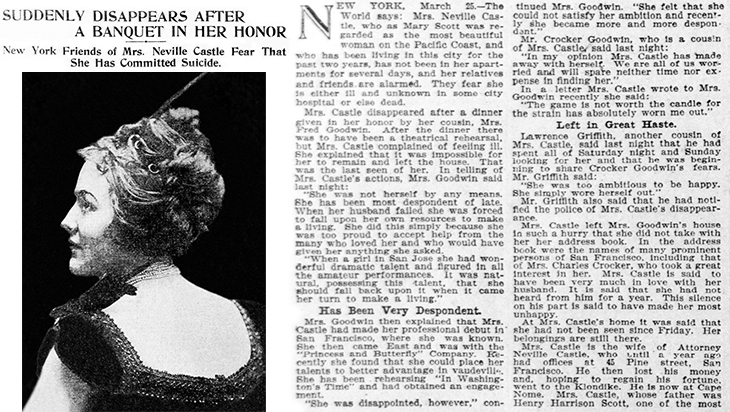 (Mrs. Neville Castle Missing: San Francisco Call, March 25, 1901)
After having dinner at her cousin Mr. & Mrs. Fred Goodwin's home in New York City, Mary said she felt ill, and left. She didn't turn up for rehearsals the next day, and Lawrence and her [real] cousins the Goodwins, were concerned about her disappearance and state of mind. They mentioned despondency over her career, failed ambitions, and her love for her husband, whom she hadn't heard from in a year. It was only after several days had passed that Mary turned up safe, if not sound of mind.
More breakups ensued, and each time Griffith left, Mary would follow him – although they never fully reconciled. They criss-crossed the country, from New York to San Francisco, and back to New York. What was left of their relationship died out after they co-starred again in a touring production of Caste that began in late 1902 and ended in the first half of 1903.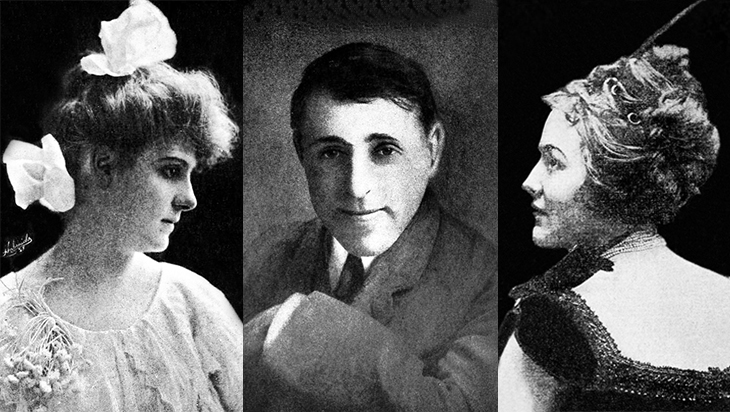 (Linda Arvidsen & Lawrence Griffith c. 1905, Mary Scott 1901)
Lawrence Griffith met San Francisco stage actress Linda Arvidsen in 1905.
"Mr. Griffith confided to me that he had taken the name 'Lawrence' only for the stage. His real name was 'David', 'David Wark', but he was going to keep that name dark until he was a big success in the world, and famous. And as yet he didn't know…whether he'd be great as an actor, stage director, grand opera star, poet, playwright, or novelist." – When the Movies Were Young (1925), by Mrs. D.W. Griffith
David Wark Griffith married Linda Arvidsen in 1906, and he began working as an extra in the fledgling silent film industry in New York City in 1907. Still going by the professional name of Lawrence Griffith, he was one of the first to be employed by the American Mutoscope and Biograph Company in New York City in 1908, .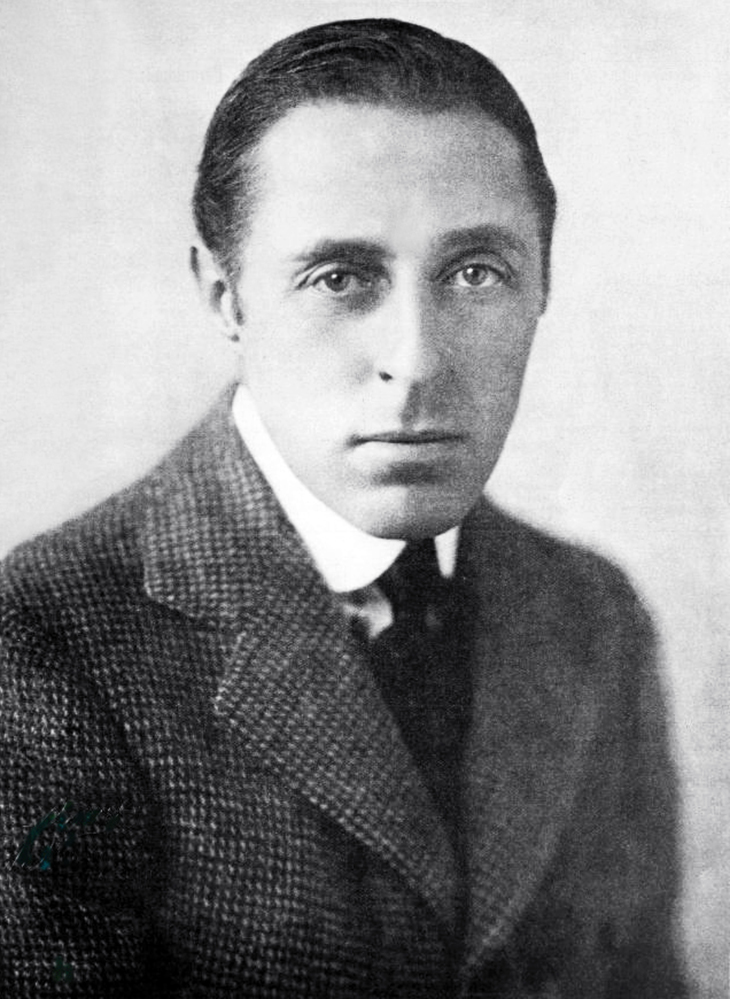 (D.W. Griffith 1923 Photo: Exhibitors Herald)
He began using his real name David Wark Griffith in 1912, and it was quickly abbreviated to D.W. Griffith. Today D.W. Griffith is remembered as a pioneering silent movie director, filmmaker, and co-founder of United Artists film studio (with Charlie Chaplin, Mary Pickford, and Douglas Fairbanks).
Even when later events put Mary Scott Castle's name on the front page of newspapers, with headlines that couldn't possibly have escaped the notice of D.W. Griffith, he never mentioned Mary Scott to anyone – effectively disappearing her out of his life permanently. It wasn't until decades after his death in 1948 that someone first connected the dots of struggling vaudeville actor Lawrence Griffith the "cousin" of Mary Scott in New York, with the famous Hollywood filmmaker.
A Shooting at the Waldorf-Astoria Hotel
Her stage career having been driven into the ground by 1903, from then on were lean and lonely times for Mary Scott Castle. Although she had some work under the stage name of Haldane Fountain, her primary source of income was reported to be as an artist's model. She lived with one of her sisters at East Fifty-ninth Street in New York City for a time, before traveling to London with another man, a figure painter. Her sister returned to San Francisco and when Mary came back to the U.S., she was alone again.
In the aftermath of the great earthquake that devastated San Francisco in 1906, Mary's brother Henry Harrison Scott – now a First Lieutenant in the Coast Artillery (Army) served as executive officer of an emergency camp set up for refugees. He was sent back to the New York area and in early 1907, he became so alarmed for Mary's mental state that he had her admitted to a New York sanatorium. Frightened and able to stay on her best behavior for the short time she was there, Mary Scott was released as "cured" within ten days. She went to live with Henry and his wife Olive at Fort Hamilton in Brooklyn, but soon left them to live with friends in New York. 
When Mary heard that Mr. and Mrs. William Craig, former schoolmates of hers, were in New York in the late spring of 1909, she visited them. The couple were sympathetic to her loneliness, and Mary moved in with them for a month. In mid-June 1909, she sub-let an apartment at Colonial Studios near Central Park from lawyer Frederick Dean, and moved out of the Craig's home. 

(Mary Scott Castle Aug. 4 1909 Headline: Tonopah Daily Bonanza)
On the early evening of August 3, 1909, William Craig went to the Waldorf-Astoria Hotel to attend a men's club meeting. 
"As he stepped into the lobby someone called to him. Turning he recognized Mrs. Castle, whom he had known from childhood. 'I want to speak to you', she said. 'I don't want to talk with you,' he replied as he gently pushed her aside and stepped into the elevator near the entrance. Mrs. Castle also pushed her way into the car as John Fitzgerald the elevator boy, shut the door. Mrs. Castle opened a handbag, pulled out a small revolver, put the muzzle against the left breast of the lawyer and fired. The bullet went through the coat, but struck a fountain pen in the inner pocket and dropped to the floor of the car. Fitzgerald grabbed the woman. She made no resistance as he took her revolver away from her." – The Sun, New York, August 4, 1909
While Mary Scott and William Craig waited at the hotel tor the arrival of the police, Craig called his wife to let her know Mary had shot him, but he was unhurt; he intended to press charges. 
Mary was taken by a police detective in a taxi to the station. When asked why she had shot Craig, she said "Because he was the cause of all my troubles." She stated that she was a widow. Craig arrived at the police station shortly after, and when she tried to go to him, he pushed her aside. This provoked her to tears and hysteria. When she calmed down, Mary sent a telegram to notify her brother Henry at Fort Morgan in Alabama. When asked if she wanted a lawyer or bail, she answered,
"Mr. Craig is my friend. He will come back and will attend to that for me. I did not mean to shoot him."
A box of bullets and a ginger ale bottle half full of whiskey was found in her purse; Mary said her doctor had prescribed the whiskey. She told an attendant at the police station that she had meant to shoot herself, not William Craig. She gave conflicting statements about William Craig; he had either thrown her over, or he had been following her persistently for months. 
Otis Ball, a black man who lived at the apartment building, said he was Mary's cook and general helper. Ball was under the impression she was in the insurance business.
"She has several callers, among them Mr. Craig. Mrs. Castle told me she was a cousin of Mrs. Craig. I don't know what trouble she ever had with Mr. Craig. He was here only a few days ago."
Frederick Dean arrived at the station a few hours after Mary's arrest. He spoke to Mary and the night court on her behalf, then made a short statement to the press that included the clarification that she was not a widow; her husband Mr. Neville Castle was in Nome, Alaska on business. 
At an August 8 hearing, Emil Fuchs was now the lawyer representing Mary, who was threatening to bring charges against William Craig that would "bring disgrace upon the family name".  William Craig said he had believed for some time that the defendant was mentally incompetent. Mary's brother Henry arrived the next day and met with Craig, who was so eager to make the whole case and accompanying publicity go away, he even arranged a bondsman for Mary's bail.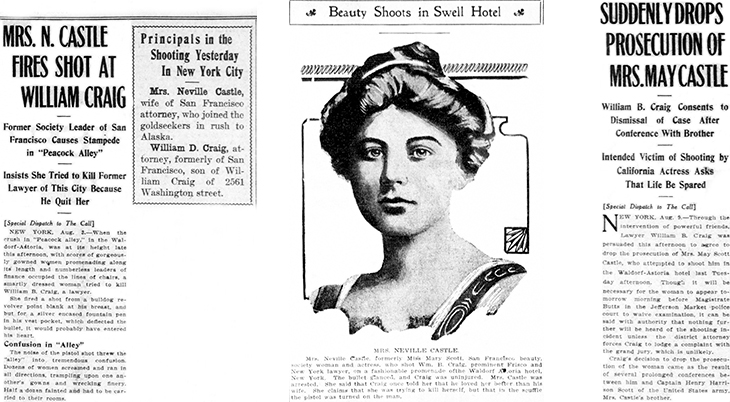 (Mary Scott Castle Aug. 1909 Headlines: San Francisco Call Albuquerque Citizen Aug. 9, San Francisco Call Aug. 10)
Mary stayed with her brother in New Jersey for a month after she was released. She left New York in September when the grand jury failed to indict her (as predicted when Craig had said he wouldn't appear), and made her way to Washington. 
Neville Hart Castle may have followed the gold rush to Alaska back in 1900, but had he stayed to practice law in Nome and never left. In October 1909, he was appointed Assistant United States District Attorney for the Second Judicial Division at Nome. The publicity over Mary's shooting of William Craig was likely the spur needed for Castle to comprehensively put their marriage and Mary Scott behind him. He began divorce proceedings which were finalized by February 1910.
By 1920, Special Agent in Charge Neville Castle was leading a field division of the FBI in Alaska, according to FBI Anchorage History. He never married again after his divorce from Mary. Neville Castle died on Oct. 27, 1943 in his home town of San Francisco, at the age of 80.
Mary Scott did marry again, as soon as the ink was dry on her divorce and she'd received a cash settlement from Neville Castle. She and her new husband went to Lake Como in Northern Italy on their honeymoon,  a decision which would prove to be the most disastrous of her life.
Continued at Mary Scott's Murder at Lake Como
If you enjoyed this article's topics of the Edwardian Era and mental health, you may also like:
Other Resources
Mr. Griffith's House with Closed Shutters (2012), by William M. Drew
The Day Book (1913)
The American Actress Killed and Dumped in Lake Como (2021), by Giulia Montanari
Griffith's Secret Scandal, Part 3 (2017 August 2), by John W. Harding
Brooklyn Daily Eagle, December 22, 1939
*Images are believed to be in the public domain or Creative Commons licensed & sourced via Wikimedia Commons, Vimeo, YouTube, or Flickr, unless otherwise noted*