North to Alaska
A road they said couldn't be built...
My dad, Ernie Tomlins, did that twice in his lifetime--went north to Alaska. The first time as a young unmarried man in 1942 leaving Toronto and wanting to do his part for the war effort by working on the Alaska Highway; then as a grandfather, returning in 1992 with my mom to celebrate the Highway's 50th anniversary.
Being turned down at the recruiting office in Toronto due to a medical condition, my dad looked for other ways to contribute to the war effort. Although barely 21, he already had experience having worked as a delivery driver for Eaton's (remember them?) and a few other occasions as he found them. Hearing about construction opportunities "out West", he set off to do his part.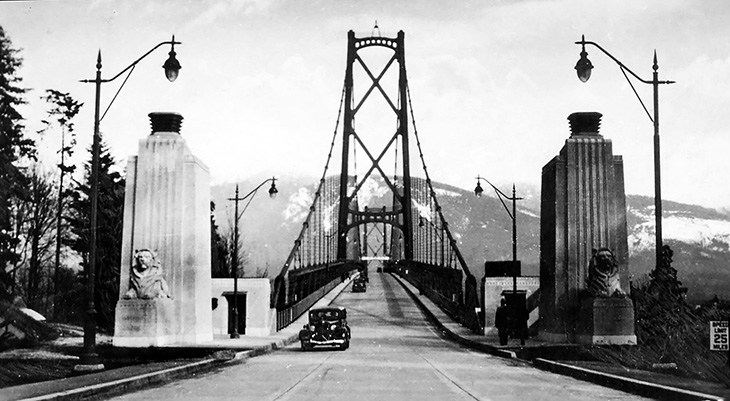 (Lions Gate Bridge, Vancouver B.C. 1942)
Reaching Vancouver, British Columbia, he eventually found employment as a driver with Jupp Construction and his adventure in the north began.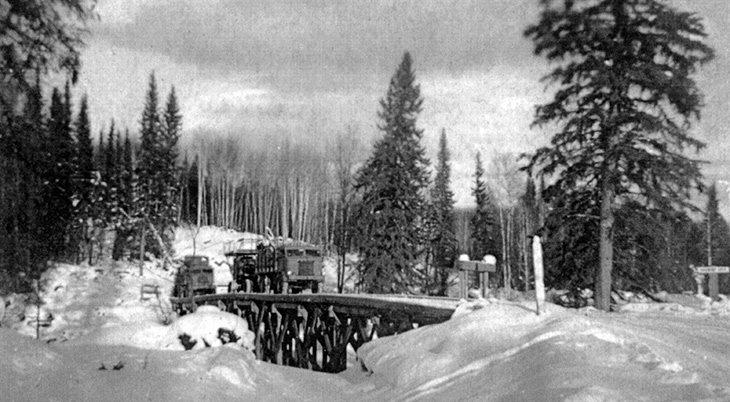 (Alaskan Highway 1942 road construction trucks on the move)
My dad was one of many truck drivers, hauling supplies up and down the highway—each time seeing more and more of the country as the road steadily grew.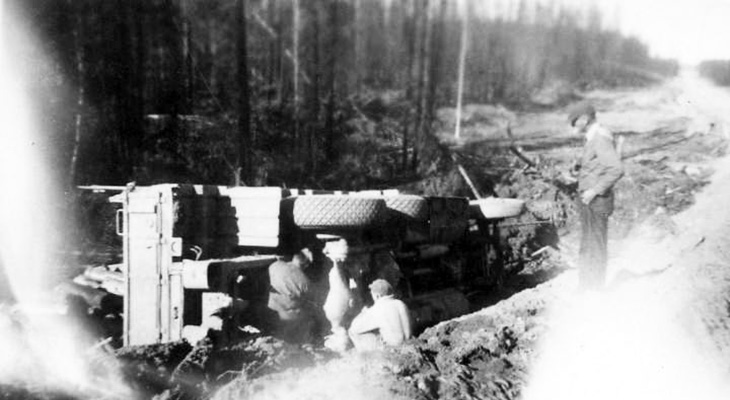 (Alaskan Highway 1942 road construction equipment repairs done wherever necessary)
Army engineer corps and construction crews worked side by side, battling unbelievable conditions but feverish to complete the 1,400 miles and defend the north. The truck drivers were integral to the success of the massive project.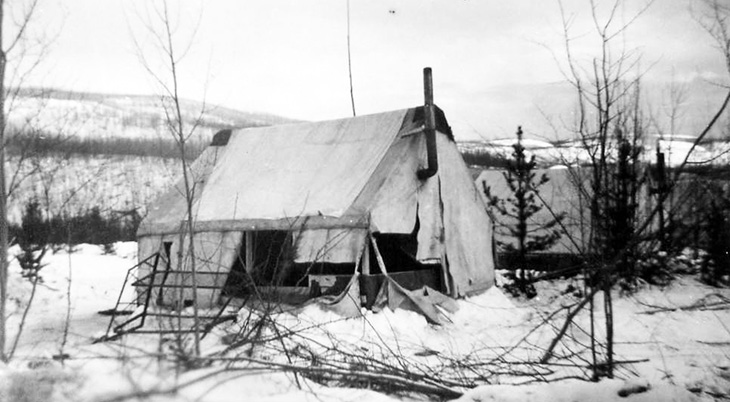 (Road construction crews camped in tents in the Alaskan winter)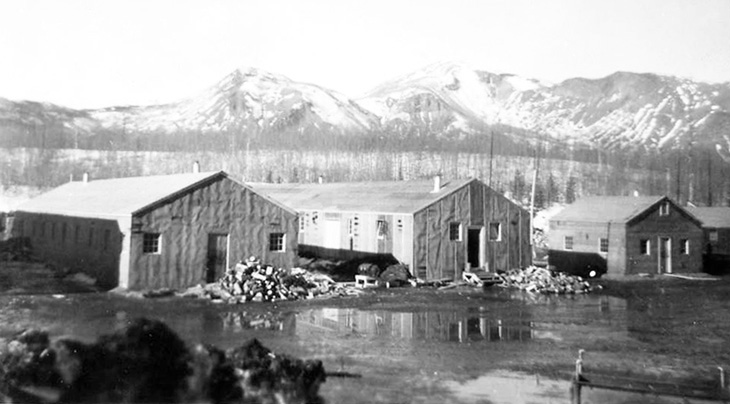 (Tents progressed to buildings)
Throughout his life my dad remained passionate about travelling.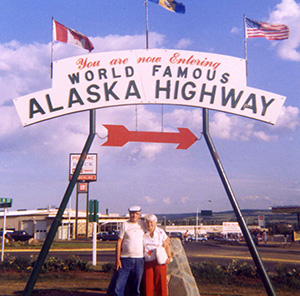 (Mom & Dad under the Alaska Highway sign in 1992)
When he heard about the plans to celebrate the 50th anniversary of the Alaska Highway, he knew it would be the perfect time to go north once more.
While there, he ran into a local author who was doing research for a book.
Her vision was to tell the story of the building of the Alaska Highway through the eyes and words of the men who were there.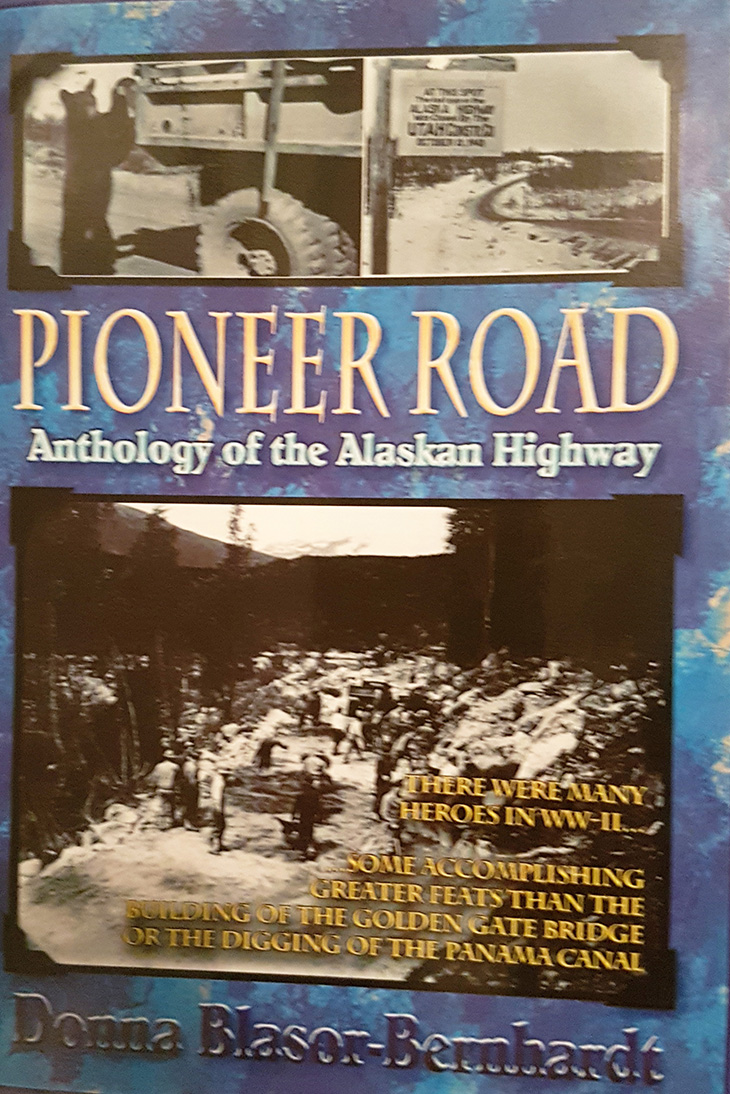 (Blasor-Bernhardt, Donna. Pioneer Road: Anthology of the Alaskan Highway. Las Vegas: ArcheBooks Publishing, 2004)
My dad and Donna, the author, talked about his experiences, which later became part of the book.
When it was eventually published Donna wrote to my dad, not realizing he had since passed away.
Upon hearing the news from my mom, Donna sent her a signed copy with her condolences. 
Both times my dad was in Alaska he took along a camera—these photos span both of those experiences.
He's actually only in a few of the photos he took, and unfortunately the identities of the others who appear aren't known.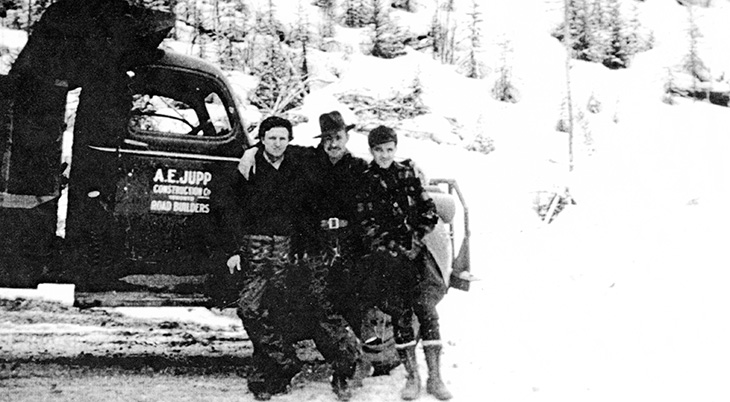 (Ernie Tomlins on left, with friends c. 1942)
Regardless, the pictures tell a fascinating story of the hardships faced and the determination required by these men. For some it was an amazing adventure, for others a proud duty—for many, it was both.
All I know is that, over the years I was growing up, my dad's stories of his times in Alaska were always exciting and I never grew tired of hearing them. 
Historical Footnotes / Updates:
The December 7, 1941 attack on Pearl Harbor catapulted America into World War II. The U.S. government made the construction of a north-south inland supply route / highway connecting the rest of America with Alaska a wartime priority.
Construction of the Alaska or ALCAN Highway began in March 1942, with Canadian crews beginning at the southern end & US crews starting at the northern end. The two crews first met on September 24, 1942 at Mile 588 (later called Contact Creek) of the British Columbia-Yukon border on the 60th parallel. The entire Alaska Highway route was completed October 28, 1942, with the northern linkup at Mile 1202 (Beaver Creek), and on November 20th, 1942 it was dedicated at Soldier's Summit. 
Although this initial highway route (1,700 miles or 2,700 km) was completed in 1942, the road wasn't suitable for civilian drivers/vehicles (steep grades, no guardrails, pontoon bridges, poor road surface - no wonder, built in the Alaskan winter). It wasn't until 1948 - 3 years after World War II ended - that the Alaska-Canadian Highway was opened to the public. Due to almost constant reconstruction efforts, straightening out and / or rerouting, today the highway is 300+ miles (450+ km) shorter.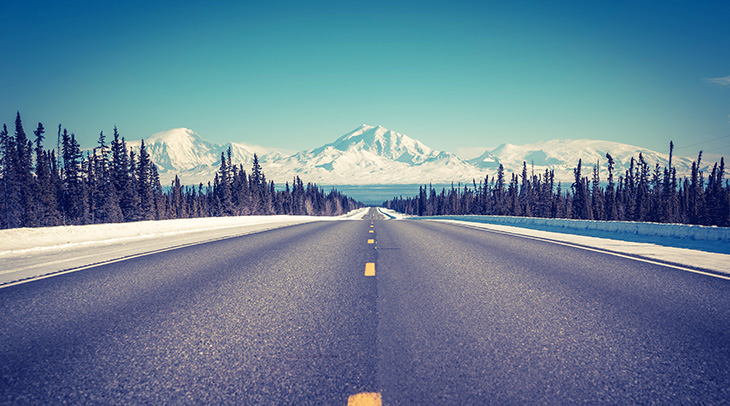 (Alaska Highway 1 portion today Photo: Bryan Goff via Unsplash)
Shortly after the initial Alaska Highway was completed, Jupp Construction changed names to Miller Paving Limited; today it's The Miller Group, with over 4000K employees working across Canada, the U.S., and internationally.
*Unless noted otherwise, all photographs on this page were taken by or for Ernie Tomlins, and are © 2018 Marilyn McGrath. All rights reserved. Do not download or reproduce without written permission.*