Volunteer + Travel: Kenya
My love of animals and passion for travel came together in perfect harmony…
While volunteering at the Toronto Zoo I happened to hear about Animal Experience International (AEI). This Canadian organization's sole purpose is animal conservation efforts around the world through ethical volunteer opportunities.
For me, the idea was exciting and seemed like a match made in heaven. I was not disappointed.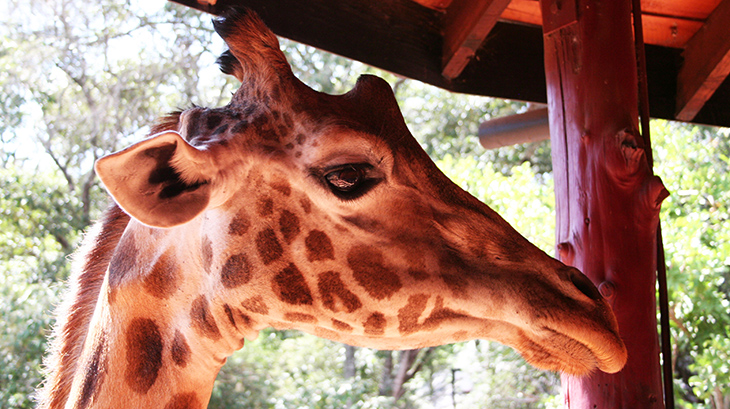 (Rothschild's Giraffe, Giraffe Center, Nairobi Kenya)
The idea of volunteering while – or as a means of – traveling has become hugely popular in the last few years. Baby boomers such as myself – often retired and empty nesters – find more time on our hands, and the chance to dip into bucket lists is a siren song to us.
I decided if I was going to try this travel-plus-volunteer gig I need to ensure I was truly doing good (ultimately, for animals in my case), and not just becoming someone's source of wealth. I researched the industry of 'voluntourism', finding that indeed the opportunity to jump on a cash-cow bandwagon has brought many less-than-ethical players into the field.
With research however, my opinion of AEI was different. A small organization (co-found by Nora and Heather, two women who continue to be "the company"), AEI has garnered much respect in both the tourism and animal welfare industries world-wide. They maintain a hands-on approach with both the volunteers out on their 'experiences' (more on that later) and the host organization (eg an animal sanctuary).
Before taking on a host, every single experience has been vetted by AEI. A high degree of due diligence is taken to ensure the ethics of the host organization are without reproach. As well, Nora actually goes into the field as a volunteer prior to signing them on – she knows exactly what each experience really DOES entail for the volunteers. 
Each experience offered by AEI is unique. Some are ongoing (for example, volunteering in an elephant sanctuary in Thailand – watch for it in a future story as I did that too!), others only in certain seasons, while occasionally – as in the giraffe project I wrote about in a previous article – it is a one-time opportunity. Locations range from Canada, Australia, Croatia, Mexico, Africa, and more. If your travel calendar is wide open, you'll have a hard time deciding which one to pick!
The description of each experience provides you with the details necessary to plan your adventure, and spells out what is/is not included with your cost…for example:
Generally it is your cost to get to the country or location.
Travel from the airport to the host may or may not be covered.
Accommodation is usually covered.
Some/all meals are usually included.
These are just guidelines I've learned from reviewing the experience descriptions, as each one differs. Details are also on their website about the type of accommodation, scheduling of work, etc. Again, reading through the experience, Nora or Heather are only a phone call or email away to ask questions.
Matching a volunteer with an experience is not done lightly. Telephone and Skype interviews and conversations with AEI give you multiple opportunities to ask every possible question about the work, host, conditions, etc. 
Satisfied that my own respect and love of animals was reflected in AEI's business model for volunteering, I reviewed the opportunities – or experiences – to match up any of interest to me within the date range I had available for a trip. That is how it happened that, at age 59, I found myself signing on to a 10 day giraffe research project in Kenya (Africa) at the Soysambu Conservancy. I couldn't wipe the grin off my face for several days. 
Once I had decided and signed up, I received a very detailed packaged emailed from AEI giving information about not only the host and the experience, but also information about the country and area I would be traveling to. What the people are like, customs, weather, food, tips about what to pack, maps…a complete dossier to ensure I was as comfortable as I could be, stepping into such an adventure.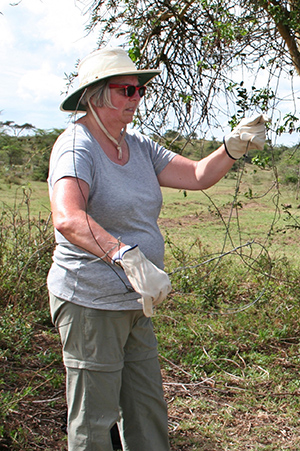 (Clearing poaching snares on the Soysambu Conservancy, Kenya)
That first experience, in Kenya, will stay with me for so many reasons. AEI gave me the chance to do something important to me and I am sincere in singing their praises.
We'd be sitting in a truck, bouncing over the savanna or pushing through the forests, looking for giraffes. Sometimes we'd get out and walk, looking for wire poaching snares. It was hot and we drank multiple bottles of water. When we had the opportunity to help clear brush on a hide trail, I opted to go along, knowing I could handle it but also knowing I could stay back if it was too much.
Every day was like a safari and my camera told the tale thousands of times over….zebras, waterbuck, gazelles, foxes, warthogs, lions, exotic birds, Cape buffalo, and yes, giraffes.
Getting to meet the people who lived on the land, the children walking the trails to mud-walled schools, the men and women farming cattle (and camels!), the researchers and scientists passionate about the wildlife and the future of this part of the world. It was a privilege to play a very small part in that future.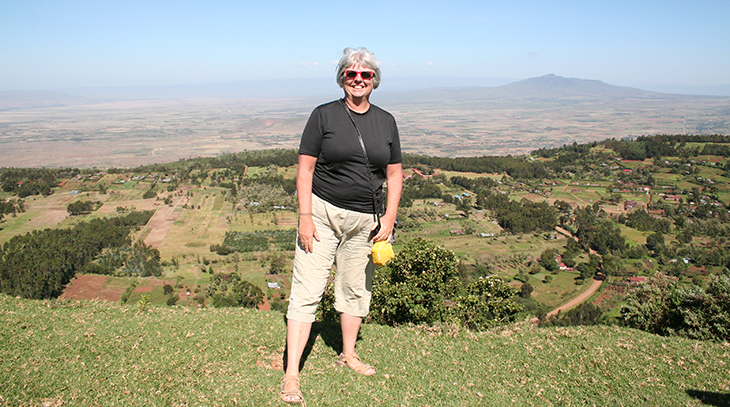 (Great Rift Valley, Kenya, with Mt. Longonot Volcano in background)
To learn more about AEI visit AnimalExperienceInternational.com
The land of today's Soysambu Conservancy in was born thousands of years ago by volcanoes to the south sending lava towards Lake Elmentaita (Kenya) creating ridges, plateaus, and hollows. Archaeological evidence on Soysambu speaks of our ancestors walking these lands far in the past. The first European explorers, making their way across the continent, filled their journals with exciting stories of the wildlife and people they encountered. 
In 1905 Lord Delamere purchased these 50,000 acres from the British Crown and became the unofficial 'leader' of the European community in Kenya among the British settlers. He became famous for his persistence in trying to establish a working agricultural economy in East Africa. If you are a movie buff, the character of Lord Delamere appears in Karen Blixen's book Out of Africa, and in the subsequent movie starring Meryl Streep and Robert Redford. The Conservancy is still in the Delamere family, and the current Lord and Lady Delamere (seniors now in their 80s) still live on the grounds. Below is their original home, where they lived for approximately 40 years.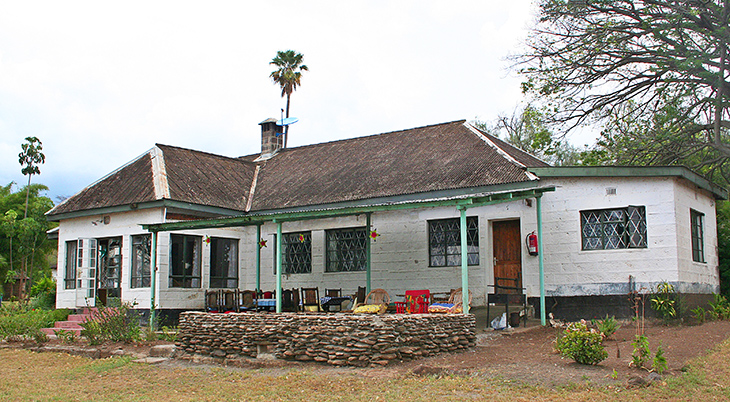 (Soysambu Conservancy Mission House, Kenya)
A pastor and his wife now live here, running a mission as well as a hostel – which is where I stayed. The 'patio' area here is where we ate breakfast and dinner – delicious, home-cooked but simple meals, enjoyed along with stunning sunrises and sunsets while watching the Kenyan wildlife come into the 'yard' as the evening came on. The low stone wall is actually a large fire pit which we sat around some evenings.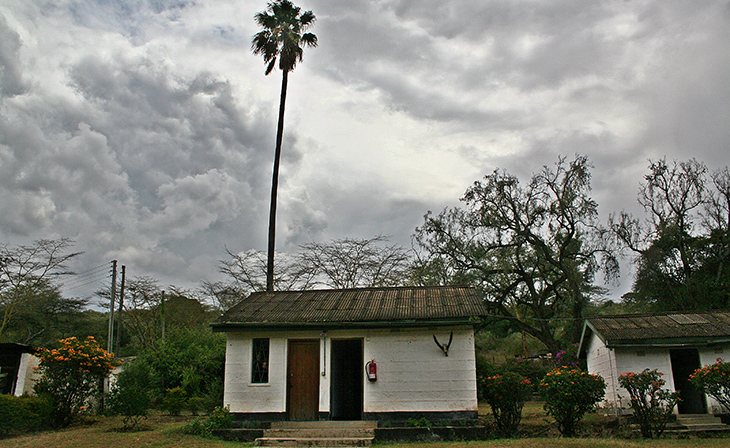 (Soysambu Conservancy Hostel Cabin, Kenya)
The rustic but cozy cabin above was my home-away-from-home while on the Conservancy. Shared with one of the other volunteers, we had twin beds and running hot and cold water in the 3-piece washroom (toilet, sink, bath), only steps from the main house where we ate. There was another, similar cabin where the other two volunteers stayed. That one had the luxury of a shower so we worked out a friendly schedule!
Also in this area was a barracks-like structure where the pastor and his wife could accommodate a larger group…anything from researchers, graduate students, missionary church groups….they mentioned several different types of visitors. Here in this area we had connectivity and were able to catch up with emails and messages from home.
While out on the Conservancy we did not have that ability, and the guards who accompanied us were equipped with walkie-talkies for safety and security.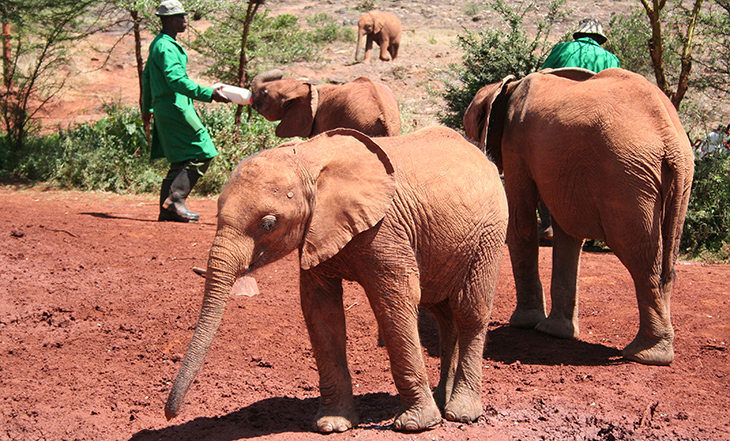 (David Sheldrick Wildlife Trust Baby Elephants, Nairobi, Kenya)
When you travel so far from home, it only makes sense to see and explore as much as you can! Our small group of volunteers (4 women, and we all happened to be from Canada!) took an excursion to the David Sheldrick Wildlife Trust just outside Nairobi. 
One of their most important conservation activities is the Orphans' Project, a hugely successful elephant and rhino rescue and rehabilitation program. To-date they have successfully hand-raised over 150 baby elephants. The Trust has accomplished it's long-term conservation priority by effectively reintegrating orphans back into the wild herds of Tsavo. It's even resulting in many healthy wild-born calves from former-orphaned elephants raised in their care.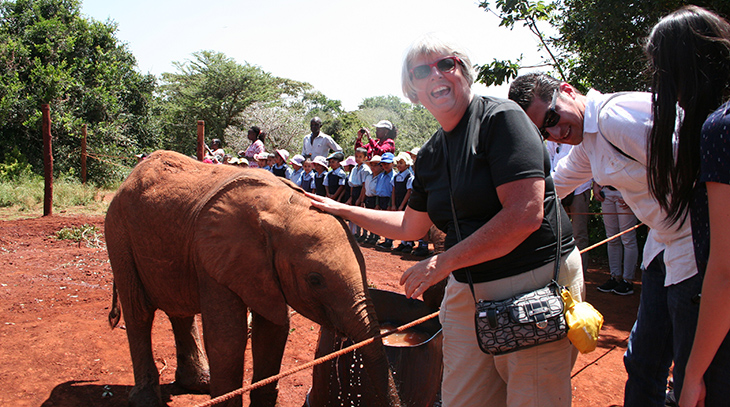 (David Sheldrick Wildlife Trust Baby Elephant, Nairobi, Kenya)
I'm laughing in the photo above because this wee thing had just sprayed water all over my legs!
A strictly enforced small number of public visitors are able to come to see the orphans during a one-hour window each day. One of the organization's most important efforts is the education of the next generation about animal conservation and habitat protection, as can be seen by the students behind me in this picture. They are given the same opportunities to interact as I enjoyed. 
To learn more about the centre, visit DavidSheldrickWildlifeTrust.org
Another excursion was to the Giraffe Center, also just outside Nairobi. The centre was founded in 1979 by Jock Leslie-Melville, a Kenyan citizen of British descent.
It's an educational institution combined with rescuing endangered Rothschild's giraffes. It provides conservation education programs for Kenyan school children free of charge. The Giraffe Center gets 90% of it's funds from the entrance fees, on-site gift shop, and tea house sales.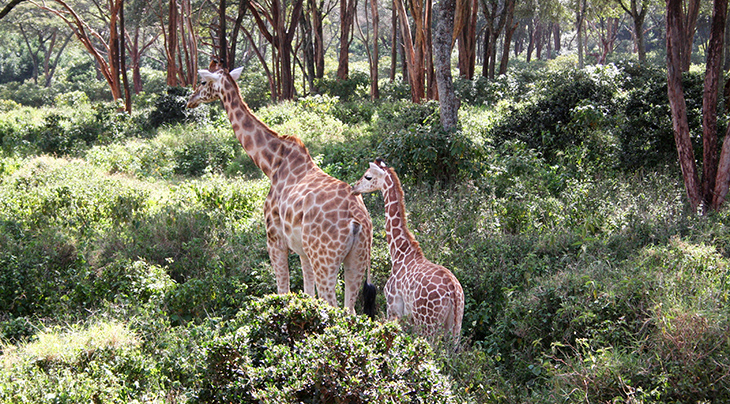 (Giraffe Cente, Nairobi, Kenya)
Visitors to the Giraffe Center are provided with special giraffe food pellets (free of charge), if they'd like to feed the animals. Visitors are only allowed 2 handfuls to help control feeding.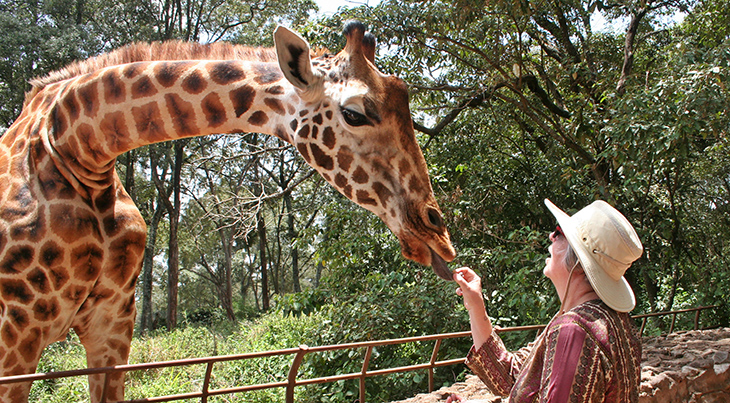 (Feeding at the Giraffe Center, Nairobi, Kenya)
The idea for the Giraffe Center actually came from Jock's American wife Betty. She'd heard of an 18,000 acre ranch in western Kenya where there were only 120 Rothschild's giraffes left – and the ranch was scheduled for sub-division. Betty and Jock Leslie-Melville were able to bring two young giraffes to their property initially, and then raised funds to move another 5 groups of giraffes to different safe areas. 
There are now over 300 Rothschild's giraffes – all safe and breeding well – in different locations across Kenya. To learn more about the centre, visit GiraffeCenter.org.
*Unless noted otherwise, all photographs on this page are © 2018 Marilyn McGrath. All rights reserved. Do not download or reproduce without written permission.*