Walking Through Fall - Rouge Park
Autumn – Fall – the time of year we see as a defining moment in my part of the world. Out walking in Fall feels entirely different then say, Spring.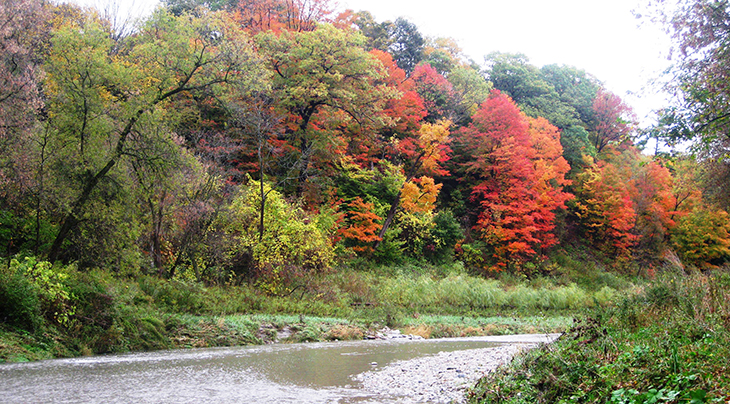 In Spring, when the year is just beginning I seem to be able to feel it right through my feet – as if I can feel the new growth trying to push up and get started at life. The greens are so bright they almost hurt to be looked at, forcing my eyes to jump and sweep.
"Spring" is almost a self-fulfilling name–there's nothing relaxed, quiet, or peaceful about it. By definition it's a time of rejuvenation and rejoicing–the making through of another long, dark, cold winter.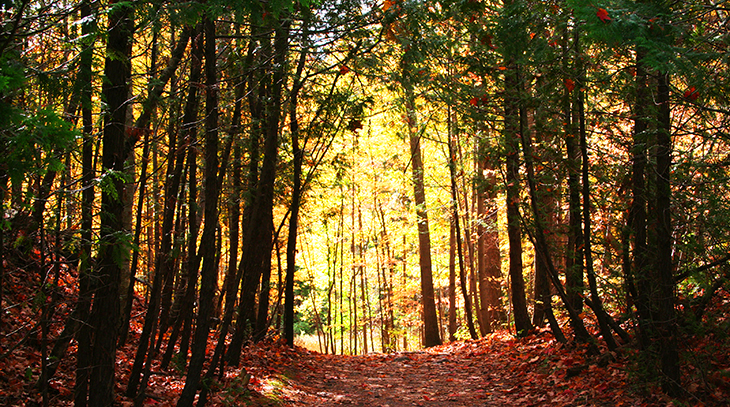 Walking through the forest in Fall is a different experience. I lazily stroll along the paths, my relaxed gait echoed by the leaves all around me – quietly drifting down or making a soft cushion under my feet.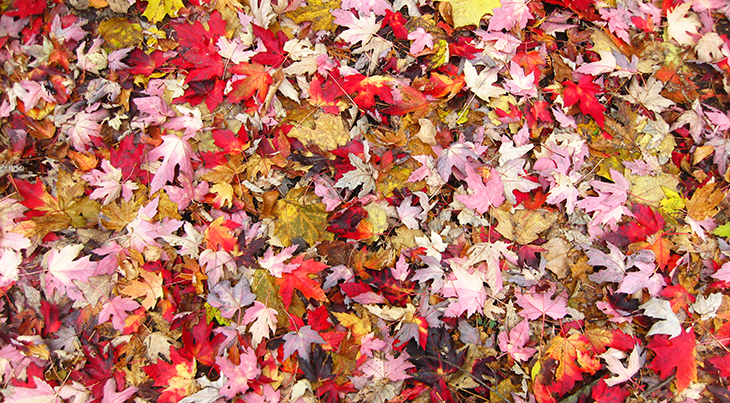 I just love how thick patches of fallen leaves in the forest look – they bring to mind a beautiful Aubusson carpet to me.
Although there is still plenty of green to be seen it is no longer blinding but much of it is instead darkening to brown or magically changing to other colours and – as the days go by – the green is replaced by shades of red, yellow, and orange.
Those that are 'evergreens' become muted, almost disappearing into the background of their more colourful cousins.
A barred owl watches the forest floor for signs of a mouse or other similar meal.
It seems as if the sun goes through phases like the moon–on even the most brilliant of sunny Fall days the brightness feels as if it is on the wane, without the piercing intensity of Spring or the blazing heat of Summer. The Fall sun invites me to linger to enjoy the forests and meadows.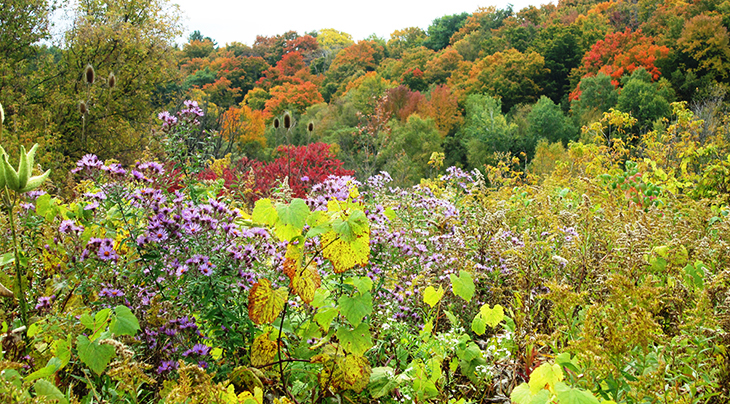 However, that ebbing sun is probably the trigger for the creatures who feel the mad rush of the oncoming Winter. In the freshness of Spring and the heat of Summer these creatures may tend to be a little lazier but not so in Fall.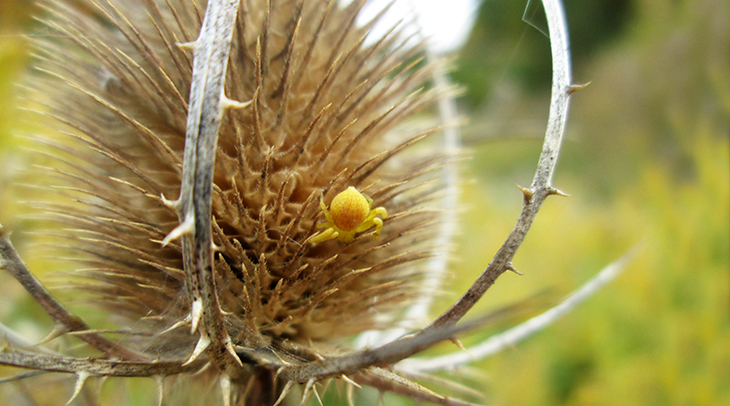 A crab spider carefully negotiates its way around on a teasel, hoping for a late season snack to land.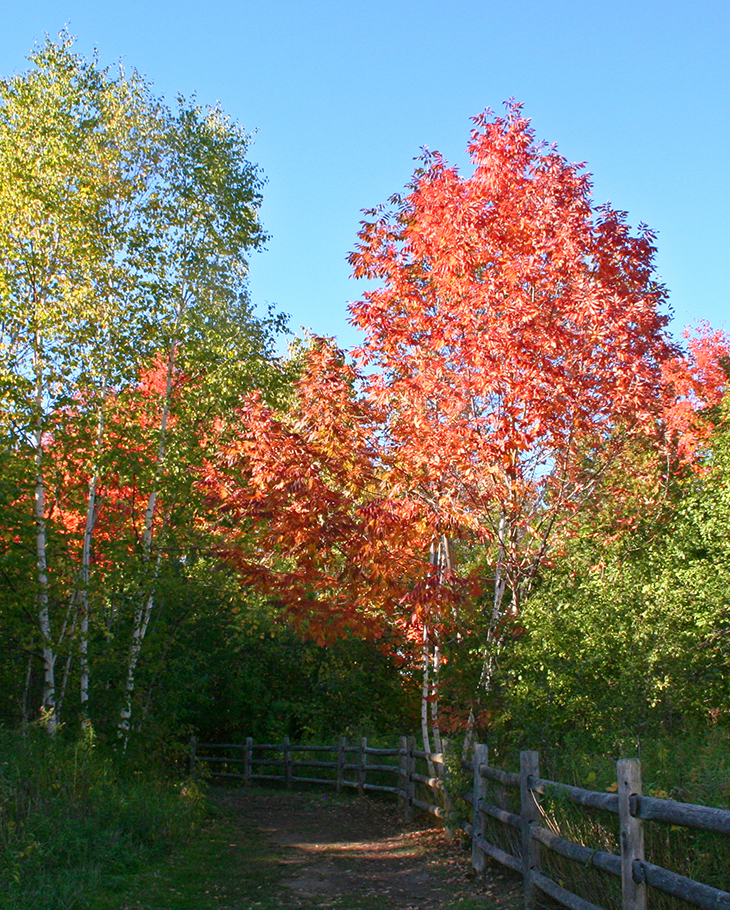 Browning apples on the ground under a wild tree seem to writhe with wasps, swarming to get to and store all the sweetness.
Squirrels boldly race within inches of my dog's nose, so focused are they on getting the walnuts in their cheeks to their caches.
Butterflies and bees, flitting between late-flowering golden rods and asters, can almost be touched they're so exhausted after making it through another increasingly-colder night.
The single-mindedness of the woolly bear caterpillar–even though I move him out of harm's way in the middle of the path–doggedly returns to some invisible route, chased by the season's imperative.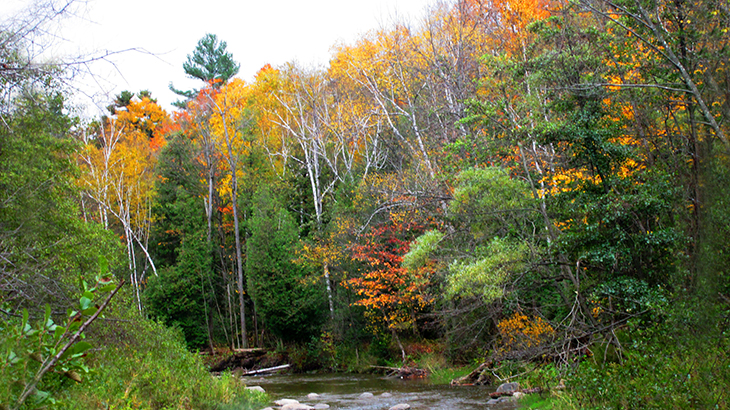 Fall is here, on it's way to Winter.
(Bur Oak Tree Leaves in Fall)
The Rouge National Urban Park and several of it's many trails during October were the source of my photos for this walk through fall. The trails in the Rouge Park can range from full access (ie paved / wheelchair accessible), to easy walking (no, or few, gentle hills on a variety of surfaces – gravel, grass, hard-packed earth – accessible for small children or those using a cane), and then on to progressively tougher routes.
Check the Rouge National Urban Park website Trails section for more information. 
*All photographs on this page were taken by and are © 2018 Marilyn McGrath. All rights reserved. Do not download or reproduce without written permission.*