Driving Iceland's Ring Road in Winter
In recent years Iceland has become the 'hot' new vacation destination in the warmer months – but I traveled to Iceland in winter to see the country in her natural glory.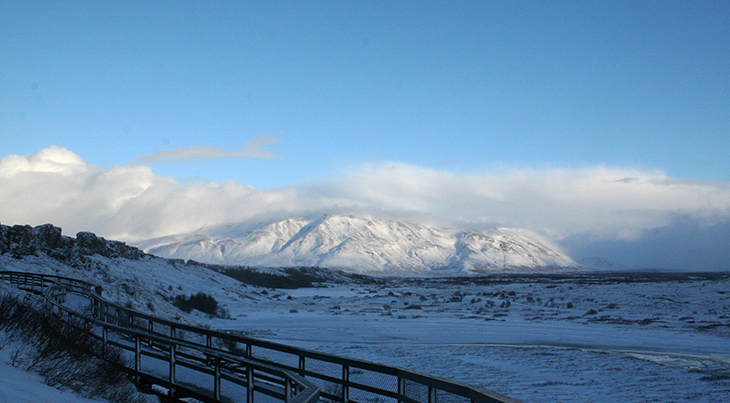 (Thingvellir National Park, Iceland)
Iceland is the most sparsely populated country in Europe, and two-thirds of the country's inhabitants live in and around Reykjavik. One main road encircles the island – Ring Road – which is kept open year-round, while many of the interior roads are not passable or even open in the winter.
A self-driving tour around Iceland appealed to my independent adventurous side. Based on preferences I provided to them, Nordic Visitor pre-arranged my accommodations for each stop. This was critical as many B&B's, small hotels, etc. are not open in winter.
Reykjavik, Capital of Iceland
I took a couple of days to explore Iceland's capital city of Reykjavik, on the western side of the island, on foot – it's not that big. Geothermic heating throughout the island supplies almost all of the homes and keeps the roads and sidewalks of the city clear of ice.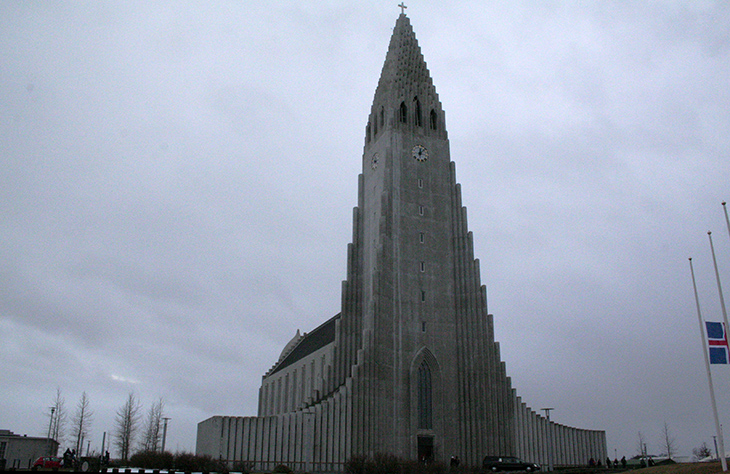 (Hallgrimskirkja Lutheran Church, Reykjavik, Iceland)
The beautiful Hallgrimskirkja Lutheran Church (the predominant religion of Iceland) is built on a hill, and visible from pretty much anywhere in Reykjavik. Named after Rev. Hallgrimur Petursson, a famous Icelandic poet, this gorgeous building can house 1200 people. Built by a father and son, it was started in 1945 and not completed until 1986.
Visitors can take an elevator up 6 floors to the clock tower, look out through the clock's faces, and climb one more flight of stairs to view the city from the arched windows near the top.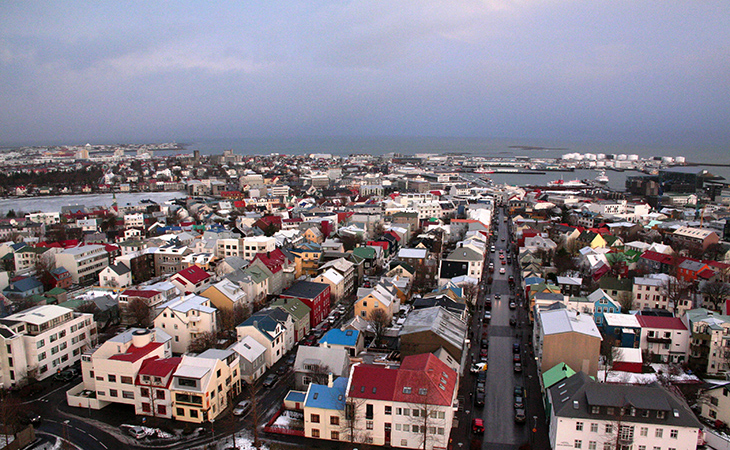 (Lake Tjörnin & Reykjavik, Iceland As Seen From Hallgrimskirkja Church)
Lake Tjörnin (above) freezes in winter and is a popular spot for skating. You can see the arc of the earth on the horizon in this photo.
I had no trouble finding my way back to my hotel / guest house….just down the street from the church!
Thingvellir UNESCO World Heritage Site & National Park
East of Reykjavik and inland is Thingvellir National Park, the location of the oldest existing parliament in the world, first assembled there in 930AD. Because of this, Thingvellir has been designated a UNESCO World Heritage Site.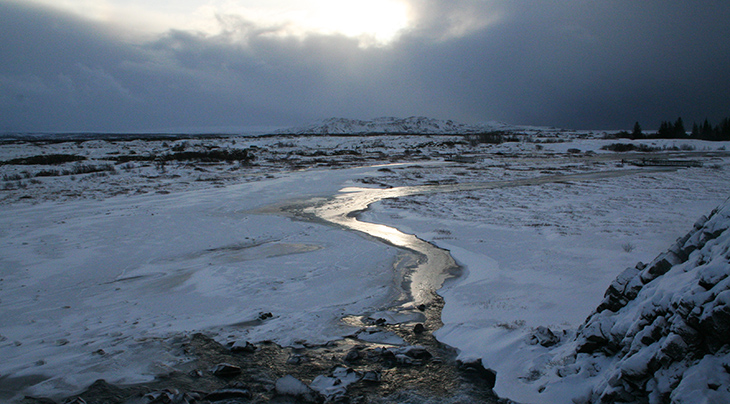 (Thingvellir National Park, Iceland)
Thingvellir is a conservation area with lakes and volcanic mountains.
Strokkur Geyser, Iceland
Further inland still is the geothermal area of Geysir, with hot springs & boiling mud pits. The Strokkur Geyser erupts much more often than Geysir, and to heights of up to 30 metres every few minutes.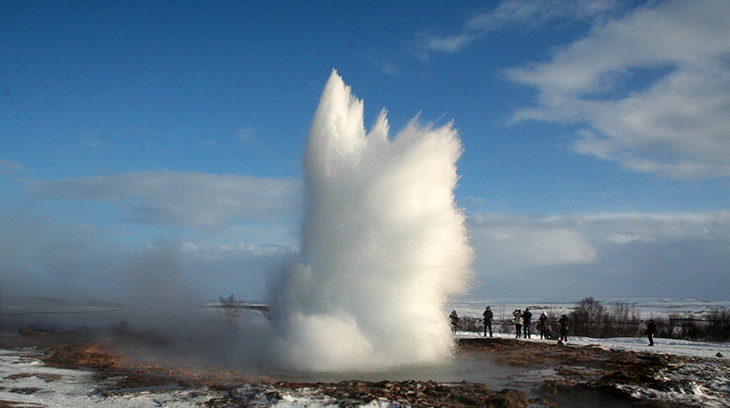 (Strokkur Geyser, Iceland)
There she goes! The English word "geyser" (a periodically spouting hot spring) derives from Geysir. The name Geysir itself is derived from the Icelandic verb geysa "to gush", from Old Norse. Geysir was right behind me when I took the above picture of the Strokkur Geyser.
Driving Iceland's Ring Road in Winter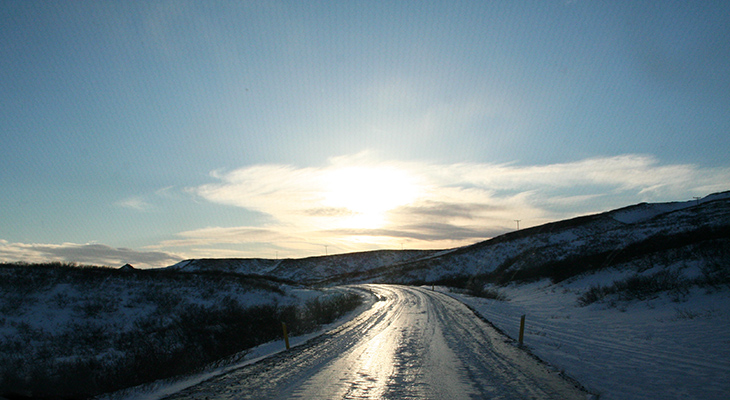 (Ice on Ring Road, Iceland)
My real adventure was traveling on the Ring Road in Iceland. It wasn't unusual for me to drive for an hour or two without seeing another vehicle or house off in the distance. Along with blowing snow and whiteouts, drivers also have to navigate very icy conditions sometimes, and then there's the extraordinary wind…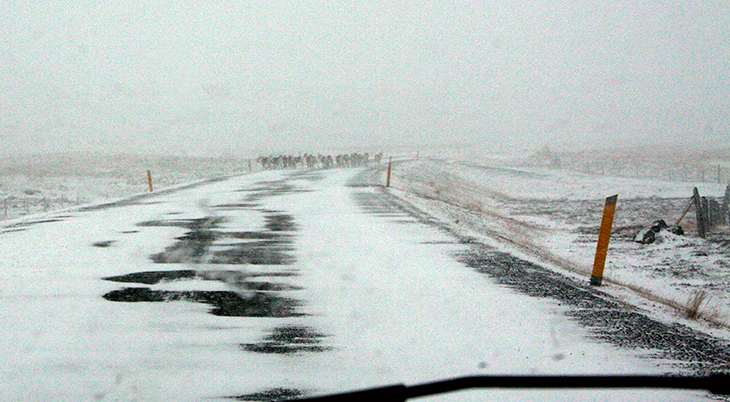 (Reindeer on Ring Road, Iceland)
From a distance I wondered "what the heck?". Turns out it was a herd of reindeer, above & below.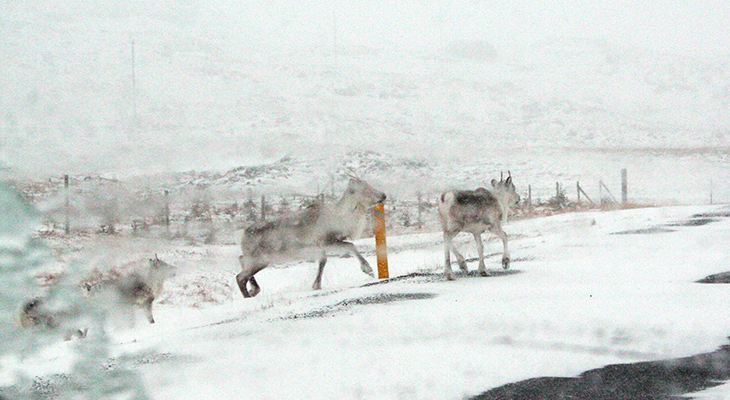 Bright yellow poles along the side of the road are life-savers during a white-out. One of the things provided with my rental vehicle was a local cell phone for emergencies. When I was blown right off the road, I only had to wait an hour before someone came and I was on my way again – no damage!
Southern Iceland Sights
On the southern side of Iceland is the Mýrdalsjökull Glacier. I wasn't expecting the glacier to be as scary as it was! Guides gave us rapelling lessons.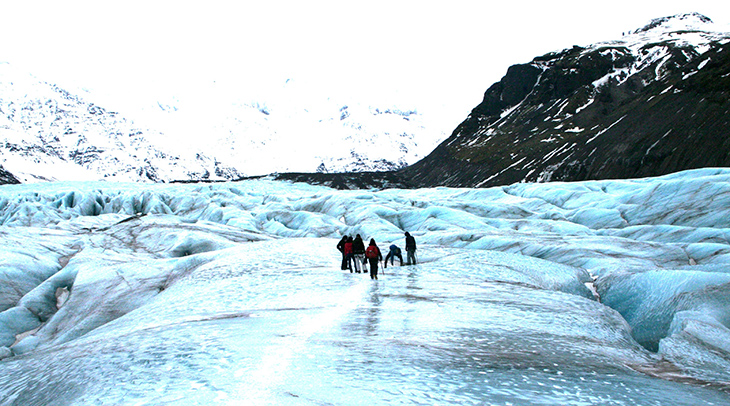 (Mýrdalsjökull Glacier, Iceland)
The ice is so blue but clear, and you can see about 2 metres down into it. The glacier is not flat – lots of rolls, valleys, and hills, and as smooth as glass in some places.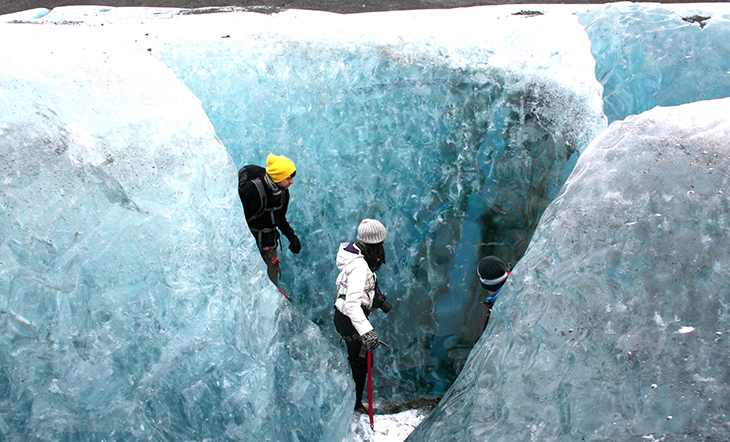 (Mýrdalsjökull Glacier, Iceland)
Dyrhólaey is at the furthest southern tip of Iceland. This area is a nature reserve and an important bird nesting site during May and June, so the lighthouse is shut down for those months.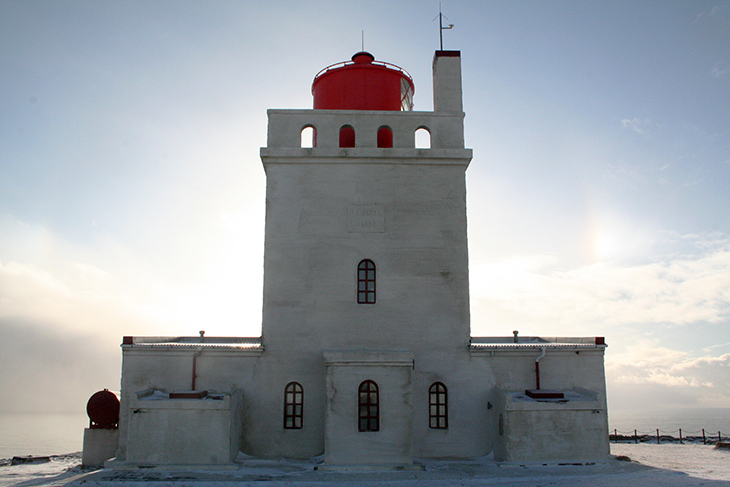 (Dyrhólaey Lighthouse, Iceland)
I watched seabirds and seals frolic in the frigid water of the Jökulsárlón Glacier Lagoon.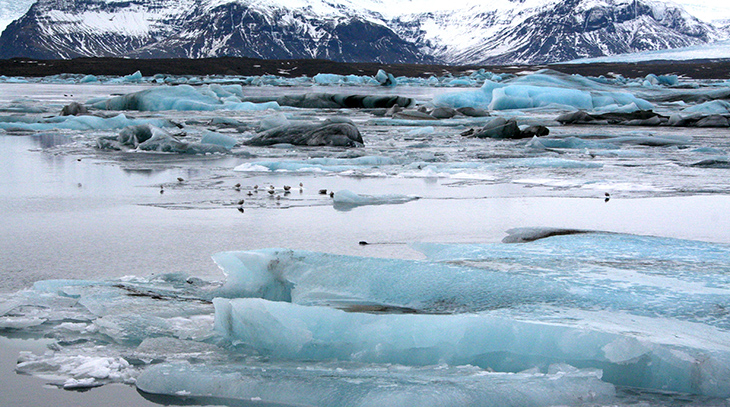 (Jökulsárlón Glacier Lagoon, Iceland)
Northern Iceland
The spectacular Godafoss Waterfall ("Waterfall of the Gods") is in northern Iceland.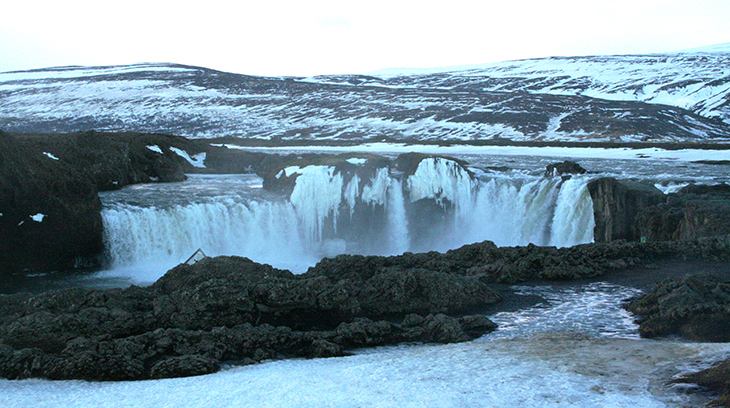 (Godafoss Waterfall, Iceland)
The town of Akureyi is also on the northern coast of Iceland. The Sigling sculpture in the Akureyi harbour was made by Jón Gunnar Arnarson, the same artist who created the stainless steel Solfar "Sun Voyager" boat sculpture in Reykjavik's harbour.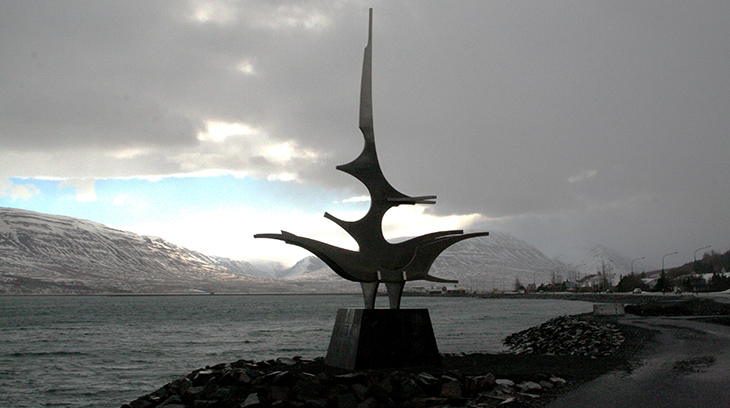 (Sigling Sculpture, Akureyi, Iceland)
Pony-sized Icelandic horses are small and wide, but amazingly sure on their feet, going through mud, across ice, through streams and over frozen fields.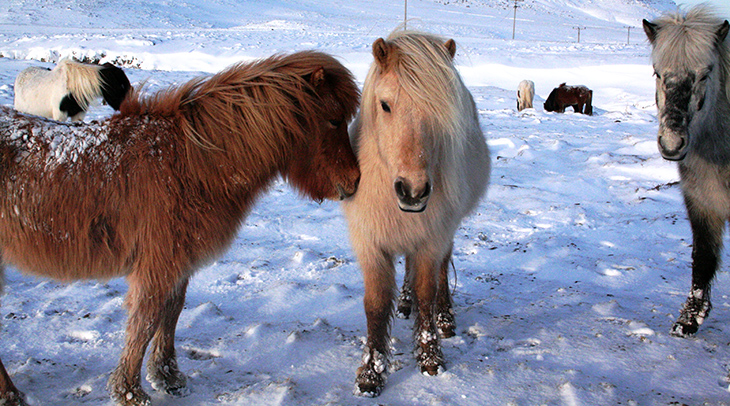 (Icelandic Horses, Skagafjörður Countryside, Iceland)
Most Icelandic horses remain outside year round, never seeing the inside of a barn their entire lives. They're also not shod, as this would make their feet cold and also interfere with their ability to safely navigate the frozen ground. Often their backs are covered with a coating of ice and matted snow, which helps keep them warm. With hot springs bubbling up everywhere, they always have fresh running water to drink. Their owners periodically drop bundles of hay in the fields during the winter for them.
Snaefellsnes Peninsula
Stykkishólmur, Iceland is a small but very pretty harbour town on the Snaefellsnes Peninsula, on the western coast of Iceland north of Reykjavik.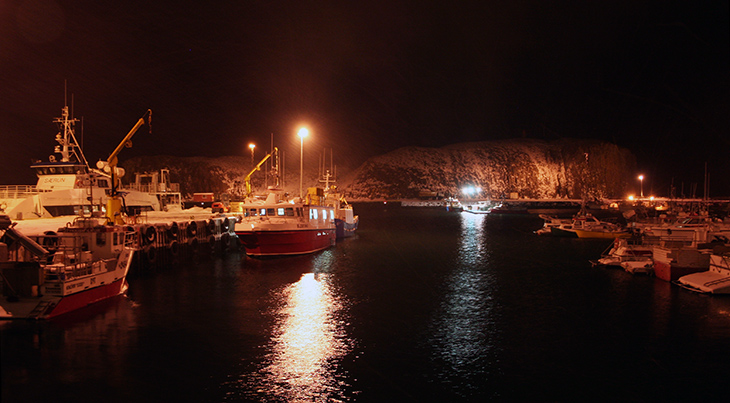 (Stykkishólmur Harbour, Iceland)
Along with it's beautiful waterfalls, Iceland is also known for it's majestic mountains. Kirkjufell "Church" Mountain is on Snaefellsnes Peninsula.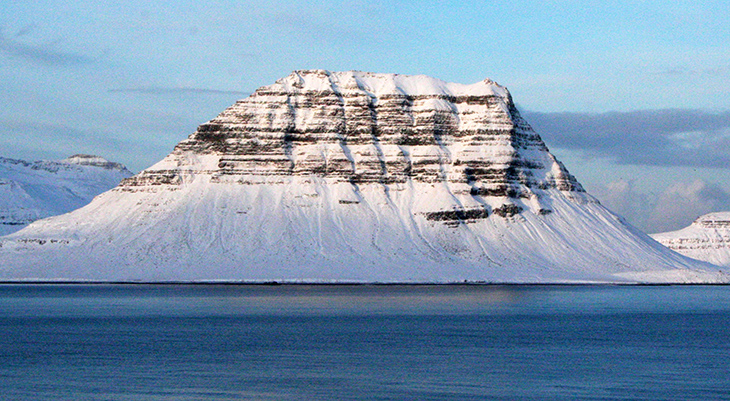 (Kirkjufell "Church Mountain, Snaefellsnes Peninsula, Iceland)
I thoroughly enjoyed my accommodations along the way, all arranged by Nordic Visitor. A small-town modest bungalow owned by a retired teacher with his King Charles spaniel named Zorro, a bustling family horse farm, a beautiful property with stunning views (owned – appropriately, I thought – by Icelandic landscape photographer Haukur Snorrason), and more. All were welcoming, clean, with delicious home-prepared authentic meals and friendly conversation.
One day I'd take a dip in a toasty warm outdoor bath, and another day I was about 40 meters underground on a lava cave expedition with a guide named….Thor, of course!
Yes, I loved the adventures, the friendships, the new experiences. Even without all of that though…the scenery.
There's always more than can be told – or seen – in one sitting…you can read the full article and see more pictures at www.OneDayisHere.com. Enjoy!
*All photographs on this page were taken by and are © 2019 Marilyn McGrath. All rights reserved. Do not download or reproduce without written permission.*