Vintage Silent Film Stars Valentine's Day Cards
Modified vintage Valentine's Day themed photos, portraits, and advertisements featuring celebrities from the era of silent movies and Old Hollywood, as shareable greeting cards. 
Mary Pickford
Pioneering silent movie actress, director, and producer Mary Pickford was known as "America's Sweetheart" at the height of her popularity.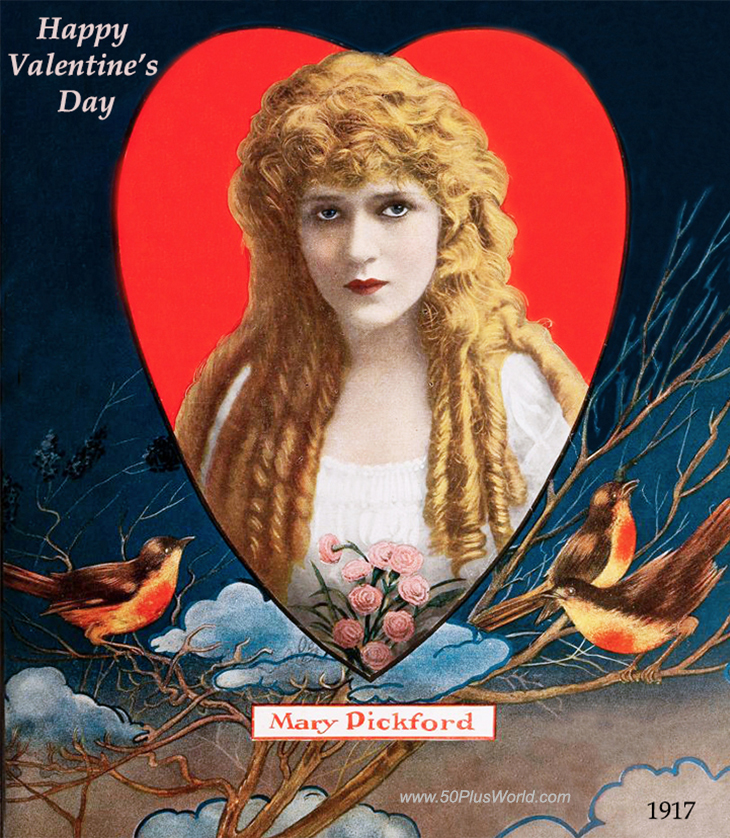 (Mary Pickford 1917 Happy Valentine's Day: The Photo-Play Journal)
Nee Gladys Marie Smith when she was born on April 8, 1892 in Toronto, Ontario, at the time part of British Dominion, Mary Pickford's father John Smith deserted the family and died in 1898 . Her mother Charlotte Hennessey Smith shepherded her three children – Gladys age 7, Lottie (nee Charlotte) age 6, and later, Jack (nee John) then age 3, into acting careers on stage with – wait for it – The Valentine Stock Company of Toronto. They began touring the U.S, performing in plays.
Gladys Smith got her big break on Broadway in 1907 at the age of 14, performing alongside Cecil B. DeMille in The Warrens of Virginia, a play written by Cecil's older brother William C. deMille. Theatrical producer David Belasco had Gladys change her name to Mary Pickford, and her siblings also changed their last name to Pickford. 
Mary Pickford's second big break was being "discovered" in 1909 by D.W. Griffith, whose interesting past as a stage actor was history, and who had moved on to silent films. As a producer-director at Biograph, he launched Mary Pickford into acting in silent movies, and – eventually – becoming the biggest female star of the silent film era.
Pickford's family Valentines would have gone to her beloved stage manager mother Charlotte, brother Jack Pickford, and sister Lottie Pickford, with whom she remained close all of her life. If Mary got a job with a film company, so did her mother and siblings. 
Mary Pickford's romantic loves were her first husband Owen Moore, whom she married in January 1911 when she was 18. She divorced Owen Moore in 1920 in order to marry the new man she'd fallen in love with back in 1818, swashbuckling actor / movie star Douglas Fairbanks. Fairbanks, Pickford, Mary's former mentor D.W. Griffith, and their friend Charlie Chaplin, made history when they formed their own silent film production company, United Artists, in 1919.
Douglas Fairbanks and Mary Pickford's reign as King and Queen of the box office AND the Hollywood social set, was punctuated with lavish parties at their legendary Pickfair mansion for most of the 1920s. 
Mary co-starred with singer, bandleader, and movie actor Charles "Buddy" Rogers (12 years her junior, dubbed "America's Boy Friend" by the press) in My Best Girl (1927). The onset of sound movies soon after stifled the careers of both Pickford and her husband. Fairbanks began spending extensive time traveling overseas. They had already been separated secretly for years by the time Douglas Fairbanks fell in love with Sylvia, Lady Ashley in the early 1930s. Hollywood's King and Queen finally divorced in January 1936.
By the end of that year Mary was a divorced, depressed alcoholic (a disease which also affected her father and siblings). There were no children from either of her first two marriages, although Mary had been a fond stepmother to her stepson, Douglas Fairbanks Jr., and aunt to her niece Mary Pickford (daughter of her sister Lottie Pickford; "little Mary" was later renamed Gwynne). Her beloved mother Charlotte had died in 1928, her younger sibling Jack had passed away in 1933, and younger sister Lottie in December 1936.
Mary Pickford married for the third and last time to Charles "Buddy" Rogers, in June 1937. Author Sharon Rich's Sweethearts (1994) biography of Jeanette MacDonald and Nelson Eddy, claimed Buddy Rogers was the man whom Jeanette MacDonald found her new husband Gene Nelson, in bed with, when the two couples honeymooned on the same cruise ship.
Pickford and Rogers adopted two children in the 1940s, but the mother-child relationship was not happy. Mary began withdrawing from social life and saw few friends, among them Douglas Fairbanks Jr., and former Biograph co-star Lillian Gish. Her marriage to Buddy Rogers lasted until Mary Pickford's death from a heart attack in May 1979 at the age of 79. Her legend may last forever.
Charlie Chaplin
A rebel of the silent movie system, actor, director, and producer Charlie Chaplin pioneered the combination of pathos and comedy in films., He was one of the most beloved – and caricaturized – Hollywood movie stars in silent movie fan magazines.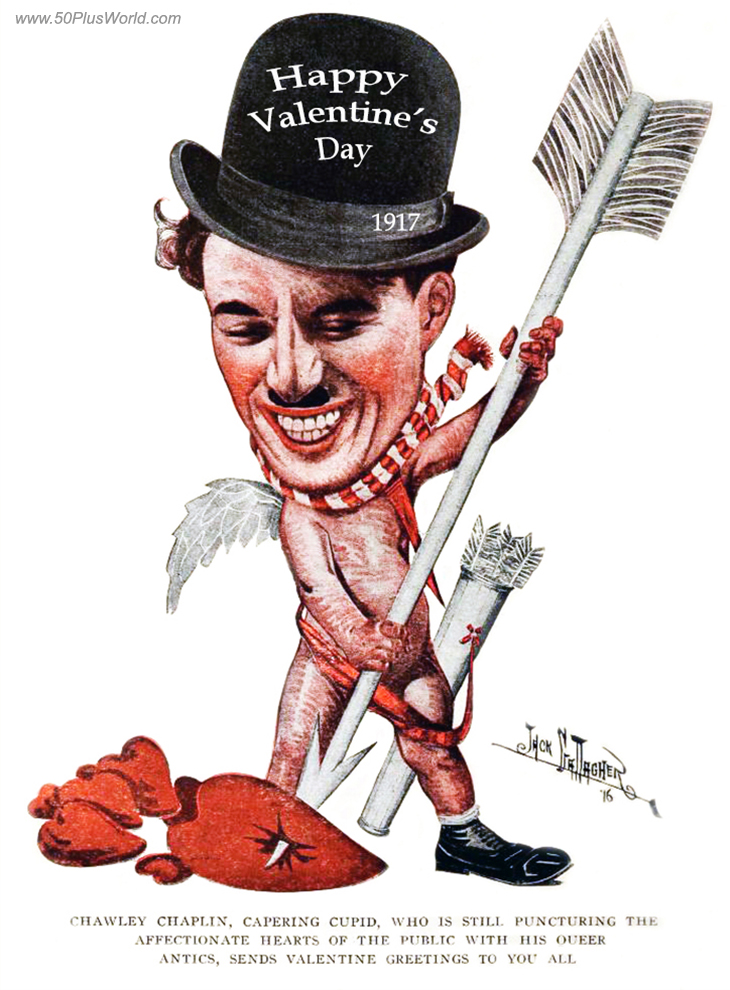 (Charlie Chaplin 1917 Valentine's Day caricature: Jack Gallagher / Motion Picture Magazine)
Chaplin might have given out a lot of Valentines to the many women he was rumored to have had affairs with, and/or, married to during his lifetime. Joan Barry, co-star Edna Purviance, first wife Mildred Harris (m. 1918-1920); second wife Lita Grey (m. 1924-1927), and third wife Paulette Goddard (m. 1936-1942), were all practice runs for his last and lasting romantic love, to playwright Eugene Oneill's daughter Oona O'Neill.
Oona O'Neill (age 18) and Charlie Chaplin (age 54) married in June 1943 and had 8 children together. He died in December 1977 at the age of 88, having changed the world of film-making.
Francis X. Bushman
"King of the Movies" Francis X. Bushman was a box office idol from 1911 through 1918, at which time his divorce from first wife Josephine Duval (with whom he had 5 children) in order to marry  actress and frequent co-star Beverly Bayne, scuttled his career. 
(Francis X. Bushman 1919)
Bushman's first Valentine would have most likely been to himself. After Josephine and Beverly (they divorced acrimoniously in 1925), his next romantic loves to receive Valentines could have been to his third and fourth wives, respectively Norma Atkin (m. 1932 until her death in 1956) and Iva Richardson (m. 1956).
When Francis X. Bushman died in August 1966 at the age of 83, he left his widow Iva his collection of personal memorabilia and fond memories of "her Francis". 
Estelle Taylor
Sultry beauty Estelle Taylor left her first husband Kenneth Peacock (a bank manager she had married in 1911 when she was 17), in order to pursue a career as a model, singer and actress on Broadway stages.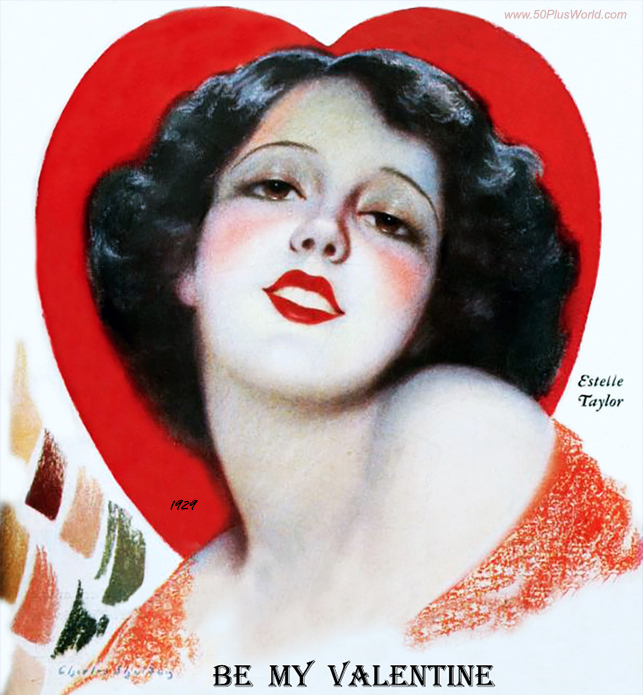 (Estelle Taylor 1929: Charles Sheldon | Be My Valentine)
Taylor broke into films in 1919 and had a variety of leading and supporting roles in silent movies as well as early sound films.
The press announced her engagement to professional boxer Jack Dempsey, former World Heavyweight Boxing Champion, in late 1924, but her divorce from Peacock wasn't finalized until January 1925. Estelle Taylor married her Valentine Jack Dempsey in February 1925, and they were co-stars off and on stage, and in films, before separating in early 1931. Jack Dempsey filed for divorce in Reno, Nevada and it was granted by a judge in September 1931.
When sound movies came in, Estelle Taylor successfully transitioned to "talkies".  She appeared in Liliom (1930) with Rose Hobart and Charles Farrell, and Cimarron (1931) starring Richard Dix and Irene Dunne. Her last film before an extended break from filming was Call Her Savage (1932) starring Clara Bow. Estelle Taylor's last credited movie role was in The Southerner (1945) with Zachary Scott and Betty Field.
A third and final wedding in May 1943 to her manager Paul Small resulted in a separation in May 1944, just a year later. Estelle Taylor filed for divorce from Small in July 1945 on grounds of incompatibility 
Estelle Taylor's love of animals turned to activism later in life, and she served as VP of the Los Angeles City Animal Regulation Commission in 1953. She died of cancer in April 1958 at the age of 63.
Lina Basquette
Dancer-actress and 1928 WAMPAS Baby Star Lina Basquette was married 8 times, to 7 different men. Her Valentine's Day wishes from fans, boyfriends, and husbands, would have been numerous.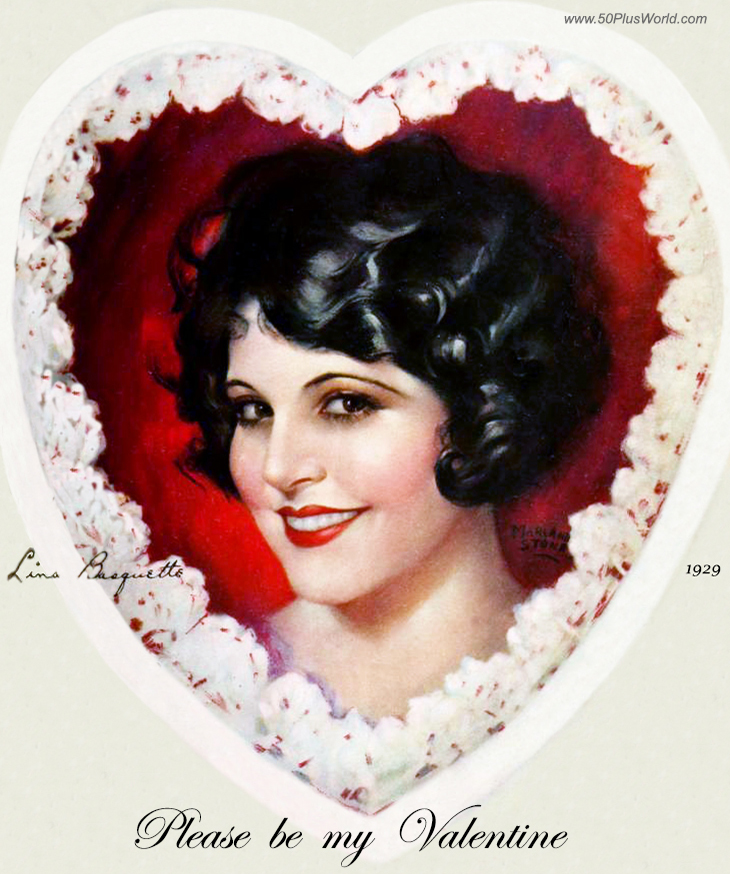 (Lina Basquette 1929: Marland Stone | Please be my Valentine)
Basquette was widowed twice (Sam Warner d. 127; Roy Hallam d. 1931), and divorced 5 times (Peverell Marley, divorced September 1931; Theodore Hayes married October 1931 – divorced September 1932, re-married 1934 – divorced 1935; Henry Mollison married April 1937 – divorced April 1947; Warner Gilmore married 1947 – divorced 1951; Frank Mancuso married 1959 – separated 1959). 
In between her divorce from boxing trainer Theodore Hayes and re-marriage to him in 1934, Basquette found time for an affair his client – Jack Dempsey. After her separation from Frank Mancuso, she never divorced or remarried.
Like Estelle Taylor, Basquette turned her attention to pets and became a noted breeder and judge of Great Danes, a breed that actor Francis X. Bushman had helped popularize in the U.S. Lina Basquette was 87 years old when she died in September 1994 of lymphoma.
More Vintage Film Star Valentines
Vintage 1930s-1940s Film Star Valentines
1950s-1960s Vintage Celebrity Valentines
More Valentine's Day & Other Romantic Stuff!
Best Romance Films With Older Actors
When Valentine's Day Traditions Began
Surviving Valentine's Day: Tips for 50+ Singles