John Wayne's Sad Angel, Gail Russell
Sad-eyed actress Gail Russell's luminous beauty lit up the silver screen in 25 classic era films between 1943-1961. She was paired onscreen with leading men such as Alan Ladd, Joel McCrea, Dennis O'Keefe, John Payne and of course, John Wayne.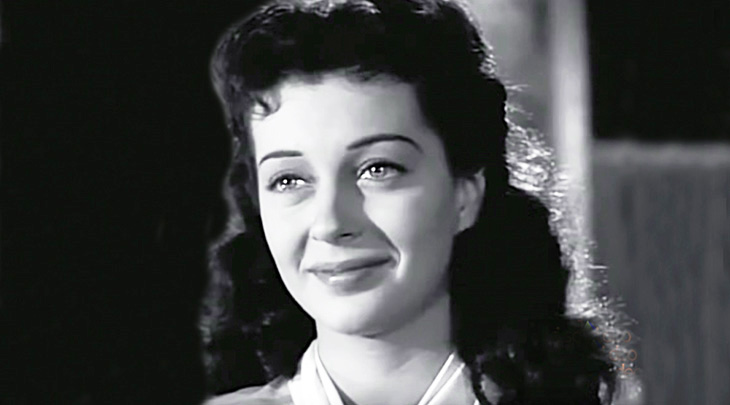 (Gail Russell 1947 Angel and the Badman)
The Shy "Hedy Lamarr of Santa Monica"
Nee Elizabeth L. Russell / aka Betty Gale Russell, was born on Sept. 21, 1924, Gail Russell was discovered by Paramount Pictures talent agent William Meiklejohn. Meiklejohn heard of Gail Russell, "the Hedy Lamarr of Santa Monica", from some high school classmates on Santa Monica Beach. According to the Los Angeles Times, Russell later said that her mother pressured her to accept the Paramount contract offer because the family needed the money.
Soon after she graduated from high school, 18-year-old Betty was signed to a contract with Paramount Pictures, moved to Los Angeles, and changed her name to Gail Russell. She had a supporting role in her first films for the studio, beginning with the family-friendly comedy Henry Aldrich Gets Glamour (1943) starring Jimmy Lydon, Charles Smith, and John Litel.
Small parts in two 1944 movies starring Ray Milland followed – Lady in the Dark, a musical romance co-starring Ginger Rogers, Warner Baxter, Jon Hall, and Barry Sullivan; and The Uninvited (1944), a gothic ghost story/horror film with Ruth Hussey, Donald Crisp, Cornelia Otis Skinner, and Alan Napier.
Gail Russell told Pampa Daily News reporter Erskine Johnson that at school she was shy and had been studying art with a career as a commercial artist in mind. Even after six months of acting coaching, she was overwhelmed, "paralyzed with fright" and couldn't remember her lines; the studio put up screens on the set of The Uninvited beside the camera to shield her from seeing the crew. What was unsaid at the time but later emerged, was that the painfully shy Russell had also begun drinking on the set of The Uninvited to allay stage fright, a fatal solution.
This trailer for The Uninvited features Ray Milland, Ruth Hussey, Donald Crisp, Cornelia Otis Skinner, Alan Napier, and introduces Gail Russell's "exciting beauty".
Russell's The Uninvited co-star Cornelia Otis Skinner was also an author, playwright, and screenwriter. Skinner's 1942 memoir Our Hearts Were Young and Gay (co-authored with Emily Kimbrough) was turned into the 1944 European travel adventure comedy Our Hearts Were Young and Gay, with Gail Russell starring as Cornelia Otis Skinner in her first leading lady role, as Diana Lynn as her best friend, Charles Ruggles, Dorothy Gish, Beulah Bondi, James Brown, and Bill Edwards.
A couple of years later, the sequel film Our Hearts Were Growing Up (1946) was released, with Gail Russell, Lynn, James Brown, and Bill Edwards reprising their characters; and adding in talented actors Brian Donlevy, Billy De Wolfe, and William Demarest. In Fallen Star: a biography of Gail Russell (2016) by author Steven Glenn Ochoa, Ochoa says that Russell enjoyed making this movie because she and Diana Lynn were good friends off screen as well, Bill Edwards was a former boyfriend (Russell was by now dating actor Guy Madison), and Russell's acting coach Bill Russell directed the movie.
From 1944 on, Gail Russell's name was usually above the marquee. She was Alan Ladd's leading lady in two films, beginning in 1945 with Salty O'Rourke, a horse-racing drama with WIlliam Demarest, Bruce Cabot, Spring Byington, and Darryl Hickman.
In the romantic comedy The Bachelor's Daughters (1946) about 4 husband-hunters, Russell's co-stars are Claire Trevor, Ann Dvorak, Billie Burke, Jane Wyatt, and Adolphe Menjou.
Some exceptions to leading lady status are two musical comedies that Russell and a host of other celebrities appeared in, in cameos. Duffy's Tavern (1945) has Gail Russell, Bing Crosby, Betty Hutton, Paulette Goddard, Alan Ladd, Dorothy Lamour, Brian Donlevy, Sonny Tufts, Veronica Lake, Diana Lynn, and many others.
In a similar vein and with many of the same co-stars, is 1947's Variety Girl (1947), with DeForest Kelly.
Gail Russell and John Wayne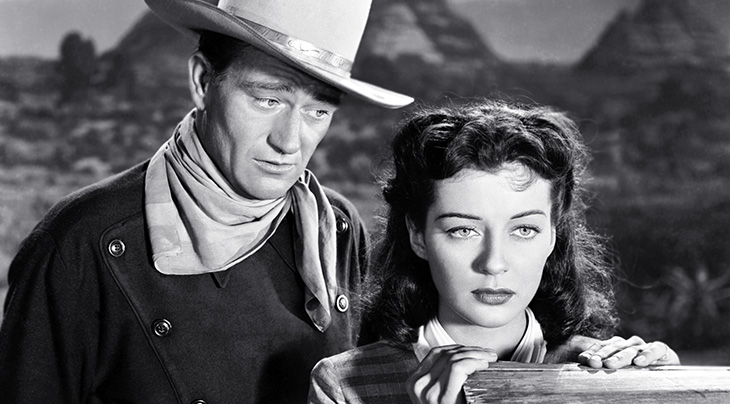 (Gail Russell & John Wayne 1947 Angel and the Badman)
A pivotal moment in Gail Russell's career was being cast as a young Quaker woman for the John Wayne western Angel and the Badman (1947). Angel and the Badman is a departure from John Wayne's usual type of western – focused on relationships more than action – and Russell, who at 23 was considerably younger than her romantic leading man John Wayne (then 40 years old), holds her own in scenes with him. This would be Russell's first but not last, western.
Country music singer Johnny Cash paid homage to the film with his original song Angel and the Badman (1991).
Duke: The Life and Image of John Wayne author Ronald L. Davis, says that Wayne (a heavy drinker himself) knew of Russell's painful shyness and drinking problem, and that it was nothing but friendship and compassion that caused him to spend time in her dressing room.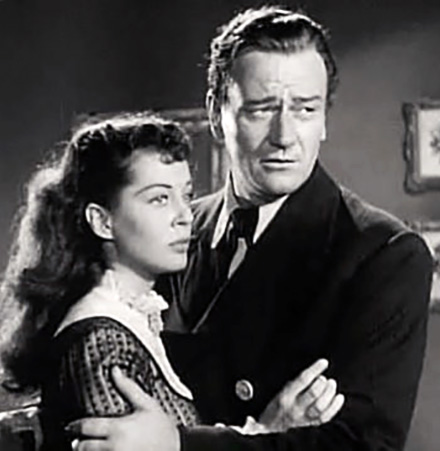 (Gail Russell & John Wayne 1948 Wake of the Red Witch Trailer: Republic Pictures)
John Wayne choose Gail Russell for his co-star again in Wake of the Red Witch (1948). This a seafaring romance-adventure film co-stars include Gig Young, Adele Mara, Luther Adler, Eduard Franz, Grant Withers, Henry Daniell, Paul Fix, and Jeff Corey. Adele Mara would describe Russell as a loner during filming of Wake of the Red Witch, and rumors were rife among hairdressing and makeup people. 
"they had to take a lot of bottles out of her dressing room every day" 
Rightly or wrongly, John Wayne's fiery and jealous second wife Esperanza "Chata" Bauer, believed he was having an ongoing affair with Gail Russell, fueled by his early morning return home from a late night at the end of filming Angel and the Badman. Wayne had also made the mistake of loaning money to Russell so she could put a down payment on a car. 
Screenland reporter Louis Reid included Gail Russell's statement to the court in the Wayne/Bauer divorce proceedings which took place in October of 1953:
"John took me home after the party. He had celebrated too much and apologized to my mother for his condition. He called a taxi. My brother helped him into the taxi and he left about 1 a.m. The next morning he sent my mother a box of flowers with a note of apology for the inconvenience he might have caused her. I was separated from Guy Madison at the time and was living with my family."
Both actors moved on to make other movies after The Wake of the Red Witch. Gail Russell played Princess Tara in the romantic adventure-fantasy Song of India (1949) with Sabu, Turhan Bey, and Anthony Caruso, and co-starred in two Pine-Thomas production company films with leading man John Payne:
In the 1949 post-Civil War western El Paso, Russell is Susan Jeffers, the daughter of lawyer Henry Jeffers (Henry Hull), whom former rebel officer-turned lawyer Clay Fletcher (John Payne) calls on. Actors George "Gabby" Hayes is a peddler, Mary Beth Hughes plays a con-woman, Dick Foran is the Sheriff, H. B. Warner a judge, and Arthur Space is a rancher charged with murder. Sterling Hayden plays corrupt, wealthy landowner Bert Donner, whom Clay Fletcher takes on in El Paso.
In Captain China (1950), an adventure-romance set at sea that features a cast with several familiar names – Jeffrey Lynn, Lon Chaney Jr., Edgar Bergen, Michael O'Shea, Ellen Corby, Denver Pyle were among the supporting actors. John Payne is the title character, ship captain Charles Chinnough aka Captain China, and Jeffrey Lynn plays his first mate George Brendensen. Captain China loses command of his ship and falls for fellow passenger Kim Mitchell (Gail Russell), when he sails on ship now captained by Brendenson.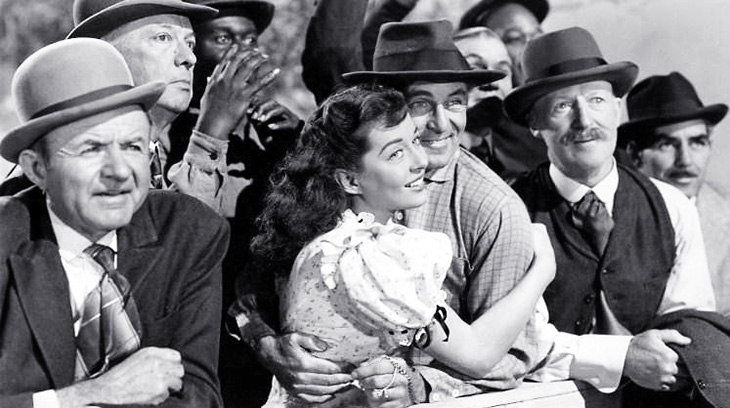 (Gail Russell & John Hoyt 1949 The Great Dan Patch Photo: John Taintor Foote Prod.)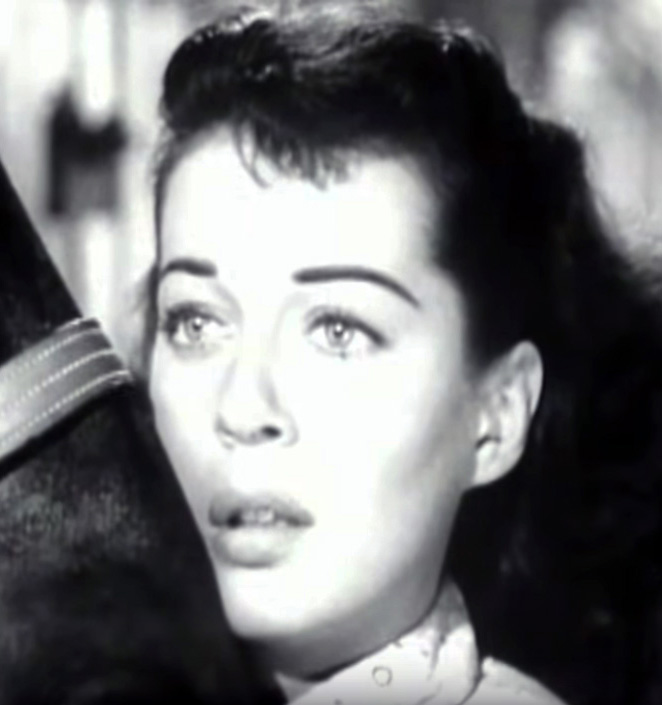 (Gail Russell 1949 The Great Dan Patch)
In the biographical drama The Great Dan Patch (1949) based on the legendary trotting horse, Gail Russell plays horse-loving Cissy Lathrop, daughter of horse-trainer Ben Lathrop (John Hoyt). 
Ruth Treadwell (Ruth Warrick) is married to chemist and inventor David Palmer (Dennis O'Keefe), son of Dan Palmer (Henry Hull). David's marriage to Ruth declines as his interest in horse racing and Cissy increases. Arthur Hunnicutt, Clarence Muse, Harry Lauter, and Charlotte Greenwood, also appear in The Great Dan Patch.
Film-Noir Fame
Although Russell appeared in her share of light-hearted movie musicals and rom-coms, several of her films fall into the category of film-noir dramas or thrillers. Even her early film The Uninvited, could be considered her first film in this genre.
Hard-boiled detective fiction author Raymond Chandler helped write the script for The Unseen (1945), in which Gail Russell co-stars as governess Elizabeth Howard, who is replacing the previous governess, Maxine (Phyllis Brooks). Joel McCrea is her employer David Fielding, father to the children she's caring for, and Herbert Marshall is Dr. Charles Evans, who she confides her suspicions to. Supporting actors Norman Lloyd and Tom Tully round out the cast of The Unseen.
Gail Russell and Alan Ladd were co-stars for the second time in the crime drama Calcutta (1946). Ladd, John Whitney, and William Bendix play post-WWII American pilots Neale, Bill, and Pedro, who fly from China to Calcutta; Bill saves Neale and Pedro in a tight situation, earning their gratitude. They later discover from Bill's fiance Virginia (Gail Russell), that Bill has been strangled. Neale and Virginia clash, and the remaining two pilots and Virginia are involved in an action-packed mystery. June Duprez plays nightclub singer Marina Tanev.  
Russell's 7-year contract was in it's final two years when she co-starred with Edward G. Robinson, John Lund, and William Demarest in the film-noir thriller Night Has a Thousand Eyes (1948). Robinson is nightclub performer John Triton, whose fortune-telling act  is called "The Mental Wizard ". When Triton unexpectedly and terrifyingly acquires some psychic abilities, his friend Whitney Courtland (Jerome Cowan) profits from it. Years later (told in flashbacks), Gail Russell is Courtland's suicidal daughter Jean, who is rescued by her fiance Elliot Carson (John Lund). The Night Has a Thousand Eyes cast includes William Demarest as police Lieutenant Shawn, Onslow Stevens is Dr. Walters, and Virginia Bruce is Courtland's wife Jenny.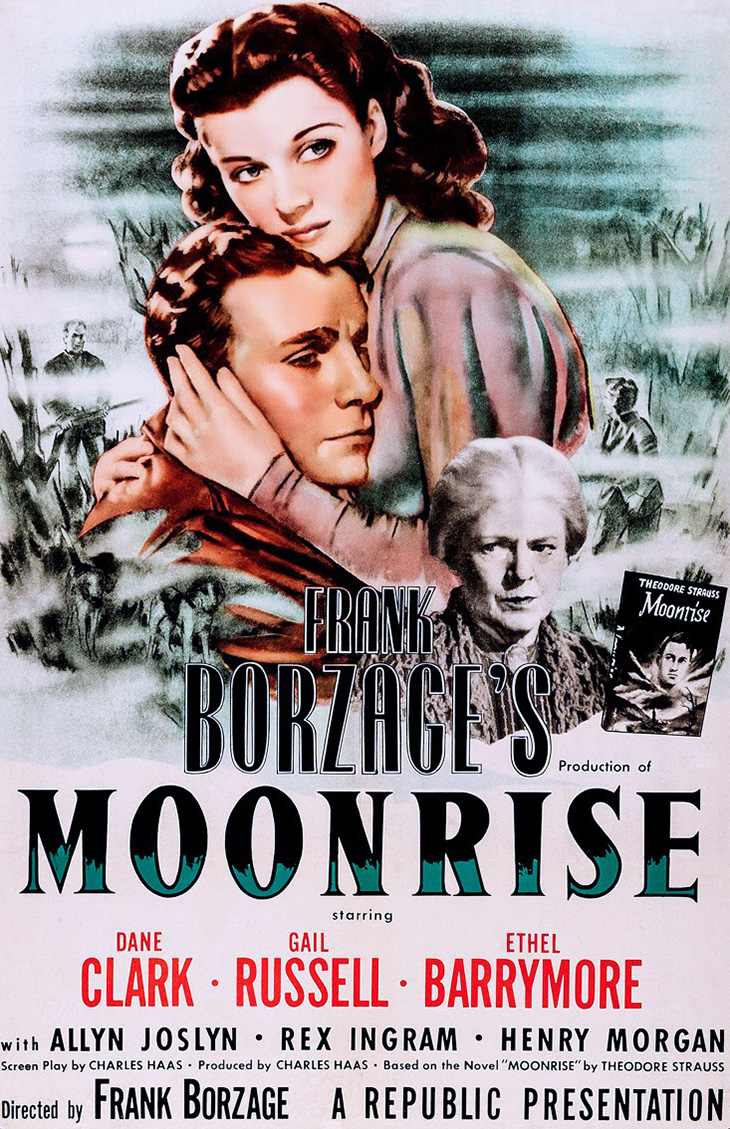 (Moonrise 1948 Poster: Republic Pictures)
In the deep south setting of film-noir crime drama Moonrise (1948), Gail Russell plays Gilly Johnson, friend to Danny Hawkins (Dane Clark), whose father was hung for murder. Gilly's boyfriend Jerry Sykes (Lloyd Bridges), has always bullied Danny, and an unobserved fight between the two men results in Danny killing Jerry in self-defense.
Despite Danny's mental condition deteriorating, Gilly falls in love with him. The tension notches up when Jerry's body is found.
Harry Morgan plays Billy, who finds Danny's knife near where Jerry was killed; Ethel Barrymore is Danny's grandmother.
Allyn Joslyn, Rex Ingram, and Harry Carey Jr., play supporting roles in Moonrise.
Paramount didn't renew Russell's contract in 1950 due to her alcohol dependency. Her last film for that movie studio was The Lawless (1950), a film-noir crime drama for which the studio lifted the suspension they'd placed her under, so she could co-star with Macdonald Carey, Johnny Sands, and Lee Patrick in the film.
The Lawless begins with bigoted Joe Ferguson (Johnny Sands) getting in an accident with two California fruit-pickers, whom he insults to the dismay of his father Ed Ferguson (John Hoyt). Sunny Garcia (Gail Russell) is friends with one of the men, and she has close ties with people in the newspaper business. A "race riot" fight breaks out at a dance and the two men are arrested. Macdonald Carey plays a newspaper editor in The Lawless, and Gail Patrick is a reporter; Herbert Anderson and Martha Hyer also appear in the film.
In The Tattered Dress (1957), Russell co-starred with Jeff Chandler, Jeanne Crain, and Jack Carson. Actors Phillip Reed and Elaine Stewart are the Restons, a wealthy and unhappily married couple. When a murder occurs, the defendant is represented by defense lawyer J. G. Blane (Jeff Chandler), whose marriage to his wife Diane (Jeanne Crain) is cold. Gail Russell plays a juror whom Chandler's character is accused of bribing. The cast of The Tattered Dress includes Edward Andrews, Edward Platt, William Schallert, with Jack Carson as Sheriff Nick Hoak
Marriage, Legal Problems and Career Decline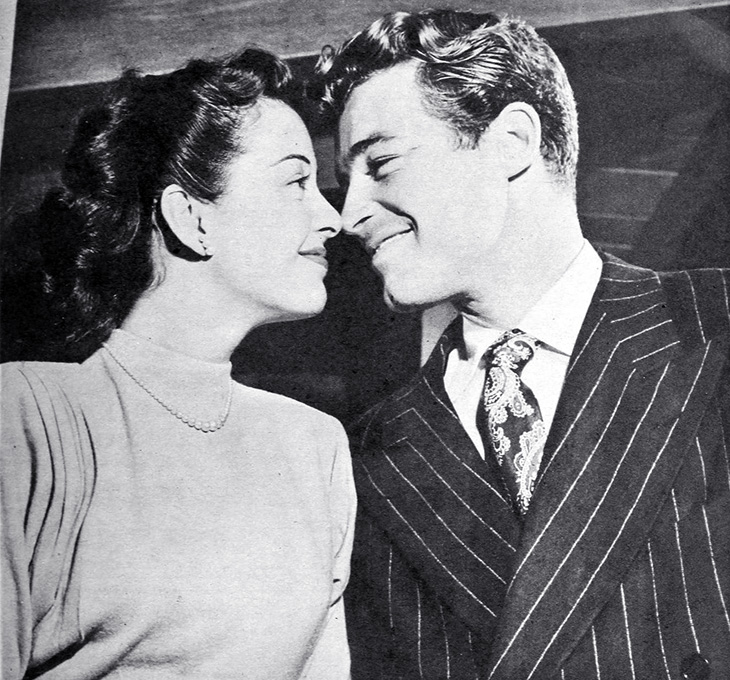 (Gail Russell and Guy Madison 1946 Photo: Modern Screen)
Gail Russell and "beefcake" actor Guy Madison had been linked in the press for four years before they finally married on August 1, 1949. Together they were a photographer's dream, but before and after their wedding, the relationship was troubled. The couple was known to drink heavily and argue in public, and separated within six months, only to reunite after 10 days. Possibly because Guy Madison and his friend Rory Calhoun were represented by Hollywood talent agent Henry Willson, who was gay himself and cultivated attractive young male actors like Rock Hudson and Tab Hunter, some sources have said both Madison and Calhoun were also gay or bisexual. 
Cut loose from the protection and career choices that her Paramount contract had offered when her contract ended in 1950, Gail Russell's life and career quickly deteriorated further.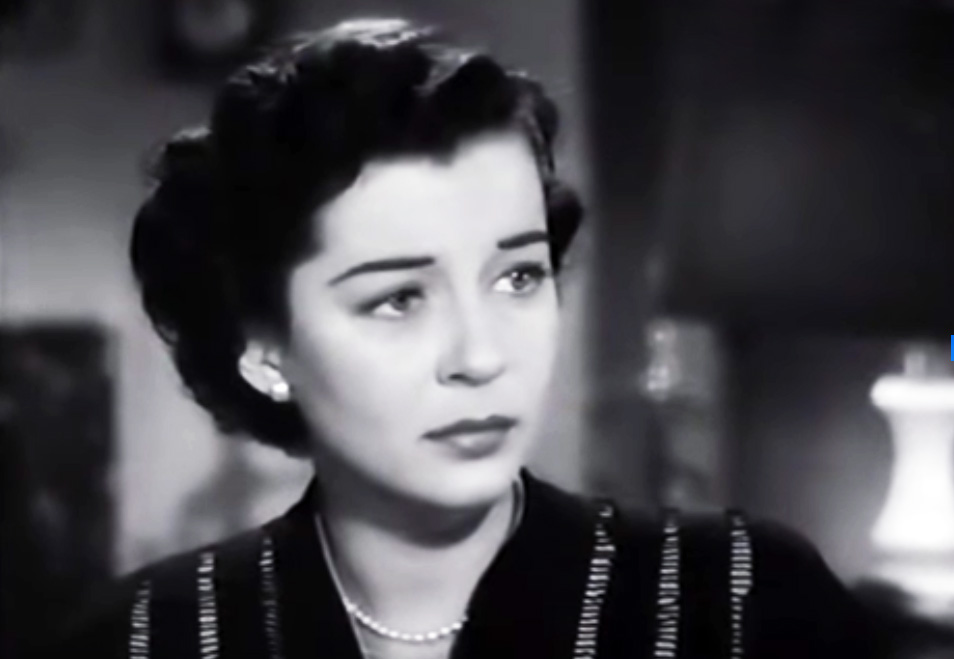 (Gail Russell 1951 Air Cadet)
She did appear in Universal Pictures biographical WWII drama Air Cadet (1951). Russell plays Janet, the estranged wife of flight instructor Major Jack Page (Stephen McNally). Air Force pilot trainees in Air Cadet are played by Richard Long, Alex Nicol, James Best, and Robert Arthur. Long's character Russ Coulter falls in love with Janet, who's concerned that her husband Jack is under undue stress and might crack. Supporting actors in Air Cadet include Charles Drake, Rock Hudson, Peggie Castle, and Parley Baer. Air Cadet would be Russell's last film for five years.  
From 1953 to 1955 Gail Russell was in the news for a host of unwelcome legal reasons. It was reported by the Long Beach Independent that during their divorce proceedings, John Wayne's wife Esperanza Bauer claimed the actor gave Russell a car and spent the night with her, which both actors denied. 
Russell and her husband Guy Madison separated permanently in 1953, a month after she was arrested for drunk driving (Madison bailed her out); they divorced in October 1954. Madison claimed that he did all the housework and she refused to have servants in the house. Russell had an attack of hepatitis and was in a coma when hospitalized in the same month her divorce was finalized.
Four months later, Gail Russell was driving and hit a car with a young couple and a baby in it; she ended up settling out of court when they sued her. 
Final Comeback
With this wave of legal troubles behind her, Gail Russell returned to work in the Randolph Scott / Lee Marvin western 7 Men from Now (1956), produced by an John Wayne's production company Batjac Productions. Russell plays Annie Greer, married to John (Walter Reed); they meet ex-sheriff Ben Stride (Randolph Scott), on the trail of 7 men who killed his wife. Lee Marvin and Don "Red" Barry are a couple of small-time hoodlums. Actors John Larch, John Beradino, Stuart Whitman, and Pamela Duncan play supporting roles in 7 Men from Now. 
This trailer for Seven Men from Now features Randolph Scott, Gail Russell, John Beradino, Lee Marvin, and Walter Reed.  
7 Men from Now director Budd Boetticher is credited by author Ronald L. Davis with saying that Russell got "blind drunk" at the wrap party at Boetticher's house, and producer Andy McLaglen found her in her bathroom after a three day search. 
The Tattered Dress was filmed in 1956, but Gail Russell's drinking and health problems continued. She was found unconscious on the floor of her home in April 1957, a month after The Tattered Dress was released. Three months later she was arrested upon failing a sobriety test after driving her car into a coffee shop, hitting and injuring a janitor. She was a no-show at her court appearance and was found at home drunk and unconscious. During her three month hospitalization in an oxygen tent due to alcoholism, she joined AA. The hearing was held at her hospital bed, and a fine, suspended sentence and three years probation was levied.
Russell attended AA meetings for a year and was able to return to work in No Place to Land (1958) for Republic Pictures. No Place to Land features John Ireland as crop-dusting pilot Jonas Bailey, who dumps his girlfriend Iris Lee (Mari Blanchard). A humiliated Iris marries rich, jealous Buck Lavonne (Robert Middleton). Jonas and his pal Swede (Jackie Coogan) leave town in search of work. They cross paths with Roy and Lynn Dillon (Douglas Henderson and Gail Russell); since Roy is a drunk, Lynn urges Jonas and Swede to stay and fulfill Roy's crop-dusting contract with Buck's company. Iris isn't over Jonas, and murder ensues when she sets off in search of him. Best selling author and screenwriter William Peter Blatty (credited as Bill Blatty) plays a policeman in the No Place to Land.
In 1960 Russell made two guest-starring appearances on television series, her only forays in that medium. On The Rebel starring Nick Adams as Johnny Yuma, Russell, Kenneth Tobey, and Robert Vaughn play the Bannister family; Tobey is Yuma's former Confederate Army Commanding Officer, Major Quincy Bannister, while Robert Vaughn and Gail Russell play the Major's siblings.
On Manhunt with Victor Jory as Police Lt. Howard Finucane and Patrick McVey as reporter Ben Andrews, Gail Russell plays robbery victim Mrs. Clarke, who gives conflicting descriptions of the thief.
Gail Russell's last feature film is the low-budget, family friendly The Silent Call (1961), in the vein of Lassie/Homeward Bound movies. Gail Russell and David McLean are married couple Flore and Joe Brancato, parents to young Guy (Roger Mobley), who is upset at a move that leaves his dog Pete behind. 
After filming The Silent Call, Russell isolated herself in her studio apartment for 8 months, according to her Daily Mirror memorial. When they hadn't seen her for several days, some neighbors checked on her and found her dead in an apartment full of empty liquor bottles, paintings and sketches, on August 26, 1961.
(Gail Russell 1947 Angel and the Badman)
Gail Russell was only 36 years old when she died prematurely of a heart attack, with malnutrition and liver damage due to acute, chronic alcoholism. Neither her ex-husband Guy Madison nor her former co-star and friend John Wayne attended her funeral.
*Images are believed to be in the public domain and/or Creative Commons licensed & sourced via Wikimedia Commons, Vimeo, YouTube, or Flickr, unless otherwise noted*