Celebrating Seniors - Tom Petty is 65! Part2of2
5 classic Tom Petty Songs – Don't Come Around Here No More, The End of the Line, You Don't Know How It Feels, Free Fallin', Mary Jane's Last Dance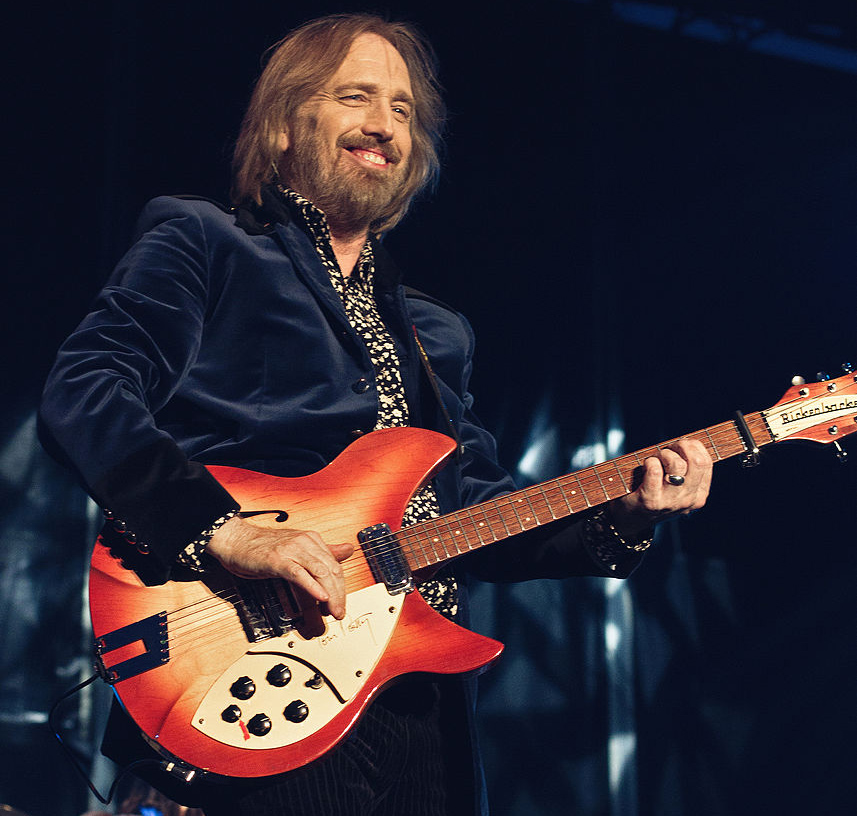 (Tom Petty live in Hamburg, 2012 Photo: Ирина Лепнёва)
Tom Petty Part 2 – The Traveling Wilbury's, Going Solo and Aging Heartbreakers
Continued from Tom Petty Part 1 – Inspiration Strikes: After Ron Blair quit the group in and was replaced by Howie Epstein (bass guitar and vocals) in 1982, Tom Petty and the Heartbreakers line-up remained intact until 1994. Epstein's vocals can be heard on songs from their 5th album, Long After Dark (1982), and on subsequent albums. The top 40 hit singles Change of Heart (1982) and You Got Lucky (1982), are from the Long After Dark album. 
The Heartbreakers sixth album Southern Accents (1985) contained the big single Don't Come Around Here No More, co-written by Tom Petty and Dave Stewart (Eurythmics). Stevie Nicks and Dave Stewart both contributed vocals on the tune…apparently the song title Don't Come Around Here No More was inspired when Dave Stewart heard Stevie Nicks tell her boyfriend Joe Walsh just that, after she had broken up with him. It made it to #13 on the Billboard Hot 100 chart, and #2 on the US Rock chart. Although the single Don't Come Around Here No More was a huge success, Petty apparently found the process of recording the Southern Accents album in 1984 particularly frustrating, and punched a wall. He broke the bones in his left hand so severely that he required surgery with pins and wires, followed by 9 months of physical therapy before he could play the guitar again.
Below, the official music video for Don't Come Around Here No More, performed by Tom  Petty and the Heartbreakers:
For the next few years Tom Petty and the Heartbreakers toured extensively, including tours with Bob Dylan or the Grateful Dead, and released their first live album, Pack Up the Plantation: Live! (1985).
They were back on the charts with the #18 Billboard Hot 100 hit single (#1 Rock chart) Jammin' Me (1987) from their 7th studio album, Let Me Up (I've Had Enough); Jammin' Me was co-written by Tom Petty, Bob Dylan, and Mike Campbell. Tom told Parade magazine in a 2010 interview that around this time (in the mid-1980's), he had a "huge wake-up call" about his drug use.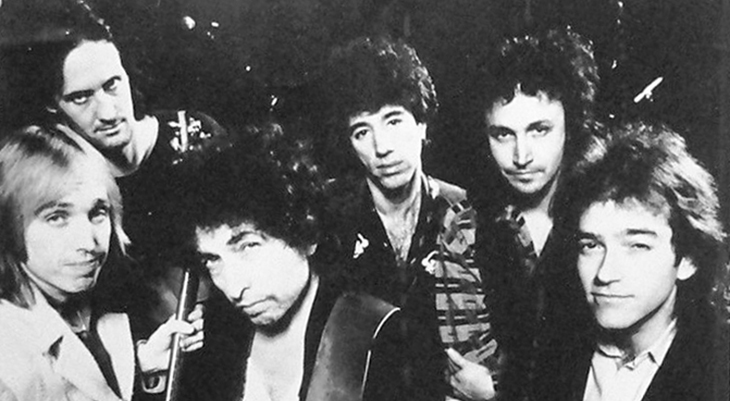 (Tom Petty & The Heartbreakers, with Bob Dylan 1983 Photo: MCA Records)
Tom, Jane and their daughters Kim and Adria were living in Encino, California in 1987 when an arsonist set fire to their home. In a 2014 Billboard Magazine interview, Petty recounted getting his family out of the house to the pool area and then being trapped in the house himself and having to crawl through smoke to get out again.
Petty was further inspired by his time on tour and co-writing with Bob Dylan, to found a new "supergroup" The Traveling Wilburys – comprised of Tom Petty, Bob Dylan, George Harrison, Roy Orbison, and Jeff Lynne (of Electric Light Orchestra) – in 1988. The Traveling Wilburys are credited with 2 studio albums (Volumes 1 and 3) and several hit singles co-written by the band members.  3 Traveling Wilburys singles made it to #2 on the US Hot Mainstream Rock Tracks charts, including Handle With Care (1988), She's My Baby (1990), and End of the Line (1989). Below, The Traveling Wilburys music video for End of the Line.
In the midst of recording and performing with The Traveling Wilbury's, Tom Petty released his first solo album Full Moon Fever (1989), which included musicians from both the Heartbreakers and the Traveling Wilburys. He achieved 3 #1 US Rock chart hit singles – Runnin' Down a Dream, I Won't Back Down, and Free Fallin'.
1991's Into The Great Wide Open album was a reunion of Tom Petty and the Heartbreakers, followed quickly by a Greatest Hits diamond-selling album that included the new song Mary Jane's Last Dance, a #1 US Rock chart hit single and a #14 US Hot 100 hit. While performing at a 1991 concert in Houston, Petty met a newly wed fan, Dana York, backstage and the pair recalled years later feeling an attraction, but going their separate ways since they were both married.
Petty's most recent hit single was You Don't Know How It Feels (#13 on Billboard US Hot 100 chart and # on US Rock chart), came from his Wildflowers (1994) album. By this time the years of being on the road touring and exposure to the rock and roll lifestyle including drugs, was taking a toll on his marriage to Jane and his family life. Below, Tom Petty performs You Don't Know How It Feels.
Backstage at a House of Blues Johnny Cash concert in Los Angeles, Tom once again met fan Dana York; by this time both couples were in the midst of divorcing, and they were free to begin dating. Tom's divorce from Jane was finalized in 1996 after 22 years of marriage, and Petty told Parade Magazine that "I had deep depression. I just had to find my way out of it." Tom has credited ex-wife Jane Benyo with helping to pull him out of this depression.
Tom Petty continued to record albums and tour, although the big hit singles of his earlier years have eluded him. Since his 50+ years he's been married to the former Dana York (they got married in Las Vegas in 2001) and they have lived together in the Malibu area of California with her son Dylan from her first marriage. Tom Petty and the Heartbreakers were inducted into the Rock and Roll Hall of Fame in 2002 and Petty was awarded the Billboard Century Award for lifetime achievement in 2005.
In his 55+ years, Petty's biography Conversations with Tom Petty (2005) by Paul Zollo was published, and Petty began hosting his own XM Radio show Buried Treasure to showcase favourite songs from his collection, that same year. Once again Tom had to escape from his Malibu home with Dana, when the 2007 Canyon Fire broke out.
As a new senior, Tom shows no signs of stopping his songwriting, concerts and touring. The XLII Superbowl halftime show in 2008 was opened by Tom Petty and the Heartbreakers, and was followed by a North American tour. Below, Tom Petty and the Heartbreakers performing their 1989 hit Free Fallin'.
With the advent of his 60's and looking ahead at his senior years, Petty gave up smoking, telling Parade magazine in 2010, "It's just part of getting older and realizing you have to straighten up…If you're not getting older, you're dead." 
Hypnotic Eye (2014) was the 13th studio album for Tom Petty and the Heartbreakers, and debuted at #1 on the Billboard 200 album chart. Sam Smith's 2014 blockbuster hit Stay with Me resulted in Tom Petty and Jeff Lynne being credited retroactively as co-songwriters, given the similarities to their earlier song I Won't Back Down. Today, Petty is touring, writing more songs, and recording; wife Dana travels with him and helps arrange his schedule. Petty had this to say in 2014 to Billboard Magazine about aging:
"The only good thing about getting older is you get smart enough to avoid unnecessary problems. You know what's worth spending time on and what's not. If I had known that at 20, life would have been so much easier, but you have to experience all these things so you figure out how to find your way through the woods."
Below, Tom Petty and the Heartbreakers in the music video for their hit single Mary Jane's Last Dance (1993).
Previously: Tom Petty Part 1 – Inspiration Strikes
*Images are public domain or Creative Commons licensed & sourced via Wikimedia Commons, Vimeo, or Flickr, unless otherwise noted*