Valentine's Day Themed Movies
Wishing everyone a Happy Valentine's Day, and presenting a few Valentine's Day themed movies & clips that may inspire you to watch with these films with the lights off (or on in a few cases, lol).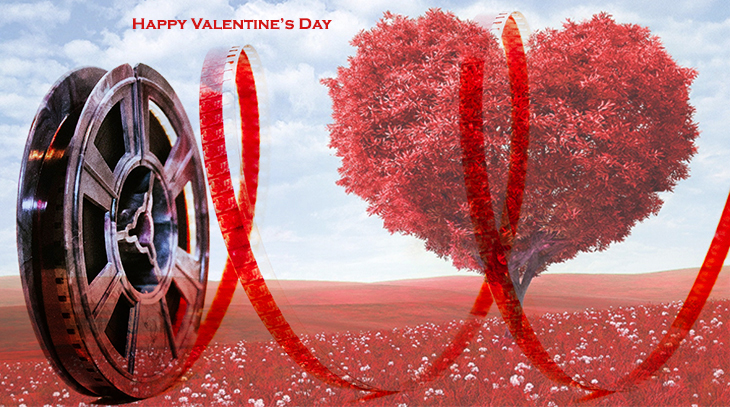 (Photo Blend: A. Hamilton | Source Photos via Unsplash & Pexels.com)
Top Ten Best Valentine's Day Themed Movies
1. Some Like It Hot (1959) has Tony Curtis and Jack Lemmon disguising themselves in drag, to go on the lam after seeing the Saint Valentine's Day Massacre first-hand. This Billy Wider comedy is a favorite at any time of the year, but well worth a watch with your honey if you both like classic film comedies.
Marilyn Monroe, Tony Curtis, Jack Lemmon, and George Raft (a perennial gangster in films) are featured in the Some Like It Hot movie trailer, below.
2. Sleepless in Seattle (1993), with Meg Ryan as Annie and Tom Hanks as single dad Sam, finally meeting at the top of the Empire State Building on Valentine's Day. Check out Top New Years Eve Movies & Clips for more about this modern classic romance film, which was based on earlier classic movies An Affair to Remember (1957) and Love Affair (1939).
3. Valentine's Day (2010), in which a star-studded cast of characters deal with their personal and professional couplings and uncouplings:
Hector Elizondo and Shirley MacLaine 
Jessica Alba and Ashton Kutcher
Julia Roberts and Bradley Cooper
Jennifer Garner and Patrick Dempsey
Eric Dane, Jessica Biel, Queen Latifah, and Jamie Foxx
Anne Hathaway and Topher Grace
Valentine's Day did well at the box office, helped by great cast performances and a popular soundtrack that included tracks by Stevie Wonder (For Once in My Life), Ben E. King (Amor), Willie Nelson (On The Street Where You Live), Maroon 5 (The Way You Look Tonight), Glenn Miller (In The Mood), Percy Sledge (When a Man Loves a Woman), Foreigner (Feels Like the First Time), as well as Nat King Cole, Jewel, Amy Winehouse, Taylor Swift, and others.
Veteran actors Shirley MacLaine and Hector Elizondo are featured in this clip from Valentine's Day. Critics didn't love the movie, but audiences still do.
4. Eternal Sunshine of the Spotless Mind (2004), starring Jim Carrey as Joel & Kate Winslett as Clementine, former lovers who had their memories of each other erased. They meet again on Valentine's Day and discover that chemistry cannot be so easily erased.
A box-office modest success, Eternal Sunshine of the Spotless Mind received two Academy Award nominations, for Kate Winslet as Best Actress, and won Best Original Screenplay (Pierre Bismuth, Michel Gondry and Charlie Kaufman). Jim Carrey was nominated for a BAFTA Best Actor in a Leading Role, for his performance as Joel; the movie had a total of 5 BAFTA nominations & won Best Editing & Best Original Screenplay (Charlie Kaufman).
5. Blue Valentine (2010), starring Michelle Williams & Ryan Gosling as a married couple – before, during, and at the end of their marriage. This trailer for Blue Valentine features stars Ryan Gosling and Michelle Williams.
Generally critically acclaimed, "R" rated Blue Valentine lead actors Michelle Williams and Ryan Gosling each received several award nominations. Made on a low budget of $1 million, the movie grossed $16 million at the box office.
6. I Hate Valentine's Day (2009) – a rom-com from director-screenwriter-lead actress Nia Vardalos. Vardalos plays florist Genevieve Gernier, who has to reassess her romance philosophy of stopping any budding relationship after 5 dates, when she meets restaurateur Greg (John Corbett). 
Unlike My Big Fat Greek Wedding – the previous successful on-screen pairing of stars Vardalos and Corbett – critics panned I Hate Valentine's Day, and it was a box office dud. However, it's an example of a romantic comedy with no pretensions to be anything else.
7. My Online Valentine (2019), a low budget comedy with a cast of unknowns. Cozette and Blaze connect through an online dating site. Cozette's ex-boyfriend Ajax throws a spanner in the works as he tries to win her back in time for Valentine's Day.
You can buy or rent My Online Valentine on Youtube.
And under the category of Un-romantic Valentine's Day movies:
8. The Caveman's Valentine (2001), a murder-mystery with Samuel L. Jackson as composer Romulus, a mentally ill man who lives in a cave in a New York City park.
A young man is found frozen near his cave on Valentine's Day, and although the police dismiss it as an accidental death, and a friend tells Romulus the man was murdered. Romulus is spurred by hallucinations to investigate.
With Canadian actor Colm Feore, Tamara Tunie, Anthony Michael Hall, Rodney Eastman, and others.
9. In The St. Valentine's Day Massacre (1967) film, you may not be surprised to learn there is no romance. Plenty of mob crime and violence is on the menu though. This gangster flick sticks fairly closely to the real-life murder of 7 North Side Gang members (Bugs Moran's crew) by Al Capone's henchmen, in 1929 Chicago. The film stars Jason Robard as Al Capone, with George Segal, Ralph Meeker, Clint Ritchie, Joseph Campanella, David Canary, and Bruce Dern in the cast.
Director Roger Corman provides the introduction and gives background on his experience filming The St. Valentine's Day Massacre in this film trailer, which features Jason Robards.
10. My Bloody Valentine 3D (2009) was a remake of another, 1981 Canadian slasher flick. Unlike the earlier movie, My Bloody Valentine 3D did well at the box office, possibly due to stars Jensen Ackles, Kerr Smith, Jamie King, Betsy Rue, and Kevin Tighe (remember him from Emergency!?).
The Lionsgate trailer for My Bloody Valentine 3D gives you a pretty good idea of what to expect, courtesy of Jamie King, Jensen Ackles, and others. 
Sending all our love to you this February 14th!
Note: This article was first published in 2019. It has been updated with new & additional content.
If you wonder why we celebrate Valentine's Day at all, you  may like this article – When Valentine's Day Traditions Began
If you're in the mood for romance (at any time of the year), here's my list of Best Romance Films With Older Actors
If you're contemplating being on your own this Valentine's day, this article may help: Surviving Valentine's Day: Tips For 50+ Singles.
And if you like the idea of sharing a vintage Valentine's Day greeting card, check out
Vintage Silent Film Stars Valentine's Day Cards
Vintage 1930s-1940s Film Star Valentines
1950s-1960s Vintage Celebrity Valentines
Happy Valentine's Day