Nancy Sinatra's Boots Were Made For Walkin'
6 vintage music videos celebrating the heyday of Nancy Sinatra, Jr.:  These Boots Are Made For Walkin', Your Groovy Self, Somethin' Stupid, Summer Wine, Bang Bang (My Baby Shot Me Down), and Sugar Town.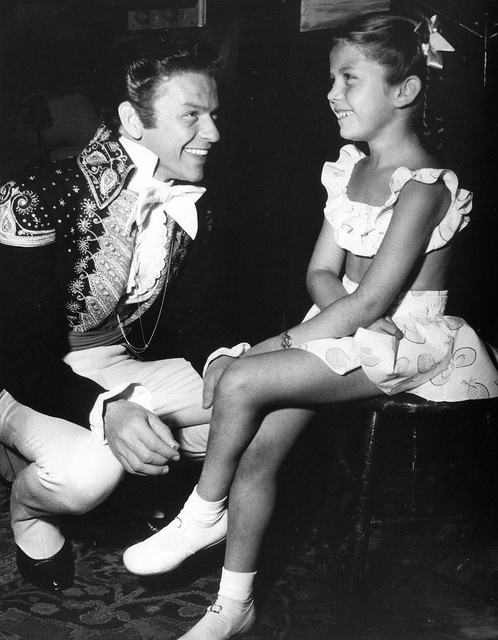 (Nancy & father Frank Sinatra c. 1940's Photo: kate gabrielle)
Nancy Sinatra Jr. was born to Frank Sinatra and his first wife Barbara on June 8th, 1940. The eldest of 3 children born to the couple, she was soon joined by younger brother Frank Sinatra Jr. in 1944 and sister Tina in 1948. 
Named for her grandmother, Nancy Sinatra Sr., Nancy Jr. wanted a career in music from age 6.
She briefly studied music, dancing and voice at the University of California in the 1950's.
In 1951 her parents Nancy Sinatra & Frank Sinatra divorced, but Nancy Jr.'s relation with her father remained close.
She appeared with him on his 1957 TV variety series The Frank Sinatra Show. They're pictured together below during a rehearsal break.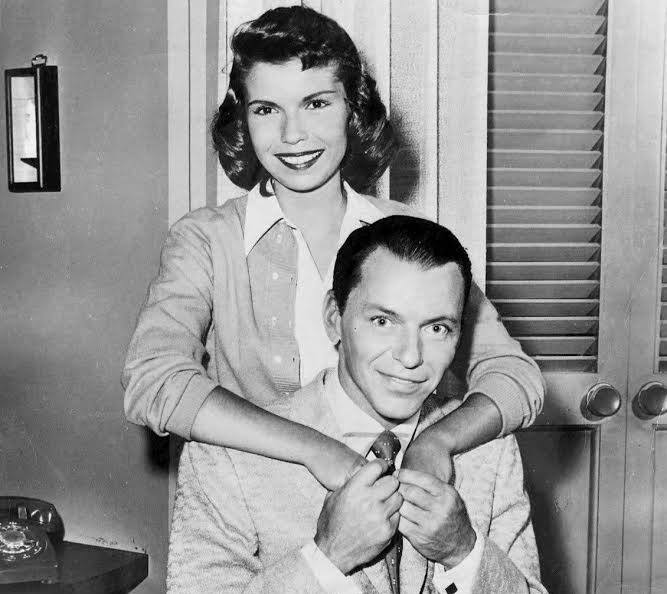 (Nancy Sinatra Jr. & Frank Sinatra 1957 Photo: ABC Television)
Nancy Sinatra Jr. married her first husband, singer Tommy Sands in 1960. Their September 11, 1960 wedding day was captured on video, below.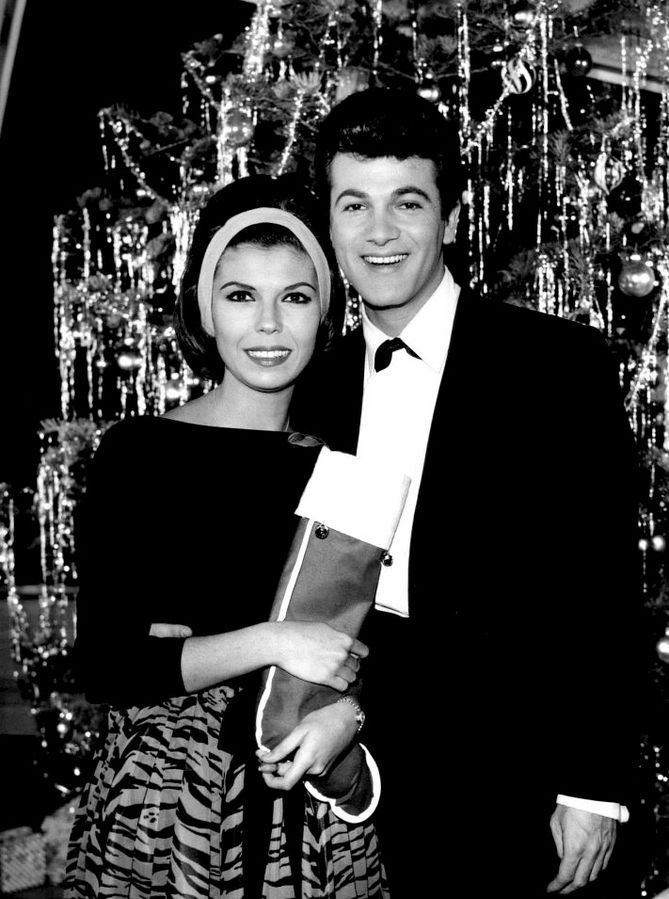 (Nancy Sinatra and husband Tommy Sands 1962 Stump the Stars game show Photo: CBS Television)
Nancy Sinatra Jr.'s professional singer-actress career began when she appeared on her father Frank Sinatra's Welcome Home Elvis television special in 1960. 
She had first met Elvis Presley at the airport when he arrived from being discharged from the US Army.
Nancy Sinatra Jr. and Elvis would later star together in 1968's Speedway.
Before Nancy Sinatra and Tommy Sands divorced in 1965, they appeared together as the "mystery guest" on a February 1965 episode of What's My Line? What's My Line? panelists Dorothy Kilgallen, Tony Randall, Arlene Francis, Bennett Cerf, and host John Daly welcomed them. 
Baby boomers will remember Nancy Sinatra Jr. from the 7 movies she co-starred in between 1964-1968, most with a musical and/or beach theme:
For Those Who Think Young (1964), with James Darren, Pamela Tiffin, Paul Lynde, and Ellen Burstyn. For Those Who Think Young also had Tina Louise and Bob Denver (who were both later co-stars on Gilligan's Island), and Michael Nader among the cast members.
Marriage on the Rocks (1965) had Nancy Sinatra appearing onscreen with her father Frank Sinatra, and his pals Dean Martin and Cesar Romero. Deborah Kerr, Hermione Baddeley, and DeForest Kelley (Star Trek) are also in Marriage on the Rocks. 
In between movies, Nancy was starting to climb up the music charts. Her second album How Does That Grab You (1966), contained the singles Crying Time, The Shadow of Your Smile, Let It Be Me, and Call Me. Also on that album was the single Bang Bang (My Baby Shot Me Down), written by Sonny Bono and first recorded & released by Cher earlier in 1966. Nancy Sinatra's cover of Bang Bang (My Baby Shot Me Down) didn't chart as high as Cher's version when it was first released, but it was given new life again in 2003 when it was used in the Kill Bill Volume 1 (2003) Quentin Tarantino film. Nancy Sinatra performing Bang Bang (My Baby Shot Me Down) live c. 1966. 
The Ghost in The Invisible Bikini (1966), co-starring Tommy Kirk and Deborah Walley. The Ghost in The Invisible Bikini has Basil Rathbone appearing as Reginald Ripper, and Boris Karloff as The Corpse.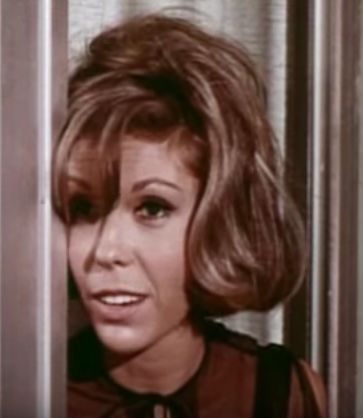 (Nancy Sinatra 1964 Get Yourself a College Girl Trailer Screenshot)
Get Yourself a College Girl (1964), with Mary Ann Mobley, Joan O'Brien, and Chad Everett. Get Yourself a College Girl features musical acts like The Dave Clark Five, Stan Getz, Astrud Gilberto (The Girl from Ipanema), and Eric Burdon with The Animals. 
The Last of the Secret Agents (1966), starring the comedy duo of Marty Allen and Steve Rossi; with John Williams, Lou Jacobi, and Harvey Korman (The Carol Burnett Show).
The Wild Angels (1966) had Nancy Sinatra co-starring as the girlfriend of Peter Fonda, a Hells' Angels motorcycle gang member who pals around with Bruce Dern. Also in The Wild Angels are Diane Ladd, Buck Taylor (Gunsmoke; Rectify), and Michael J. Pollard.
Speedway (1968), co-starring with Elvis Presley, Bill Bixby (The Incredible Hulk), Gale Gordon (The Lucy Show), and William Schallert (The New Gidget). Speedway featured cameos of NASCAR race car drivers Richard Petty, Buddy Baker, Cale Yarborough, Dick Hutcherson, Tiny Lund, G. C. Spencer, and Roy Mayne as themselves. Below, a clip from Speedway featuring Nancy Sinatra singing Your Groovy Self.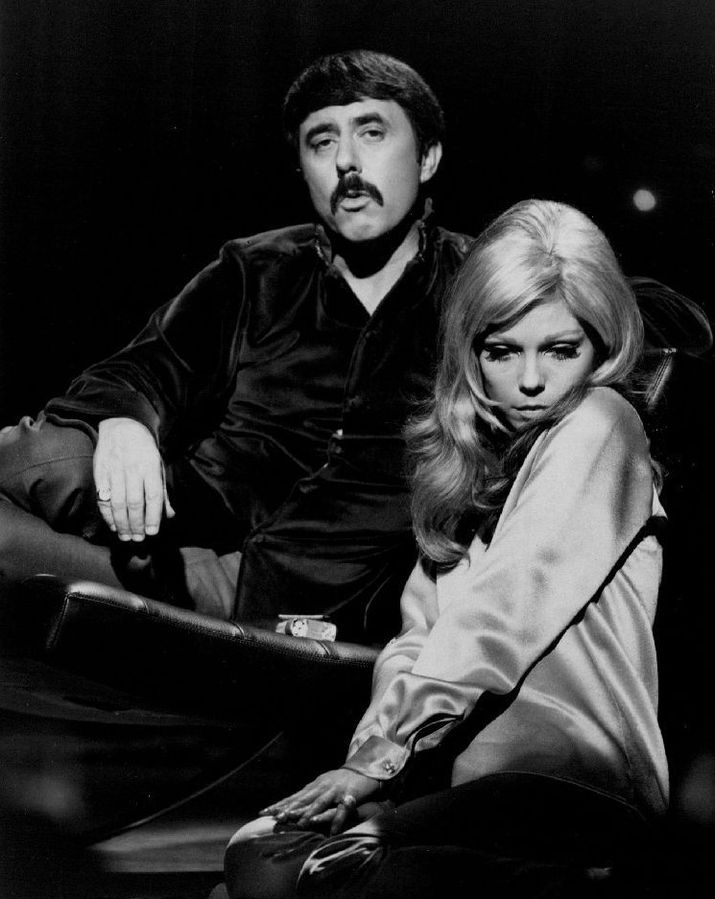 (Lee Hazlewood and Nancy Sinatra 1968 The Hollywood Palace Photo: ABC Television)
When Nancy Sinatra Jr. partnered with songwriter, singer and producer Lee Hazlewood in the mid-1960's, her music career began to take off. Their professional partnership included 3 collaboration albums, and he wrote many of her hit songs. Lee Hazlewood was a septuagenarian senior citizen when he died of renal cancer in August 2007.
As of 2013, Nancy Sinatra has released over 14 solo albums, 19 compilation albums, and many special appearances.
She has released at least one album in every decade since 1960 – but most of her hit singles came in the 60's, with Lee Hazlewood involved in some way.
These Boots Are Made For Walkin' (1966), written by Lee Hazlewood – a baby boomer hit song that has been covered by other artists and featured in movie clips. These Boots Are Made For Walkin' was her first #1 hit single, and is perhaps the song fans associate the most with Nancy Sinatra Jr. Below, Nancy Sinatra performs These Boots Are Made For Walkin':
Nancy and Frank Sinatra recorded the duet Somethin' Stupid in 1967 for his album The World We Knew. Below, Nancy Sinatra Jr. performing Somethin' Stupid with her brother Frank Sinatra Jr. on The Smothers Brothers Comedy Hour in 1967. 
Summer Wine was written by Lee Hazlewood in 1966, and recorded as a duet by Nancy Sinatra & Hazlewood. Another popular tune with baby boomers and new generations, Summer Wine has also been covered by other artists and featured in movies. Below, Lee Hazlewood and Nancy Sinatra singing Summer Wine in 1967.
In 1970 Nancy Sinatra Jr. married her second husband, Hugh Lambert. By the mid-70's she was almost retired from music so she could focus on raising their young daughters Angela Jennifer "AJ" Lambert (b. 1974) and Amanda Kate Lambert (b. 1976). Nancy's husband Hugh Lambert died of cancer in 1985 while she was in the midst of finishing up writing the first biography of her father, titled Frank Sinatra, My Father.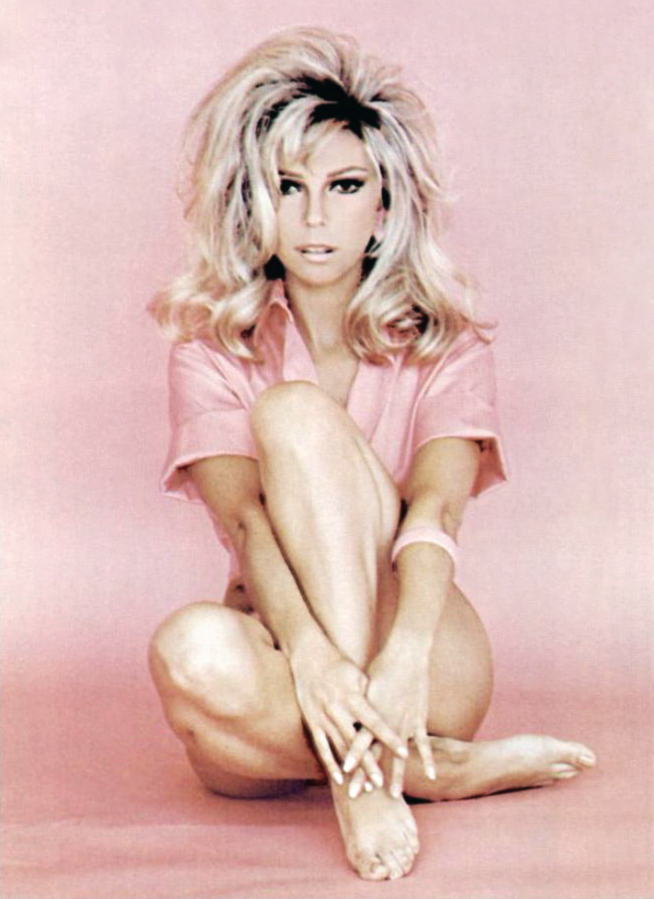 Nancy Sinatra in a 1971 Billboard ad for her Hook and Ladder single. (Photo: Reprise Records / Boots Enterprises)
When Frank Sinatra Sr. died in 1998, his children Nancy, Tina and Frank Jr. were each left $200,000; Nancy's children AJ and Miranda each had a bequest of $1 million. 
In 1995, now single and 50+ (and with her children grown up) Nancy posed for Playboy magazine's May issue. With funding made possible because of that Playboy spread, she released the new album One More Time. She also began a tour with Lee Hazlewood and had a new, updated biography of her father published – Frank Sinatra: An American Legend. Nancy Sinatra recorded her last collaboration album with Lee Hazlewood, Nancy & Lee 3, before Lee Hazlewood's death in 2007.
As a septuagenarian senior citizen, Nancy Sinatra has released a cover album Shifting Gears (2013) and become a grandmother to daughter AJ's child, granddaughter Miranda Paparozzi. Sinatra manages her own website nancysinatra.com  as well as the sinatraframily.com website, and shows no signs of thinking about retirement.
Below, a look back at Nancy Sinatra singing her 1966 hit song Sugar Town (written by Lee Hazlewood), in 1967. Sugar Town was a #5 hit on the Billboard music charts in December 1966. 
Note: This article was originally published in 2015 under the title Celebrating Seniors – Nancy Sinatra Jr. Turns 75. It has been updated with new & additional content.
*Images are public domain or Creative Commons licensed & sourced via Wikimedia Commons, Vimeo, or Flickr, unless otherwise noted*