Jim Croce's Legacy of Songs
Celebrating Jim Croce's brief life and career as a singer-songwriter – You Don't Mess Around With Jim, Operator (That's Not The Way It Feels), One Less Set of Footsteps, I Got A Name, Bad, Bad Leroy Brown, and Workin' At The Car Wash Blues, are just a few of his timeless folk rock classics.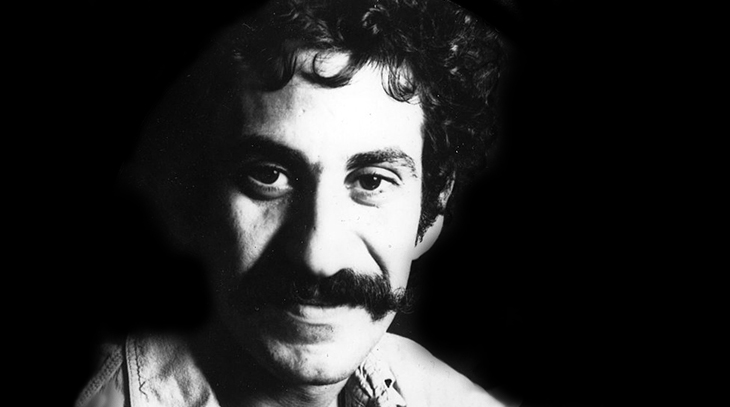 (Jim Croce 1968: Ingrid Croce )
Jim Croce's premature death from a plane crash in September 1973 at the very young age of 30 was a loss not just for his widow Ingrid and two-year-old son Adrian (A. J. Croce), but for baby boomers and other fans of his beautiful, heartfelt music. Thankful he left a legacy of great songs for his many old and new fans to enjoy in the years since his death.
Born on January 10, 1943, Croce was raised in Pennsylvania and graduated from Villanova University in 1965 with a bachelor's degree. While attending Villanova University, he was a DJ at a local radio station and member of different singing groups and bands, both on and off campus. He also met his future wife, 16-year-old Jewish high school student and singer-songwriter Ingrid Jacobson, in 1963. 
In her memoir I Got A Name: The Jim Croce Story, Ingrid recalled their first meeting in December 1963. On the way into a radio station where she was going to be auditioning, her group's car had gotten stuck in a snowdrift. She was pushing them out when Jim Croce parked in the station lot; he'd be judging that night's auditions.
"I was the new lead singer of the Rum Runners, a band comprised of military cadets and the last group to audition that evening…[audition over] we started to pack up our instruments. The judge got up and rushed into the studio so fast he tripped over a microphone cord, but caught his balance just in front of me and extended his hand. He seemed suddenly tongue-tied and awkward. 'Have you ever considered singing rock 'n' roll?,,,I think you'd be great.' Before I could answer, he asked my name." 
That initial attraction was mutual, and after the hootenanny Croce asked Ingrid if they could sing together. At a house party a few weeks later they sang Ian [Tyson] and Sylvia's Song for Canada, but Jim's subsequent physical overture while they kissed were stymied by Ingrid's impossible to open girdle.
Jim and Ingrid were soon in love and began performing more often and writing songs together as a duo in 1964. They married in 1966 in a traditional Jewish ceremony, after Jim converted to Judaism. Croce had enlisted in the Army National Guard in 1964, and was sent to Vietnam a week after their honeymoon. Croce served in Vietnam for 4 months, while Ingrid enrolled at Moore College of Art as a student. 
That same year, Jim Croce released his first album Facets, using wedding gift money from Jim's parents to finance making 500 copies of the record. Every copy of the album sold, making it a success and the start of Jim Croce's solo recording career. Below, Jim Croce and Ingrid Croce singing Child of Midnight, from the Facets album:
For the next couple of years, Jim held a variety of jobs including teaching Special Ed at Pulaski Junior High School, and Ingrid and he played evenings at The Riddle Paddock. In 1966 Ingrid and Jim Croce traveled to Mexico on a fellowship grant she received to study Mexican pottery.
"When they returned to the United States in 1967, they heeded the suggestions of Tommy West to put their folk music ability to work and soon were performing in small coffee houses and small clubs in the New York Area. They also gained a recording contract with Capitol Records." – Croce Legend lives on with his music and songs, by Roger E. Stouff; St. Mary and Franklin Banner-Tribune, Feb. 22, 1985
They moved from Pennsylvania to New York City in 1968 and recorded their first album together for Capitol Records, Jim & Ingrid Croce (1969); touring together for a couple of years to promote the album. Below, The Man That Is Me from the Jim & Ingrid Croce album:
The Croce's moved back to Lyndell, Pennsylvania in 1970 and Jim again held down various day jobs to pay the rent. 
He met fellow singer-songwriter and guitarist Maury Muehleisen through an old Villanova University friend turned producer, Joe Salviuolo. The two played together at gigs, with Croce becoming the lead singer over the next couple of years, backed by Muehleisen on guitar. Through all the years, travel and odd job experiences, Croce continued to write the songs that would one day appear on his albums. Ingrid stayed home with their son Adrian James (A.J.) , who was born September 1971. 
In 1972 Jim Croce signed a contract with ABC Records and got an advance to record three albums, the first of which – You Don't Mess Around With Jim (1972) – resulted in chart hits including the title song, You Don't Mess Around With Jim. Folk-rock music lovers of all ages (baby boomers, seniors, and younger generations) have loved the classic single Operator (That's Not The Way It Feels).
The second album, Life and Times was also recorded in 1972, but released in 1973 and included the hit One Less Set of Footsteps (below)
In a 1972, Croce commented about the grind of touring from one town to another, to promote his hit records.
"Jim Croce's 'They Don't Mess' Brings Sudden Success to Former Teacher – We've been on everything. Cropdusters, everything. I didn't even know they still had bi-wings. But some of those places we've played you have to drive to. The only other way would be to parachute in." – as told to Jack Lloyd, The Philadelphia Inquirer, Nov. 14, 1972
Below, Jim Croce with Maury Muehleisen on the Helen Reddy Show, July 1973 – singing I Got A Name and Bad, Bad Leroy Brown (with some background about how the song came about), also from the Life and Times album:
In 1973 Jim Croce and Ingrid moved to San Diego, California. Jim and Maury toured extensively in America and Europe from 1972-1973 to promote the albums, but Croce was in a bad situation financially as he had to pay back the record company advance. Jim and Ingrid's relationship was strained by the lengthy separations from his touring; Croce was tired and planned to settle down at home in San Diego with Ingrid and their young son Adrian.
He finished work on his third album for ABC Records – I Got A Name – in mid-September, 1973. A week later, on September 20th, 1973, Jim and Maury finished a concert in Natchitoches, Louisiana. As was his habit, he called home after the concert to talk to Ingrid and Adriam James, and tell her he loved her. He'd usually sing a song to Adrian over the phone, but Adrian was chasing their new puppy and the call was cut short. Jim, Maury, and 5 others boarded a plane to fly to Texas for a concert. The plane crashed on take-off and the pilot and all passengers were killed.
Jim Croce's final album I Got A Name was released in 3 months later, in December, 1973, and hit #2 on the charts. It included this hit, Workin' At The Car Wash Blues
Jim Croce's earlier albums were re-released after his death, and a greatest-hits compilation album Photographs & Memories came out in 1974.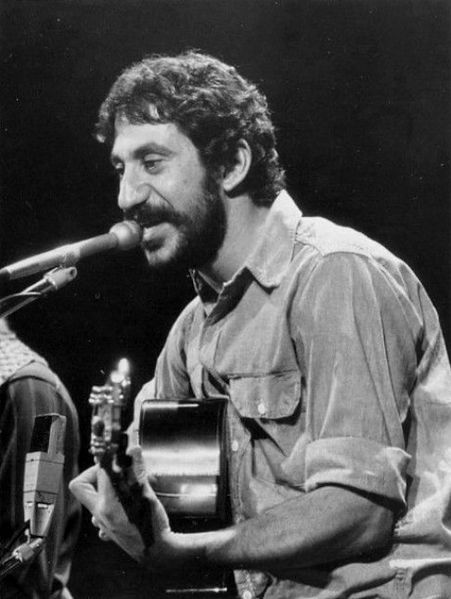 (Jim Croce 1974 Photo: ABC Television)
Jim Croce was inducted into the Songwriters Hall of Fame in 1990. His songs have been featured in movies and television shows many times over the years since his premature death, including X-Men: Days of Future Past (2014 – Time in a Bottle). Jim Croce is buried in Frazer, Pennsylvania at Haym Salomon Memorial Park. 
After Jim Croce's death, Ingrid Croce traveled with their son Adrian Croce to Costa Rica, before returning to San Diego. Adrian was blinded at age 4 as the result of physical abuse from Ingrid's boyfriend at the time; he eventually gained back some sight in one eye, and is today a pianist and record label owner.
Once back in San Diego, Ingrid developed a Head Start program for Costa Rica, and served as the Vice-Consul of Costa Rica in San Diego between 1977-1981. She also began litigation to gain the rights to Jim Croce's songs, which would be a very long battle that wasn't over until 1981.
Ingrid opened Croce's Restaurant & Jazz Bar in 1985 in San Diego and when it closed in 2013, opened Croce's Park West further uptown. She remarried in 1988 to Jimmy Rock.
Ingrid has written several books based on her life with Jim, including Jim Croce – Time in a Bottle (2004), a photographic memoir, Jim Croce Anthology: The Stories Behind the Songs (2009), and her memoir I Got A Name: The Jim Croce Story, co-written with husband Jimmy Rock in 2012. That same year Ingrid was inducted into the San Diego County Women's Hall of Fame and became a senior citizen. 
Ingrid and Jim Croce's son A. J. Croce bears a striking resemblance to his father. He told interviewer Elizabeth Dunham (Jim Croce's son joins jazz greats on album, The Evening Sun, Aug. 4, 1993) he never really knew his dad (he was only two when Jim died), but followed in his dad's singer-songwriter footsteps, saying he listened to his father's recordings to get to know him, playing piano starting at age 6, playing professionally at age 12, and dropped out of school to pursue music full-time at age 17.
Recently, Adrian played his dad's songs in his 2022 "Croce Plays Croce" tour.
(A. J. Croce 2007 Photo: Philkon / Phil Konstantin)
Below, from I Got A Name: The Jim Croce Story – Jim Croce's poignant last letter to his wife Ingrid, written from Natchitoches, Louisiana, just before his death:
Dear Ing,
I know I haven't been very nice to you for some time. . . . So this is a birth note, Baby. And when I get back everything will be different. We're gonna have a life together, Ing, I promise. I'm gonna concentrate on my health. I'm gonna become a public hermit. I'm gonna get my Masters Degree. I'm gonna write short stories and movie scripts. Who knows, I might even get a tan.
Give a kiss to my little man and tell him Daddy loves him.
Remember, it's the first sixty years that count and I've got thirty to go.
I love you, Jim.
Thank you for your legacy of music, Jim Croce.
Note: This article was first published in 2015. It has been updated with new / additional content.