Everybody Wants You, Billy Squier
Vintage music videos from 80's American rock icon and boomer rock music favorite Billy Squier (The Stroke, My Kinda Lover, Everybody Wants You, Rock Me Tonite, and In the Dark).
(Billy Squier 1982 Photo: Capitol Records)
Born May 12, 1950 in Massachusetts, Billy Squier took piano lessons for 3 years as a child, then picked up a guitar as a teenager and never looked back (despite never taking guitar lessons). 
"When I grew up, I had influences as diverse as Keith Richards, Pete Townshend, Eric Clapton, Jeff Beck, Jimi Hendrix. To me, there's only one person who could be considered a guitar hero of the '80s and that's Eddie Van Halen." – Billy Squier is true to himself, by Ron Sylvester, The Springfield News-Leader, November 2, 1989
He attended Wellesley High School and dropped sports when the gods of music (in the form of Eric Clapton and John Mayall) struck.
"I had a basement band with kids from Wellesley and Dedham. My friend Terry Rabinowitz was a poet. He came back from England and discovered this record by John Mayall, the godfather of british blues. The album was Blues Breakers with Eric Clapton playing lead guitar. I put it on, and it completely blew me away. I was overwhelmed. I had goose bumps all over my body. That was it. I was done. It changed my life." – Billy Squier interview, Jukebox hero revisited by Kathleen Pierce, The Boston Globe, Nov. 25, 2011
His plans to be "only" a guitarist changed.
"'I started as a guitarist and couldn't find a decent singer, so I started providing my own vocals…Singing is the form I've chosen to express myself. It's the way I emote best.'…He says the singers who influenced his style are Paul Rodgers, Rod Stewart, Paul McCartney, Jim Morrison and Mick Jagger." – Billy Squirer, trademark voice return, by Anne Warren, Dayton Daily News, November 16, 1989
Although he performed with different bands from the age of 14, it wasn't until Squier was in his 30's and released his 2nd solo album Don't Say No (1981) that he achieved breakout success.
His #17 hit single The Stroke is the song that Billy Squier's baby boomer fans may most closely associate with him. Billy Squier performs The Stroke (1981):
When asked if he was surprised that The Stroke became a big hit, Squier said no.
"None of us are really seers, but there are times when certain things (for whatever reason – it's not always apparent), just sort of come into focus. I felt very strongly when I wrote that song that it was going to be very, very likely to have some impact on the scene. I just didn't realize how big. I was the only one who thought so, which is interesting. The record company didn't want me to put it on the record." – Billy Squier, an 80's originator of 'Pop Metal,' continues recording, concerts – by Rod Dysinger, The Times Recorder, Dec. 24, 1989
Squier could probably live off royalties from The Stroke alone….the song can be heard in over 50 TV shows and movies, notably August: Osage County (2013), Larry Crowne (2011), Blades of Glory (2006), Billy Madison (1995), and The Hot Spot (1990). 
Also included on the Don't Say No album was a #45 hit single written and performed by Billy Squier – My Kinda Lover (1981). Squier sings My Kinda Lover:
Billy Squier's career was taking off as he played stadiums and toured with The Who and Foreigner. His next album Emotions in Motion (1982) produced another batch of hits, including Everybody Wants You.
Everybody Wants You can be heard on the soundtrack of TV episodes and films, including Bad Boys (1983), The American Way (1986), Scary Movie (2000), The Men Who Stare at Goats (2009), and Battleship (2012).
In a very 80's concert clip, Billy Squier performs Everybody Wants You:
Rock Me Tonite from the Signs of Life (1984) album became Billy Squier's biggest hit; unfortunately, the music video for it (he's seen dancing by himself in a pink t-shirt) was, according to Squier himself, his downfall.
His subsequent albums sank quickly and he began playing smaller venues. When his label of 13 years (Capital Records) didn't support his 1993 album Tell the Truth, Billy Squier walked away from music for a time.
During the break, Squier went into therapy and began taking classes in philosophy, art, theater, and screenwriting. He didn't record a new album until 1998.
Below, a more mature Billy Squier performing Rock Me Tonite in 2006 while touring with Ringo Starr.
Billy Squier performs his hit song In the Dark in concert:
Billy Squier's last studio album Happy Blue was released in 1998 – a live, acoustic blues album that Squier says is the album he's most proud of, and his last "big" tour was in 2001 with Bad Company. Since then Billy Squier has toured with the likes of Ringo Starr, Bad Company, and Styx, and performed live occasionally at music festivals, clubs, and benefits.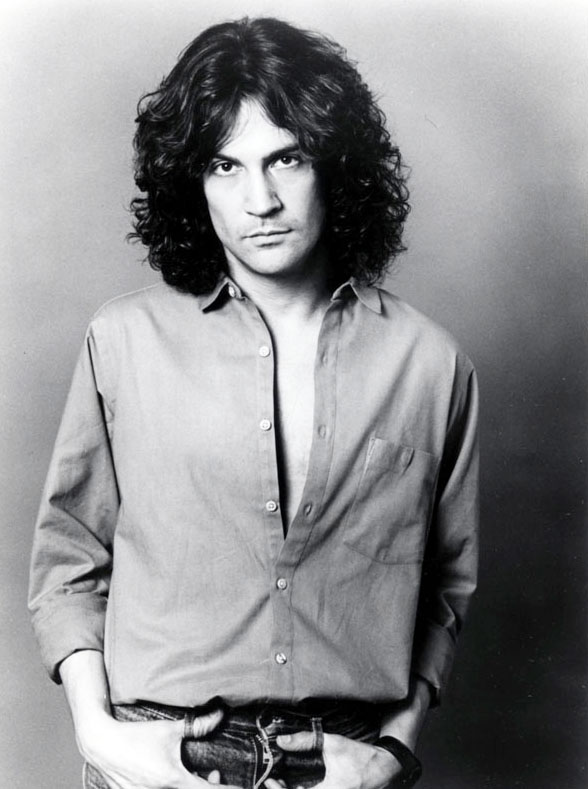 (Billy Squier 1981 Photo: Ebet Roberts / Capitol Records)
Singer-songwriter, guitarist – as well as screenwriter, gardener and conservationist?
Billy Squier's original screenplay Run to Daylight was recognized at the Sundance Film Festival, and he's been a working volunteer as well as promoter for the Central Park Conservancy for many years.
With his wife Nicole (they married in 2002 when he was 50+), Squier lives in Manhattan and Long Island. His songs continue to be heard on radio, TV, and in films, and are frequently sampled by other artists. MTV at one point called The Stroke the most-sampled song in history. 
Squier was interviewed by James Sullivan in 2005 (Genius of Stroke, The Boston Globe):
"Have you done better financially than some of your peers from all of these samples?"
"Well, I wouldn't lie. I'm the publisher of the songs and the writer. I do well well from that." 
After buying a house on Long Island in 1988, Squier got into gardening. 
"Now I take care of 20 acres of Central Park, right in front of my place [as a volunteer for the park's Conservancy]. I walk out to the park, and it's like my garden."
Squier recently blogged on his website billysquier.com after the death of his teenage guitar hero Jeff Beck,
"When Jimi died, we lost a giant. With Jeff's unexpected passing, the void is cavernous. I had the great privilege of introducing Jeff to his idol, Les Paul, back in the early 80's, the start of a memorable relationship for all of us…." – January 12, 2023
Longtime Billy Squier fans could sum up their desire to see him in concert again using his own words: Everybody Wants You. Despite his absence from touring since 2017, Billy Squier is not In the Dark. Those songs and his other rocking hits can be streamed on the usual music sources, and are on his YouTube Channel The Official Billy Squier. 
Other Sources:
Wrapping It Up – Rocker Billy Squier leaves music career behind – The Gazette, Mar. 29, 1996
Note: This article was first written in 2015 as Celebrating Seniors – Billy Squier Turns 65. It has been updated with new & additional content.
*Images are public domain or Creative Commons licensed & sourced via Wikimedia Commons, Vimeo, or Flickr, unless otherwise noted*