History Fix From September 1946
Baby Boomer Trivia From September 1946: Joe Garagiola Night, Evelyn Dick Charged, Nazi Leaders Sentenced

20-year-old Major League Baseball rookie Joe Garagiola took to the home field on Joe Garagiola Night on September 5, 1946 for the St. Louis Cardinals, his home town team. St. Louis fans were proud to see a hometown boy make good. The St. Louis Cardinals made the World Series playoffs that year and Joe Garagiola hit in 4 runs for the team.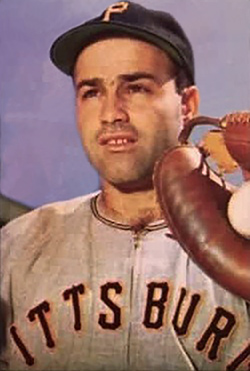 (Joe Garagiola 1953 Baseball Card Photo: Pittsburgh Pirates / Bowman Gum)
Italian-American Joe Garagiola was born in St.Louis, Missouri on Feb 12, 1926, and grew up on the same street as friend and fellow baseball player Yogi Berra. Garagiola was signed to the St. Louis Cardinals at only 16 years of age and played AA baseball until going into the army in 1944 during World War II.
After 9 years in MLB, Garagiola began a broadcasting career as a commentator for MLB in 1955 that lasted for 57 years. His last games as a part-time commentator for the Arizona Diamondbacks, the team his son Joe Garagiola Jr. is General Manager of. Joe Garagiola was a nonagenarian senior citizen when he died in March 2016 at the age of 90.
Hamilton, Ontario's Evelyn Dick was charged with murdering her husband, HSR driver John Dick on September 22, 1946. Also charged with John Dick's murder were Evelyn's former boyfriend Bill Bohozuk and her mother and father. Evelyn's father was HSR employee Donald MacLean, who had said he would kill Dick for threatening to expose MacLean's thefts from the HSR. Schoolchildren had found John Dick's torso (sans head and limbs) near a trail in the city of Hamilton on March 16, 1946.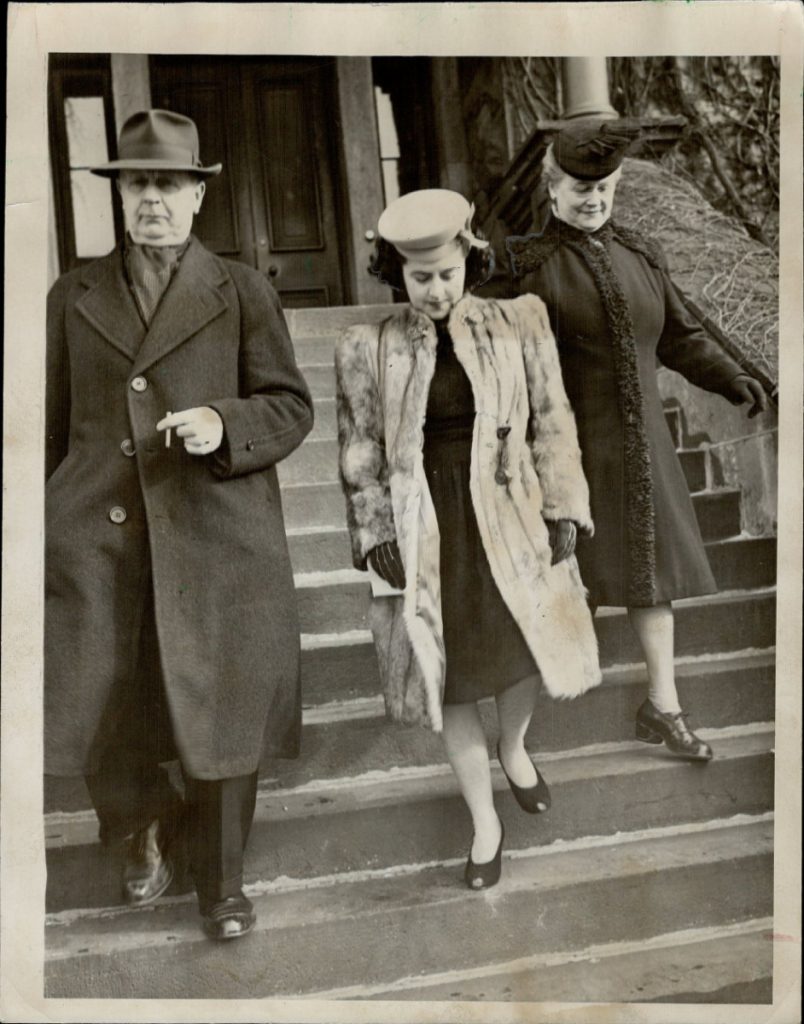 Left, Mrs. Evelyn Dick in centre with what looks like her parents – father Donald MacLean and mother Alexandra MacLean – on either side of her. (Photo: TheStar.com)
Among the evidence presented at Evelyn's trial was that John Dick's head and limbs had been burned in the furnace of the house Dick had bought for her. Evelyn Dick was convicted of her husband's murder and sentenced to hang in January 1947, but during the appeal her conviction was overturned and she was found not guilty.
Evelyn's father Donald MacLean was the only one found guilty of accessory to murder in John Dick's death and served 5 years, plus another 5 years for theft from the HSR.
According to The Hamilton Spectator, before marrying John Dick, Evelyn had given birth to a baby girl (Heather Maria White) in 1942 whom she gave to her mother to raise, and a baby boy named Peter David White in September 1944. Baby Peter never came home from the hospital and Evelyn said she had given him up for adoption. During the investigation into John Dick's murder, a suitcase containing the body of a baby encased in concrete was found in the attic of her home. Evelyn was tried again, this time for murdering Peter, and found guilty of manslaughter in 1947. She served 11 years in Kingston Penitentiary before being paroled in 1958 and vanishing. Evelyn Dick would be a 96-year-old nonagenarian senior citizen, if she was alive today.
On September 30, 1946, sentencing at the Nuremberg Trials began for the 22 Nazi leaders found guilty of war crimes during World War II. 3 were acquitted, 7 were sentenced to prison sentences ranging from 10 years to life, and 12 were sentenced to death by hanging.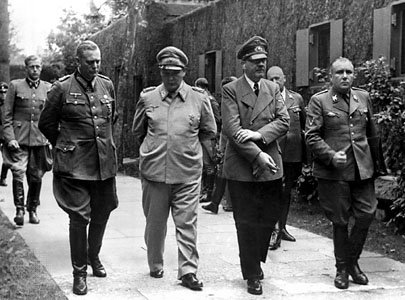 From left, Nazis Wilhelm Keitel, Hermann Göring, Adolf Hitler, and Martin Borman. (Photo: Holocaust Education & Archive Research Team)
Those sentenced to death by hanging included Wilhelm Keitel (Germany's Chief of Defense), Hermann Göring (founder of the Gestapo), and Martin Borman (Hitler's private secretary and head of the Nazi Party Chancellery), who was convicted in absentia and believed to have escaped Germany at the end of World War II. 
Of the 12 war criminals sentenced to death at Nuremberg, only 10 were actually hanged on October 16, 1946. Hermann Göring took cyanide the night before his hanging was scheduled, and died on October 15, 1946. Martin Borman was hunted for years by the CIA and West German government, and Nazi hunter Simon Wiesenthal believed he was living in South America. In 1972 Martin Borman's remains were found (confirmed by genetic testing in 1998) and it was concluded that he had been killed in May 1945 while trying to escape from Berlin.