Classic Film Stars Thanksgiving Cards
The Hollywood celebrity boys and girls of autumn model vintage fall fashions in these Thanksgiving greeting cards.
Classic movie star, singer-actress-dancer Alice Faye holds a pumpkin and sends her Happy Thanksgiving Wishes your way in this vintage film star greeting card for the fall holiday.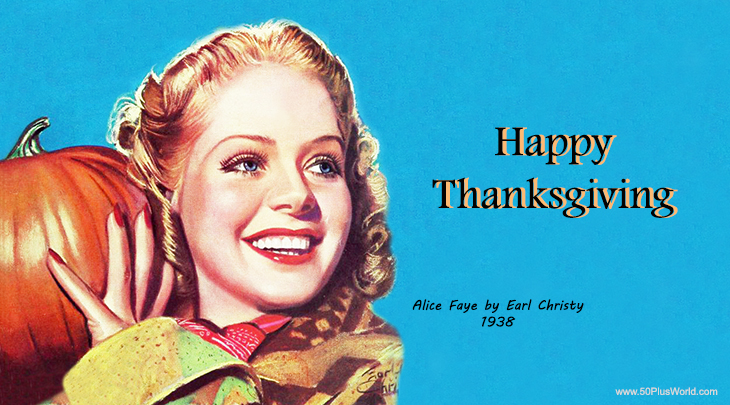 (Alice Faye 1938 Painting: Earl Christy)
Academy Award-winning actor Spencer Tracy wishes you & yours the best for this Thanksgiving Day. Spencer Tracy autumn palette portrait cover of Cine-Mundial magazine.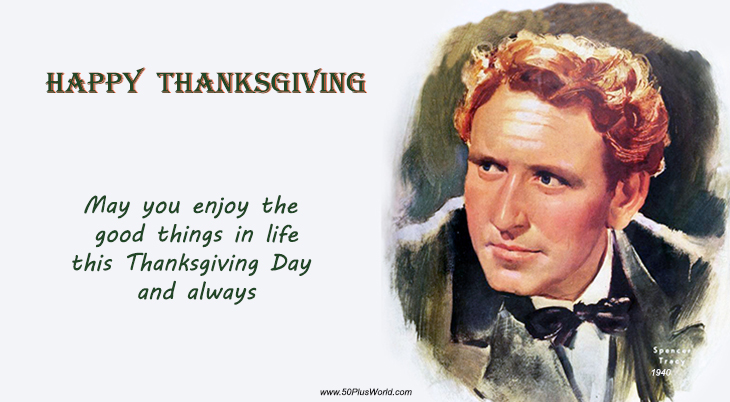 (Spencer Tracy 1940 Happy Thanksgiving Wishes)
Actress Janet Leigh models a tartan shawl and skirt in a fall fashion issue of Photoplay.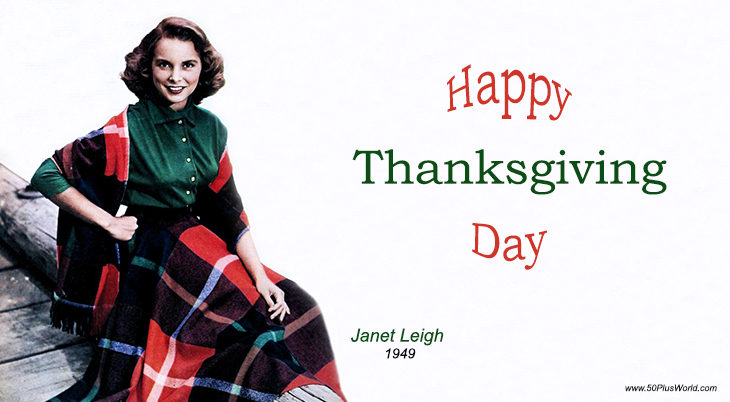 (Janet Leigh 1949: Fink and Smith | Happy Thanksgiving Day Card)
This stylish fedora and trench coat suit autumn weather and that rakish rogue, leading man Errol Flynn.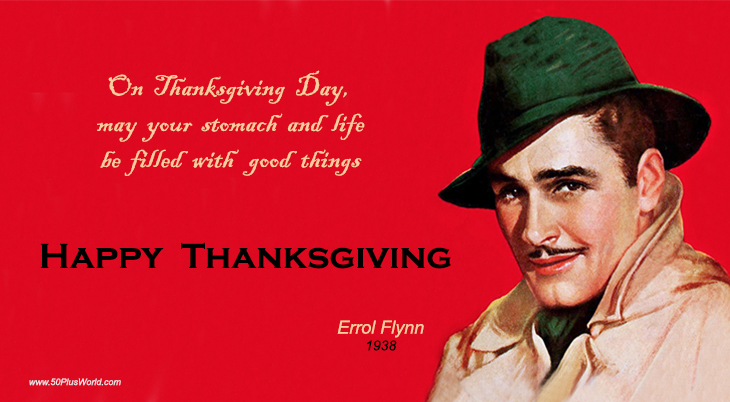 (Errol Flynn 1938 Happy Thanksgiving Greetings)
Happy Thanksgiving wishes from actress and classic film star Ann Sheridan, whose strawberry blonde 1940s hairdo is set off by colorful autumn leaves.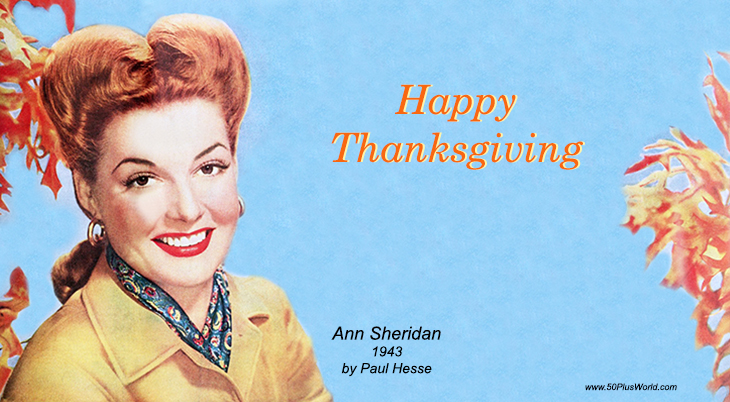 (Ann Sheridan 1943: Paul Hesse | Happy Thanksgiving)
Movie star Alan Ladd's plaid shirt set the tone for fall back in 1949, and again today.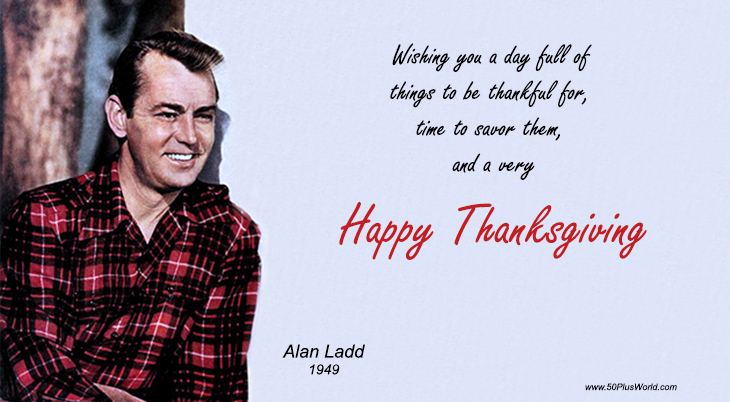 (Alan Ladd 1949 Happy Thanksgiving Things to Be Thankful For)
Singer-actress of movie musicals, Doris Day's fall sweater and red scarf maker her tanned face and blue eyes an autumn standout.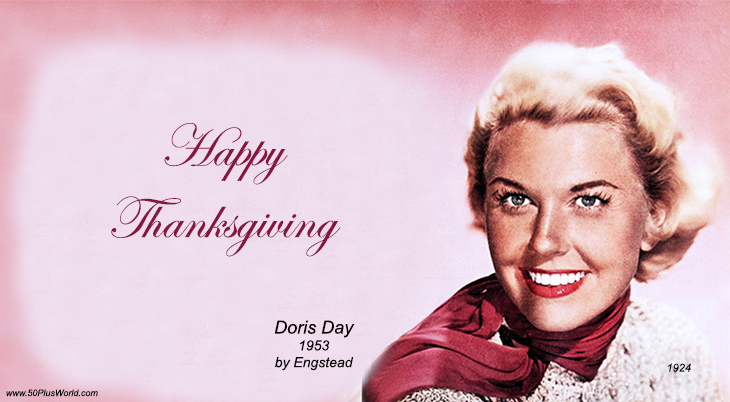 (Doris Day 1953: Engstead | Happy Thanksgiving)
A Pilgrim-style Thanksgiving greeting from silent movie star Ramon Novarro, modeling a costume from that era.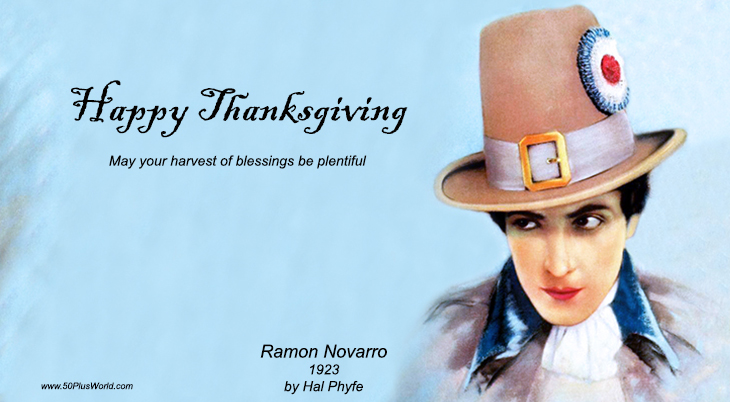 (Ramon Novarro 1923: Hal Phyfe | Happy Thanksgiving Harvest of Blessings)
Dancer-actress Ginger Rogers wears a beige, cream & blue blazer perfect for an autumn day.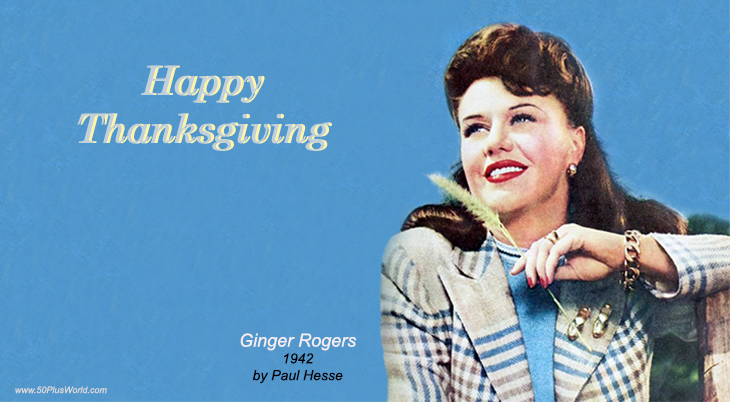 (Ginger Rogers 1942: Paul Hesse | Happy Thanksgiving)
Hard-boiled leading man, actor and movie star Robert Mitchum also rocks a plaid shirt in muted grey and blue tones.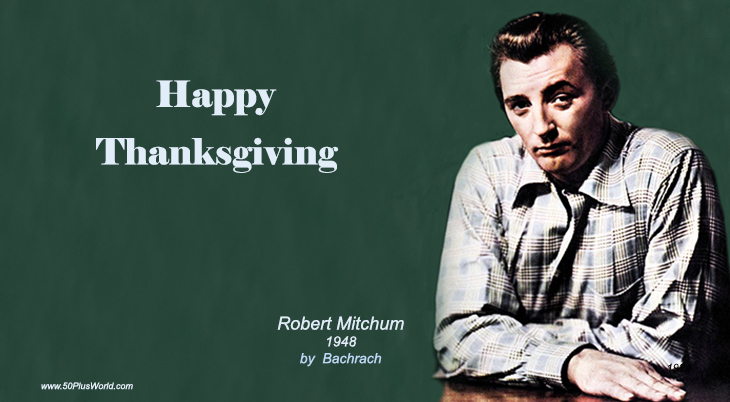 (Robert Mitchum 1948: Bachrach | Happy Thanksgiving)
Bubbly red headed classic movie & silent film star, actress Nancy Carroll sends perky Thanksgiving wishes while holding a colorful autumn leaf.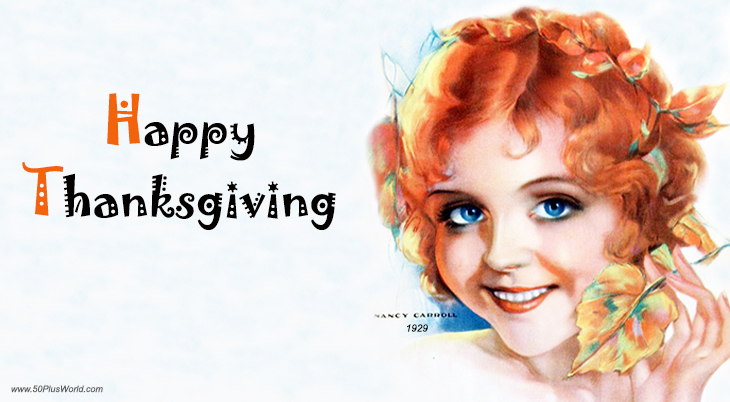 (Nancy Carroll 1929 Happy Thanksgiving)
Star of silent movies, westerns, and classic dramas, actor Richard Dix wore a bow tie and suit for the cover of an autumn edition of Motion Picture magazine.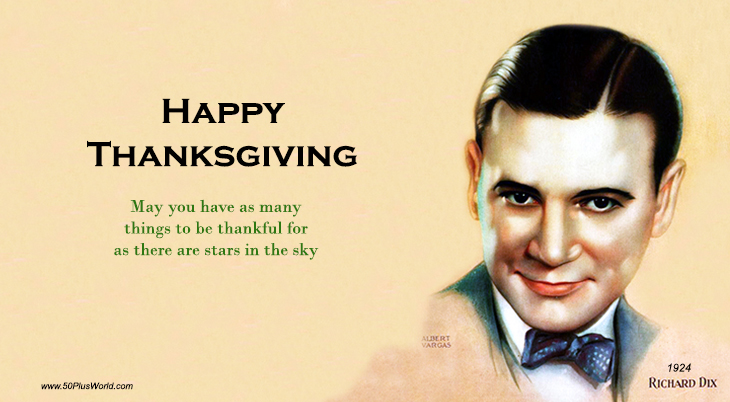 (Richard Dix 1924: Albert Vargas | Things to Be Grateful For)
Actress Jeanne Crain, one of the most beautiful women in Hollywood and films during the 1940s and 1950s, graced the cover of Photoplay with a backdrop of fall leaves and an autumn palette.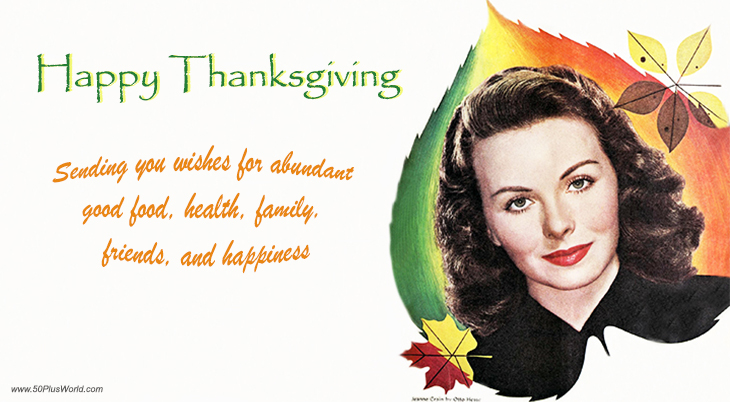 (Jeanne Crain 1948: Otto Hesse | Thanksgiving Wishes)
Photogenic Jeanne Crain also turns up on our vintage-inspired Happy Independence Day greeting cards.
These celebrity Thanksgiving greetings are suitable for sharing on social media (no link to www.50PlusWorld.com is required, but it is appreciated). 
More Thanksgiving stuff:
Thanksgiving Day Greetings (more vintage-inspired holiday cards)
Thanksgiving Day Fun Facts & Videos