The Myth and Mystery of Thomas Ince
Filmmaker Thomas H. Ince died under mysterious circumstances shortly after his birthday party – attended by film industry luminaries including Charlie Chaplin, actresses Marion Davies, Margaret Livingston, Julanne Johnston, and others – on millionaire news publisher William Randolph Hearst's yacht.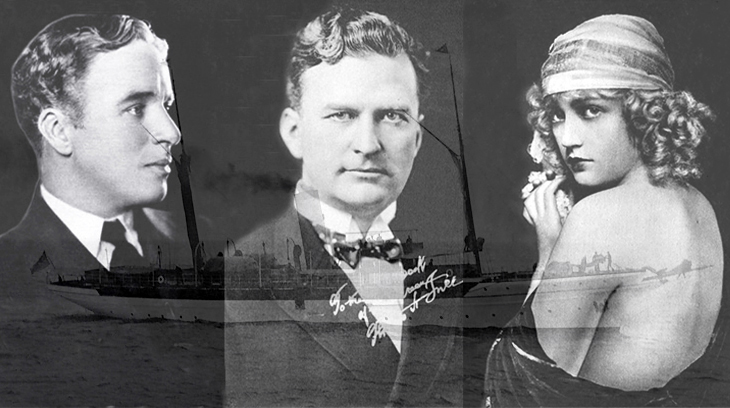 (Charlie Chaplin, Thomas Ince, Marion Davies & Hearst Yacht "Oneida")
Pioneering Inceville & Triangle Movie Mogul
Thomas Harper Ince was born on November 16, 1880 to theatrical parents John E. Ince Sr. and Emma (nee Brennan). His older brother John Ince was the first sibling to take up acting on stage in the early 1900s, followed by Thomas, then the youngest brother, Ralph. 
Thomas married Elinor "Nell" Kershaw in 1907 and their son William Thompson Ince was born in February of 1909. Ince left the world of stage for that of silent movies, joining first the New York-based Biograph Company in 1909, and then the Imp Company. In November of 1911 Thomas Ince moved to California to begin working on Westerns and war films for the Bison 101 movie studio, a division of the New York Motion Picture Company (NYMPC).
From there Ince quickly ascended the ranks, and by 1914 had founded Inceville (aka the Miller 101 Bison Ranch Studio), a motion picture community / studio nestled at the foot of the Santa Monica Mountains and the Santa Ynez canyon. As head of the New York Motion Picture Company's West Coast division, Thomas Ince was now in charge of several different movie companies operating under that brand – Broncho, Domino, Kay Bee, and others. At one point over 700 people lived and worked in Inceville.
Hard-working Thomas H. Ince – the first film producer-director – oversaw every aspect of the films, beginning with the scripts (many of which he co-wrote or wrote himself in the early days), casting, and directing, etc.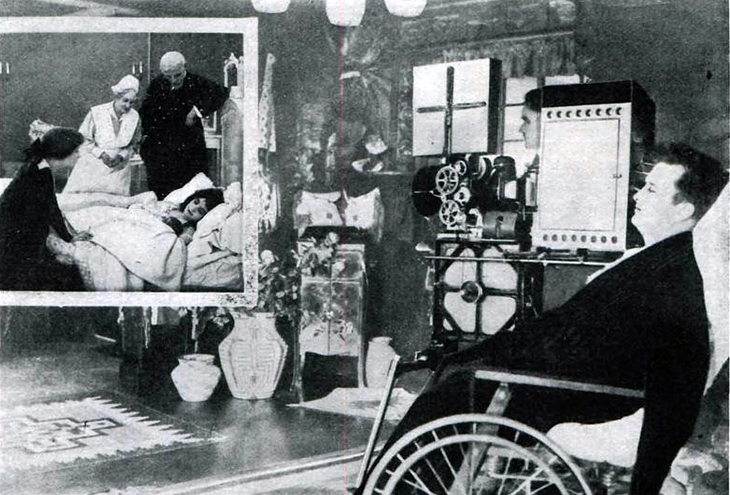 (Thomas Ince 1915 Photo: Photoplay)
Wanna-be-race car driver, actor and rising silent film star Wallace Reid was at the wheel when Ince was injured in an automobile accident in 1915. The recovering, driven perfectionist Ince – in a wheel chair, with his left arm in splints – had a screen suspended from the ceiling of his Hollywood home in order to supervise the cutting of his screenplay, so the movie could be released on scheduled time. This home was featured in an edition of SHADOWLAND in 1919; a few years later, Ince began building what would become an even more impressive Beverly Hills mansion, Dias Dorados.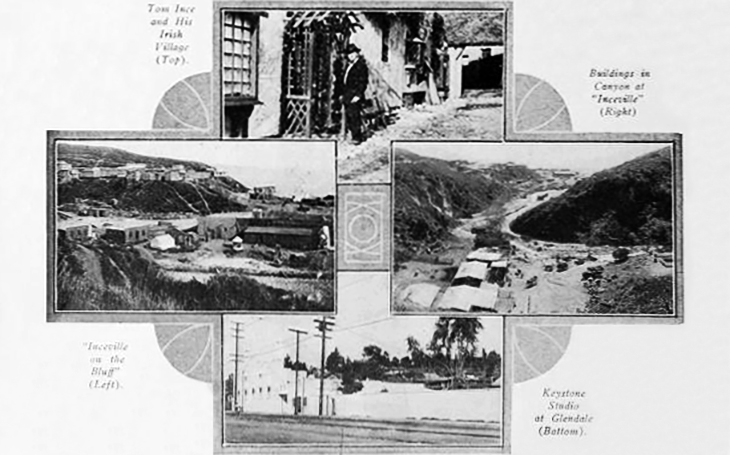 (Tom Ince, Inceville, and Keystone Studio 1914 Photo: The Moving Picture World)
Thomas Ince left the New York Motion Picture Company to partner with movie producers Mack Sennett (Keystone Studios) and D.W. Griffith in July 1915. The trio established The Triangle Motion Picture Company in Culver City.
Just a few years later, in 1918 Ince sold his shares to Sennett and Griffith. He left Triangle-Ince Pictures to work briefly with Adolph Zukor at Paramount-Artcraft Pictures, but by July 1918, he had moved on again and was busy building the new Thomas H. Ince Studios in Culver City.
Among the many silent film stars and directors that Thomas Ince "discovered", signed, and nurtured over the years, were Madge Bellamy, Sylvia Breamer, Lew Cody, Dorothy Dalton, William Desmond, John Gilbert, William S. Hart, Charles Ray, Sessue Hayakawa, Tsuru Aoki, and Alma Rubens.
As in independent producer in the early 1920s, Thomas H. Ince began to lose ground to the growing major Hollywood film studios such as Paramount and Metro-Goldwyn-Mayer.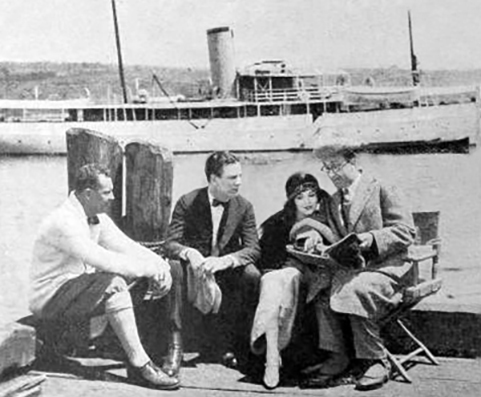 (Thomas Ince, Thomas Meighan, Lila Lee & Ed Wynn 1923 Photo: Motion Picture Magazine)
By early 1924, the notoriously hard-working Ince had some health issues including peptic ulcers that were kept quiet from the public. He was supposed to refrain from food and drinks that would trigger them. He had also begun to plan for a future where he would not be as tied to the studio; he and Nell intended to take an extended European vacation in early 1925. With this in mind, in January of 1924 Thomas had divided the executive duties of the film studio by appointing director John Griffith Wray as general manager of production, and another man as V.P. and manager of distribution. 
Dr. Daniel Carson Goodman, Screenwriter
His biography in the Motion Picture Studio Directory (1917) says that Dr. Daniel Carson Goodman was born Aug. 24, 1881 in Chicago, and graduated from Washington University in Washington in 1905. Goodman took his postgraduate degree at the University of Vienna in surgery. 
Goodman's medical career was short-lived, as he began to pursue his other interest, writing. By 1913, he had already written several short stories and had novels published. Goodman lived in New York, and became a scenario (screenplay) writer for two film companies based in the east – Mutual (directed by D.W. Griffith), and Lubin. Despite not practicing medicine, Dr. Goodman remained a licensed doctor, able to diagnose and treat medical conditions, and write prescriptions. 
Daniel Goodman met American-Canadian actress Florence La Badie, Thanhouser's leading lady, when he worked on a screenplay for that company.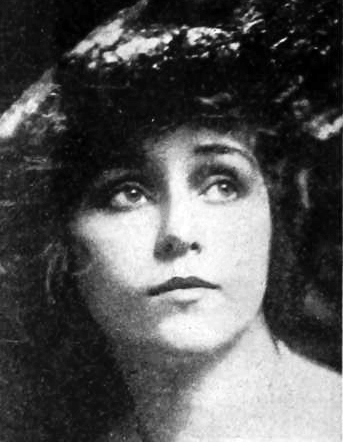 (Florence La Badie 1917 Photo: Motography)
"Florence La Badie, Noted Film Player, Dies in Ossining N.Y. – Demise Followed Nervous Breakdown and Injury in an Auto Accident
Miss Florence La Badie, the noted Thanhouser film actress, died on Saturday, October 13, at the Ossining (N.Y.) Hospital, following several weeks' illness. Miss La Badie suffered a nervous breakdown and was internally injured in an automobile accident which occurred while driving to her residence in New York City about two months ago. With her fiance, Dr. Daniel Carson Goodman, Miss La Badie was driving near Ossining in her machine and when the brakes failed to hold, the car upset, Miss La Badie being injured internally." – Exhibitors Herald, October 27, 1917
Daniel Goodman continued writing screenplays after his fiance's death. During restructuring due to the departure of Thomas Ince from Triangle studios in Culver City, California , Goodman was made head of the Triangle editorial team.
Actress Alma Rubens had broken into silent films in 1913 in a movie for Ince's Kay-Bee pictures. Over the next couple of years she appeared in minor roles in movies for Ince and other studios and directors such as D.W. Griffith, and Vitagraph. In 1916 she co-starred with Douglas Fairbanks in a few Fine Arts / Triangle films, which launched her as a bonafide movie star.
Alma married veteran silent film actor Franklyn Farnum in June 1918, but they separated two months later. Ruben's divorce petition filed that year stated that Farnum had hit her and dislocated her jaw. 
"Live Triangle Items – Triangle companies will be headed by Taylor Holmes, Olive Thomas and Alma Rubens….No announcement was made as to the future of Alma Rubens, who has been ill for some time, or of Harry Mesteyer and Gloria Swanson….Daniel Carson Goodman, author and scenario writer, this week retired from Triangle [as editorial director] to finish work on his latest novel…Mr. Goodman has taken a home in Hollywood and he will remain in Los Angeles this winter. " – Motion Picture News, October 26, 1918
In mid-1919, Pathe Films announced that Alma Rubens and Daniel Goodman were to co-produce eight pictures for the company. Rubens' divorce from Farnum was finalized that December.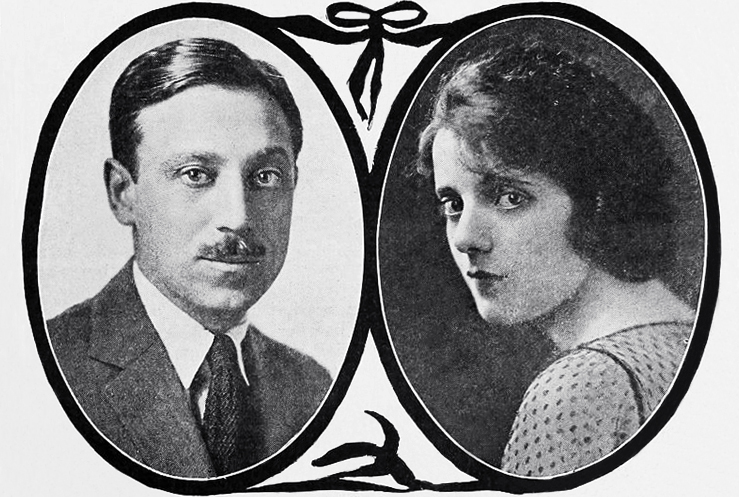 (Daniel Carson Goodman & Alma Rubens 1919 Photo: Motion Picture News)
Alma Rubens told Photo-Play that she was working on writing a play in collaboration with Daniel Carson Goodman in the fall of 1920, and she was signed by Hearst's Cosmopolitan Productions that year as well. As her star was rising, Rubens developed addictions (reputedly alcohol, morphine, cocaine, and heroin) that affected her behavior on set. As a result, she was sidelined by Hearst in 1921.
Dr. Daniel Carson Goodman and Alma Rubens were married in November of 1923. Before 1923 had ended, Alma was released from her contract with Hearst, and Goodman was appointed as the production manager of the Hearst film studios.
Marion Davies and William Randolph Hearst
Multi-millionaire publishing magnate William Randolph Hearst married former showgirl-turned New York socialite Millicent Willson in 1903. They lived in New York, often visiting the Hearst Ranch in California as a family with their five sons.
In 1916, Hearst saw New York stage actress and Ziefgfeld Follies dancer Marion Davies, and was smitten. He established Cosmopolitan Pictures in 1918 and signed Davies to an exclusive contract.
By the end of 1919, Hearst had begun working with architect Julia Morgan on designing a castle that would perch on a hilltop of the Hearst ranch, overlooking San Simeon and the Pacific Ocean. Hearst paid for a lavish apartment for Marion in New York, and despite the 34-year age difference, Hearst and Davies began an affair that would last until his death. Construction of Hearst Castle continued for the next 25+ years.
Hearst was known for his ability to manipulate the press (he owned most of the big newspapers and many magazines), his extreme jealousy of Marion Davies (he hired detectives several times to keep an eye on her), and his desire to promote Marion's career (getting into the movie biz, for a start). His life and proclivities inspired the later Orson Welles film Citizen Kane (1941).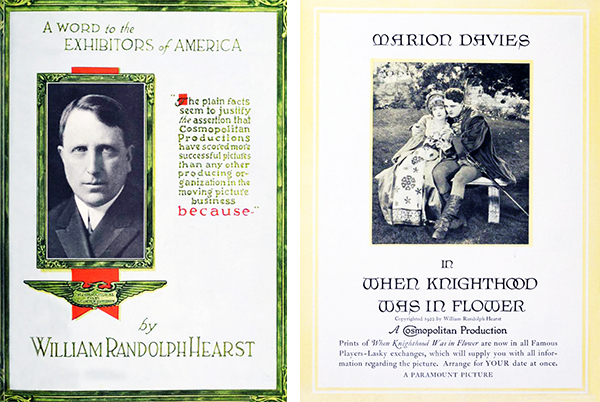 (William Randolph Hearst 1921 & Marion Davies 1922: Cosmopolitan Pictures)
Although Marion Davies was a heavy drinker herself, because her sister Reine Davies was an alcoholic, Reine's children with Broadway producer-director George Lederer (daughter Pepi and son Charles) lived with Marion after Reine and George divorced in 1912.  
Actor Charlie Chaplin's admiration for Marion Davies was well known.
The purchase of the 200 ft. long USS Oneida steam yacht by William Randolph Hearst in 1922, was reported to have been to secure the yacht for Marion's exclusive use. 
"The Thomas Ince Affair"
The Jazz Age and the silent film era of Hollywood are at their height of glamour and pleasure-seeking hedonism in 1924. Scandals – abortions, suicide, murders, alcohol abuse (during Prohibition, no less), and drug addiction – are quickly hushed up by studios anxious to avoid bad publicity. Excessive alcohol and drug use are prime suspects in several early 1920s career and life fatalities, among them Fatty Arbuckle, Virginia Rappe, Olive Thomas (Jack Pickford's wife), and more recently, mega-star Wallace Reid, who died while trying to overcome a morphine addiction in 1923. 
Saturday, November 15, 1924:
William Randolph Hearst meets with Thomas Ince at Ince's Benedict Canyon Drive home, and invites him for a weekend cruise to San Diego aboard Hearst's yacht (the Oneida). 
(Thomas H. Ince, Sons William, Tom & Dick Ince & Dias Dorados Home 1924) 
The purpose of the cruise is two-fold; to complete negotiations for Hearst's Cosmopolitan Productions to use space at Thomas H. Ince Studios in Culver City, and for an impromptu celebration of Thomas Ince's 44th birthday. 
William Randolph Hearst, Marion Davies' sisters Ethel Douras and Reine Davies, Reine's teenage daughter Pepi, Dr. Daniel Goodman (head of Hearst's Cosmopolitan productions), actresses Julanne Johnston and Margaret Livingston, and other guests and staff, board the Hearst yacht moored in San Pedro that Saturday.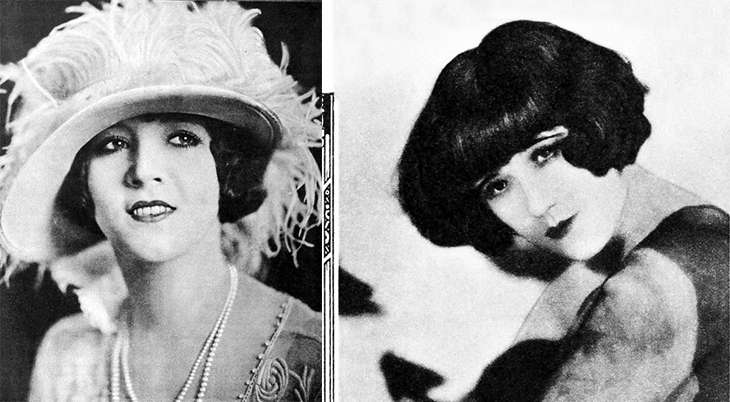 (Julanne Johnston 1924 & Margaret Livingston 1928)
Margaret Livingston is rumored to be Thomas Ince's mistress.
Thomas Ince has to work that Saturday, as does Marion Davies. Reports are that Marion gets a lift with Charlie Chaplin and columnist Louella Parsons later in the day on to the Hearst yacht in San Pedro. The Oneida sails to San Diego.
Sunday, November 16, 1924:
Thomas H. Ince takes the train on Sunday morning to San Diego and boards the Hearst yacht. An evening of music, drinking, dancing, eating, and very likely more, ensues at the lavish party on board the Oneida. 
On board the ship in addition to the crew, are a total of 20 guests, according to Thomas Ince: Hollywood's Independent Pioneer (2012) author Brian Taves. In addition to those previously mentioned are actresses Vera Burnett, Aileen Pringle, Alma Rubens and her husband Dr. Daniel Carson Goodman, and ballet dancer, choreographer and actor Theodore Kosloff.
Thomas Ince becomes ill with acute indigestion late Sunday night.
[Ince's wife Nell – who was not present on the yacht – later said it was because of drinking champagne and eating salted almonds.]
Monday, November 17, 1924:
Early Monday morning, a very fatigued and ill Ince is taken by water taxi from the yacht to San Diego, accompanied by Dr. Daniel Carson Goodman, and put on a train for L.A. 
On the train, Ince's condition worsens and (according to Goodman), suspecting a heart attack, they decide to get off the train in Del Mar instead of continuing to Los Angeles. They proceed to a hotel and Dr. Truman A. Parker and nurse Jessie Howard are called to attend to Ince. Ince tells both of them he's been drinking on the Hearst yacht.
Goodman calls Ince's wife Nell and asks her to come to the hotel with his personal doctor. Nell, their oldest son William, and Dr. Ida Glasgow, arrive at the hotel in Del Mar. 
Tuesday, November 18, 1924:
The Inces and Dr. Ida Glasgow proceed by train to Los Angeles and from there to the Ince home in Benedict Canyon. Dr. Glasgow stays at the Ince home and Thomas seems to be recovering.
Wednesday, November 19, 1924:
Thomas H. Ince dies at the age of 44 at 5:44 a.m. from a heart attack. Dr. Glasgow signs the death certificate and gives heart failure as cause of death.
Conflicting News Reports
"Thomas H. Ince Dead – Noted Producer Stricken with Indigestion – End Came at 5 A.M. Yesterday (Special to THE FILM DAILY) – Los Angeles – Thomas H. Ince, one of the leading figures in production died at 5 A.M. yesterday morning at his home in Beverly Hills. A heart attack, brought on by acute indigestion was responsible for Ince's death. He was first taken ill at the Hearst ranch in the Northern part of the state and rushed to Los Angeles in a special car, surrounded by specialists and nurses. He regained consciousness early yesterday morning just before the end…A recent deal, consummated with William Randolph Hearst, provided for the production of many of the stories owned by Hearst." – The Film Daily, November 20, 1924.
"Stars Break Up Hearst Yacht Party When Death Strikes Ince – Director Dies in Arms of Wife; Children Near – (Special to Daily News) Los Angeles, Cal., Nov. 19 – The producer's death was sudden and came from a heart affection following an attack of indigestion which began at a yacht party aboard the Oneida, off San Diego, last Sunday. Personages who made merry with Ince on Sunday…tonight none could be reached, although a partial list of the guests assembled from other quarters contained the following names: Marion Davies, William Randolph Hearst, Elinor Glyn, Charlie Chaplin, Seena Owen, D.C. Goodman, Margaret Livingston." – Daily News, November 20, 1924.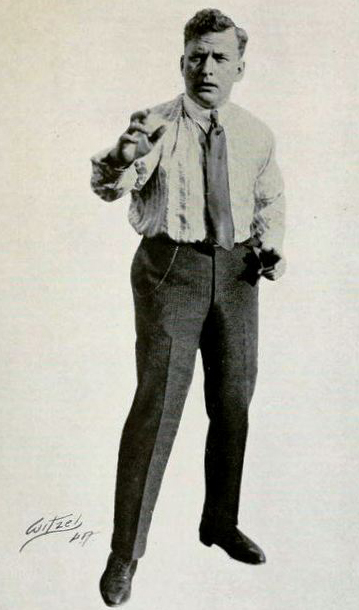 (Director Thomas Ince 1922 Photo: Witzel [L.A.] / Peter Milne)
"Death Claims Thomas H. Ince After Illness of a Day at Beverly Hills, Cal. – Thomas H. Ince…succumbed to an attack of acute indigestion at his home in Beverly Hills, California, on the morning of November 19. He is survived by his wife, Mrs. Eleanor Kershaw Ince; three sons, William Thompson Ince, 16; Thomas Ince II, 13 years old, Richard, age 10, and by two brothers, Ralph and John Ince….Mr. Ince became ill only the day prior to his death when he and his family were guests on the William Randolph Hearst ranch in northern California. Attended by two specialists and three nurses he was speeded homeward in a special train, and although his condition was then known to be critical it was little expected that its termination would be in such an abrupt fatality." – Tom Waller, Moving Picture World, November 29, 1924
"Ince, Noted Producer, Dies – Untimely Death of Pioneer Mourned by Film Industry – Stricken Aboard Yacht – Private Funeral Held on Coast – Studio Activities come to a Standstill – In the early hours of Wednesday morning, just as the sun was painting the Eastern sky with rosy glory, Mr. Ince yielded to the attack of angina pectoris that had stricken him while on a yachting trip at San Diego…. An automobile accident two years ago, coupled with a great strain of recent overwork, was believed to have been the forerunner of the malady, which made its first seizure with an attack of indigestion on Monday, following the famous victim's celebration of his forty-fourth birthday anniversary on Sunday. In company with Dr. Daniel Carson Goodman, Mr. Ince was on his way home about 7 o'clock Monday morning when he first complained of feeling ill. The head of Cosmopolitan Productions assisted him to board the train for Los Angeles, but Mr. Ince grew so markedly worse that Dr. Goodman had him removed from the train at Del Mar and he was carried to the Stratford Inn, whence Mrs. Ince and a physician were summoned. Mr. Ince improved so much on Tuesday that he was brought to his sumptuous new home in Benedict Canyon, Beverly Hills, in a private car and ambulance during the night. However, he began to sink, and one of the nurses attending him notified his wife. With their three sons, William (15), Thomas H. Jr. (11), and Richard (9), she hurried to his bedside. The end came about 5:30 o'clock." – Harry Hammond Beall, Exhibitors Herald, December 6, 1924
Before, during, and after his memorial service, tributes to Thomas H. Ince poured in from peers, friends, and rivals in the film industry, including Adolph Zukor, Marcus Loew, Joseph Schenck, Carl Laemmle, and Will Hays.
Ince's wife Elinor /Nell had been First Vice-President of her husband's corporation for several years before his death.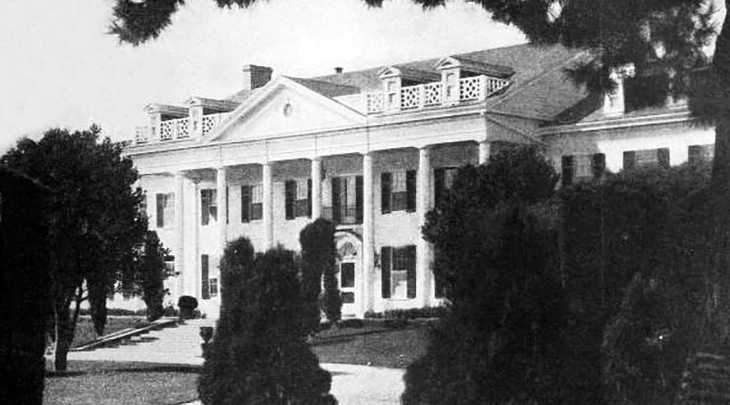 (Thomas H. Ince Studios Administration Building 1923 Photo: Motion Picture Magazine)
"Under plans made before Mr. Ince's unexpected death and in accordance with contracts executed by him, the business will be continued. Mrs. Thomas H. Ince, widely recognized as a woman of unusual ability, has taken a desk at the Culver City Studios and will take an active part in the direction of affairs…She had always been a close confidant and advisor of Mr. Ince. In his earliest experiences as a director and producer she was his active assistant. When Kay-Bee sent Thomas H. Ince West to found Inceville…Mrs. Ince was almost constantly with him, and he frequently paid high tribute to the help that she gave him in the preparation of stories, the writing of continuity and the editing of his early pictures. In addition to her long association with Mr. Ince in both the production and business phases of his operation, Mrs. Ince is known as a woman of keen and sound judgment and high literary attainments." – Moving Picture World, December 6, 1924
Rampant Rumours and Unanswered Questions
The conflicting stories gave rise to rampant gossip and rumours about Thomas H. Ince's death, most of which have been refuted over the years. Among the claims:
Marion screamed in terror, alerting all the other yacht guests, who came running to see what had happened (and would have been witnesses).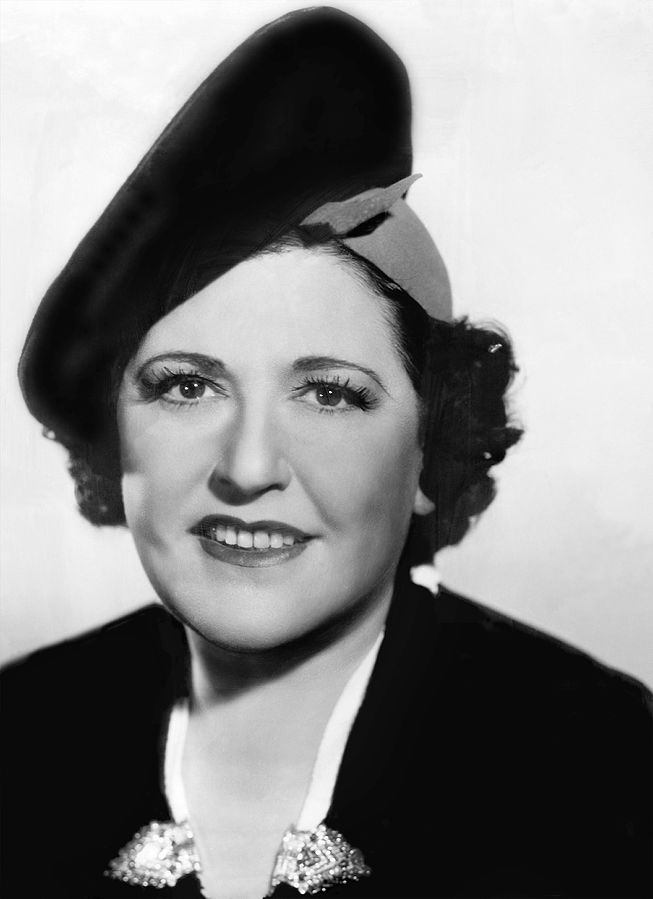 (Louella Parsons 1937 Photo: Lowell Sun / International News Service)
Louella Parsons was awarded a lifetime contract with the Hearst newspapers shortly after Ince's death.
Parsons was already under contract with Hearst before the yacht sailed.
Hearst newspapers gossip columnist Louella Parsons said she had not even been on the west coast at the time of the cruise; yet a stand-in for Marion Davies claimed to have seen Louella talking to Marion and Charlie Chaplin the same day they left the movie studio to drive to the yacht.
According to Valeria Belletti (Samuel Goldwyn's secretary in the 1920s), author of Adventures of a Hollywood Secretary (2006), the big prevailing rumour on the studio lots at the time involved Marion Davies, William Randolph Hearst, and Charlie Chaplin:
"It is said that Hearst became very much incensed over the attention Charlie was paying Marion – after a few drinks, they got quarrelling about it and Hearst either shot at or threw something at Charlie. Charlie ducked and Ince got the blow and died a few hours after."
Alternate, even more twisted versions of this rumour were that Hearst invited Chaplin on the cruise just so he could watch him with Marion; Hearst found Marion and Ince together, and shot Ince (mistaking him for Chaplin). 
Charlie Chaplin's chauffeur said he saw Ince's body (complete with bullet hole in the head) being removed from the yacht.
Charlie Chaplin said he, Marion Davies and William Randolph Hearst had visited a sick Thomas Ince later in the week, and that Ince died 2 weeks after their visit.
Hearst press released a statement that was later retracted, saying Thomas Ince had been visiting Hearst castle for the weekend and when he overindulged, he was returned to his Benedict Canyon home by car with 3 nurses and a specialist.
Marion Davies never confirmed that she, Louella Parsons, or Charlie Chaplin, had ever been on the yacht; and said that Nell Ince called her late Monday afternoon to tell her of Ince's death. 
There was no Dr. Truman A. Parker in Del Mar.
A Dr. Truman A. Parker owned the Parker Office Building in nearby La Jolla, California. (California Historical Resources)
Ince's widow Nell ordered his cremation two days after his death; she was given a trust fund by Hearst and left for Europe after the funeral.
Having been left her husband's fortune, Nell had no need of Hearst money; she told a reporter that both she and Ince had previously decided upon cremation in the event of either of their deaths. Nell stayed on to help the business continue, and it was not until July of 1925 that she took a trip to Europe.
Almost all of these rumours were investigated and refuted in the decades that followed what has since become known as "The Thomas Ince Affair". 
Unanswered Questions
San Diego D.A. Chester C. Kempley opened an investigation that was promptly closed. According to John Gilbert: The Last of the Silent Film Stars (2013) author Eve Golden, Kempley only spoke to one witness, Dr. Daniel Carson Goodman – who worked for William Randolph Hearst. Another source says it was Dr. Parker and Nurse Howard from the Del Mar hotel, that were the only two witnesses questioned. In any event, D.A. Kempley very quickly determined there was no need for an inquest – leaving many other witnesses unquestioned, including almost everyone on the Oneida that night.
Why was Thomas H. Ince – obviously gravely ill – never taken to a hospital?
The Aftermath of The Thomas Ince Affair
Charlie Chaplin (age 35) married his pregnant girlfriend Lita Grey (age 16) on November 26, 1925, in a shot-gun wedding – less than a week after Thomas Ince's death. They were divorced two years later. Chaplin had a long career as an independent filmmaker, filled with his own triumphs and scandals. He married twice more (Paulette Goddard 1936-1942; and Oona O'Neill in 1934), and died in Switzerland in 1977 at the age of 88.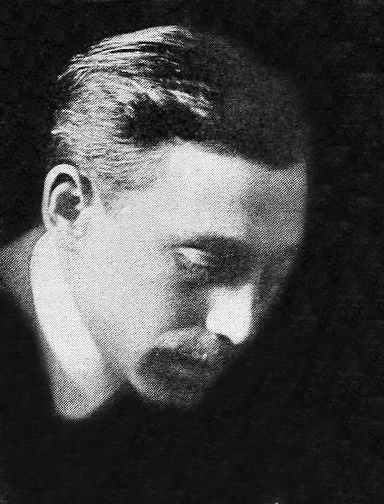 (Daniel Carson Goodman 1924)
According to Variety, in March 1925 William Hearst didn't renew Daniel Carson Goodman's contract as production manager for Cosmopolitan Pictures.
Alma Rubens applied for divorce, signed a contract with William Fox of Fox Films, and began a romance with actor Ricardo Cortez.
Photoplay reported in June 1925 that Goodman had left on a trip to France in the wake of actress Pola Negri, and implied they might be engaged.
The Goodman-Rubens divorce was finalized in early 1926, and Alma married Ricardo Cortez. Her drug abuse escalated and she was involuntarily hospitalized in 1929, then arrested for cocaine possession and morphine smuggling in early January 1931. Alma Rubens died of pneumonia and bronchitis on January 21, 1931 at the age of 33.
Daniel Goodman's career as a screenwriter was over, although D.W. Griffith's 1928 film Battle of the Sexes starring Jean Hersholt, Phyllis Haver, Belle Bennett, and Sally O'Neill, is based on a Goodman story The Single Standard. Goodman died in 1957, age 75.
William Randolph Hearst moved into Hearst Castle with Marion Davies in 1926, and the legendary parties she hosted there were eagerly attended by Hollywood elite. Marion continued acting in movies throughout the 1930s, and was a wealthy philanthropist in her own right. When Hearst suffered financial setbacks later in life, she helped him out.
Millicent Hearst lived in New York and enjoyed an active social life; she refused to divorce Hearst on religious grounds, and they were still married when he died at Marion Davies' North Beverly Drive home in 1951 at the age of 88.
William's granddaughter Patty Hearst has had an  extremely eventful life of her own, and became a writer. Patty co-authored the murder-mystery Murder at San Simeon (1997) with Cordelia Frances Biddle, based on the myth and mystery surrounding Thomas Ince's death. 
The Cat's Meow (2001) is a feature film based on some of the rumours around Ince's death. The cast of The Cat's Meow includes Edward Herrmann as William Randolph Hearst, Kirsten Dunst as Marion Davies, Eddie Izzard as Charlie Chaplin, Cary Elwes as Thomas Ince, Jennifer Tilly as gossip columnist Louella Parsons, and Joanna Lumley as writer Elinor Glyn. This movie trailer for The Cat's Meow features Kirsten Dunst, Edward Herrmann, Cary Elwes, Eddie Izzard, and Jennnifer Tilly.
Louella Parsons enjoyed a long career as a Hollywood gossip columnist, working for Hearst newspapers. She honeymooned with her third husband at the Hearst Ranch/Castle in 1930.
Actresses Julanne Johnston and Margaret Livingston's film careers were over by the early 1930s. Margaret Livingston married burly bandleader Paul Whiteman in 1931, and chronicled her success at helping him lose weight in a book. They were married until Whiteman's death in 1967; Margaret was 89 when she died in 1984. Julanne Johnston retired from acting, married David W. Rust and they lived in Detroit; she was 88 when shed died in 1988.
Other Resources:
New of Los Angeles and Vicinity – New Editorial Head for Triangle, by A.H. Giebler, The Moving Picture World, August 10, 1918
Motion Picture News
Photo-Play Journal
Goodman Production Chief of Hearst Studios, Motion Picture News, December 29, 1923
Motion Picture Magazine
*Images are believed to be in the public domain or Creative Commons licensed & sourced via Wikimedia Commons, Vimeo, YouTube, or Flickr, unless otherwise noted*