Folks, Facts & Fun From August 1931
News, Headlines, Entertainment & Trivia from August, 1931: Bing Crosby records the hit songs Dancing in the Dark, & Stardust; Agatha Christie's The Murder at Hazelmoor is published; Transatlantic, Tabu & High Stakes movies are released, celebrity weddings, Babe Ruth hits 600th home run, & more…
The Murder at Hazelmoor by Agatha Christie
The New York Times reviewed English mystery author Agatha Christie's new novel The Murder at Hazelmoor (aka The Sittaford Mystery) on August 16, 1931. Good Housekeeping magazine had serialized Murder at Hazelmoor in six installments, from March 1931 to August 1931, with illustrations by W. Smithson Broadhead.

(Murder at Hazelmoor Illustrations: W. Smithson Broadhead)
A snowy evening in Dartmoor…. At a seance taking place at the home of Mrs. Willett and her daughter Violet, "the spirit" says Captain Trevelyan has been murdered. 
(Murder at Hazelmoor Illustrations: W. Smithson Broadhead)
Snow has blocked the roads for vehicles, but Captain Trevelyan's friend Major Burnaby is at the seance and says he'll walk 6 miles on foot to confirm if it's true. He reports that he arrived at the house and found the Captain's body on the floor. 
Suspects include Captain Trevelyan's sister Jennifer Gardner, and three nieces and nephews (children of his other, deceased sister). All four suspects are the beneficiaries of the Captain's will. One of them, his nephew James  Pearson, had been trying to borrow money from Trevelyan, and is arrested by Inspector Narracott.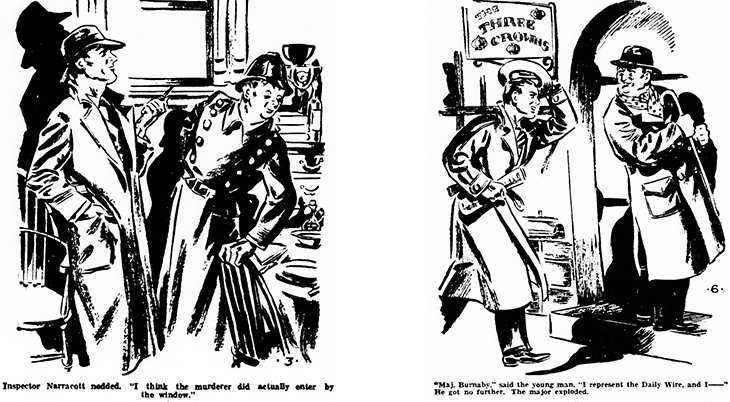 (Murder at Hazelmoor Illustrations: W. Smithson Broadhead)
James Pearson's fiancee Emiliy Trefusis turns amateur sleuth to uncover the truth, with help from Daily Wire journalist Charles Enderby. The plot thickens…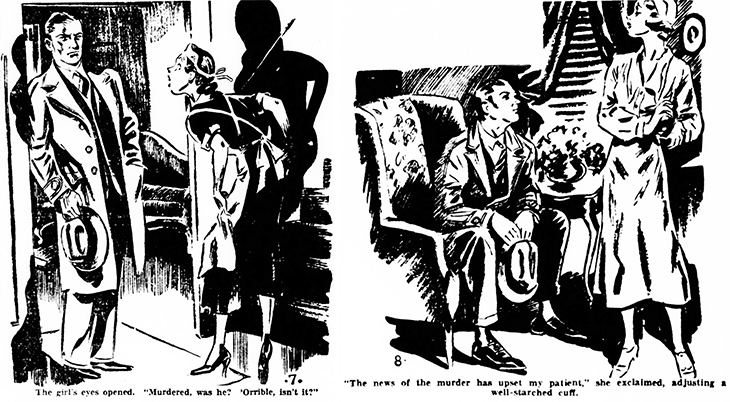 (Murder at Hazelmoor Illustrations: W. Smithson Broadhead)
The Murder at Hazelmoor was published in the UK in September 1931 under the title The Sittaford Mystery. The next year, The Evening Star newspaper also published The Murder at Hazelmoor in installments, beginning in June 1932.
The book has been adapted for radio in 1990. The Sittaford Mystery (2006) television adaptation injects the popular Agatha Christie sleuth Miss Marple (Geraldine McEwan) into the tale. Timothy Dalton, Michael Brandon, Robert Hardy, Laurence Fox, and James Murray co-star.
August 1931 In Music
Dancing in the Dark, and Stardust
In August 1931 Bing Crosby (with the Victor Young Orchestra) recorded two enduring classics – Stardust, and Dancing in the Dark.
Both songs would become hits for the crooner. Stardust was written by Hoagy Carmichael and Mitchell Parish in 1927, but it wasn't a hit until Bing's August 1931 recording was released. Stardust is now considered part of the Great American Songbook, and has been covered by over 1500 recording artists such as Glenn Miller, Artie Shaw, Fats Waller, Frank Sinatra and the Pied Pipers, Nat King Cole, Ella Fitzgerald, and Louis Armstrong. 
Dancing in the Dark features lyrics by Howard Dietz set to music by Arthur Schwartz; it was a six week chart hit for Bing Crosby.
Dancing in the Dark was first sung by John Barker (with Tilly Losch dancing) in the 1931 stage revue The Band Wagon, which had opened on Broadway's New Amsterdam Theatre in June 1931. All of the songs for The Band Wagon were written by Howard Dietz and Arthur Schwartz.
Fred Astaire, his sister Adele Astaire, Helen Broderick, Tilly Losch, and Frank Morgan co-starred in the Broadway musical The Band Wagon, with choreography by Albertina Rasch.
(Adele Astaire, Fred Astaire, Tilly Losch, Frank Morgan, Helen Broderick 1931: Screenland)
The Band Wagon stage revue was the last time Adele and Fred Astaire performed together. After 27 years as dance partners, Adele Astaire split up the act and retired from performing in 1932. She married a member of the British nobility, Lord Charles Arthur Francis Cavendish (second son of the Duke of Devonshire). Fred Astaire went on to become a star of stage and movies.
A few years later, Fred Astaire and Cyd Charisse danced to Dancing in the Dark in the movie musical The Band Wagon (1935), although no singing was involved. Their The Band Wagon film co-stars were Oscar Levant, Nanette Fabray, and Jack Buchanan. 
Considered a modern classic, the song has inspired or been featured in films such as Dancing in the Dark (1949) starring William Powell, Betsy Drake, Mark Stevens, and Adolphe Menjou.
Among the many other singers who've had success with their recordings of Dancing in the Dark, are:
1940s – Artie Shaw and his Orchestra
1950s – Jo Stafford, Ray Coniff, Patti Page, Duke Ellington, Frank Sinatra, Gordon MacRae, Sarah Vaughn,
1960s – Bert Kaempfert, Tony Bennett, Johnny Mathis, Mel Tormé, Connie Stevens
1970s – Ella Fitzgerald
1990s – Barry Manilow
2000s – Diana Krall
Love Letters in the Sand
Songwriting lyricists and brothers Nick Kenny and Charles Kenney's hit Love Letters in the Sand (with music by J. Fred Coots), was first recorded on August 27, 1931 by singer Tom Brown, with Ted Black and his orchestra. Other artists who later recorded Love Letters in the Sand are Pat Boone, and Patsy Cline.
Charles and Nick Kenney launched the Gold Mine in the Sky Publishing Company and had other hit songs. Nick's career included writing and hosting for newspapers, radio, and television. Violinist and author Charles Kenney married Canadian actress Joy Hathaway (Amanda of Honeymoon Hill radio program star) in June 1939. 
When the Moon Comes Over the Mountain
Legendary singer Kate Smith recorded When the Moon Comes Over the Mountain on August 17, 1931. Written by Howard Johnson, Harry M. Woods, and Smith, When the Moon Comes Over the Mountain became a beloved Kate Smith standard for her fans for decades.
Babe Ruth Hits His 600th Career Home Run
On August 21, 1931, Babe Ruth became the first Major League Baseball player to hit 600 career home runs. In the 9 decades since then, only 8 other players have matched Babe Ruth's 60  home run milestone – Willie Mays (1969), Hank Aaron (1971), Barry Bonds (2002). Sammy Sosa (2007), Ken Griffey Jr. (2008), Alex Rodriguez (2010), Jim Thomas (2011), Albert Pujols (2017).
Movies Released in August 1931
Among the films released in August 1931 are several that have stood the test of time, according to IMDB as of August 2021.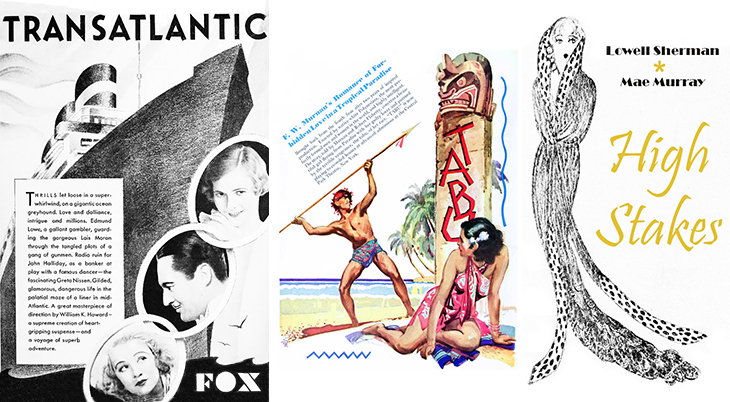 (Transatlatic | Tabu | High Stakes Modified 1931 Ads: A. Hamilton)
Noteworthy August 1931 Movies:
Transatlantic,  a dramatic comedy-mystery set aboard an Art Deco-decorated ocean liner. Cinematography by James Wong Howe, art direction by Gordon Wiles, story by Guy Bolton. Transatlantic stars Edmund Lowe, Lois Moran, Greta Nissen, John Halliday, Myrna Loy, Jean Hersholt, Earle Foxe, and Billy Bevan.
Tabu: A Story of the South Seas, written and directed by F.W. Murnau, and filmed on location. At the 4th Academy Awards Ceremony in November 1931, Tabu cinematographer Floyd Crosby won the Oscar for Best Cinematography, beating out Edward Cronjager (Cimarron, 1931), Lee Garmes (Morocco, 1930), Barney McGill (Svegali, 1931), and Charles Lang (The Right to Love, 1930). 
High Stakes, an RKO comedy directed by and starring Lowell Sherman. Sherman's leading lady in High Stakes is silent movie star "vamp" Mae Murray, with Karen Morley in a supporting role.
Young as You Feel, a comedy featuring Will Rogers as an exasperated patriarch; Don Dillaway and Terrance Ray play his sons. Directed by Frank Borzage, with Lucien Littlefield and Fifi D'Orsay also in the cast.
Street Scene, a drama that takes place during a New York City heat wave. Directed by King Vidor, with Sylvia Sidney, William ("Buster") Collier Jr., Estelle Taylor, and Beulah Bondi.
The Smiling Lieutenant, directed by Ernst Lubitsch and starring Maurice Chevalier. This musical rom-com co-stars Claudette Colbert, Miriam Hopkins, and Charles (Charlie) Ruggles.
August 1931 Weddings
Gloria Swanson & Michael Farmer
Gloria Swanson commits bigamy when she marries husband #4, Michael Farmer, on August 16, 1931.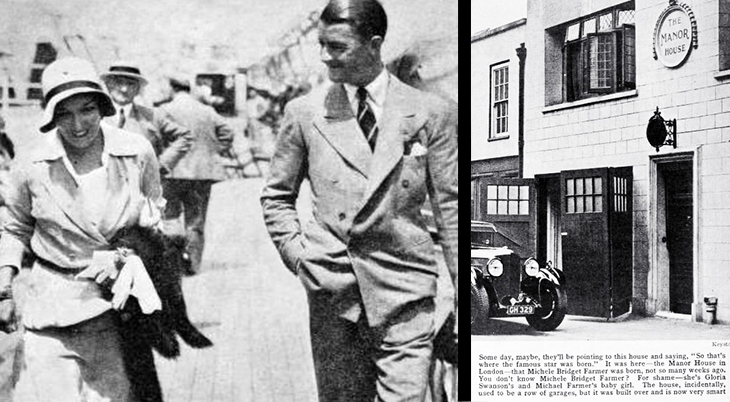 (Gloria Swanson & Michael Farmer 1931: International | London Manor House 1932: Keystone)
Swanson was going through a divorce from Henri de La Falais, Marquis de La Coudraye, and thought it had been finalized. She was already 2 months pregnant by Michael Farmer, which was the reason they married. After discovering their marriage may have been bigamous, Farmer and Gloria Swanson married again in November 1931. The birth of daughter Michele Bridget Farmer was announced on the 11th of April 1932, according to The Indianapolis Times. Gloria Swanson and Michael were divorced in 1934.
Paul Whiteman & Margaret Livingston
"The King of Jazz", future Grammy Hall of Fame recording artist and radio big band leader Paul Whiteman marries actress Margaret Livingston on August 28, 1931.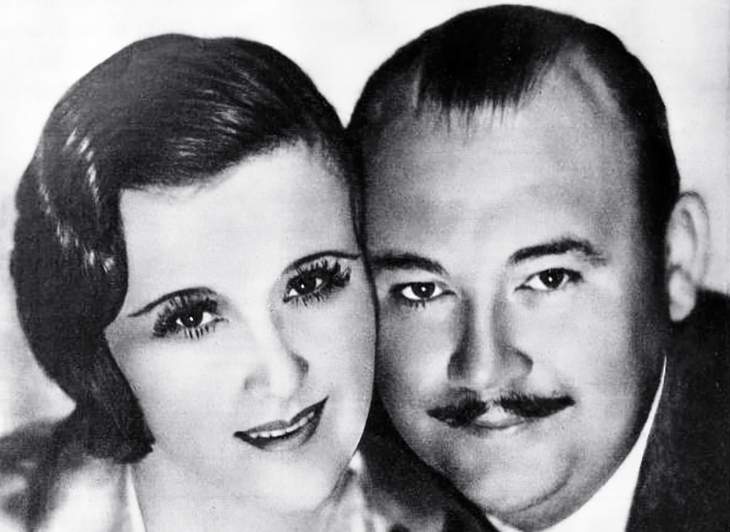 (Margaret Livingston & Paul Whiteman January 1932 Photo: Maurice Seymour)
It was the fourth marriage for Whiteman and the first for the bride. Marguerite had begun acting in silent movies in 1916 under her birth name, Marguerite Livingston. She was one of Marion Davies and William Randolph Hearst's guests on the Oneida yacht in November 1924 when director Thomas Ince took ill, and was rumored to be Ince's girlfriend (he was married) at the time.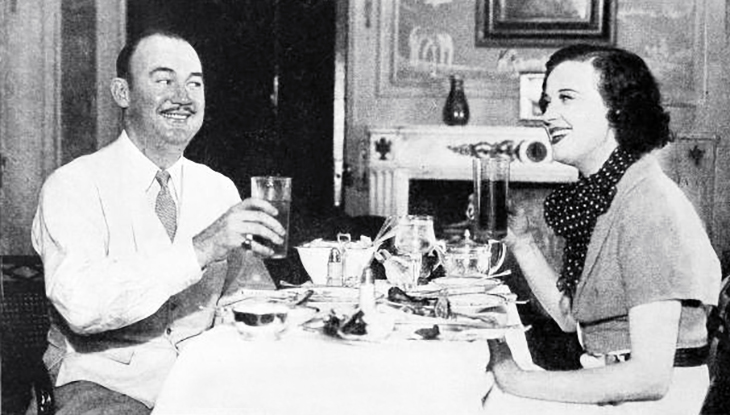 (Paul Whiteman & Margaret Livingston October 1932 Photo: Wide World)
Margaret Livingston put Whiteman on a special diet after their wedding, and the formerly portly bandleader lost a lot of weight. She retired from acting and they adopted four children. They remained married until Paul Whiteman died at the age of 77 from a heart attack, in December 1967. Margaret Livingston Whiteman died in November 1895, age 89.
*Images are believed to be in the public domain, used by permission, or Creative Commons licensed & sourced via Wikimedia Commons, Vimeo, YouTube, or Flickr, unless otherwise noted*