December 1949 Moments In Time
News Headlines & Entertainment Trivia from  December, 1949
Betsy Drake Marries Cary Grant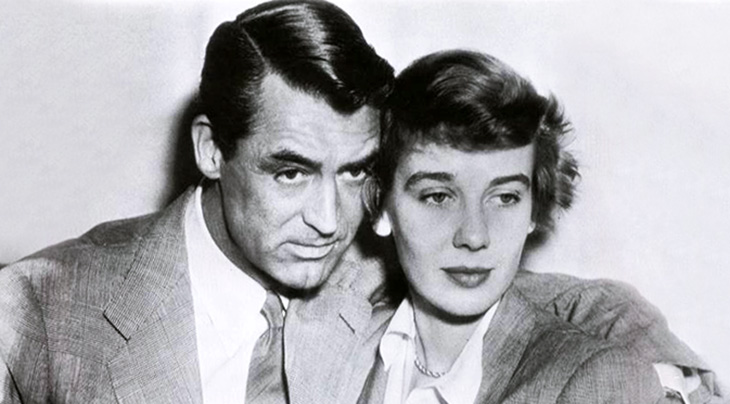 (Cary Grant & Betsy Drake December 1949 Photo: APWirephoto)
Suave leading man Cary Grant was 45 years old when he married 26-year-old budding actress Betsy Drake on December 25th, 1949; Howard Hughes was his best man. This would be Betsy Drake's first and only marriage, while it was Grant's third wedding (he was previously married to Virginia Cherrill 1934-1935 and Barbara Hutton 1942-1945), and his longest of 5 marriages. After they divorced in 1962, Cary Grant went on to marry twice more (Dyan Cannon 1965-1958, and Barbara Harris 1981-1986) before he died in 1986.
Betsy Drake was born on September 11, 1923 in Paris, France, and moved to America with her family after they lost their money in the 1929 the stock market crash. Her acting career began on the stage in New York and London, which is where she caught Cary Grant's eye in 1947.
Betsy and Cary's acquaintance deepened during a voyage back to the U.S. from London on the RMS Queen Mary, and then they starred together in a few romantic comedies on screen and radio – the first was filmed and released before their wedding: 
Every Girl Should be Married (1948), with Franchot Tone, Diana Lynn, and Alan Mowbray. Betsy Drake plays a determined husband-hunter stalking confirmed bachelor Cary Grant. 
Mr. and Mrs. Blanding (1951), a radio series in which they played the title couple.
Room for One More (1952) , with supporting actress Lurene Tuttle. Grant and Drake play a couple that adopts a couple of orphaned "problem" children.
Of the few other films Betsy Drake made, most were romantic comedies, with a few thrillers thrown into the mix: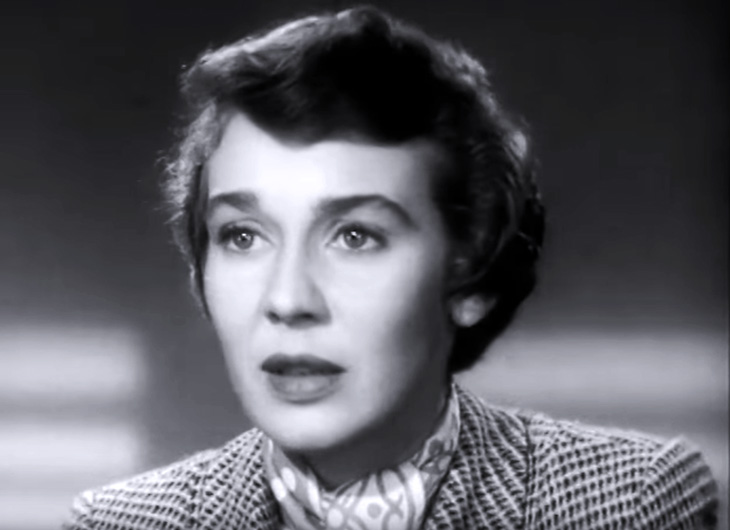 (Betsy Drake 1950 The Second Woman)
Dancing in the Dark (1949), a musical romantic comedy co-starring William Powell, Mark Stevens, Adolphe Menjou, with character actors Jean Hersholt and Walter Catlett. The theme song Dancing in the Dark was first a hit in 1931.
The Second Woman (1950), a spooky noir drama set on the California coast, with Robert Young, John Sutton, Florence Bates, Jean Rogers, Henry O'Neill, and Morris Carnovsky.
Pretty Baby (1950), a comedy co-starring Dennis Morgan and Zachary Scott, with Edmund Gwenn, William Frawley, Sheila MacRae, and Barbara Billingsley also in the cast.
Will Success Spoil Rock Hunter? (1957), a romantic comedy spoofing the TV advertising industry, with Tony Randall, Jayne Mansfield, Joan Blondell, John Williams, Henry Jones, and Mickey Hargitay.
Intent to Kill (1958), a crime thriller co-starring Richard Todd, Herbert Lom, Warren Stevens, featuring actress-writer Jackie Collins in a supporting role. 
Returning from a visit to Cary Grant in Spain in July 1956, Betsy Drake was a first-class passenger on the Italian ocean liner SS Andrea Doria when it hit another boat (the Stockholm). Drake and 700 others were rescued by the French ocean liner Île de France when half of the Doria's lifeboats were useless. 
Betsy Drake retired from acting in 1958 to focus on interests in writing and psychiatry, eventually earning a Harvard University Master of Education degree. It's Betsy Drake that's credited with encouraging Cary Grant to try hypnosis and LSD therapy. Drake had limited success as a novelist and screenwriter; her original script for Houseboat (1958) was written for Cary Grant as a co-starring vehicle for the couple; Grant's affair with Sophia Loren resulted in a re-written script with no credit for Drake, and Loren as his new leading lady in that film. Unsurprisingly, Cary Grant and Betsy Drake separated in 1958, but remained friends. She never remarried and was living in London when she died in 2015 at the ripe old age of 92.
Samson and Delilah vs The Heiress
Two of the films released in December 1949 would go on to score multiple Academy Award nominations and wins the following year. Samson and Delilah (1949) and The Heiress (1949)  battled at the box office and with movie critics for superiority in December 1949 and beyond.
Cecil B. DeMille's epic historical drama Samson and Delilah was filmed in glorious colour, starring Hedy Lamarr and Victor Mature as the title characters, with George Sanders and  Angela Lansbury in supporting roles. Samson and Delilah became the highest-grossing film of 1950 and received 5 Academy Award nomination – winning for Best Art Direction, and Best Color Costume Design (Edith Head, Dorothy Jeakins, Elois Jenssen, Gile Steele, Gwen Wakeling).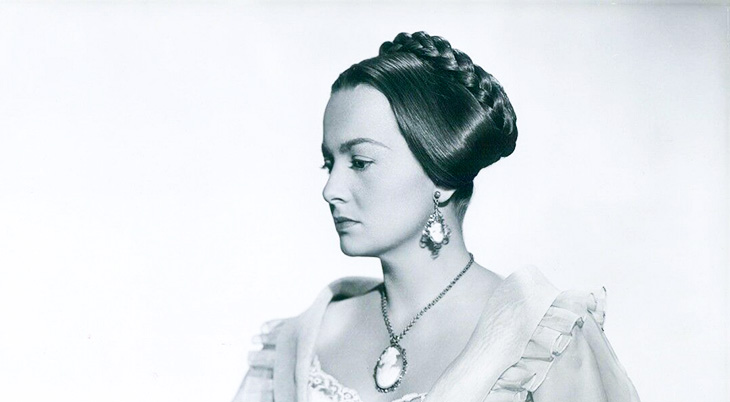 (Olivia de Havilland 1949 The Heiress Photo: Bud Fraker)
Director William Wyler's historical drama The Heiress was inspired by the novel Washington Square (1880) by Henry James. Filmed in black and white and starring Olivia de Havilland and Montgomery Clift with supporting actors Ralph Richardson and Miriam Hopkins, The Heiress was nominated for 8 Academy Awards. The Heiress cast and crew won a total of 4 Oscars, including a second Best Actress Award for Olivia de Havilland.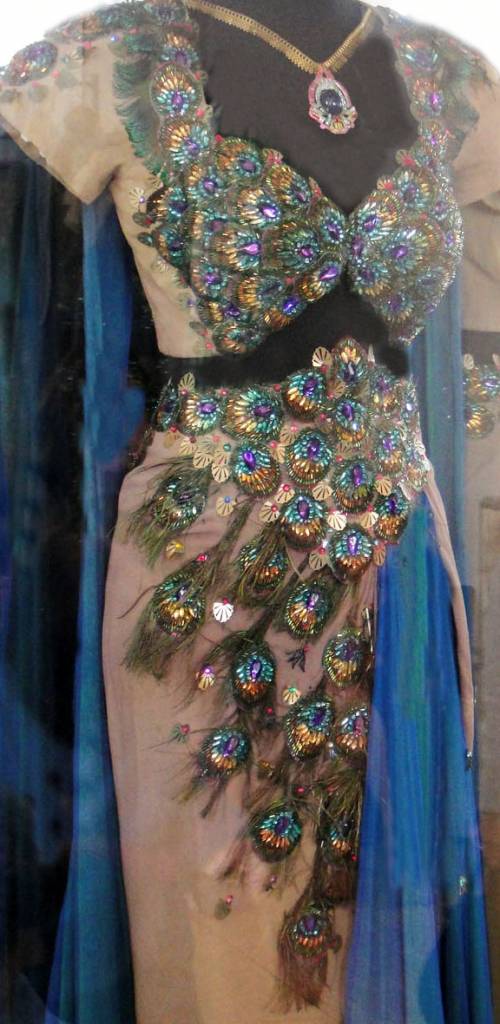 (Hedy Lamarr's "Delilah" Peacock Gown Photo: pop culture geek from Los Angeles, USA)
Other Oscars wins for The Heiress were for Best Art Direction/Set Decoration, Best Costume Design Black & White (Edith Head and Gile Steele), and Best Original Score (Aaron Copland).
While The Heiress would be costumer designer Edith Head's first Academy Award – competing against herself with her Samson and Delilah credit – it would not be her last.
Nominated 35 times during her long career, career Edith Head won a total of 8 Oscars.
Frankie Laine's Mule Train is #1 on the Song Charts
The last week of November and for the the entire month of December, singer Frankie Laine's hit song Mule Train (1949) sat in the #1 position on the song charts.
An earlier version of Mule Train, written and recorded by Ellis "Buz" Butler (with songwriting help by Fred Blickman), had been released in 1947.
The new version of Mule Train recorded and released by Frankie Laine in 1949, was written by Johnny Lange, Hy Heath, Ramblin' Tommy Scott, and Fred Glickman. It features whipcracking sound effects and Laine's powerful vocals.
Laine's Mule Train stayed on the song charts for 13 weeks. 
Later versions of Mule Train were recorded by Bing Crosby, Tennessee Ernie Ford, Vaughn Monroe, Burl Ives, Gordon MacRae, and Gene Autry.
*Images are public domain or Creative Commons licensed & sourced via Wikimedia Commons, Vimeo, YouTube, or Flickr, unless otherwise noted*