Remembering Cyd Charisse, Dancer
Celebrating Cyd Charisse – her life, dancing, on and off-screen partners, movies, and fashions from the 1940s and 1950s.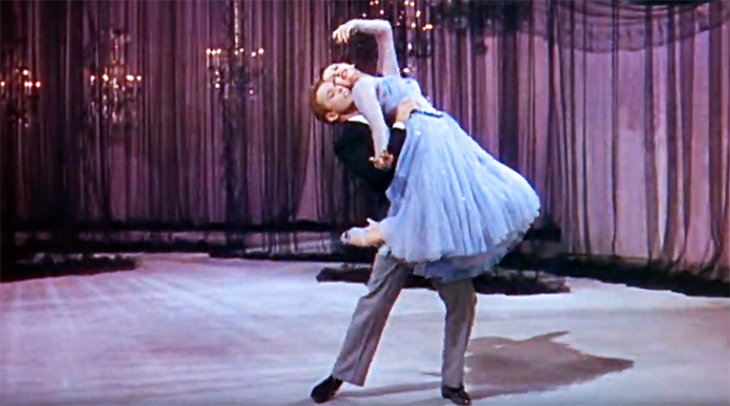 (Cyd Charisse & Gower Champion 1946 Till the Clouds Roll By)
Beautiful Cyd Charisse was born Tula Ellice Finklea in Texas born 93 years ago today (b. March 8, 1922 – d. June 17, 2008). Cyd Charisse overcame a slight case of childhood polio to become known for her superb dancing on stage and in movies.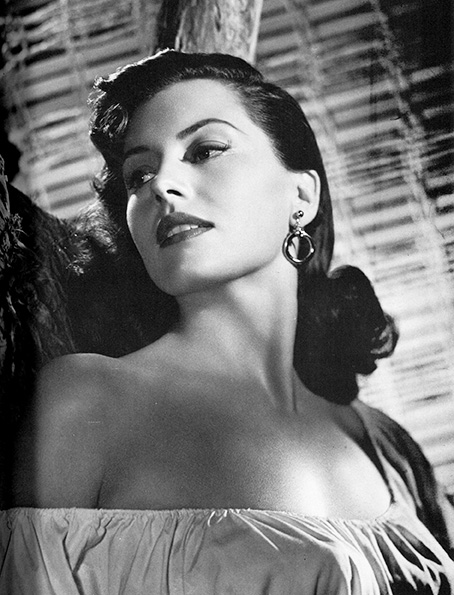 (Cyd Charisse Photo: kate gabrielle)
At age 6 Cyd Charisse began dancing ballet to assist with recovery from polio; by age 14 she was dancing in the Ballet Russe de Monte Carlo on a European tour. In 1939, 17 year old Cyd was on tour with the ballet company in Europe when World War II began; she and fellow dancer Nico Charisse (17 years her senior) went to Paris, where they married on August 12, 1939.
Nico and Cyd Charisse settled in Los Angeles and son Nicky Charisse was born there in 1942 (they divorced in 1947).
A year later Cyd Charisse was offered her first movie role in Something to Shout About, and she became the MGM (Metro-Goldwyn-Mayer) ballet dancer in residence.
Her first featured film role was with Fred Astaire and Lucille Ball in 1946's Ziegfield Follies. 
Below, a Cyd Charisse 1940s, 1950s, and 1960s fashion & dance montage tribute.
Some other featured roles, co-stars, and movies in the mid-1940's films for Cyd Charisse included two movies with Margaret O'Brien – Three Wise Fools (1946), and The Unfinished Dance (1947).
Cyd Charisse appeared with Gower Champion in the star-studded musical Till the Clouds Roll By (1946), in the segment titled "Roberta". The cast of Till the Clouds Roll By included Judy Garland, Kathryn Grayson, Lena Horne, June Allyson, Van Heflin, Van Johnson, Dinah Shore, Frank Sinatra, Robert Walker, Angela Lansbury, and singer-actor-dancer Tony Martin.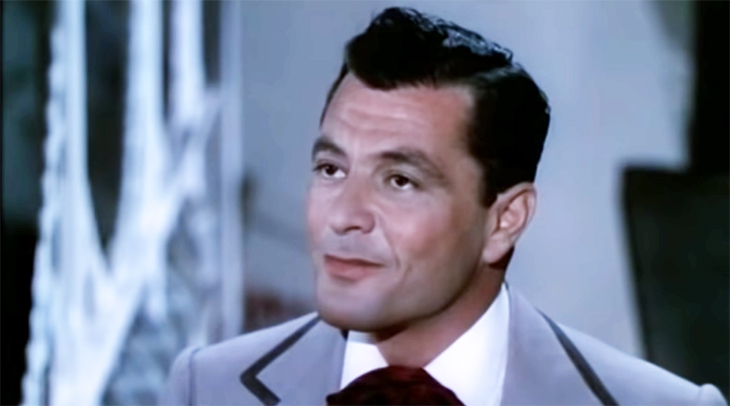 (Tony Martin 1946 Till the Clouds Roll By)
Tony Martin had a starring role in the film, while Cyd Charisse appeared only in a dance sequence with her on-screen partner, Gower Champion.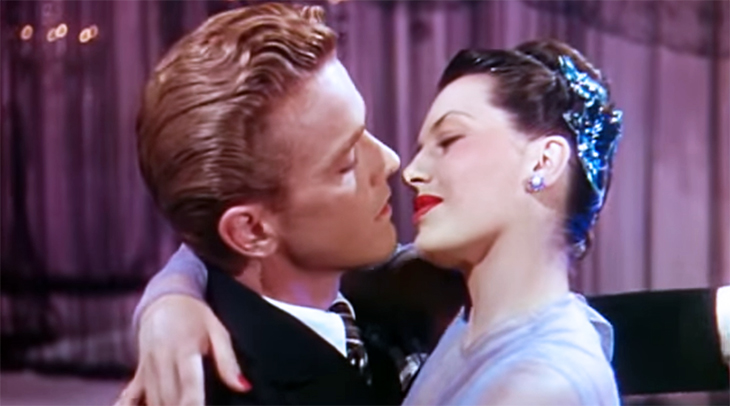 (Cyd Charisse & Gower Champion 1946 Till the Clouds Roll By)
Tony Martin was already an established singer and actor, in a stage and film career that had begun in the 1930s. He continued performing for troops as an entertainer during his USAF service in WWII. Martin was divorced from actress-singer Alice Faye (m. 1937-1941), with whom he'd co-starred in the films Sing, Baby, Sing (1936), You Can't Have Everything (1937), and Sally, Irene and Mary (1938). 
Something must have clicked behind the scenes while Till The Clouds Roll By was filming, because Cyd Charisse married Tony Martin in 1948.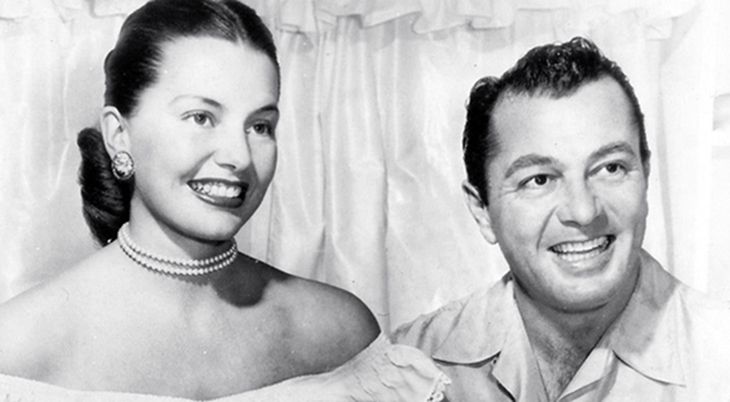 (Cyd Charisse & Tony Martin 1950 Photo)
Released the same year as Till the Clouds Roll By, The Harvey Girls (1946) featured some of the same co-stars – Cyd Charisse, Judy Garland, and Angela Lansbury, along with Ray Bolger.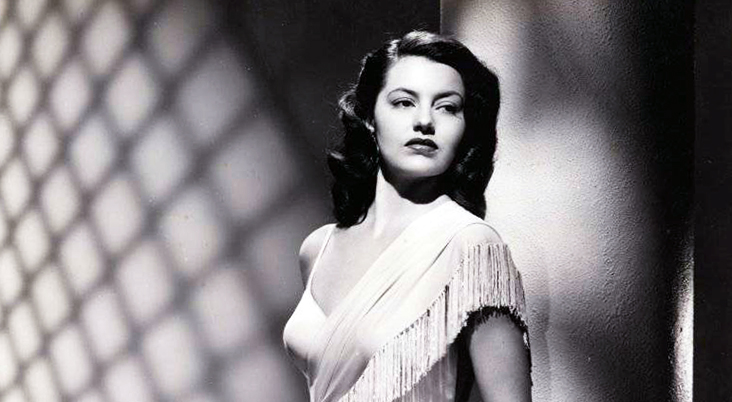 (Cyd Charisse 1947 Fiesta Photo: MGM)
The romantic musical drama Fiesta (1947) with Esther Williams, Mary Astor, and Alan Napier (Batman), was the first movie to co-star Ricardo Montalban and Cyd Charisse. Below, Cyd Charisse and Ricardo Montalban dance together in Fiesta:
Ricardo Montalban and Cyd Charisse would work together several more times in movies and on TV:
On an Island With You (1948) with Esther Williams, Peter Lawford, and Jimmy Durante. 
The Kissing Bandit (1948) starring Frank Sinatra, Kathryn Grayson, Mildred Natwick (The Snoop Sisters) and Ann Miller.
The Mark of the Renegade (1951).
Sombrero (1953), with Pier Angeli, Vittorio Gassman, and Yvonne De Carlo.
More than 20 years after Sombrero, Cyd Charisse, Yvonne De Carlo and Ricardo Montalban were part of the large cast in Won Ton Ton: The Dog Who Saved Hollywood (1976) starring Madeline Kahn. Their Won Ton Ton: The Dog Who Saved Hollywood co-stars included Teri Garr, Bruce Dern, Art Carney (The Honeymooners), Virginia Mayo, Jackie Coogan, Ethel Merman, Ann Miller, Dean Stockwell, Tab Hunter, Zsa Zsa Gabor, Morey Amsterdam (The Dick Van Dyke Show), and many others.
In 1978 and again in 1983, Cyd Charisse guest-starred on Ricardo Montalban's TV series Fantasy Island.
Tension (1949) was a rare non-musical crime-drama for Cyd Charisse, and co-starred Richard Basehart, William Conrad (Cannon), and Barry Sullivan. That same year, William Conrad and Cyd Charisse appeared in the romantic drama East Side, West Side (1949). Their East Side, West Side co-stars included Barbara Stanwyck, James Mason, Van Heflin, Ava Gardner, and Nancy Reagan.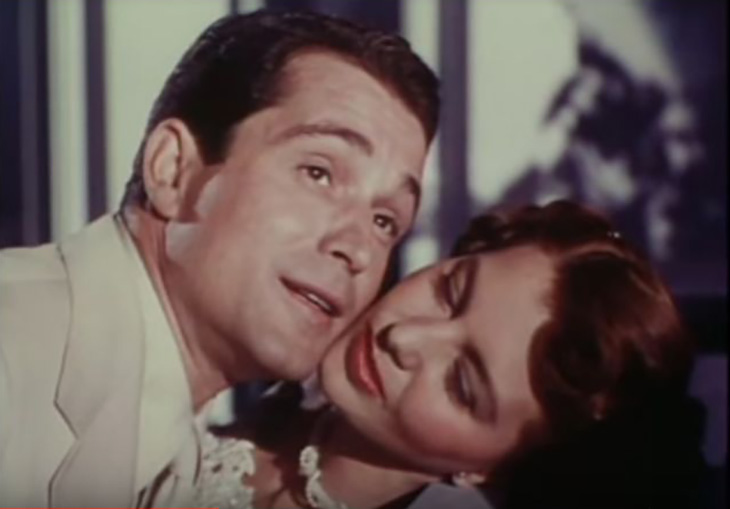 (Perry Como & Cyd Charisse 1948 Words and Music Trailer)
The musical Words and Music (1948) above, starred Mickey Rooney, Perry Como, Gene Kelly, Ann Sothern, Janet Leigh, and Mel Torme. Words and Music reunited Cyd Charisse and several of her Till the Clouds Roll By co-stars – June Allyson, Judy Garland, and Lena Horne.
Cyd Charisse danced with Gene Kelly in 1952's musical romantic comedy Singin' In The Rain. Their Singin' In The Rain co-stars included Donald O'Connor, Debbie Reynolds, and Rita Moreno. Below, Cyd Charisse and Gene Kelly in a scene from Singin' in the Rain. 
In addition to being co-stars in Words and Music and Singin' in the Rain, Cyd Charisse was paired onscreen with Gene Kelly again in 3 more films:
Brigadoon (1954), with Van Johnson. 
It's Always Fair Weather (1955), with Dan Dailey. Dan Dailey and Cyd Charisse also co-starred the next year in Meet Me in Las Vegas (1956), with Agnes Moorehead (Bewitched), Jim Backus, and George Chakiris.
Cyd Charisse danced with James Mitchell (All My Children) in the musical biography Deep in My Heart (1954), which starred Jose Ferrer, Merle Oberon, and Jim Backus. Also appearing in Deep in My Heart, were her husband Tony Martin, along with Rosemary Clooney, Jane Powell, Vic Damone, Ann Miller, and Howard Keel. Below, James Mitchell and Cyd Charisse in a beautiful dance sequence from Deep in My Heart.
Another frequent co-star for Cyd Charisse was Fred Astaire (below). In addition to appearing together in 1946's Ziegfield Follies, Fred Astaire and Charisse danced together in The Band Wagon (below). Their co-stars in The Band Wagon included Nanette Fabray and James Mitchell.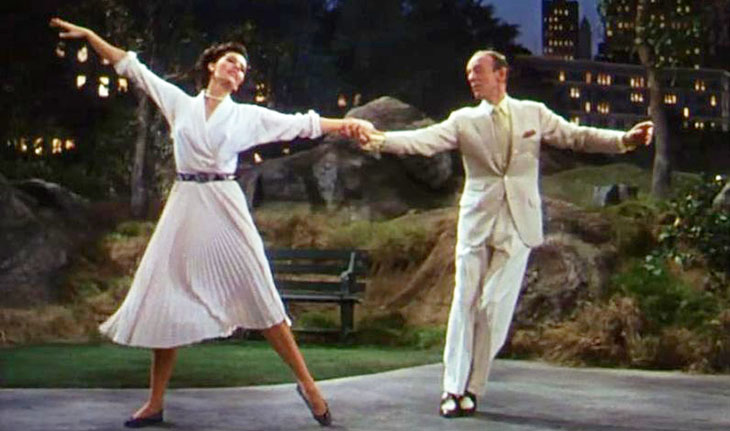 (Cyd Charisse &  Fred Astaire Dancing in the Dark 1953 The Band Wagon Trailer: MGM)
In Silk Stockings (1957), Janis Paige and Peter Lorre had supporting roles for leads Cyd Charisse and Fred Astaire; Charisse played Russian dancer Ninotchka Yoschenko in the musical. Below, Fred Astaire, Cyd Charisse, and Janis Paige are featured in the movie trailer for Silk Stockings.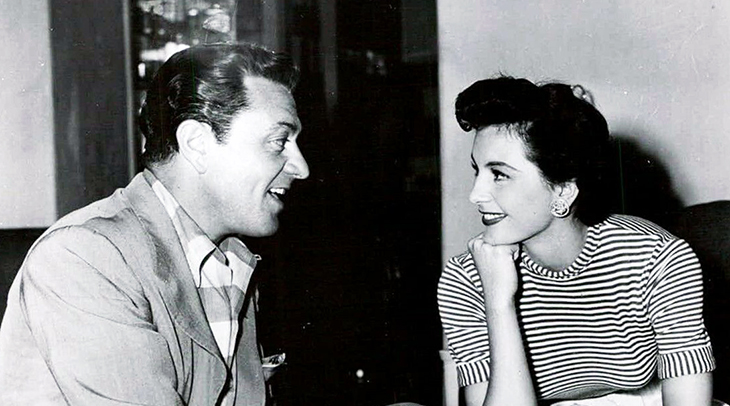 (Tony Martin & Cyd Charisse 1954 Photo: NBC Television)
Cyd Charisse married her Till The Clouds Roll by co-star, singer Tony Martin in 1948 and their son Tony Martin Jr. was born in 1950.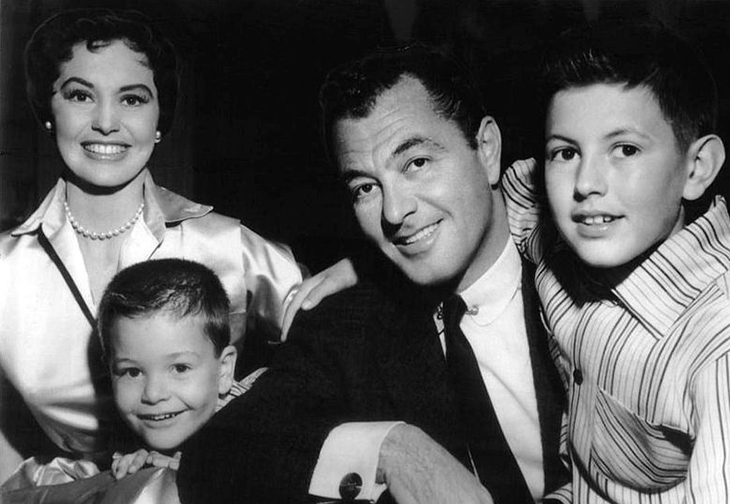 (Cyd Charisse, Tony Martin Jr. Tony Martin & Nicky Charisse 1956 Photo: CBS Television)
By the late 1950's the movie roles for Cyd Charisse were dwindling. She co-starred with Rock Hudson in Twilight For The Gods (1958); and in Party Girl (1958) with Robert Taylor and Lee J. Cobb.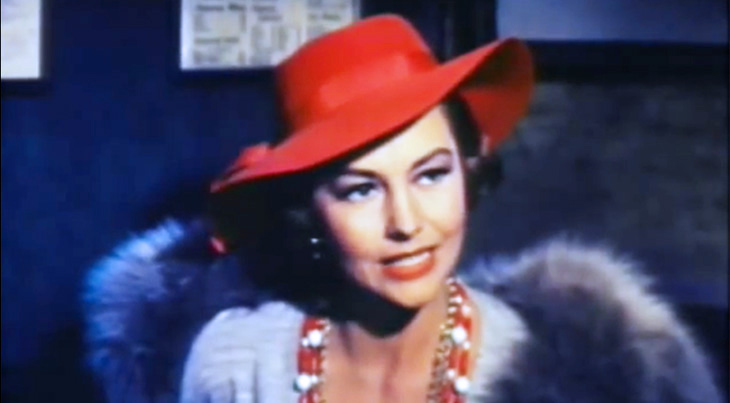 (Cyd Charisse 1958 Party Girl Trailer)
Below – Cyd Charisse in a video dance clip from Party Girl (1958), one of the last movies she danced in.
Cyd Charisse retired from dancing in the movies in 1959, although she did continue to act. She appeared in several 1960's movies, notably:
Five Golden Hours (1961) with Ernie Kovacs, Dennis Price, and George Sanders. Five Golden Hours was filmed in Trento and Bolzano in Italy, and MGM's Hertfordshire studios.
Assassination in Rome (1965), a thriller co-starring Hugh O'Brian.
The Silencers (1966), an adventure-comedy co-starring Dean Martin and Stella Stevens.
The drama Two Weeks in Another Town (1962) was filmed in Italy and starred Cyd Charisse, Kirk Douglas, George Hamilton, and Leslie Uggams. 
Below, Tony Martin and Cyd Charisse with Donny Osmond and Marie Osmond, on the Donny and Marie show in 1977. Cyd Charisse and Tony Martin remained married until her death in 2008.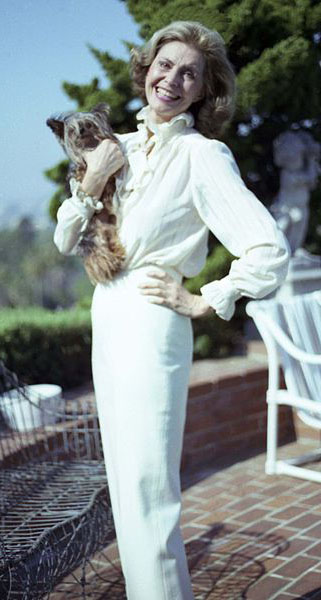 (Cyd Charisse 1987 Photo: Allan warren)
During the 1970's and her 50-plus years, Cyd Charisse kept busy with small roles in movies and the occasional appearance on TV. Baby boomer and seniors fans may remember seeing her in guest-starring gigs on popular 1970's and 1980's TV series such as Hawaii Five-O, The Love Boat, and Medical Center, in an episode with Joseph Campanella.
She was reunited with her Till the Clouds Roll By (1946) co-star Angela Lansbury almost 40 years later, when she guest-starred on Lansbury's series Murder She Wrote in 1985. 
An active, fit senior herself, at age 68 Cyd Charisse produced the Easy Energy Shape Up exercise video for seniors.
Charisse topped that in her seventies, with a Broadway debut as an aging ballerina in Grand Hotel (1992). She continued to make appearances in Hollywood documentaries into her eighties.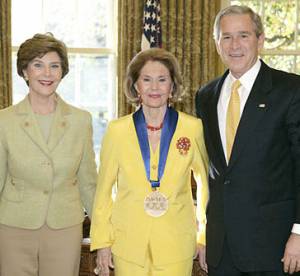 (Cyd Charisse, President George W. Bush & First Lady Laura Bush 2006 Photo: Paul Morse) 
Cyd Charisse was awarded the National Medal of the Arts and Humanities by President George W. Bush in 2006.
In the documentary crime-drama TV movie Empire State Building Murders (2008), Cyd Charisse appeared with former co-star Kirk Douglas, as well as Ben Gazzara, Anne Jeffreys, Mickey Rooney, and Marsha Hunt. The Empire State Building Murders was Cyd Charisse's last film acting role.
Cyd Charisse died at the age of 86 on June 17, 2008. She was survived by her 2nd husband of 60 years, Tony Martin and her two sons Nicky and Tony Jr., and left behind a wonderful legacy of dance on film.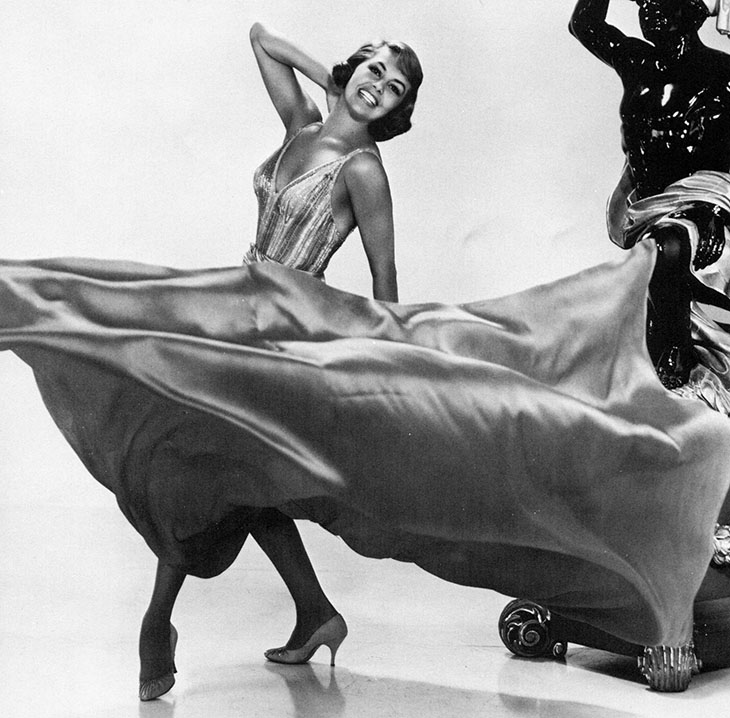 (Cyd Charisse Photo: kate gabrielle)
Cyd's widowed husband Tony Martin was 98 when he died of natural causes four years later, in 2012. 
Note: This article was originally published in 2015. It has been updated with new & additional content.
*Images are believed to be in the public domain and/or Creative Commons licensed & sourced via Wikimedia Commons, Vimeo, YouTube, or Flickr, unless otherwise noted*