St. Patrick's Day for Boomers, Zoomers & Seniors
On March 17th when everyone is Irish for a day, there are still lots of ways to have some St. Patrick's Day fun either at home alone, or with friends.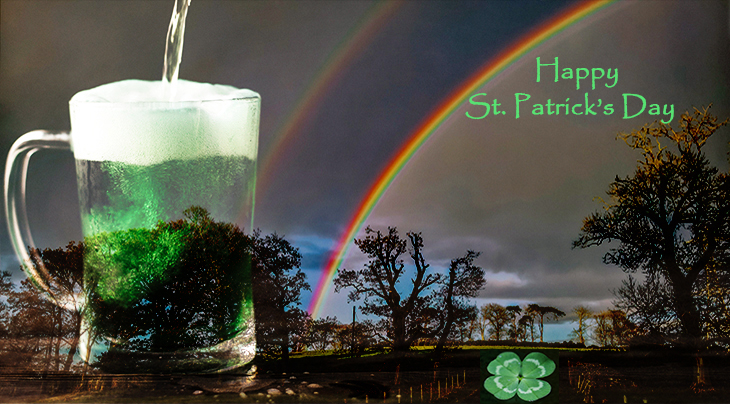 (Photo Blend: Anita Hamilton | Source Photos: Unsplash – Patrick Fore, Mitch Hodge & Yan Ming)
In fact, the Irish-themed ideas below are probably enjoyed to their optimum if you're a retired (or about to be) baby boomer, zoomer or senior citizen, and have the afternoon before to prepare – or the morning after to recuperate – from a small gathering of close friends and/or family.
Progressive Dinners, from stuffed spud appetizer's at Tom's apartment, to cloverleaf-decorated cupcakes and Bailey's Irish Cream at Joan's retirement residence, and everything in between. Other traditional Irish dishes to serve could include a yummy Irish stew, corned beef and hash, lamb, steak or beef and Guinness meat pies, or something with cabbage (in a salad or cooked). Tip: A little green food coloring goes a long way in food or beverages!
Charades, Pictionary, or Scavenger Hunts with Irish-themed clues and prizes.
Darts doesn't have to be a game played exclusively in bars, although it's sure popular in Irish pubs….get a dart board for your home and keep the drinks to (Irish) coffee, to cut down on casualties.
Name That Tune – play Irish songs (or songs with an Irish connection) and award prizes to the first person that correctly identifies the name of the song…The Irish Rover, Molly Malone and Danny Boy might have early winners. Some favorite Irish recording artists and bands are Bono and U2 – With or Without You; Daniel O'Donnell – Danny Boy; Sinéad O'Connor – Nothing Compares 2 U; Van Morrison – Domino; The Irish Rovers (a Canadian band) – The Unicorn; Gilbert O'Sullivan – Alone Again (Naturally); The Cranberries – Linger; Celtic Thunder – A Silent Night (Christmas 1915); The Pogues – Fairytale of New York; Hozier – Take Me to Church; The Dubliners – The Wild Rover. 
Irish Movie Night -Saoirse Ronan, Maureen O'Hara, Pierce Brosnan, Colin Farrell, Brenda Fricker, Gabriel Byrne, Cillian Murphy, Richard Harris…the list of Irish actors appealing to all ages, goes on and on. Serve up a movie with green popcorn (mix a little food colouring into the oil/butter as it's popping). Enjoy solo or with a small group of friends and/or family. Check out my picks for Best New and Classic "Irish" Movies.
Irish Authors and Books
Have some time on your own to curl up with a good book? There are hundreds of Irish writers, these are just a few of my favorites whose books will transport you to Ireland of today or yesterday.
Maeve Binchy – writer of contemporary stories with a full cast of well-developed characters. Among her best-selling novels: Light a Penny Candle (1982); Silver Wedding (1988); Tara Road (1998); Scarlet Feather (2000); Whitethorn Woods (2006); Nights of Rain and Stars (2004); The Copper Beech (1992).
Morgan Llywelyn – historical fiction author. Some of her most noteworthy works include Lion of Ireland (1980); Bard: The Odyssey of the Irish (1984); Brian Boru: Emperor of the Irish (1990); The Last Prince of Ireland: A Novel (1992); The Vikings in Ireland (1996); Pride of Lions (1996); 1916, A Novel of the Irish Rebellion (1998); 1921, The War for Independence (2001); 1949, The Irish Republic (2003). 
Tana French – psychological crime fiction writer, her series featuring detectives in Dublin and counts 7 novels thus far: In the Woods (2007); The Likeness (2008); Faithful Place (2010); Broken Harbour (2012); The Secret Place (2014); The Trespasser (2016); The Witch Elm / The Wych Elm (2018). Into The Woods has been made into a television series, Dublin Murders.
Marian Keyes – a writer of both funny non-fiction and fiction, her contemporary family and romantic comedies all feature strong character development. Her works include Anybody Out There? (2006); Last Chance Saloon (1999); This Charming Man (2008); The Brightest Star in the Sky (2009); The Other Side of the Story (2004), and many others.
Edward Rutherfurd – although he's not Irish, his historical fiction sagas are absorbing reads, following a cast of characters and their descendants over decades and centuries. Rutherfurd's Dublin Saga begins with The Princes of Ireland (2004), followed by The Rebels of Ireland (2006). 
Laura Kinsale – an English author whose captivating writing style brings her unique historical romances, complex stories, and characters to life. Uncertain Magic (1987) is a blend of mystical fancy and historical facts, set in the Georgian era. Also available as an audiobook with narration by award-winning actor-narrator Nicholas Boulton.
Frank McCourt's memoir of growing up in Brooklyn and moving to Limerick, Ireland, makes for a compelling read, and captured the 1997 Pulitzer Prize for Autobiography.
Colm Tóibín – a Booker prize-winning short story writer and novelist, he wrote Brooklyn (2009), which was made into a 2015 movie of the same name starring Saoirse Ronan. Both The Heather Blazing and The Blackwater Lightship are set in Ireland as well.
Other noteworthy classic and modern Irish writers: Cathy Kelly, C.S. Lewis, James Joyce, Iris Murdoch, Bram Stoker, Oscar Wilde, Brendan Behan, George Bernard Shaw, W. B. Yeats, Samuel Beckett.
Top Five Irish-Themed or Filmed in Ireland TV Series
You won't likely be able to binge-watch an entire television series or even a mini-series in one night, but there are several TV shows that are either set and/or filmed in whole or in part in Ireland – or are about the Irish experience.
Game of Thrones (2011-2019) a historical-fantasy adventure series about 9 warring noble families, based on the wildly popular books by author George R. R. Martin. It's perhaps the television series best-known for filming primarily in Northern Ireland locations (as well as Croatia, Iceland, Morocco, Malta, Spain, and Scotland). Stars Peter Dinklage, Lena Heady, Emilia Clarke, Kit Harington, Sophie Turner, Maisie Williams, Nikolaj Coster-Waldau, and Iain Glen are in the most episodes of Game of Thrones.
The Tudors (2007-2010), a historical drama series based on the life of King Henry VIII of England, was filmed entirely in Ireland. The Tudors stars Irishman Jonathan Rhys Meyers as King Henry VIII, and supporting cast members include Peter O'Toole as Pope Paul III, Sarah Bolger, Henry Cavill, Max von Sydow, Joely Richardson, Sam Neill, Jeremy Northam, Joss Stone, Aidan Turner, and lots of Irish actors.
VIkings (2013-2019), a historical saga/adventure drama from the History Channel, following legendary Norse hero Ragnar Lothbrok and his brothers. Filmed primarily in Ireland, as well as a few locations near Sault Ste. Marie, Ontario (Canada) – Searchmont, and Prince. A sequel series has been promised.
Scarlett (1994), a 4-episode mini-series based on author Alexandra Ripley's sequel to Margaret Mitchell's blockbuster 1936 novel, Gone With the Wind. Scarlett stars Joanne Whalley as Scarlett O'Hara and Timothy Dalton as Rhett Butler. Annabeth Gish, Julie Harris, Ann-Margret, Sean Bean, George Grizzard, Jean Smart, Barbara Barrie, Stephen Collins, Colm Meaney, and others are also in the cast. The action and story moves from Charleston and Savannah, Georgia to Ireland. Filming for Scarlett took place in several locations in South Caroline and Ireland.
Captains and the Kings, (1976) an 8-episode family saga mini-series which begins with a poor Irish immigrant Joseph Armagh (played by Richard Jordan) coming to American in the 1800s. With Patty Duke, Blair Brown, Richard Jordan, Harvey Jason, Harvey Jason, Robert Vaughn, Perry King, Katherine Crawford, Jane Seymour, Cynthia Sikes, Charles Durning, Vic Morrow, Barbara Parkins, Joanna Pettet, Beverly D'Angelo, and others. Peter Donat, Henry Fonda, John Houseman, Celeste Holm each appear in a couple of episodes. Filmed in California.
Happy St. Patrick's Day!
You may also be interested in this article about Irish Film Stars in Hollywood: The Percy Sisters.
Note: This article was first published on March 17, 2015. It has been updated with new & additional information.
*This article is for general informational purposes only, and reflects the opinion of the author*