Irish Film Stars In Hollywood: The Percy Sisters
Many actors and actresses came to America from other countries, but only a few have ascended to the heights of Hollywood film stardom. Among those who enjoyed the 'luck of the Irish", were Belfast-born actresses Eileen Percy and her younger sister Thelma Percy.
Between 1917 to the mid-1943s, Eileen Percy appeared in 60+ movies (almost all silent films); married a millionaire's son, became a gossip columnist, and married again, to songwriter Harry Ruby (I Wanna Be Loved By You).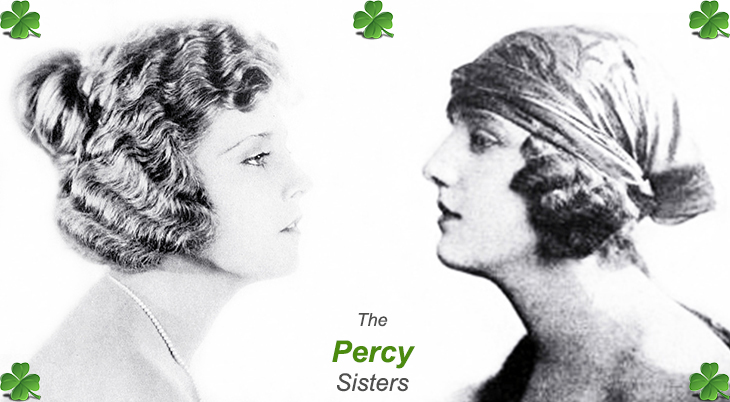 (Eileen Percy & Thelma Percy in 1920)
From Belfast to Broadway
Born August 21, 1900 in Belfast, Ireland, Eileen Percy and her sister Thelma Percy (born October 20, 1903 in Belfast) briefly lived in Brooklyn, New York in 1903. The family returned to Belfast periodically and it wasn't until 1909 that they began spending more time back in Brooklyn.
The Percy sisters began acting on stage as children. Thelma variously claimed to have appeared on stage for the first time at the ages of 4, 6, or 9 (in a Peter Production with Maud Adams, no less).
"The office of the state factory inspector is active…in attempting to keep children of school age from the stage….Seven summonses were issued last week in Municipal Judge Newcomer's court on complaint of W. W. Britton, against Arthur Houghton, manager of 'The Lady of the Slipper', now playing the Illinois, charging violation of the child labor law…Mrs. Agnes Percy, mother of Andrew and Thelma Percy…are also named in the complaints." – Variety, September 1913
Although Eileen was being enrolled in a convent school in New York, a 1920 interview of Thelma by Motion Picture Classic indicates the Percy sisters were already working as models and child actresses on stage in New York.
"One day, mother was riding in a street-car in New York, with Eileen sitting beside her and holding me on her lap, when a gentleman moved across and begged mother to let Eileen pose for him, as he was a great artist. The next day found my sister at the studio, with mother and me looking on. And so it went on for weeks and weeks, until the time when I was barely able to lisp and trot about, when a New York theatrical manager called at the atelier and saw us. He told mother we should be stage children – and the outcome of that interview was that we both went on the stage. We never really had time for play like other children, for I soon began to pose also, and at night we were back of the footlights….Our schooling was greatly interrupted; we learnt as we could, with mother to teach and hear our lessons….I really am in motion pictures just to please mother, for I love the stage life best of all." Thelma Percy, age 16, The Shamrock Girl, by Fritzi Remont, Motion Picture Classic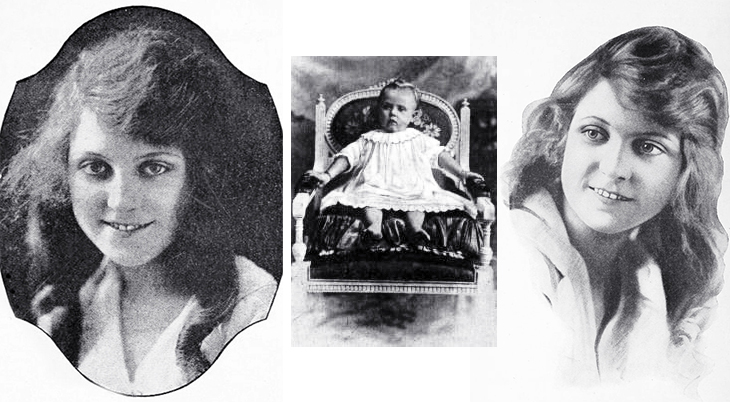 (Eileen Percy in 1917, as a child, and again in 1917)
Eileen continued to work as an artist's model for the likes of Charles Dana Gibson, while appearing in several stage productions simultaneously. 
"I usually got up at 9 and posed for several hours and as many artists.' Miss Percy was for several years one of the most famous models in New York's artist colony. She has appeared on many magazine covers, done by Harrison Fisher and Penrhyn Stanlaws and has posed for many illustrations and decorations by Howard Chandler Christy and James Montgomery Flagg." – Eileen Percy, Doug's Century Flower, Picture-Play Magazine, 1917 Dec.
Although Percy attended the same school as Marion Davies, they weren't friends at the time. According to Hidden Gems and Forgotten People, their acquaintance was renewed when they both appeared on stage in New York with the Ziegfeld Follies in a production of Stop! Look! Listen! in 1915 at the Globe Theatre. In the Follies with them was dancer-actress Justine Johnstone. 
A lifelong friendship began with Marion Davies and Eileen Percy that would prove fortunate later in life.
"Hollywood Cinema Gossip – Marion and Ellen – Marion Davies calls upon Eileen Percy when she wants to unburden her troubles. They have been close friends for years and Eileen never breaks a confidence. She also listens to the troubles of Connie Bennett and gives advice when it is requested." – Waterbury Evening Democrat, February 15, 1934
Striking Gold With Silent Movies & Marriage
Percy appeared in Ziegfeld Follies productions of The Blue Bird, and The Century Girl at the Century Theatre. Percy told Picture-Play reporter Celia Brynn (Directed by Husband Friend, March 1921) that Douglas Fairbanks had been at the theatre one night, and Eileen was recommended as just the girl to play the lead in his next picture, Wild and Woolly.
(Eileen Percy, Wallace Reid & Anita Loos: 1917 | With Douglas Fairbanks 1918: Stagg | & in 1917)
Percy had landed not one, but four co-starring roles with silent movie idol Douglas Fairbanks fresh out of the gate – Wild and Woolly (1917), Down to Earth (1917), The Man From Painted Post (1918), and Reaching For The Moon (1918).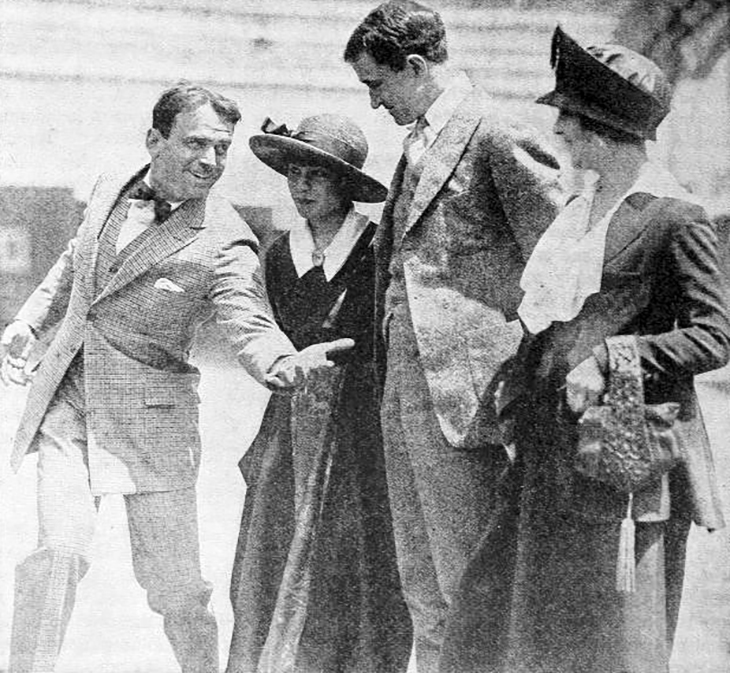 (Douglas Fairbanks, Anta Loos, John Emerson & Eileen Percy in 1918)
Married scenario writers Anita Loos and John Emerson (who also directed) worked on three of these four movies – Wild and Woolly, Down to Earth, and Reaching for the Moon. 
Another Irish-American transplant – Douglas Gerrard – directed Franklyn Farnum and Eileen Percy in The Empty Cab (1918). Douglas' brother Charles K. Gerrard had been a supporting actor for Fairbanks and Percy in Down to Earth.
Eileen's star began to rise as American joined WWI. Photoplay offered a contest in which the winning soldier who wrote in, would receive a hand-knitted scarf from the actress.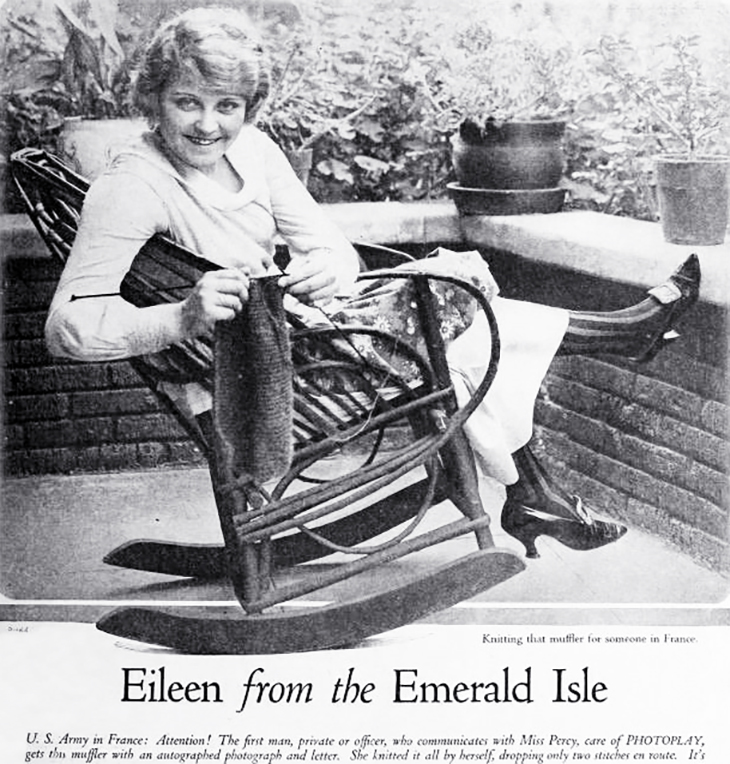 (Eileen Percy 1918)
Percy co-starred with leading man William Russell in five movies for Pathé Exchange  – Some Liar (1919); Brass Buttons (1919); Leave it to Me (1920); Where the West Begins (1919) ; The Man Who Dared (1920).
Another frequent co-star was Bert Lytell, who appearing in 3 movies with her: Hitting the High Spots (1918), One-Thing-at-a-Time O'Day (1919), and That Model from Paris (1926), with Marceline Day.
She co-starred with E.K. Lincoln, Margery Wilson, and Russell Simpson in the Zane Grey western Desert Gold (1919). During filming, she met Busch brewing heir Ulrich Busch, and they married in August 1919.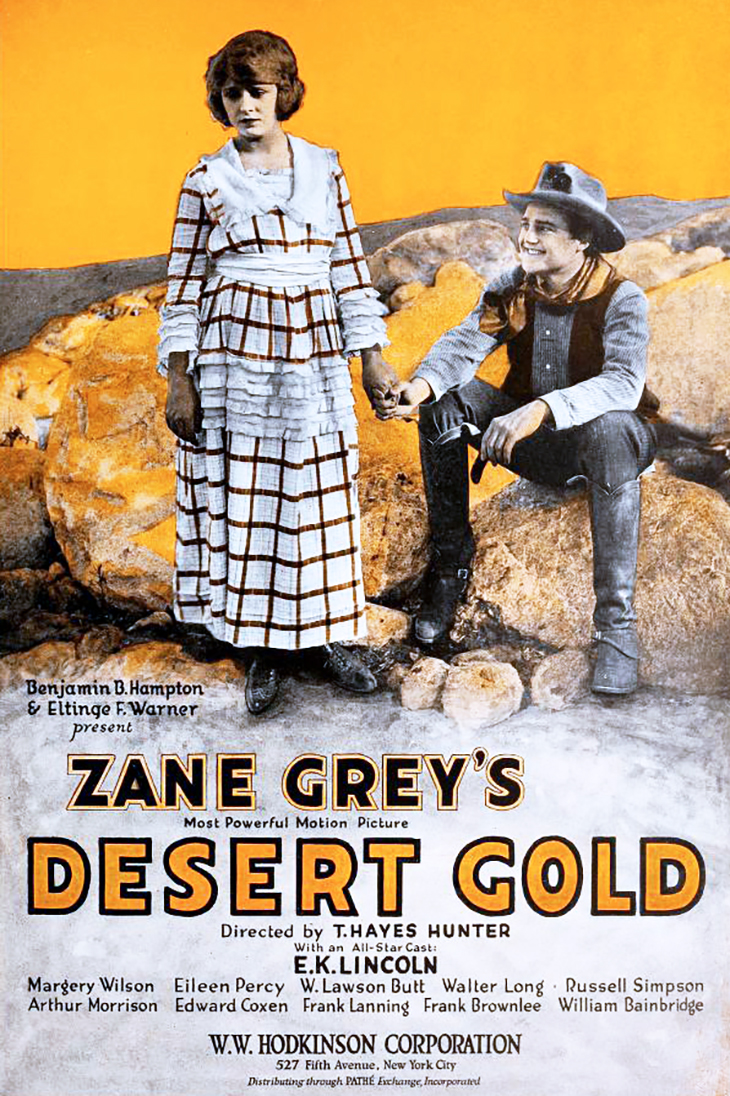 (Eileen Percy 1919 Desert Gold)
"Eileen Percy, who plays the role of The Shower of Gold in Zane Grey's 'Desert Gold', is being showered with congratulations and well wishes following the announcement of her marriage to Ulrich Busch, grandson of the late Adolphus Busch, founder of the world known St. Louis brewing organization." – Stories From Movieland, Great Falls Daily Tribune, August 31, 1919
The Moving Picture World reported that it was a case of love at first sight:
"Mr. Busch first saw the actress last November while riding on the Busch estate, near which some of the earlier 'Desert Gold' scenes were photographed. The wealthy St. Louisan found little trouble in obtaining an introduction, and the pair were seen together while Miss Percy was at work on location, so much so that, although their wedding announcement came as a surprise to the bridegroom's many friends, the courtship of the actress and the young millionaire was an open secret to members of the 'Desert Gold' organization. Following the wedding ceremony the couple announced they will shortly start on a tour of the world." – The Moving Picture World, August 16, 1919
Thelma Percy
Mother Agnes Percy died in 1916, when Thelma was 12. Thelma Percy's guardian put her into a private school on the East Coast, while Eileen continued on the stage before breaking into silent films in 1917.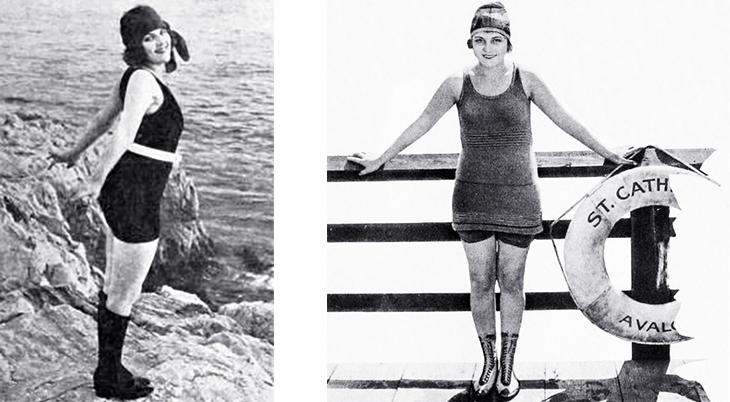 (Thelma Percy & Eileen Percy in 1920 Bathing Suits)
By February 1918, Thelma had gone west to live with her older sister Eileen in California.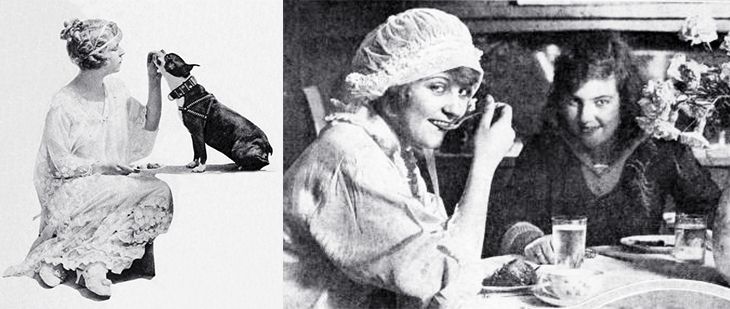 (Eileen Percy & Bulldog 1920 | Eileen Percy & Thelma Percy 1918: Stagg)
"I guess it was the lucky shamrock that I always carry in my little locket which must have brought me so much good fortune – a lovely home with Eileen, new parents, the dearest little French bulldog, and all the new friends in California. Eileen's mother- and father-in-law have simply adopted me – I'm their baby, they say. We didn't have time for play when we were  young, but we are all making up for it now. Eileen's home is so jolly and lively." – Thelma Percy, age 16, The Shamrock Girl, by Fritzi Remont, 1920 Motion Picture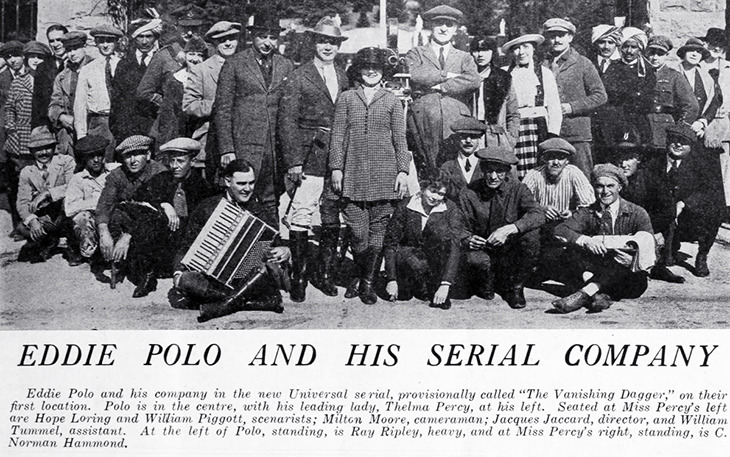 (Eddie Polo Company With Thelma Percy 1920 Jan The Moving Picture Weekly)
Thelma's star rose rapidly when she arrived in California. 
"While in California for a vacation, Thelma Percy accompanied her sister to the studio where she was appearing with Sessue Hayakawa. The Japanese actor was so impressed with Thelma that he immediately cast her for an important part in "The Beggar Prince". This marked her initial appearance on the silversheet. Completing her work with Hayakawa, Miss Percy joined the Eddie Polo company, for for six months appeared with the intrepid serial actor. The name of this picture was 'The Vanishing Dagger'. Miss Percy also played in two comedies starring Max Linder, the famous French comedian. It was because of her work in these productions that Edward Solman, director of 'The Star Rover' chose her for one of the leading parts in the Jack London story." – Motion Picture News, July 31, 1920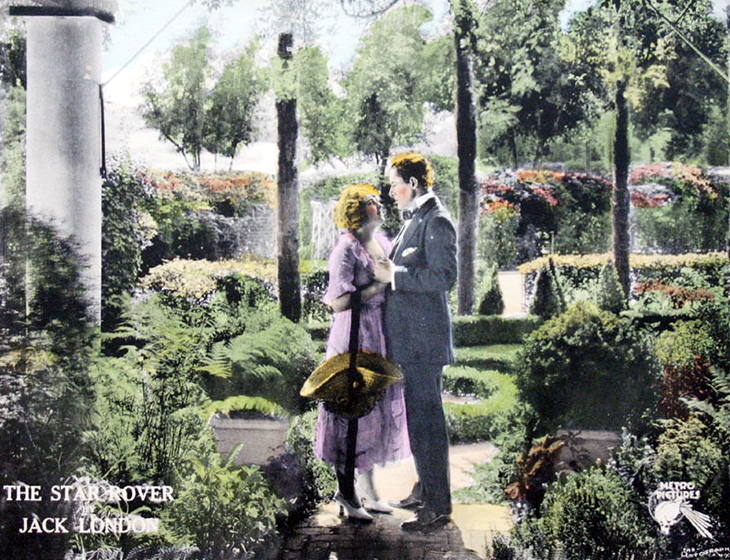 (Thelma Percy & Courtenay Foote 1920 Jan The Star Rover Lobby Card: Metro Pictures)
While appearing in The Star Rover with Courtenay Foote, some of the film industry magazines reported that Thelma Percy married William Brady Jr. (step-brother to film star Alice Brady).
"Actress to Wed – Miss Thelma Percy, screen actress, is to become the bride of William A. .Brady Jr., son of the widely known theatrical producer of New York, on Wednesday, according to announcements made today. Mr. and Mrs. William A. Brady Sr. are on their way here for the wedding. Miss Percy is the sister of Eileen Percy, also a noted film star." – Los Angeles Herald, October 22, 1920
Brady's father, theatrical producer William A. Brady Sr., denied the marriage to Photoplay in February 1921. 
A few months later, Thelma underwent an un-named operation.
"Two Screen Stars in Same Picture Now in Hospital – Separated by only the walls which partition off the various wards, two film stars who recently played opposite to each other in their last picture for the screen today occupy rooms in the Angelus hospital where both have had to submit to operations. The film stars, both of whom are recovering, are Miss Thelma Percy, sister of Eileen Percy, and Sessue Hayakawa, the Japanese screen actor. Miss Percy submitted to a serious operation on Wednesday. It was performed by Dr. George A. Laubershelmer. Hayakawa was operated on for acute appendicitis more than a week ago in an effort to save his life. Dr. Harvey W. Martin, who performed the operation, said that Hayakawa will be able to leave the hospital in a short time. The last picture which Miss Percy and Hayakawa appeared in was "The Beggar Prince." – Los Angeles Herald, April 16, 1921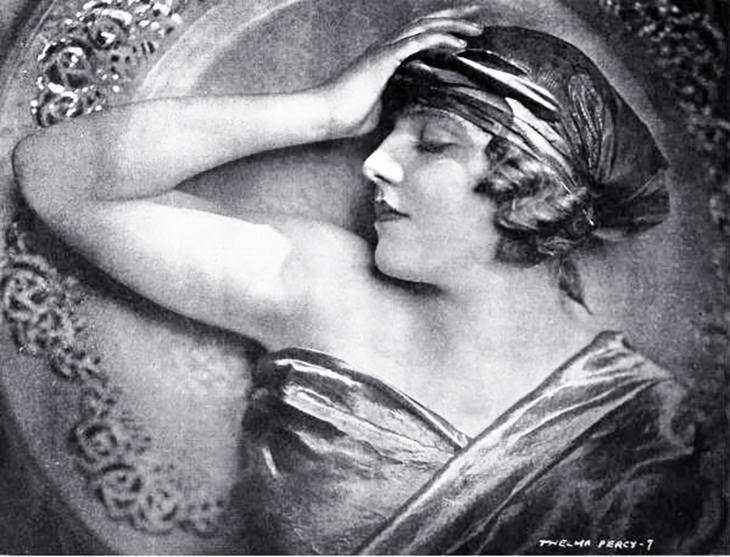 (Thelma Percy 1920)
All told, Thelma Percy appeared in 9 silent movies between 1920-1922. What became of her after she dropped out of films, is unknown; her death was reported as July 6, 1970 in Santa Monica.
Thelma may not have married Brady, but someone else did – actress Katherine Alexander, who wed William A. Brady Jr. in January 1926, according to a New York Times wedding announcement. William A. Brady died in 1935.
"William A. Brady, Jr., Dies in Flaming House – Colt's Neck, N.J. -The charred body of a man found in the fire swept ruins of a summer bungalow was believed identified Friday as that of William A. Brady Jr., 35, scion of a theatrical "first family". Charles Tate, county detective, said circumstances removed any doubt of the identity, even though the body was burned beyond recognition. The three-room cottage was owned by Miss Elise Chisholm, associated with Brady in a summer stock company. he had obtained her permission to spend the night there." – The Bismarck Tribune, Sept. 27, 1935
Fox Films 1920 Contract
Eileen Percy signed a contract with Fox Films in 1920 and appeared in numerous movies for that film studio over the next 2 1/2 years.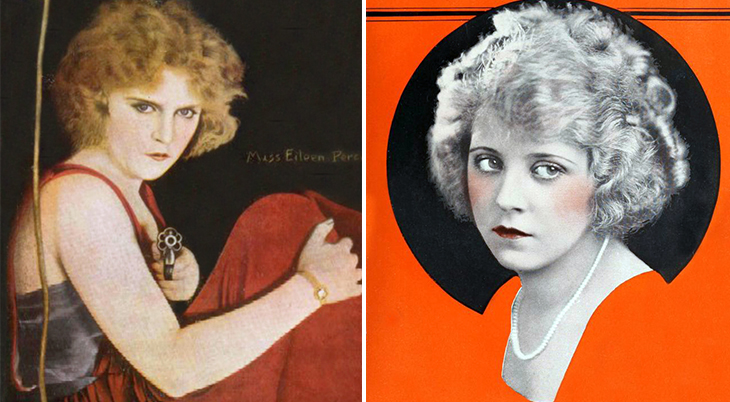 (Eileen Percy 1921 Magazine Covers: A Scena Muda [Luke McKernan via Flickr] & Cine-Mundial)
One of the few films with a scenario by silent screen idol Barbara La Marr Deely and Jules Furthman, Fox's silent comedy The Land of Jazz (1920) stars Eileen Percy as a female musician.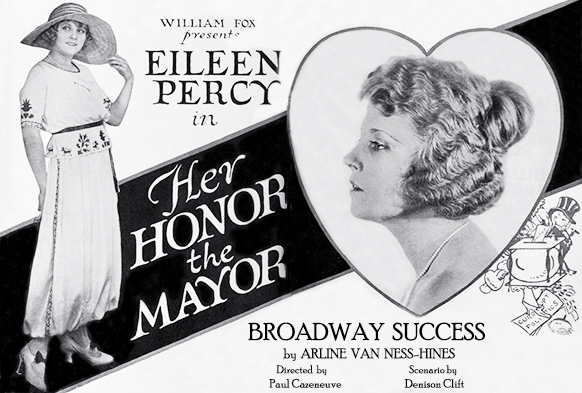 Eileen starred as the titular character in Fox's Her Honor the Mayor (1920).
Other starring turns for Fox included Why Trust Your Husband? (1921),  Big Town Ideas (1921), and The Third Eye, with Warner Oland.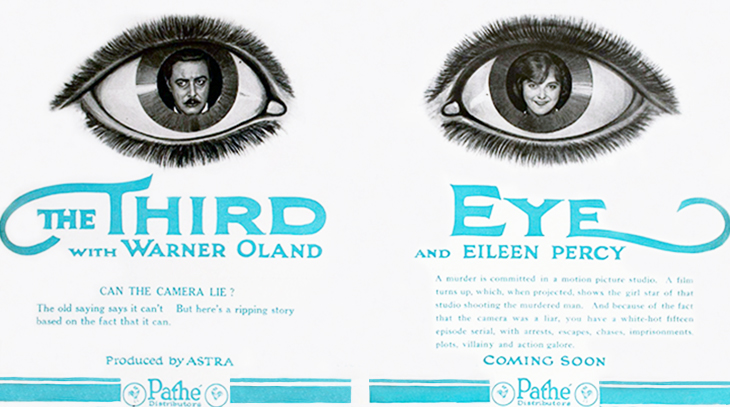 (Eileen Percy & Warner Oland 1920 The Third Eye)
During her contract with Fox, Eileen co-starred in 3 movies with western film star Buck Jones in 1922 – Western Speed, The Fast Mail, and Pardon My Nerve!, which also had Mae Busch (no relation) in the cast.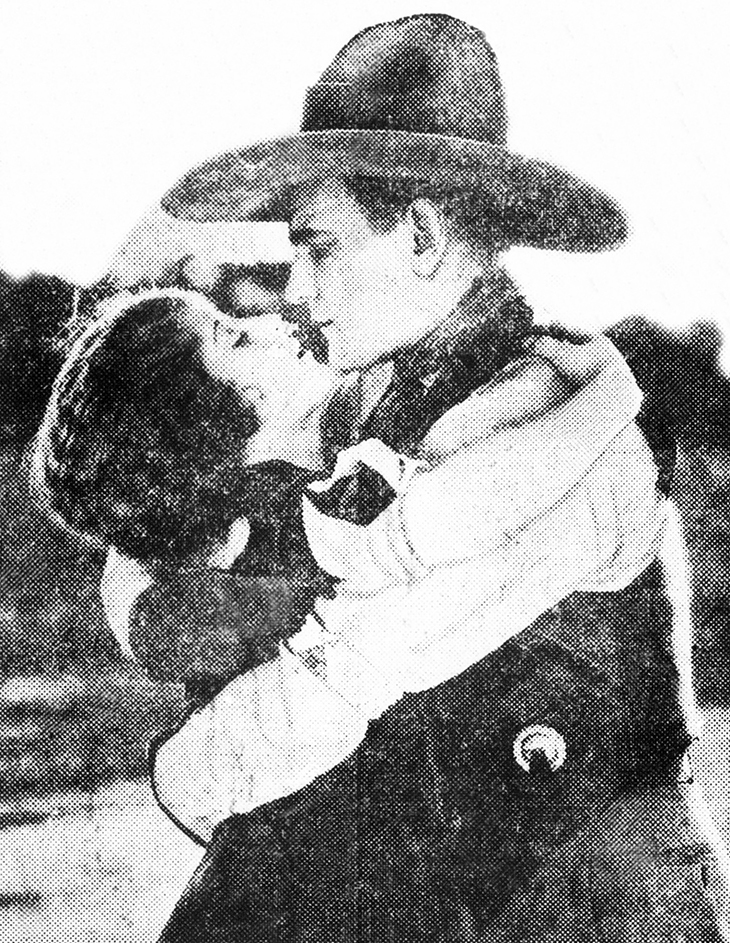 (Eileen Percy & Buck Jones 1922 Pardon My Nerve!: Movie Memories, Henderson Daily Dispatch)
Freelance Actress
When her Fox contract ended, Eileen worked for other film studios. At Universal she was in several movies, including The Flirt (1922), and co-starring with Herbert Rawlinson in The Prisoner (1923). Johnnie Walker was her costar at Robertson-Cole in The Fourth Musketeer (1923).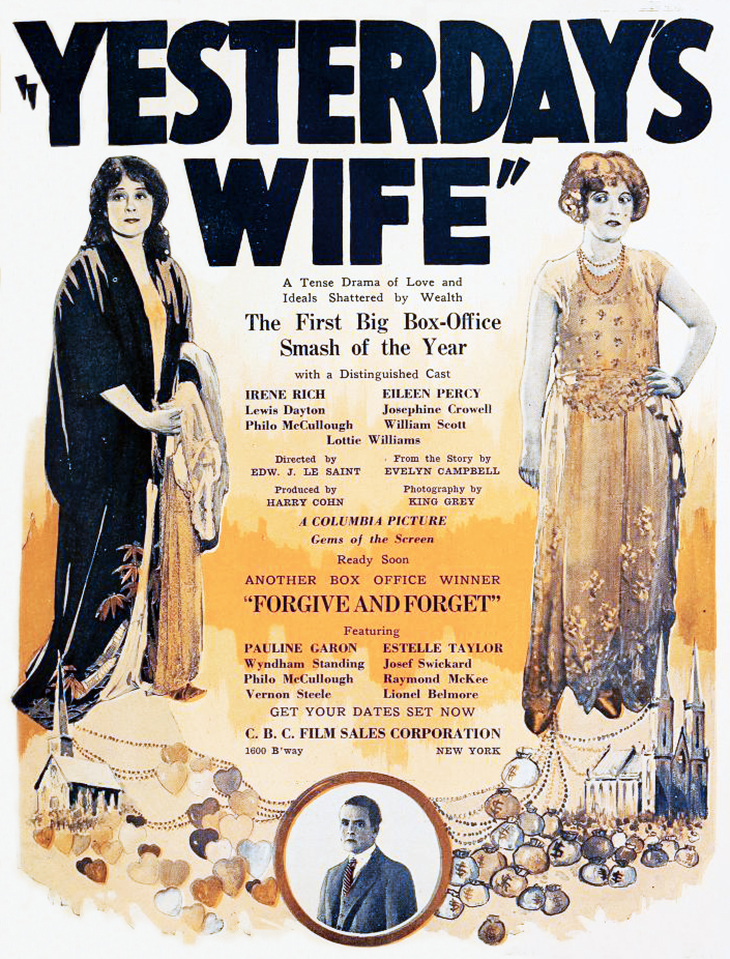 (Eileen Percy & Irene Rich 1923 Yesterday's Wife: Columbia)
In Yesterday's Wife (1923), Gilbert Armes (Lewis Dayton) meets his ex-wife Megan Daye (Irene Rich), while vacationing with his new wife Viola Armes (Eileen Percy). 
Kenneth Harland in East Side – West Side (1923), Missing Daughters (1924) with Pauline Starke; and Tongues of Flame (1924) with Thomas Meighan and Bessie Love, are some of Eileen's other notable movies and co-stars.
(Eileen Percy 1924 Illustrated Daily News, May 15, 1924. Article)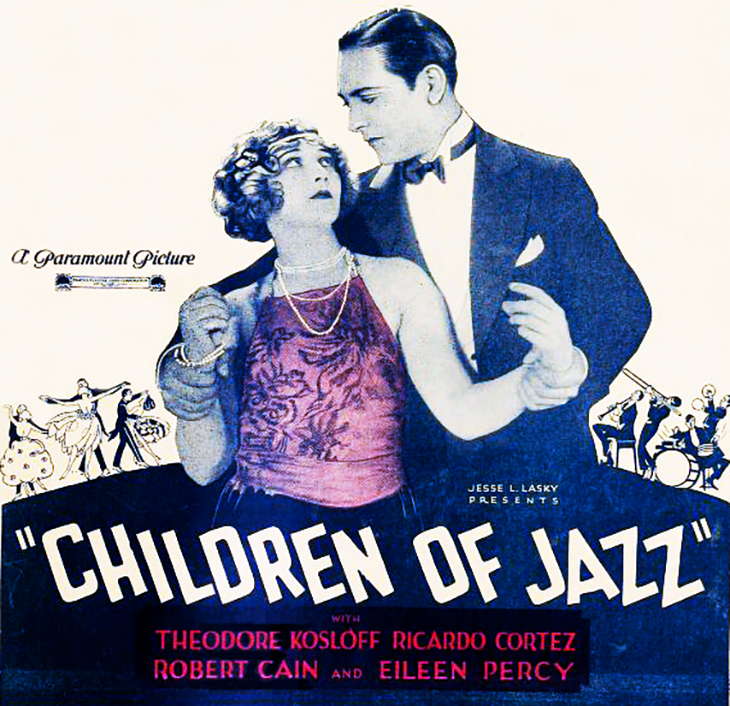 Theodore Kosloff and Ricardo Kosloff were her co-stars in Children of Jazz (1923) for Paramount.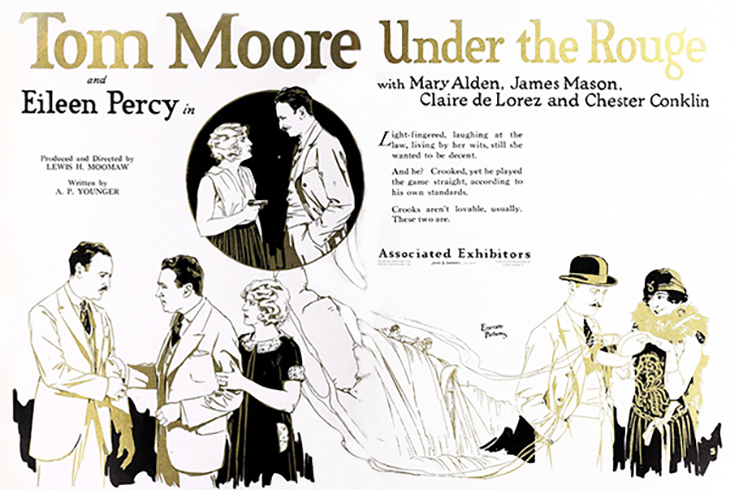 (Tom Moore & Eileen Percy 1925 Under the Rouge)
Percy was second-billed to leading man Tom Moore, a fellow Irish immigrant, in Under the Rouge (1925). Also in the cast of Under the Rouge are Eddie Phillip, Williiam V. Mong, Chester Conklin, Peggy Prevost (Marie's sister), and Carmelita Geraghty.
Gradually her leading lady status began to dwindle to supporting roles in films such as Within the Law (1923) starring Norma Talmadge, Lew Cody, and Jack Mulhall. This was almost full circle back to her very first film, Panthea (1917) starring Norma Talmadge, Earle Foxe, and Erich von Stroheim. 
Percy supported lead actors Rudolph Valentino and Nita Naldi in the drama Cobra (1925); then John Gilbert, Ernest Torrence, and Joan Crawford in Twelve Miles Out (1927). In The Shadow on the Wall (1925) Percy co-starred with Creighton Hale and William V. Mong, and in Backstage (1927), with William "Buster" Collier Jr., Barbara Bedford, and Alberta Vaughn.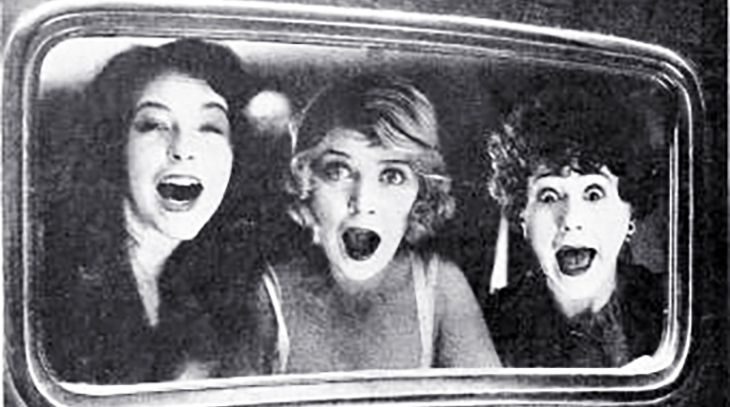 (Shirley O'Hara, Eileen Percy & Alberta Vaughn 1927 Backstage)
The "Dirty '30s" For Eileen Percy

(Eileen Percy & son C. Ulrich Busch Jan. 27, 1927: International)
Eileen Percy's marriage to Ulrich Busch produced son C. Ulrich Busch, born January 1927. She promptly decided to temporarily retire from acting. 
Telling the World, a comedy murder mystery with William Haines, Bert Roach, Polly Moran, Frank Currier, and Anita Page, was the fourth and final silent movie that Eileen Percy appeared in with William V. Mong. Filmed before her retirement, it was released in 1928.
By mid-1930, Eileen's wedded bliss with Ulrich Busch was faltering. Silent movies were over and the era of sound had arrived. These factors, combined with her close friendship with Marion Davies, mistress of newspaper magnate William Randolph Hearst, likely contributed to Eileen embarking on a second career as a Hollywood society columnist. 
"Eileen Percy's Column – Eileen Percy is writing a picture chatter column for the Block papers. Miss Percy, formerly a name in pictures, is trying her hand at writing after two years in retirement." – Vaudeville, Variety, July 16, 1930
Block newspapers included the Pittsburgh Post-Gazette.
Percy also began contributing columns to movie fan magazine The New Movie Magazine in 1932. Her article My Friend, Marion Davies was published in Movie Classic in 1935. 
"Producer Sued – Ulrich B. Busch, motion picture producer and manager, yesterday was sued for divorce in superior court by Eileen P. Pusch, who charged him with telling her he was through with married life." – Los Angeles Daily News, September 24, 1930
"Eileen Percy Divorced – Former Film Star Granted $50 Monthly for Child's Support – Eileen Percy, star of the silent movies several years ago, was granted a divorce from Ulrich B. Busch, film location manager. She said they lived apart in the same house for 18 months before they separated and he kept late hours and refused to tell her where he had been. They were married July 7, 1919, and separated April 15, 1930. Bush was ordered to pay Miss Percy $50 a month for the support of their 3-year-old child." – AP / The Evening Star, Oct. 24, 1930
The ink had hardly dried on their divorce papers when Ulrich B. Busch married another actress, Moscelyne Perreault Pobanz. It was a drawn-out process, involving a first wedding on November 1, 1930 in Ensenada, Mexico; a second wedding on October 18, 1933 in Los Angeles, and a third in Los Angeles, in 1934 
Although she came out of retirement briefly to appear in the prison melodrama Wicked (1931), starring Elissa Landi, Victor McLaglen, Una Merkel, Irene Rich, Alan Dinehart, Mae Busch, and Alice Lake, this would be the last major film that Eileen Percy was in. 
Eileen Percy was matron of honor and her friend Marion Davies a bridesmaid, at the wedding of their mutual other best friend, movie star Constance Bennett. Constance Bennett married the Marquis Henri de la Falais in November 1931.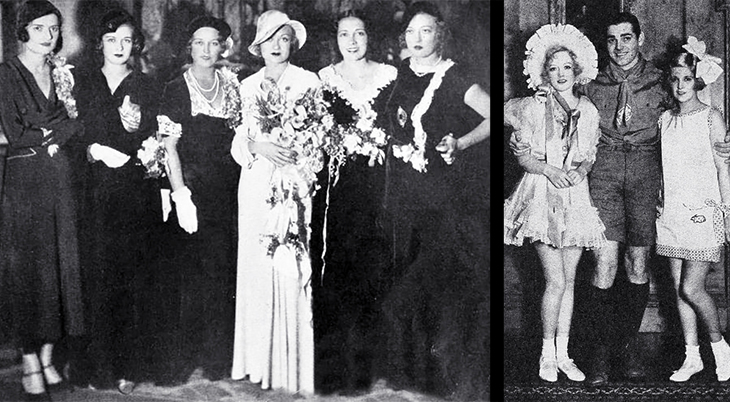 (Above From left: Barbara Bennett Downey, Joan Bennett, Eileen Percy, Constance Bennett, Mrs. George Fitzmaurice, Marion Davies 1931 | Marion Davies, Clark Gable & Eileen Percy 1933 Costume Party)
Percy would vacation in Europe and spend Christmases (with her son) with Marion Davies; Constance Bennett gave Eileen a diamond and platinum wrist watch for one year for Christmas.
Thank goodness she had wealthy and generous friends, because her ex-husband – presumably wealthy due to his familial connections – was stingy.
"Movie Executive Told to Pay More For Son's Support – Ulric B. Busch, motion picture executive, was ordered yesterday to pay $75 a month instead of $50 to his former wife, Aileen Percy, actress and screen critic, for the support of their 7-year-old son, Ulrich Busch Jr., by Superior Judge Dudley S. Valentine. Shortly before he appeared in court, Busch was married for the third time to his present wife, Moscelyne Perreault Pobanz Busch. The wedding was necessary to establish the validity of Busch's two previous marriages to Mrs. Pobanz because of a question of legality arising from the contention that he had not obtained his final decree of divorce from Miss Percy. – Los Angeles Daily News, February 10, 1934
Both Ulrich and Eileen Bosch had a successful day on February 6, 1934; he married Moscelyne Pobanz for the third time, and he was ordered to pay Eileen $75 a month instead of $50 in child support.
Ill health landed Percy in the hospital several times. She was hospitalized in the Cedars of Lebanon hospital in May 1933 because of her appendix (an appendectomy was anticipated). A second abdominal operation was reported in Coast's Ill, Injured, Variety, July 1933. Friend Marion Davies stepped in.
"A few years ago, I was desperately ill, my illness aggravated by worry over hospital bills. The bills that should have been presented at the end of the first week were not forthcoming, and I fretted still more, knowing that they were piling up. 'Doctor, I begged, can't we cut down on expenses, somehow? I don't need these private nurses> I can't afford them.' Don't worry, he soothed me, 'there's nothing to worry about.' But I kept on worrying till at last, to make me stop, he got Marion's consent to tell me that she had made herself responsible for all my hospital bills from the moment I entered the place to the moment I left – four months in all. 'Only you must promise,' he said, 'not to mention it to her. he doesn't want to be thanked." – Eileen Percy, My Friend, Marion Davies, Movie Classic, Feb. 1935 
Unfortunately, Variety reported that Percy was back in the Cedars of Lebanon hospital again in November 1935 in critical condition. She recovered, but the "dirty thirties" wasn't done with her yet. Guy Lombardo orchestra singer David Penn became smitten with Percy, with tragic results:
"Singer Tries Suicide: Love Hinted Motive – Vocalist with Lombardo Orchestra in Critical Condition – Police today tried to piece together circumstances which led David Penn, 28-year-old singer in Guy Lombardo's orchestra, to attempt suicide to prove the sincerity of his love for Eileen Percy, actress and writer. Penn, whose real name police believe is David Neswonger, was in a critical condition in a hospital with a wound in his chest, inflicted by a bullet from a borrowed pistol. Miss Percy said she 'only knew him slightly' and that the shooting was an unnecessarily tragic mistake." – United Press / The Indianapolis Times, March 19, 1935
"Three Little Words" And a Second Chance at Love
Eileen Percy accompanied Marion Davies and W.R. Hearst on a trip to Europe in June 1934, noted by Marion Davies in her posthumous memoir The Times We Had. (1975) Also on the trip with them was movie songwriter Harry Ruby (nee Harry Rubenstein). With lyricist Bert Kalmar, composer Ruby co-wrote many hit songs such as I Wanna Be Loved By You; A Kiss to Build a Dream On; Three Little Words; Give Me the Simple Life; and Nevertheless I'm in Love With You.
Harry Ruby's first wife Lillian Chloe Carter had divorced him early in 1934.
"Ex-Follies Beauty Files Decree Suit – Chloe Carter Ruby Rubenstein, former Ziegfeld Follies Beauty, today had on file a suit to divorce Harry Rubenstein, film song writer." – Rochester Evening Journal, January 10, 1934
The former Mrs. Chloe Carter Rubenstein moved on romantically as well; she began a relationship with actress Jean Acker (Rudolph Valentino's first wife) that lasted until Acker's death in 1978. Carter died in 1993; she's buried beside Jean Acker at the Culver City Holy Cross Cemetery.
Harry Ruby and Eileen Percy were married in May 1936.
"Writer Weds Ex-Film Star – Yuma, Ariz. – Eileen Percy Bush, former star of the silent screen, and Harry Ruby, a writer, are on a honeymoon. By plane, the couple came here yesterday from Los Angeles and were married by E.A. Freeman, Yuma's marrying justice of the peace." – AP / The Evening Star, May 4, 1936
Eileen attended a party for the benefit of the American Theatre Wing of the British Relief Fund in 1940, during WWII.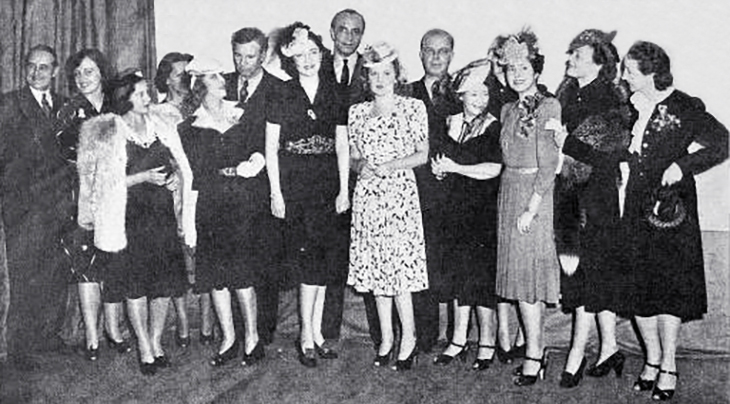 (From left: Taylor Holmes, Madge Evans, Viola Dana, Gertrude Lawrence, Eileen Percy, Walter Huston, Jane Winton, Conrad Veidt, Ruth Taylor, Hoot Gibson, Marguerite Clarke,  Lila Lee, Beverly Bayne, Jacqueline Logan, & Enid Markey)
The movie musical Three Little Words (1950) is about the songwriting team of lyricist Bert Kalmar (played by Fred Astaire) and lyricist Harry Ruby (Red Skelton). Arlene Dahl co-stars as Eileen Percy, and Vera-Ellen plays Jessie Brown Kalmar. Supporting actors Keenan Wynn, Debbie Reynolds, and Gloria DeHaven (playing her own real-life mother, actress Flora DeHaven) are also in the cast of Three Little Words.
After 10 years away from films, Eileen Percy co-starred with Kenneth Brown, Sally Eilers, and Leila Hyams, as Red Cross workers in what would be her final movie, the film short First Aid (1943). 
Eileen Percy died of cancer on July 29, 1973 at the age of 72. She is buried at the Chapel of the Pines Crematory in Los Angeles. Her second husband Harry Ruby survived her by less than a year, dying in February 1974 at the age of 79. 
"Surviving are a daughter, Mrs. Toby Garson; a stepson, James Busch; two sisters, and five grandchildren." –  Harry Ruby Obituary, The New York Times, February 25, 1974
*Images are believed to be in the public domain, used by permission, and/or Creative Commons licensed & sourced via Wikimedia Commons, Vimeo, YouTube, or Flickr, unless otherwise noted*