Remembering Joan Crawford
Joan Crawford (nee Lucille Fay LeSueur) was born March 23, most likely in 1904 (or possibly as early as 1903 or as late as 1908, according to various sources).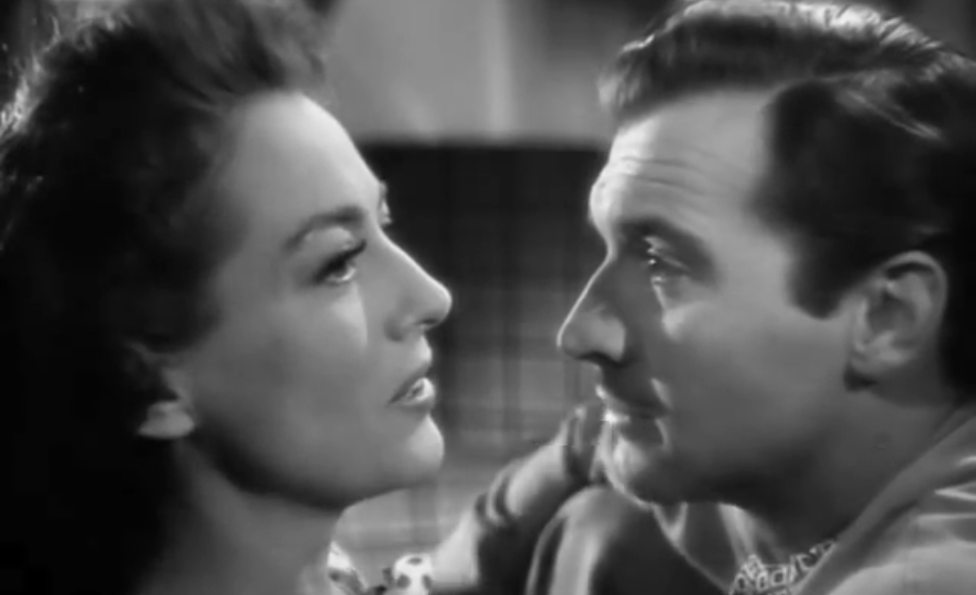 (Joan Crawford & Zachary Scott 1945 Mildred Pierce Screenshot)
Lucille arrived in Los Angeles in 1925 after MGM offered her a $75/week contract, and appeared in small silent movie parts, either uncredited, or under her birth name until her new stage name Joan Crawford was chosen via a Movie Weekly magazine contest in 1925 to "Name the Star". Joan Crawford attended Hollywood parties, dancing and winning contests for the Charleston and the Black Bottom, trying to attract the attention of the movie studios.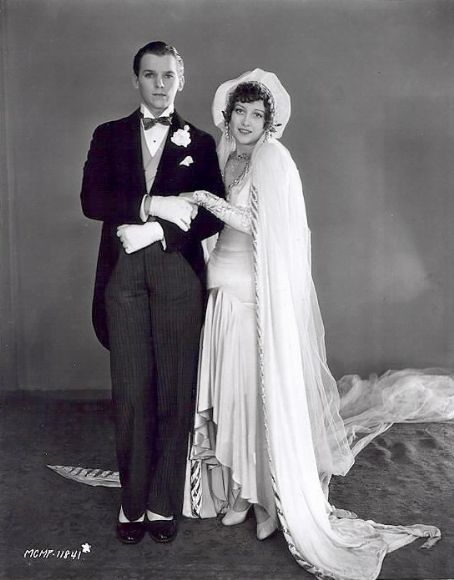 Joan Crawford appeared in over 30 silent movies from 1925-1932 and was highly visible on the Hollywood scene, especially after meeting fellow silent movie actor Douglas Fairbanks Jr. (son of Douglas Fairbanks and Mary Pickford). Douglas Fairbanks Jr. and Joan Crawford were married in 1929.
Joan Crawford and Douglas Fairbanks Jr. at their 1929 wedding. (Photo: Pinterest) 
Note the fashions and pose captured in this photograph of the Douglas Fairbanks - Joan Crawford wedding - a great example of a society wedding of the late 1920's early 1930's for Hollywood royalty like Crawford and Fairbanks.
Joan Crawford and Douglas Fairbanks appeared in the movie Our Modern Maidens (1929) and the short film The Stolen Jools (1931). Below, a short clip from Our Modern Maidens with Joan Crawford (centre, dark hair), Douglas Fairbanks Jr., and the beautiful blonde silent film star Anita Page. Check out the 1920's flapper hairstyles, fashion, and dialogue.
Douglas Fairbanks Jr.'s parents were not fond of Crawford...according to Fairbanks Jr.'s obituary in theguardian.com, "his father called her a cradle snatcher (she was five years older than the groom) and an opportunist who wanted to marry a famous name".
Together Joan Crawford and Douglas Fairbanks Jr. attended many Hollywood parties; they both successfully made the transition to "The Talkies", which began in 1928.  Below, some clips from the 1931 opening of the Warner Bros. Western Theater (Wiltern Theater) in 1931, with Joan Crawford and Douglas Fairbanks Jr., Clark Gable and his second wife Maria Langham, and other Hollywood luminaries in attendance.
Joan Crawford and Douglas Fairbanks Jr. divorced in 1933, according to some reports because of Joan Crawford's involvement with her lifelong friend and frequent co-star, Clark Gable (they starred in 8 movies together between 1931-1940); or other reports that Douglas Fairbanks Jr. cheated frequently on her.
Among the many movies that Clark Gable and Joan Crawford both appeared in were 2 early films at the beginning on their career, that they were essentially extras in: The Merry Widow (1925) and Ben-Hur: A Tale of the Christ (1925). Of the 8 movies that Crawford and Gable were leading co-stars in, 3 were released in 1931 alone - Dance, Fools, Dance with William Holden; Laughing Sinners with Neil Hamilton and Roscoe Karns; and Possessed with Van Heflin and Raymond Massey. Joan Crawford had top billing in each of these movies. Below, the movie trailer for Possessed features Joan Crawford, Van Heflin, Raymond Massey, and Geraldine Brooks.
Joan Crawford's popularity steadily rose during the 1930's. She was placed third on a Top Ten Money Making Stars Poll in 1932 and appeared on it each year until 1936.
She received top billing in her first post-divorce film, 1933's Dancing Lady, where Joan Crawford's co-stars included Clark Gable, Fred Astaire, and Franchot Tone. Below, Fred Astaire, Franchot Tone, Clark Gable, and Joan Crawford are featured in a movie trailer for Dancing Lady.
Joan Crawford was paired again with Clark Gable onscreen twice in movies released in 1934 - Chained, and Forsaking All Others. The final film to co-star Joan Crawford and Clark Gable was Strange Cargo (1940).
The same year that Dancing Lady was released, Franchot Tone and Joan Crawford also appeared in their second movie together - Today We Live (1933). Their co-stars in Today We Live included Gary Cooper, Robert Young, and Roscoe Karns.
Franchot Tone and Joan Crawford were married in 1935. All told, Joan Crawford and Franchot Tone appeared together in 7 movies before divorcing in 1939. Their last 5 movies together were:
Sadie McKee (1934)
No More Ladies (1935)
The Gorgeous Hussy and Love on the Run, both in 1936. Clark Gable also co-starred in Love on the Run.
The Bride Wore Red (1937)
Franchot Tone's career and aspirations didn't match up to Joan Crawford's, and he wasn't happy playing second fiddle. Alcohol and physical abuse (by Tone) as well as infidelity (by both of them) contributed to their breakup. According to Crawford they remained friends until his death.
It was during this time that Joan's long-standing rivalry with actress Bette Davis began; apparently Bette became infatuated with Franchot Tone after he had become engaged to Crawford, and he rejected her. 
Ironically it was in 1938, one year after Life magazine named her first "Queen of the Movies", that Joan Crawford was among a handful of stars called "Box Office Poison" by theatre owners. Although her performances were often critically acclaimed, her movies were not making as much money as they had done, and by 1943 her contract with MGM was cancelled after 18 years. Below, Joan Crawford, Zachary Scott, Jack Carson, Ann Blythe & Bruce Bennett are featured in the Mildred Pierce movie trailer.
Crawford promptly signed a 3-picture deal with Warner Brothers in 1943 and in 1945 starred in Mildred Pierce, for which she won the Academy Award for Best Actress. Her movie career was on the up again, which lasted until the late 1950's. During the 40's and 50's Joan Crawford also worked periodically in radio and on television. Below, Joan's expression says it all as a betrayed mother in Mildred Pierce. 
Joan Crawford adopted 5 children. Her oldest daughter Christina Crawford was adopted in 1940 while Joan was single, after her marriage to Franchot Tone was finalized in 1939. She then married third husband actor Phillip Terry in 1942, and they adopted their first son named Christopher in 1942, who was reclaimed by his birth mother. Phillip Terry and Joan Crawford then then adopted another son, whom they named Phillip Terry, Jr. After Joan and Phillip Terry divorced in 1946, Joan's adopted son Phillip Terry Jr. was renamed Christopher Crawford.
Once again single, in 1947 Joan Crawford adopted twin girls - Cindy and Cathy Crawford.
Daughter Christina Crawford famously wrote "Mommie Dearest" detailing the unhappy and according to Christina, abusive relationship that Joan had with both Christina and Christopher (both were disinherited by Joan). This version of Joan Crawford is disputed by Joan's other daughters Cindy and Cathy, who were 7 years  younger and apparently enjoyed a warm and loving relationship with Crawford. What isn't in dispute is that by the time Christina Crawford was 9, she and mother Joan often argued; Joan Crawford had an extremely controlling nature and neither Christina nor Christopher had submissive personalities.
Below, Joan Crawford as Vienna in a scene from the stylized 1954 western melodrama Johnny Guitar, co-starring Sterling Hayden as Johnny "Guitar" Logan and Mercedes McCambridge as Emma Small. Johnny Guitar's cast included actors Scott Brady, Ward Bond, Ben Cooper, Ernest Borgnine and John Carradine. Below, the movie trailer for Johnny Guitar features Joan Crawford, Scott Brady, Sterling Hayden, Mercedes McCambridge, Ben Cooper, Ernest Borgnine, and Ward Bond.
In 1955 Joan Crawford married her 4th husband Alfred Steele, President of Pepsi Cola. Steele went on to become Chairman of the Board and CEO of Pepsi Cola, and during their marriage Crawford estimated she travelled over 100,000 miles for Pepsi. After Steele died of a heart attack in 1959, Joan Crawford was left deeply in dept; to help pay off the debt, Crawford served on the Pepsi board of directors and began acting in horror films.
By 1962's Whatever Happened to Baby Jane, Joan's film career was winding down. She was cast alongside rival Bette Davis, and although they both survived the movie shoot and publicly said there was no feud, after the movie was over the gloves came off. Below, Joan Crawford in a wheelchair as Blanche Hudson, and Bette Davis as her sister and the title character "Baby Jane" Hudson, are featured in the movie trailer for Whatever Happened to Baby Jane.
Bette Davis and Joan Crawford were again cast together in 1964's Hush Hush Sweet Charlotte, and Joan Crawford ended up in hospital part way through shooting; differing reports say it was because of "harassment" by Davis, or alternatively, due to Crawford's alcoholism. 
In 1976, two years before her death, a Christmas card Joan Crawford sent said "I am so at peace with the world, that I am even having good thoughts about Bette Davis." 
In her senior years, from the early 1970's until her death in 1977 from a heart attack (she was also battling cancer), Joan Crawford shunned public appearances. She wanted to be remembered as a glamorous movie star...according to her grandson Casey LaLonde,
"As you can imagine, my grandmother didn't like 'grandma' or 'grammy' or even 'grandmother'. She preferred to be called JoJo."
Throughout her full-length feature film career which spanned 1925-1970, Joan Crawford appeared or starred in over 30 silent movies and 60 sound films. Below, in her heyday as Mildred Pierce.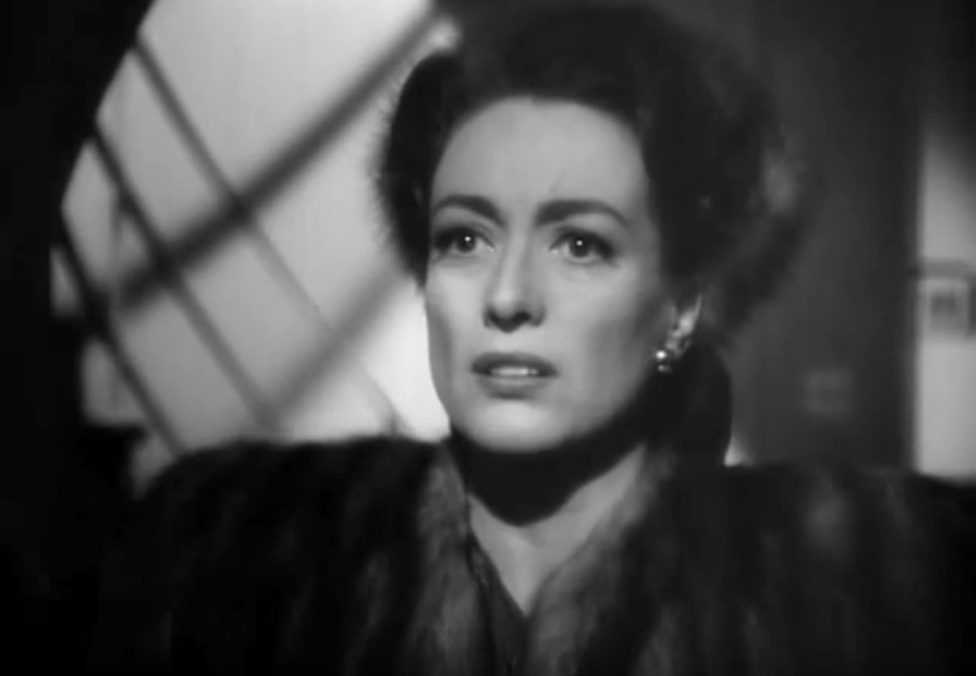 (Joan Crawford 1945 Mildred Pierce Screenshot)
Rest in peace, Joan Crawford!
Updated December 3, 2017: New images and video content
*Images are public domain or Creative Commons licensed & sourced via Wikimedia Commons or Flickr, unless otherwise noted*