Robert Blake Turns 83, Part 1
Robert Blake, Part 1: Child Actor on Little Rascals to In Cold Blood (1933-1967)
Robert Blake in Waldo's Last Stand (1940), and on an episode of Zane Grey Theater (1959).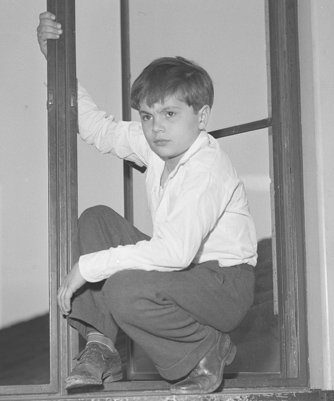 (Robert Blake 1944 Photo: The Los Angeles Times / UCLA Library)
Italian-American retired actor Robert Blake (nee Michael James Gubitosi) was born on September 18, 1933 in Nutley, New Jersey.
His parents Elizabeth Cafone and Giacomo (James) Gubitosi became vaudeville performers and in 1936, Michael Gubitosi and his older siblings James Gubitosi (1930-1995) and sister Giovanna Gubitosi (1932-1985) began appearing onstage as "The Three Little Hillbillies". The Gubitosi family moved to Los Angeles in 1938 and the kids began appearing in the movies as extras. 
As an adult, Robert Blake has said that his childhood was terrible, with both parents "insane"; he claimed his father James Gubitosi was a sadistic alcoholic, and that he was subject to child abuse – often locked in a closet, beaten, forced to eat off the floor, and sexually abused. His father James Gubitosi committed suicide in 1955.
Young Michael Gubitosi began working in the movies in 1939 at the age of 6, and appeared in the feature film Bridal Suite (1939) in an un-credited role as Toto. He appeared in over 40 of MGM's Our Gang (The Little Rascals) short films from 1939-1944 as the character Mickey, either uncredited or credited as Mickey Gubitosi (1939-1942), or Bobby Blake (1942-1944).
Above, the "Our Gang" kids help Waldo (Darwood Kaye, in glasses) with his failing lemonade stand. Robert Blake is "Mickey", Darla Hood is Darla , George "Spanky" McFarland is Spanky, Carl "Alfalfa" Switzer is Alfalfa, and Billie "Buckwheat" Thomas is Buckwheat. A donkey tries to steal the show, and Billie "Froggy Laughlin is a reluctant customer.
Robert Blake's brother James and sister Giovanna Gubitosi also got work as extras in Our Gang, with Giovanna changing her name to Joan Blake when Robert changed his name to Bobby Blake. The Young Artist Foundation recognized Robert Blake with a Former Child Star "Lifetime Achievement" Award in 1995 for his performances on Our Gang.
By 1944, when Our Gang was ending, Robert Blake was 11 years old and had already been kicked out of elementary school for fighting. He had only begun attending school for the first time when he was 10.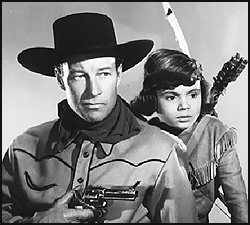 (William / Bill Elliott as Red Ryder and Robert Blake as Little Beaver Photo: Lindell Dillon)
From Our Gang short films, Bobby Blake segued into the Red Ryder/Tucson Raider movies, playing the Native American character of Little Beaver in 23 short films from 1944-1947.
Throughout his adult film career, Robert Blake often played Latin or Native American characters, and/or detectives or criminals. 
During and after his short films, Blake also appeared in full-length feature films.
Occasionally some of his Our Gang cast-mates joined him. Carl Switzer (Alfalfa) appeared with him in I Love You Again (1940), and Billie "Buckwheat" Thomas was also in the movie Mokey (1942), in which Blake played the title character and used the professional name Bobby Blake for the first time.
An adult Robert Blake told Entertainment Weekly that his first hug – ever – was from actress Donna Reed on the set of 1942's Mokey, when he was 8. 
Other movies of note that Bobby Blake appeared in during the 1940's were: 
Andy Hardy's Double Life (1942) starring Mickey Rooney and Esther Williams.
China Girl (1942) starring Gene Tierney, George Montgomery.
Lost Angel (1943) starring Margaret O'Brien, with Marsha Hunt.
The Big Noise (1944), a Stan Laurel and Oliver Hardy comedy.
Dakota (1945) a western starring John Wayne.
Humoresque (1946) starring Joan Crawford.
The Treasure of the Sierra Madre (1948) starring Humphrey Bogart and Walter Huston. 
As a child actor in the 1940's, several times Bobby Blake was in movies where one of the star's was an animal, as in The Return of Rin Tin Tin (1947) co-starring the dog Rin Tin Tin III. In two movies, Blake appeared with cowboy stars and their famous horses – The Last Round-up (1947) starring actor Gene Autry and Champion, and Out California Way (1946), with actor Roy Rogers and Trigger. Ten years later, Robert Blake appeared with Roy Rogers and Trigger on an episode of The Roy Rogers Show (1956). 
Robert Blake has said that he ran away from home as a teenager, abused drugs and alcohol, was kicked out of 5 high schools, and was drafted into the Army beginning in 1950 (age 17). He told the Los Angeles Times in 1992 that he was a sergeant in the Special Services, stationed in Alaska and putting on performances when he fell in love for the first time, with a 16-year-old girl. Their engagement was cut short when her father had him arrested for statutory rape, and he was put in the stockade pending a court martial. Blake has been quoted as saying he plotted to kill her father, but a priest arranged a settlement between the girl's family and the Army, resulting in Blake agreeing never to see her again and being honorably discharged from the Army.  
Blake returned to California after his Army stint and began taking acting classes with black-listed actor Jeff Corey. No longer the cute young kid, like many other grown up former child actors, Blake struggled to find acting work. For most of the 1950's, his acting jobs were few and far between. Still, beginning in 1952 dedicated baby boomer TV watchers might have caught Bobby Blake on episodes of TV westerns such as The Cisco Kid (1953), Broken Arrow, and Zane Grey Theater (1959).
 (Robert Blake 1959 Zane Grey Theater)
Movie roles began to come his way again in the latter half of the 1950's, and in 1956 alone Bobby Blake appeared in the Korean War movie The Rack starring Paul Newman, with Cloris Leachman; Three Violent People with Charlton Heston and Jamie Farr; and the WWII film Screaming Eagles, starring Tom Tryon, Jan Merlin, Alvy Moore, Martin Milner, Paul Burke, and Pat Conway. 
He first used the professional name of Robert Blake that same year the crime drama Rumble on the Docks (1956) starring James Darren. Robert Blake was in another James Darren movie in 1957 – The Tijuana Story.
Robert Blake began to find more work, in bigger roles/bigger movies. He had a co-starring role in the prison break movie Revolt in the Big House (1958). Blake turned down the role of Little Joe Cartwright on Bonanza in 1959, but was in the Korean War movie Pork Chop Hill (1959) starring Gregory Peck, Rip Torn, and a cast that included George Peppard (Banacek), Harry Dean Stanton,  Martin Landau, Clarence Williams III (Mod Squad), and Gavin MacLeod, among others.
Robert Blake has said he met actress Sondra Kerr backstage at a play; they married in November 1961 and had son Noah Blake (b. 1965) and daughter Delinah Blake (b. 1966). He began mental therapy which continued for many years (he told Entertainment Weekly in 1993, more than 30 years). 
Baby boomers could see Robert Blake on television in episodes TV shows like Bat Masterson, Naked City, The F.B.I., and in an episode of the crime drama Cain's Hundred starring Peter Mark Richman, with Keir Dullea.
Blake worked several times with actor Richard Boone, appearing 3 times on his series Have Gun – Will Travel (1960-1962), and co-starred with him on the anthology series The Richard Boone Show (1963-1964), along with other regulars Lloyd Bochner and Harry Morgan. 
War movies – Town Without Pity (1961) starring Kirk Douglas, and PT 109 (1963) starring Cliff Robertson and Robert Culp – and Westerns on television and the movies were Robert Blake's forte. He appeared on 2 episodes of Rawhide (1965) starring Clint Eastwood and starred as Billy the Kid on an episode of Death Valley Days (1966).
Blake was one of the star-studded cast in the bible epic The Greatest Story Ever Told (1965), starring Max Von Sydow, Dorothy McGuire, Angela Lansbury, Pat Boone, David McCallum, Roddy McDowall, Sidney Poitier, Sal Mineo, Claude Rains, Telly Savalas, and John Wayne; also in The Greatest Story Ever Told were both Charlton Heston and Jamie Farr, who had both been in the 1956 movie Three Violent People (1956) with Robert Blake.  
(Robert Blake 1966 12 O'Clock High)
Other movies of note during the mid-1960's for Robert Blake were the romantic drama This Property is Condemned (1966), starring Natalie Wood and Robert Redford. 
Robert Blake's break out movie role was as Perry, a drifter and serial killer on the run in the dark biographical drama In Cold Blood (1967).
Blake's former acting teacher Jeff Corey played his co-killer's father in the film. Based on Truman Capote's book In Cold Blood, the movie did well at the box office and Robert Blake's performance was critically acclaimed. Blake told People that after In Cold Blood he suffered from depression, needed psychiatric help, and couldn't work for two years.
Next: Robert Blake, Part 2: Baretta to Murder Charges & Retirement (1969-2016)
*Images are public domain or Creative Commons licensed & sourced via Wikimedia Commons, Vimeo, YouTube, or Flickr, unless otherwise noted*