James Darren - The Gidget Years
Singer, actor, and director James Darren, AKA Gidget's "Moondoggie" to legions of fans, has had a long career encompassing stage, movies, and TV. 
From Philadelphia to Los Angeles and Back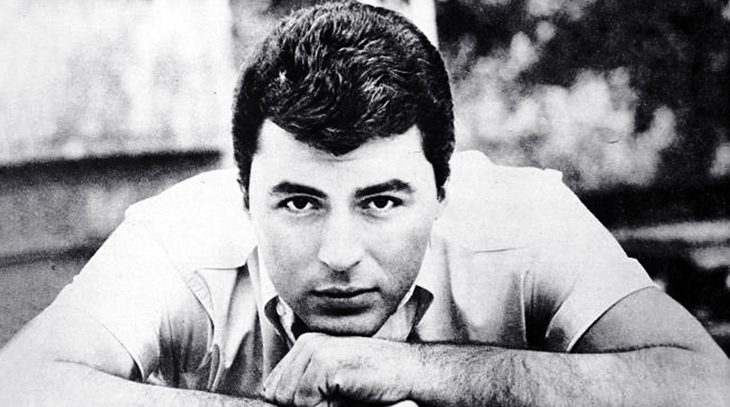 (James Darren 1960)
James Darren (nee James Ercolani) was born on June 8, 1936 in Philadelphia, Pennsylvania to parents Virginia and William Ercolani. His maternal grandparents John and Clara Di Josie had 14 children, and the Ercolani family (James' brother Johnny was born in 1937) lived with them on South Tenth Street, Philadelphia when James and Johnny were growing up. 
"His parents are far from show business. His father is a tailor; his mother, a seamstress. They had to work long hours to give Jimmy and Johnny, his brother, who's 18 months younger the kind of real home they believed in." Triumph of a Daredevil, by Tex Maddox, 1958 Screenland Plus TV Land
James Ercolani attended Southern High and was a problem student, skipping school and playing pinball. Music lessons (trumpet) were followed by vocal lessons, and he worked in his uncle's Safari Costume Jewelers business to pay for them. 
"When I was 16 a friend of my uncle's got me a chance to sing at Frank Polumbo's club. My father had to be up at six every morning, but he went along to the night club with me every evening, often staying out till three a.m." 
Note: Frank Palumbo was a high-profile political boss, business man, philanthropist, and numbers racketeer in Philadelphia. In addition to James Darren, he gave a break to other new performers, including Joey Bishop. Palumbo was a long-time friend of Frank Sinatra, who frequently performed at his clubs.
Darren told Gary James in a 1988 interview, that as a teenager he was a fan of singers Frank Sinatra, Nat King Cole, Frankie Laine, Perry Como, and the Mills Brothers, among others. Music must have been in the water around his Philadelphia neighborhood – singer-actors Mario Lanza, Eddie Fisher, Frankie Avalon, Fabian Forte, Mickey Callan, and Bobby Rydell all lived within blocks of each other and James Ercolani.
He'd met Gloria Terlitsky when he was 12, and they began dating as young teens. By the time James was 16, they'd been going steady for a a couple of years. An interest in acting from an early age became a firm goal when local Philadelphia boy Eddie Fisher became a success. Darren told Los Angeles Magazine that he went to Los Angeles in 1954 to get discovered.
An older James Darren revisits his first Los Angeles apartment in 2015, and remembers back to 1954.
Living in Los Angeles for six months, James met and became good friends with actor John Saxon. John Saxon and James Darren would hang out with actor James Dean; none of them were as yet stars, and the two James' shared a love of cars and motorcycles. The hoped-for break didn't happen, and he returned to Philadelphia.
Early Marriage and Movies
James Ercolani and Gloria Terlitsky eloped because her Jewish parents disapproved of his Catholic faith, and they knew their parents would say they were too young and not financially established yet. They were married on January 13, 1955, and they were both underage (James was 18 1/2 years old) to marry without their parent's consent in Pennsylvania.
"Two older people went along with us to Elkton, Maryland. The fellow who was supposed to be my father couldn't spell my last name when we got the license, and the woman who was presumably Gloria's mother, wasn't too convincing the first two minutes. But, somehow, we all passed! Gloria and I returned to our separate homes and didn't tell our folks for a year, not until I had the job we could live on." – Triumph of a Daredevil, 1958 Screenland Plus TV Land
James began working as an assistant stage manager for Italian dancer-actor José Greco, who advised him to get some professional photos taken, and pick a simpler last name than Ercolani.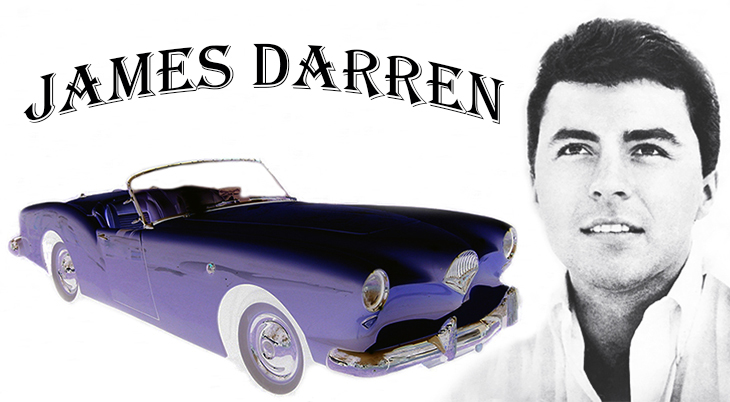 (1954 Kaiser Darrin Convertible & James Darren c. 1960 by Gene Trindl, Topix)
Darren would later tell interviewer Todd Doogan that he changed his last name to Darren in a nod to the 1954 Kaiser Darrin sports car, built by Kaiser Motors and based on a design by Howard "Dutch" Darrin.
James dropped out of school, and began traveling back and forth from Philadelphia to New York City to study acting with Stella Adler. He arranged to have professional photographs taken by Maurice Seymour so he could get an agent to help him land acting jobs:
"His secretary, a woman by the name of Yvonne Bouvier, asked me if I was interested in getting into film…she set up a meeting between me and Joyce Selznick [casting agent and niece of legendary movie producer David O. Selznick], who worked for Screen Gems…Joyce brought me over to Columbia Pictures about a week later and got me a contract there [in July, 1956]." – Gary James' Interview with James Darren, ClassicBands.com, 2005
Selznick's office was at the legendary Brill Building, where Darren met entertainer and singer Tony Orlando, who also became a friend.
Having a contract and paying gig under his belt, James went to Hollywood again, this time to stay. He returned to Philadelphia briefly to finally tell his parents he was married, and Gloria followed him back to Hollywood; they were finally living under the same roof as a married couple.
He took advantage of the studios acting classes, and roles in movies started to come his way. His first film was Rumble on the Docks (1956), which generated fan mail and, along with positive reviews, brought him to the attention of the movie studio.
"The newcomer is James Darren, who plays a 17-year-old confused but goodhearted leader of a juvenile gang with confidence and aplomb." – James D. Ivers, 1956 Motion Picture Daily
This movie trailer for Rumble on the Docks features James Dean, Laurie Carroll, and Robert Blake.
Darren became life-long friends with fellow Italian-American singer Frank Sinatra and his daughter Nancy Sinatra that year, hanging out on the Pal Joey (1957) set while he was under contract to Columbia and filming was taking place with Sinatra, Kim Novak, and Rita Hayworth.
"I became friends with Nancy (Sinatra) and we would celebrate our birthdays together, because it falls on the same day. Frank and Dean Martin's birthday falls the day before mine, June 7th. Nancy and I are June 8th….He'd (Frank Sinatra) celebrate Nancy's birthday, Dean's and mine at these parties at the Sinatra house or a restaurant." – James Darren 1998 interview with Gary James
He'd also become lifetime friends with Elvis Presley. James Darren admired both singers and told Classic Bands in 2005,
"Elvis was a friend. We used to play football together. I've always been a giant Elvis fan, from day one, before I knew him and still am to this day."
His next 3 films were released in 1957, and gradually built up Darren's fan base and cred with the movie studio. 
Operation Mad Ball, a post-WWII comedy starring Jack Lemmon, Ernie Kovacs, Kathryn Grant, Mickey Rooney, Dick York, Roger Smith, Arthur O'Connell, and James Darren as an Army private.  Darren would later co-star again with O'Connell in what would become arguably the most iconic film of his career. Also in Operation Mad Ball are a host of then-unknown actors in smaller roles – L.Q. Jones, William Hickey, Mary Tyler Moore, John Mitchum, and Paul Picerni.
The Brothers Rico, a film-noir crime drama with Richard Conte, Paul Picerni, and James Darren as the titular Rico brothers. Dianne Foster, Kathryn Grant, Larry Gates, and Lamont Johnson co-star.
The Tijuana Story, another film-noir crime story shot on location in Mexico.
First-Time Fatherhood and Separation
Gloria and James Darren's son James William Ercolani Jr. (Jimmy, now TV journalist Jim Moret), was born December 3, 1956.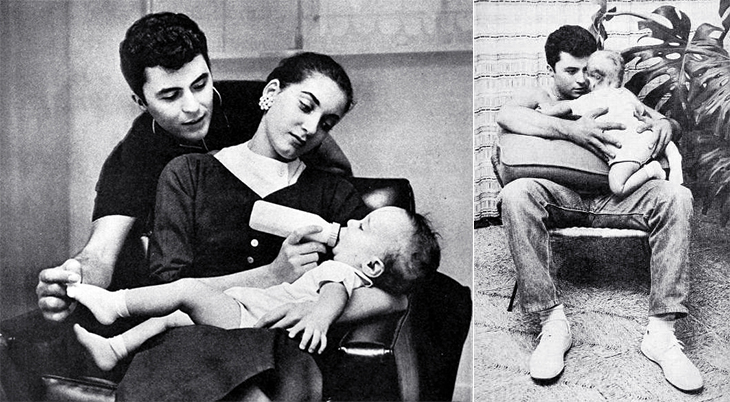 (James Darren, wife Gloria Terlitsky & son Jim Moret 1950s Photo: Mondadori Publishers)
Proud father Darren told Modern Screen that if little Jimmy got wound up, only listening to Frank Sinatra would settle him down.
"Let me tell you, it's got to be a Sinatra record that will quiet him down. We've tried Jackie Gleason a few times – you know, that quiet sentimental music – but Jimmy just ignores it." – Introducing James Darren by Ed DeBlasio, 1958 Modern Screen
James and Gloria would socialize with Marie and Paul Picerni, his co-star from The Brothers Rico and Operation Mad Ball. They moved to into a small house of their own after Darren fulfilled a dream to buy a new home for his parents.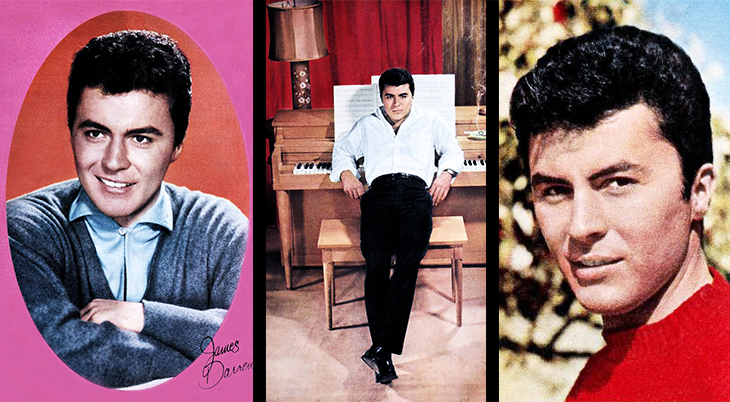 (James Darren 1958 & 1959)
By the end of 1958, James Darren was a "star" and featured heavily in fan magazines.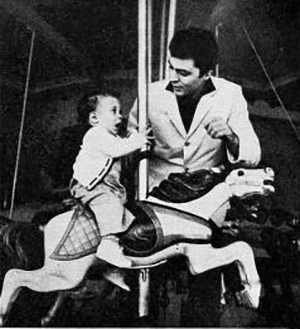 (James Darren and Jimmy Jr. 1958)
Despite their love for their baby son, home had beoame an unhappy place for the young couple, who rarely spent time apart from each other outside of work.
"When baby Jimmy was born 2 years ago, I was delirious with happiness…Gloria and I were in seventh heaven about Jimmy, and he took our minds away from ourselves. ..We leaned on each other for everything and ended up being prisoners – slaves! – instead of husband and wife." – James Darren: Why is it So Tough to Make a Girl Understand How You Feel? by George Christy,  1959 Photoplay
After months of unhappiness and arguments, in the late summer of 1958 Gloria left Darren and went back with Jimmy to her parents in Philadelphia. She returned after a month, but they separated again in December 1958 and Darren moved out, into an apartment in Los Feliz. Their divorce was finalized by the end of 1959.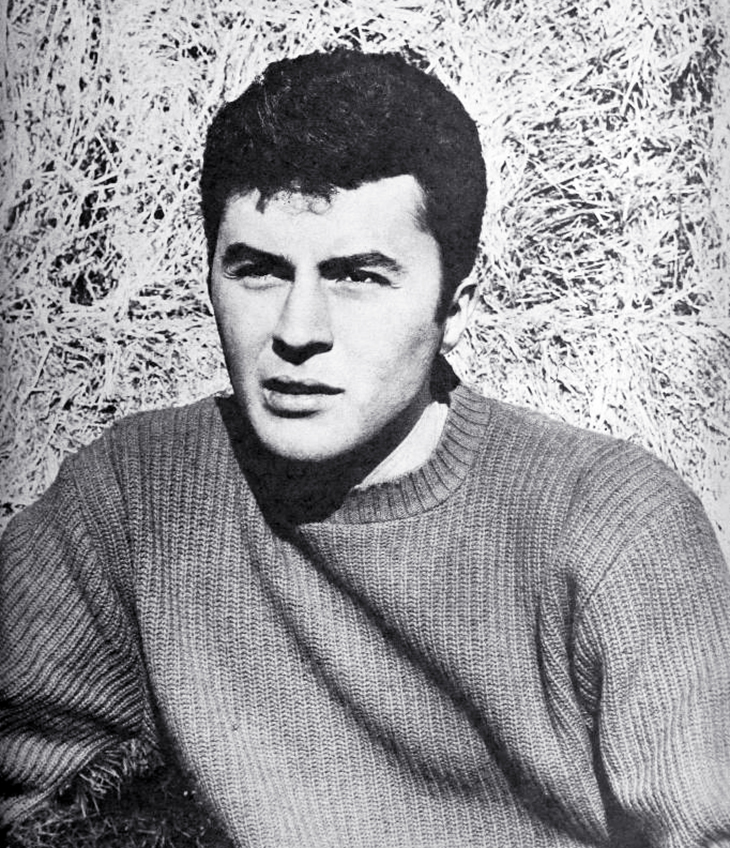 (James Darren 1958)
"I understand my former wife Gloria's found herself a new love, which makes me happy because I want Gloria to have a full, rich life. But when Gloria and I married, we were kids. We were too young for the responsibilities of marriage. We were children playing house….I'll never stop loving Gloria. I can't. You just can't turn off love like a faucet – not deep love, anyway. But young, selfish love isn't strong enough to make a marriage successful, either. Marriage takes guts, but, at the same time, a willingness to compromise." – James Darren: Can you Outgrow Someone You've Loved? by George Christy 1959 Photoplay
Movie Magic – Gidget and Moondoggie
The western movie Gunman's Walk (1958) was filmed in glorious colour on location in Arizona and the Sonora Sierras. Veteran actor Van Heflin stars, with Mickey Shaugnessy, Edward Platt, and Robert F. Simon. Gunman's Walk features young up-and-comers James Darren, Tab Hunter, and Kathryn Grant (in her third film with Darren). It was a big break for James, and garnered him a lot of publicity. Once again his performance received positive reviews from critics. 
The movie trailer for Gunman's Walk features Van Heflin, Kathryn Grant, Tab Hunter, Mickey Shaughnessy, and James Darren.
(James Darren & Sandra Dee 1959 Gidget Photo: Columbia Pictures)
Elvis Presley was in the U.S. Army and unavailable to co-star with Sandra Dee and Cliff Robertson in a new movie, so the producers cast James Darren as Jeffrey Matthews aka "Moondoggie" in the quintessential young love/surfing film Gidget (1959).
When filming for Gidget began in early 1959, Darren told the producers that he could sing. The title track Gidget (1959) written by Fred Karger and Patti Washington, became a hit single for James Darren when it was released. 
Arthur O'Connell plays Gidget's hi-strung father, Russell Lawrence, and Mary LaRoche is his understanding wife and Gidget/Francie's mother Dorothy.
Stinky (Joby Baker), Lover Boy (Tom Laughlin), Hot Shot (Robert Ellis), Waikiki (Doug McClure), and Lord Byron (Burt Metcalfe) are surfer's in the nomadic "beach bum" community that Moondoggie and his mentor, The Big Kahuna (Cliff Robertson) inhabit.
Actresses Yvonne Craig, Sue George, Jo Morrow, and Patti Kane play Gidget's friends Nan, Betty Louise, Mary Lou, and Patti.
Below, James Darren and the other beach bums play it cool in the movie trailer for Gidget.
James Darren also sang The Next Best Thing to Love (1959) written by Fred Karger and Stanley Styne, in Gidget (1959).
Gidget had launched his singing career, earning him a recording contract – and spawned two big-screen movie sequels which Darren also starred in. Sandra Dee didn't reprise her role as Gidget, and each sequel featured a different actress as the title character. 
In Gidget Goes Hawaiian (1961) Deborah Walley does the honors, with Michael Callan, Carl Reiner, and Kam Fong (Hawaii Five-O). Gidget Goes to Rome (1963) co-stars Cindy Carol.
Cindy Carol and James Darren are featured in this clip from Gidget Goes to Rome. 
Darren didn't appear in subsequent Gidget made-for-TV movies, or the 1965 television series starring Sally Field.
Having found love on screen, it was time for James to find his lasting true love in life.
The story continues in James Darren & Evy Norlund, Forever Cool.
Note: This article was first published in 2016 as Celebrating Seniors – James Darren Turns 80. It has been updated, with new & additional content. 
Additional Resources:
The Patient Lovers by Alison Carter, 1959 Modern Screen
A New Kind of Love by Mark Dayton, 1960 Screenland Plus TV-Land
*Images are public domain or Creative Commons licensed & sourced via Wikimedia Commons or Flickr, unless otherwise noted*