July 1949 Moments in Time
News Headlines & Entertainment Trivia from July, 1949 – David O. Selznick Weds Jennifer Jones; WWII Hero Audie Murphy's Best-Selling Memoir To Hell and Back; Classic Film-Noir Release: Too Late For Tears starring Lizabeth Scott, Arthur Kennedy, and Dan Duryea
Too Late For Tears
Hunt Stromberg Productions' excellent film-noir crime drama Too Late For Tears was released in July 1949.
This satisfyingly suspenseful crime story / film noir holds up well more than 70 years later, aided by director Byron Haskins and excellent performances from actors at the top of their game – Lizabeth Scott, Arthur Kennedy, Dan Duryea, and Don DeFore.
(Arthur Kennedy & Lizabeth Scott 1949 Too Late For Tears)
Novelist Roy Huggins adapted his Saturday Evening Post serialized book into the screenplay for Too Late For Tears – one of his first scripts for film, but certainly not the last. Huggins went on to become a prolific and highly successful screenwriter and producer of movies and television (The Fugitive; The Rockford Files; 77 Sunset Strip; Maverick). 
The movie was filmed at Republic Studios in Hollywood, with some location shooting at Union Station, Westlake Park, and elsewhere in Los Angeles.
The plot of Too Late for Tears has dissatisfied married couple Jane and Alan Palmer (Lizabeth Scott and Arthur Kennedy) driving along the highway at night when a bag full of money is tossed into their car by a passing vehicle.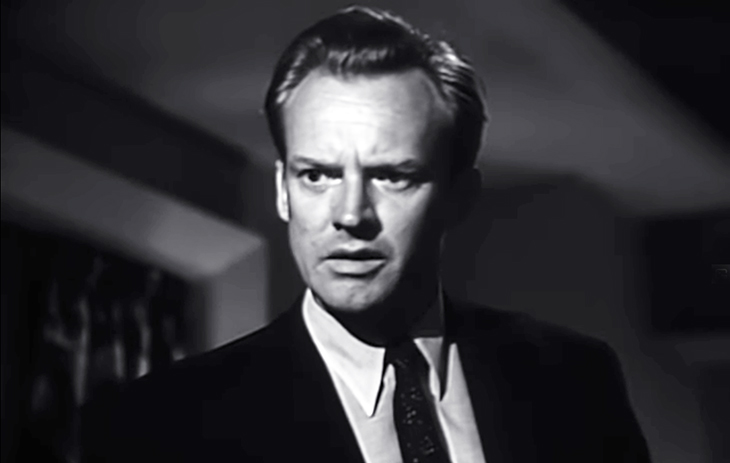 (Arthur Kennedy as Alan Palmer 1949 Too Late For Tears)
Jane insists they keep the money instead of turning it over to the police like Alan wants to. She's spent some dough but sitting tight on the rest of the money when crooked Danny Fuller (Dan Duryea) comes by their apartment.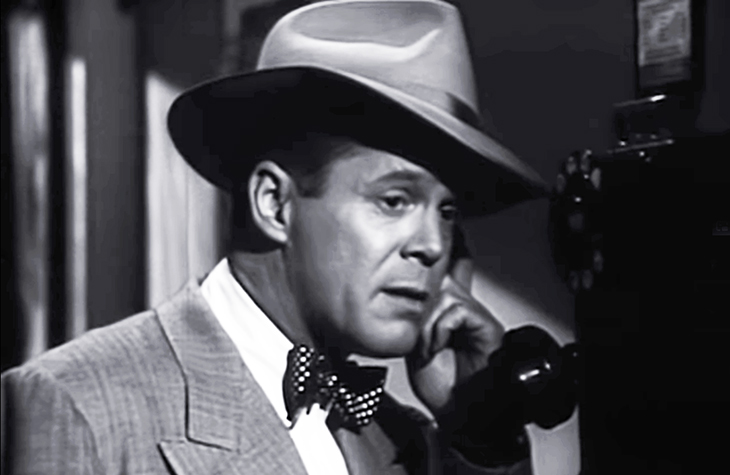 (Dan Duryea 1949 Too Late For Tears)
Danny roughs Jane up a bit, to pressure her into surrendering the money – but he discovers that Jane isn't inclined to cave to anyone; she nimbly navigates around or eliminates minor obstacles and people in her path.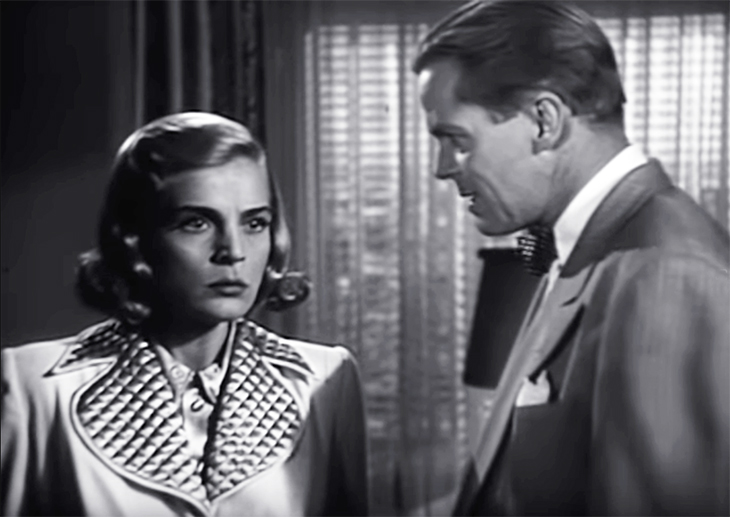 (Lizabeth Scott & Dan Duryea 1949 Too Late For Tears)
When Jane reports Alan as a missing person, his sister (and their next door neighbor) Kathy Palmer (Kristine Miller) becomes suspicious.
The plot thickens when an old Army buddy of Alan's shows up and introduces himself to both Kathy and Jane as Don Blake (Don DeFore). He's lying, but why?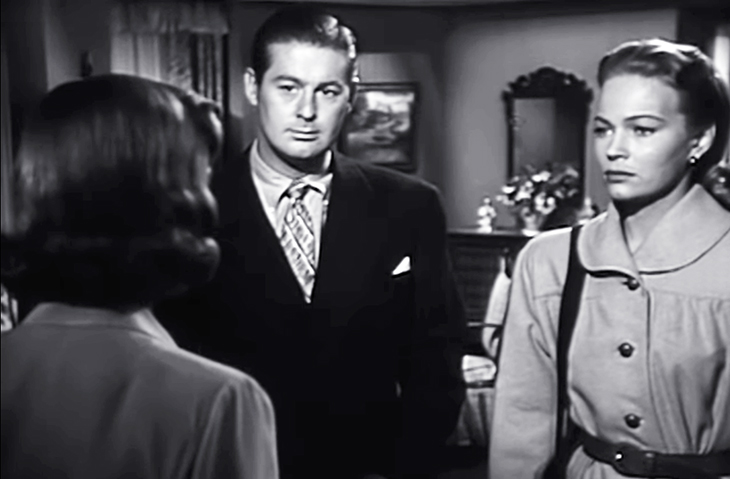 (Kristine Miller & Don DeFore 1949 Too Late For Tears)
In the mid-1950s, Too Late for Tears was re-released as Killer Bait. It's since become something of a cult classic for film-noir fans.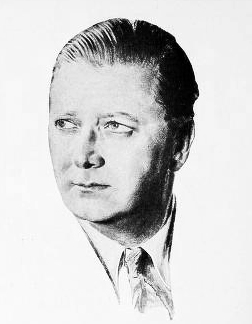 (Hunt Stromberg 1942 Photo: Showmen's Trade Review)
Too Late For Tears filmmaker Hunt Stromberg learned his craft at the feet of legendary silent film director-producer Thomas Ince, before forming The Hunt Stromberg Organization in 1921.
He independently produced (and sometimes directed and/or wrote the screenplay for) approximately 40 movies between 1921-1925 (Beyond the Border; A Cafe in Cairo; The Fire Patrol; Glad Rags; The Foolish Age) and again from 1943-1949 (Young Widow; Dishonored Lady; The Strange Woman; Lured).
From 1925-1947 Hunt Stromberg was an executive at MGM.
He was in charge of producing close to 50 movies, many of them classics such as Pride and Prejudice (1940), The Women (1938), and The Great Ziegfeld (1936), for which he received a Best Picture Academy Award. Too Late For Tears was his last independent film, and one of his finest efforts. 

(Movie Producer Hunt Stromberg in 1919, 1928 / with his wife, and in 1938)
Stromberg arranged the loan of star talent under contract from other movie studios, to make Too Late for Tears – Universal lent actor Dan Duryea, while Columbia Pictures loaned him actress Lizabeth Scott, actor Don DeFore, and director Byron Haskin.
Also in the cast of Too Late For Tears were the fine supporting actors Kristine Miller and David Clarke, who plays Jack Sharber, a (real) old Army pal of Alan's.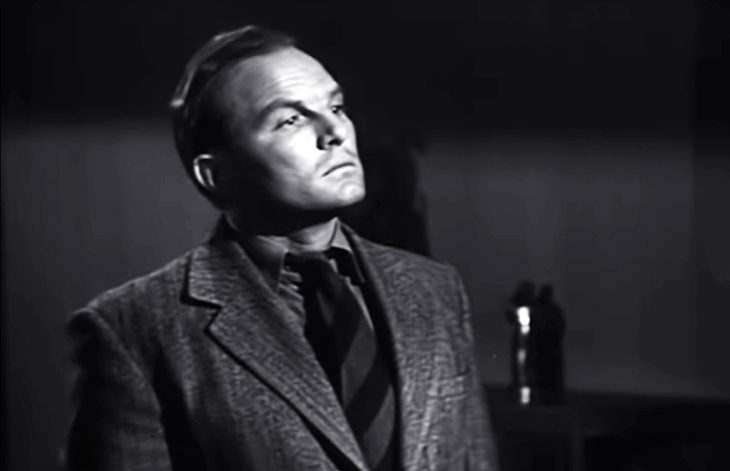 (David Clarke 1949 Too Late For Tears)
The real "star" of Too Late for Tears is leading lady Lizabeth Scott, who commands your attention from start to finish with her expressive face and husky voice.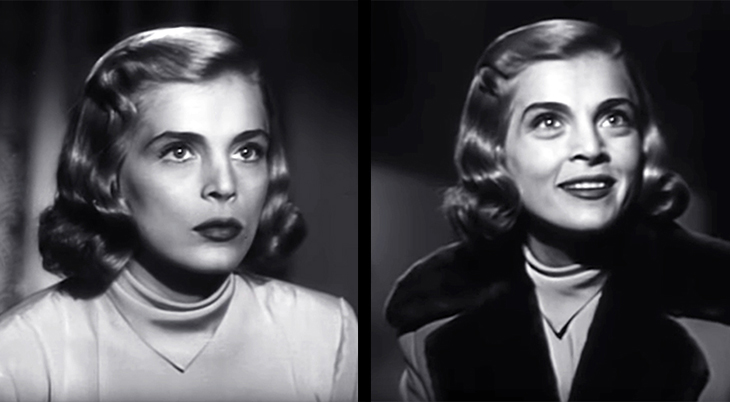 (Lizabeth Scott 1949 Too Late For Tears)
Below, Lizabeth Scott modeling a dress by costumer designer Adele Palmer, created for Too Late For Tears.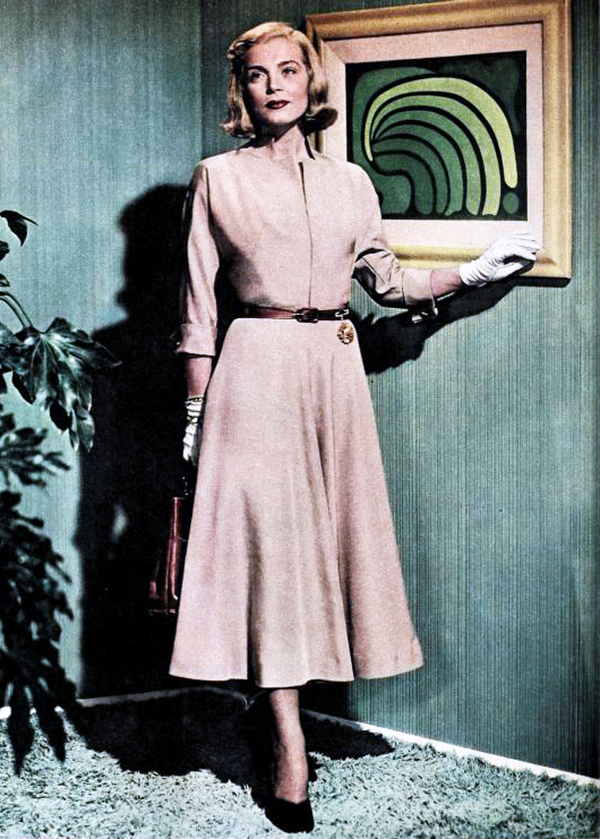 (Lizabeth Scott 1949 Too Late For Tears Photo)
WW II War Hero Audie Murphy's Memoir To Hell and Back
In July 1949, American WWII veteran Audie Murphy's autobiography To Hell and Back sat atop the best-seller lists.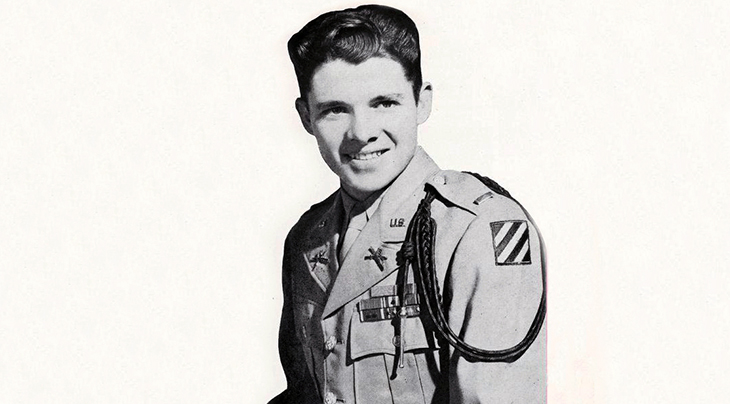 (Audie Murphy 1946 Photo)
As the most decorated foot solder of World War II, Audie Murphy had acquired a publishing contract in 1947 for his memoir. He spent much of 1948 in his apartment working collaboratively with writer David McClure ("Spec McClure").
The end result was a best-selling autobiography published in 1949 that was later turned into the movie To Hell and Back (1955), starring Audie Murphy. Since it was first published, To Hell and Back has been translated into five languages and reprinted multiple times.
The memoir focuses on Murphy's time overseas during the war and the events that resulted in him becoming highly decorated, and receiving the Medal of Honor, the Distinguished Service Cross, 2 Silver Stars, the Legion of Merit, 2 Bronze Stars, 3 Purple Hearts, and numerous other awards.
The book doesn't delve into the aftermath of the war, but other accounts and interviews of Murphy and his first wife Wanda Hendrix (they co-starred in Sierra, 1950), document that he suffered from what today would be called PTSD – he had flashbacks and could become violent. Not really a surprise considering what he must have endured; especially since Murphy was a teenager for most of WWII. Born on June 20, 1925, he was 16 when his older sister helped him create some false ID so that he could enlist in the military after Pearl Harbor in 1941.
Audie Murphy was only 20 when WWII ended. A career in movies was the best calling for a handsome war hero, and Murphy achieved film stardom in many westerns and war films before he died in a  May 1971 plane crash at the age of 45.
Selznick International Pictures David O. Selznick Marries Jennifer Jones
Oscar-winning film producer David O. Selznick (Rebecca; Gone With the Wind) of Selznick International Pictures married his leading lady, actress Jennifer Jones on July 13, 1949, in Genoa, Italy.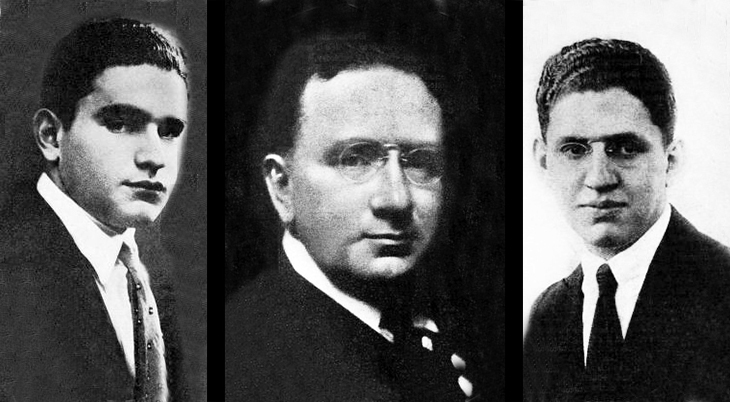 (Myron Selznick, Lewis J. Selznick & David O. Selznick 1920 Photo)
Born on May 10, 1902, David O. Selznick was the son of silent movie producer Lewis J. Selznick (World Film Corporation; Clara Kimball Young Film Corporation; Selznick Pictures). Both David and his older brother Myron Selznick worked for their father's business until he went bankrupt in 1923.
David O.Selznick began working for Metro-Goldwyn-Mayer in 1926, and worked his way up into wearing a producer's hat at Paramount Pictures for studio head Jesse L. Lasky in 1928. A couple of the films Selznick produced at Paramount are Chinatown Nights (1929), directed by William Wellman and starring Wallace Beery and Florence Vidor; and The Four Feathers (1929), with Richard Arlen, Fay Wray, Clive Brook, Noah Beery, and William Powell.
David Selznick married MGM studio head Louis B. Mayer's daughter Irene Mayer in 1930, and they had two sons together – Jeffrey Selznick (b. 1932) and Daniel Selznick (b. 1936).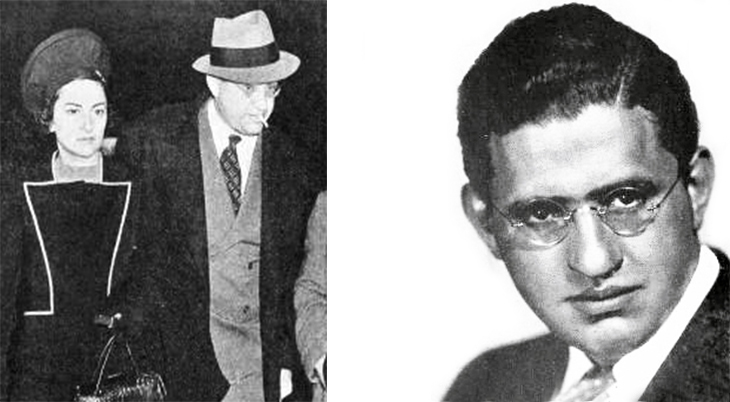 (David O. Selznick 1932 | Irene Mayer Selznick & David O. Selznick 1938)
Selznick switched to RKO Studios and as studio head of production, delivered a string of hit films, among them:
Westward Passage (1932) – Ann Harding, Laurence Olivier, Zasu Pitts, and a young Bonita Granville.
Bird of Paradise (1932) – Dolores del Rio and Joel McCrea, with Lon Chaney Jr. and John Halliday.
Thirteen Women (1932) – Irene Dunne, Ricardo Cortez, Myrna Loy, and Jill Esmond.
A Bill of Divorcement (1932) – John Barrymore, Katharine Hepburn (in her first film), Billie Burke, David Manners, and Paul Cavanagh.
Rockabye (1932) – Constance Bennett, Joel McCrea, Paul Lukas, Jobyna Howland, and Walter Pidgeon.
In 1933, he began working for MGM again, where he was promoted to Vice President, reporting to his father-in-law Louis B. Mayer.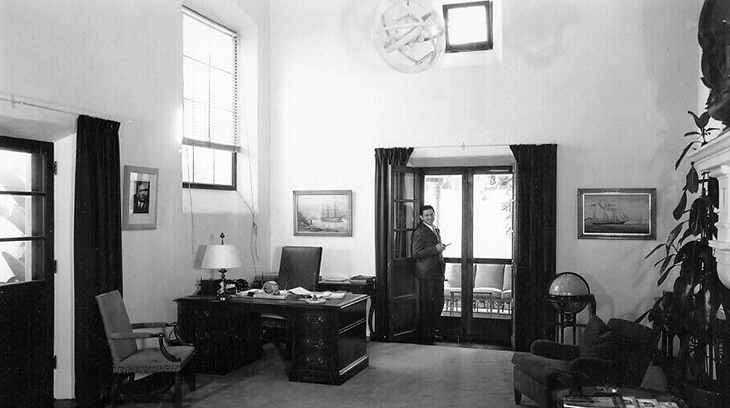 (David O. Selznick in his MGM offices c. 1933-1935 Photo: Clarence Sinclair Bull)
During this round at Metro-Goldwyn-Mayer, classic films produced by David O. Selznick's included these gems:
King Kong (1933), starring Fay Wray, Robert Armstrong, Bruce Cabot, and James Flavin.
Dinner at Eight (1933), directed by his "discovery" George Cukor, and with a cast that included John Barrymore, Marie Dressler, Wallace Beery, Jean Harlow, Lionel Barrymore, Lee Tracy, Billie Burke, Madge Evans, and Jean Hersholt.
Night Flight (1933), starring John Barrymore, Helen Hayes, Clark Gable, Lionel Barrymore, Robert Montgomery, Myrna Loy, and William Gargan.
Dancing Lady (1933), with Joan Crawford, Clark Gable, Franchot Tone, Fred Astaire (in his film debut), Robert Benchley, Nelson Eddy, Sterling Holloway, and Moe Howard..
Viva Villa (1934), directed by Jack Conway and starring Wallace Beery, Fay Wray, and Leo Carrillo, with Francis X. Bushman Jr. in the cast..
Reckless (1935), starring Jean Harlow, William Powell, Franchot Tone, May Robson, Ted Healy, Rosalind Russell, and Mickey Rooney.
Anna Karenina (1935), with Greta Garbo, Fredric March, Freddie Bartholomew, Maureen O'Sullivan, Basil Rathbone, May Robson, Reginal Owen, and Reginald Denny
A Tale of Two Cities (1935), starring Ronald Colman, Elizabeth Allan, Edna May Oliver, Reginald Owen, Basil Rathbone, and H.W. Warner. 
Finally Selznick realized his dream and formed his own production company, Selznick International Pictures, in 1935. Below, Selznick International Pictures Executives conferring over a move to Hollywood.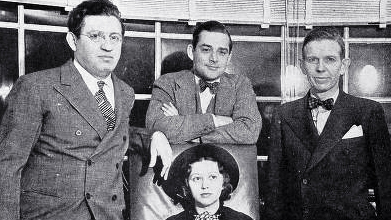 (David O. Selznick, John Hay Whitney, John Wharton & Katherine Brown 1936 Photo: Motion Picture Herald)
One of the first movies to come out of Selznick International Pictures was The Garden of Allah (1936), filmed in technicolor and starring Marlene Dietrich, Charles Boyer, Tilly Losch, Basil Rathbone, C. Aubrey Smith, Joseph Schildkraut, John Carradine, and Alan Marshal.
He followed that up with 3 movies released in 1937, using sepiatone or technicolor. The Prisoner of Zenda with Ronald Colman, Madeleine Carroll, Raymond Massey, Mary Astor, David Niven, and Douglas Fairbanks Jr. was filmed in sepiatone, while A Star is Born starring Janet Gaynor, Fredric March, Adolphe Menjou, Lionel Stander, and Owen Moore, was a technicolor production.
There were only two films produced by David O. Selznick released in 1938, and another two in 1939. One of the 1938 films was The Young in Heart (1938), starring Douglas Fairbanks Jr. and Paulette Goddard, and directed by Richard Warren.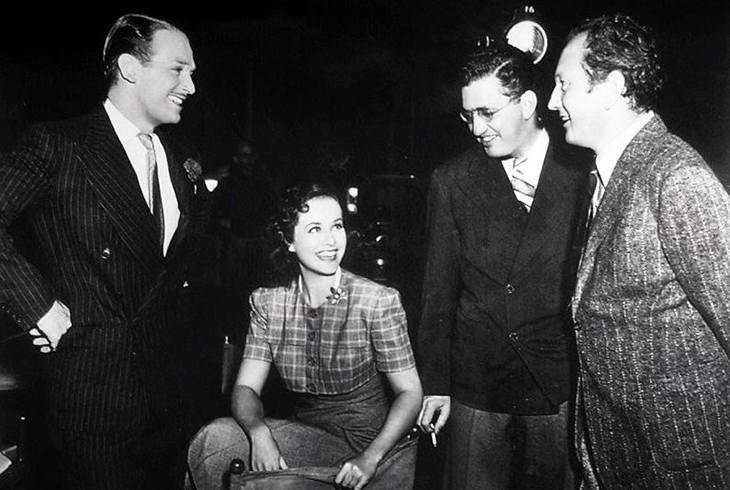 (Douglas Fairbanks Jr, Paulette Goddard, David Selznick  & Richard Warren 1938)
David O. Selznick introduced Ingrid Bergman to North American audiences in Intermezzo (1939), but he was consumed from 1936 until 1939 with work on his masterpiece and first Academy Award-winning film – Gone With the Wind (1939), starring Vivien Leigh, Clark Gable, Leslie Howard, and Olivia de Havilland. The next year, he brought director Alfred Hitchcock to America, and Selznick earned his second consecutive Best Picture award for Rebecca (1940) starring Joan Fontaine, George Sanders, and Laurence Olivier. Selznick promptly closed down his film company and loaned out his contracted stars to other movie studios for a few years.
Actors and married couple Phyllis Isley and Robert Walker had sons Robert Walker Jr. (b. 1940), and Michael Walker (b. 1941) while they were living in New York. David O. Selznick "discovered" Phyllis, signed her to a contract with his new company Vanguard Films in 1941, and had her change her name to Jennifer Jones. Selznick became Jennifer Jones' mentor and controlled almost every aspect of her life as he groomed her for stardom over the next seven years of her contract.
Selznick threw a party in 1943 to celebrate his recent signing of Shirley Temple. At the party, Robert Walker and Selznick's other contracted actors were photographed with him (below) – Jennifer Jones, Selznick in the middle, Shirley Temple in front, Ingrid Bergman, and Joseph Cotten.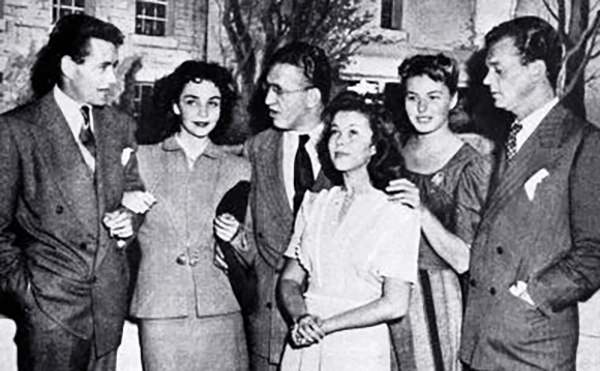 (David O. Selznick Party 1943 Photo: Hymie Fink)
At some point in 1943 David Selznick and Jennifer Jones fell in love; reportedly during the filming of Since You Went Away (1944), starring Jennifer, her husband Robert Walker, Joseph Cotten Shirley Temple, Claudette Colbert, Keenan Wynn, Hattie McDaniel, and Agnes Moorehead. 
Jennifer Jones filed for divorce from Robert Walker in 1944, and Selznick and his wife Irene separated in 1945. Selznick's divorce from Irene wasn't finalized until 1948, and Jennifer told the press that she consulted a psychiatrist to make sure she was making the right decision in marrying him before their July 1949 wedding.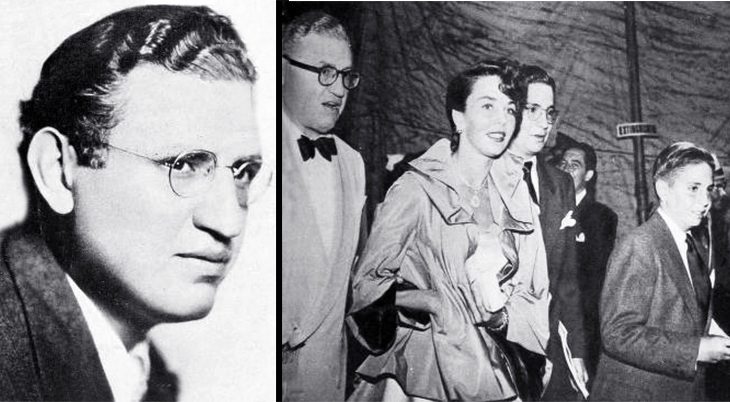 (David O. Selznick 1944 & in 1949 with Jennifer Jones & his sons Jeffrey Selznick and Daniel Selznick) 
David O. Selznick and Jennifer Jones married quietly in Italy while Jennifer was busy filming movies overseas; her young sons were living with their father Robert Walker in California. They later had daughter Mary Jennifer Selznick (b. 1954). Selznick's personal involvement in movies slowed significantly after his marriage. He had several heart attacks leading up to his June 1965 death, leaving Jennifer Jones a grieving widow.
*Images are believed to be in the public domain and/or Creative Commons licensed & sourced via Wikimedia Commons, Vimeo, YouTube, or Flickr, unless otherwise noted*