Celebrating Seniors - Marion Ross is 88, Part 2
Marion Ross is 88, Part 2: Happy Days On Screen and Off (1976-2016)
Happy Days ran for 11 years, from 1974-1984, and Marion Ross formed life-long friendships with her on-screen family, especially Tom Bosley and Ron Howard.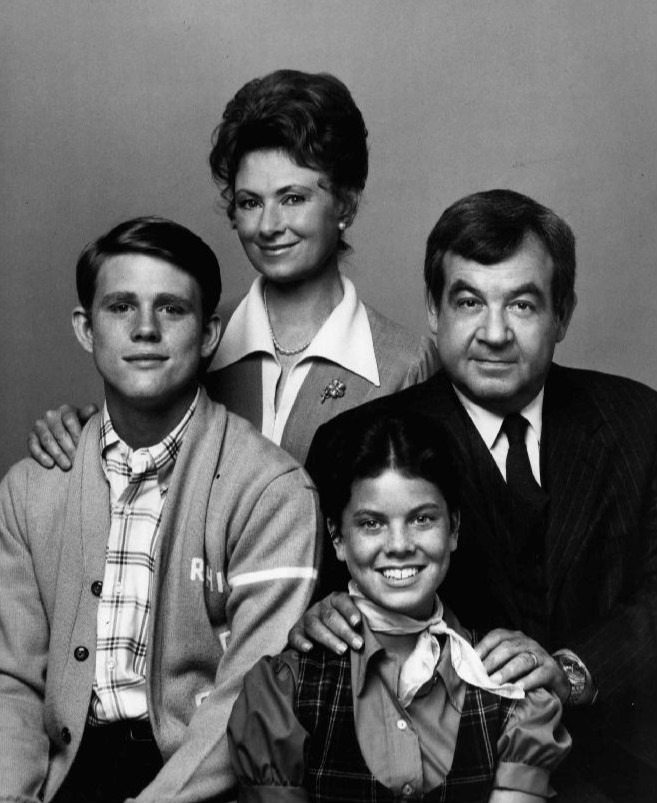 (1974 Happy Days Cast Photo: ABC TV)
Clockwise from left: Ron Howard as Richie Cunningham, Marion Ross as mom Marion Cunningham, Tom Bosley as dad Howard Cunningham, and Erin Moran as sister Joanie Cunningham.
A 50+ Marion Ross guest-starred as Marion Cunningham on the 1982 Happy Days spin-off series Joanie Loves Chachi starring Scott Baio and Erin Moran.  
In 1976 Marion appeared as "Mrs. Ross" in a 2-part special episode of The Streets of San Francisco starring Karl Malden, Michael Douglas, and Richard Hatch. Her fellow guest-stars on The Streets of San Francisco were all familiar faces to baby boomer TV fans: Patty Duke, Susan Dey (The Partridge Family, L.A. Law), Norman Fell (Three's Company), Doris Roberts (Everybody Loves Raymond, Remington Steele), Barry Sullivan (Rich Man, Poor Man), Dick Van Patten (Eight is Enough), Anthony Geary (General Hospital), and Ron Glass (Barney Miller). Twenty-seven years later, a now septuagenarian senior Marion Ross would work with Patty Duke again in a 2003, 2-part episode of Touched By an Angel starring Roma Downey, Della Reese, Valerie Bertinelli, Patrick Duffy, David Ogden Stiers, and Randy Travis.
Her on-screen Happy Days son and off-screen friend Ron Howard made his directing debut on the feature film comedy Grand Theft Auto (1977), and cast Marion Ross as a mother again. Ron Howard wrote, directed, and starred in Grand Theft Auto; keeping it in the family, he included his brother Clint Howard and his father Rance Howard in the cast. 
Three years later, Marion Ross and Rance Howard co-starred in Skyward (1980), a TV drama with Bette Davis, Howard Hesseman (WKRP in Cincinnati), Clu Gulager, and Lisa Whelchel (The Facts of Life). 
In her 50+ years beginning in 1978, Marion Ross continued to appear on Happy Days and could also be seen on stage, and in other TV movies and specials. 
She played Ellie North in The TV mini-series Pearl (1978). Among her co-stars in Pearl were Angie Dickinson, Dennis Weaver (McCloud), Robert Wagner, Lesley Ann Warren, Katherine Helmond, Adam Arkin, Brian Dennehy, Gregg Henry, and Richard Anderson.
In the TV movie Survival of Dana (1979), Ross co-starred with Melissa Sue Anderson (Little House on the Prairie), Robert Carradine, Talia Balsam, Michael Pataki, Judge Reinhold, Barbara Babcock; both Talia Balsam and Michael Pataki guest-starred on Happy Days with Ross. Marion Ross and Melissa Sue Anderson also co-starred in the TV movie Midnight Offerings (1981).
Sins of the Father ((1985) TV movie starring James Coburn and Glynnis O'Connor.
50+ Marion Ross was dating 41-year-old Cuban former pilot turned businessman Alberto Reyes when People magazine interviewed her in 1979. Ross reflected on marrying again and said
"If I were to marry, it would be to Alberto…But it would have to be unconventional. If somebody said, 'What's for dinner?'—my God, that would be the end of it."  Her thoughts on aging and acting as she gets older? "The rules are changing. Jane Fonda looks great at 40…I was never gorgeous. I never used sex. I've been a professional actress since I was 22, and I'm pretty damned good."
During the 1980's Marion Ross fans could see her in episodic television work on series like Glitter starring David Birney; You Are the Jury starring Robert Vaughn; You Again? starring Jack Klugman and John Stamos; Night Court with John Larroquette; Living Dolls starring Michael Learned, Halle Berry and Leah Remini; and MacGyver starring Richard Dean Anderson. Left, Marion Ross circa 1988. (Photo: Pinterest)
Between 1978-1987, Ross appeared 14 times on The Love Boat starring her friend Gavin MacLeod as Captain Merrill Stubing. Initially Ross played different characters on The Love Boat, but she began playing the recurring character of Emily Haywood in 1986. Later that year, Ross' character of Emily Haywood married Captain Merrill Stubing on the show.
Marion Ross appeared in the final episode of The Love Boat, Who Killed Maxwell Thorn? in 1987. Ross voiced her Marion Cunningham character in 2005 on an episode of the animated series Family Guy.
By the end of 1988, Marion Ross had a new love in her life – veteran Broadway stage, film and television actor Paul Michael. Paul Michael and Marion Ross lived together on their Woodland Hills, California farm that Marion had christened Happy Days. Her son Jim Ross Meskimen recounts on his blog their love affair: "They met on a play in Los Angeles and instantly fell in love. They continued to work together, touring the world and enjoying life and each other's company." It was a romance that would endure for over 20 years, although they never married.
Ross's son Jim Meskimen got married in 1987 and made Marion Ross a grandmother in real life in 1990. Jim Meskimen is a performer himself, and Marion Ross's daughter Ellen Meskimen (now Ellen Kreamer) has been an actress, producer and writer (Friends). 
Marion Ross starred in the retro TV series Brooklyn Bridge (1991-1993) as a Jewish grandmother in 1950's Brooklyn. 
As she entered her senior citizen years in 1993, Marion Ross had no thoughts of retiring. She continued to appear on stage, on television and in the movies. Forty years after they had both appeared in the movie Around the World in Eighty Days (1956), Marion Ross was Rosie Dunlop in the romantic comedy feature film The Evening Star (1996) with co-star Shirley MacLaine. Now senior citizens, Shirley MacLaine and Ross were joined by Bill Paxton and Jack Nicholson.
In addition to the historical television mini-series 1914-1918 (1996), Ross appeared in the 1990's TV movies: 
A Perfect Stranger (1994) starring Robert Urich, Darren McGavin, and Susan Sullivan. A Perfect Stranger reunited Marion Ross with Darren McGavin for the first time onscreen since she had guest-starred on his Mike Hammer series in 1958, 30 years earlier. The next year, Ross worked with Darren McGavin again on an episode of Burke's Law starring Gene Barry and Peter Barton, with fellow guest stars Jed Allan, Dom DeLuise, Greg Evigan, Harvey Korman, and Sheree J. Wilson. 
Hart to Hart: Secrets of the Hart (1995) starring Robert Wagner and Stefanie Powers, with Michael Parks and Edward Mulhare (The Ghost and Mrs. Muir). Robert Wagner and Marion Ross had co-starred in the mini-series Pearl 17 years earlier. 
The Third Twin (1997) starring Kelly McGillis, Jason Gedrick, Larry Hagman (Dallas), Ralph Waite, Kenneth Welsh, and Hal Holbrook. 
Marion Ross had guest-starring roles on television in the series Sweet Justice starring Melissa Gilbert; Robin's Hoods starring Linda Purl; The Boys are Back starring Hal Linden and Suzanne Pleshette; Promised Land starring Gerald McRaney and Della Reese; and Early Edition starring Kyle Chandler. 
Ross was a repeat performer on ABC Afterschool Specials, appearing on 4 episodes between 1979-1996. In her last ABC Afterschool Specials her fellow cast-members included Robin Strasser (One Life to Life, Passions, All My Children), Stuart Damon (General Hospital), and Bruce Boxleitner (Little House on the Prairie, Scarecrow and Mrs. King).
Septuagenarian senior citizen Marion Ross continued to perform on stage, in the movies and on television during her 70's. She and her boyfriend Paul Michael both appeared in the made-for-TV movies About Sara (1998) with Mary Steenburgen; and Ladies and the Champ (2001), a comedy co-starring Olympia Dukakis and David DeLuise. 
In 2001, Marion Ross was recognized with a star on the Hollywood Walk of Fame. 
Marion Ross and Paul Michael were both in the TV comedy movie Where There's a Will (2006) with Keith Carradine, and in the feature film Music Within (2007). The Music Within was a biographical comedy also starring Ron Livingston, Rebecca De Mornay, Hector Elizondo, Leslie Nielsen, and Clint Howard, with Marion Ross as "Grandma". Thirty years earlier, Clint Howard had co-starred in 1977's Grand Theft Auto with Marion Ross. 
A septuagenarian Marion Ross guest-starred as a new character on The Love Boat sequel series Love Boat: The Next Wave, 12 years later in 1998. These new Love Boat crew members included Robert Urich (her co-star in 1994's A Perfect Stranger), Phil Morris, and Joan Severance. 
Marion Ross was a frequent guest-star and/or recurring cast member in episodes of TV series throughout her 70's. 
In 6 episodes of The Gilmore Girls between 2001-2005, Marion Ross guest-starred as Edward Gilmore's mother Marilyn Gilmore; and when "Marilyn" died, as Lorelai's aunt. In 2003, partner Paul Michael appeared on the same episode of The Gilmore Girls (Face-Off) with her, in a scene where Lorelai catches them kissing. 
Baby boomer and senior fans might also remember seeing Marion Ross in recurring roles on:
That '70s Show (1998-1999) as Grandma Forman, with regular cast members Debra Jo Rupp, Kurtwood Smith, Don Stark, and Tanya Roberts.
The Drew Carey Show (1997-2004) as Beulah Carey.
After becoming an octogenarian senior citizen in 2008, Marion Ross began doing more voice acting work on television (The Boondocks, Scooby-doo! Spongebob Squarepants) and for video games like Madagascar: Escape 2 Africa. Her episodic TV work as an octogenarian senior has included appearances on Nurse Jackie starring Edie Falco; Grey's Anatomy with James Pickens Jr.; as Gammy in Up All Night; on The Exes with Michael Nouri; and Hot in Cleveland with Betty White and Carl Reiner. 
Marion Ross had a recurring role as Ida Holden on Brothers & Sisters starring Sally Field, Calista Flockhart, Patricia Wettig, with Ron Rifkin as Saul Holden.
In a 2013 episode of Major Crimes starring Mary McDonnell, G. W. Bailey, Tony Denison, Michael Paul Chan, with fellow guest stars Tim  Conway, Paul Dooley, Ron Glass, Doris Roberts, and Steve Tom, Marion Ross played one of an eccentric group of retirees who once worked on a television cop show in the 1970's. Marion Ross, Doris Roberts, and Ron Glass had all appeared in a two-part special episode of The Streets of San Francisco in 1976, 37 years earlier.  
The action comedy feature film Superhero Movie (2008) saw Marion Ross as Aunt Lucille, co-starring with Leslie Nielsen as Uncle Albert. Other cast members in Superhero Movie included familiar faces for baby boomer TV fans such as Christopher McDonald, Brent Spiner, Robert Joy, Jeffrey Tambor, Robert Hays, Tracy Morgan, Pamela Anderson (Baywatch), John Getz, Charlene Tilton, and prolific character and voice actors Keith David and Dan Castellaneta. Christopher McDonald and Marion Ross had met when she guest-starred on Family Law starring Kathleen Quinlan and Dixie Carter (Designing Women). Ross and Leslie Nielsen had worked together on 2007's Music Within.(2007). 
Marion's TV movies since becoming an octogenarian senior citizen (usually playing a grandmother) have included:
Flower Girl (2009), with Christina Pickles, Nicolas Coster, and Marion Ross as pushy grandmother Rose Durham. 
Scooby-Doo! Curse of the Lake Monster (2010), a comedy-adventure with Richard Moll, Michael Berryman, and Ted McGinley.
Keeping Up with the Randalls (2011) with Roma Downey, Steve Tom, and Marion Ross as Grandma Dorie. She played a grandmother again in Sweet Surrender (2014).
Marion Ross appeared in 2 Christmas TV movies in 2014 – Signed, Sealed, Delivered for Christmas, and A Perfect Christmas List.
Playwright Joe DiPietro wrote the play The Last Romance especially for Marion Ross and her partner Paul Michael; it was based on their late-blooming romance. The octogenarian senior citizen couple performed The Last Romance in 2010 at the San Diego Old Globe Theatre. In July 2011, Paul Michael died from heart failure at the age of 84 at their Happy Days home. Ross took a short break from acting to mourn Paul Michael after his death, but has resumed her craft. Below, Marion Ross and her son Jim Meskimen in 2014 at the 41st Annual Annie Awards.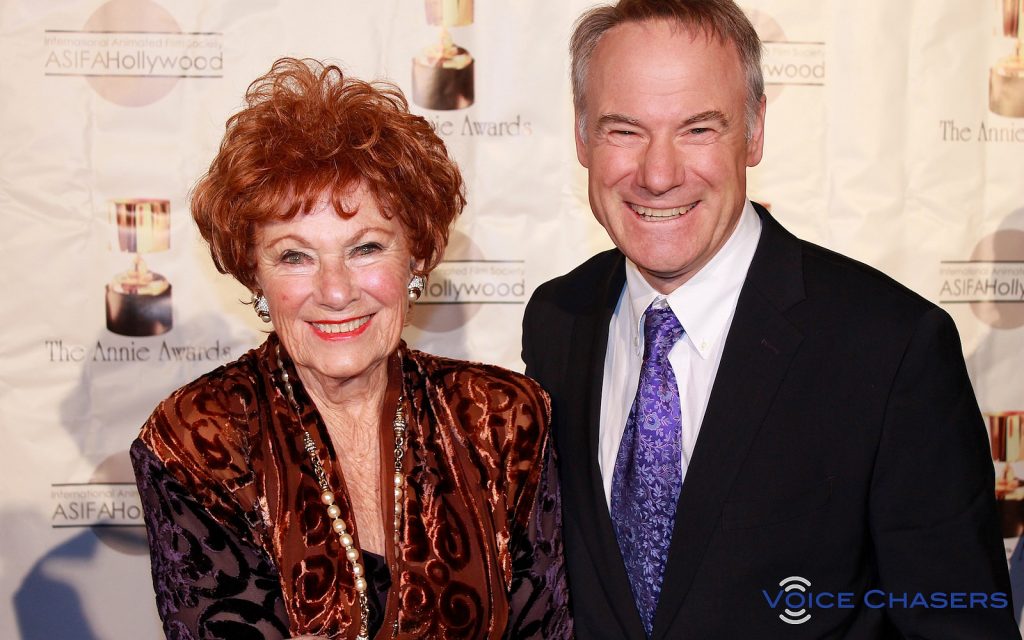 (Marion Ross 2014 Photo: voicechasers | Flickr Some rights reserved)
More recently Marion Ross could be seen by her senior and baby boomer fans in a recurring role as Lynn Carver on the series Chasing Life (2014-2015). She appeared in an episode with fellow guest star Edward Asner as Artie Carver, along with regular Chasing Life cast members Mary Page Keller as Sara Carver, Steven Weber as Dr. George Carver, and Rebecca Schull. Edward Asner and Marion Ross had worked together onscreen more than 45 years previously on an episode of Insight.
Asner and Ross are also both appearing in the upcoming movie Angels on Tap co-starring Jamie Farr, Ron Masak, Alan Rachins (L.A. Law), and Clement von Franckenstein, Angels on Tap is expected to be released later this year (2016). 
Previously: Marion Ross, Part 1: Sabrina and Happy Days Begin (1928-1974)
*Images are public domain or Creative Commons licensed & sourced via Wikimedia Commons, Vimeo, YouTube, or Flickr, unless otherwise noted*