What the Heck is a Macaron Anyway?
Turns out, a macaron is NOT a misspelling of the hugely popular 1990s Latin dance La Macarena, so get that image out of your head right now.
It's not a misspelling of macaroon either – although they are often assumed by the uninformed (like myself until today) to be the same thing.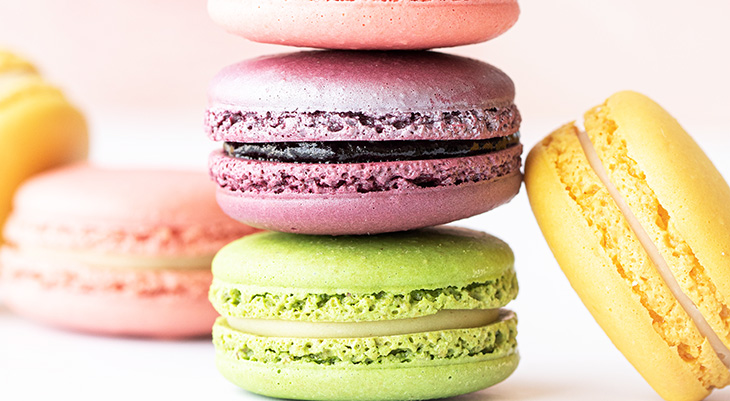 (Macarons Photo: Heather Barnes via Unsplash)
If you guessed that it's a pretty cookie – go to the head of the class!
If you want to know more, read on – with help from experts, I explain the differences between macaron vs. macaroon, and share a recipe, how-to video, and some more pics.
Differences Between a Macaron vs a Macaroon?
Macarons and macaroons both contain egg whites and are in the cookie family, but the resemblance stops there. 
This Berries.com infographic explains everything else you want to know about macarons vs. macaroons. 

So to sum up:
Macaroons use grated coconut and powdered sugar and are shaped like traditional home-baked, chewy cookies. If you like the flavor and texture of coconut, macaroons are probably going to be your thing.
A macaron is made using almond flour and sugar and resembles a layered cookie filled with something delicious (usually either buttercream, fruit, or creamy whipped chocolate). If you like light-as-air meringue (and who doesn't?), and if you think macarons look pretty yummy, you're right on both counts (pretty AND yummy). 
How to Make Macarons
Before You Begin – What You'll Need:
Macaron's require a bit of skill and time to make. Ideally you'll already have these baking essentials: a food processor, an extra-fine sieve, an electric hand mixer, spatula, large mixing bowls, parchment paper (a must for any baking endeavor), an icing piping bag with a round tip, and cookie baking sheet(s). 
Anita's Macaron-Making Tip: If you want to make your own almond flour you can – there are other recipes & instructions for this online – or you can buy it in the specialty / gluten free section of your grocery store. 
Basic Macaron Cookie Batter Ingredients
1 3/4 c. powdered sugar
1c. finely ground almond flour
1 tsp. salt
3 egg whites
1/4 c. white/granulated sugar
1/2 tsp. vanilla extract
food coloring
Macaron Filling
I'm NOT including a macaron filling recipe here, as there are several different kinds to choose – usually fruit, buttercream icing, or chocolate ganache icing – as mentioned already. Pick your preferred macaron filling before you begin baking the macaron cookies. You can either prepare the filling in advance or while you're waiting for the macarons to rise before baking.
"Easy" Macaron Recipe
There are tons of macaron recipes available online and in cookbooks. I think this recipe for the macaron cookie top/bottom below (adapted from the fine folks at Tasty.co recipe) is amongst the "easiest" I've seen, using the baking tools already mentioned above.
Step 1 – Food Processor, Sieve & Mixing Bowl
In a food processor, mix powdered sugar, almond flour, and salt on low speed until extra fine in texture. 
1 3/4 c. powdered sugar
1 c. finely ground almond flour (make this yourself or buy already made)
1/2 tsp. salt
Sift the mixture through a fine-mesh sieve into a large mixing bowl.
Step 2 – Separate Mixing Bowl, Electric Hand Mixer
In a different mixing bowl, beat egg whites and salt until soft peaks form:
3 egg whites (room temperature)
1/2 tsp salt
Gradually add in sugar and continue to beat until stiff peaks form (like meringue). 
1/4 c. granulated sugar (white sugar)
Add vanilla and food coloring, and beat just until combined.
1/2 tsp. vanilla extract
2 drops food coloring (your preferred color/s)
Step 3 – Mixing Bowls, Spatula, Separate Mixtures/Bowls
Using a spatula, gently fold 1/3 of the sifted almond flour mixture at a time, into the meringue egg white mixture. Continue slowly folding the combined mixture , add 1/3 of the sifted almond flour at a time until your macaron batter forms stiff ribbons.
What does "stiff ribbons" mean? This is an important step in the process according to all the expert macaron-makers, so if you're wondering what that looks like, this quick video from indulge with mimi may help you.
Step 4 – Cookie Baking Sheet With Sides, Parchment Paper
Line a rimmed cookie or other baking sheet/tray with parchment paper.
Tasty.co's parchment paper tip: Place 4 dots of the macaron batter on each corner of the baking sheet first, then put the parchment paper on top. The batter makes the paper stick to the baking sheet so it doesn't move around.
Step 5 – Icing Piping Bag with Round Tip, Lined Baking Sheet & Macaron Batter
Fit an icing piping bag with a round tip, and fill it with your macaron batter. In 1 1/2″ circles spaced at least 1″ apart, pipe the macarons onto your baking sheet lined with parchment paper. Tap the baking sheet several times to release air bubbles.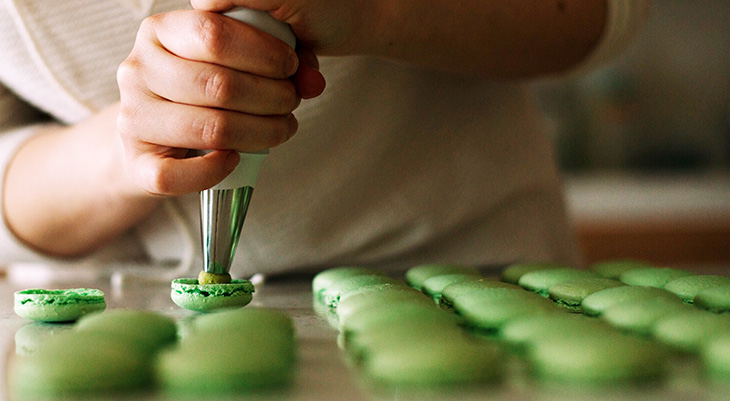 (Making Green Macarons Photo: Holly Stratton via Unsplash)
Step 6. Patience!
The macarons need to be dry to the touch before you bake them, which means they now need to sit for 30-60 minutes. While you're waiting, you can clean up the mess you made and wash your mixing bowls etc.
You can also use this time to prepare your preferred macaron filling if you haven't already done so.
Step 7. Oven, Wire Cooling Rack
When the macarons seem to be getting close to being dry to the touch, begin preheating your oven to 300˚F (150˚C).
Bake macarons for 17 minutes until they've risen and don't stick to the parchment paper. 
Place your baked macarons cookie sheet on a wire cooling rack. They must cool completely before you fill them.
Step 8. Macaron Cookies, Macaron Filling
When the macarons are completely cooled, begin filling them with your preferred filling mixture.
Use an icing piping bag to add the filling on the bottom/flat side of a macaron cookie (rounded side down). Top with another macaron cookie, this time flat side down/rounded side up. 
Step 9. Macaron Cookies Storage
Place your filled macaron cookies into an airtight container for 24-36 hours to "bloom" (whatever the heck that means). Some sources recommend refrigerating them as well. 
And other, more impatient folks like myself, might say at least taste-test one before you go to all that time and trouble!
Cool Macaron Ideas
If you're looking for an overview of macarons and some cool macaron ideas, this video from the talented bakers at So Yummy may inspire you to be adventurous and bake something new.  
Kudos to all the talented and generous bakers, photographers, and videographers who share their recipes, pictures, and "how-to" videos online so that the rest of us can try to emulate their successes. 
May you be among them – happy baking!
*Images are public domain or Creative Commons licensed & sourced via Wikimedia Commons, Vimeo, YouTube, or Flickr, unless otherwise noted*
**This article is for general informational purposes only. 50+ World does endorse these sources, nor does it receive remuneration from them.**