Celebrating Seniors - Richard Anderson Turns 90
Update: Richard Anderson has died on August 31, 2o17 at the age of 91; his cause of death is unknown. He leaves behind 3 daughters – Ashley Anderson (b. 1963), Brooke Anderson (b. 1965), and Deva Anderson (b. 1967) – from his marriage to second wife Katharine Thalberg (m 1961-1973).
Actor Richard Anderson was born in Long Branch, New Jersey on August 8, 1926. Anderson has said that during his childhood in New York, he and his brother went to see movies on the weekends. He told The Washington Times that he was inspired to become an actor when he saw actor Gary Cooper. The Anderson family moved to Los Angeles when he was ten.
After high school and a stint in the U. S. Army, Richard Anderson enrolled in the Actors Lab (before it was called the Actors Studio), along with contemporaries such as Marilyn Monroe and Anthony Quinn. His first credited movie role was in an adaptation of John Steinbeck's The Pearl (1947).
By the end of 1950, Richard Anderson had caught the eye of MGM and began work for them on contract, which didn't end until 1956. He began in small roles and was in no less than 10 movies in 1951, including Rich, Young and Pretty (1951) starring Jane Powell, Vic Damone, and Fernando Lamas; Storm Warning (1951) starring Doris Day and Ronald Reagan; and Across the Wide Missouri (1951) starring Clark Gable.
In 1953 Richard Anderson had a role in The Story of Three Loves (1953) starring Ethel Barrymore, Leslie Caron, Kirk Douglas, and Zsa Zsa Gabor. Anderson appeared in three movies with Debbie Reynolds – I Love Melvin (1953), Give a Girl a Break (1953), and Hit the Deck (1955), which also had his Rich, Young and Pretty co-stars Jane Powell and Vic Damone in the cast, along with Russ Tamblyn.
I Love Melvin was the third film that actor Pat Conway appeared in with Richard Anderson, after the adventure comedy Scaramouche (1952) with Stewart Granger, Janet Leigh, Eleanor Parker, and Mel Ferrer, and the Gig Young drama Holiday for Sinners (1952).
In the summer of 1954, Richard Anderson met Carol Lee Ladd (daughter of former actress turned agent Sue Carol Ladd, and step-daughter to actor Alan Ladd); they married less than a year later, in January, 1955. Wedding guests at the Carol Lee Ladd/Richard Anderson wedding included June Allyson and her husband Dick Powell, Cary Grant and Claudette Colbert.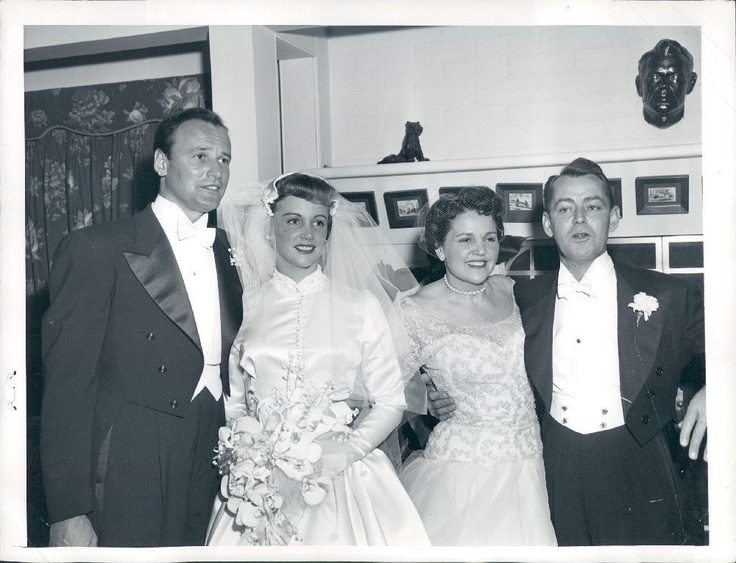 Richard Anderson and Carol Lee Ladd with her mother Sue Carol Ladd and step-father, Alan Ladd. (Photo: Pinterest). 
Their wedded bliss as depicted faithfully in the above photo didn't last long; in February 1956 Carol Ladd filed suit for divorce charging mental cruelty, and by the end of 1956 Richard Anderson was a divorced man, single once again.
Richard Anderson continued acting in movies and began to find bigger roles. In the thriller A Cry in the Night (1956), starring Raymond Burr (Perry Mason) and Natalie Wood, Anderson was Owen Clark, Wood's on-screen boyfriend. By the time his contract with MGM ended that year, Anderson had appeared in more than 20 movies with the studio.
One of Richard Anderson's first movie roles post-MGM was as a prosecuting lawyer in the World War I drama and anti-war film, Paths of Glory (1956), again starring Kirk Douglas. In The Long, Hot Summer (1958) with Paul Newman, Joanne Woodward, Anthony Franciosa, Orson Welles, and Lee Remick, he was Woodward's on-screen love interest. The following year Richard Anderson appeared in another Orson Welles movie, the crime biography Compulsion (1959), which had young actor Dean Stockwell in a starring role.
The horror-science fiction movie Curse of the Faceless Man (1958) starred Richard Anderson in his first role as a leading man. By the end of 1958, Anderson was keeping very busy on television, as that medium exploded in popularity with young baby boomer audiences.
In the popular television series Zorro starring Guy Williams as Don Diego De La Vega/Zorro, Richard Anderson appeared in several episodes the best friend/jokester/romantic rival of Zorro. He played 6 different characters on episodes of The Rifleman between 1959-1963.
Below, Richard Anderson guest-starred in an epiosode of Zane Grey Theater in 1958, "Medal for Valor".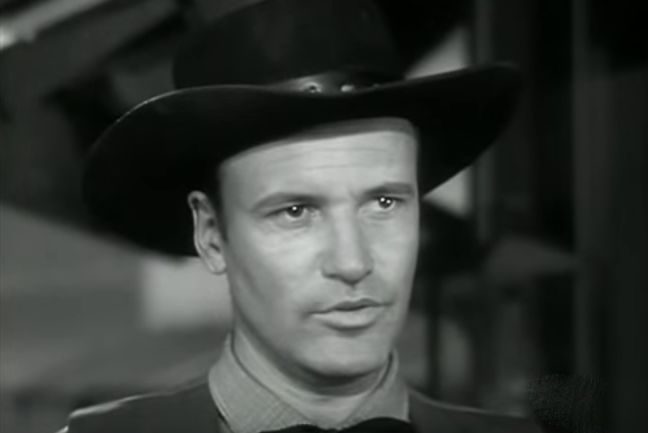 (Richard Anderson 1958 Zane Grey Theater Screenshot)
Almost 50 years later, in 2010 an octogenarian senior citizen Richard Anderson was at a Comic-Con when he told HollywoodChicago.com about meeting his second wife Katharine Thalberg:
"I had met her once before we really connected, at a party that had quite a moment. It was at Ray Stark's house in the Holmby Hills section of town, and they had an orchestra there, and I asked her to dance. The moonlight hit her right into her beautiful eyes, and I said, 'Kate there is something I have to tell you…I love you.' She shot back with, 'Richard, you shouldn't say that to a woman, she might believe you."
Katharine Thalberg was the daughter of silent movie actress Norma Shearer and former MGM producer Irving Thalberg. Katharine and Richard Anderson married in October 1961, and during their 12 year marriage had three daughters within a 4-year span – Ashley Anderson (b. 1963), Brooke Anderson (b. 1965), and Deva Anderson (b. 1967). After their divorce in 1973, Katharine moved to Aspen with the girls and Anderson continued living near Los Angeles. 
Richard Anderson found frequent work on television throughout the 1960's as both a regular and recurring cast member of series such as:
Bus Stop (1961-1962) – Anderson was a regular cast member, playing  Assistant D.A./D.A. Glenn Wagner …based on the play and the 1956 Marilyn Monroe/Don Murray movie of the same name.
The Lieutenant (1963-1964) – Gene Roddenberry's Marine Corps drama starred Robert Vaughn; Richard Anderson had a recurring role as Lt. Colonel Steve Hiland.
Perry Mason (1964-1966) – Perry Mason star Raymond Burr had been in the movie A Cry in the Night (1956) with Richard Anderson. Before he became a regular on Perry Mason as Lt. Steve Drumm in the last/1966 season of the show, Anderson made guest appearances in two 1964 Perry Mason episodes as different characters. Twenty years later, a now 55+ Anderson appeared in the TV movie Perry Mason Returns with Raymond Burr and Barbara Hale, reprising their original roles; this time Anderson played attorney/murderer Ken Braddock.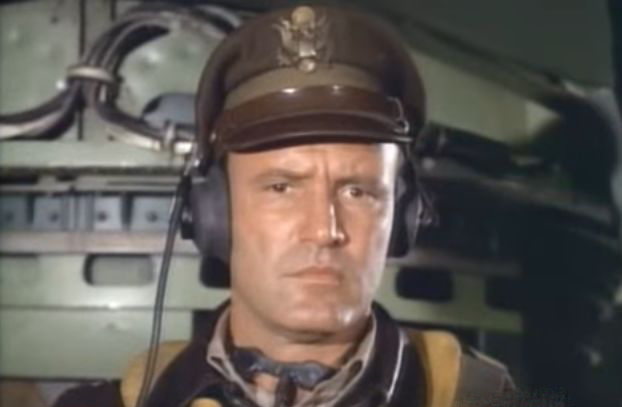 (Richard Anderson 1966 12 O'Clock High "Six Feet Under")
Richard Anderson's guest-starring and episodic work on television during the 1960's included multiple appearances (as different characters) on series like 12 O'Clock High (1966) with Chris Robinson, The Fugitive (1964-1967), and The Felony Squad (1966-1969).
Although he was on only one episode each of popular baby boomer television series Bonanza (1967), Mannix (1968) starring Mike Connors, and Mod Squad (1969) with Peggy Lipton, Anderson guest-starred as different characters twice between 1964-1966 on Robert Vaughn's new series The Man from U.N.C.L.E. 
On The F.B.I. starring Efrem Zimbalist Jr., Richard Anderson played no less than 7 different characters between 1966-1973. 
The television western series The Big Valley (1966-1969) starring Lee Majors, Linda Evans and Barbara Stanwyck was popular with baby boomers and their parents. Richard Anderson appeared in 4 episodes of The Big Valley, each time as a different character. Although it was the first time he worked with Lee Majors, it would not be the last. 
Although Richard Anderson's career had begun to focus on television work in the late 1950's, he continued to appear in big-screen movies as well.
He was in Ghostbreakers (1962) with Michael Constantine and Anne Jeffreys, and the political thriller Seven Days in May (1964). Seven Days in May starred Burt Lancaster, Kirk Douglas (their third movie together), and Ava Gardner; Anderson played suspicious Colonel Ben Murdock.
Anderson was in the unlikely crime drama Kitten With a Whip (1964) with Ann-Margret and John Forsythe, and played Captain John Earle in the World War II movie about Pearl Harbor, Tora! Tora! Tora! (1970) starring Martin Balsam.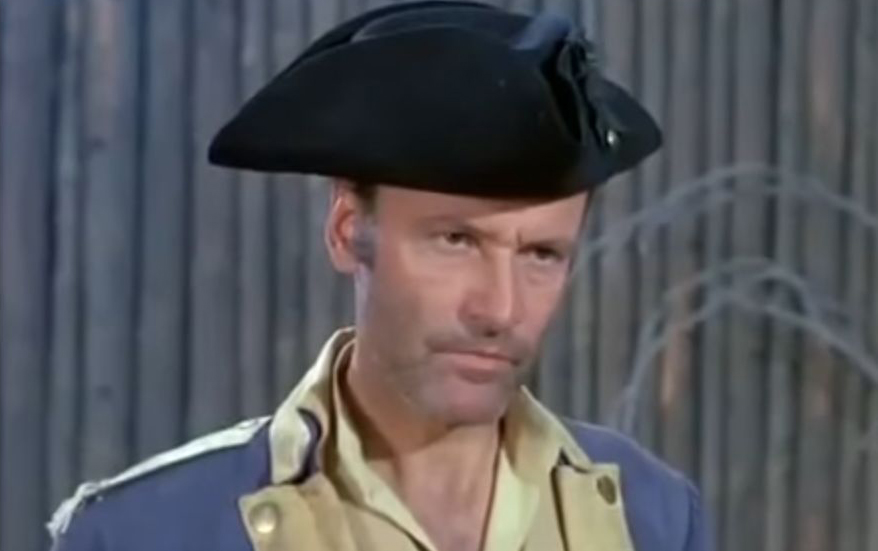 (Richard Anderson 1969 Daniel Boone "For Want of a Hero")
In the early 1970's Richard Anderson continued to act in both feature films and on television.
On the big screen, he played District Attorney Douglas in the drama Doctor's Wives (1971) starring Dyan Cannon, Gene Hackman, Carroll O'Connor (All in the Family), and Richard Crenna; and he was in the comedy-drama Play It As It Lays (1972) with Tuesday Weld and Anthony Perkins.
Anderon's made-for-television movies in the early 1970's included the drama The Longest Night (1972) starring The Fugitive's David Janssen, and Say Goodbye, Maggie Cole (1972) with Susan Hayward, Darren McGavin, and Michael Constantine.
Richard Anderson was a frequent guest star on popular baby boomer television series such as Columbo (1971), Longstreet (1972), Hawaii Five-O (1973), The Streets of San Francisco (1973), Cannon (1971-1973), Barnaby Jones (1973), and Gunsmoke (4 episodes between 1964-1974).
Between 1967-1975, Anderson appeared no less than 5 times, as 5 different characters, on his old pal Raymond Burr's new television series Ironside.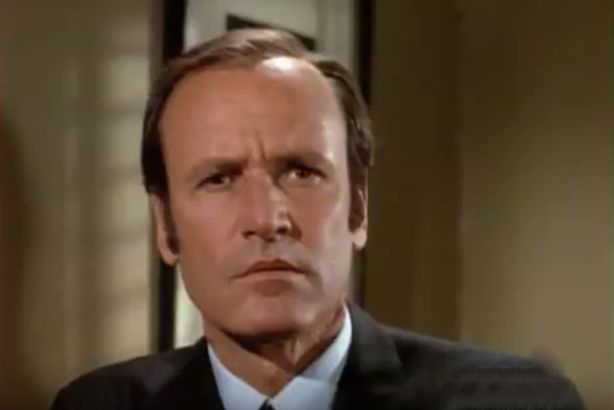 (Richard Anderson 1970 Dan August)
The crime drama series Dan August (1970-1971) starred Burt Reynolds as the title police detective, and Richard Anderson in a regular cast member role as his boss, Chief George Untermeyer. In 1980, both Burt Reynolds and Richard Anderson reprised their characters in 3 made-for-television Dan August movies.
Although Richard Anderson was not in the first Six Million Dollar Man TV movie starring Lee Majors (from his Big Valley days) as Steve Austin, Anderson was boss Oscar Goldman in the second – The Six Million Dollar Man: Wine, Women and War (1973), which was quickly followed by The Six Million Dollar Man: The Solid Gold Kidnapping (1973).
The Six Million Dollar Man became a television series in 1974 and Anderson was a regular as Oscar Goldman on both it and the 1976 crossover hit/spin-off series The Bionic Woman starring Lindsay Wagner as Jamie Sommers, until both series ended in 1978. It was Richard Anderson that said the Six Million Dollar Man's introduction:
"Gentlemen, we can rebuild him, we have the technology.'"
Now in his 50+ years in 1976, Anderson became a spokesperson for Shell Oil in the U.S., known as the Shell Answer Man in commercials from 1976-1982. Anderson told People magazine in 1977 that he kept fit by playing a daily hour of tennis, saying
"Pain is good, too. It makes you change."
Richard Anderson continued acting in the 1980's and beyond, appearing in the Pearl Harbor mini-series Pearl (1978) starring Angie Dickinson, Dennis Weaver, Robert Wagner, and a huge supporting cast that included Lesley Ann Warren, Brian Dennehy, and Marion Ross as Ellie North; Anderson was Commander Michael North. The following year he co-starred in the TV movie Murder by Natural Causes (1979) with Katharine Ross, Hal Holbrook, and Barry Bostwick. In the two-part television movie Condominium (1980), Anderson co-starred with Barbara Eden and Ana Alicia (Falcon Crest).
He was a popular guest star in 1980's episodes of series, appearing in no less than 3 episodes of Fantasy Island (1981-1984) and Simon & Simon (1983-1987) as different characters. Baby boomers could also catch Richard Anderson in episodes of Knight Rider (1982), The Fall Guy (1983), Matt Houston (1983-1985), Hardcastle & McCormick (1986), and on Murder, She Wrote (1989) as Lew Bracken in a 2-part episode.
During the 1984-1985 season, Richard Anderson co-starred on Cover Up 1984-1985 as Henry Towler opposite Jennifer O'Neill as photographer Danielle Reynolds. Cover Up also featured a ruggedly handsome, hot young 26-year-old actor called Jon Eric Hexum as ex-Green Beret Mac Harper. While waiting on filming to resume at the end of a long day of delays on the Cover Up set, a bored Hexum put a prop magnum.44 revolver to his head and pulled the trigger. The blank cartridge shattered his skull, and although he was taken to hospital and underwent 5 hours of surgery, Hexum died a week later. Because Hexum was an organ donor that carried his card with him, 5 people were recipients of his viable organs. Cover Up was cancelled at the end of the season due to poor ratings.
Richard Anderson moved on, appearing as Alan Lloyd in the mini-series drama Kane & Abel (1985) starring Peter Strauss and Sam Neill; and in a recurring role as Senator Buck Fallmont on Dynasty (1986-1987) with John Forsythe, Linda Evans, Joan Collins. Richard Anderson and John Forsythe had first appeared together more than 30 years earlier, in the western Escape From Fort Bravo (1953).
In the late 1980's, in the miniseries Hoover vs. The Kennedys (1987), Richard Anderson co-starred as President Lyndon B. Johnson. He was closing in on his senior citizen years when he appeared in three Six Million Dollar Man TV movies aimed at nostalgic baby boomers – The Return of the Six Million Dollar Man and the Bionic Woman (1987); Bionic Showdown: The Six Million Dollar Man and the Bionic Woman (1989); and Bionic Ever After? (1994). Anderson also served as co-executive producer on Bionic Ever After? and as co-producer on Bionic Showdown.
Anderson worked with a large cast in the television miniseries Lucky Chances (1990), appearing as Mr. Duke. Among his co-stars on Lucky Chances were daytime and night-time soap opera stars Nicolette Sheridan (Knots Landing), Vincent Irizarry (All My Children) and Michael Nader (Dynasty), as well as a young actress called Sandra Bullock, who had also had a role (her second professional film credit) in Bionic Showdown: The Six Million Dollar Man and the Bionic Woman (1989).
The American Civil War movie Gettysburg (1993) starring Tom Berenger and Martin Sheen was one of the last feature films that Richard Anderson appeared in; he played Major General George G. Meade. 
Younger generations may recognize Richard Anderson's voice as the uncredited narrator (and a recurring guest star as Captain Stiles) in Kung Fu: The Legend Continues (1993-1997), which starred David Carradine. While Kung Fu: The Legend Continues was on the air, Anderson co-starred in the suspense TV movie In the Lake of the Woods (1996) starring Peter Strauss, Kathleen Quinlan, and Peter Boyle. By the time Kung Fu: The Legend Continues went off the air Richard Anderson was a septuagenarian senior citizen.
Anderson hasn't been in any television series or TV movies since the 1998 video Breakout. After more an absence of more than 20 years from feature films, octogenarian senior citizen Richard Anderson had a role last year in the feature film The Blood Trail (2015), his first big-screen movie since the crime drama The Glass Shield (1994). 
Since 2000, Richard Anderson has appeared as himself in various documentaries about television series, movies he's been in, and actors he's worked with. He makes appearances at nostalgia/sci-fi and Comic Con conventions, where he often sees former Six Million Dollar Man co-stars Lindsay Wagner and Lee Majors.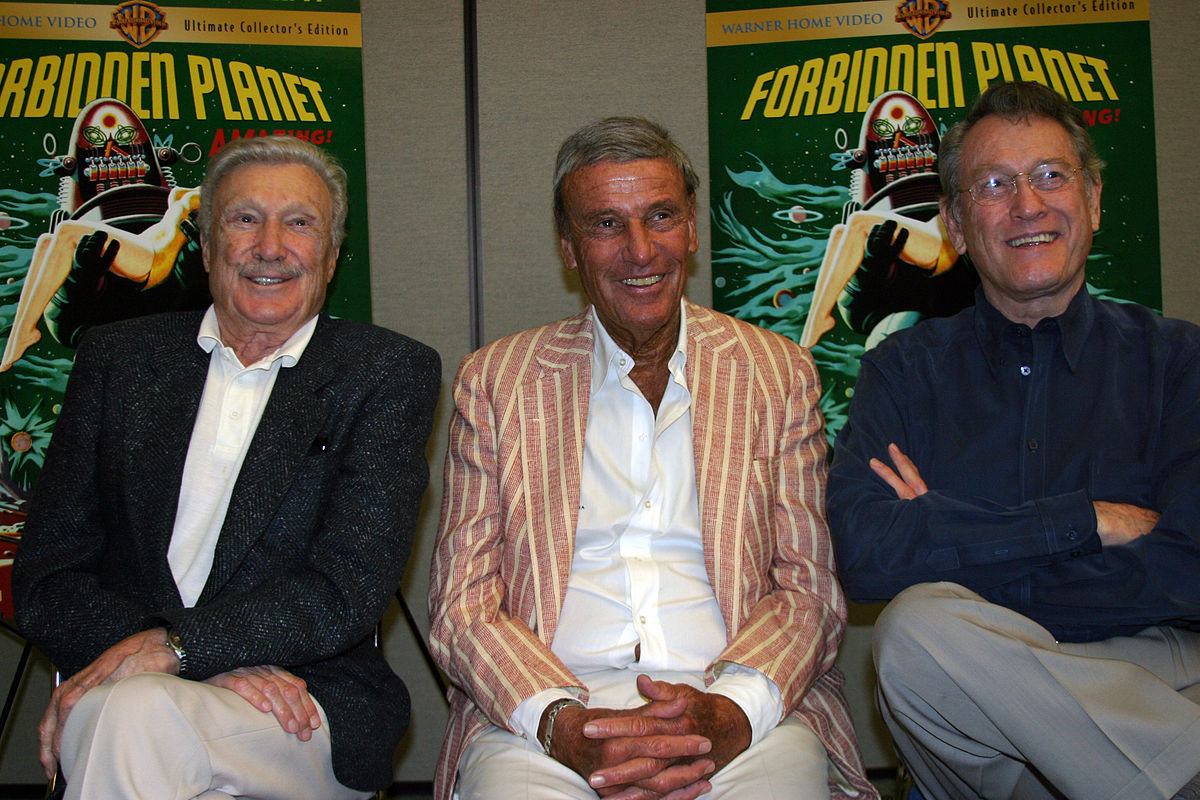 (Warren Stevens, Richard Anderson, and Earl Holliman 2006 San Diego Comic Con Photo: PattyMooney)
Richard Anderson also told BookPleasures.com that he's kept busy in his semi-retirement, with different charities he's involved in – the Veterans park Conservancy, and the California Indian Manpower Consortium. A feature film remake of The Six Million Dollar Man starring Mark Wahlberg, working title The Six Billion Dollar Man, is slated to start filming in 2016 – Anderson's role if any, TBD.
On the cusp of his 90th birthday, in 2015 he published his biography Richard Anderson: At Last a Memoir (From the Golden Years of M-G-M and the Six Million Dollar Man to Now) (2015) written with Alan Doshna. 
*Images are public domain or Creative Commons licensed & sourced via Wikimedia Commons, Vimeo, YouTube, or Flickr, unless otherwise noted*