Celebrating Seniors - Barbara Eden Turns 85
I Dream of Jeannie actress and octogenarian senior citizen Barbara Jean Morehead (Barbara Eden) was born during the Great Depression on August 23, 1931 in Tucson, Arizona.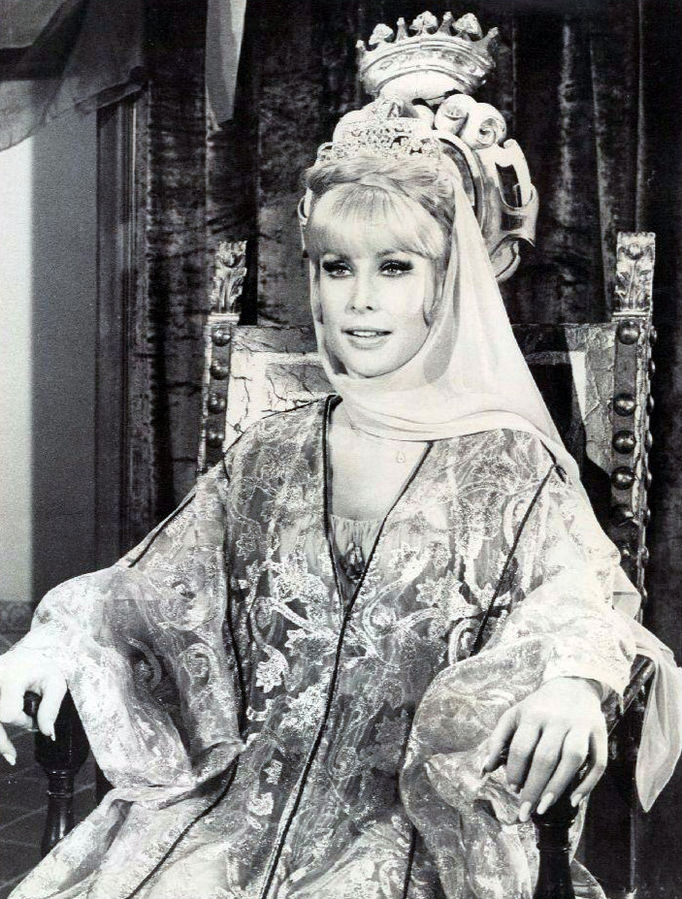 (Barbara Eden 1968 I Dream of Jeannnie Photo: NBC Television)
After her parents divorced, 3-year-old Barbara and her mother moved to San Francisco. Her mother remarried and Barbara (new last name Huffman) began taking acting lessons and singing in the church choir.
Fourteen-year-old Barbara Huffman began singing in San Francisco night clubs and studied singing and acting while attending Abraham Lincoln High School.
Barbara graduated in 1949 and attended City College of San Francisco to study theater, before being elected Miss San Francisco in 1951.
Barbara then moved to Los Angeles at age 20 and worked at day jobs while looking for work in the entertainment industry. She performed in night clubs and stage plays, and went for screen tests and auditions. Her first agent Wilt Melnick coined her professional name of Barbara Eden.
By the end of 1956 Barbara Eden had begun to get some work in the movies and on television as a semi-regular on The Johnny Carson Show, and an episode of West Point/The West Point Story filmed on location at the West Point United States Military Academy. Her first movie role as an uncredited college girl/journalist was in the drama Back From Eternity (1956) starring Anita Ekberg. Despite a busy film and television career throughout the rest of her career – in six decades including this one as an octogenarian senior citizen – Barbara Eden continued to appear on stage in theaters and nightclubs, acting in plays and as a musical performer.
In 1957, a screen test for the movie No Down Payment (1957) was unsuccessful, but secured Barbara Eden a contract with 20th Century Fox. More uncredited movie roles – Will Success Spoil Rock Hunter? (1957), starring Tony Randall and Jayne Mansfield – and episodic work on television – I Love Lucy, Perry Mason, and an episode of Gunsmoke that included Robert Vaughn – followed that year.
Barbara also began starring in the TV series How to Marry A Millionaire (1957-1959) as the sexy, husband hunting Loco Jones (Marilyn Monroe in the 1953 movie How to Marry A Millionaire).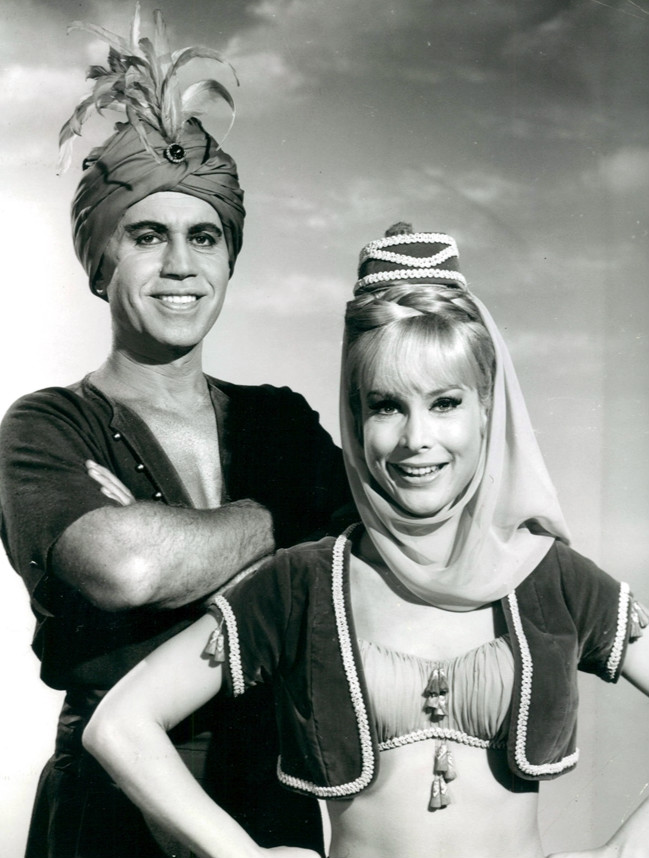 (Michael Ansara & Barbara Eden 1965 I Dream of Jeannie Photo: NBC Television)
Before 1957 ended, Barbara Eden had her first credited role in a movie, the drama The Wayward Girl (1957), and Fox publicity had set up a date with Eden and fellow contract actor Michael Ansara, then newly divorced and starring as Apache chief Cochise on the hit TV series Broken Arrow (1956-1958). Michael Ansara and Barbara Eden were married in 1958.
Eden's husband Michael Ansara later appeared on 3 episodes of I Dream of Jeannie between 1966-1969, initially appearing in the Happy Anniversary episode as the Blue Djinn. 
Both Eden and Ansara continued acting, and Eden snagged a co-starring role in the musical comedy A Private's Affair (1959) with Sal Mineo, Gary Crosby, Terry Moore; also in the cast, future Gilligan's Island stars, Bob Denver and Jim Backus.
In the early 1960's, Barbara Eden's career began to take off with roles in numerous television roles and films, including co-starring or leading roles in the movies. 
Twelve Hours to Kill (1960), a crime drama which included both Gavin MacLeod and Ted Knight in the cast.
From the Terrace (1960), a romantic drama starring Paul Newman and Joanne Woodward.
Flaming Star (1960), a romantic western – Barbara Eden was Elvis Presley's love interest. Their co-stars in Flaming Star included Steve Forrest, Dolores Del Rio, and John McIntire:
Swingin' Along (1961), a musical comedy with a cast that included singers Ray Charles and Bobby Vee.
Voyage to the Bottom of the Sea (1961), and adventure movie that included Peter Lorre and her husband Michael Ansara in the cast. Veteran actors Joan Fontaine, Walter Pidgeon, Robert Sterling, and Frankie Avalon were also in the cast of Voyage to the Bottom of the Sea.
Five Weeks in a Balloon (1962), an adventure comedy in which she co-starred with Red Buttons, Fabian, Richard Haydn, Barbara Luna, and Peter Lorre (again).
The New Interns (1964), a hospital drama co-starring Barbara Eden, and fellow future stars Michael Callan, Dean Jones, Telly Savalas, Stefanie Powers, and George Segal.
Ride the Wild Surf (1964), a comedy set in Hawaii co-starring Fabian, Shelley Fabares, Peter Brown, and Tab Hunter.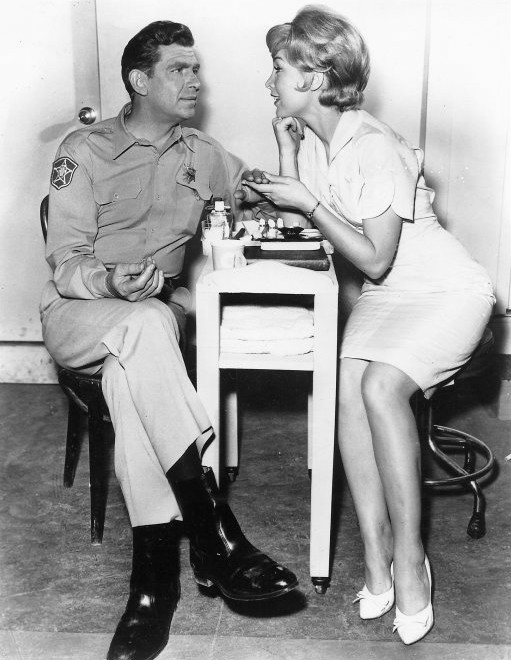 (Andy Griffith & Barbara Eden 1962 The Andy Griffith Show Photo: Rogers & Cowan)
Barbara Eden also co-starred in two fantasy movies in 1964 with Tony Randall. In the western 7 Faces of Dr. Lao (1964) they were joined by supporting cast members Arthur O'Connell, John Ericson, and Noah Beery, Jr. That same year, their comedy The Brass Bottle featured Burl Ives as a tricky genie. Edward Andrews, Richard Erdman, and Ann Doran were also among the cast of The Brass Bottle.
Baby boomers could see Barbara Eden on their favorite television series in the early 1960's. Her episodic TV work included guest appearances on The Andy Griffith Show, an episode of Dr. Kildare with her A Private's Affair co-star Bob Denver; Route 66; and The Virginian.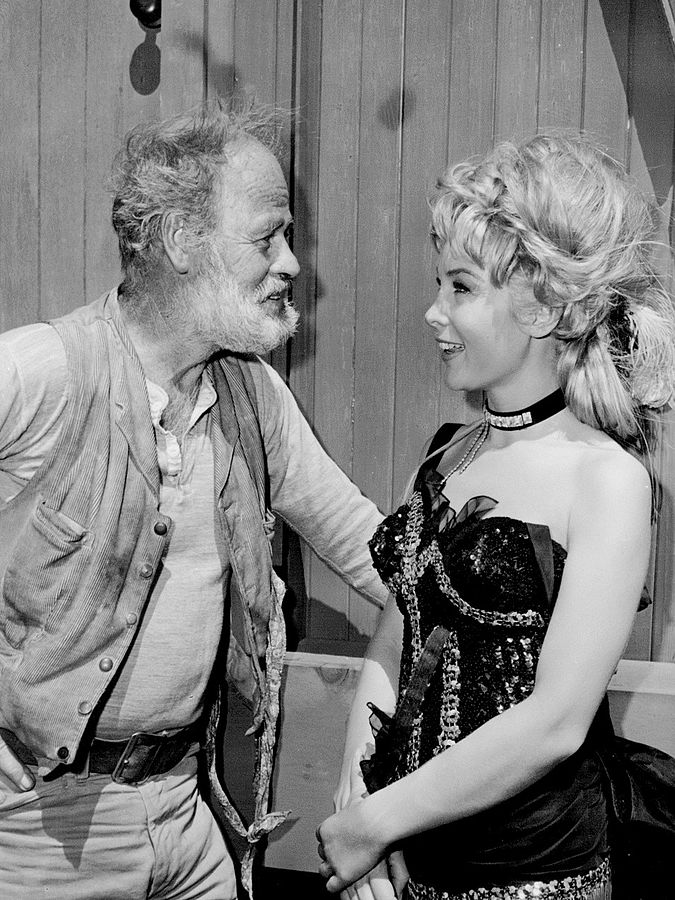 (Paul Brinegar & Barbara Eden 1964 Rawhide Photo: CBS Television)
Between 1963-1965 Barbara Eden appeared in 3 different episodes of Rawhide starring Clint Eastwood. 
Four episodes of Burke's Law saw her co-starring with other guest stars such as Juliet Prowse, Don Rickles, Nanette Fabray, and Telly Savalas.
Throughout the 1960's, Barbara Eden was a popular guest star on variety and talk shows such as The Ed Sullivan Show, The Dean Martin Show, The Carol Burnett Show, The Smothers Brothers Comedy Hour, The Engelbert Humperdinck Show, and The Mike Douglas Show.
I Dream of Jeannie (1966-1970) was creator and producer Sidney Sheldon and NBC's answer to ABC's Bewitched, which had begun airing in 1964. Sheldon had seen Barbara in The Brass Bottle and although he originally ruled out a blonde genie (because Bewitched's Elizabeth Montgomery was playing a blonde witch), he eventually cast blonde Barbara Eden as Jeannie.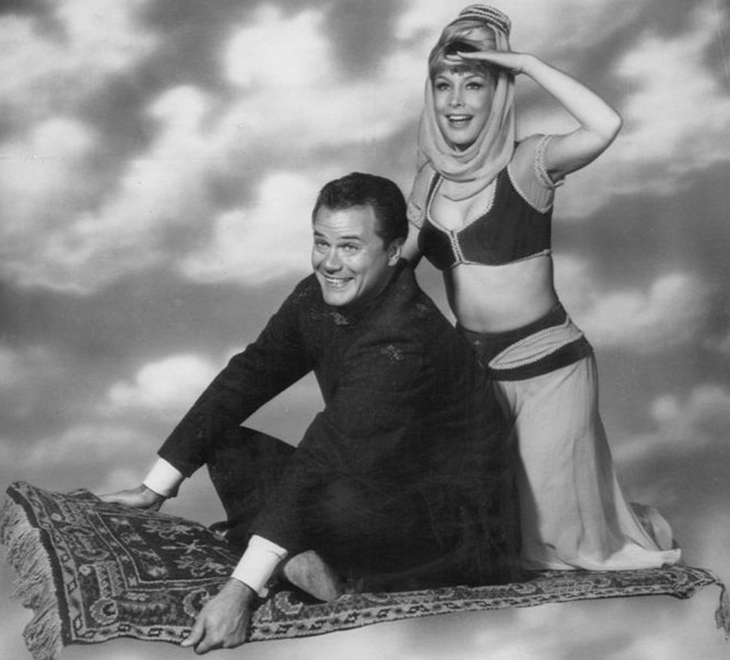 (Larry Hagman & Barbara Eden 1965 I Dream of Jeannie Photo: NBC Television)
I Dream of Jeannie has become synonymous for baby boomers with the names Barbara Eden and Larry Hagman, who played the genie and her "master", astronaut Captain/Major Tony Nelson. Bill Daily as Captain/Major Roger Healey and Hayden Rorke as Colonel Dr. Alfred Bellows rounded out the regular cast.
In addition to playing Jeannie, Barbara Eden also played Jeannie's mother in an episode of I Dream of Jeannie, and had a recurring role in seasons 3-4 as Jeannie's sister (Jeannie II).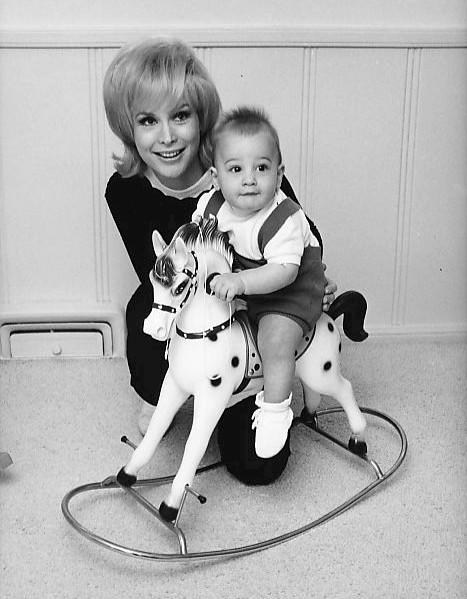 (Barbara Eden & son Matthew Ansara 1966 Photo: NBC Television)
Michael Ansara and Barbara Eden's son Matthew Ansara was born in August 1965, while Eden was starring on I Dream of Jeannie.
The demands of filming I Dream of Jeannie restricted but didn't eliminate Barbara Eden's performances in other projects on stage, television and film in the mid to late 1960's. In an episode of the TV series Off to See the Wizard (1967) titled Hell Cats, which also had George Hamilton in it, she reunited with Tony Randall (Will Success Spoil Rock Hunter, 7 Faces of Dr. Lao and The Brass Bottle). Eden appeared as herself on the game show Password All-Stars (1966), and co-starred in the feature film comedy Kismet (1967) with Jose Ferrer and George Chakiris.
Barbara Eden's big screen movies during the 1970's included the crime comedy The Amazing Dobermans (1976) co-starring James Franciscus (Longstreet) and Fred Astaire, and the comedy Harper Valley P.T.A. (1978) co-starring Ronny Cox and Nanette Fabray.
Although Barbara Eden appeared in some 1970's TV movie thrillers like A Howling in the Woods (1971) with her I Dream of Jeannie co-star Larry Hagman and The Woman Hunter (1972) co-starring Robert Vaughn, her forte was really musical comedy.
Barbara Eden carved a niche for herself with the baby boomer audience in 1970's musical/comedy movies such as:
Howdy (1970) co-starring Eddie Albert and Eva Gabor, Jimmy Durante, Nanette Fabray, Henry Fonda, and Glenn Ford.
The Feminist and the Fuzz (1971) co-starring David Hartman, Jo Anne Worley, Farrah Fawcett, Julie Newmar, and Harry Morgan.
Guess Who's Been Sleeping in My Bed (1973) co-starring Dean Jones.
Let's Switch (1975) co-starring Barbara Feldon and Penny Marshall.
How to Break Up a Happy Divorce (1976) co-starring Hal Linden.
The Girls in the Office (1979) co-starring Susan Saint James, Tony Roberts, and Joe Penny.
Mixed in with these 1970's TV movies were a couple of failed series pilots – The Barbara Eden Show (1973), and The Toy Game (1973) with Larry Hagman and Lyle Waggoner. As always, Barbara Eden was a staple on the variety and talk shows as a popular guest, frequently appearing on The Tonight Show Starring Johnny Carson. Baby boomer fans could also see her in appearances on on variety and talk shows – The Bob Hope Show, The Glen Campbell Goodtime Hour, Tony Orlando and Dawn, The Sonny and Cher Show, The Alan Hamel Show, Dinah!, Donny and Marie,  etc. – or catch her on game shows like Celebrity Sweepstakes, Break the Bank, and Hollywood Squares.
Barbara Eden and Michael Ansara were divorced in 1974 after 16 years of marriage. In her memoir Jeannie Out of the Bottle (2011) written with Wendy Leigh, Eden said a deep depression after the stillborn birth of a son in 1971 played a significant role in ending their marriage, and described Michael Ansara as the love of her life and their divorce as a mistake. Michael Ansara remarried in 1977 and died in 2013 at age 91 from complications of Alzheimer's Disease.
In the Harper Valley P.T.A. movie, Barbara Eden played feisty single mom Stella Johnson, battling with town officials and busybodies. Her co-stars in Harper Valley, P.T.A. included Nanette Fabray, Ronny Cox, Audrey Christie, Ron Masak, Pat Paulsen, and Robert Hastings.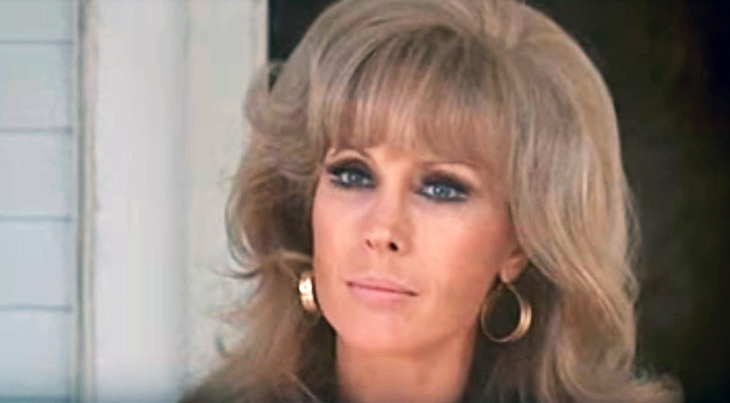 (Barbara Eden 1978 Harper Valley P.T.A. Screenshot)
Her pre-teen son Matthew lived with his father Michael Ansara when Barbara Eden married Chicago newspaper executive Charles Fegert and moved with him to Chicago in 1977. Barbara Eden ascribed her second marriage to loneliness on her part, and an initial attraction to Fegert's intelligence, spirit of fun, and good looks. She left Charles Fegert in 1980 and moved back to Los Angeles when she said he began "running with a crowd that drank and used cocaine", and became abusive. Barbara Eden and Charles Fegert were divorced in 1982; Charles Fegert was a septuagenarian senior citizen when he died in his sleep in September 2002.
Barbara Eden appeared in the two-part mini-series Condominium (1980) in a large cast that included Ana Alicia, Richard Anderson, Stuart Whitman, Dorothy Malone (Peyton Place), Nehemiah Persoff, Arte Johnson, and Gary Grubbs.
Now in her 50+ years, Barbara Eden co-starred for the first time with Don Murray in the TV movie Return of the Rebels (1981). A new comedy series Harper Valley P.T.A. (1981-1982) was inspired by her 1978 movie of the same name. Barbara Eden's 15-year-old son Matthew Ansara made his acting debut in the pilot episode of Harper Valley P.T.A.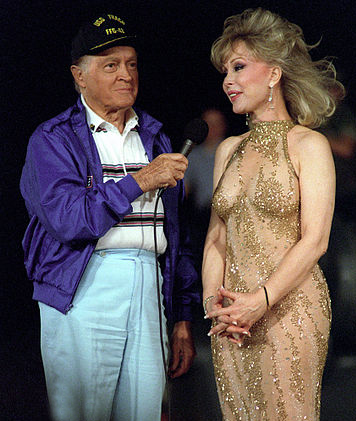 (Bob Hope & Barbara Eden 1987 USO Show Photo: PH2 Jeff Elliott DoD Media)
Throughout the 1980's Barbra Eden remained a frequent guest on musical variety and talk shows (The John Davidson Show, The Merv Griffin Show, etc.), and game shows like All Star Blitz, and Win, Lose or Draw.
Divorced Brentwood, California plastic surgeon Dr. Stanley Frileck and Barbara Eden were introduced around 1982-1983 by actress Michele Lee (Knots Landing), who was divorcing actor James Farentino (The Bold Ones) at the time.
Barbara and Stanley became a couple and lived together for most of the decade, but ultimately broke up after 7 years because, in Eden's words from her memoir:
"Neither of us was passionate enough about the other to take the ultimate step of getting married. After all, I'd been married twice, and I told myself that trying marriage for a third time was a recipe for disaster."

During this time, Barbara Eden's son Matthew Ansara's drug addiction problems (heroin) began to surface; he was in and out of rehab for most of his late teens and 20's. Eden said that
"Matthew liked Stanley a great deal, and, thank the Lord, so did my mother. I felt blessed that Stanley was around to support me during her illness and after her death from lung cancer."
Michele Lee has been romantically linked with Dr. Stanley Frelik herself since 2009, although she's been married to TV executive Fred Rappaport since 1987.
Barbara Eden kept busy on screen as well as off during the remainder of the 1980's and her 50+ years. She was in the feature film Chattanooga Choo Choo (1984) , a comedy starring George Kennedy, Melissa Sue Anderson, Clu Gulager, and Joe Namath, and starred in a national touring production of Woman of the Year that same year.
Eden was reunited with some of her I Dream Of Jeannie castmates in the TV movie I Dream of Jeannie…Fifteen Years Later (1985); although Larry Hagman did not return, Bill Daily (Colonel Roger Healey) and Hayden Rorke (Dr. Alfred Bellows) did. Barbara Eden and Don Murray co-starred together again in two television comedy series – The Stepford Children (1987), and A Brand New Life (1989) about a blended family; young actresses Jennie Garth and Alison Sweeney were in the cast.

Barbara Eden was given her star on the Hollywood Walk of Fame in 1988, and the following year she starred in the movie Your Mother Wears Combat Boots (1989) about an overprotective single mother. Her son Matthew Ansara appeared in Your Mother Wears Combat Boots, in his second acting job.
Eden has said she didn't expect to find love in her 50+ years, and told 435 Kansas City's Magazine that she met structural engineer/architect/real estate developer Jon Eicholtz on a blind date.
"My girlfriend initially had dinner with him and vetted him for me." Barbara Eden and Jon Eicholtz have been happily married since January 1991.
During the 1990's, Barbara Eden was kept busy on alternating television and stage productions. She was in the 1991 stage play Same Time, Next Year with Wayne Rogers and in 1993 toured with Don Knots in The Last of the Red Hot Lovers. 
Barbara Eden appeared on television in the early part of the 1990's with numerous TV movies, and finally reunited with her I Dream of Jeannie co-star Larry Hagman (J.R. Ewing) as Lee Ann De La Vega on Dallas from 1990-1991.
In the TV comedy movie I Still Dream of Jeannie (1991), Hagman once again did not reprise his role from the original series, although Bill Daily (Colonel/Major Roger Healey) did. Other TV movies during the 1990's with Barbara Eden in a co-starring role include these thrillers:
Hell Hath No Fury (1991) with Loretta Swit.
Her Wicked Ways (1991) with Heather Locklear, David James Elliott, and Jed Allan.
Visions of Murder (1993) with James Brolin, and Terry O'Quinn.
Barbara Eden co-starred with William Shatner, Roddy McDowall, and Morgan Fairchild in the TV thriller Dead Man's Island (1996), the same year she became an official senior citizen. Her big-screen movie appearances during the 1990's were limited to an uncredited cameo as her I Dream of Jeannie character Jeannie in the movie A Very Brady Sequel (1996) starring Shelley Long, Gary Cole, and Tim Matheson (Zsa Zsa Gabor also had a cameo as herself).
Between 1996-2004 Barbara Eden appeared on Biography 4 times as herself, on 4 episodes profiling herself, Peter Lorre (her co-star in Voyage to the Bottom of the Sea and Five Weeks in a Balloon), her I Dream of Jeannie co-star Larry Hagman, and I Dream of Jeannie creator and producer Sidney Sheldon.
As the 1990's ended and the 21st century began, Barbara Eden starred in the TV movie A Magical Evening with Barbara Eden (1999) and in touring productions of The Odd Couple…The Female Version (2000-2004).
New septuagenarian senior citizen Barbara Eden's 35-year-old divorced son Matthew Ansara was discovered dead from a heroin overdose in 2001. Eden has said she suffered a breakdown after his death.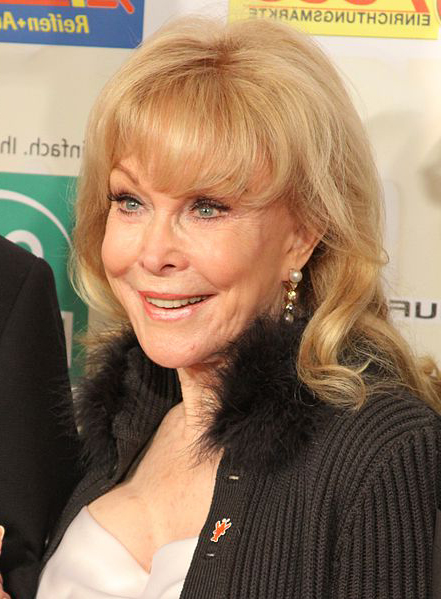 (Barbara Eden 2010 Photo: www.promiflash.de – Bitte bei Bildverwendung auch Link setzen)
Although her acting roles have been considerably reduced since then, Barbara did appear in a recurring role on Sabrina, The Teenage Witch (2002-2003) as Great Aunt Irma, and on the game show Hollywood Squares in 2003.
An uncredited cameo in the big-screen comedy Carolina (2003) starring Julia Stiles, Shirley MacLaine, Randy Quaid, and Alan Thicke, was Eden's last feature film release.
Much of Barbara Eden's appearances since 2002 have been in documentaries and award shows.
She and Larry Hagman did a New York publicity tour in 2006 to promote the DVD release of I Dream of Jeannie. Hagman and Eden reunited again onstage in a production of Love Letters in 2005-2006, and she has subsequently performed in a touring production of Love Letters many times with actor Hal Linden (her co-star in 1976's How to Break Up a Happy Divorce), most recently in 2013 at the age of 82. 
When her memoir was published in 2011, octogenarian senior Barbara Eden was once again a frequent guest on talk shows to promote the book. She continued to appear at nostalgia/fan conventions and on stage and had a role in the independent family movie One Song (2013) starring Sally Kellerman, Mike Farrell, and Melissa Gilbert.
Below, Barbara Eden on the Today show in a 2015 appearance to commemorate the 50th anniversary of I Dream of Jeannie.
Although she has never admitted to having plastic surgery, Barbara Eden looks remarkably young for an 85-year-old octogenarian senior citizen.  Eden told People Magazine in 2013 that she keeps active with spinning classes and works on weights with a personal trainer, saying "It's important to lift weights for your bones…I stay in the back (of the class), because I can't really keep up, but I do it for an hour."
Barbara Eden and her third husband Jon Eicholtz live in Beverly Hills, California, and celebrated their 25th wedding anniversary in January 2016.
*Images are public domain or Creative Commons licensed & sourced via Wikimedia Commons, Vimeo, or Flickr, unless otherwise noted*