Celebrating Seniors - George Hamilton is 77, Part One
George Hamilton, Part One: Where the Boys Are to The Survivors (1939-1969)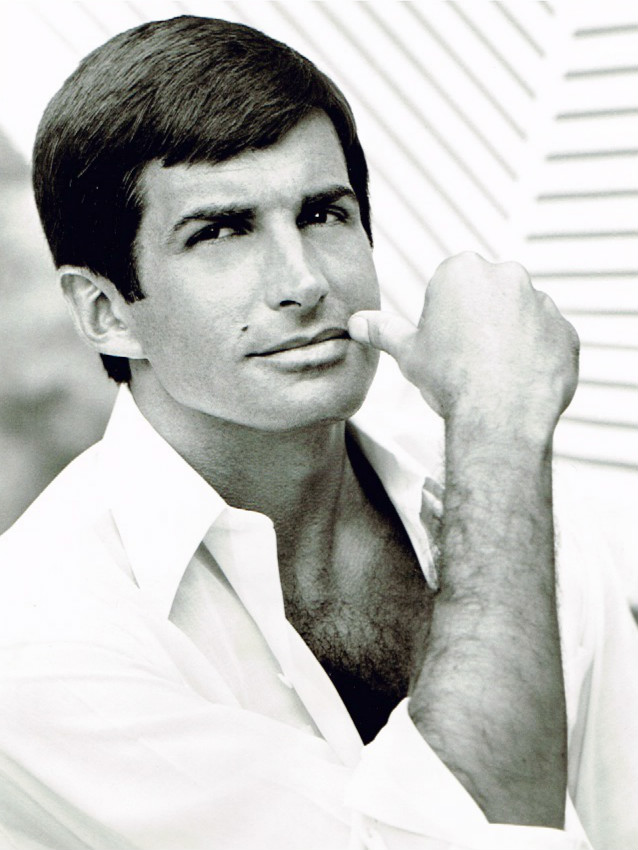 Perpetually tanned actor, game and reality show contestant, and popular talk show guest and host George Hamilton was born on August 12, 1939 in Memphis, Tennessee. (Photo: ABC Television)
Hamilton's parents – bandleader George William Hamilton and flamboyant socialite mother Anne (nee Stevens) Potter Hamilton – divorced when he was a child after Anne caught George Sr. with his new singer, June Howard.
For a time George Hamilton and his younger brother David lived with their mother in her hometown of Blytheville, Arkanasas. There he acquired a life-long interest in health and medicine from his doctor grandfather, and told Life Extension magazine that as the result of childhood measles, his auditory nerve was damaged and he lost the hearing in his left ear. George Hamilton's hearing loss was almost fully reversed when he underwent stem-cell treatment in Switzerland as an adult.
In 1951 during a stay with his father and new stepmother June in New York City, a precocious George lost his virginity to his stepmother June Howard while his father was at work one day. He told told the Daily Express that "I've loved the ladies since I was 12 and lost my virginity to my stepmother. It was her idea but I wasn't scarred for life and we repeated it once or twice before I was 18. It seemed very normal to me." They also slept together after he had become a film star. 
George Hamilton executive-produced the semi-biographical comedy My One and Only (2009). Starring Renee Zellweger, My One and Only is a fictionalized version of a cross-country road trip that his mother Anne Hamilton took with sons George and David during the early 1950's – the goal to visit old boyfriends and scout for her next husband. During that trip one of the stops was Los Angeles, where a 13-year-old George Hamilton made his uncredited movie debut in Lone Star (1952) starring Clark Gable and Ava Gardner.
Hamilton told CNN in 2009 that "I knew that I was the man of the family from the time I was 10, 12…But I knew I had to get away from it. So I signed onto military school."
The Sun Sentinel reported that Hamilton's mother married for the fourth time to Spalding tennis balls and sporting goods heir Jesse Spalding of Palm Beach, Florida in 1957. His yearbook from his last year at Palm Beach High School in West Palm Beach, Florida in 1957, says he "won many Thespian Awards." George Hamilton first discovered the primary benefit of tanning for him – attracting women – when he lived with his mother and stepfather in Palm Beach, Florida.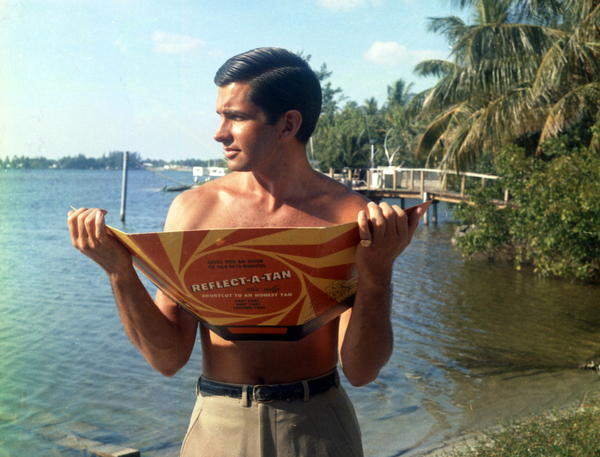 (Photo: Florida Memory | Flickr)
Hamilton has said that it was his mother that wanted him to be an actor; he wanted to be a doctor like his grandfather (Anne's father). Nevertheless, by 1958 George Hamilton was starting to carve out a career for himself beginning with small parts in the movies and episodes of popular baby boomer television series such as The Donna Reed Show (1959), with Donna Reed and Shelley Fabares.
George Hamilton was signed by MGM to a 7-year contract and co-starred with Robert Mitchum and George Peppard (Banacek) in the romantic drama Home From the Hill (1960); Hamilton played Robert Mitchum's on-screen son.
In All the Fine Young Cannibals (1960) starring Robert Wagner and Natalie Wood (in their first movie together), George Hamilton was the competing love interest for Natalie Wood's character.
The romantic comedy-drama Where The Boys Are (1960) saw George Hamilton as a romantic leading man, with co-stars Dolores Hart, Yvette Mimieux, Connie Francis, Paula Prentiss, and Jim Hutton. 
Both Paula Prentiss and Connie Francis made their movie debut's in Where the Boys Are. Connie Francis sang the title track for Where the Boys Are, which became a #4 hit single.
Where the Boys Are was a box-office success with baby boomers and made George Hamilton a bona-fide box-office draw. While filming Where the Boys Are Hamilton was dating Susan Kohner, who had played his sister in All the Fine Young Cannibals; they became engaged.
Intent on movie stardom, according to author Michael Gross (Unreal Estate: Money, Ambition, and the Lust of Land in Los Angeles), George Hamilton wanted to "project the illusion of grandeur".
He rented expensive cars, wore expensive suits, and bought the requisite mansion "Shadow Hill" (a 22,000 square foot home in Beverly Hills formerly rented by Douglas Fairbanks Sr.) at his half-brother Bill's urging. Hamilton renamed the mansion "Grayhall", and when he moved in he was joined by his mother (now separated from Jesse Spalding) and Bill, who was acting as his in-house decorator/dresser. George Hamilton would later also purchase Charlie Chaplain's 1922-era, 11,00 square foot Beverly Hills home. George Hamilton's mother Anne Stevens Potter Hamilton Hunt Spalding lived with him until 1972, and was a nonagenarian senior citizen aged 93 when she died in 2004 from Alzheimer's Disease. 
Below, movie stars George Hamilton and Lizabeth Scott with Stump the Stars TV game show host Mike Stokey in 1963.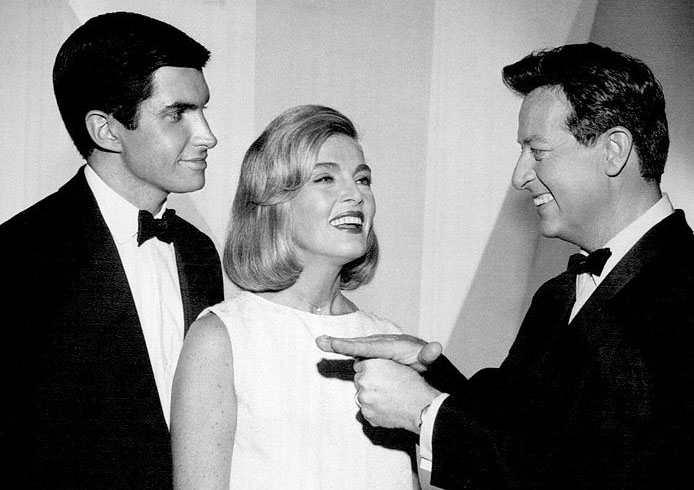 (Photo: CBS Television)
Between 1961-1964, George Hamilton appeared in 9 feature films that were released, many of them co-starring the Who's Who of Hollywood then and now:
The musical Looking For Love (1964) was a starring vehicle for singer Connie Francis. Jim Hutton and cameos from George Hamilton, Yvette Mimieux, and Paula Prentiss made this movie a reunion for much of the cast from 1960's Where The Boys Are.
George Hamilton starred as playwright Moss Hart in the biographical drama Act One (1963), which was his second movie with both Jason Robards (By Love Possessed) and Eli Wallach (The Victors); Act One also included Jack Klugman, George Segal, Bert Convy and David Doyle (Charlie's Angels) in the cast. Moss Hart reportedly knew George Hamilton socially and wanted Hamilton to play him in the movie. 
In another musical, Your Cheatin' Heart (1964) saw George Hamilton as legendary country singer Hank Williams, lip-synching songs sung by Williams' son Hank Williams Jr. Hank's first wife Audrey Williams was played by Susan Oliver, who had also been in Looking for Love with Hamilton. Elvis Presley was in the running to play Hank Williams in Your Cheatin' Heart, until Colonel Tom Parker said no. Tom Parker was a mentor to and friends with George Hamilton, and introduced him to Audrey Williams. Although Hamilton had been a fan of Hank Williams, knew the songs, and could play guitar, MGM didn't think he'd suit the role; it was Audrey Williams that persuaded the studio to cast George Hamilton in the role.
By the mid-to-late 1960's, George Hamilton's movie roles were dwindling to the rate of one or two a year. Hot young actresses Brigitte Bardot and Jeanne Moreau (The Victors) played two different Maria's in the action-romantic comedy Viva Maria! (1965). Hamilton said in his 2008 autobiography that he had an affair with Jeanne Moreau.
The romantic comedy Doctor, You've Got to Be Kidding (1967) had George Hamilton co-starring with Sandra Dee; that same year, he was in the western A Time for Killing (1967) starring Glenn Ford, Harrison Ford (in his first credited movie role), and Max Baer Jr. (The Beverly Hillbillies). Joseph Cotton and Zsa Zsa Gabor were among his co-stars in the crime drama Jack of Diamonds (1967).
In his biography Don't Mind If I Do (2008) written with William Stadiem, George Hamilton recounts accepting an invitation to the White House in 1965 after President Lyndon Johnson and family had seen his performance in Your Cheatin' Heart. For several months in 1966 while he was filming Doctor, You've Got to Be Kidding, Hamilton dated first daughter Lynda Bird Johnson; he was surprised when she accepted his invitation to go with him to Acapulco. The relationship ended amicably, with Hamilton attending her 1967 White House wedding to Chuck Robb, and they have remained lifelong friends.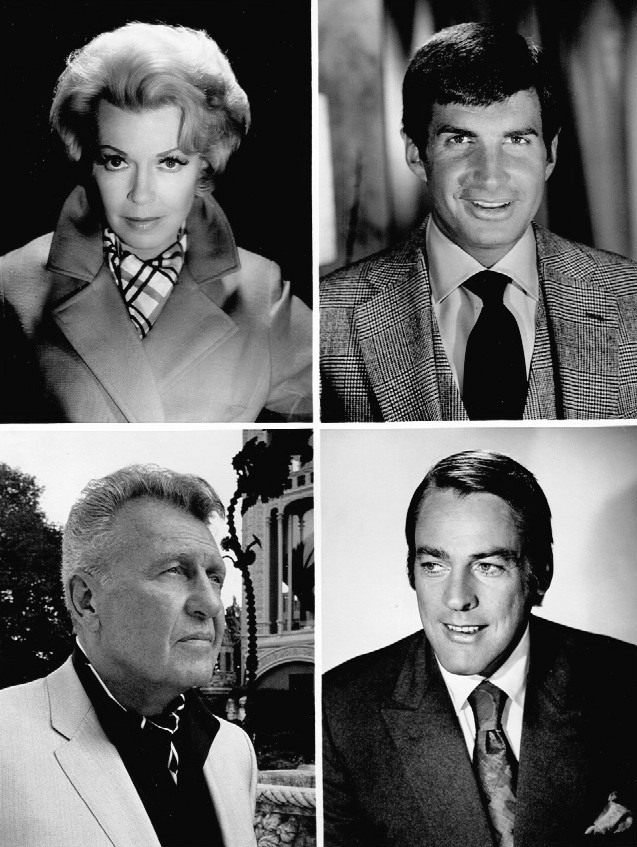 (The Suvivors headlining cast members clockwise from top left – Lana Turner, George Hamilton, Kevin McCarthy, Ralph Bellamy Photo: ABC Television)
In the television series The Survivors (1969-1970) which starred his By Love Possessed co-star Lana Turner as Tracy Carlyle Hastings, George Hamilton played Turner's half-brother Duncan Carlyle.
Also appearing with him during the short run of The Survivors: Diana Muldaur, Jan-Michael Vincent as Turner's son Jeffrey Hastings, Rossano Brazzi (Hamilton's co-star from A Thunder of Drums), Pamela Tiffin, and David Cassidy, making his film debut. 
In addition to his movie and television acting work during the 1960's George Hamilton began what would become one of his claims to fame – a long career as a professional celebrity guest/contestant/guest host on different television series.
He was on the game show What's My Line (1965-1966) twice as the mystery guest and once as a guest panelist. Below, What's My Line mystery guest George Hamilton displays his customary charm with host John Daly and panelists Dorothy Kilgallen, Jim Backus, Arlene Francis, and Bennett Cerf, in 1965. 
On The Match Game, Hamilton was team captain in 1968 for 20 episodes, co-captaining once each with Carol Lawrence, Betty White, and former Miss America Bess Myerson. George Hamilton appeared on The Ed Sullivan Show as a singer 4 times between 1968-1971, and was a guest 3 times on The Tonight Show Starring Johnny Carson between 1963-1970.
Hamilton has said he met leggy blonde model Alana Collins at a 1969 party in Acapulco, and they later reconnected at a club in Los Angeles when he returned to the U.S. Alana Collins would play an important role in George Hamilton's life.
*Images are public domain or Creative Commons licensed & sourced via Wikimedia Commons, Vimeo, YouTube, or Flickr, unless otherwise noted*
More George Hamilton:
George Hamilton, Part Two: Alana and Evel Knievel to The Godfather: Part III (1970-1994)
George Hamilton, Part Three: George & Alana to Stewarts & Hamiltons (1995-2016)