Celebrating Seniors - Dolores Hart is 78, Part 1
Dolores Hart, Part 1: Costarring With Elvis Presley, Montgomery Clift, and Jeff Chandler 
Septuagenarian senior citizen, former actress, and Benedictine nun Dolores Hart (nee Dolores Hicks) was born on October 20, 1938 in Chicago, Illinois. She turned 78 years old on October 20, 2016. Below, Dolores Hart and two of her leading men – Elvis Presley, and Stephen Boyd.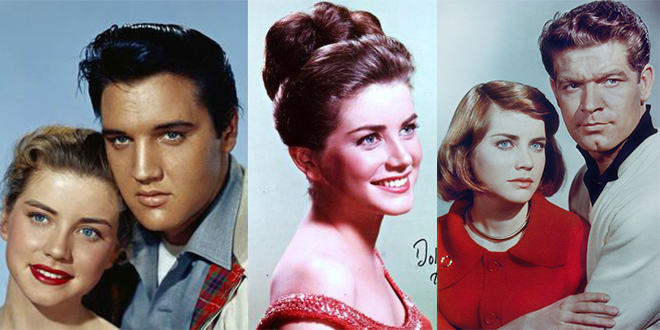 (Source 1950s & 1960s Publicity Photos: Pinterest | Photo Montage: 50+ World)
In Dolores Hart's autobiography The Ear of the Heart (2013), she says she was named Dolores by her teenaged parents Bert and Harriett Hicks, for a Catholic great-aunt who had become a nun and taken the name Sister Dolores Marie.
Both Bert and Harriett Hicks both had dreams of acting. Their relationship was turbulent and they separated for the first time when Dolores was 2; Bert Hicks moved to Hollywood to pursue acting work.  
Dolores Hart lived with her maternal grandparents (who disapproved of Bert Hicks) and mother in Chicago. One night when Dolores was 4, she and her mother slipped out of her grandparents home in the middle of the night to travel to Hollywood to see Bert. The reunion was happy for a time, until Bert's constant infidelities and physical spousal abuse spurred Harriett to leave him for good and file for divorce. 
Dolores was sent back to Chicago to live with her grandparents; then recalled by her mother to Hollywood; and then sent back again to her grandparents. A tug of war between her mother and grandparents went on for five years, with young Dolores Hicks often travelling by herself across country to visit. Dolores has said it was spending time watching movies with her screen projectionist grandfather as a child, that inspired her to become an actress herself. Six-year old Dolores loved it when her great aunt and namesake Sister Dolores Marie, would visit and read stories to her about creation, saints and martyrs.
Her father Bert Hicks had a small role in Forever Amber (1947) starring Linda Darnell, Cornel Wilde, George Sanders, Jessica Tandy, and Richard Haydn. Nine-year-old Dolores also made her screen debut in an uncredited role in Forever Amber.
Dolores' grandparents sent her to a Catholic School in Chicago, and she converted to Catholicism as a ten-year-old. When Harriett Hicks remarried to restaurant owner Al Gordon, 11-year-old Dolores went to live with them in Sherman Oaks, California. Al and Harriett Gordon separated in 1951 and then got back together; by now, Harriet was becoming a drinker and home life for Dolores was tense.
Dolores Hicks threw herself into extra-curricular activities at school to avoid going home, and took a modeling course during a summer vacation. She was popular and had no lack of dates, but was embarrassed by her mother's flirtatious behaviour with them.
While attending the all-girl Catholic Corvallis high school, Dolores prayed to God to be able to get an agent and break into the movies. Dolores Hicks was elected student body president and valedictorian in her senior year at Corvallis, and her older, sailor boyfriend Jack Lynch took her to the prom. Jack Lynch and Dolores would remain lifelong friends (he died in 1988). After playing the role of St. Joan in her high school play, Dolores earned a drama scholarship to Marymount College. 
While a freshman student Marymount College, Dolores became close friends with classmate Sheila Hart. She also met Loyala student Don Barbeau, a former Trappist monk who was 10 years older than the other students. Dolores was asked to play St. Joan again, this time for a Loyola University production, along with student Bob Denver (Gilligan, from Gilligan's Island). Friend Don Barbeau took some pictures of Dolores and sent them with letters to the film studios, and a talent scout came to see Dolores in the play; she also appeared in a TV talent scout show.
Don Barbeau drove Dolores Hart to Paramount Studios to meet with producer Hall Wallis about a role in the new musical drama Loving You (1957), to star Elvis Presley and Lizabeth Scott. Dolores didn't know who Presley was, but Hal Wallis offered her a screen test for the part of Susan Jessup, a secondary love interest in a new Elvis Presley movie. 
Below, a video tribute to Dolores Hart with photos from the film and with Elvis Presley singing Loving You. 
Dolores Hart almost didn't go to the screen test for Loving You; it conflicted with her Marymount College freshman final exams, and she was told she would fail if she missed the test. Marymount's dean of girls, Mother Gabriel, encouraged Hart to go for the screen test, saying she could return the following year as an English major. Dolores did go to the screen test and won the role in Loving You. It was Hal Wallis that suggested Dolores change her last name from Hicks to Hart for professional reasons.
Dolores Hart characterized Elvis Presley as being a dream to work with on Loving You, although she blushed furiously when it came time film Presley's first on-screen kiss with her. Elvis asked her out while the movie was filming, but Hart turned him down because she thought it would be unprofessional to date while working on the movie together; he never asked her out again. A couple of years later, Dolores told Helen Hendricks of Screenland that among the reasons why she and Elvis didn't date when they were filming movies, was that they were good friends, and she also felt a responsibility to younger, impressionable fans.
Acting classes at Paramount's talent program with classmates George Chakiris, Earl Holliman, and Ursula Andress, also earned Dolores Hart a new lifelong friend in actor James Douglas. 
Hart next had a small part as Angie in the western drama Wild is the Wind (1957). Wild is the Wind starred Anna Magnani, Anthony Quinn and Anthony Franciosa (Valentine's Day, Finder of Lost Loves). A lifelong friendship with Anthony Quinn and Dolores Hart developed off-camera and lasted until Quinn's death in 2001 at the age of 86. 
Dolores Hart's second and final movie with Elvis Presley was as his main love interest Nellie, in the musical drama King Creole (1958). The cast of King Creole included Carolyn Jones (The Addams Family), Dean Jagger (Principal Vane on Mr. Novak), and Raymond Bailey (Milburn Drysdale on The Beverly Hillbillies). Elvis Presley's military service was deferred so he could film King Creole from January to March 1958, and crowds of Presley fans made on-location filming in New Orleans difficult at times. In her autobiography, Dolores Hart recalls Elvis Presley discussing bible verses with her.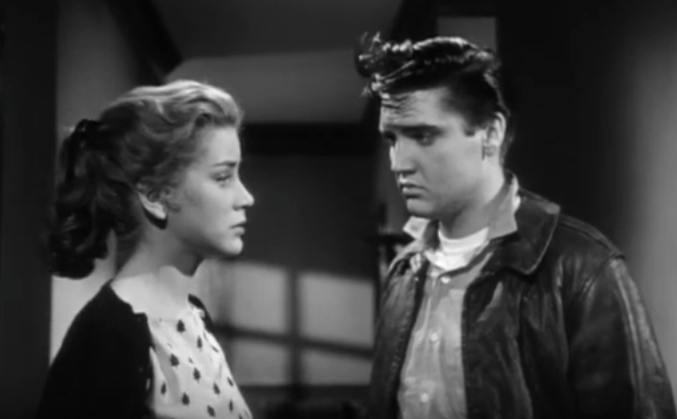 (Dolores Hart & Elvis Presley 1958 King Creole Trailer)
When King Creole was released in July 1958, it was both critically and commercially successful with baby boomer audiences, and Dolores Hart subsequently began to get more screen tests for larger roles in bigger films. She also began taking private acting classes with blacklisted actor Jeff Corey, where her classmates included Jack Nicholson, Sally Kellerman, and James Coburn. Anthony Quinn, Hart's friend and co-star from Wild is the Wind, began teaching acting classes and Dolores Hart attended these as well, alongside Carolyn Jones and Dennis Hopper. After yet another confrontation with her alcoholic mother Harriett, Dolores moved out and got her own apartment. 
In the newspaper drama Lonelyhearts (1958), Dolores Hart played the on-screen girlfriend of Montgomery Clift. Lonelyhearts also starred Myrna Loy, Robert Ryan, Jackie Coogan (Uncle Fester on The Addams Family), and Maureen Stapleton, whom she struck a close bond with. Hart has said that she found Montgomery Clift veered between eccentricity and moroseness; Clift had been devastated by a car crash that required him to have extensive plastic surgery. 
In her autobiography The Ear of the Heart (2013), Dolores Hart recalls the beginning of a lifelong friendship with Globe Photos photojournalist and former child actor Dick DeNeut (Our Gang/Little Rascals). They met and began dating around 1957; Dick DeNeut was a frequent escort for Dolores Hart at Hollywood events, and stayed good friends with her when the romance ended.
By January 1959, Dolores had moved back in with her mother. Patrick Wayne, Elvis Presley, and Anthony Quinn, were among Hart's friendly acquaintances; she was quietly adept at keeping her male pals in the Friend Zone, saying,
"Of course I want to be married some time and have children. I'm a normal woman! But it wouldn't be fair to any man…or to me…to think seriously about marriage at this point. I am just getting started on a career for which I have worked hard and I am serious about it…when I get around to marriage, I shall be serious about that, too. I don't intend to anything in my life halfway."
Hendricks noted about Hart at the end of her article,
"It was almost an anomaly to find a girl who looks and seems so enchantingly feminine, so genuinely alluring, with such a sturdy steel core of character and determination."
During the late 1950's and early 1960's, in addition to her movies, Dolores Hart also appeared in stage plays and on television. Baby boomers may remember some of her episodic TV work on Alfred Hitchcock Presents, or in episodes of:.
Schlitz Playhouse, co-starring in the episode Man on a Rack with Tony Curtis.
Playhouse 90, co-starring with Stephen Boyd, Sam Jaffe (Dr. Zorba on Ben Casey) and Boris Karloff.
Insight, in an episode with Robert Culp (I Spy, The Greatest American Hero, Trackdown).
The DuPont Show with June Allyson, hosted June Allyson, with Barry Sullivan and Lurene Tuttle. Below, "The Crossing" public episode of The DuPont Show with June Allyson:
In 1959 20-year-old Dolores Hart made her Broadway debut in The Pleasure of His Company. Hart's year-long performance in The Pleasure of His Company was critically acclaimed and she was nominated for a Tony Award for Best Featured Actress. During her time in New York performing in The Pleasure of His Company, a friend invited Dolores Hart to meet some nuns at the Benedictine Monastery of Regina Laudis in nearby Bethlehem, Connecticut. Dolores Hart told Vocation that
"After the first visit, I kept coming back in between shows. Eventually, I asked the Reverend Mother if she thought I had a vocation. She said, "No, no go back and do your movie thing. You're too young." Hart took her advice.
Now living back in California again, Dolores Hart and Dick DeNeut broke up when her concerns about his non-Catholic background and the thought of raising children with one non-Catholic parent, became a problem for her. 
Hart met fellow devout Catholic Maria Cooper, an art student and actor Gary Cooper's daughter, and a lifelong friendship began over discussions about philosophy and religion.
The Plunderers (1960) was a western drama starring Jeff Chandler and John Saxon, with Dolores Hart as the leading lady and love interest for Chandler's character. Veteran actress Marsha Hunt was also in the cast of The Plunderers, and a during the filming of The Plunderers, a friendship between Marsha Hunt, her husband Robert Presnell Jr. and Dolores Hart, ensued – with Marsha saying "For a while we were the Three Musketeers." 
Next: Dolores Hart, Part 2: From Where The Boys Are, to Becoming a Nun (Where The Boys Are Not)