Celebrating Seniors - Dolores Hart is 78, Part 2
Dolores Hart, Part 2: From Where The Boys Are, to Becoming a Nun (Where The Boys Are Not)
Septuagenarian senior citizen, former actress, and Benedictine nun Dolores Hart (nee Dolores Hicks) was born on October 20, 1938 in Chicago, Illinois. She turned 78 years old on October 20, 2016. Below, Dolores Hart with her Lisa (aka The Inspector) leading man Stephen Boyd in 1961.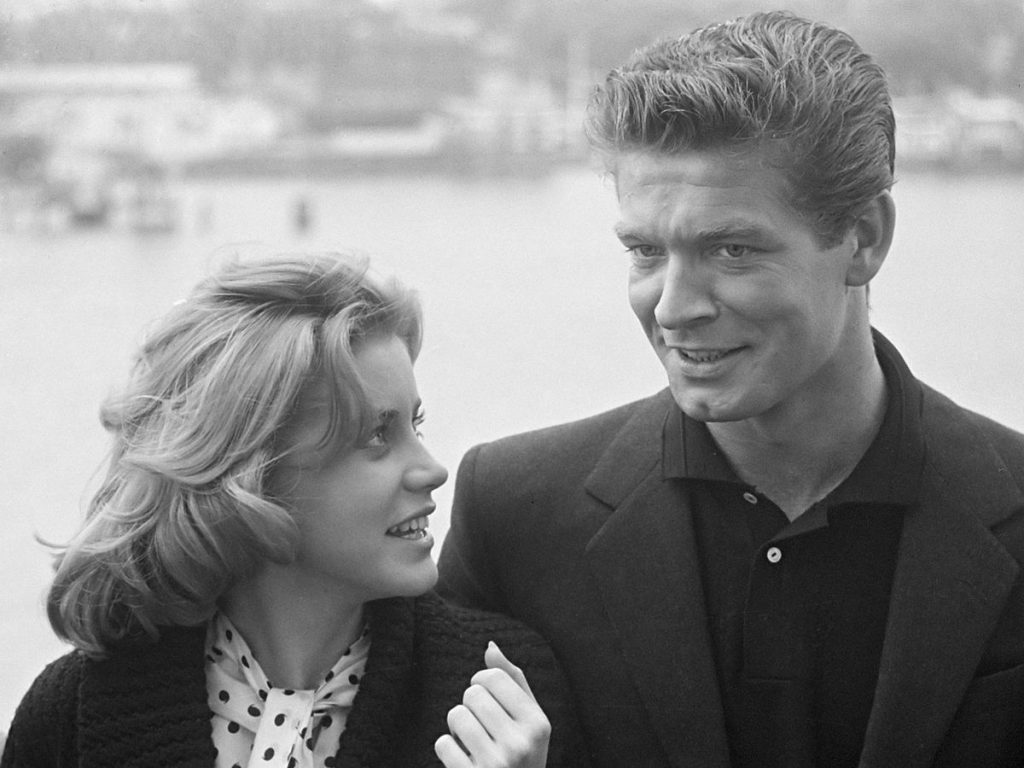 (Photo: Hugo van Gelderen / Dutch National Archives | Wikimedia Commons / Public Domain)
Baby boomers loved the romantic comedy-drama Where the Boys Are (1960) starring Dolores Hart as college girl Merritt Andrews, who falls for suave rich college boy Ryder Smith (George Hamilton). Actresses Yvette Mimieux, Paula Prentiss, and singer Connie Francis played Hart's college friends on vacation with her Fort Lauderdale. Where the Boys Are was a box office success and Hart was signed to a long-term contract by MGM. Post-filming, Dolores Hart and Paula Prentiss, and Prentiss' husband Richard Benjamin, have stayed lifelong friends. Below, the movie trailer for Where the Boys Are features Dolores Hart, Connie Francis, Paula Prentiss, Yvette Mimieux, George Hamilton, Richard Benjamin, and Frank Gorshin.
Dolores Hart met Don Robinson on a blind double date set up by mutual friends in 1960. Robinson was a firm Catholic who had graduated from Loyola University in 1955 and attended Mass almost daily. On their first date, Don told Dolores "You know, I'm going to marry you." 
A role as Clare in the religious drama Francis of Assisi (1961) landed in Hart's lap while she was vacationing in Europe, where she had met up with friends Earl Holliman, and later Maria Cooper and her parents "Rocky" Regina and Gary Cooper. Francis of Assisi starred Bradford Dillman as St. Francis and Dolores Hart as Clare, an young noblewoman who becomes a nun; actor Stuart Whitman co-starred as Count Paolo of Vandria. Below, a video of clips from Francis of Assissi that features Dolores Hart, Bradford Dillman, and Stuart Whitman. 
Filmed entirely on location in Italy beginning the week after Dolores turned 22 in October 1960, Francis of Assissi cost $2 million to make and was not a favorite with baby boomers; it lost money at the box office. However, the film was memorable for Dolores Hart for another reason – while in Rome, she was invited to tour the Vatican and met Pope John XXIII. When she introduced herself as "Dolores Hart, the actress playing Clara," Pope John XXIII told her "No. You are Clara!" 
The comedy heist movie Sail a Crooked Ship (1961) starred Dolores Hart as the kidnapped girlfriend of actor Robert Wagner. Carolyn Jones, Frankie Avalon, Frank Gorshin (The Riddler on Batman) and prolific character actor Cosmo Sardo (the bartender on Bonanza), were also in Sail a Crooked Ship. Left, Dolores Hart and Robert Wagner in Sail a Crooked Ship. (Photo: DVD Talk)
During the filming of Sail a Crooked Ship, Dolores Hart was invited to lunch by her boss, producer Hal Wallis, and gifted before it with a silver mink coat she'd worn in the film and had hinted she'd like to have. In her autobiography, she recalls showing up for the lunch wearing the mink coat, to find "Mr. Wallis at the head of a long table of company men I didn't know, and no other women. My boss introduced me as his new start and then suggestively added, "She's the first one who got the mink and didn't." The guys howled. I thought I would die. Mr. W. looked pleased as punch. He got his laugh from the men and the mortified blush from me…But it cost him sixty-five hundred bucks to do it."
Dolores Hart co-starred with actors Stephen Boyd and Donald Pleasence in the World War II drama Lisa (aka The Inspector) (1962). In Lisa, Hart plays a Auschwitz survivor trailed by ex-Nazi's; Boyd is a Dutch policeman that helps her. While Lisa was filming on location in London, Hart was arrested one night in London when she got locked out of her apartment after a long day of shooting and was taken for a vagrant; she was quickly released but her arrest made the newspapers. A friendship began off set between Dolores Hart and co-star Stephen Boyd, whom she had met previously when filming the live Playhouse 90 episode; they had supper almost every night and discussed religion and their lives. Below, a movie clip from Lisa that features Dolores Hart and Stephen Boyd.
In her autobiography, Dolores Hart says she was attracted to Stephen Boyd and invited him into her apartment for the first time one evening when he escorted her home. Boyd's response was to kiss her on the forehead and say yes he'd like to come in, but "You're marked. Don't you know that?" Hart was upset at his refusal, but his words struck a chord within her. Stephen Boyd would later become a Scientologist; he was only 45 when he died from a heart attack in 1977. 
Upon her return to America after touring of Europe with her mother Harriett, Dolores Hart returned to the U.S. and once again stayed at Regina Laudis for a respite. She was torn between the pull the monastery, wondering about a vocation, and her relationship with Don Robinson, who wanted her to make a commitment. 
MGM's romantic comedy Come Fly With Me (1963) was inspired by the success of their earlier movie starring Dolores Hart, 1960's Where the Boys Are. In Come Fly With Me, Hart's co-stars included Hugh O'Brian (The Life and Legend of Wyatt Earp), Pamela Tiffin, Lois Nettleton (In the Heat of the Night), Karl Malden (The Streets of San Francisco), and character actor John Crawford (Sheriff Ep Bridges on The Waltons). Dolores Hart, Pamela Tiffin, and Lois Nettleton played stewardess friends juggling romantic interests.
Aware of Dolores' conflicted feelings, Don Robinson suggested that while she was in Europe filming Come Fly With Me, they not have any contact with each other. Filming for Come Fly With Me took place on location in New York City and the European cities of Paris, Versailles, and Vienna, in 1962. Once again, Dolores Hart formed lasting friendships with some of her co-stars during the filming of the movie, including Lois Nettleton and Karl Malden. She met actor Peter Sellers at a party in Vienna; he subsequently sent her a script and invited her on a few dates. Sellers was smitten with Hart and tried to seduce her by sneaking into her bedroom and lying in wait – naked – in her bed, but they remained on firm "friends only" territory. When Come Fly With Me premiered in March 1963 in the U.S., it was a commercial success; little did her fans – or Dolores – know then that it would be her last movie.
Back in Los Angeles by the early fall of 1962, 23-year-old Dolores Hart and Don Robinson reconnected, and he asked her to marry him. Dolores couldn't say yes without reservations but suggested a secret six-month engagement to provide time to decide if marriage would be right for them both, and Don Robinson agreed. She met with Dick DeNeut for lunch to tell him she was engaged before the press got wind of it, but soon after it was in the news. A wedding date was set for February 1963, and Robinson bought a home in Benedict Canyon and moved in. Wedding invitations were printed, and Hollywood movie designer Edith Head began creating a wedding dress as her wedding gift to Dolores. One night after his parents threw them an engagement party, Don Robinson, sensing that Dolores was overwhelmed and deeply conflicted, suggested she return to Regina Laudis to "get everything straightened out in your mind." When she returned to Los Angeles from her visit, Dolores broke the news to a devastated Don Robinson that she was going to enter the monastery.
Despite breaking off her engagement to him, Don Robinson remained close friends with Dolores Hart and supported her decision to follow her vocation. He told her that "Every love doesn't have to wind up at the altar." Although he subsequently dated other women, Don Robinson never married; he visited Dolores Hart every Christmas and Easter, and gave thoughtful gifts to both Dolores and the monastery. 
Hedda Hopper was informed the engagement was called off (but not the real reason why), and Dolores fulfilled her professional commitments while quietly making arrangements to secretly enter the monastery in June 1963 (secrecy was a condition that had been imposed by the monastery). 
In her last screen acting role, Dolores Hart guest-starred with actor James Drury and prolific character actress Jeanette Nolan in the popular baby boomer western series The Virginian. In the 1963 The Virginian episode The Mountain of the Sun, Hart plays a Catholic missionary who risks her life. Dolores Hart and James Drury remained friends and he wrote an endorsement for Hart's autobiography. 
When Dolores Hart entered the Benedictine Monastery of Regina Laudis, she was accompanied to the entrance ceremony at the gates by her friend Maria Cooper and her mother Harriet, whom she had only told the night before of her decision. She was allowed to take two calls that came in shortly after her entry – one from Elvis Presley, who told her he was happy for her and praying for her, and another from Stephen Boyd, who was less thrilled with her decision but still supportive. A National Enquirer headline of the day read "Star Driven into Nunnery by Her Love for Elvis."
Dolores Hart, now Sister Judith, took her first vows in June 1966. Her half-brother Martin and Don Robinson began visiting her the following year, and over time other friends from her Hollywood life also came to visit regularly including Lois Nettleton. By the end of 1967 both Dolores' father Bert Hicks and her mother Harriet had both died; their private demons had contributed to their deaths (Bert committed suicide with pills; and Harriet drank heavily right up until her death).  
Friend Dick DeNeut held her veil when Dolores Hart/Sister Judith took her final vows and became Mother Dolores Hart in 1970, a ceremony which was also attended by Hart's close friend Maria Cooper and her grandparents. 
The Benedictine Monastery of Regina Laudis became the Benedictine Abbey of Regina Laudis in 1976.
Hart's friend Maria Cooper Janis (she married pianist Byron Janis) recommended that actress Patricia Neal visit Regina Laudis to stay when Neal was having problems with her health and marriage.
That visit would later turn into a creative partnership when Patricia Neal came to stay at the abbey again in 1982 and write her autobiography As I Am (1988), with help from Mother Dolores Hart and Hart's friend Dick DeNeut. 
In 1990, Mother Dolores Hart's friend Don Robinson had a property dispute with his neighbour, the actress/singer Madonna; a court case ensued and Robinson told Hart that if he won he'd share the settlement with her. Animal lover Dolores had seen a baby parrot in a local pet shop that needed a long-term home (they can live to be 70 years old). Sure enough Don Robinson won his case against Madonna and bought the parrot "Toby" for Dolores Hart; Hart still has it today in 2016. She told Beliefnet that Toby plays a tiny harmonica.
Dolores Hart's Hollywood connections (Paul Newman, Patricia Neal, helped fund her vision of developing a year-round arts theatre and school, which puts on a yearly musical. 
A root canal during a dental visit in 1997 may have triggered the chronic pain Dolores Hart began experiencing; she woke up one morning and couldn't walk. Hart as diagnosed with peripheral sensory neuropathy, a disease of the neurological system, and still lives with it today. At a fundraising benefit held on her 66th birthday in 2004, she saw old friend and former co-star Bradford Dillman for the first time since the worked together in 1961. In 2006 Mother Dolores Hart testified at a Washington congressional hearing to raise awareness of the disease and need for research. She also visited Hollywood to raise funds and awareness, and spent some time with old friends Don Robinson, Marsha Hunt, Lois Nettleton, Bradford Dillman, Patricia Neal, Paul Prentiss, Richard Benjamin, Sheila Hart McGuire, Earl Holliman, and Mariette Hartley. 
Mother Dolores Hart served as the prioress of the Regina Laudis Abbey from 2001-2015. She began writing her autobiography in 2002 with help from friend Dick DeNeut; it was finally published as The Ear of the Heart: An Actress' Journey From Hollywood to Holy Vows (2013).
Mother Hart has lived a long life and outlived several of her long-time friends, who chose to be buried at the Abbey of Regina Laudis – in addition to Dolores' mother and grandmother, actress Patricia Neal (d. Aug. 2010) and Dick DeNeut (d. Jan. 2016), are buried on the Abbey grounds. Septuagenarian senior citizen Don Robinson died in November 2011 at the age of 78, and in his Los Angeles Times obituary, Robinson's family requested that donations be made to The Abbey of Regina Laudis. 
Below, Dolores Hart spoke to EWTN in 2013 about her autobiography The Ear of the Heart: An Actress' Journey from Hollywood to Holy Vows:
Dolores Hart never gave up her membership in Academy of Motion Picture Arts and Sciences, and votes on the Academy Awards. 53 years after she had last attended the Academy Awards, Dolores Hart once again attended the 2012 Oscars when a documentary about her, God Is the Bigger Elvis, was nominated for Best Documentary (Short Subject). She appears in the Tab Hunter Confidential (2015) documentary as herself. In 2016, Dolores Hart celebrated her 50th year since taking her first vows at Regina Laudis. 
Previously: Dolores Hart, Part 1: Costarring With Elvis Presley, Montgomery Clift, and Jeff Chandler