Buona Sera, Firenze: Touring Florence
Florence, the city that is home to Michelangelo's David, the astounding Duomo di Santa Maria del Fiore, countless works of art, and historic palaces and bridges…A destination city you'll want to come back to time and again.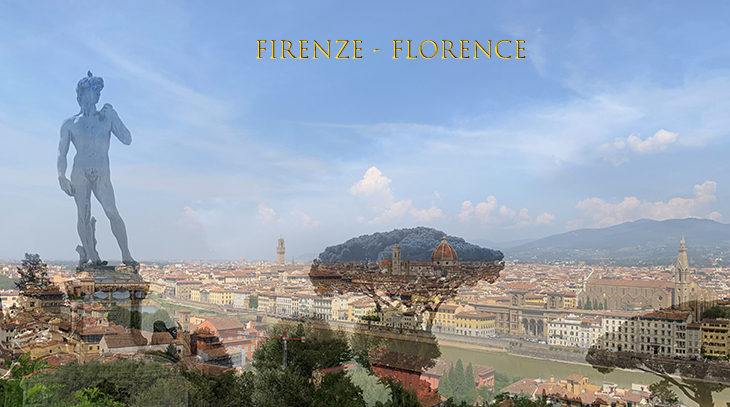 (From Piazzale Michaelangelo – Florence / Statue of David Blended Photo: © 2019 Anita Hamilton)
On a southern hill above Florence and reached by a winding road, is the serene Piazzale Michelangelo, created in 1869. A towering bronze replica of Michelangelo's David, shade trees, and views of the city and the surrounding hills of Florence make this a wonderful place to take photos.
Piazzale Michelangelo in the Movies
La Loggia Restaurant at the Piazzale Michelangelo was a film location for the The Dark Knight Rises (2012), a Christopher Nolan-directed action-thriller blockbuster starring Christian Bale, with Tom Hardy, Gary Oldman, Anne Hathaway, Joseph Gordon-Levitt, Marion Cotillard, Morgan Freeman, Michael Caine, and Matthew Modine.
Florence has so many beautiful churches and palaces filled with art on the walls and ceilings, that they deserve an article all to themselves – check out Treasures of the Medici: Pitti Palace, and Touring Florence's Medieval Churches.
You can't escape history or art in Florence, as this 1800s painting of Florence based on a 1471 engraving shows – many of these landmarks are still standing today.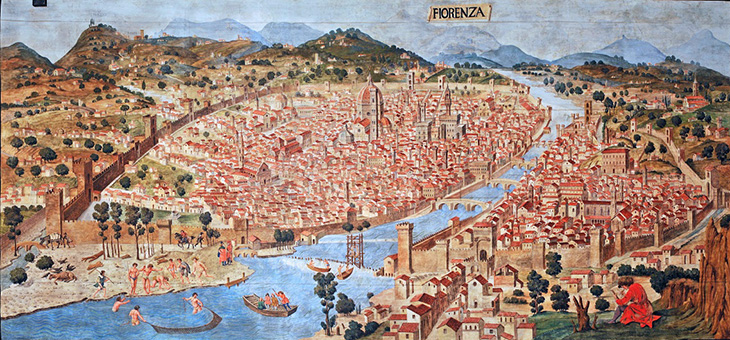 (Veduta della Catena / Chain Map 1800s Francesco Petrini & Raffaello Petrini | 1471 Francesco Rosselli)
Le Duomo and other churches, as well as the bridges including Ponte Vecchio as seen in the painting above, are still in place; however, only remnants remain of the city walls that once surrounded and protected Florence. According to Firenze-Oltarno.net, the walls surrounding Florence were rebuilt at least six times. A first wall was in place during the Roman Empire, before the 3rd century AD. 
Piazza di Santa Maria Novella
Our hotel on the edge of the Piazza di Santa Maria Novella overlooked the magnificent Dominican church that the Piazza is named for. In the evening we enjoyed the rooftop patio overlooking the plaza and surrounding streets at sunset.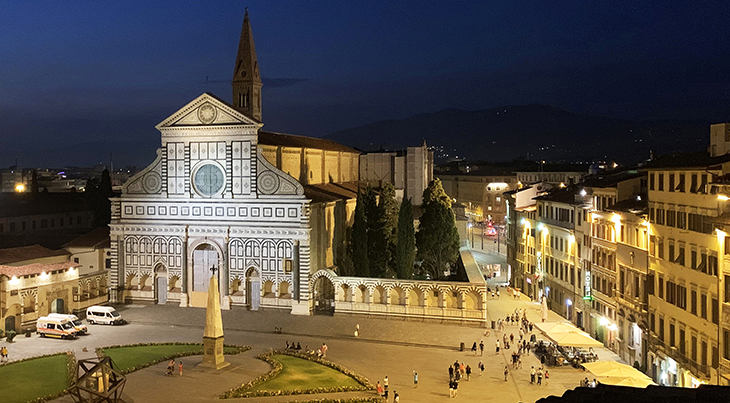 (Piazza di Santa Maria Novella and Basilica, Florence, Italy Photo: © 2019 Anita Hamilton)
According to Visit Florence, the two pointed white marble obelisks (one is visible above) at either end of the piazza in front of the church, were goal areas for a chariot race (Palio dei Cocchi) which began in 1563.  The Florentine reports that the metal icosahedron (bottom left corner in the photo above) in the Piazza is one of several polyhedrons erected on Florence landmarks  to mark a celebration of Leonardo da Vinci's scientific contributions in 2019.
The historic Italian sport of calcio fiorentino / calcio storico, a violent and sometimes lethal game that has elements of rugby and football, was sometimes played in this plaza (although it's said to have originated elsewhere in Florence, in the Piazza di Santa Croce).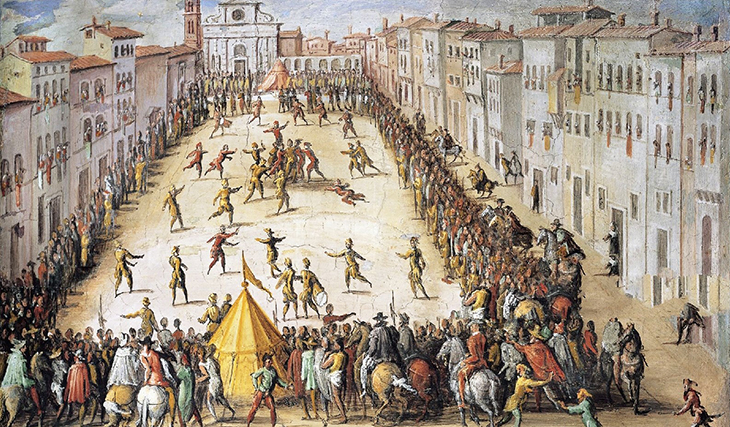 (Gioco del Calcio in Piazza di Santa Maria Novella Painting c. 1561-1562 by Giovanni Stradano / Vasari)
Before the marble obelisks were in place, tents or other markets would have served as the goal posts.
Piazza di Santa Maria Novella in the Movies
Von Ryan's Express (1965), a WWII adventure movie starring Frank Sinatra, Trevor Howard, and Edward Mulhare; with James Brolin, John Van Dreelen, and Vito Scotti in supporting roles. Filming took place for Von Ryan's Express in Malaga, Spain, as well as Italy – the Santa Maria Novella train station in Florence which backs onto the Piazza di Santa Maria Novella, and other locations in Rome, Cortina d'Ampezzo, and Lazio.
Our Santa Maria Novella Hotel room was unique and very comfortable. A big marble bathroom with a very deep tub, a hand shower and a huge mounted showerhead; bathrobes, slippers, toiletries & towels are all provided. The hotel is beautifully air conditioned and the bed comfortable, so the next morning we awoke refreshed and ready to enjoy a full day in Florence. It started well with the included buffet breakfast in the hotel's gorgeous dining room.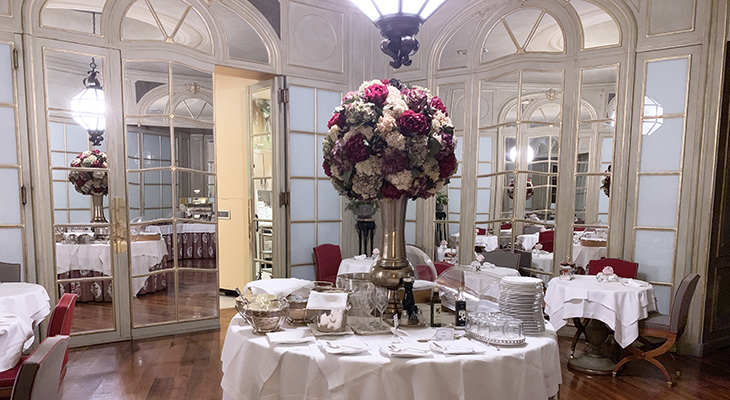 (Santa Maria Novella Hotel Breakfast Room, Florence, Italy Photo: © 2019 Anita Hamilton)
Scrambled eggs and crisp bacon, with a selection of fruits, yogurt, pastries, and the tasty house pound cake, were served on white linen table cloths, with a heavy silver teapot and coffee pot on every table.
Nearby is Florence's outdoor Mercato Centrale, with street vendors selling souvenirs and leather goods that Florence is known for. While the mercato vendors are very willing to bargain, the established storefront shops will not.
Our first evening in Florence we dined at Buca Mario, with waiters lined up chorusing 'buona sera" (good evening) as we walked in at opening time. The grilled lamb chops and cherry tomato salad went perfectly with a bottle of chianti. The following night we ate at L'Osteria Di Giovanni and enjoyed veal chops with roast potatoes, and arugula salad with cherry tomatoes. The appetizer of fried bread was slightly salty and very tasty, and dessert was almond biscotti and shot glasses of lemoncello gelato. 
Le Duomo Opera Museum
In the Piazza Duomo near the magnificent Florence Cathedral is the Museo dell'Opera di Santa Maria del Fiore / L'Opera Duomo. The museum was founded in 1891 to house sculptures, paintings, and vestments taken from the Santa Maria del Fiore Cathedral and the Baptistery.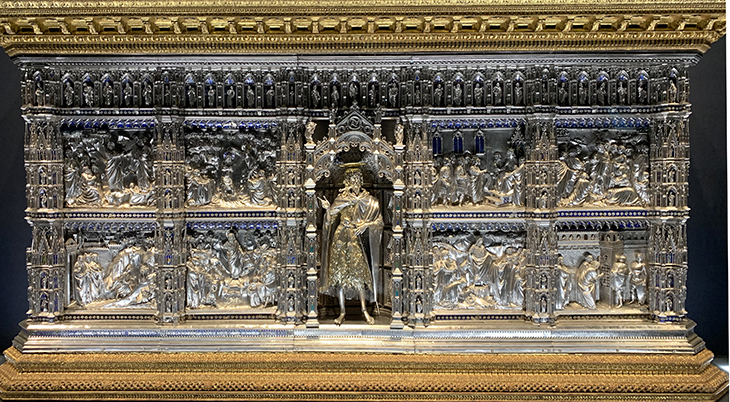 (Silver Altar, Museo dell'Opera di Santa Maria del Fiore Photo: © 2019 Anita Hamilton)
This magnificent Silver Altar is called the "Treasure of the Florence Baptistery" and according to Opera Magazine, was commissioned in 1366. Over 400kg of silver and 1050 enamelled plates, sculptors and goldsmiths, went into the creation of this masterpiece over the course of 100 years. Twelve reliefs around the sides of the altar document the life of Saint John the Baptist.
The museum gallery below houses the old facade of the ancient Cathedral of Santa Reparata on the right, and on the left are the original three decorated bronze doors of the Baptistery of Florence, with statues atop the door entrances.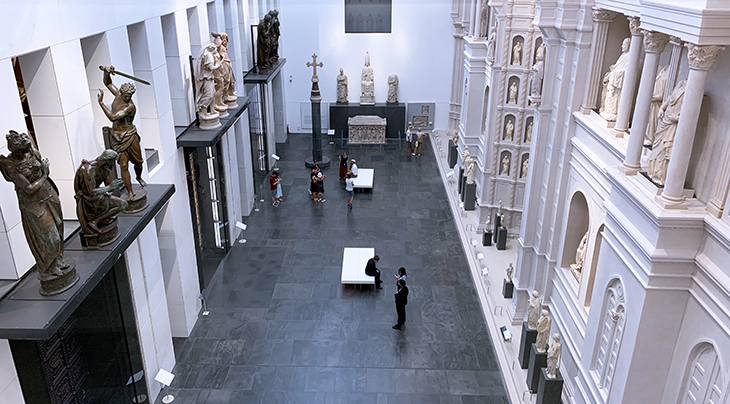 (Baptistery Doors | Santa Reparata Facade, Le Duomo Opera Museum Photo: © 2019 Anita Hamilton)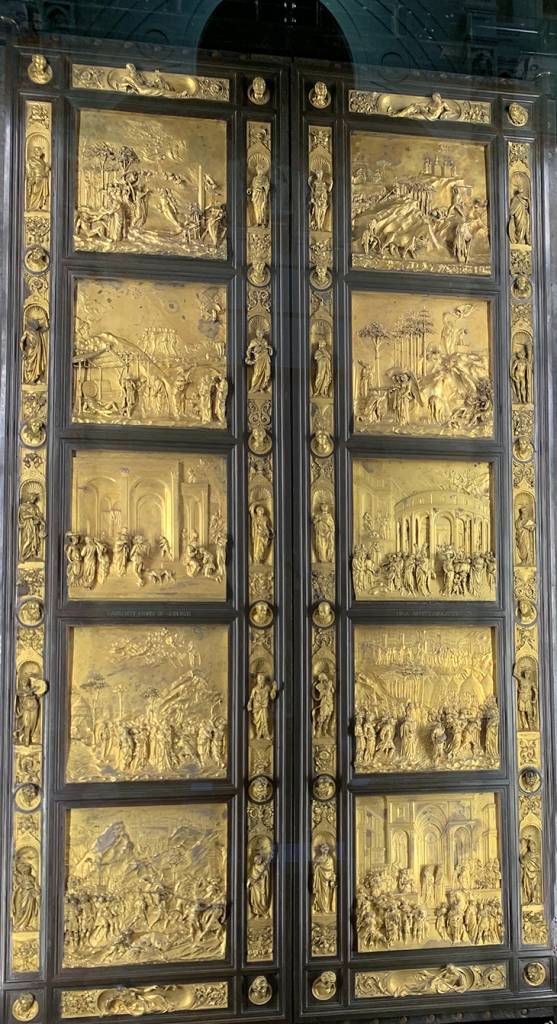 (Gates of Paradise Bronze Door, Le Duomo Opera Museum Photo: © 2019 Anita Hamilton)
Florentine Early Renaissance goldsmith and sculptor Lorenzo Ghiberti was 21 when he won the contest to create the bronze doors of the Baptistery in 1402.
He set up a workshop to train other artists in support of the completion of this important commission. Michelangelo later named this particular magnificent ten-panel bronze door "The Gates of Paradise". 
The Santa Reparata Cathedral may have existed from as early as the fourth or fifth century, or as late as the 9th century, and stood until the 1290's when construction began on the new cathedral. 
Excavations in the 1960s and 1970s under the Duomo / Florence Cathedral have uncovered evidence of the original Santa Reparata Cathedral of Florence that stood on the site, and Roman coins dating back to an even earlier time (238-244 AD).
Florence sculptor Luca della Robbia was commissioned to provide decoration for the organ loft of the Duomo.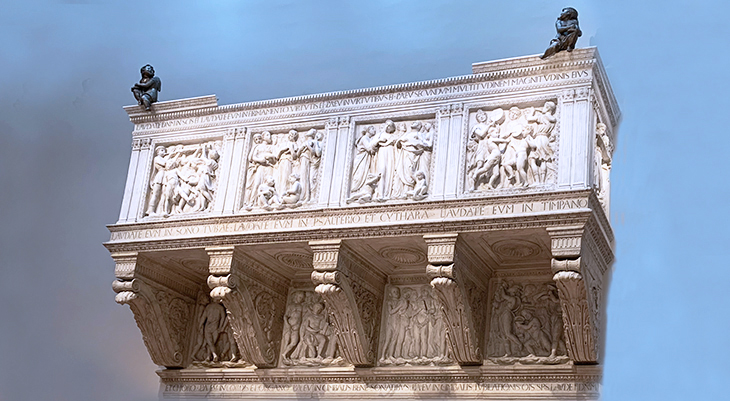 (Luca Della Robbia's Cantoria, Le Duomo Opera Museum Photo: © 2019 Anita Hamilton)
Della Robbia's Cantoria (above, c. 1431-1438) was the artist's first documented commission, presumed to be from the mighty Cosimo de Medici, ruler of Renaissance Florence.
Famed Florentine artist and sculptor Donatello (nee Donato di Niccolò di Betto Bardi, c. 1386 – 1466) was another favorite of Cosimo de Medici. Donatello contributed several works to the Santa Maria del Fiore Cathedral / Duomo. He was one of the artisans that worked on the Baptistery doors (specifically, the "Gates of Paradise" door) and he created "The Chorus / Cantoria" below.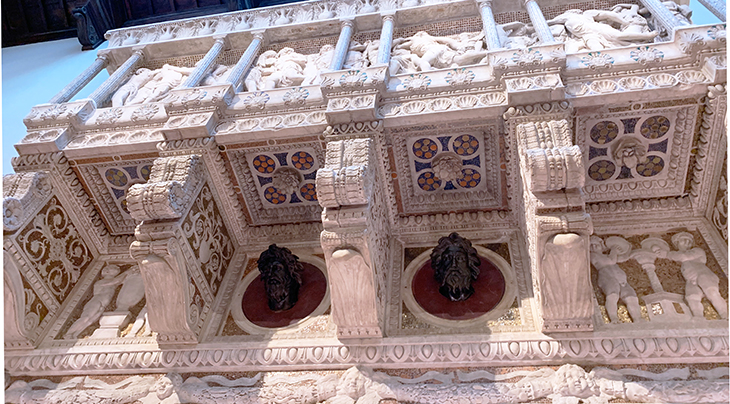 (The Chorus by Donatello, Le Duomo Opera Museum Photo: © 2019 Anita Hamilton)
According to Artble, Donatello's The Chorus / Cantoria was commissioned in the 1430s to provide standing room for choir members, and was sometimes called the "Singing Gallery". It stood in Le Duomo from 1439 until it was removed in 1688 because of a Medici family wedding.
When we emerged from L'Opera Museum it was 9am, and already blazing hot outside. After a gelato at an outdoor cafe, instead of standing in the line that snaked all the way around around the block to see inside Le Duomo (and it's a very big block), we opted to take a 1.5 hour Florence City tour. 
Piazza della Signoria
Around the edges of the L-shaped Piazza della Signoria are several castles (Palazzo Vecchio / Palazzo della Signoria c. 1300s; Palazzo Uguccioni c. 1550; Palazzo Fenzi / Palace of the Aassicurazioni Generali c. 1871), statues, and the Loggia dei Lanzi open-air statue gallery.
The magnificent marble and bronze Neptune Fountain at one corner of the plaza (below) is an 1800s copy of the original. In the background of  you can see the equestrian monument/statue of Cosimo I Medici (c. 1594) by Giambologna.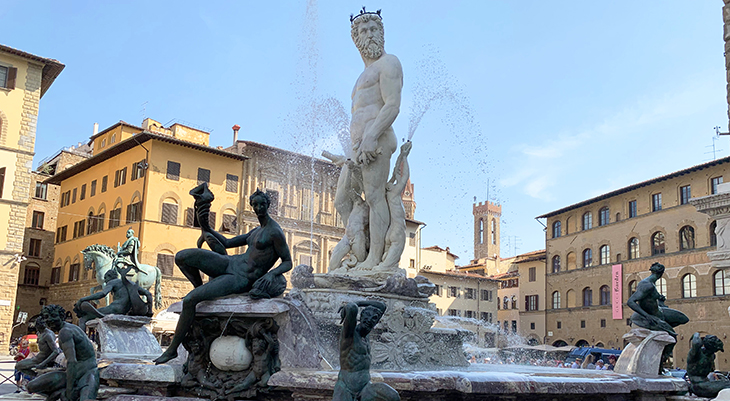 (Piazza della Signoria Neptune Fountain c. 1575, Florence, Italy Photo © 2019 Anita Hamilton)
Neptune's Fountain was commissioned by Cosimo I de' Medici and designed by Baccio Bandinelli. Work was completed by Bartolomeo Ammannati and other sculptors between 1565-1574. The original of this fountain resides in the National Museum.
There are many statues either in front of the Palazzo Vecchio or in the adjacent Loggia dei Lanzi. Perhaps the most famous is a copy of Michelangelo's David (centre, below).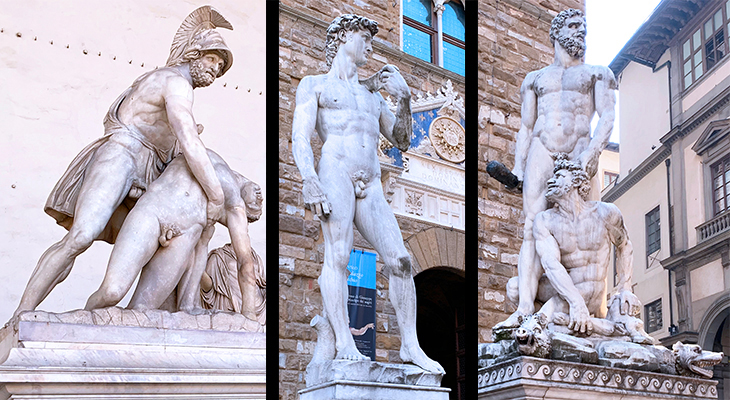 (Menelaus Supporting Patroclus; David; Hercules and Cacus Photos © 2019 Anita Hamilton )
Above, on either side of David, are the statues of Menelaus Supporting Patroclus (c. 1771-1838), and the white marble Hercules and Cacus statue by Baccio Bandinelli c. 1533. Michelangelo's original marble David sculpture was moved from Piazza della Signoria to inside Florence's Galleria dell'Accademia in 1873.
Below are several prominent statues standing in the Loggia dei Lanzi gallery.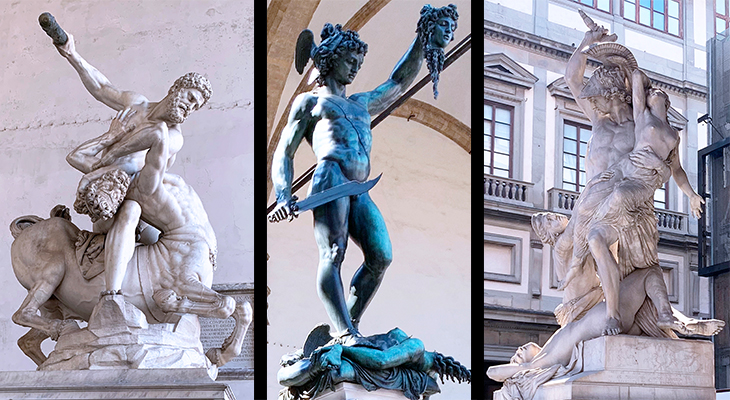 (Hercules Fighting the Centaur, Perseus With Head of Medusa, & The Rape of Polyxena Photos © 2019 Anita Hamilton)
Above from left, Hercules Fighting the Centaur Nessus by Giambologna (Jean de Boulogne / Giovanni da Bologna) c. 1599; the bronze Perseus With Head of Medusa (c. 1545-1554) by soldier-musician-poet-sculptor Benvenuto Cellini; and The Rape of Polyxena c. 1855-1865 by Pio Fedi. 
In centuries past, the Piazza della Signoria served as a meeting place for celebrations, festivals, as well as more macabre public events, such as the execution of Renaissance Dominican Friar Girolamo Savonarola and 2 other "heretics" in 1498.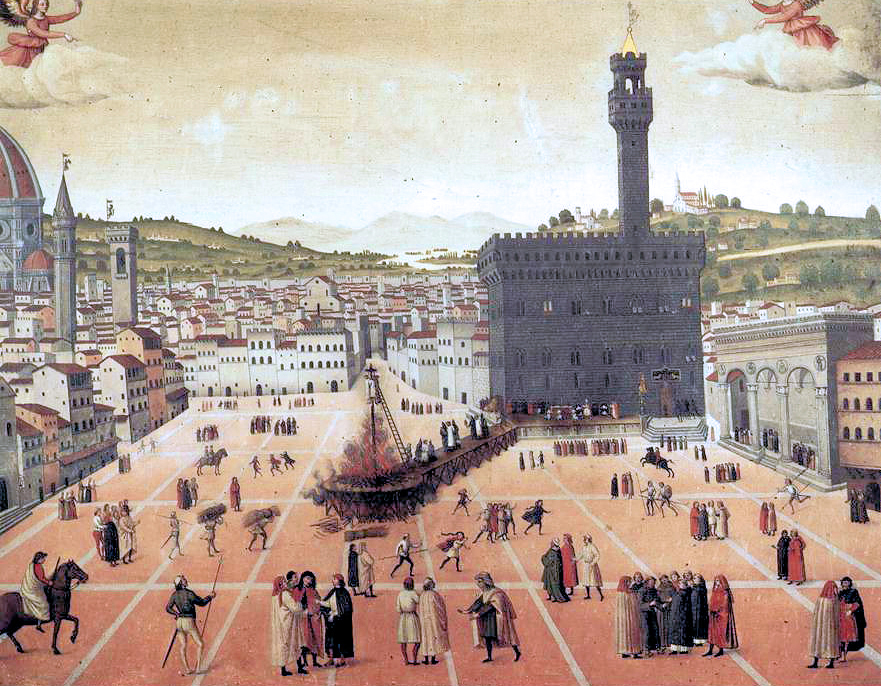 ("The Death of Savonarola" in Piazza della Signoria, Florence – 1650 Painting)
The Florence Cathedral / Le Duomo can be see towering above the buildings on the extreme left of the painting above, while the walkway to the Pyre extends from in front of the Palazzo Vecchio, and on the right is the Loggia dei Lanzi. Beyond the buildings, in the centre of the painting you can see the wall that once surrounded Florence and the hills beyond the city, and on the right is the San Miniato Church and Monastery overlooking Florence.
Piazza della Signoria in the Movies
Light in the Piazza (1962), a romantic drama starring Olivia de Havilland, Rossano Brazzi, George Hamilton, Yvette Mimieux, and Barry Sullivan. Light in the Piazza was filmed in Italy, with notable scenes set in the Uffizi Gallery and Piazza della Signoria in Florence, and Via Veneto in Rome.
A Room With a View  (1985), James Ivory's historic (set in 1900) romantic drama starring Maggie Smith, Helena Bonham Carter, Denholm Elliott, and Julian Sands. Simon Callow, Judi Dench, and Daniel Day-Lewis, have supporting roles. England and several locations in Florence appear on film in A Room With a View – the Neptune Fountain in Piazza della Signoria, Ponte Vecchio, and Piazza Santa Croce, among others. 
Up at the Villa (2006), set in Florence & Tuscany and starring Kristin Scott Thomas, Sean Penn, Anne Bancroft, and James Fox. Florence film locations for Up at the Villa include the Basilica di San Miniato al Monte, the Loggia dei Lanzi and streets around Piazza della Signoria and Uffizi Square, and Orsanmichele church. 
Tale of Tales (2015), a fantasy horror film starring Salma Hayek, Vincent Cassel, Toby Jones, and John C. Reilly. Palazzo Vecchio and other castles in Italy were film locations for Tale of Tales.
Historic Bridges of Florence
The medieval stone arch Ponte Vecchio bridge below was built in 1345, and has gold and jewellery shops built along the sides of it.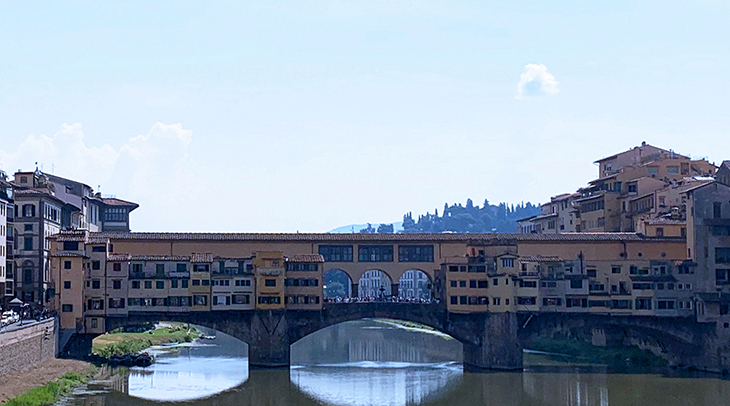 (Ponte Vecchio Bridge, Florence Photo © 2019 Anita Hamilton)
Previous bridges at this point of the Arno River were destroyed by floods, but there is evidence that a bridge was here as far back as Ancient Roman times.
The enclosed upper portion of the bridge supported by arches is called the Vasari Corridor, built by the Medici family in 1561 so they could walk safely between their palaces on either side of the river (Palazzo Vecchio on the north and Pitti Palace on the south).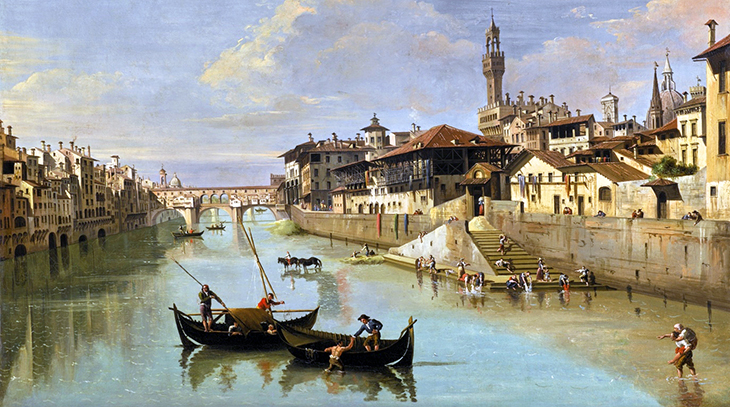 (A View of the Arno Towards the Ponte Vecchio c 1740s Oil on Canvas, Giuseppe Zocchi)
As you can see in the above painting by Giuseppe Zocchi, the Arno River and the bridges, were an important part of everyday life in Florence in previous centuries. Although the Ponte Vecchio has not changed significantly since then, the smaller windows seen along the Vasari Corridor in the painting, were replaced with three large viewing windows over the three arches at some point after WWII.
According to Florence-On-Line, the Ponte Vecchio was the only bridge in Florence not destroyed by German troops during WWII.
Ponte Vecchio in the Movies
Inferno (2016), a crime drama from Ron Howard and starring Tom Hanks, Felicity Jones, and Ben Foster, was filmed in Turkey, Hungary, and Italy – Venice and Florence. A motorcyle scene in Inferno takes place on the Ponte Vecchio bridge, a view from inside the Palazzo Vecchio tower in the Piazza della Signoria can be seen, and the Boboli Gardens near the Pitti Palace is another film location. 
Obsession (1976), a Brian de Palma-directed thriller starring Cliff Robertson, Geneviève Bujold, and John Lithgow, filmed scenes at several locations in Tuscany, including San Gimignano and Florence – Ponte Vecchio, Piazza della Signoria, and the San Miniato al Monte Basilica.
The Renaissance Ponte Santa Trinita bridge below, has 3 arches and is the the oldest elliptic arch bridge in the world.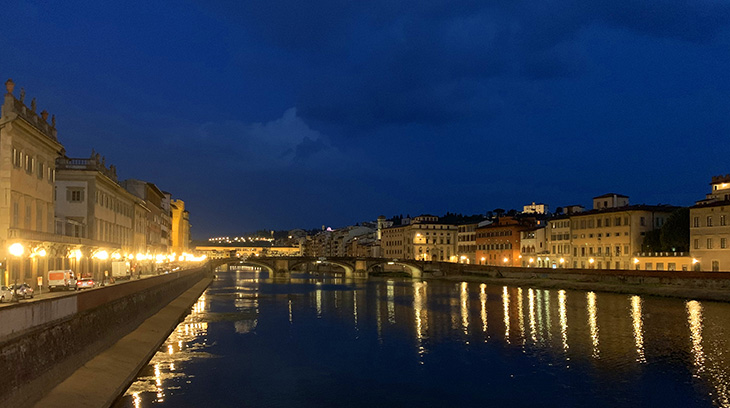 (Ponte Santa Trinita / Holy Trinity Bridge, Florence Photo © 2019 Anita Hamilton)
When a wooden bridge at this location was destroyed in a 1333 flood, it was replaced by a stone bridge with 5 arches designed by Taddeo Gaddo; that bridge was also swept away in a flood in 1557. Bartolomeo Ammannati built the current 3-arch Ponte Santa Trinita bridge between 1567-1569.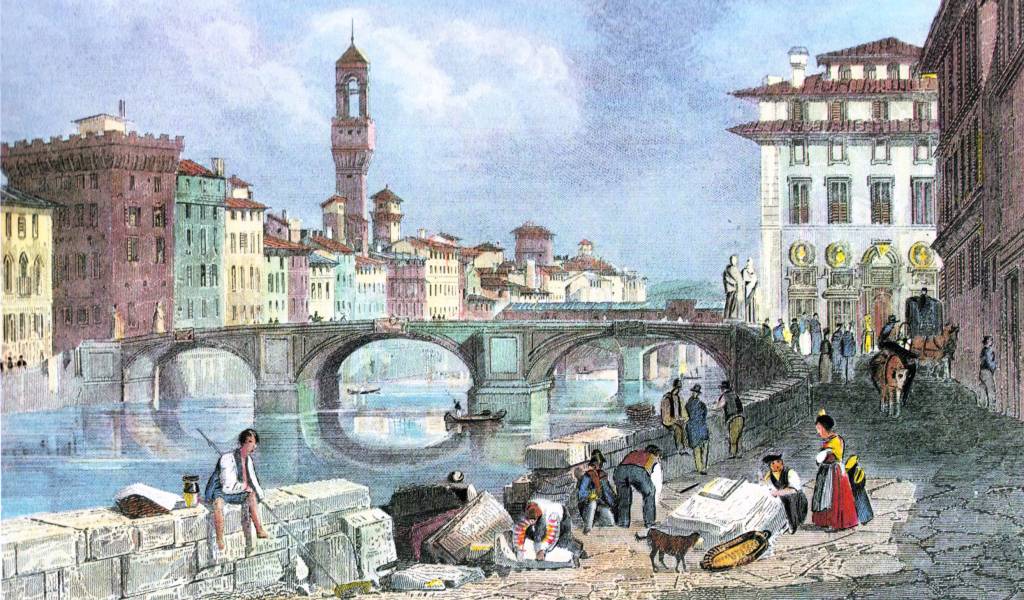 (Ponte Santa Trinita / Holy Trinity Bridge c. 1830 Engraving by J. .D. Harding | Photo by McLeod)
Ponte Santa Trinita was destroyed in 1944 by German soldiers. In 1958 original stones were retrieved from the Arno River and combined with stones quarried from the Pitti Palace's Boboli Gardens, and the Santa Trinita bridge was rebuilt with Ammannati's 3-arch design.
Hannibal (2001), director Ridley Scott's thriller with Anthony Hopkins as the title character, is set in Florence and is based on killings that took place in that city between 1968-1985. Julianne Moore, Gary Oldman, Ray Liotta, and Giancarlo Giannini have supporting roles in Hannibal. In addition to several locales in the USA, Sardinia and Florence provided multiple film locations for Hannibal – Piazzale Michelangelo, Piazza della Signoria and the Palazzo Vecchio, Le Duomo, Piazza di Santa Maria Novella (and the train station), and Ponte Santa Trinita.
The Ponte alle Grazie Bridge built in 1953 offers city views of Florence on either side of a 5-arch bridge.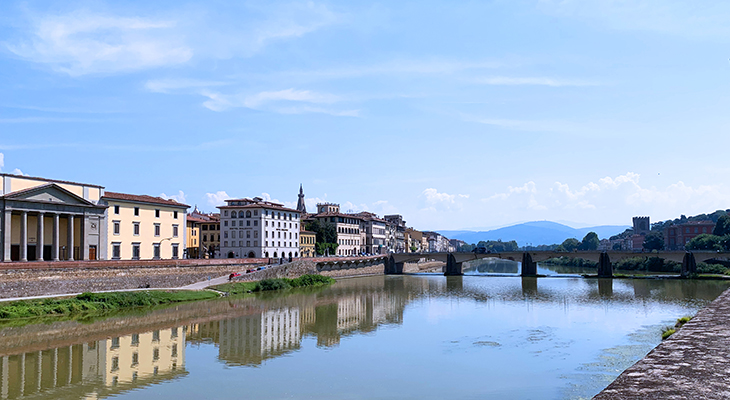 (Ponte alle Grazie Bridge & Arno River, Florence Photo © 2019 Anita Hamilton)
Above, on the north-west side of the city near the Ponte alle Grazie bridge you can see the Florence Chamber of Commerce (the building with stone pillars in the centre) and the Hotel Balestri (the large gray-white building).
Before the Ponte alle Grazie stood here, was the stone Ponte di Rubaconte bridge, built in 1227, and rebuilt in 1345 with 9 arches. In 1346 the south side of the river was filled up with earth and two of the arches were removed; it's likely at this time that the name was changed to Ponte alle Grazie, because of a nearby oratory (Madonna alle Grazie).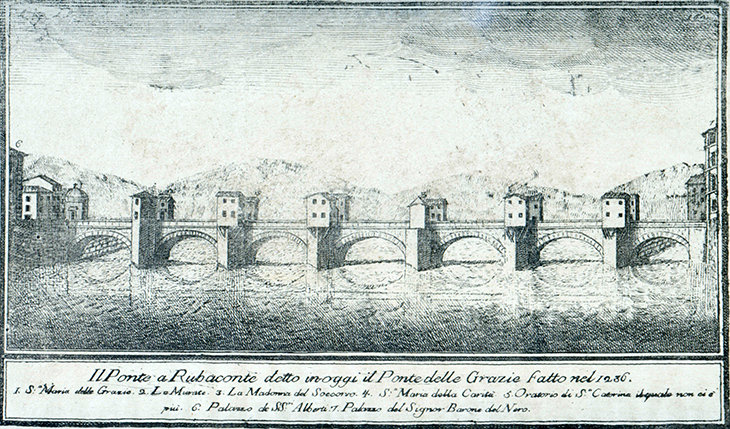 (Ponte alle Grazie Bridge c. 1600s Drawing Photo: Roberto.Amerighi CC-By-SA 3.0)
The above sketch of Ponte alle Grazie dating back to the 1600s is labelled "The Bridge in Rubaconte called today the Bridge of Grace made in 1236" and shows the 7 arches as it looked at that time, with stone buildings at each of the pylons on either side. The buildings were torn down in the 1870s to allow for widening the roadway. 
As with most of the other bridges in Florence, Ponte alle Grazie was destroyed by retreating Germans near the end of WWII. The new Ponte alle Grazie was built in 1953 with new materials and a different design.
We left Florence for a day trip to the UNESCO World Heritage Cinque Terre National Park, where we planned to stay overnight in Monterosso al Mare before heading on to Milan to begin our bus tour of Northern Italy with Insight Vacations. By the time we finished our tour and headed home to Canada, we'd seen the amazing Prince-Bishops City of Trento, Shakespeare's Fair Verona, Lake Garda's Roman ruins and the medieval town of Sirmione, enjoyed a Prosecco Wine-Tasting, visited Venice's St. Mark's Square and the haunting Islands of the Venetian Lagoon, and explored the Italian Lakes District – Lake Maggiore and Isola Bella, and Lake Como.
Florence and each of these destinations/experiences truly made it a dream vacation to Italy!
More of Florence in the Movies & Books
Although hundreds of movies and books have featured Florence (I've mentioned a few films above), here are a few more note-worthy English-language novels and movies that filmed in and around the city – from oldest to newest.
Novels
Author Daphne Du Maurier's My Cousin Rachel (1951) has a central character wintering in Italy before meeting a mysterious woman – his cousin Rachel – and marrying her in Florence. Gothic mystery at it's finest.
Movies
Silent film stars and sisters Lillian Gish and Dorothy Gish co-starred in a couple of movies during the 1920s that filmed in Florence. Orphans of the Storm (1921) is set in the French Revolution, but was filmed in Florence and New York. Romola (1924) is set in Renaissance Florence, and co-stars William Powell, Ronald Colman, and Charles Lane. 
Prince of Foxes (1949), a historical drama with Tyrone Power, Orson Welles, Wanda Hendrix, and Everett Sloane. Filming for Prince of Foxes took place in Rome, San Marino, Lazio, Venice, and Tuscany – Siena and Florence.
September Affair (1950), a historical romantic drama set in WWII Italy, stars Joan Fontaine, Joseph Cotten, and Jessica Tandy.  Filming for September Affair included locations in Rome, Capri, and Florence.
Darling (1965) is a romantic drama directed by John Schlesinger and starring Julie Christie, Dirk Bogarde, and Laurence Harvey. Darling filmed primarly at locations in England, but some scenes were filmed in Paris, Florence, and Rome.
The Portrait of a Lady (1996), a historical drama based on Henry's James' 1881 novel, and directed by Jane Campion. Portrait of a Lady stars Nicole Kidman, John Malkovich, Barbara Hershey, Mary-Louise Parker, Shelley Winters, Shelley Duvall, Christian Bale, Viggo Mortensen, John Gielgud, and Martin Donovan. Filmed in England, Turkey, Australia, the USA, and several locations in Italy (Rome's Colosseum and several Palazzo's; Florence; other Tuscany locales).  
Tea with Mussolini (1999), a Franco Zeffirelli historical comedy-drama set in WWII Tuscany (Florence and San Gimignano). Tea with Mussolini stars Judi Dench, Joan Plowright, Maggie Smith, Cher, Lily Tomlin, and Paolo Seganti.
Under the Tuscan Sun (2003), a romantic comedy starring Diane Lane and Sandra Oh. San Francisco, Rome, Florence, Positano, Cortona, and other locations in Italy were film locations for Under the Tuscan Sun.
The Life Aquatic with Steve Zissou (2004), director Wes Anderson's comedy with Bill Murray, Owen Wilson, Cate Blanchett, Anjelica Huston, Willem Dafoe, Jeff Goldblum, and Michael Gambon. Filming for The Life Aquatic took place almost entirely in Italy – Naples, Rome, Florence, and the Ponziane Islands. 
The Best Offer (2013), a crime drama directed by Giuseppe Tornatore and starring Geoffrey Rush, Jim Sturgess, Sylvia Hoeks, and Donald Sutherland. Prague, Vienna, and several locations in Italy stood in as film locations for The Best Offer – Trieste, Milan, Rome, Parma, Florence, Merano, and Bolzano.
6 Underground (2019), an adventure-comedy directed by Michael Bay and starring Ryan Reynolds, with Dave Franco and James Murray in supporting roles. 6 Underground was filmed in several countries (Budapest, Hungary; Abu Dhabi, UAE; Hong Kong, China; Los Angeles, California) and locations in Florence, Siena, and Rome in Italy.
The television mini-series Medici (2016-) is a must-see if you want more of Florence and it's history (albeit with some fiction/story enhancements to add drama), because hundreds of locations in and around Florence are prominently featured. The first season takes place during the era of Cosimo de' Medici (1389-1464), with Dustin Hoffman playing his father, family banker and patriarch Giovanni de' Medici. It's notable that in this first season of the mini-series, the Florence Cathedral is shown with a gaping hole where the dome is later built (completed in 1436), but with the current exterior facade, which was not completed until 1887.
*This article is for general informational purposes only. 50+ World does endorse these providers, nor does it receive remuneration from them.* 
**Unless indicated otherwise, all photographs & text in this article are © 2019 Anita Hamilton. All rights reserved. Do not download or reproduce without written permission. Other images are either presumed to be in the public domain and/or creative commons licensed and sourced via Wikimedia Commons or Flickr**