Cinque Terre's Monterosso al Mare
Monterosso al Mare is one of the "Five Lands" medieval villages that make up the UNESCO World Heritage site of Cinque Terre National Park on the Ligurian coast of Italy.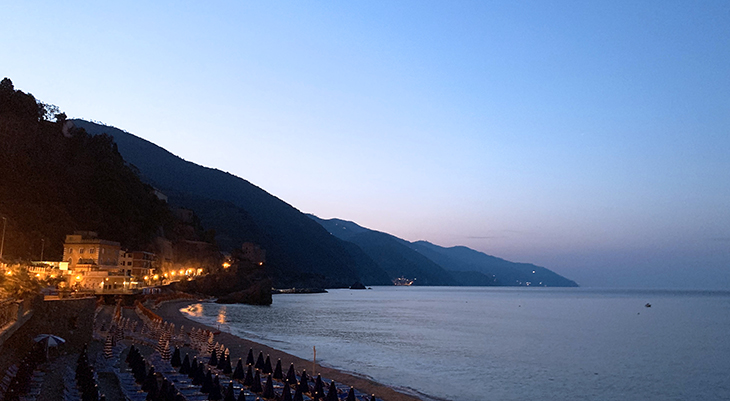 (Sunrise, Monterosso Al Mare, Cinque Terre, Italy)
This part of the Italian Riviera in Northern Italy is famous for these remote villages with their brightly coloured houses and terraced gardens and vineyards on rocky hillsides. 
At the end of a day tour from Florence to Cinque Terre, instead of heading back to Florence with the rest of our group, we took our luggage off the bus at La Spezia, and got on the Cinque Terre regional train to stay in Monterosso for a couple of nights.
Monterosso is divided into the "new" and "old" parts by a rocky outcropping with a couple of restaurants on it. You can walk on the higher path or take a tunnel, to get to either side of the village. At the very top of this outcrop is the Convent of the Capuchin Friars.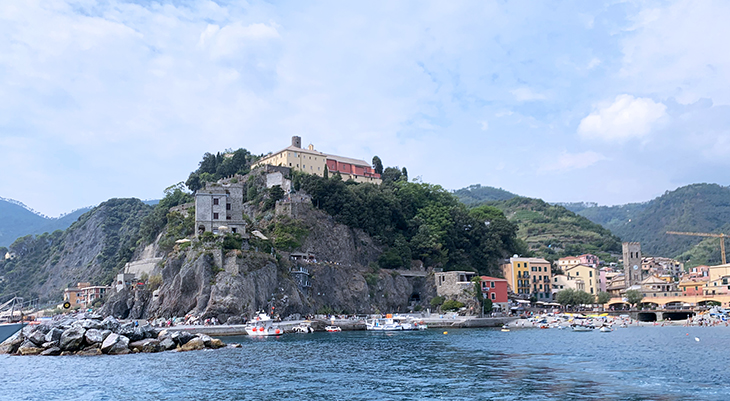 (Convent, Torre Aurora Restaurant & Old Monterosso Beach, Cinque Terre)
Monterosso Dining/Travel Tip: We'd have liked to dine at either the highly rated Torre Aurora or L'Ancora della Tortuga restaurants on this point, but they were both fully booked. During tourist season March-October, it's best to make a reservation well in advance.
Old Monterosso
Old Monterosso has lot of little shops, with plenty of cafes and restaurants to choose from for lunch or supper dining.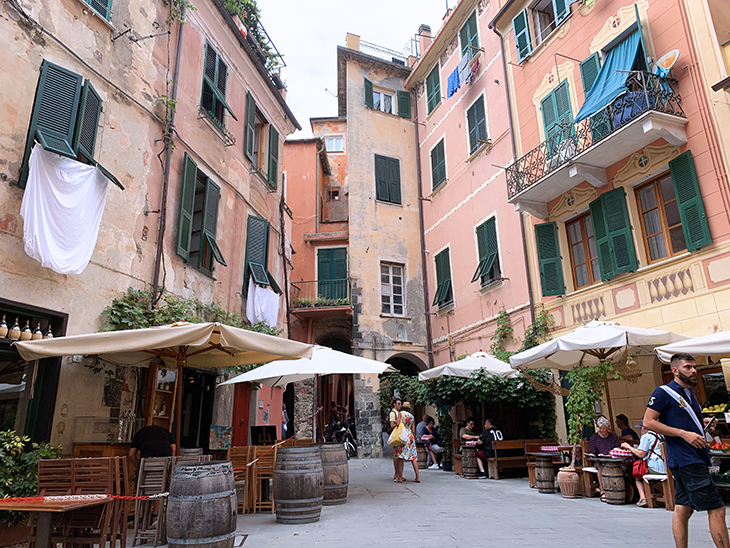 (Piazza Matteotti, Monterosso, Cinque Terre)
Grapes, white wine, limoncino / limoncello and olives are all fresh local produce to be found in Monterosso stores and enjoyed on their own or with a meal.
At Cantina del Pescatore, we had a light lunch of individual bruschetta (mine was topped with mushrooms and black olives), tasty and filling. During this hottest part of the day, the clerk at the entrance was kept busy serving slushy limoncino to passersby.
Around the corner is the Piazza Don Giovanni Minzoni, with more shops, restaurants.
(Chiesa di San Giovanni Battista, Monterosso, Cinque Terre)
Prominent along the plaza perimeter is the medieval Church of Saint John the Baptist. 
Distinctive black and white marble (it looks green and white in some lights) covers the exterior of the San Giovanni Battista Church.
Made in the Ligurian Gothic style, the church has a rose-shaped window, and was built sometime between 1244-1307.
There's also a stone bell tower which is from the 15th century.
Inside there are tall black and white marble columns that match the exterior of the church.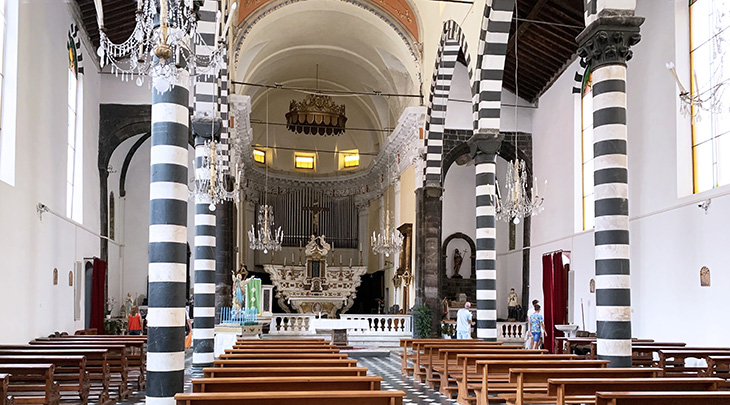 (Chiesa di San Giovanni Battista, Monterosso, Cinque Terre)
Nearby is the Black Confraternity Oratory of the Dead building.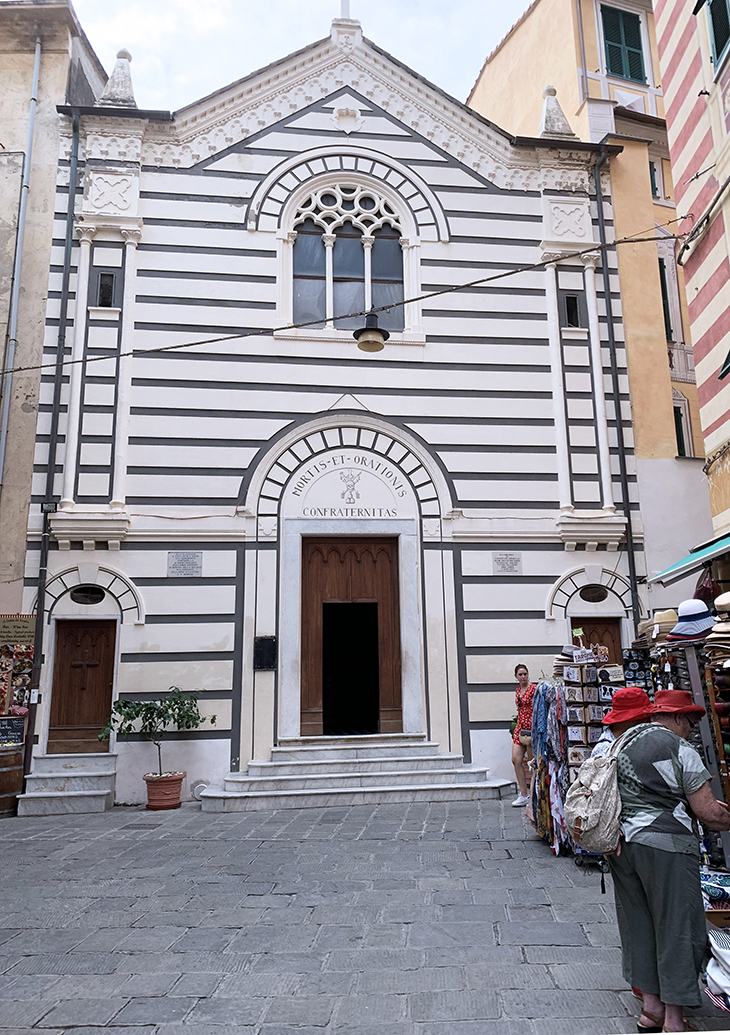 (Black Confraternity Oratory of the Dead, Monterosso, Cinque Terre, Italy)
Built in the 1500s, it's made of the same black and white marble as the church.
A plaque outside the oratory explains that the confraternity (a Catholic brotherhood) dates back to the 17th century. 
The order was dedicated to helping victims of shipwrecks, and doing good works – generally helping and comforting those who were dying or families touched by death.
The interior of the oratory is as impressive as the interior of the church, with ornate sculptures and detailing.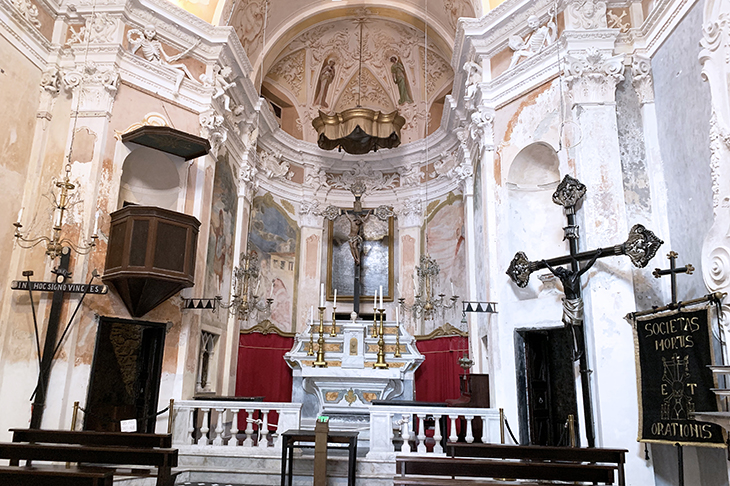 (Black Confraternity Oratory of the Dead, Monterosso, Cinque Terre, Italy)
At the Ristorante Moretto (it comes up on Google Maps as Moretto Lady), we enjoyed a glass of the house white wine, something this area is known for. Delicious walnut-flavored ravioli served as an appetizer, and our main courses were equally yummy – the Chef Special steak in a creamy sauce, and steak gratia. 
New Monterosso
Our hotel was in "new" Monterosso not far from the train station on the main street, Via Fegina. We noticed the train was full of commuters to and from La Spezia at the end of the day. 
We carried our luggage down the train station's two flights of stairs and enjoyed a short walk to the hotel on level ground, with bougainvillea in pinks and purples off-setting the pretty house colors on one side, and beach/ocean views on the other.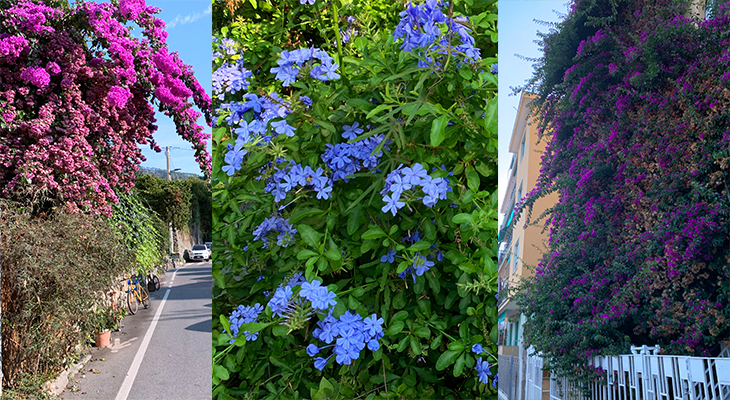 (Monterosso al Mare Bougainvillea Flowers, Cinque Terre, Italy)
There's a relaxed atmosphere in Cinque Terre at the end of the weekday as most day trippers are gone, leaving residents and longer-stay tourists more elbow-room.
After asking several people how to find the address given for our hotel, we found instead an apartment building with no sign, lobby, or desk clerk. A tenant realized what we were looking for and made a phone call for us. About 10 minutes later, a man arrived to check us in. Surprise! What had been advertised online as a hotel was in fact a large 3-4 bedroom apartment on the third floor (no elevator) of the building. Each bedroom had been nicely converted into a "hotel room" complete with their own bathroom and shower stall. 
No elevator meant dragging our big suitcases up three flights…and no desk clerk, meant no one to help with things like making dinner reservations. I was pleasantly surprised to find the next day that there was a maid that came to clean and make up the (somewhat hard) beds.
The common area and balcony were lovely, overlooking the ocean and with cooling breezes.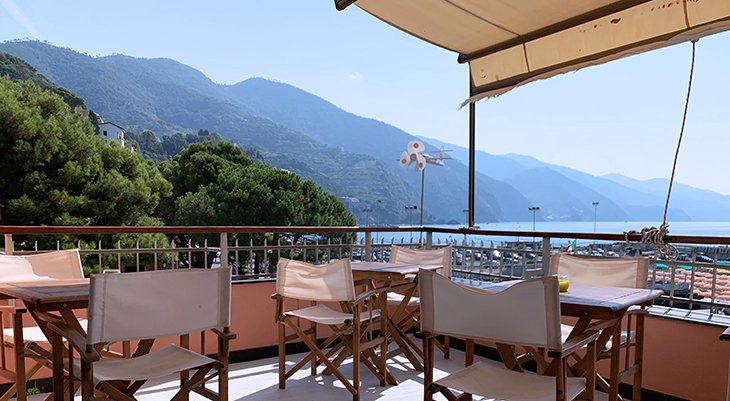 (Cinque Terre Coast view from Monterosso)
For breakfast the next morning we walked to the next door bakery cafe Il Fornaio di Monterosso. They serve delicious pastries, croissants, coffee, and tea. In the evening it switches over to a pizzeria.
Exhausted from trekking up and down the stairs and hilly streets of Cinque Terre by the end of a hot end of August day, we decided to eat a nearby restaurant. Gabbiano had a nice outdoor ambiance at tables on the Via Fegina promenade/sidewalk, which runs the entire length of new Monterosso's beachfront. The view made up for a lacklustre meal; the beef was a thin round piece of steak and came with vegetables; the veal was 5 small medallions with no side.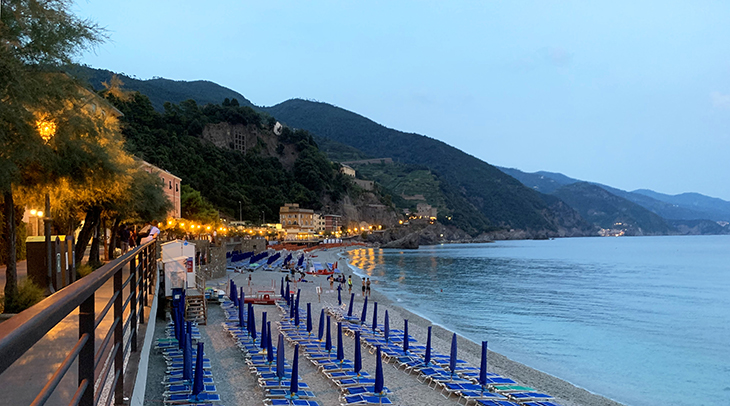 (Monterosso al Mare Via Fegina & Beach at Sunset, Cinque Terre, Italy)
This new part of Monterosso has quite a bit of beachfront, most of it private. There are a few public sections, including a small pebbly beach at the far end of town near our hotel room. We brought beach towels provided for our use in the room, and spent a short time in the warm ocean. During the afternoon the beaches were all quite crowded, but after 5 PM the crowds melted away.
Monterosso is one of the few Cinque Terre towns that have vehicles, and there is some limited parking available. There's even a van-sized bus route in town.
There are a few beachfront restaurants and patios to choose from for lunch or supper. We had lunch at the pretty but unimaginatively named Ristorante Bar-Pizzeria. Our ravioli pasta was tender and flavorful, and the greek salad came filled with thin sliced cucumber, lots of tomato and black olives, and some red lettuce. I tried the local limoncino and found it too strong for me (it doesn't take much), but my husband enjoyed an Italian beer.
The beach here ends abruptly with what looks like a huge black rock wall/cliff with scaffolding covering it….I discover later it's the Il Gigante (The Giant) statue, which is being restored.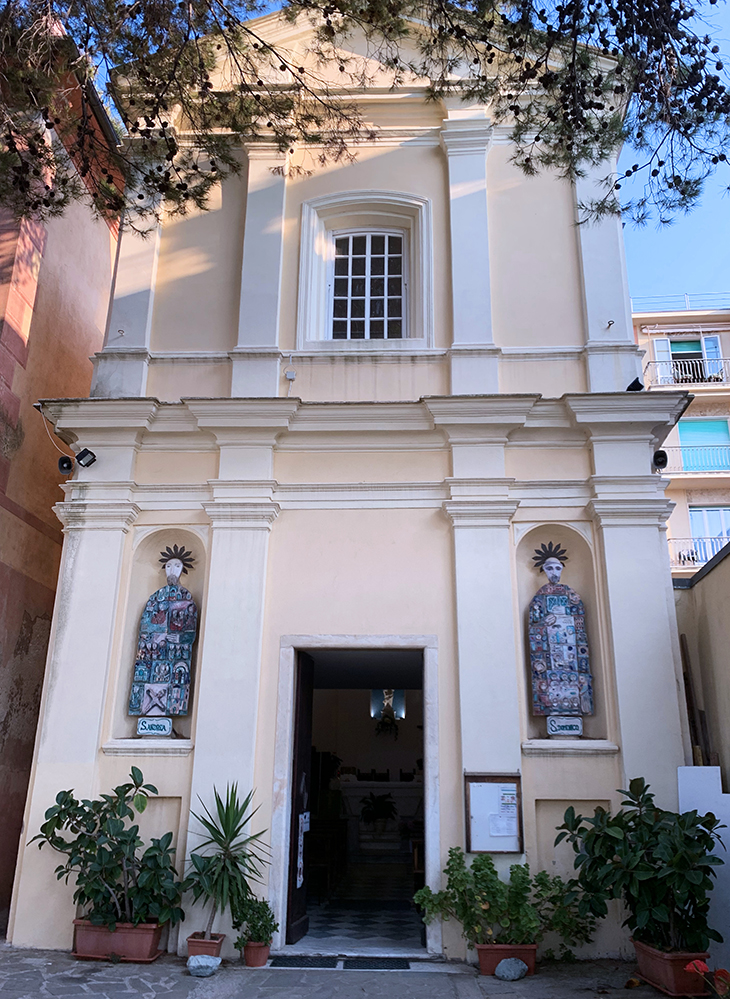 (Chiesa di Santa Maria Nascente, Monterosso, Cinque Terre, Italy)
Within a few blocks of the El Gigante statue is the small Chiesa di Santa Maria Nascente (Santa Maria Nascente Church).
Formerly a private family chapel in the 1800s, it's now open to the public.
The two ceramic statues on either side of the front entrance are of Sant'Andrea and San Domenico.
Our time in Monterosso al Mare and Cinque Terre had come to an end. The next morning we walked to the train station at 6:15 AM and sat at the little cafe inside, watching the sunrise (behind the mountains) slowly light up the village and ocean in front of us.
We said goodbye to Cinque Terre and Monterosso, looking forward to the start of a 10-day dream vacation across Northern Italy with Insight Vacations that would include stops in Lake Maggiore, Venice's landmarks of St. Mark's Square and the Venetian Lagoon islands, Shakespeare's Verona, the Dolomites, Bolzano, Trento, Lake Como, Lake Garda, and unique experiences such as a prosecco wine-tasting and the summer palace at Isola Bella.
Cinque-Terre to Milan Train Tip: Make your train reservations in advance, especially if you will have luggage with you. At the train station, ask the ticketing clerk which end of the track your coach will arrive on, as there are multiple cares and you don't want to have to run the whole way to the other end or drag your luggage through a crowded train.The Monterosso-Milan train is a 3 hour train ride, but allow for some delays. There are washrooms on the train. I didn't see a food or beverage station, but a cart came by once during the 3+ hour ride. 
**This article is for general informational purposes only.**
***Photographs & text in this article are © 2019 Anita Hamilton / 50+ World. All rights reserved. Do not download or reproduce without written permission.***