Past and Present Meet in The Venetian Lagoon
Just outside of Venice lie the eerie islands of numerous abandoned monasteries, the painted houses of Burano lace-makers, and Murano Glass factories on the islands of Giudecca and Murano. It's easy to imagine the past and present blending in the Venetian Lagoon.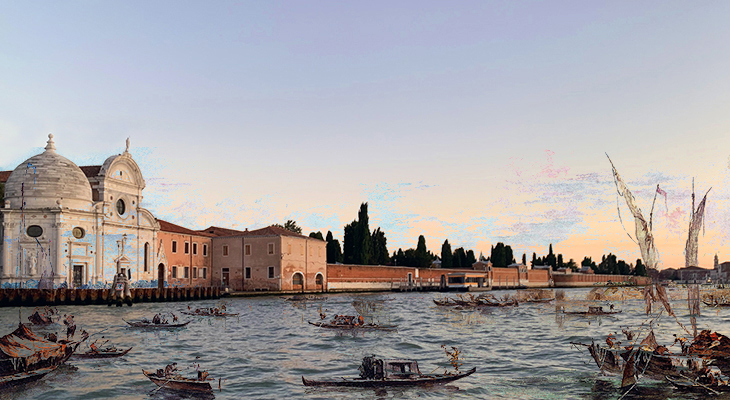 (Island of San Michele, Venice, Italy c. 1770s & 2019 – Photo Blend: Anita Hamilton)
Burano Lace and Painted Houses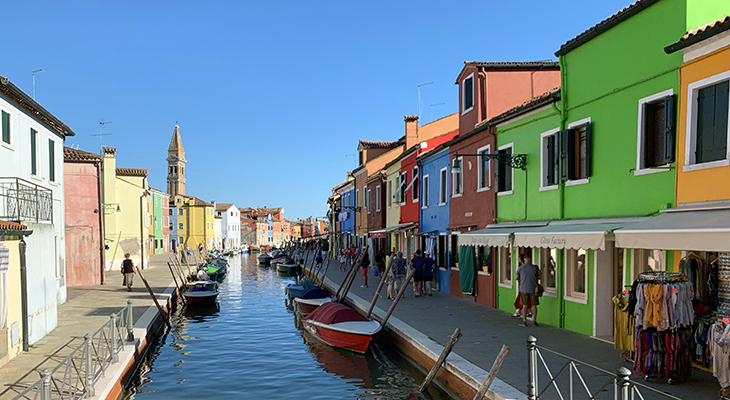 (Painted House & Leaning Church Tower, Burano, Italy Photo: Italy Photo: 2019 Anita Hamilton / 50+ World)
On a recent bus tour of Northern Italy with of Insight Vacations that began and ended in magnificent Milan, we enjoyed a water taxi to the Venetian island of Burano, about a half-hour north-east of Venice. The brightly painted houses of Burano, with boats lining the narrow green canals, and street fronts on either side filled with shops and restaurants, would alone make Burano a unique destination.
But Burano has more to offer than just pretty painted houses – it's most famous product is lace. All kinds of hand-made lace, made by "nonnas" who each specialize in a making a different type of lace.
The lace-making craft on the island of Burano began around the 1400s and after being demand during the 16th century, almost died out during the 1700s. It was revived in the late 1800s when a lace-making school opened on the island. 
We're treated to a beautiful sunset on our private water taxi boat ride from Burano back to Venice. From a distance you can discern the distinct slant of the Church of San Martino's leaning bell tower on the island of Burano.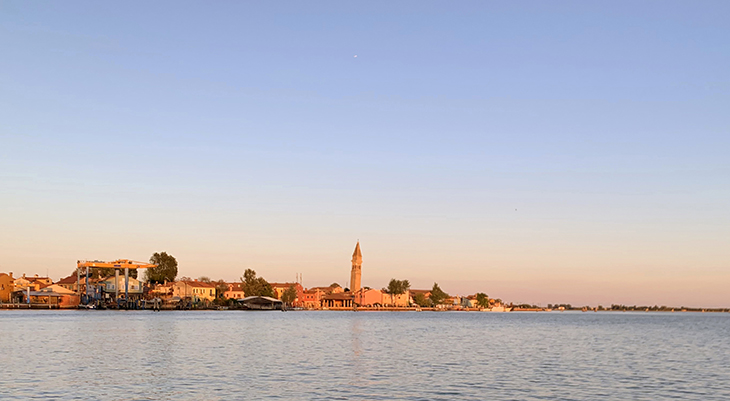 (Burano, Italy at Sunset Photo: 2019 Anita Hamilton / 50+ World)
Abandoned Monasteries of the Venetian Lagoon
Many of the islands around Venice served as monasteries for various religious orders and/or were havens for traveling pilgrims during the centuries leading up to the 1800s. When General Napoleon Bonaparte invaded Venice, he abolished most of the monasteries, and over the centuries since then the majority of these monasteries and islands have been abandoned.
On our water taxi ride from Venice to Burano and back again, we pass by several of these eerie islands and ruins, and I wondered what they would have looked like back in the day…
San Giacomo in Paludo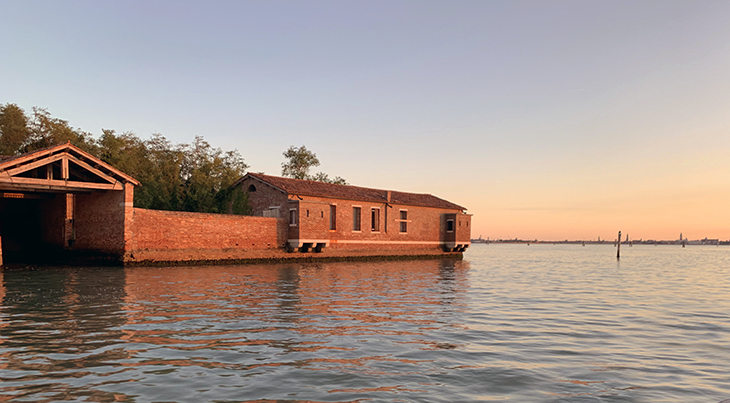 (San Giacomo in Paludo, Italy Photo: 2019 Anita Hamilton / 50+ World)
The exterior wall that encircles the island of San Giacomo in Paludo today glows in the sunset. The primary buildings on the island from the 1600-1800s were demolished in 1810. After that time it was used occasionally as a military post or storage depot.
According to Wikipedia and a University of Venice article , San Giacomo in Paludo was originally a hospital, then a monastery (dating back to 1046) inhabited by monks, then a convent in the 1200s, a lazaretto (for quarantined people or ships) in the mid-1400s, and monks again in the 1500s. 
Francesco Tironi's drawing of San Giacomo in Paludo, was used for Antonio Sandi's Venetian Island engraving published in 1779. A fascinating look at how it would have looked at that time, below.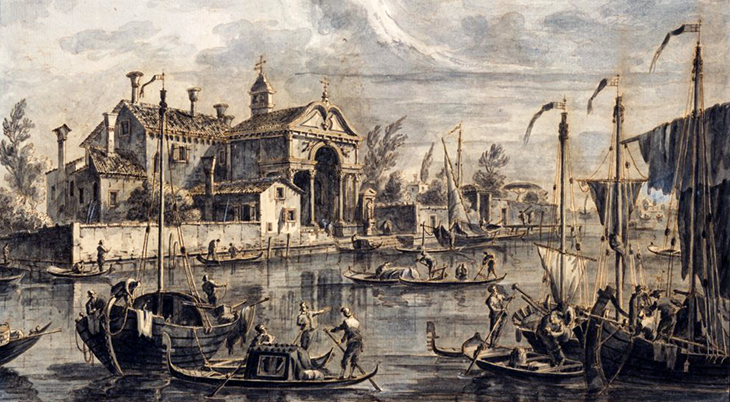 (San Giacomo in Paludo c1779 Drawing: Francesco Tironi / The Metropolitan Museum of Art)
Madonna del Monte Island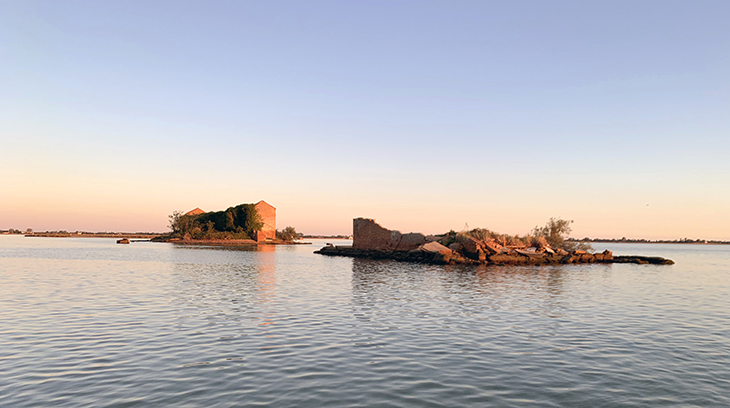 (Isola di Madonna del Monte / Madonna del Rosario, Italy Photo: 2019 Anita Hamilton / 50+ World)
The structures on Isola di San Nicolò della Cavana, aka Madonna del Monte or Madonna del Rosario, were demolished in the mid-1800s to make room for a powder keg, and it lies in picturesque but abandoned ruins today. 
Madonna Del Rosario / Madonna del Monte was inhabited from approximately 1300s -1800s by Benedictine nuns or monks, according to Knowing Italy.
Below, Madonna del Monte island as painted by Venetian artist Giacomo Guardi (1764-1835). Note: Giacomo was the son of noted Italian painter Francesco Guardi.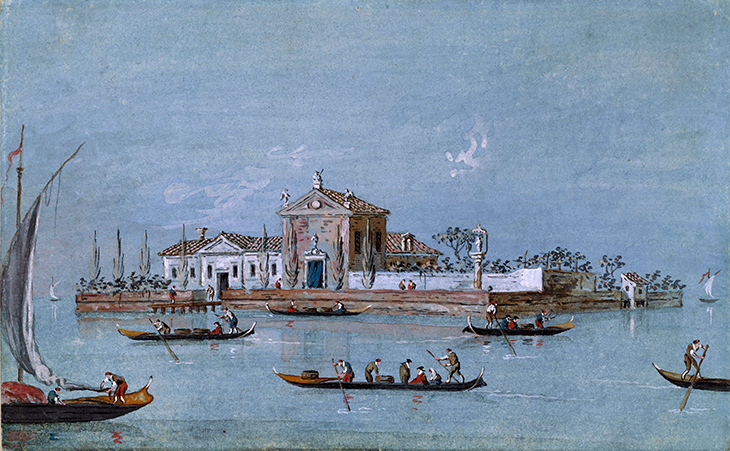 (Isola di Madonna del Rosario Watercolor: 1770s Giacomo Guardi / The Morgan Library)
Isola di San Michele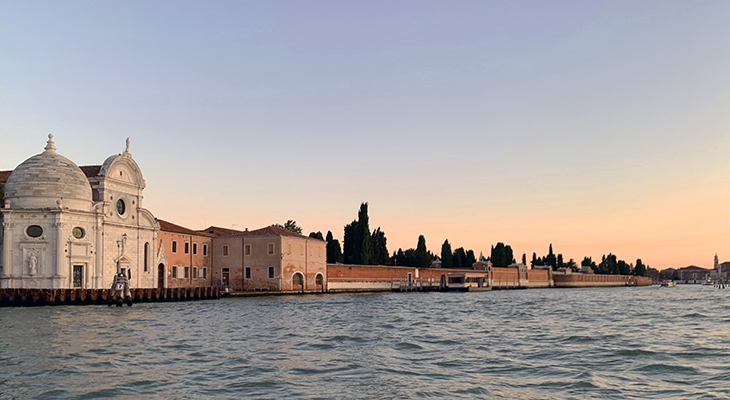 (Chiesa di San Michele, Italy Photo: 2019 Anita Hamilton / 50+ World)
Isola di San Michele with it's monastery and the well-preserved white Chiesa di San Michele and domed Capella Emiliani, capture our attention. The church dates back to 1469 and was the first Renaissance church in Venice. According to Venice Insider, the island has primarily a Camaldolese monastery, but it has also served as a prison.
After Napoleon Bonaparte invaded Venice and decreed people should not be buried there for hygiene reasons, the nearby island of San Cristoforo della Pace became a cemetary. In the 1830s the canal between Isola di San Michele and San Cristoforo della Pace was filled, and the combined islands have served as a larger cemetary since then.
Notables from the arts (Ezra Pound; Igor Stravinsky), sciences, sports, and royalty from Europe, Russia, and elsewhere, are buried here. So technicially the island isn't abandoned per se since it still has the church and cemetary, but the monastery was abandoned.
The 1962 romantic drama Eva, starring Stanley Baker, Jeanne Moreau, and Virna Lisi, was filmed in Rome and locations in and around Venice, including Isola di San Michele, Harry's Bar near St. Mark's Square, and Hotel Danieli / Palazzo Dandolo in Venice, one of several Venetian palazzos in movies and plays.
Below, Francesco Guardi's oil painting of the Island of San Michele, is circa the 1770s and depicts the early Renaissance Church in the centre with the domed Capella Emiliani on the left (and the Gothic bell tower behind that), and the Camaldolensian monastery on the right.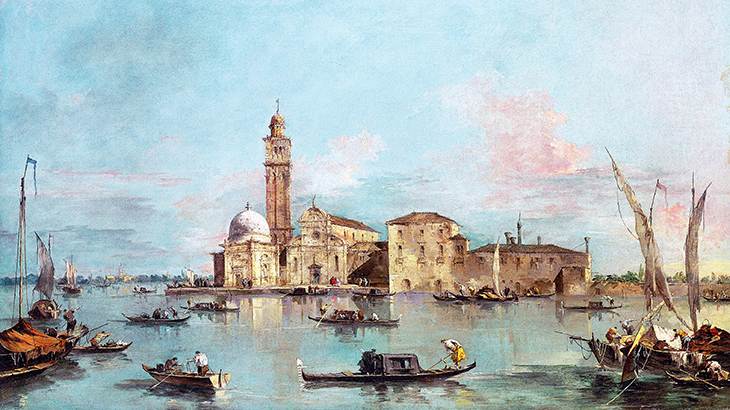 (Island of San Michele, Venice, Italy c. 1770s Oil Painting: Francesco Guardi / The Metropolitan Museum of Art)
Note: Noted Italian painter Francesco Guardi was the father of Venetian artist Giacomo Guardi.
The water taxi ride back to our hotel is nearing it's end as we approach the side/back of the Church of Santa Maria Assunta (known as I Gesuiti), in the Cannaregio district of Venice. The original church and a hospital for the poor were built in the mid-1100s.
In the 1500s the Jesuits (Gesuiti in Italian) established themselves there as well, and in the mid-1600s Venice sold the estate to them. The Jesuits tore down the original church in 1715 and began building the one you see below, today – Chiesa Santa Maria Assunta, with a squared bell tower and white Baroque front.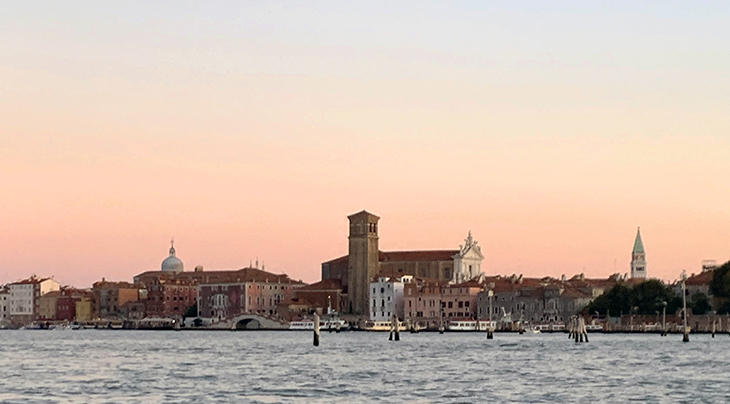 (Church of Santa Maria Assunta / I Gesuiti, Venice, Italy Photo: 2019 Anita Hamilton / 50+ World)
How to Get There: Burano is accessible by public or private water taxi or boat. (Hills of Conegliano, La Vigna di Sarah, Vittorio Veneto, Italy Photo: Anita Hamilton / 50+ World)
Touring these islands of Venice has been part of a true dream vacation to Italy for me.
Murano Glass Blowing at AVG Venetian Arts alla Giudecca
The art of glass blowing has been practiced in Venice for centuries, some sources say possibly as early as the 5th century. On the island of Giudecca just south of Venice, we tour the AVG (Arti Veneziane alla Giudecca) Glass Factory and showrooms, and view a glass blowing demonstration by The "Maestro" a master glass blowing craftsman.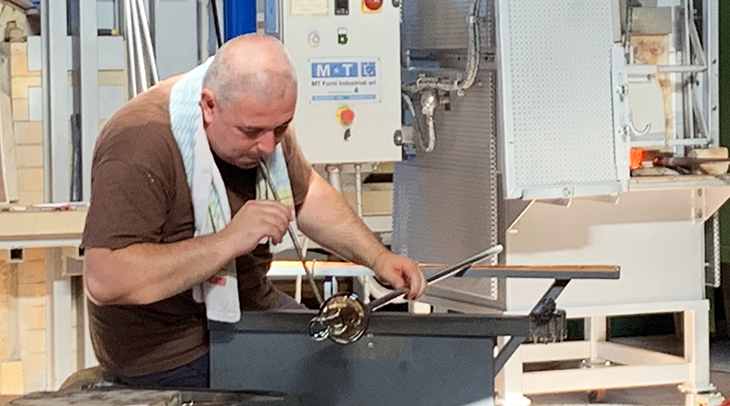 (Glass Blowing Demonstration, Giudecca, Italy Photo: Anita Hamilton / 50+ World)
The heat of the blown glass is over 1000 degrees, and it takes a couple of days in special kilns for it to gradually cool down to normal temperature, otherwise it would break.
Sweat pours off his face as the "Maestro" quickly makes a vase and then a horse; each of these demonstration pieces is then destroyed. It's easy to understand why most of the glass factories were moved from Venice to the islands of Murano just north-east of Venice in 1291, in order to reduce fires in the city.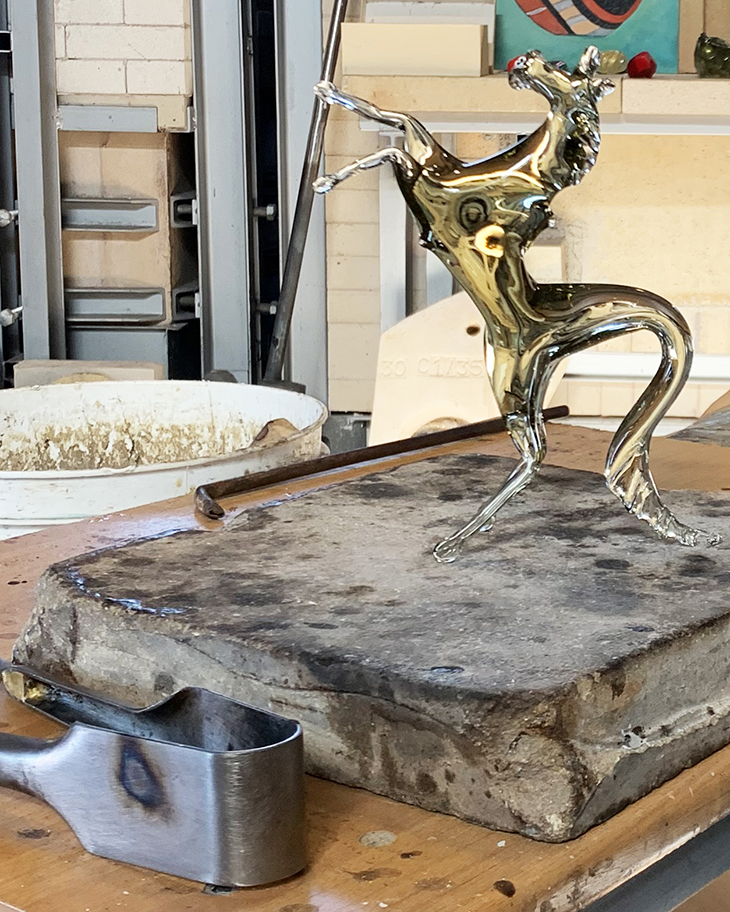 (Glass Blowing Demonstration, Giudecca, Italy Photo: Anita Hamilton / 50+ World)
This also explains why the terms "Venetian Glass" and "Murano Glass" are used interchangeably today, although most stores we saw in Venice and other parts of Northern Italy advertised "authentic Murano Glass".
We are warned to look for the symbols that this is the real thing vs. cheaply made knock-offs from elsewhere.
The AVG showrooms on Giudecca have stunningly beautiful works of art, jewellery, and household wares in glass on display. Chandeliers, goblets with silver or gold trim, all kinds of abstract and shaped pieces from life-size clowns to tiny glass animals.
The prices range accordingly…I buy a very simple bracelet and glass bead necklace for 60€, but I see prices up to 30,000€ for some display pieces. Since I rarely go more than a couple of weeks without breaking a glass at home, I'm careful to stay well away from any big-ticket breakable glass items in the showroom.
How to Get There / See a Glass-Blowing Demonstration – There are several places to see glass blowing demonstrations around Venice and on the island of Murano. It's best to pre-arrange a visit/tour directly with them if you are not with a tour group making the arrangements for you.
We arrived in Venice and the islands of the Venetian Lagoon after having enjoyed a delicious Prosecco wine-tasting at La Vigna di Sarah winery in the foothills of the Dolomites.
This bus tour of Northern Italy with Insight Vacations also included a visit to the Italian Lakes area – Lake Maggiore, Lake Orta, Lake Como, Lake Garda and the Borromeo Palazzo and Gardens on Isola Bella – Shakespeare's fair city of Verona – Cortina d'Ampezzo in the Dolomites, Trento, and Bolzano, all destinations I'd highly recommend. Before we began the tour, we stayed a couple of nights in Monterosso al Mare (part of the Cinque Terre National Park Unesco World Heritage Site), and Florence.
**This article is for general informational purposes only.**
***Photographs & text in this article are either © 2019 Anita Hamilton, Public Domain, and/or Creative Commons licensed where indicated. All rights reserved. Do not download or reproduce without written permission.***