Cortina d'Ampezzo and the Dolomites
Nestled in the heart of the Dolomites is the exclusive ski resort town of Cortina d'Ampezzo, surrounded by the distinctively colored orange mountain peaks of this region.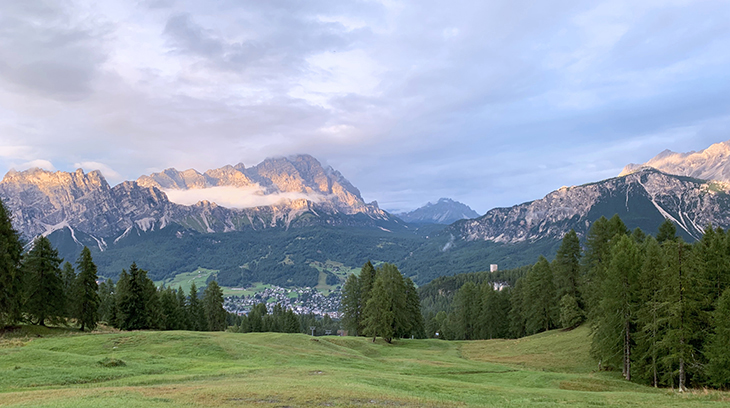 (Cortina d'Ampezzo and The Dolomites from Baita Resch Restaurant, Lagazuoi Mountain, Italy)
On a recent Country Roads of Northern Italy bus tour with Insight Vacations, we toured the Dolomites and stayed overnight in Cortina d'Ampezzo.
Our tour had begun in Milan, and after a stop in Verona and an overnight stay in the Prince-Bishops city of Trento, we drove through the beautiful foothills of the Italian Alps.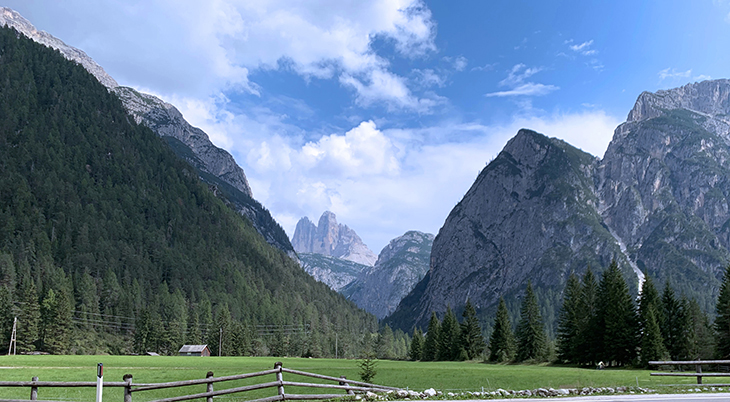 (Dolomites UNESCO World Heritage Site, Italy)  
Dog-Friendly Cortina D'Ampezzo
One of the first sights we saw upon entering Cortina d'Ampezzo was this impressive Gothic bell tower and parish church, made of Dolomia stone.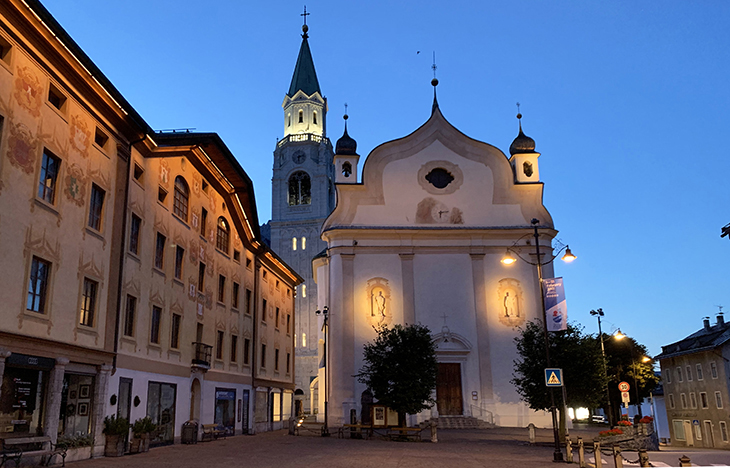 (Basilica Minore dei Santi Filippo / Church & Bell Tower, Cortina d'Ampezzo)
The bell tower was completed by 1858. The Basilica Minore dei Santi Filippo e Giacomo dates back to 1775, and is also in the Gothic style. 
We stayed in the dog-friendly four-star Hotel Ancora in Cortina d'Ampezzo, established in 1826 and built in the area's typical Italian Bavarian style. Window boxes spilled over with colorful flowers outside, and inside we found beautifully preserved wooden floors and doors. Our large bedroom had a magnificent king-size bed (very comfortable) with a massive wooden headboard/storage space that took up the entire wall. 
In 1939 Cortina d'Ampezzo was awarded the right to host the 1944 Winter Olympic Games, but when those games were cancelled due to World War II, Italy reapplied and was awarded the 1956 Cortina d'Ampezzo Winter Olympics. Seventy years later, Cortina will host some alpine events during the 2026 Milano-Cortina Winter Olympic Games. The Olympic rings are visible in different areas of town.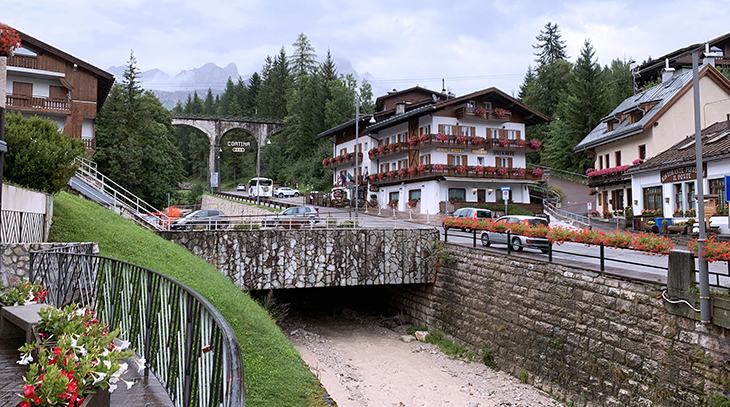 (Cortina d'Ampezzo 2026 Winter Olympics Sign)
The main street of Cortina d'Ampezzo is the Corso Italia, lined with shops, restaurants, and hotels. I noticed a bowl of water for dogs at a shop entrance, and a nearby sign in Italian that I was able to roughly translate later: 
In 1929 Benito Mussolini imposed equal rights for humans and dogs, as the best comrades of man, and every young person was given a dog to learn the values of brotherhood, compassion and cohesion.
Although this sounds highly unlikely and I couldn't find any other reference to Benito Mussolini's supposed equal rights for humans and dogs, nor of young people being given dogs – we did see quite a few dogs (all different breeds) being walked with their owners in town.
It only takes 10-15 minutes to walk the length of Cortina d'Ampezzo's main street, admiring the buildings and flowers.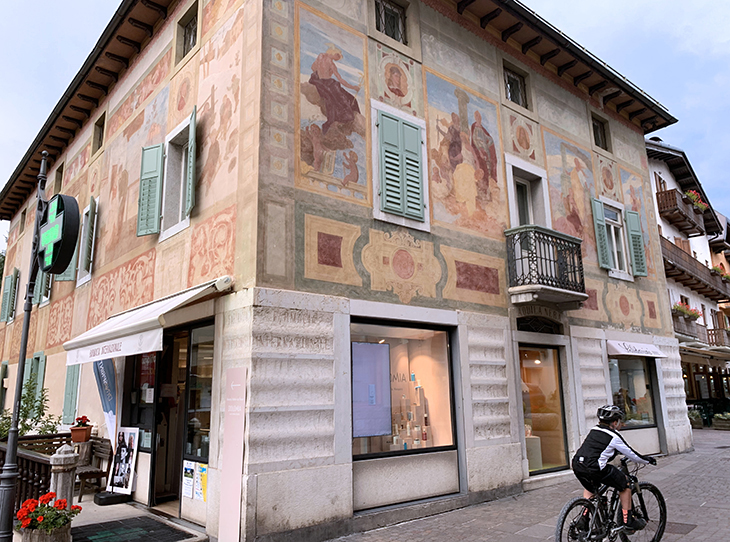 (International Pharmacy Building Frescos)
The frescos that decorate the exterior of the International Pharmacy building in Cortina d'Ampezzo are from the 1800s.
In Bolzano we'd learned that there are approx 80,000 Ladin's spread out across Northern Italy / Europe, with pockets here and there. Ladin is a separate language / dialect distinct from Latin, Italian, or other local languages. The Dolom'eats all'Aquila restaurant where we had lunch one day specializes in Italian and Ladin menu items. Although the service wasn't great, the restaurant dining room was very pretty and our delicious lunch came in generous portions. I had salad with cherry tomatoes, chicken (described as gently cockerel), and huge slivers of cheese, while my husband had a cold plate of mixed salami and cheeses.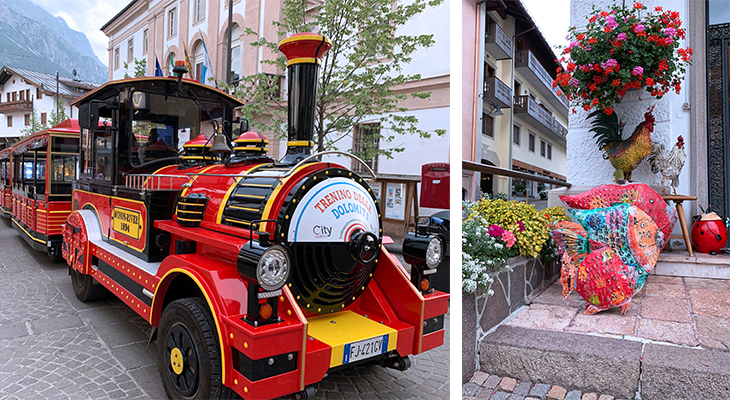 (Cortina D'Ampezzo Corso Italia Sights – Train etc.)
In addition to clothing and furnishings stores, there is a department store and other shops selling seasonal Christmas ornaments, blankets and toys. 
Most of the buildings and walkways in town boast beautiful flower boxes. There's little vehicular traffic on Corso Italia, making walking around the village a pleasure.
The following morning we feasted on a buffet breakfast that featured several different varieties of light-as-air pastries, before setting out to explore the Dolomite mountains.
The Dolomites and Lagazuoi Cable Car
Slightly south-west of Cortina d'Ampezza is the spectacular Lagazuoi mountain range. Italian troops fought against Austrian soldiers here during WWI (1916-1918) to gain control of the Dolomites and this area of northern Italy. Our tour guide told us it's sometimes referred to as the "White War" because of the winter & snowy conditions they faced.
About 10 years ago I'd discovered I'm terrified of heights…not the normal heights of an apartment building or a bridge, but heights when you're above the clouds (and not in an airplane). Our guide advised us that the Falzarego Lagazuoi Cable Car that goes up the Lagazuoi mountain peak (approx 3,000 metres / 10,000 ft above sea level), is quite large, and encouraged those chicken-hearted of us like myself, to consider it, saying we wouldn't regret it. 
I mustered up my courage enough to step into the cable car while clutching my husband's hand. Sure enough, there was so many people surrounding me (the sign says it holds 65), that I couldn't see anything out the windows above the heads of taller people around me (perhaps because I focused on looking down at the solid metal floor). It's a very smooth and fast 3-minute ride to the top.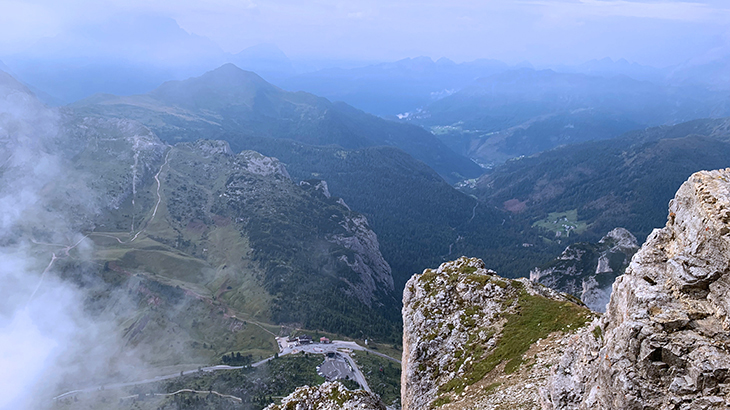 (Cable Car Station below, as viewed from the top of the Lagazuoi)
After exiting the cable car at the top and seeing the cable car station we'd started from far below, it took several minutes before I could force myself to let go of the building I was clinging to. When I finally did, and tottered a few steps away, this was the view I was treated to.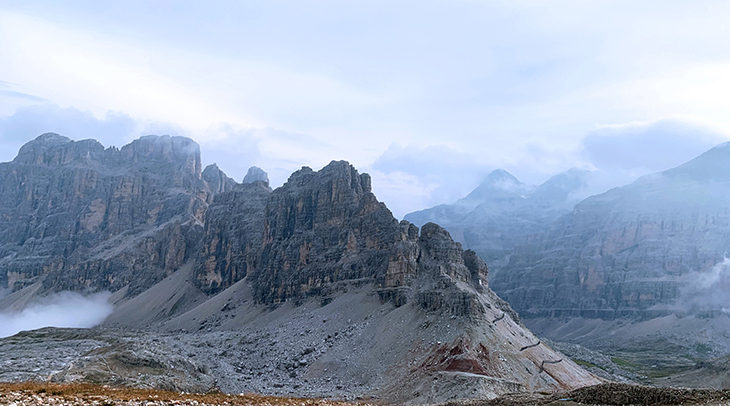 (Dolomites view from top of the Lagazuoi)
There's a very tiny glacier left near this peak.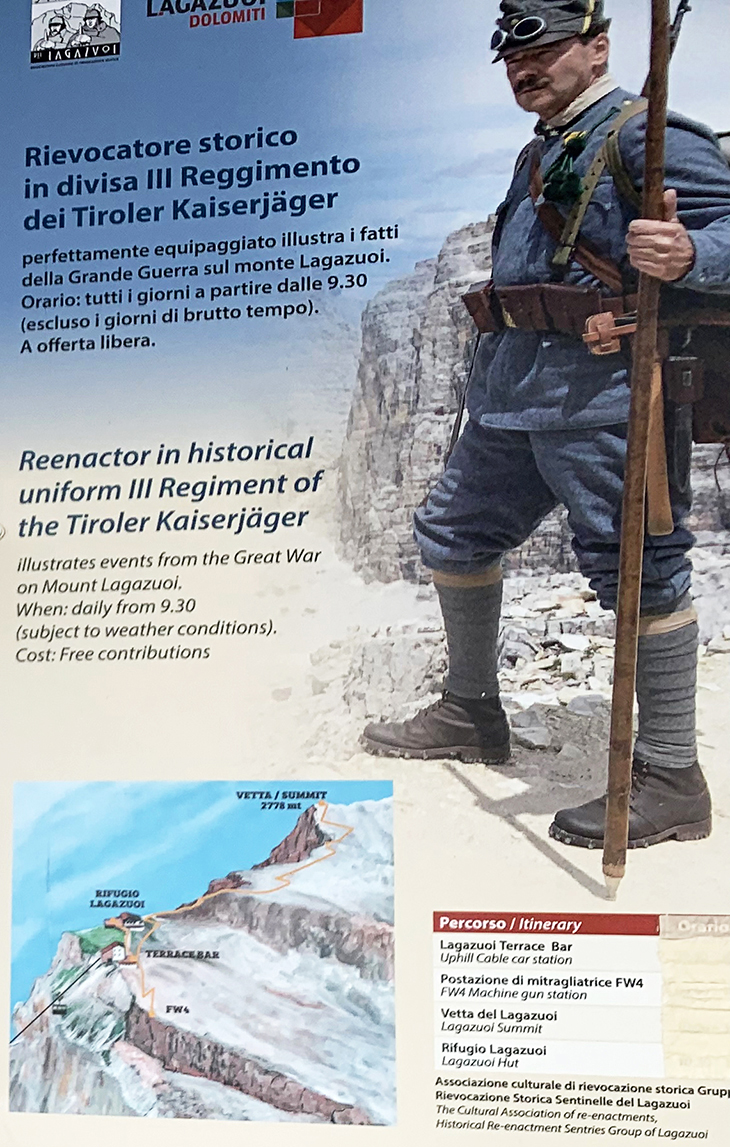 (Lagazuoi WWI Soldier Re-Enactor Poster)
On the opposite side from where we took the cable car up to the top, we could see hikers making their way up the mountain.
A man wearing the uniform of an Italian WWI soldier conducts tours through the tunnels built and used by soldiers in WWI.  
We learned later at The Great War Museum, that the Italian (and Austrian) soldiers would light bombs and thrown them off the top of their respective mountains, so they'd roll / bounce down the mountain and destroy their enemies/buildings. 
We walked in the entrance of the tunnel far enough to see the machine gun station.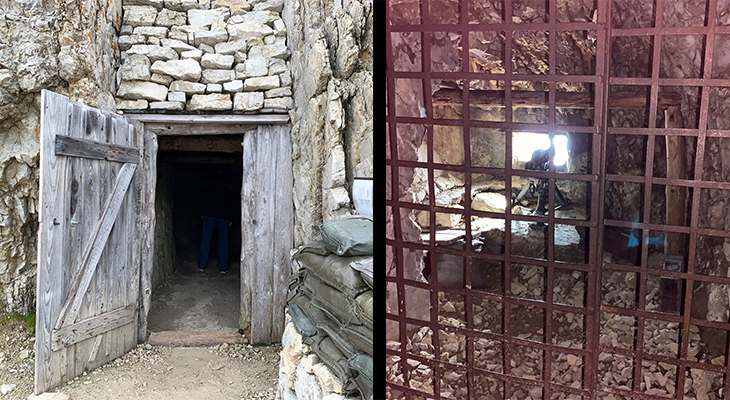 (World War I Tunnel Entrance & Machine Gun Station)
The paths we walked on at the top of the Lagazuoi are part of the mountain pass and have been walked by hikers for thousands of years.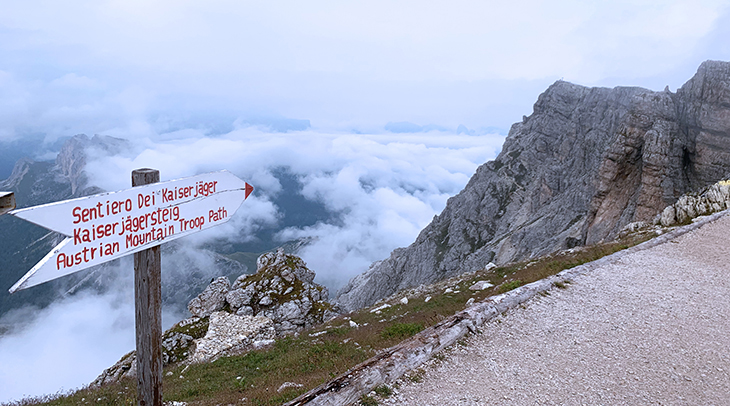 (Lagazuoi Austrian Mountain Troop Path)
We savored a very generous portion of strudel and a cup of coffee and hot chocolate in the nearby Baita Bai de Dones cafe before heading back to Cortina D'Ampezzo.
In the early evening our bus driver took us back up the winding roads of the Lagazuoi for an evening meal at Baita Resch restaurant with our tour group. Waitresses dressed in typical mountain Bavarian/Tyrolean garb served wines, bread, a green salad with slivered bacon in a very thin crust bowl, and thin fettucine or egg noodle with ground veal. A green pasta with slivered bacon was followed by the main course I'd chosen, very tender beef cooked in red wine. A small portion of ice cream with berries was a delicious dessert.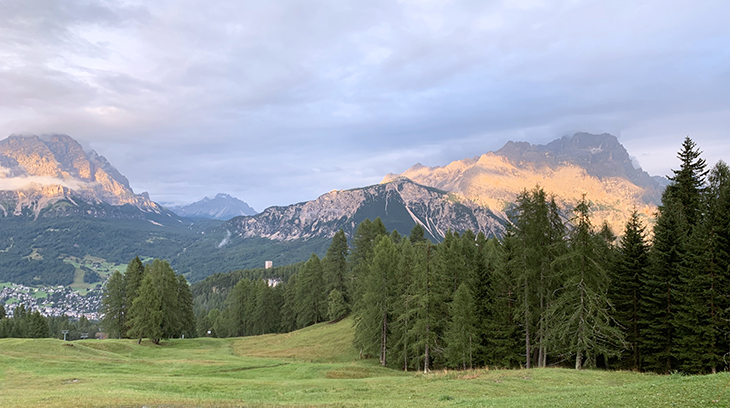 (Cortina D'Ampezzo and The Dolomites from Baita Resch Restaurant, Lagazuoi Mountain, Italy)
The rays of the setting sun lit up the Dolomites around us, and we all trooped outside to capture the beautiful views up and down of the mountain, with Cortina far below.
The Great War Museum / Fort Tre Sassi Museum
The Great War Museum near the Lagazuoi peak has a collection of WWI and other artifacts, all gathered by one man and his family (his father, his uncle, grandfather, etc.). 
Historical Note: On 23rd May 1915, the Kingdom of Italy declared war on the Austro-Hungarian Empire. The Italian Army occupied Cortina d'Ampezzo, ending four hundred years of  Hapsburg Empire rule. The Austro-Hungarian troops withdrew onto the Lagazuoi to defend the Badia Valley and South Tyrol.
Among the museum's collection are things left on the mountain by soldiers, tourists, and residents (at one time there was an entire Austrian village near the peak).
In addition to the armaments, bombs, sabres, lances, swords, uniforms (from both sides), as well as rooms depicting the barracks / life of soldiers at the time, is this interesting poster/sign in German from 1915: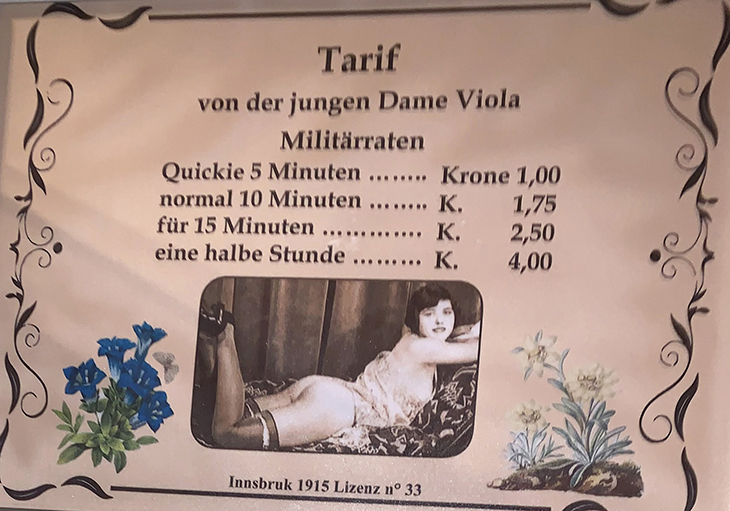 (Lady Viola's Rates Sign, Great War Museum, Dolomites, Italy)
A plaque in German and Italian below her sign explains that 1.5 km from the museum, there's a curve in the road called Viola. During the first World War there was a little house where Miss Viola practiced her profession of prostitution. Lady Viola's rates for services rendered to members of the military in their currency, were based on 5, 10, 15, or 30 minutes. She was licensed by Austrian military authorities, and required to "satisfy" 40-120 soldiers a day. Her takings were between 40-120 Krone a day, and she had to pay 7% tax.
Our time in the Dolomites and Cortina d'Ampezzo was over far too quickly. When our tour resumed the following day, we enjoyed a Prosecco wine-tasting in the foothills of the Alps, before heading to Venice and the islands of the Venetian lagoon. 
This was all part of a dream vacation to Italy, which included time before the tour on our own in Florence, and Monterosso al Mare in the Cinque Terre region. By the time our tour ended, we'd also visit the Italian Lakes district (Lake Maggiore & Lake Orta, Lake Garda, and Lake Como). Northern Italy and the Italian Riviera are must-see destinations.
Dolomites & Cortina D'Ampezzo Film Trivia
Many movies have been filmed or set in Cortina d'Ampezzo and the Dolomites. Here's a "Top 20" list of English-language films you may be familiar with or want to watch:
A Farewell to Arms is a WWI romantic drama based on Ernest Hemingway's novel. Filmed in Rome, the Dolomites and the Italian Alps, A Farewell to Arms stars Rock Hudson, Jennifer Jones, Vittorio De Sica, Oskar Homolka, Mercedes McCambridge, Elaine Stritch, Kurt Kasznar, and Victor Francen.
Rome Adventure (1962), a romantic drama starring Troy Donahue, Suzanne Pleshette, Rossano Brazzi, Angie Dickinson, Constance Ford, Chad Everett, Al Hirt, and Hampton Fancher. Filmed in Rome, Verona, Pisa, Tuscany, Lake Maggiore's Isola Bella, Umbria, and a key cable car scene was filmed in the Dolomites (Rifugio Toni Demetz). 
The Pink Panther (1963), an Inspector Clouseau romantic crime comedy from Blake Edwards, starring David Niven, Peter Sellers, Robert Wagner, Capucine, Martin Milner, and Claudia Cardinale. The Pink Panther filmed in Paris, Rome, Hollywood, and Cortina D'Ampezzo. 
Trail of the Pink Panther (1982) reunited several of the cast (Peter Sellers, David Niven, Herbert Lom, Capucine), and introduced new characters played by Richard Mulligan, Joanna Lumley, Robert Loggia, and Harvey Korman. Filming once again took place in Cortina d'Ampezzo, as well as France and Spain.
Von Ryan's Express (1965), a WWII adventure filmed in Spain, Florence, Rome, Cortina d'Ampezzo, and Los Angeles. Starring Frank Sinatra, Trevor Howard, Edward Mulhare, James Brolin, and Vito Scotti.
The Great Manhunt (1950), a post-WWII romantic thriller that takes place in "Vosnia" in Europe. Filming took place in a couple of English studios, Trento, and the Dolomites. With Douglas Fairbanks Jr., Jack Hawkins, Glynis Johns, and Herbert Lom.
Escape Me Never (1947) is a romantic drama set in Venice and the Dolomites, starring Errol Flynn, Ida Lupino, Eleanor Parker, Gig Young, Reginald Denny, and Ludwig Stossel. 
Spider Man: Far From Home (2019), an action-fantasy starring Tom Holland, Samuel L. Jackson, Jake Gyllenhaal, Marisa Tomei, and Jon Favreau. Filmed in New York, Los Angeles, England, Spain, the Czech Republic, Germany, Italy (Cortina d'Ampezzo and Venice), 
Cliffhanger (1993) is an adventure thriller set in the Rocky Mountains, and filmed in Colorado, Rome, and the Dolomites. With Sylvester Stallone, John Lithgow, Michael Rooker, Janine Turner. Paul Winfield and Ralph Waite have supporting roles in Cliffhanger.
The Legend of Tarzan (2016), an adventure drama set and filmed primarily in England, Africa…and the Dolomites! With Alexander Skarsgård, Christoph Waltz, Samuel L. Jackson, and Margot Robbie.
For Your Eyes Only (1981), a James Bond thriller filmed in England, Greece, Bahamas, Cortina d'Ampezzo and the Dolomites. Starring Roger Moore, Carole Bouquet, Topol, Lynn-Holly Johnson, Julian Glover, Cassandra Harris, Lois Maxwell, and Desmond Llewelyn.
Three Coins in the Fountain (1954), a romantic drama set and filmed in the Dolomites, Bolzano, Trento, Venice, and Rome. Starring Clifton Webb, Dorothy McGuire, Jean Peters, Louis Jourdan, Maggie McNamara, Rossano Brazzi, Kathryn Givney, and Howard St. John.
Bridget Jones: The Edge of Reason (2004), a romantic comedy filmed in Thailand, Austria, England, Rome, and Cortina d'Ampezzo. With Renée Zellweger, Colin Firth, Hugh Grant, Gemma Jones, and Jim Broadbent.
The Great Silence (1968) is a "spaghetti" western starring Jean-Louis Trintignant, Klaus Kinski, and Vonetta McGee. The Great Silence was filmed in Cortina d'Ampezzo, Rome, and the South Tyrol.
Ash Wednesday (1973) starring Elizabeth Taylor and Henry Fonda as a couple whose marriage is on the rocks. Filmed in Bolzano, Rome, and Cortina d'Ampezzo.
The Tiger and the Pussycat (1967), a romantic comedy filmed in Rome and Cortina d'Ampezzo. With Vittorio Gassman, Ann-Margret, and Eleanor Parker.
A Place For Lovers (1968), a romantic drama set in the Alps starring Marcello Mastroianni and Faye Dunaway. A Place For Lovers was filmed in Rome, Bolzano, and Cortina d'Ampezzo. 
Story of a Woman (1970) is a drama starring Bibi Andersson, Robert Stack, James Farentino, and Annie Giradot. It was filmed in Rome, Stockholm, and Cortina d'Ampezzo. 
Dirk Bogarde made a couple of movies that were partially filmed in the Dolomites:
Campbell's Kingdom (1957), an adventure film set in the Canadian Rockies, but filmed in the Dolomites, Cortina d'Ampezzo, and an English studio. With Stanley Baker, Michael Craig, and Sidney James in a supporting role.
Death in Venice (1971) is a dark story of infatuation also starring Nora Ricci and Marisa Berenson. The movie was filmed in Bolzano, the Dolomites, Rome, and Venice (the Lido, St. Mark's Square).
Resources:
Cortina / Dolomiti website Dolomiti.org. 
Signs / Placques
Tour Guide(s)
**This article is for general informational purposes only.**
***Photographs & text in this article are either © 2019 Anita Hamilton, or Creative Commons licensed. All rights reserved. Do not download or reproduce without written permission.***