Celebrating Seniors - Sylvester Stallone is 70
New septuagenarian, senior citizen, screenwriter, actor, director, and producer Sylvester Stallone (Michael Sylvester Gardenzio Stallone) was born on July 6, 1946 in New York City, New York. Below, Sylvester Stallone from younger to older, circa the 1970s, 1980s, and 2010s.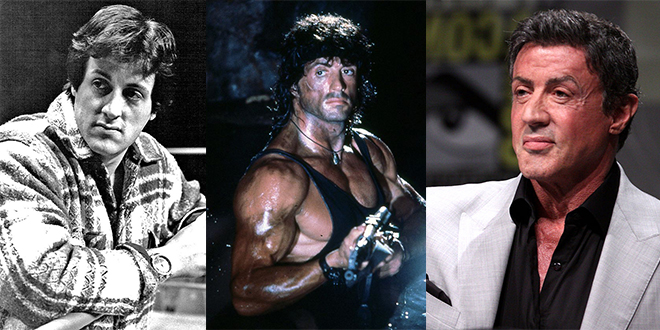 (Source Photos: Wikimedia Commons | Photo Montage: 50+ World)
Sylvester Stallone's trademark slurred speech and unique look are the result of misuse of forceps during his birth, that severed a nerve and caused partial paralysis to parts of his face. Stallone spent most of his early childhood in foster homes, as his parents worked and frequently fought.
After his parents finally separated, 9-year-old Sylvester began living with his mother Jacqueline (Jackie) Stallone. Jackie started her own women's gym and was a fitness and exercise buff herself, and Stallone began lifting weights in his teens.
Sylvester Stallone went to Abraham Lincoln High School in Philadelphia, Pennsylvania for the 9th grade only; he failed all his classes except drama. In a 1976 interview with The New York Times, Stallone said he had been a star football player (fullback) and discus thrower in high school (he was in and out of school frequently), and attended the American College in Leysin, Switzerland (his website SylvesterStallone.com, says he was a teacher there). While in Switzerland, Stallone held part-time jobs and made his film debut as an uncredited extra in the drama Downhill Racer (1969).
Back in the United States, Stallone attended the University of Miami and studied drama for 2 years under the name Michael Stallone. Although he left UM before graduation in order to move back to New York City and look for acting work, Stallone did begin writing while attending the school, and was eventually granted a BFA from the University of Miami in 1998.
During the early 1970's Sylvester Stallone found some acting work on stage and in the movies, mostly uncredited roles as an extra. He had a bigger role in the movie Rebel (No Place to Hide) (1970). After thousands of unsuccessful casting calls, Stallone began to focus more on his writing, producing several screenplays and selling a few scripts to television. Below, Sylvester Stallone is featured in the 1974 movie trailer for The Lords of Flatbush.
Sylvester Stallone's big break came with a role in The Lords of Flatbush (1974), with co-star Henry Winkler; after a fight with Stallone, budding star Richard Gere was dropped from the movie and actor Perry King took his place. Stallone has an additional dialogue writing credit on The Lords of Flatbush. 
In December 1974, 28-year-old Sylvester Stallone married Sasha Czack. Their first son Sage Moonblood Stallone was born in May 1976 (Sage died in 2012 at the age of 36 from heart disease). Their second son Seargeoh Stallone was born in 1979 and has autism; Stallone has done fundraising and donated money for autism research. Below, Sasha Czack, Sylvester Stallone, and Helen Reddy in 1978.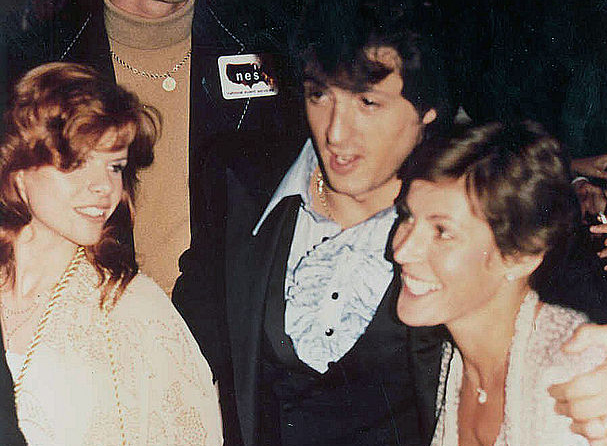 (Photo: Alan Light | Wikimedia CC 2.0)
The following year Sylvester Stallone appeared in 5 movies, including a role in Capone (1975) as gangster enforcer Frank Nitti, and 2 movies with David Carradine – Death Race 2000 (1975), and Cannonball (1976). Then came Rocky (1976), the small-budget movie that launched Sylvester Stallone's career into the stratosphere when the movie became a box office smash thanks to baby boomers.  Below, Sylvester Stallone as Rocky, Talia Shire as his shy love interest, Burt Young as his friend, and Burgess Meredith as his trainer, are all featured in the trailer for Rocky.
Then came Rocky (1976), the small-budget movie that launched Sylvester Stallone's career into the stratosphere when the movie became a box office smash thanks to baby boomers.  Stallone wrote the first draft of Rocky in 3 and 1/2 days; he included in it a starring role for himself and refused to sell the script to producers unless he was cast as title character Rocky (they wanted either name actors Burt Reynolds, James Caan, or Ryan O'Neal).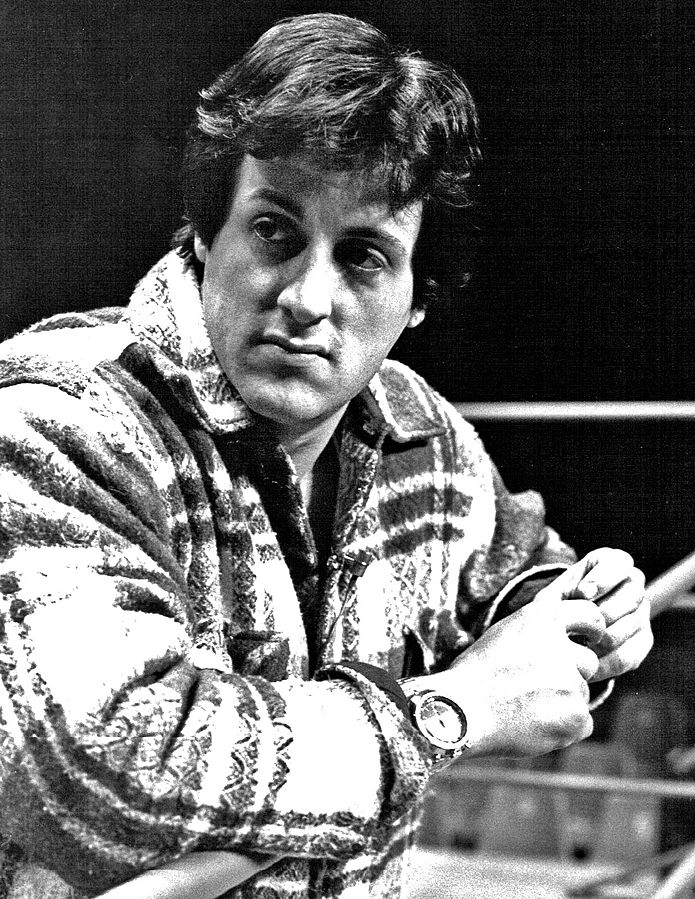 Sylvester Stallone ringside in 1977. (Photo: NBC | Wikimedia Commons / Public Domain)
At the time he sold the producers on the Rocky script, Stallone was broke and had to sell his dog Butkus because he couldn't afford to feed him. With Rocky, Butkus returned to Stallone and had a role in the movie as well. Stallone's father Frank is a timekeeper in the final fight scene and younger brother Frank Stallone is a street corner singer in Rocky.
Although Sylvester Stallone plays boxer Rocky, in real life he'd never had any boxing training before the movie. His weight lifting regimen and dedication to building his body through exercise and nutrition (taking multiple vitamins and supplements) helped sculpt his physique.
Sylvester Stallone received two Academy Award nominations for Rocky – Best Original Screenplay, and Best Actor. Although he won neither, Rocky won Best Picture and spawned numerous sequels.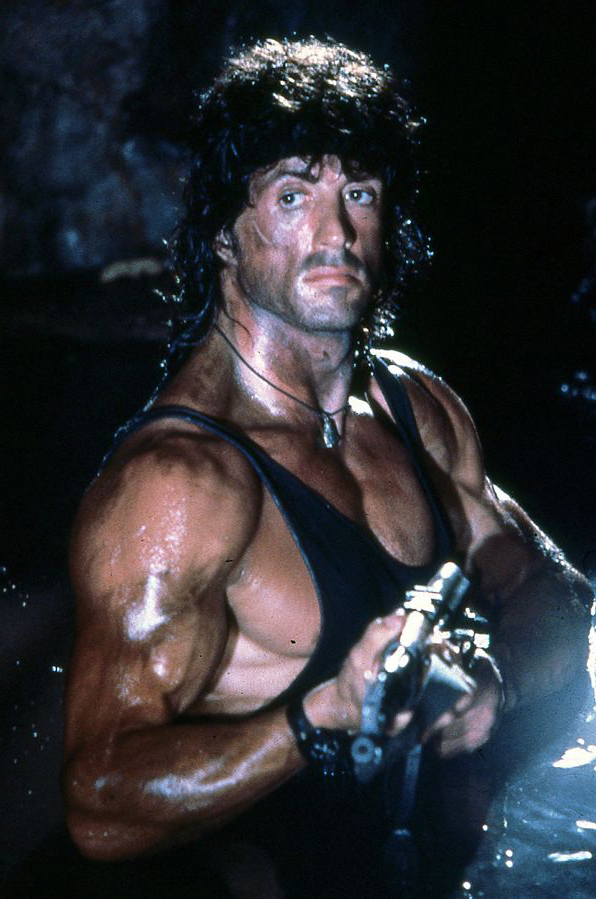 A series of action/adventure movie roles over the next three decades followed, including 4 Rocky sequels, and the Rambo franchise of movies beginning with First Blood (1982). In addition to starring in and writing or co-writing all of the Rocky and Rambo movies, and directing many of them as well, Sylvester Stallone also wrote or co-wrote many of his other films, including F.I.S.T. (1978), Paradise Alley (1978), Cobra (1985), and Over the Top (1987). 
(Sylvester Stallone 1982 First Blood Photo: Yoni S. Hamenahem | Wikimedia CC 3.0)
Sylvester Stallone co-wrote, co-produced, and directed the dance movie Staying Alive (1983), and included a cameo for himself in the movie. Brother Frank Stallone appeared in Staying Alive and wrote songs performed by the Barry Gibb and the Bee Gees in the sound track.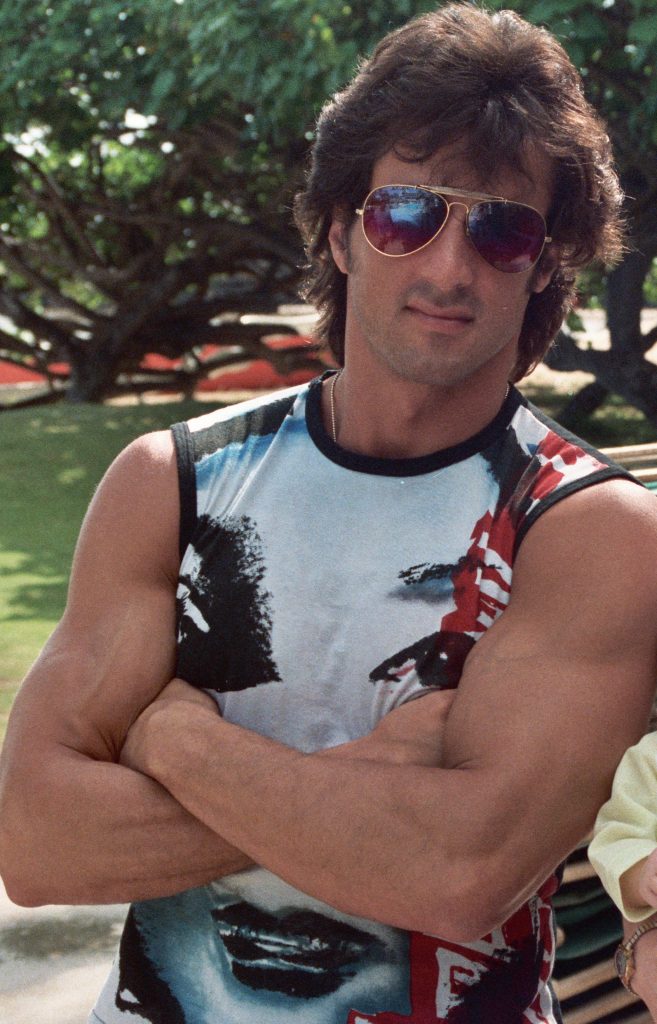 In the country music comedy Rhinestone (1984) starring Dolly Parton, Sylvester Stallone co-starred and co-wrote (re-wrote) the screenplay. Although the movie was a flop, Parton has credited Stallone with helping her recover from a hysterectomy and subsequent depression by helping her to get in shape and improve her nutrition. Sylvester Stallone has said working with Dolly Parton was the most fun he ever had making a movie. 
(Sylvester Stallone 1984 Photo: Alan Light | Flickr Some rights reserved)
By early 1985 Sasha and Sylvester Stallone agreed their marriage was over, and divorced later that year.
39-year-old Stallone began a new relationship with 21-year-old actress Brigitte Nielsen after she sent him a letter with her picture.
Stallone told People magazine in 1985 that he gave Nielsen a part in Rocky IV (1985) so they could spend some time together, due to his hectic schedule. That same year, Stallone was hospitalized and discovered his heart muscle had been bruised from overwork and strenuous fight scenes. Below, First Lady Nancy Reagan and President Ronald Reagan with Sylvester Stallone and Brigitte Nielsen.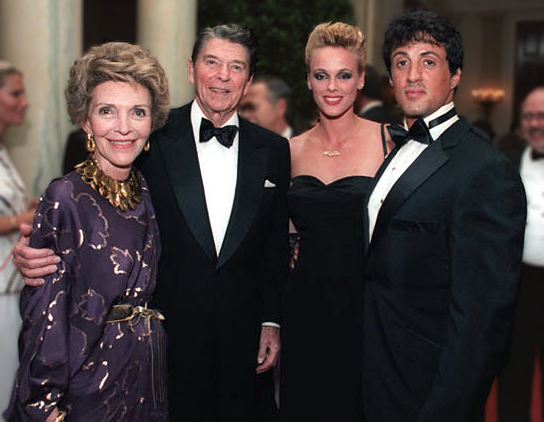 (October 1985 Public Domain Photo: Courtesy Ronald Reagan Library)
Sylvester Stallone married model and actress Brigitte Nielsen, on December 15, 1985, in Beverly Hills, California. Stallone and Nielsen's marriage, and their subsequent divorce after two years, were highly publicized by the tabloid press.
As he got closer to his 50+ years and the 1990's, Stallone continued to act in action-oriented movies, with mixed results. Cop buddy movie Tango & Cash (1989) with Kurt Russell filling in when Patrick Swayze dropped out, did well at the box office although critics hated it. Below, Sylvester Stallone and Kurt Russell are featured in the Warner Bros. movie trailer for Tango & Cash., along with Michael J. Pollard and Teri Hatcher, 
Likewise the comedy Oscar (1991) with Peter Riegert, Tim Curry, and Marisa Tomei. The next near, the buddy cop comedy Stop! Or My Mom Will Shoot (1992) bombed, with even Sylvester Stallone saying it was the worst movie he ever starred in.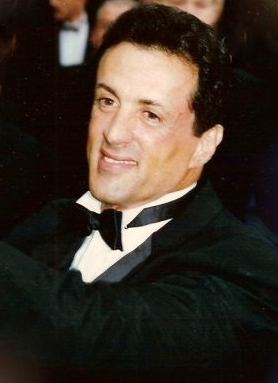 Cliffhanger (1993) co-starring John Lithgow and Janine Turner, was also co-written by Sylvester Stallone. Although set in the Rockies, the movies was filmed in Rome and Italy's Dolomites, as well as Colorado. Cliffhanger was a box office success, but once again the critics pounded it. That same year, Demolition Man (1993) with co-stars Wesley Snipes and Sandra Bullock, was another box office smash; critics were a little kinder to Demolition Man.
(Sylvester Stallone 1993 Photo: Georges Biard | Wikimedia CC 3.0)
By this time, Sylvester Stallone had branched out into different business ventures – as a boxing promoter; as a co-owner and co-founder (with Bruce Willis, Demi Moore, and Arnold Schwarzenegger) of the original Planet Hollywood themed restaurant in New York City in 1991; he even launched a short-lived new magazine Sly for men age 40+, in 2005.
50+ Sylvester Stallone's Daylight (1996) co-starring Viggo Mortensen and Amy Brenneman followed the trend from Stallone's movies earlier in the 1990's – financially successful internationally, critically panned.
For the independent crooked-cop drama Cop Land (1997), Sylvester Stallone gained 40 pounds and together with his big-name co-stars Harvey Keitel, Ray Liotta and Robert De Niro, worked for scale. Cop Land and Stallone both received positive reviews. Despite this acclaim, Stallone said it negatively affected the subsequent movie roles offered to him for several years after, with the perception that he was leaving action movies to star in more dramatic efforts; his baby boomer fans wanted to see him in action movies. Below, the Miramax movie trailer for Cop Land features actors Sylvester Stallone, Harvey Keitel, Robert De Niro, John Spencer, Peter Berg, Robert Patrick, and Ray Liotta.
By 1997 Sylvester Stallone was ready to get married again. He'd had a long relationship with model Jennifer Flavin from 1989 to 1994, before breaking up with her and dating model Janice Dickinson; followed by a brief romance with model Andrea Wieser, and in 1995, an engagement with model Angie Everhart. His romance with Jennifer Flavin resumed later in 1995, and in May 1997 50+ Sylvester Stallone married 28-year-old Flavin in London, England. The couple's first daughter Sophia Rose Stallone had been born the previous year, in August 1996; sisters Sistine Rose (b. June 1998) and Scarlet Rose (b. May 2002) Stallone, came during their marriage.
Stallone's movies didn't fare kindly at the box office during the early 2000's, especially the psychological thriller D-Tox (2002) with Tom Berenger and Charles Dutton. D-Tox cost $55 million to make and grossed $6.4 million at the box office. Another dud was the thriller Shade (2003) with Jamie Foxx, Melanie Griffith, Hal Holbrook, and Dina Merrill.
As opposed to being the star of movies as he was in the 1980's and 1990's, Stallone's movie roles in the 2000's have been part of a larger ensemble cast. Exceptions to this were the movies Sylvester Stallone wrote or co-wrote, creating starring roles for himself:
Driven (2001) – starring, written and produced by Sylvester Stallone, co-starring Burt Reynolds. Driven flopped financially with a $94 million budget and less than $55 million box office. The Driven movie trailer above features Stallone and his Driven co-stars.
Rocky Balboa (2006) – written and directed by it's 60-year old star Sylvester Stallone, with Burt Young returning as his brother-in-law. Rocky Balboa was the 6th Rocky movie and in addition to good reviews, it was a box office success, costing $24 million and reaping over $155 million box office.
Rambo (2008) – This fourth Rambo movie starring, co-written and directed by Sylvester Stallone, was made on a budget of $50 million and made a good return of over $133 million box office.
The Lionsgate movie trailer for The Expendables features Sylvester Stallone, Mickey Rourke, Jason Statham, Terry Crews, Steve Austin, Arnold Schwarzenegger, Bruce Willis, Eric Roberts, Jet Li, and Dolph Lundgren. 
The Expendables (2010) reunited an aging Sylvester Stallone with former Rocky IV adversary Dolph Lundgren and brought in other action hero stars Jason Statham, Jet Li, Steve (Stone Cold) Austin, and Terry Crews. Arnold Schwarzenegger appeared in what would be the first of 4 movies with Sylvester Stallone (they also co-starred in the 2013 action movie Escape Plan). In addition to starring in The Expendables, Stallone co-wrote the screenplay and directed the movie. At a cost of $82 million, The Expendables box office take of $274 million was a financial success – although the personal cost to Stallone was high; he broke his neck in a fight scene and had to have a metal plate inserted. Stallone's first tattoos of his wife and 3 daughters can be seen onscreen in The Expendables; the tattoos cover scars from previous injuries in his films.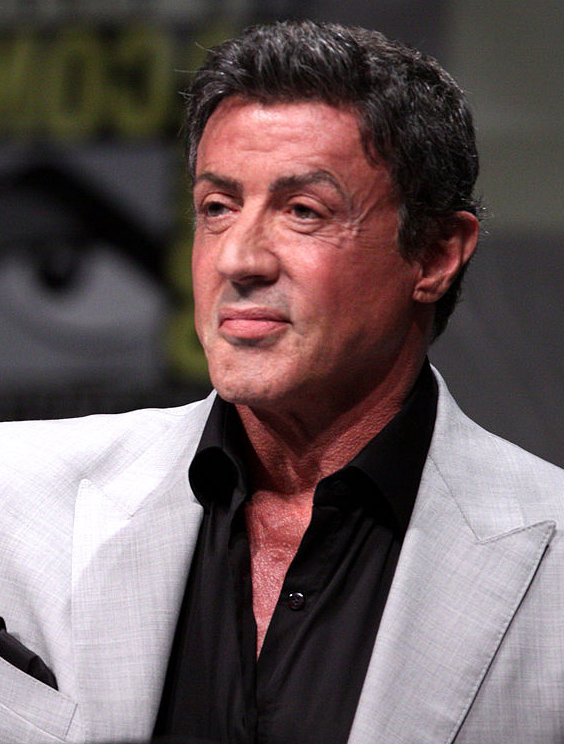 In addition to his big-screen movies, Sylvester Stallone has produced 21 episodes of the reality television series The Contender (2005-2009), set in the world of boxing.
Stallone also appeared on The Contender series in some episodes as a mentor and host. 
(Sylvester Stallone 2012 Photo: Gage Skidmore | Wikimedia CC 2.0)
Stallone's commitment to physical fitness in his 50+ and older years hasn't been confined to nutrition and the gym; Australian customs officers confiscated 48 vials of Jintropin (a human growth hormone) in 2007 and he was charged with possession of the drug; he pled guilty.
Since becoming a senior citizen in 2011, Sylvester Stallone has filmed 10 movies (with an 11th in progress). He co-wrote and starred in two sequels to The Expendables – The Expendables 2 (2012) and The Expendables 3 (2014)  – each of which did well at the box office.
In addition to the core cast members and Arnold Schwarzeneggar from the first movie, a host of action hero stars have appeared in The Expendables movie series, including Wesley Snipes, Mel Gibson, Harrison Ford, Bruce Willis and Jean-Claude Van Damme. Below, Sylvester Stallone (centre in lilac jacket) is surrounded by most of the cast of The Expendables 3 in Cannes (Dolph Lundgren, Mel Gibson, Harrison Ford, Wesley Snipes, Randy Couture, Victor Ortiz, Antonio Banderas, Jason Statham, Kellan  Lutz.Kelsey Grammer).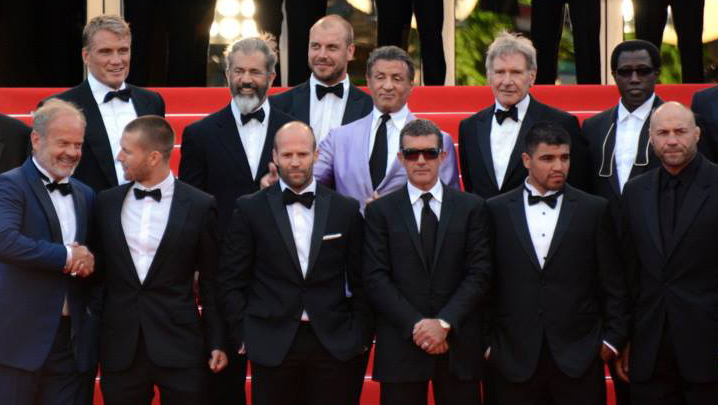 (Photo: Georges Biard | Wikimedia CC 3.0) 
Despite being a staunch Republican and gun-toting action hero in many of his own movies, Sylvester Stallone advocates gun control and told the Associated Press in 2013 that he supported the 1994 Brady Bill and hopes for it's re-instatement.
"Who … needs an assault weapon? Like really, unless you're carrying out an assault. … You can't hunt with it. … Who's going to attack your house, a (expletive) army?"
Stallone also said he believes a focus on mental health is necessary to prevent mass shootings:
"Every one of these people that have done these things (mass shootings) in the past 30 years are friggin' crazy. Really crazy! And that's where we've dropped the ball: mental health…That to me is our biggest problem in the future, is insanity coupled with isolation."
In his late 60's – on the cusp of becoming a septuagenarian senior citizen in 2016, Sylvester Stallone once again appeared in a Rocky movie – Creed (2015), in which he plays aging boxer Rocky mentoring a young boxer (actor Michael B. Jordan). Stallone co-produced Creed and was nominated for an Academy Award for Best Supporting Actor, for his performance in Creed; he won numerous other awards including the Golden Globe and Critics' Choice. Below, Sylvester Stallone and his Creed castmates Tessa Thompson and Michael B. Jordan, in 2015.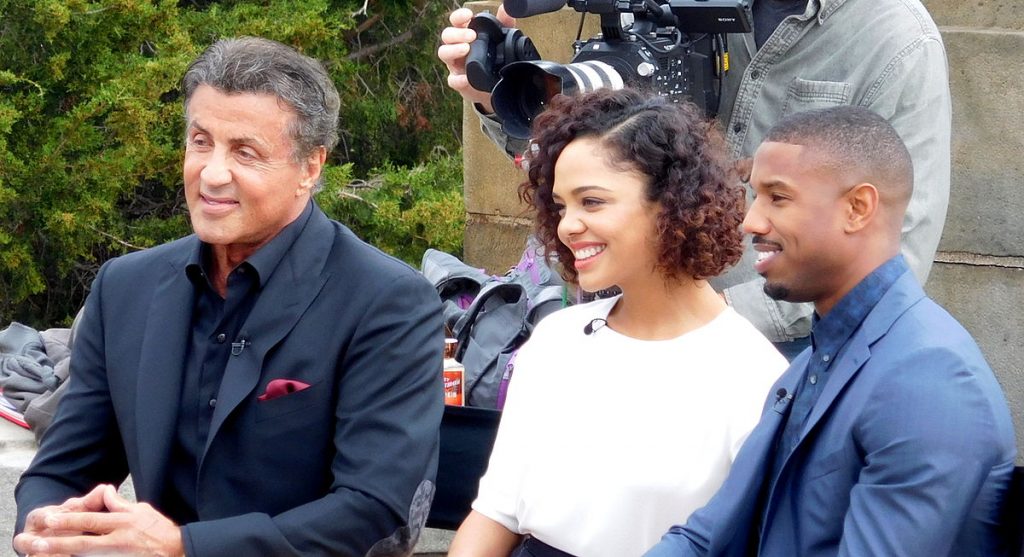 (2015 Photo: Patriarca12 | Wikimedia CC 3.0)
Fans can look/listen for Sylvester Stallone in the upcoming movies Guardians of the Galaxy Vol. 2 (release date TBD), and the animated movies Ratchet & Clark (2016) and Animal Crackers, set to be released in 2017. Stallone as Rocky said it best…"The last thing to age is the heart."
Updated June 23 2017 with new content.