Celebrating Seniors - Gary U.S. Bonds is 77
Celebrating the 77th birthday of Gary U.S. Bonds with four vintage music videos/performances of his hits: Dance 'Til Quarter to Three, New Orleans, School is Out, and This Little Girl is Mine (duet with Bruce Springsteen).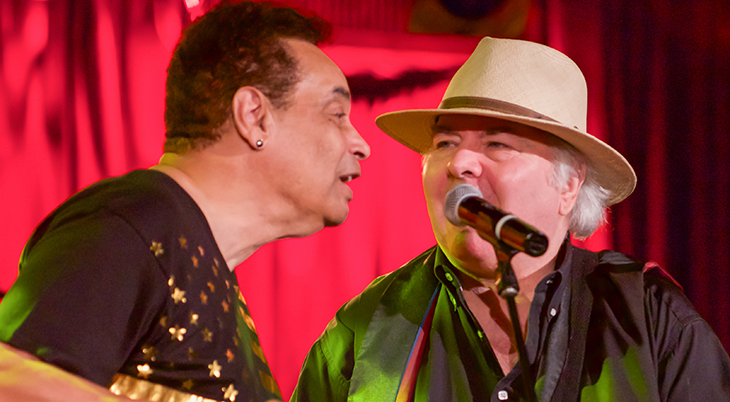 (Gary U.S. Bonds & Gene Cornish [The Rascals] 2016 Photo: Jeff Smith of ReflectionsNYC)
American R&B and rock n' roll singer and septuagenarian senior citizen Gary U.S. Bonds (nee Gary Anderson) was born on June 6, 1939 in Jacksonville, Florida and grew up in Norfolk, Virginia. Gary sang in church as a child and young teenager, idolizing Sam Cooke and B.B. King.
He was signed to Legrand Records, where his producer Frank Guida chose the stage name of Gary U.S. Bonds.
Gary's first hit single was New Orleans (1960) and was included on his first album Dance 'Til Quarter to Three (1961), released under that name Gary U.S. Bonds. Below, a mature Gary U.S. Bonds performs New Orleans almost thirty years later, in 1989:
Gary U.S. Bonds number one hit single Quarter to Three (1961) was included on his first album, and became a gold record. Below, Gary U.S. Bonds performing his #1 hit, Quarter to Three – check out the 1960's fashions!
School Is Out (1961) also on Bonds's first album, was a Top 5 hit single that year. Below, 50+ year old Gary U.S. Bonds sings School is Out in 1989.
Not to be outdone by his friend Chubby Checker, Bonds had two #9 hit "twist" singles himself – Dear Lady Twist (1961), and Twist, Twist Senora (1962).
Bonds told The New Yorker in 2014 that he stopped recording and focused on performing live in the mid-1960's, when the record company wanted novelty songs and it conflicted with his goal of emulating Sam Cooke. 
He got back into recording when a young Bruce Springsteen joined him onstage in the mid-1970's; they bonded and Bruce Springsteen wrote This Little Girl at Bonds's house. Gary U.S. Bonds, Bruce Springsteen and Steven Van Zandt collaborated on two albums – Dedication (19981) and On The Line (1982). Bonds's was back in the Top 20 thanks to baby boomers and younger audiences in 1981 with the hit single This Little Girl from the Dedication album. Below, 60+ Bruce Springsteen and a septuagenarian Gary US Bonds sing This Little Girl in 2012:
After turning the corner into his 50+ years in 1989, Bonds continued to perform live and returned to the recording studio in 1996, putting out the album Nothing Left to Lose. In more recent years as a senior citizen, he's released two albums Back in 20 (2004) which once again saw him partnering with Bruce Springsteen, and Southside Johnny; and as a new septuagenarian, the album Let Them Talk (2009). He's taken a turn acting on friend Steven Van Zandt's series Lillyhammer in a 3rd-season guest appearance, and dueted on Southside Johnny's single Umbrella in My Drink.
Septuagenarian senior citizen Gary had his autobiography By U.S. Bonds (2013) published in his 74th year. Long-time friends helping him celebrate included Southside Johnny, Chubby Checker, and Paul Shaffer (David Letterman's bandleader).
Now in his late 70's, Gary US Bonds is still performing onstage showing no signs of retiring; he's joined by his wife Laurie Anderson and daughter Laurie Anderson Tobias as his backup vocalists.When he's not singing onstage, Bonds can be found on the golf course playing in celebrity PGA events.