Celebrating Seniors - Goldie Hawn Turns 70
Baby boomer and new septuagenarian senior citizen Goldie Hawn (yes that's her real name) was born November 21, 1945 in Washington, D. C.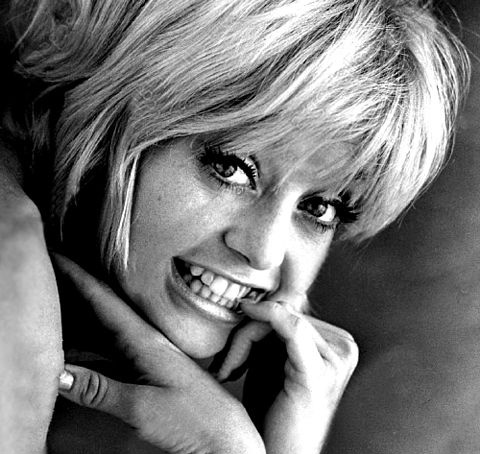 (Goldie Hawn 1970 Cactus Flower Photo)
Goldie's mother Laura was a dance school owner and Goldie began classes herself at age 3. By age 16 she had made her stage debut in Romeo and Juliet and danced in The Nutcracker for the Ballet Russe de Monte Carlo. 
Goldie Hawn was running her own ballet school in 1964 and dancing professionally in Can-Can at the New York World's Fair. A subsequent stint as a go-go dancer was followed by a "dumb blonde" part in the sit-com Good Morning, World (1967-1968). Below, Goldie Hawn with Ronnie Schell on Good Morning, World in 1967.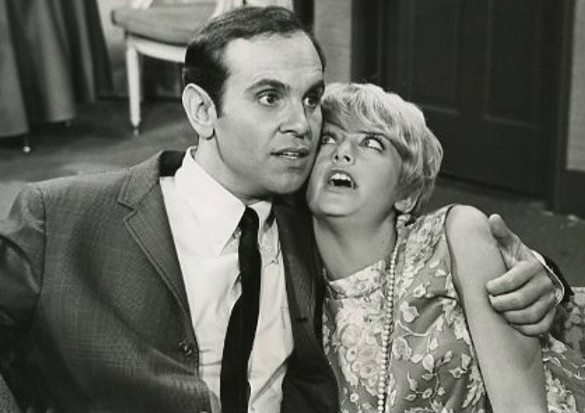 (Good Morning, World Photo: CBS Television)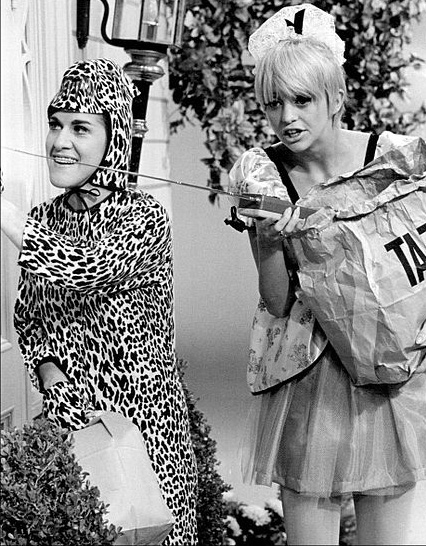 (Goldie Hawn & Ruth Buzzi 1968 Rowan & Martin's Laugh-In Photo: NBC Television)
These previous roles prepared Goldie Hawn for her break-out performances as a cast member on Rowan & Martin's Laugh-In (1968-1973), a popular show with baby boomers.
Goldie Hawn's co-stars on Rowan & Martin's Laugh-In included Arte Johnson, Jo Anne Worley, Richard Dawson, Ruth Buzzi, and Lily Tomlin. 
Her first movie role was in The One and Only, Genuine, Original Family Band (1968), where 21-year-old Goldie Hawn first met 16-year-old child actor Kurt Russell.
Goldie Hawn spun her "kooky" persona so convincingly she won an Academy Award for Best Supporting Actress in Cactus Flower (1969), her first big movie role. Below, Goldie Hawn, Walter Matthau, and Ingrid Bergman are featured in the movie trailer for Cactus Flower.
That same year (1969) Goldie Hawn married actor, dancer (and now director) Gus Trikonis, who oddly enough, was born on the same day as Goldie – November 21.
A series of roles in big-screen movie comedies during the 1970's, some television specials, and a solo country record followed for Goldie Hawn. Her career was on the upswing, but in a interview with Victoria Dawson Hoff for Elle Magazine in 2015, Hawn said she began meditating in 1972 to help ease her feelings of anxiety. Her marriage to Gus Trikonis deteriorated and their divorce was finalized in 1976.
Goldie Hawn and Edward Albert were romantic stars in the rom-com Butterflies are Free (1972). Their co-stars in Butterflies are Free are Eileen Heckart, Paul Michael Glaser, and Michael Warren.
Goldie had met musician and some-time actor Bill Hudson (The Hudson Brothers) on a flight in 1975 and they began dating. Hawn was pregnant with son Oliver Hudson when they married in 1976; daughter Kate Hudson came along in 1979.
The hit comedy Foul Play (1978) co-starring Chevy Chase interrupted a lull in Goldie's career while she had her children. Goldie starred as shy librarian Gloria Mundy, who falls in love with a trying-hard-to-be-cool police detective played by Chevy Chase. The supporting case in Foul Play included Burgess Meredith, Dudley Moore, Brian Dennehy, Billy Barty, Don Calfa, and Eugene Roche. Below, Goldie Hawn, Chevy Chase and Billy Barty are featured in the movie trailer for Foul Play.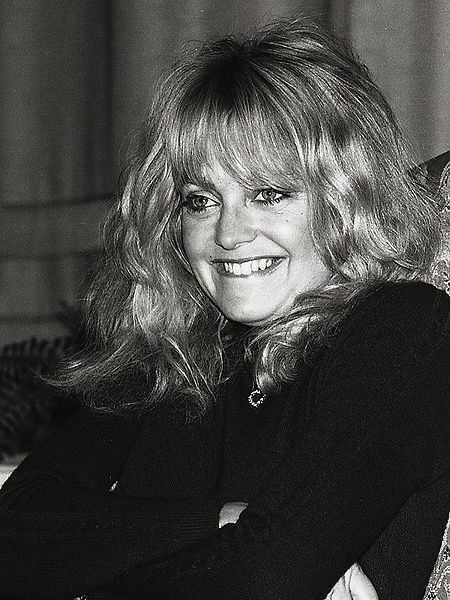 (Goldie Hawn 1981 Photo: Towpilot)
In 1980 Goldie's television variety special with Liza Minella was nominated for 4 Emmy Awards.
Her starring role in the popular big-screen movie Private Benjamin (1980) opposite Armande Assante, with Barbara Barrie, Alan Oppenheimer, and Mary Kay Place also in the cast, won her another Academy Award nomination (Best Actress). Hawn also has a credit as Executive Producer for Private Benjamin.
Since then she has served as Executive Producer on 7 other movies, most recently The Matthew Shepard Story (2002). Below, the movie trailer for Private Benjamin features Goldie Hawn, Barbara Barrie, Sam Wanamaker, Albert Brooks, Eileen Brennan, Hal Williams, and Armand Assante.
Goldie Hawn's marriage to Bill Hudson ended in divorce in 1982; the break-up was bitter and ex-husband Bill Hudson is estranged from their now-grown actor children, Oliver Hudson (Nashville) and Kate Hudson (Almost Famous).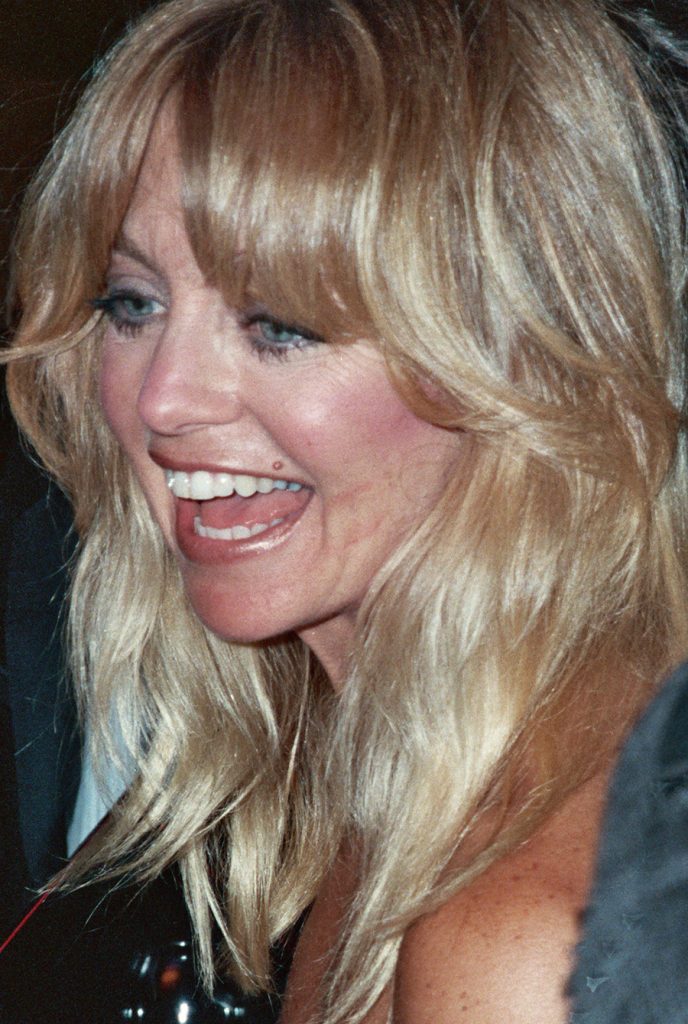 (Goldie Hawn 1989 Photo: Alan Light)
During the 1980's Goldie Hawn starred in several movies, including Swing Shift (1984), where she got re-acquainted with Kurt Russell, her younger co-star in the movie during filming in 1983.
Their co-stars in Swing Shift included Ed Harris, Fred Ward, and Holly Hunter. Goldie Hawn and Kurt Russell quickly became a new couple after connecting on Swing Shift, and their son Wyatt Russell was born in 1986.
The following year Hawn and Russell co-starred again in the comedy movie Overboard (1987) with Roddy McDowall and Edward Hermann. Below, Kurt Russell, Roddy McDowall and Goldie Hawn in ashort clip from Overboard.
Hawn's children Oliver and Kate lived primarily with Goldie Hawn and Kurt Russell while they were growing up, along with Wyatt and Boston, Russell's son from his first marriage.
Another brief  career lull for Goldie Hawn ensued when she & Kurt Russell moved away from Hollywood (the couple have owned homes in Malibu, Brentwood, and Palm Desert, California; Aspen, Colorado; Vancouver, British Columbia, and Lake Rosseau, Ontario), near the end of the 1980's. 
This career lull ended with the release of Bird on a Wire (1990) co-starring Mel Gibson, David Carradine, Bill Duke, Jeff Corey, and Joan Severance; Bird on a Wire was another box office success. Below, Goldie Hawn, Mel Gibson, David Carradine, and an over-interested pair of tigers are featured in a short clip from Bird on a Wire. 
With her movie career in high gear, next up for Goldie Hawn was the dramatic suspense thriller Deceived (1991) co-starring John Heard, followed by the black comedy Death Becomes Her with Meryl Streep, Bruce Willis, and Isabella Rossellini; and the lighter Steve Martin comedy Housesitter, both in 1992.  
In her 50+ years, Something to Talk About (1995) marked Goldie Hawn's debut as a movie producer; she returned to acting in The First Wives Club (1996), co-starring with Bette Midler, Diane Keaton, Maggie Smith, Stockard Channing, Victor Garber, and Sarah Jessica Parker. That same year, she co-starred with director Woody Allen and actress Drew Barrymore in Allen's musical Everyone Says I Love You (1996). Below, Goldie Hawn, Diane Keaton and Bette Midler are featured in a clip from The First Wives Club, chatting about plastic surgery.
Directing the made-for-television movie Hope (1997) was a first for Goldie Hawn. More movies followed during her 50's, but Hawn has not appeared in a big-screen movies since 2002's The Banger Sisters with co-stars Susan Sarandon and Geoffrey Rush. 
In a July 2015 interview for The Atlantic, Goldie Hawn commented on ageism in Hollywood and the lack of roles for older women, and said:
"When you get to a certain age, you have to make a decision for yourself…If you want to get old in the industry and you want to play maybe a few parts that come along now and then—or what else in life interests you?"
Since her unofficial retirement from acting, Goldie Hawn has kept busy. She and Kurt Russell moved to Vancouver, British Columbia in 2003 for a few years to support their son Wyatt Russell, as he pursued his dream to play hockey (Wyatt is now an actor). Her autobiography A Lotus Grows in the Mud came out in 2005.
Goldie Hawn has said in interviews that after the 9/11 attacks in 2001, she was inspired to create The Hawn Foundation because of her interest in psychology. This organization specializes in youth education programs such as MindUp, which teaches children how to reduce stress and develop mental stability.
Hawn has also written two more books in her retirement – 10 Mindful Minutes (2011), and 10 Mindful Minutes: A Journal (2015), a workbook for parenting and teaching mindfulness in today's fast-paced world.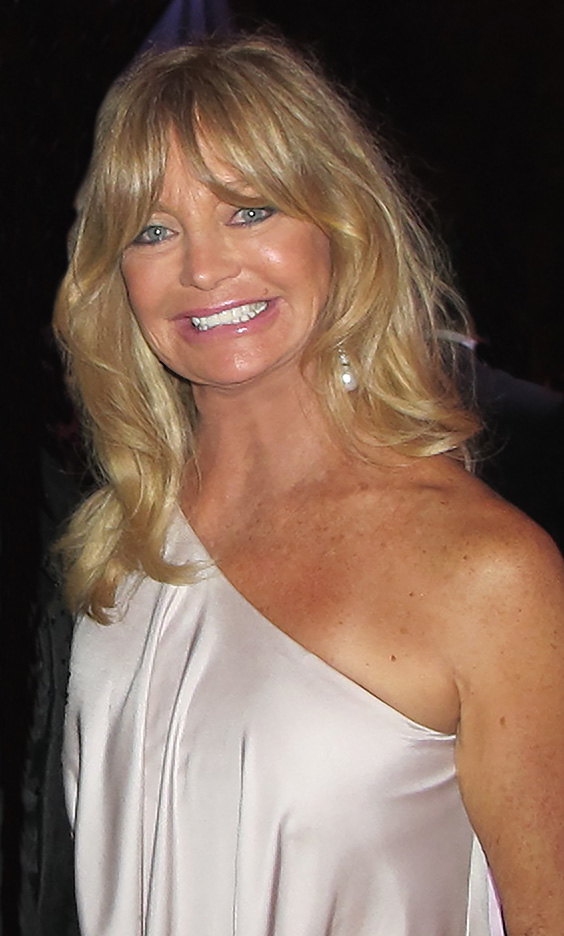 (Goldie Hawn 2011 Photo: Ufuk Sevinc / Nadja Amireh)
Today, senior citizen and new septuagenarian Goldie Hawn is a grandmother of 5, thanks to son Oliver and daughter Kate.
She and Kurt Russell have been together for 33 years and have no plans to marry.
In a 2015 interview with Brie Schwartz for Redbook Magazine, Hawn had this to say about aging and getting older:
"The one fact of life is "getting older." "But it's wonderful to know you're aging, because that means you're still on the planet, right? It's all about how you make it. It's all in your mind."