Seniors Canadian Museum Discounts
These art galleries, halls of fame, and museums in Canada provide seniors discounts or special offers for adults as young as age 50+. 
Planning a trip to a Canadian destination and waxrnt to soak up some arts & culture, or maybe you're looking for something to while away the hours and take you out of this world into the past (or future) in your own home town.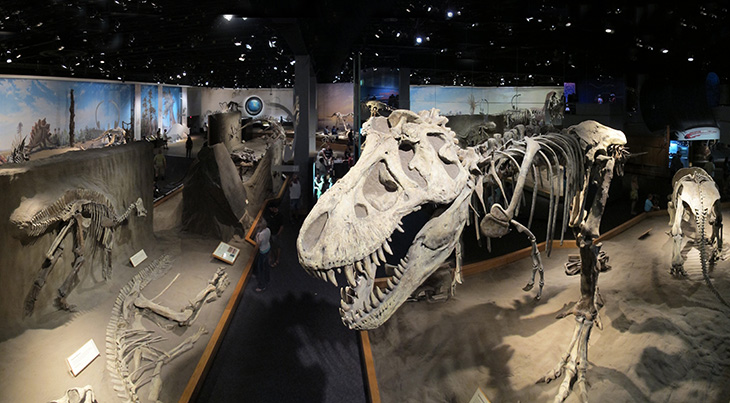 (Royal Tyrrell Museum of Paleontology in Drumheller, Alberta Photo: Steven Mackaay)
Many museums, halls of fame, and art galleries also offer reduced pricing or free admission for children, so if you've got the grandchildren for a day (or longer), this is a low-cost outing that all can enjoy.
Notes:
Seniors and 50+ discounts and special offers are subject to change without notice by individual organizations, and may vary by location, time of day, day of the week, or may only apply on select exhibits or attractions. Check with a specific location to confirm current discounts, special offers and age or other eligibility requirements at time of purchase.
This is not a complete list of all art galleries, halls of fame, or museums.
If admission is FREE, they are not on this list.
Other halls of fame, art galleries, and museums may have discounts for seniors and people age 50+. 
Always ask if there is a special offer for seniors or 50+ when you visit.
Inquire about the best available rate and compare other available discount offers before purchasing, as a seniors rate may not be the best option for you. 
Both AARP (American Association for Retired Persons) & CARP (Canadian Association for Retired Persons) provide benefits for registered members age 50+.
Skip to
Canada-Wide
Parks Canada (National Parks, Historic Sites, & Marine Conservation Areas Managed by Parks Canada) - Source: https://www.pc.gc.ca/apps/tarifs-fees/index_e.asp
65+ years of age eligible for Seniors Rate basic entry and some service fees (consult website for full details) at select historic sites, marine conservation areas, and national parks.
Alberta
Glenbow: Calgary's Art & History Museum (Calgary, Alberta) - Source: https://glenbow.org/visiting/index.cfm
65+ years of age are eligible for a discounted rate on admission
Military Museums (Calgary, Alberta) - Source: https://themilitarymuseums.ca/
65+ years of age are eligible for a discounted rate on admission
Royal Tyrrell Museum (Drumheller, Alberta) - Source:  http://www.tyrrellmuseum.com/visit/admission.htm
65+ years of age are eligible for a discounted rate on admission to the Royal Tyrrell Museum
British Columbia
Haida Heritage Centre and Haida Gwaii Museum (Kay Lingaay / Haida Gwaii, British Columbia) - Source: https://haidaheritagecentre.com/
Seniors (age not specified) are eligible for discounted rate on admission
Maritime Museum of British Columbia (The) (Victoria, British Columbia) - Source: https://mmbc.bc.ca/visit/hours/
Seniors (age not specified) are eligible for discounted rate on admission
Museum of Anthropology at UBC (Vancouver, British Columbia) - Source: https://moa.ubc.ca/
65+ years of age are eligible for a discounted rate on admission
Royal BC Museum (Victoria, British Columbia) - Source: http://royalbcmuseum.bc.ca/visit/tickets-admission
65+ years of age are eligible for a discounted rate on admission to the Royal BC Museum, and IMAX
Vancouver Art Gallery (Vancouver, British Columbia) - Source: http://www.vanartgallery.bc.ca/visit_the_gallery/plan_your_visit.html
65+ years of age are eligible for a discounted rate on admission to the Vancouver Art Gallery
Manitoba
Manitoba Museum (Winnipeg, Manitoba) - Source: https://manitobamuseum.ca/main/visit/hours-admissions/
65+ years of age are eligible for a discounted rate on admission
Winnipeg Art Gallery (Winnipeg, Manitoba) - Source: https://www.wag.ca/visit/plan-your-visit/gallery-info
65+ years of age are eligible for a discounted rate on admission
New Brunswick
New Brunswick Museum (Saint John, New Brunswick) - Source: https://www.nbm-mnb.ca/hours-and-admission/
Seniors (age not specified) are eligible for a discounted rate on admission
Newfoundland and Labrador
The Rooms (St. John's, Newfoundland and Labrador) - Source: https://www.therooms.ca/visit-us
60+ years of age are eligible for a discounted rate on admission
Nova Scotia
Art Gallery of Nova Scotia (Halifax & Yarmouth, Nova Scotia) - Source: https://www.artgalleryofnovascotia.ca/visit-halifax
60+ years of age are eligible for a discounted rate on admission
Ontario
Art Gallery of Hamilton (Hamilton, Ontario) 
Art Gallery of Ontario (Toronto, Ontario) - Source: https://ago.ca/visit#admission
65+ years of age are eligible for a discounted rate on admission
Bata Shoe Museum (Toronto, Ontario) - Source: http://batashoemuseum.ca/location-admission/
Seniors (age not specified) are eligible for a discounted rate on admission
Canada Agriculture and Food Museum / Ingenium (Ottawa, Ontario) - Source: https://ingeniumcanada.org/cafm/visit
60+ years of age are eligible for a discounted rate on admission
Canada Aviation and Space Museum / Ingenium (Ottawa, Ontario) - Source: https://ingeniumcanada.org/casm/visit
60+ years of age are eligible for a discounted rate on admission
Canadian Bushplane Heritage Centre (Sault Ste. Marie, Ontario) - Source: http://www.bushplane.com/plan-your-visit/
Seniors (age not specified) are eligible for a discounted rate on admission
Canadian Canoe Museum (Peterborough, Ontario) - Source: https://canoemuseum.ca/museum-info/
65+ years of age are eligible for a discounted rate on admission
Canada Science and Technology Museum / Ingenium (Ottawa, Ontario) - Source: https://ingeniumcanada.org/scitech/index.php
60+ years of age are eligible for a discounted rate on admission
Canadian Museum of Immigration at Pier 21 (Halifax, Ontario) - Source: https://pier21.ca/visit
60+ years of age are eligible for a discounted rate on admission
Canadian War Museum (Ottawa, Ontario) - Source: https://www.historymuseum.ca/visit/admission-fees
65+ years of age are eligible for a discounted rate on admission
Canadian Warplane Heritage Museum (Hamilton / Mount Hope, Ontario) - Source: https://www.warplane.com/visit/museum-hours-and-prices.aspx
65+ years of age are eligible for a discounted rate on admission
Diefenbunker / Canada's Cold War Museum (Carp, Ontario) - Source: https://diefenbunker.ca/admission-directions/
Seniors (age no specified) are eligible for discounted rate on admission
Hockey Hall of Fame (Toronto, Ontario) - Source: https://www.hhof.com/htmlGeneralInfo/gi100.shtml
65+ years of age are eligible for a discounted rate on admission
McMichael Canadian Art Collection (Kleinburg / Greater Toronto Area, Ontario) - Source: http://mcmichael.com/visit/
65+ years of age are eligible for a discounted rate on admission
Museum of Contemporary Art / MOCA (Toronto, Ontario) - Source: https://museumofcontemporaryart.ca/visit/
65+ years of age are eligible for a discounted rate on admission
Museum of Ontario Archaeology (London, Ontario) - Source: http://archaeologymuseum.ca/visit-us/hours_admission/
Seniors (age not specified) are eligible for a discounted rate on admission
MZTV Museum of Television & Archive (Toronto, Ontario) - Source: CARP
CARP members who provide their card get FREE admission to MZTV Museum of Television & Archive
National Air Force Museum of Canada (Astra / Trenton, Ontario) - Source: http://airforcemuseum.ca/eng
65+ years of age are eligible for a discounted rate on admission
National Gallery of Canada (Ottawa, Ontario) - Source: https://www.gallery.ca/
65+ years of age are eligible for a discounted rate on admission
Ontario Science Centre (Toronto, Ontario) 
CARP members who provide their card save 20% off general admission AND IMAX® films at the Ontario Science Centre - Source: CARP
65+ years of age are eligible for a discounted rate on admission AND IMAX® films at the Ontario Science Centre - Source: https://www.ontariosciencecentre.ca/Prices/
Royal Ontario Museum (Toronto, Ontario) 
CARP members who provide their card save up to 20% off regular admission to the ROM - Source: CARP
65+ years of age are eligible for a discounted rate on admission to the ROM - Source: https://www.rom.on.ca/en/visit-us/tickets-hours
Textile Museum of Canada (Toronto, Ontario) - Source: http://www.textilemuseum.ca/plan-your-visit/hours-admission
65+ years of age are eligible for a discounted rate on admission to the Textile Museum of Canada
The Museum (Kitchener, Ontario) - Source: https://themuseum.ca/plan-your-visit/
65+ years of age are eligible for a discounted rate on admission to The Museum
Québec
Canadian Museum of History (Gatineau, Québec) - Source: https://www.historymuseum.ca/visit/admission-fees
65+ years of age are eligible for a discounted rate on admission
Canadian Railway Museum / Exporail (Saint-Constant, Québec) - Source: https://www.exporail.org/en/top-menu/schedule-and-admission-fee/
65+ years of age are eligible for a discounted rate on admission
McCord Museum (Montreal, Québec) - Source: https://www.musee-mccord.qc.ca/en/admission-fees/
65+ years of age are eligible for a discounted rate on admission
Musée national des beaux-arts du Québec (Québec City, Québec) - Source: https://www.mnbaq.org/en/information/plan-your-visit/hours-and-rates
65+ years of age are eligible for a discounted rate on admission
Skip to
**This article is for general informational purposes only. 50+ World does endorse these providers, nor does it receive remuneration from them.**