Oz Film Co. & "Creature" Actor Fred Woodward
Canadian actor Fred Woodward was billed as "The King of Animal Personators", and parlayed playing the Cow in the original stage production of The Wizard of Oz (1902) into a life-long association with Oz creator L. Frank Baum ,and various Oz productions on stage and in films.
(Fred Woodward as Hank the Mule 1914: Who's Who in The Film World) 
This was likely Fred's costume for The Magic Cloak (1914), an OZ Film Manufacturing Company silent movie based on the L. Frank Baum novel; Baum also wrote the screenplay. J. Farrell MacDonald directed, and Mildred Harris (the future and first Mrs. Charlie Chaplin), Violet MacMillan, Vivian Reed, Frank Moore, and Juanita Hansen co-starred. 
"King of the Animal Personators"
Fred Woodward was his professional name, according to Variety; nee Fred J. Warrington, he was born on April 26, 1882 in Toronto, Ontario. He toured the American Orpheum vaudeville circuit playing the Parrot and the Teddy Bear in Polly Pickles' Pets, and later toured Europe with the same production. By the turn of the century he was a veteran of vaudeville stages as an animal "personator".
In 1904 Fred was touring in California in a stage production of the Wizard of Oz. 
"Although their individualities were carefully concealed the performances of the cow and the lion done by L J. Wyckhoff and Fred Woodward respectively made the chief comedy phases of the play." – Los Angeles Herald, October 7, 1904
He was in demand on the East Coast as well…New York's legendary Broadway theatre impresario Florenz Ziegfeld Jr. hired Fred Woodward for three years in a row to play animals. He was the Ostrich and the Jackass in The Follies of 1909; the Frog, Owl, and Stork in The Follies of 1910; and in The Follies of 1911, he was the G.O.P. Elephant. 
Fred Woodward arrived in Los Angeles in 1913 and was Hank the Mule in an Oliver Morosco touring production of the musical The Tik-Tok Man of Oz (by Frank Baum).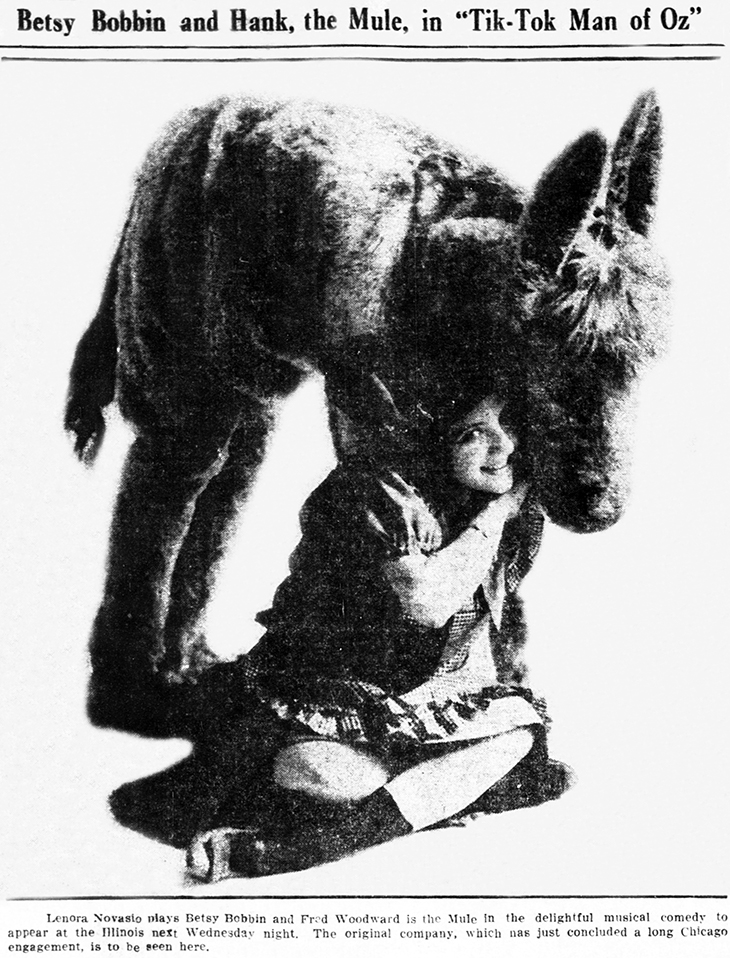 (Lenora Novasio as Betsy Bobbin & Fred Woodward as Hank the Mule: Rock Island Argus, Oct. 18 1913) 
Although his reviews as "the hit of the play" were glowing, this touring musical was described as little more than a revised version of The Wizard of Oz. (Variety), and not deemed worthy to proceed to Broadway.
The Motion Picture News (October 1914) reported Fred Woodward had signed a three-year contract with the newly formed Oz Film Manufacturing Co. to make silent movies based on the works of L. Frank Baum, and commented on the authenticity of his costumes and stage acting in live performances:
"Someone in the audience reported to the Humane Society that they were using a horse that should be attended to by a veterinary. An officer was immediately dispatched to the theatre, and when he learned that the horse was nothing but a prop with a man inside, he was as furious as an official in his ludicrous position might have been expected to be."
L. Frank Baum & Oz Film Manufacturing Co.
Believing there was an audience for his fantastic tales in silent movies, The Wonderful Wizard of Oz (1900) author and playwright L. Frank Baum founded the Oz Film Manufacturing Company in Los Angeles in the spring of 1914.
"This studio is really the most beautiful in this vicinity, having a grand setting of old eucalyptus and pepper trees, with plenty of other varieties nearby. Several giant pines add to the picturesqueness of the grounds, and every visitor to the studio remarks on the beauty of the location. In front of the plant runs the car line from Los Angeles to San Fernando valley, Hollywood, and the beaches on Santa Monica Bay." – The Moving Picture World, 1914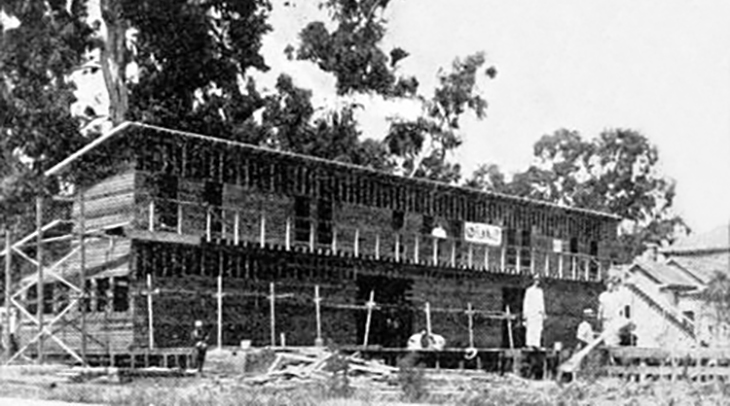 (Main Building, Oz Film Co. 1914)
The studio was located on Santa Monica Boulevard between North Gower St. and Lodi Pl., opposite what was then called the city of Colegrove (aka Colegrave), California. The studio grounds were part of an estate created 35 years earlier by California Senator Cornelius Cole (married to Olive Colegrove), from one of the original Spanish/Mexican land grants. Colegrove was annexed by Los Angeles in 1909. Los Angeles Symphony organizer Harley Hamilton recalled the original house being the scene of social functions prior to 1914:
"What was once a great drawing room, is now the projection and dark room of the large plant, and the dining room has been converted into the general offices. Every room of the three-story mansion has been remodeled and utilized for the manufacturing of feature films. On half the lot has been built an enormous stage 65 by 100 feet, with a back building two stories high to be used for scene docks, paint frames, property rooms, and carpenter shop. The building is 24 feet wide, and extends the full length of the stage, 100 feet. The upper story is made into fine dressing rooms, fitted with hot and cold water, two large windows overlooking the stage, and with every modern convenience that can be thought of. Midway between the two sections of ten rooms is a double shower-bath room, and lavatories." – The Moving Picture World, 1914
A prolific and highly successful children's author, by 1914 L. Frank Baum had written 26 stories, which had been translated the world over and sold millions of copies.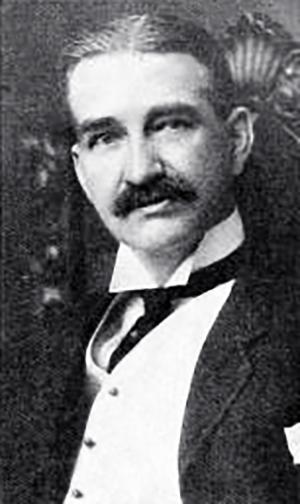 (L. Frank Baum 1914: Moving Picture World)
"L. Frank Baum – Mr. Baum was born in New York state in 1856, and has been in the public eye nearly all his life. In 1880, at the age of twenty-four, he was starring in his own musical play, "The Maid of Arran….Leaving the stage, Mr. Baum soon took to writing fairy stories and books for young people. Perhaps the most famous of these books was the 'Wizard of Oz,' which was dramatized and produced at the Grand Opera House, Chicago….In his fifty-ninth year, Mr. Baum looks barely fifty and is as strong and energetic as a man much younger. He is busy at the plant in Hollywood every day from 7:30 o'clock in the morning, seldom stopping for lunch, and often working until 10 or 11 o'clock at night. " – Moving Picture World, July 1914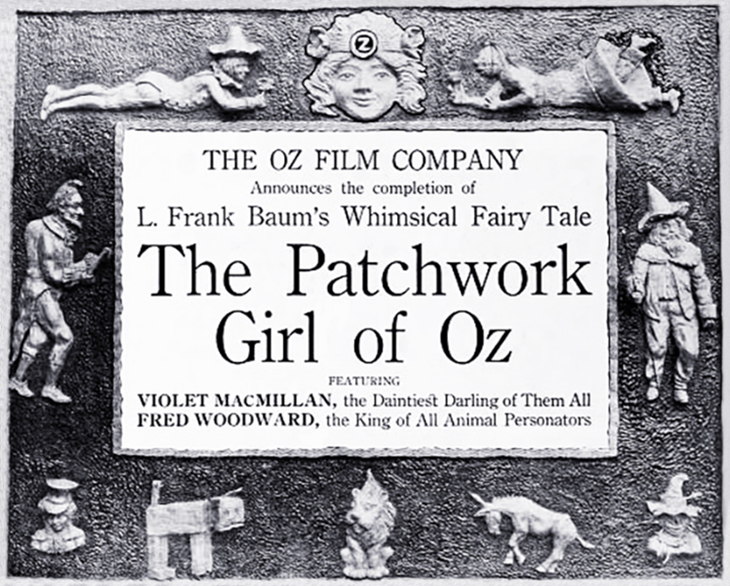 The first film produced by the new Oz Film Co. was The Patchwork Girl of Oz (1914). Violet MacMillan, Frank Moore, and Raymond Russell co-starred. Hal Roach played The Cowardly Lion, Mildred Harris was Dorothy, and J. Farrell MacDonald directed. Fred Woodward's credited roles in the movie included playing The Woozy, a Quaintness / The Zoop, and a Mystery / Mewel, who is Everybody's Friend.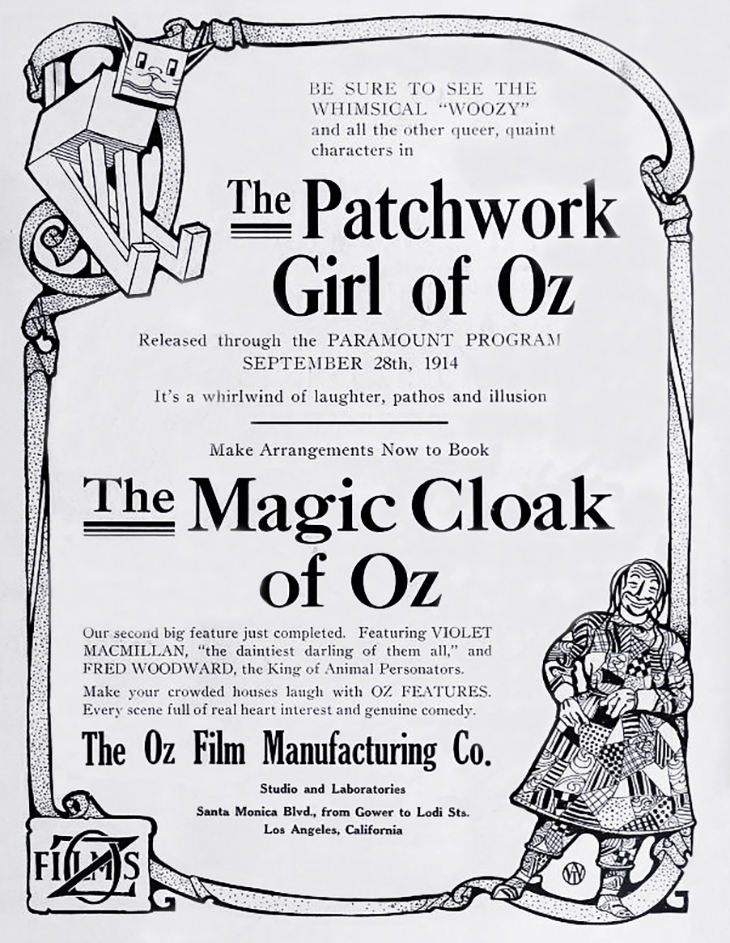 (The Patchwork Girl of Oz & The Magic Cloak of Oz 1914 Ads)
Uncredited in The Patchwork Girl of Oz (all at the start of their movie careers) were future silent film stars Charles Ruggles, Juanita Hansen, Harold Lloyd, and Vivian Reed. Hal Roach and Harold Lloyd met on the set of this movie and later partnered to become one of the most successful movie-making enterprises of silent films.
"Over nine thousand feet of film was taken to cover the first four reels, of which the very best photography and cleverest of scenes were selected. No expense has been spared to make this first picture a sensation, Mr. Baum spending all of his time at the plant." – Moving Picture World, July 1914
Oz Film Co. Cast and Crew
The three primary actresses of the Oz Film Co. were Violet MacMillan, Vivian Reed, and Mildred Harris.
Violet MacMillan was described in Oz Film Manufacturing Co. ads as "the daintiest darling of them all". Born on March 4, 1885 in Grand Rapids, Michigan, she attended high school there and made her stage debut as Dorothy in a production of The Wizard of Oz, followed by a stint on Broadway. Violet She married Fred Clark in 1901, and had daughter Lanora Gertrude Clark (b. 1902) before they divorced in 1903. She married again in 1908, to industry executive John Hall Folger. After spending time in vaudeville on the Orpheum circuit, Violet joined the newly formed Oz Film Co at the age of 29 in 1914, to play child/youth leads in 5 motion pictures for them: The Patchwork Girl of Oz, The New Wizard of Oz, The Magic Cloak, and in 1915, The Country Circus, and The Magic Bon Bons.
"This little bundle of humanity is one of the smallest leading ladies in the moving picture field. Tiny Violet is but fifty-seven and one-half inches short (4′ 9″), and she can be weighed without putting on any of the balancing weights, for she tips the scales at an even hundred pounds…She is a typical blonde, golden haired, and with a pair of big blue eyes that fairly talk on the screen." – Moving Picture World, 1915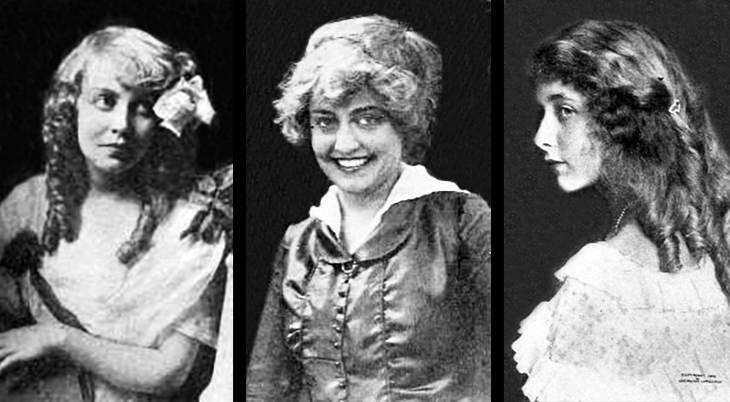 (Oz Film Co. Leading Ladies: Violet MacMillan 1915 | Vivian Reed 1914 | Mildred Harris 1914)
Mildred Harris was already a movie "veteran" when Oz Films started up in 1914, having broken into films in 1911 with the Western Vitagraph, followed by The New York Motion Picture Co. of Santa Barbara in 1912. She appeared in 3 Oz Films (The Patchwork Girl of Oz, The Magic Cloak, and The New Wizard of Oz), in between movies for other companies.
"Cheyenne, Wyoming was the city to welcome Mildred into this world. She was born on the 29th of November, 1901, and for her age, 13, she is about the most popular child actress on the screen today. She is an efficient swimmer, living at the beach, and rides a pony, drives an automobile, and likes to dance, being somewhat of a fancy dancer as well as a good ball room dancer. She likes to dance better than anything else, and most of her leisure time is spent in learning the latest steps of the tango and hesitation." – Moving Picture World, 1914.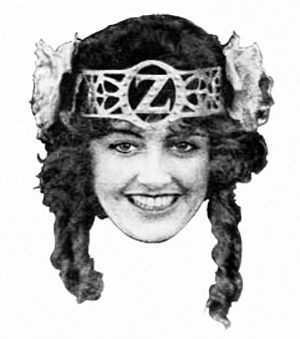 Vivian Reed's head was the trademark of Oz films. Born April 17, 1894 in Pittsburgh, 15-year-old Vivian appeared in 4 movies for the studio in 1914: The Patchwork Girl of Oz, The Magic Cloak, The New Wizard of Oz, and The Last Egyptian.
"Formerly an artist's model in New York City, who came to the West coast on a pleasure trip. A want ad calling for sixty pretty girls to work in pictures took Miss Reed to the Oz studio. There the directors, in invoicing the appearance of the girls, placed Miss Reed in Class A, and a few days later she was given a contract with the company for a long term of months. Officers of the Oz company believe they have a rare find in Miss Reed, and she is to be given every opportunity to display her talents." – Motion Picture News, 1914
J. Farrell MacDonald directed the first 4 Oz Films (Patchwork Girl of Oz, New Wizard of Oz, The Magic Cloak, The Last Egyptian) in 1914, also co-starring  in The Last Egyptian as the title character. Born on April 14, 1876, MacDonald was a prolific character actor and director. His acting career began in 1910 and ended in 1951 in the era of classic films, having acquired some 336 credits before the cameras, and another 50+ directing silent movies (ending in 1917). 
Fred Woodward's IMDB credits have him playing circus animals in The Country Circus (1915) and several novelty animal characters in The New Wizard of Oz (The Cowardly Lion, The Kangaroo, The Crow, The Cow, and The Mule). Woodward appeared in all 8 Oz Films, almost always in costume as a real or make-believe animal. An exception was The Last Egyptian, in which he played Sebbet, the Embalmer. According to Motion Picture News, Baum himself wrote the scenario (a story of modern Egypt), which was a significant change from his usual fantasy stories.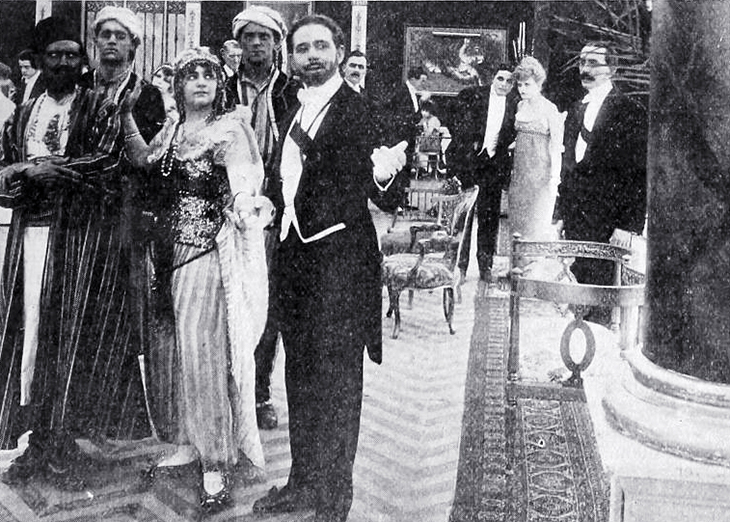 (The Last Egyptian 1914: Oz-Alliance Feature)
Oz Films folded within a year of starting up, having produced a total of 8 silent movies released between 1914 and 1916.
The Aftermath of Oz Films
Although RKO Radio films started out as Robertson-Cole in Colegrove in 1920 (when North Gower street was still a dirt road called Gower), soon after what had been the separate community of Colegrove was simply known as South Hollywood. 
L. Frank Baum died on May 7, 1919 of heart disease. He was survived by his wife and four children. His legacy of vivid stories and characters has been beloved by children of all ages in the decades that have passed, and will be in the years to come.
Mildred Harris was still only 16 years of age when she married 29-year-old Charlie Chaplin October 23, 1918 in what was rumored to be a "shotgun" wedding. She gave birth to their severely disabled son Norman Spencer Chaplin July 7, 1919; he lived only three days. Other rumors are that after her 1921 divorce from Chaplin, Mildred had an affair with Edward, Prince of Wales, before she introduced the future King of England to his Waterloo, Wallis Simpson. By the mid-1930s, sound had killed her career and she was relegated to uncredited minor roles. Mildred married again, to Everett Terrence McGovern in 1924, with whom she had son Everett Terrence McGovern Jr. in 1925; they divorced in 1930. She married for the last time to William Peter Fleckenstein in 1934. Mildred Harris was 42 years old when she died after an operation in July 1944, leaving Fleckenstein a widower.
Violet MacMillan was quickly snapped up by producer Thomas Ince, and began working at Inceville in 1915. She made 19 movie shorts that year, but her film career quickly fizzled out. Between 1916 and 1917 she made only 5 movies. She either retired or was retired after returning to filmdom to co-star with Paul Panzer in her last silent film, The Mystery Mind (1920). She remained married to her second husband John Folger until her death at the age of 68 in December 1953. Violet's daughter Lanora gave her a grandson, Peter John d'Archangel, in 1925 (according to IMDB). 
Vivian Reed moved on to act in films – primarily for the Selig Polyscope Company in 1915-1917, and was usually directed by Alfred E. Green. After making a couple of films for Thomas Ince and Triangle Film Corporation (producers Thomas Ince, D.W. Griffith, and Mack Sennett) in 1918-1919, she retired. Vivian had married her Selig director Alfred E. Green, and they had 3 sons – Marshall Green (b. 1919); Douglas Green (b. 1921); Hilton a. Green (b. 1929) – all of whom worked in the film industry directing and/or producing. After a screen absence of 15 years, Vivian returned to movies to play 2 uncredited film roles (Student Tour, 1934; Vivacious Lady, 1938). When her husband Alfred E. Green died in September 1960 at the age of 71, he was survived by Vivian and their sons. Vivian Reed lived to the ripe old age of 95, dying in July 1989.
Fred Woodward Beyond Oz
Fred Woodward moved on to work in other stage and movie productions. He's credited as a mule in two non-Oz Films 1917 silent movies:
Mule Mates, a Universal production directed by William Beaudine, starring Gale Henry and Billy Franey.
Like Babes in the Woods, which used footage from The Magic Cloak. Only 4 actors are credited in this movie – Woodward, Violet MacMillan, Gordon Griffith, & Jack Nelson. Woodward is the only "animal" character that is credited on IMDB (as Hank the Mule), however The Moving Picture Weekly (July 1917) noted he also played The Lion, The Tiger, and The Man Bird.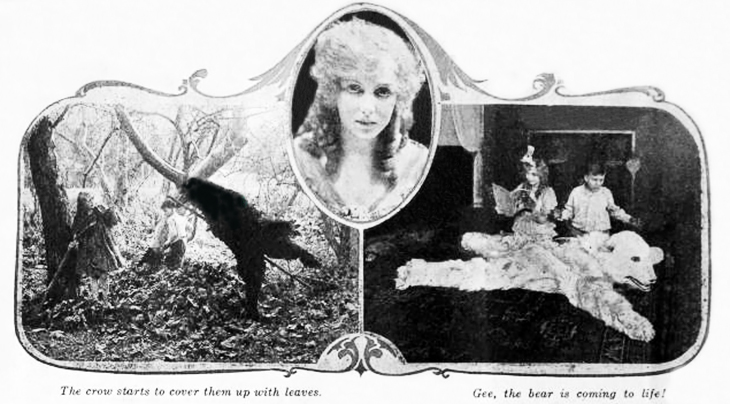 (Violet MacMillan, Gordon Griffith, Frank Woodward 1917 Like Babes in the Woods)
Woodward had continued to revive a vaudeville act featuring Hank the Mule in between Oz films, often pairing up with other performers.
"Fred Woodward, the peer of all animal impersonators, is the headliner in the Broadway vaudeville bill for tomorrow. He is the junior member of the team of Woodward and Morrissel, who offer a screaming comedy, 'Hank, the Mule.". It is something really new, and brings a continuous uproar of laughter." – Chico Record, January 21, 1917
Note: 'Morrisel' was most likely a mis-spelling of 'Morrisey', judging by this 1922 ad below, and events that later transpired.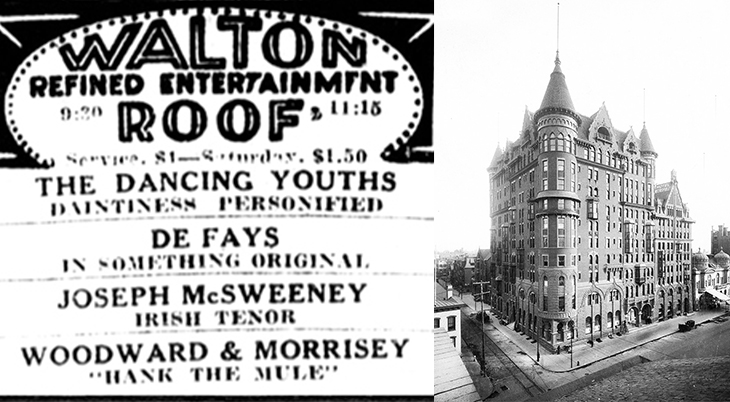 (Woodward and Morrissey 1922 Ad, Philadelphia Evening Public Ledger | Hotel Walton)
At some point along the way, Fred Warrington / Woodward married a woman named Ethel, who took his last name Warrington. After he left Los Angeles for good, Fred returned to vaudeville full time. By 1923, he was based in Chicago and was part of the vaudeville act Woodward and Marcy, with Edith Marcy. Ethel's divorce suit against Fred in 1923 named Edith Marcy; the divorce was uncontested. Variety (April 19, 1923) reported that Ethel S. Warrington was granted a judgement from Fred J. Warrington, also known as Fred J. Woodward, for costs of $125.60.
"Calls Warrington Cruel – Edith Warrington, residing at 931 Sunnyside Avenue, Chicago, is suing Fred Warrington for divorce. The husband impersonates a donkey in the floor show at the Terrace Garden Cafe. The wife cites he 'kicked, struck, choked and beat' her, which she feels is reason enough for the court to free her and give her $35 a week for the support of the two children, ages three and six." – Variety,  Chicago, May 5, 1925
Fred Woodward made news again as the result of a rancorous split from his third wife, Tex Morrissey (married name Woodward). In 1926 Frank Woodward and Tex Morrissey had two daughters – 2-year-old Joy who was in the sole custody of Tex, and they shared custody of 6-year old Sunshine. Tex accused Fred of kidnapping Sunshine and taking her to London, despite only having custody of her for six months of the year. 
"Tex Morrisey divorced her husband in Chicago for cruelty, the latter essaying a fourth marital venture with Nina Walby and sailing for London to open at the Kit Cat Club in the act known as Hank, the Mule….Woodward's intention [is] to play the provinces with Australia in the first stop after England." – Variety, January 1926
With Frank apparently married for the fourth time and off touring England and possibly Australia, his third ex-wife Tex took up his mule act in America, with mixed reviews.
"Donkey Stuck in Seat – Tex Morrisey Could Not Free Herself in Theatre – (Miss) Tex Morrisey, comedienne, who appeared at the Grand last week with (Miss) Lou Thompson, suffered a bruised ankle as the result of a mishap while going through her performance during a matinee. The act involves the cavorting among the audience of a 'donkey' with Miss Morrisey on the inside of the donkey. During the performance the donkey jumped upon a seat. The seat opened and the donkey stuck fast, unable to move. Efforts on the part of persons in the audience to free the 'animal' were of no avail, and finally its head was removed. It revealed Miss Morrisey, wearing a bathing suit. She gained her freedom when Joseph McGee, theatre electrician, appeared and took the seat apart." – Pittsburgh, Aug. 17, 1926 (Variety)
Tex Morrisey continued performing in vaudeville through 1934 a least; appeared in 1937 movie. Ten years later, according to Variety, Frank was still doing his variety mule act, this time in Paris, France, and was accompanied on stage by a daughter, Didi Dax. IMDB has him resurrecting his Hank the Mule act for an episode of the early television series For the Children in 1946. Fred Woodward was 77 when he died March 26, 1960, in Victoria, British Columbia.
*Images are believed to be in the public domain, used by permission, or Creative Commons licensed & sourced via Wikimedia Commons, Vimeo, YouTube, or Flickr, unless otherwise noted*