Remembering Anita Ekberg
Pin-up model and actress Anita Ekberg (nee Kerstin Anita Marianne Ekberg) was born on September 29, 1931 in Sweden, one of 7 children.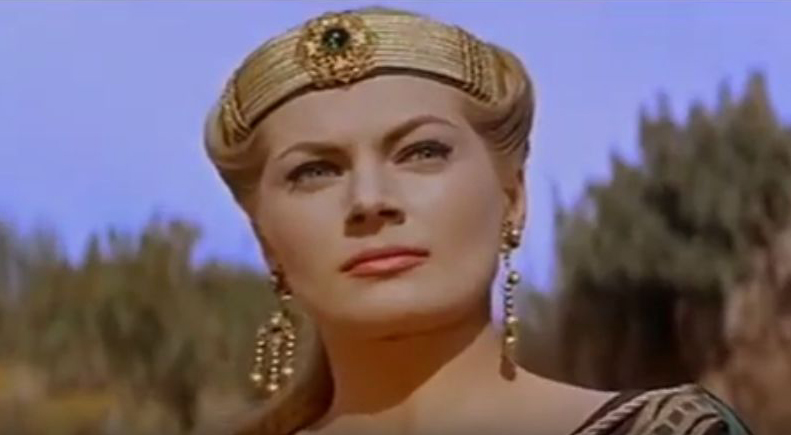 (Anita Ekberg 1959 Sheba and the Gladiator)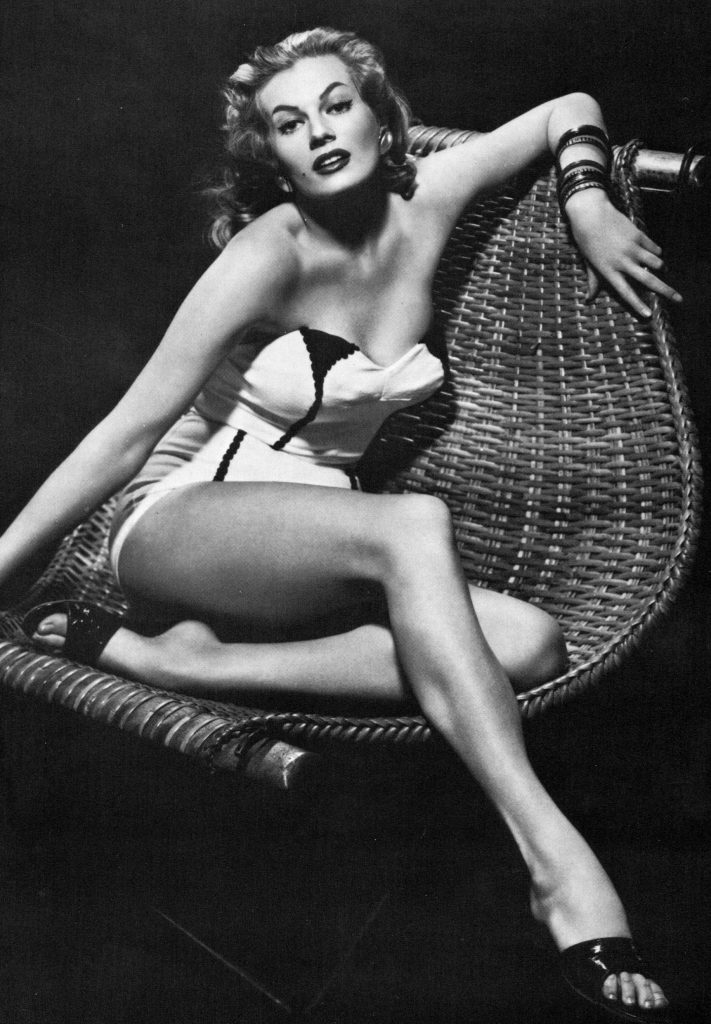 (Anita Ekberg c. 1950s Photo: kate gabrielle)
Her first big break came at age 20 in 1951 when she won Miss Sweden in the Miss Universe contest and traveled to Hollywood.
She secured bit parts in movies, but primarily modeled until landing more solid supporting roles.
In 1955 she played model Anita opposite Dean Martin, Jerry Lewis and Shirley Maclaine in the comedy Artists and Models. Her other supporting actor co-stars in Artists and Models included Dorothy Malone, Eva Gabor, and Jack Elam.
The following year, Anita Ekberg could be see in the serious drama War and Peace, co-starring with the likes of Audrey Hepburn, Henry Fonda, Mel Ferrer, Vittorio Gassman, and Herbert Lom.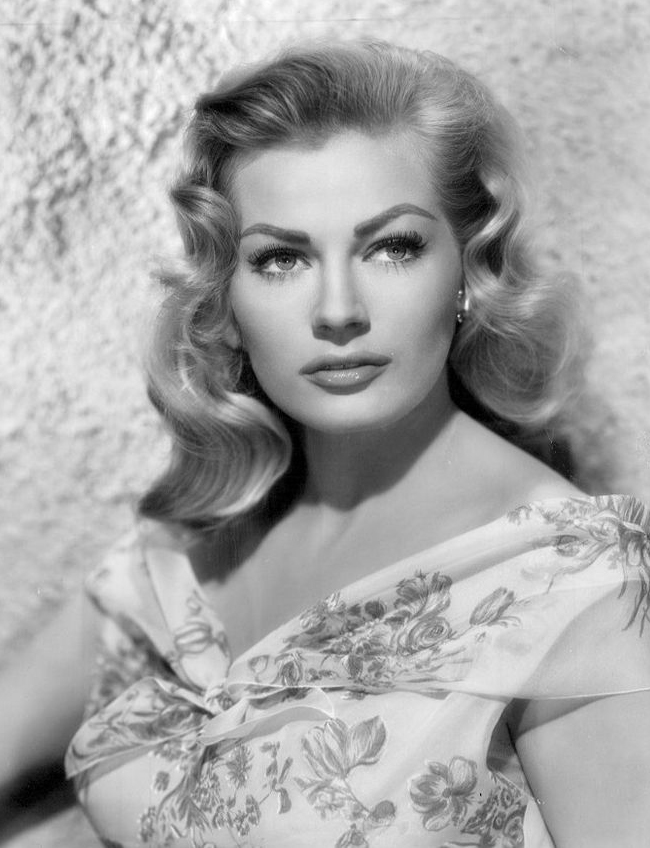 (Anita Ekberg 1956 Photo: Bud Frakes / Paramount)
Anita Ekberg's acting career kept her busy through the late 1950's; she appeared in another Jerry Lewis & Dean Martin comedy, Hollywood or Bust (1956), along with Pat Crowley.
Ekberg had leading roles in the period adventure flick Sheba and the Gladiator (1959), and the sexy thriller Screaming Mimi (1958).
Her Screaming Mimi co-stars included Philip Carey as her leading man, and dancer Gypsy Rose Lee. 
Then came her most renowned starring role, in 1960's La Dolce Vita directed by Federico Fellini. 
In a famous scene, clad in a low-cut black evening dress, she cavorts in Rome's Trevi Fountain and entices her La Dolce Vita co-star Marcello Mastroianni to join her.
Below, scenes from La Dolce Vita showcase Anita Ekberg, Anouk Aimée, and Marcello Mastroianni.
By the mid 1960's, after starring in 1963's comedy 4 for Texas (below) opposite Frank Sinatra, Dean Martin & Ursula Andress, Ekberg's career started to wane.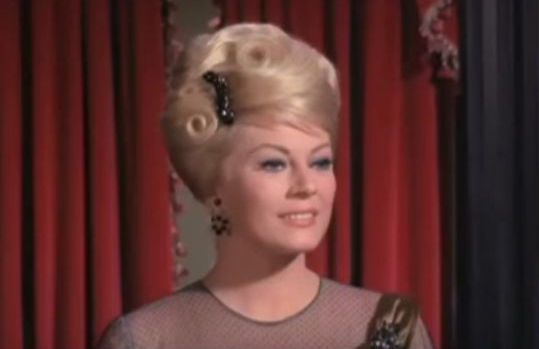 (Anita Ekberg 1963 Four For Texas Trailer) 
Her first marriage was to handsome English actor Anthony Steel in 1956; they were divorced in 1959.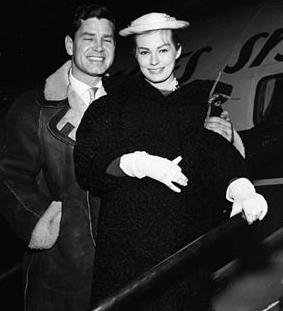 (Anthony Steel and Anita Ekbergi 1956 Photo: SAS Scandinavian Airlines)
Married and divorced twice, Anita Ekberg also was rumored to have had affairs with leading men Frank Sinatra, Errol Flynn, Yul Brynner, Tyrone Power and Gary Cooper.
Her second marriage to American actor Rik Van Nutter lasted a little longer, from 1963 until they divorced in 1975.
In her senior years, Anita Ekberg suffered various financial and health misfortunes, and at the time of her death (January 11, 2015) at age 83 in Italy, where she had lived most of her life, was living alone with her two Great Dane dogs.
Anita Ekberg may be remembered best as a Pin-Up girl in her heyday, as in this video montage tribute below.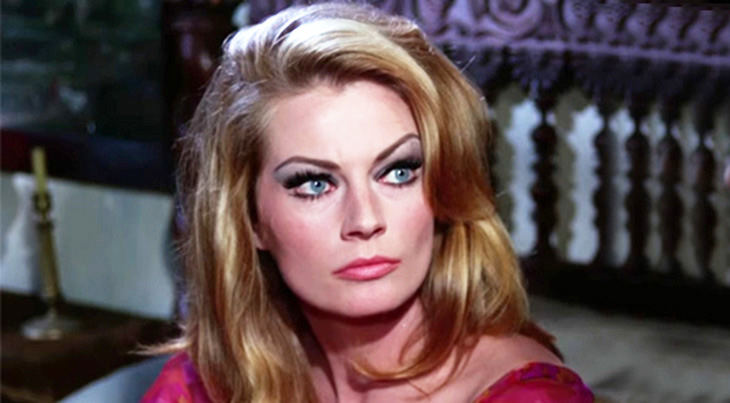 (Anita Ekberg 1969 Fangs of the Living Dead)
*Images are public domain or Creative Commons licensed & sourced via Wikimedia Commons, Vimeo, YouTube, or Flickr, unless otherwise noted*
Note: This article was first published in 2015 under the title Farewell, Anita Ekberg; it has been updated with new & additional content.