The 3 C's of Jerry Lewis
Comedic, Compassionate, and Curmudgeonly
Most fans will remember the brilliance of Jerry Lewis' physical comedy – the facial expressions, the pratfalls, those high-pitched nasal intonations.
(Jerry Lewis 1960 Artists and Models Trailer Screenshot)
His compassion was there for all to see during his long-running gig hosting the annual Labor Day Telethon in support of Muscular Dystrophy, and will not soon be forgotten. There was another, not as pleasant side to Jerry Lewis that his closest friends, family and reporters who tried to interview him, attested to; Lewis could be curmudgeonly and hold long-standing grudges.
Jerry Lewis was born Jerome Levitch on March 16, 1926, into a Newark, New Jersey family of professional entertainers. He began singing on stage at age 5, and by 15 he had a comedy routine worked out. Jerry made his comedy debut at a Buffalo burlesque house under the name Joey Lewis, which he soon changed to Jerry Lewis.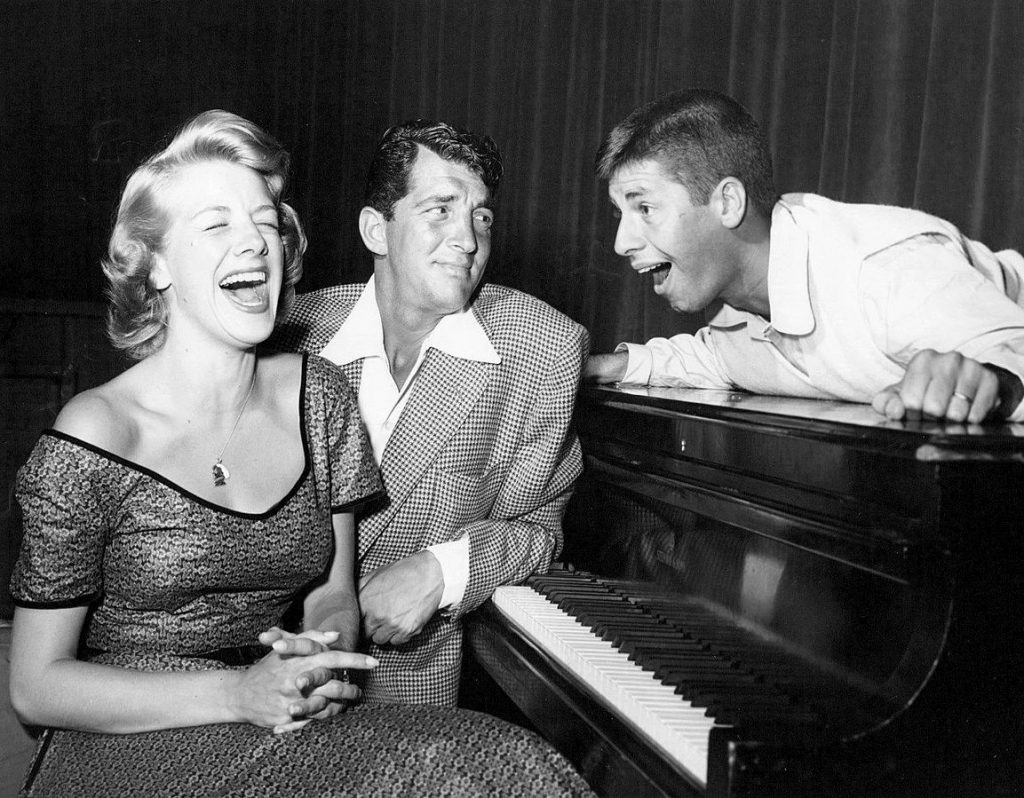 (Rosemary Clooney, Dean Martin & Jerry Lewis 1952 Colgate Comedy Hour Photo: NBC Television)
At age 18, Jerry Lewis married singer Patti Palmer in 1944 and they soon began a family. Their 6 sons (drummer & singer Gary Lewis of Gary Lewis and the Playboys; along with Ron, Scott, Chris, Anthony, and Joseph) gave them 7 grandchildren and one great granddaughter. 
For ten years the slapstick artist Jerry Lewis and fellow actor/comedian/crooner Dean Martin were the highly successful comedy team of "Martin and Lewis". Their professional partnership and close friendship began on an Atlantic City stage in 1946, and after their act skyrocketed to success, the duo moved to television appearances.
At a New York City show Martin & Lewis came to the attention of Hollywood producer Hal Wallis, who cast them in their first feature film My Friend Irma, in 1949. Below, Dean Martin and Jerry Lewis in a scene from 1954's Living It Up:  
Jerry Lewis and Dean Martin starred in 16 Hal Wallis-produced films together and made radio, television, and stage appearances as a singing/comedy duo.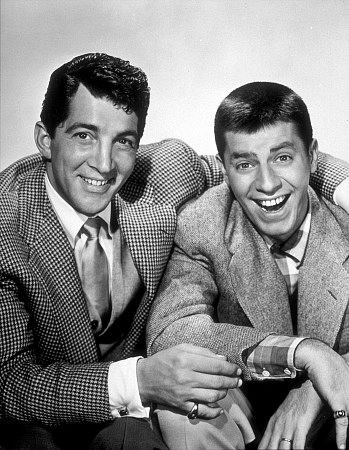 (Dean Martin & Jerry Lewis 1956 Photo: Insomnia Cured Here)
Their films included two movies with Dorothy Malone (Peyton Place) – the horror-comedy-musical Scared Stiff (1953), which also had Lizabeth Scott and Carmen Miranda in the cast. Lewis and Martin's second film with Dorothy Malone was the popular comedy Artists and Models (1955), co-starring Shirley MacLaine, Eva Gabor, Anita Ekberg, and Jack Elam.  
The final film to co-star Jerry Lewis and Dean Martin was Hollywood or Bust (1956) with Pat Crowley. Although they appeared onscreen together, by this time they were not talking to each other offscreen while it was filming. Jerry Lewis' rising star and Martin's decreasing importance to the act caused an estrangement for 31 years.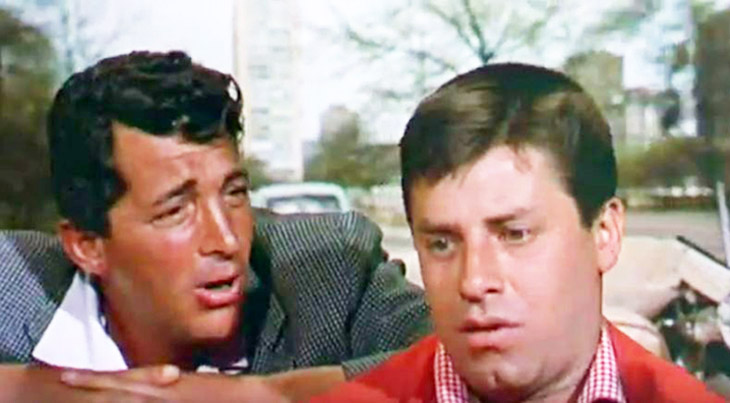 (Dean Martin & Jerry Lewis 1956 Hollywood or Bust)
Although they appeared briefly onscreen together in 1976 during an MDA telethon, it wouldn't be until more than 30 years had passed, when they were seniors and after the death of Dean Martin's son in 1987, that the friendship of Jerry Lewis and Dean Martin friendship was renewed.
In 1952 Jerry Lewis began his 58-year involvement with the Muscular Dystrophy Associations of America (MDAA), by hosting fundraising telethons. The first Jerry Lewis MDA Labor Day Telethon was broadcast in 1966 from New York City and moved to Las Vegas in 1973; Jerry continued as host until 2010.
During one telethon alone (2008), the charity raised over $65 million for "Jerry's Kids". His association with the MDA was severed in 2011 when they announced his retirement at age 84 as host of the annual telethon.
Among many other accolades and honours over the years, Jerry Lewis was nominated for the Nobel Peace Price in 1977 for his compassionate efforts to fight Muscular Dystrophy.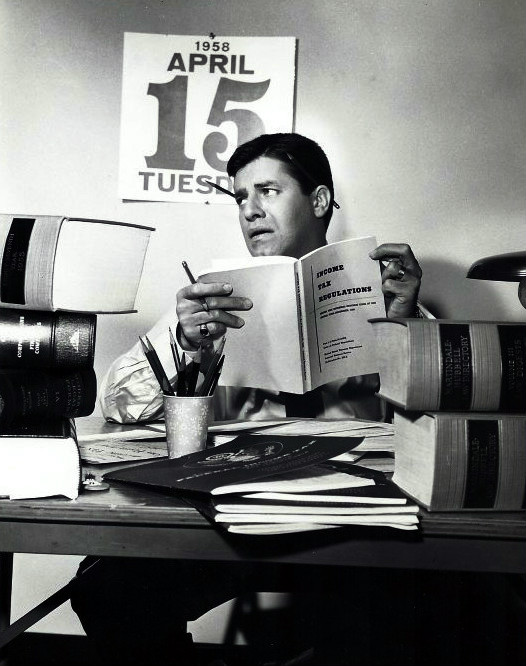 (Jerry Lewis 1958 Jerry Lewis Show Special Photo: NBC Television)
Jerry Lewis continued to successfully act, sing, produce and direct films, and write screenplays after the professional break-up with Dean Martin in 1956.
He co-starred with Dina Merrill, Gale Gordon, Claude Akins, and Mabel Anderson in the comedy Don't Give Up the Ship (1959).
In Visit to a Small Planet (1960), he was supported by Joan Blackman and Earl Holliman (as the romantic leads), as well as John Williams, Ellen Corby, and Gale Gordon again.
His comedy The Nutty Professor (1963) co-starring Stella Stevens, with Del Moore and Kathleen Freeman, has been hailed as a movie classic.
Below, Jerry Lewis as Buddy Love in The Nutty Professor movie trailer from 1963.
Thanks to baby boomers and their love for broad comedy in movies in the 50's & 60's, his film career didn't start to wane until the later 1960's. Jerry Lewis was kept busy with live stage appearances and starred in a 3 different short-lived television shows (all called The Jerry Lewis Show) throughout the 1960's. Lewis continued to make appearances in movies in every decade since then…a 64-year movie career! Jerry Lewis is idolized in France and has won their Best Director award 3 times since 1960.
In 1967 the University of Southern California hired Lewis as a professor and he taught film direction to grad students, which included the likes of George Lucas and Steven Spielberg. Jerry Lewis has won a lifetime achievement award from The American Comedy Awards, the Governors Award (an Emmy Award) from the Academy of Television Arts & Sciences, and the Jean Hersholt Humanitarian Award from the Academy of Motion Picture Arts and Sciences. 
Jerry Lewis returned to the movies in the dark comedy film The King of Comedy (1982), co-starring Robert De Niro. In the film Lewis plays a privacy-loving late night talk show host Jerry Langford, who is hounded by his obsessive fan and aspiring comedian Robert Pupkin (De Niro). Below, the movie trailer for The King of Comedy features Robert Deniro and Jerry Lewis. 
As reported in People magazine at the time, in 1980 Patti Lewis filed for divorce, citing Jerry Lewis' "open disregard for our marriage".  While filming Hardly Working (1980), Lewis had met movie extra SanDee Pitnick; by October 1980, 30 year old SanDee and 54-year old Jerry were living together in Las Vegas. In addition to Jerry's lavish lifestyle and vacations with friends – sans wife and family – Patti claimed that despite her husband's annual income in excess of $1.2 million (after taxes), she had no money of her own and had to sell her jewels to pay household expenses for their 31-room family home in California. 
By all accounts, Jerry's relationship with his adult sons was often marked by periods of estrangement even before this; the same coldness he'd shown in his rift with Dean Martin was not exclusive to Dino or his divorce from Patti after 36 years of marriage. In 2017 Jerry's son Anthony told Inside Edition (below) that he ended up suing his curmudgeonly father so that Patti would not be left destitute. Anthony described an emotionally abusive home life growing up, with Jerry exhibiting mood swings on a daily basis.
Jerry Lewis married SanDee Pitnick in 1983; he was 66 and officially a senior citizen (and had been a grandfather since the 1960s), when they adopted infant daughter Danielle Lewis in 1992, making him a new father again.
As can be expected with aging, Jerry Lewis had his share of health concerns over the years including prostate cancer, diabetes, pulmonary fibrosis and heart disease; he had a serious heart attack in 1982. Pratfalls from his slapstick days played havoc with his back and finally in 2002 he had a neurostimular implant to reduce his back pain.
Reporters who tried to interview Jerry Lewis saw first-hand the other side to the on-screen funny man. Below, a cantankerous Jerry Lewis is interviewed about people working into their nineties.
Jerry Lewis died on August 20, 2017 at the age of 91. He was survived by his second wife, SanDee Pitnick, their adopted daughter Danielle Sarah Lewis, and five of his six surviving sons with first wife Patti Palmer – singer Gary Lewis b. 1946 (Gary Lewis & the Playboys), adopted son Ronald Lewis b. 1949, Scott Lewis b. 1956, Christopher Lewis b. 1957, Anthony Lewis b. 1959. His youngest son Joseph Lewis (b. 1964) died in 2009. In his will, Jerry Lewis specifically named and excluded Patti and their 5 surviving sons (their children, his grandchildren) from his will. 
He leaves behind an enduring legacy of comedy on film. 
(Jerry Lewis 1960 Visit to a Small Planet Screenshot)