Symptoms of a Heart Attack
Every 7 minutes, someone dies from a heart attack in Canada. Although the average age for heart attacks in 2010 was 71, heart attacks are not limited to seniors! These videos illustrate some of the common signs of a heart attack for men vs. women.
Diabetics may not have typical heart attack symptoms at all! If in doubt, call 911.
This educational & funny short video illustrates a woman's experience with heart attack & the warning symptoms. Heart disease & stroke are the #1 cause of death for women in Canada & the United States.
This infographic from the U.S. Department of Health and Human Services Office on Women's Health points out the more common symptoms for women experiencing a heart attack: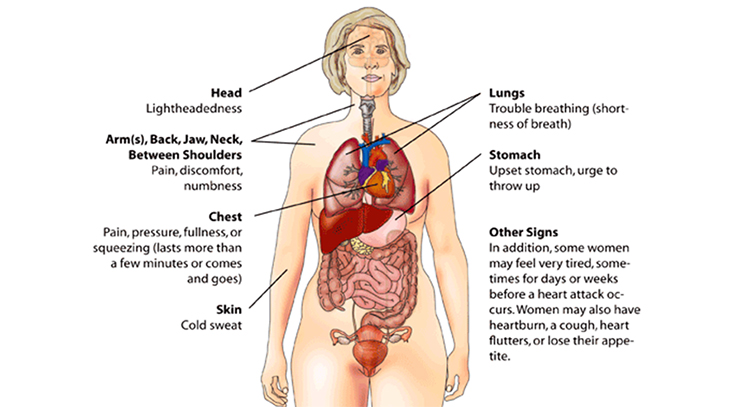 lightheadedness
trouble breathing / shortness of breath
numbness, pain, or discomfort in the arms, back, jaw, neck, and between the shoulders
upset stomach
chest pain, fullness, pressure, or squeezing – lasting more than a few minutes, or it comes and goes in waves
breaking into a cold sweat
Days or weeks before the onset, some women may feel very tired, have heartburn, a cough, experience loss of appetite, or have heart flutters (Atrial Fibrillation)
It's not only seniors and older adults that have heart attacks.
More About Heart Disease, Heart Attacks, High Blood Pressure/Hypertension, And Strokes:
High Blood Pressure: Risks, Causes, and Prevention
Hormone Therapy for Menopause and Heart Disease
Peripheral Artery Disease: Symptoms & Risk Factors
Health Risks for Aging Couch Potatoes
Heart and Stroke Foundation of Canada
*This article is for informational purposes only and is not intended as medical or mental health advice, nor is it a substitute for professional medical or mental health advice, diagnosis, or treatment. Always seek the advice of a qualified physician or mental health provider with any questions you may have regarding a medical or mental health condition. In the event of a medical emergency, call a doctor or 911 immediately. This website does not recommend or endorse any specific tests, physicians, products, procedures, opinions, or other information that may be mentioned on the Site or on other websites it links to. Reliance on any information provided by this website or other websites it links to, is solely at your own risk.*