Celebrating Seniors - Author Eric Wilson is 75
Canadian writer Eric Wilson – author of Tom and Liz Austen youth mystery series – was born 75 years ago today on November 24, 1940 in Ottawa, Ontario.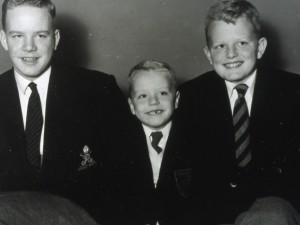 From left, brothers Bruce, Paul, & Eric Wilson. (Photo: Courtesy of Eric Wilson)
Eric Wilson and his brothers Bruce and Paul spent part of their childhood in Winnipeg, Manitoba. Eric was and still is an avid reader; he loved The Hardy Boys mystery series so much that he was inspired to start his own boy detective agency – Eric Wilson, Associates. 
After receiving his B.A. from the University of British Columbia, Eric Wilson began teaching baby boomer students in White Rock, B.C. in the 1968/69 school  year. He has said on his website (www.ericwilson.com) and in interviews, that his students' dislike of reading inspired him to create books that would grab their attention and keep them interested. 
In 1970 Wilson began his first attempt at writing a book, a story called Fat Boy Speeding. His student's reactions encouraged him to continue. In all he wrote 5 books before receiving a successful acceptance from a publisher for Murder on the Canadian (1976), the first Tom and Liz Austen book in the series.
Eric Wilson drew on his boyhood memory of starting a detective agency and loving The Hardy Boys (as did many baby boomers), to create the Tom Austen, boy detective character in the Tom and Liz Austen book series. Tom Austen, not surprisingly, is a Hardy Boys fan as well. The series takes readers across Canada with historical and cultural references, painstakingly researched by Wilson. Recently Murder on the Canadian was made into a play, and there are more than 20 books in the Tom and Liz Austen series.
Wilson moved to Victoria, British Columbia in 1985 and has been a full-time writer since then. He tours schools and provides resources for teachers and study guides on his website, to accompany his novels. In his 50+ years, Eric Wilson married Flo Connolly in Niagara Falls, Ontario; the couple still live in Victoria, B.C. 
In his sixties, senior citizen years and seventies, Eric Wilson has continued to write. His most recent youth books are Santa Bieber (2013) and Susie-Q, A Teen Novel (2012) which reflects a co-writing credit with Flo Wilson. For a change of pace, Wilson decided to write an adult mystery novel under the pseudonym of Eric Hamilton. He was inspired by Princess Diana, the events surrounding her death, and the love of cruising he shares with his wife Flo. Love and Death in Paris '97 by Eric Hamilton, was published in 2009. Eric Wilson/Eric Hamilton books are available on Amazon. Below, Eric Wilson with his wife Flo.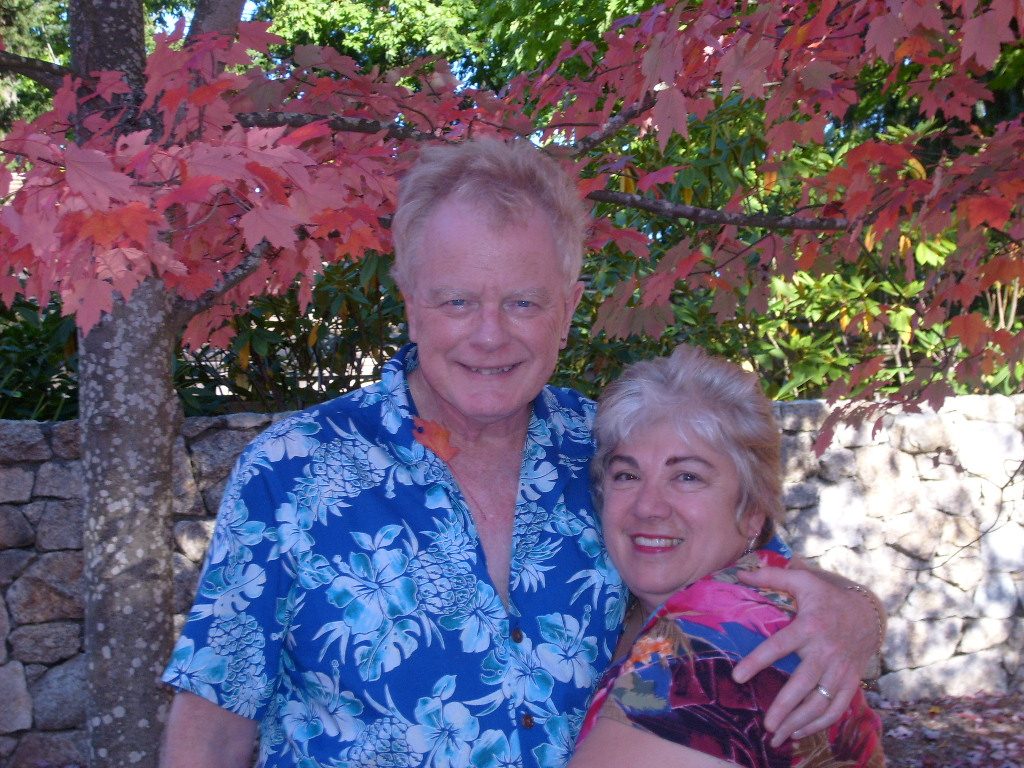 (Photo: Courtesy Eric Wilson)
Today as a septuagenarian senior citizen, Eric Wilson's books have been translated into 10 languages and sold over 2.5 million copies around the world. He's received numerous awards including the Arthur Ellis Award for Lifetime Achievement from the Crime Writers of Canada, Canadian Booksellers Association Author of the Year (1992), and was awarded the Queen's Golden Jubilee Medal (2002) for "fostering literacy and promoting a love of Canada".