Dorothy Malone Before and After Peyton Place
Update: Dorothy Malone died on January 19, 2018 at the age of 93. Farewell, Dorothy Malone.
Actress and nonagenarian senior citizen Dorothy Malone was born Dorothy Eloise Maloney on January 29, 1924 in Chicago, Illinois. Below, Dorothy Malone in her younger years circa 1940s and 1950s.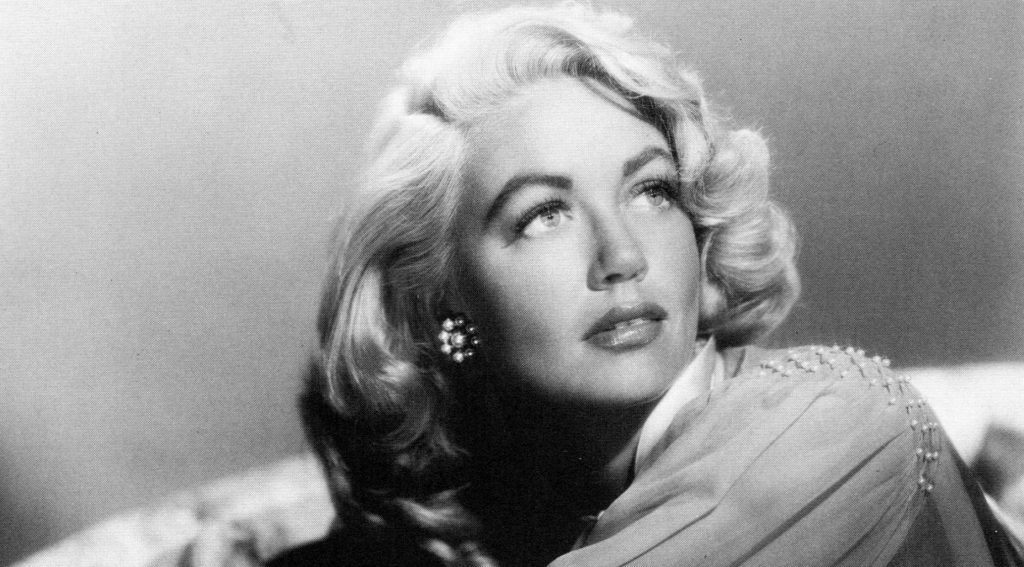 (Dorothy Malone 1950s Photo: kate gabrielle)
Femme Noir: Bad Girls of Film (1998) author Karen Burroughs Hannsberry said that Dorothy Malone's family moved to Dallas, Texas when she was an infant. Dorothy was child model for Neiman-Marcus, showed dogs, was a class president in elementary school, and acted in school plays growing up. She attended Highland Park High School in Dallas, Texas and studied languages and drama at Southern Methodist University, graduating in 1945.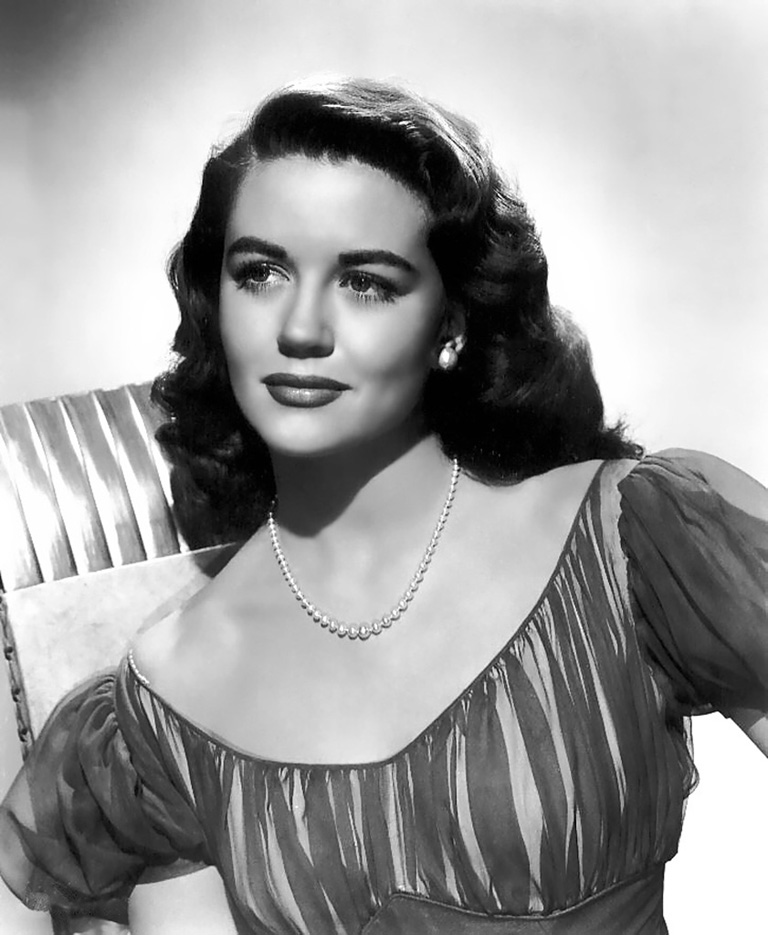 (Dorothy Malone c. 1940s Photo: Insomnia Cured Here)
Dorothy Malone told the St. Petersburg Independent that she and a boy were appearing in a play at Southern Methodist University, and a (RKO) talent scout took a picture of them. A few weeks later she got a 13 week contract from RKO in the mail with a 6-year option. Malone has said in interviews that she never got acting jobs while at RKO, but did get rid of her Texas accent and studied dancing and speech.
Between 1943-1944, Dorothy Malone had un-credited bit parts in 7 movies with RKO, including 2 non-speaking roles in early movies starring Frank Sinatra.
She was a bridesmaid in his movie Higher and Higher (1943) and a telephone operator in Step Lively (1944) starring Frank Sinatra, Gloria DeHaven, and Anne Jeffreys. Dorothy Malone told Gerald Peary that Frank Sinatra had spotted her at Romanoff's one night and called to ask her out.
Despite appearing in these early movies with Sinatra, Dorothy Malone didn't meet him until almost 10 years later, while filming Young at Heart (1954), below. The clip below from Young at Heart (1954) features Dorothy Malone as Fran Tuttle, Doris Day as Laurie Tuttle, Ethel Barrymore as Aunt Jessie Tuttle, and Frank Sinatra as Barney Sloan. Notice how the gravely ill patient lights up a cigarette while lying in the hospital bed!
Also in the cast of Young at Heart was Alan Hale Jr., who would later appear in more movies with Dorothy Malone. Dorothy Malone and Frank Sinatra finally dated; he was one of many male movie-stars that Malone was linked with during the 1950's.
Released from her RKO contract, Dorothy Malone was quickly signed by Warner Bros. Her first movie role with Warner Bros. was as a junior hostess in the star-studded musical romantic comedy Hollywood Canteen (1944). Hollywood Canteen starred Bette Davis and John Garfield, and featured a bevy of cameos by other film stars that actually volunteered in the Hollywood Canteen during World War II. Appearing as themselves in Hollywood Canteen were The Andrews Sisters, Jack Carson, Joan Crawford, Victor Francen, Alan Hale, Ida Lupino, Dennis Morgan, Janis Paige, Eleanor Parker, Zachary Scott, Alexis Smith, Barbara Stanwyck, Craig Stevens, Joan Leslie, and Jane Wyman, among others.
Malone would later appear in movies with most of her Hollywood Canteen co-stars, in either supporting or starring roles.  dorothy malone 1945, american actress, model, world war ii, pinup girl, yank magazine poster, younger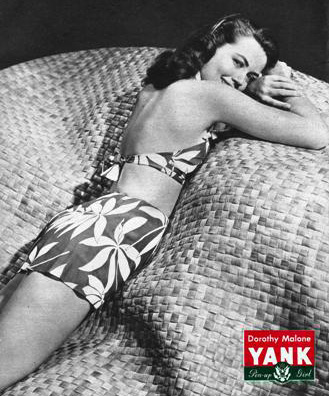 (Dorothy Malone 1945 Yank Photo: U.S. Army)
Dorothy Malone was a World War II pinup girl in the Army weekly magazine Yank. That same year, her first credited movie role was in Too Young to Know (1945). Too Young to Know starred Joan Leslie and Robert Hutton, with Craig Stevens and Richard Erdman in the cast. Robert Hutton had also appeared in Hollywood Canteen, as Cpl. Slim Green.
The following year, Joan Leslie and Robert Hutton co-starred again with Dorothy Malone in the comedy Janie Gets Married (1946). In the cast of Janie Gets Married were Edward Arnold and Richard Erdman.  
Night and Day (1946) starred Cary Grant, Eve Arden, and Hollywood Canteen co–stars Alexis Smith, Jane Wyman, Victor Francen, and Alan Hale. By the time Night and Day was released, Dorothy Malone was beginning to climb further up in the film credits. 
Dorothy Malone's performance as the "Acme Book Shop Proprietress" in director Howard Hawks's The Big Sleep (1946) starring Humphrey Bogart and Lauren Bacall, caught the attention of 1946's movie audiences. Her demure character in The Big Sleep closes the book shop to canoodle with Philip Marlowe (Humphrey Bogart). Composer Max Steiner created the movie score for The Big Sleep.
Below, a clip from The Big Sleep featuring Humphrey Bogart and Dorothy Malone.
Actor Dennis Morgan and Dorothy Malone appeared in 3 movies together after 1944's Hollywood Canteen: To the Victor (1948) starring Dennis Morgan and Viveca Lindfors, with William Conrad (Cannon) and Victor Francen (in his 3rd film with Malone); and the musical romance One Sunday Afternoon (1948). One Sunday Afternoon also had Alan Hale Jr. (Gilligan's Island) and Hollywood Canteen co-star Janis Paige in the cast. Malone had supporting roles in both To the Victor and One Sunday Afternoon, but in the movie Two Guys from Texas (1948), she graduated to a co-starring role with Dennis Morgan and Jack Carson (another Hollywood Canteen co-star). 
Dorothy Malone had been an extra in the Virginia Mayo movie Seven Days Ashore (1944). Malone later appeared in supporting actress roles in 2 1949 movies starring Virginia Mayo – the crime drama Flaxy Martin (1949) co-starring Zachary Scott, and the western Colorado Territory (1949) co-starring Joel McCrea. The western South of St. Louis (1949) had Dorothy Malone co-starring again with Joel McCrea, Alexis Smith, Zachary Scott, and Alan Hale. Zachary Scott had also been in 1944's Hollywood Canteen.
In the dramatic thriller Convicted, Dorothy Malone played the wife of D.A. George Knowland (Broderick Crawford), who becomes a prison warden and tries to help a man whom he believes was wrongfully convicted (played by Glenn Ford). Below, a short clip from Convicted featuring Dorothy Malone and Broderick Crawford.
In May 1949, columnist Erskine Johnson reported that with her Warner Bros. contract over, Dorothy Malone was going to marry her childhood sweetheart, Dr. Phillip Montgomery of Dallas, in June. Gossip rags had reported her wearing a diamond solitaire on her right hand in December 1948 and speculated that it was from Montgomery. The wedding (if there ever was one planned) with Dr. Phillip Montgomery, never came to pass.
Dorothy Malone visited her family in Dallas but returned to Hollywood and once again began appearing in movies. During the first half of the 1950's, Dorothy Malone was most frequently seen in leading lady or strong supporting roles in movies such as Saddle Legion (1951), and other westerns:
She co-starred in two westerns with leading man Randolph Scott – The Nevadan (1950) with Jeff Corey; and Tall Man Riding (1955).
The Bushwhackers (1951) with John Ireland, Lawrence Tierney, Lon Chaney Jr., (William) Bill Holmes, and Jack Elam. Malone had been an extra in the movie Youth Runs Wild (1944) with Lawrence Tierney and Dickie Moore. She co-starred again with John Ireland in the spy drama Security Risk (1954), and The Fast and the Furious (1955).
Torpedo Alley (1952) and the western movie Jack Slade (1953) both co-starred Dorothy Malone and actor Mark Stevens.
Law and Order (1953), a western romance co-starring with Ronald Reagan; Dennis Weaver (McCloud) was also in Law and Order. A couple of years later Dorothy Malone appeared on an episode of General Electric Theater titled The Clown, hosted by Ronald Reagan, starring Henry Fonda as circus clown Emmett Kelly and Dorothy Malone as Eva Balto Kelly. 
Five Guns West (1955), a western co-starring with John Lund and Mike Connors (Mannix). 
Pillars of the Sky (1956), a western co-starring Jeff Chandler, Ward Bond, Lee Marvin, and Sidney Chaplin. Sidney Chaplin and Dorothy Malone also dated.
Tension at Table Rock (1956), a western co-starring Richard Egan, with Edward Andrews, DeForest Kelley, and Angie Dickinson. Malone has said she dated actor Richard Egan.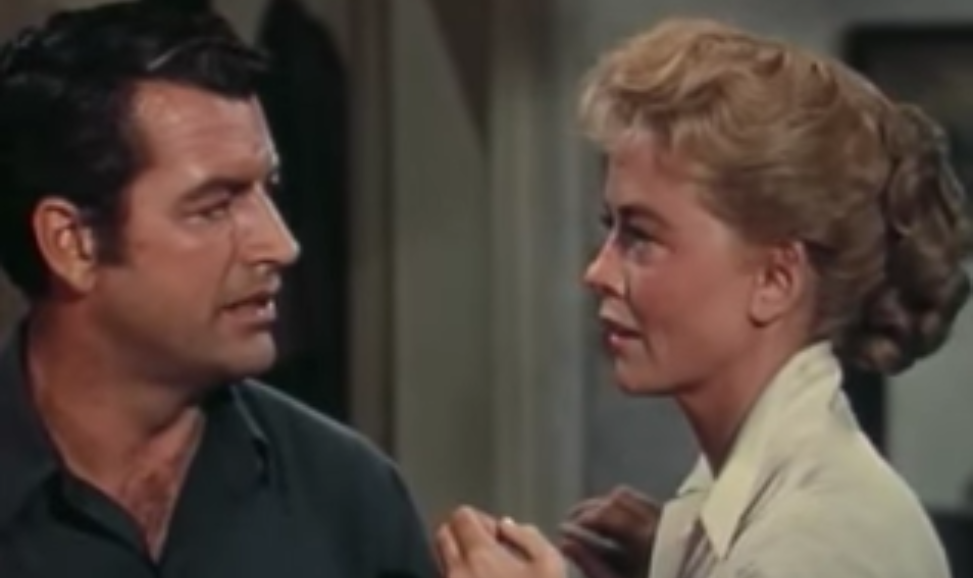 (Dorothy Malone & Richard Egan 1956 Tension at Table Rock)
From 1950 through 1952, Dorothy Malone's name was most frequently linked with handsome actor Scott Brady, younger brother to troubled actor and her former co-star Lawrence Tierney. She was rumored to be engaged to Scott Brady in 1952, but their arrangement was not exclusive – Malone was was also reported to be dating Bill Holmes, her co-star in The Bushwackers. In 1953 the gossips had her engaged to Bill Holmes; and in 1954, she was dating co-star Frank Sinatra.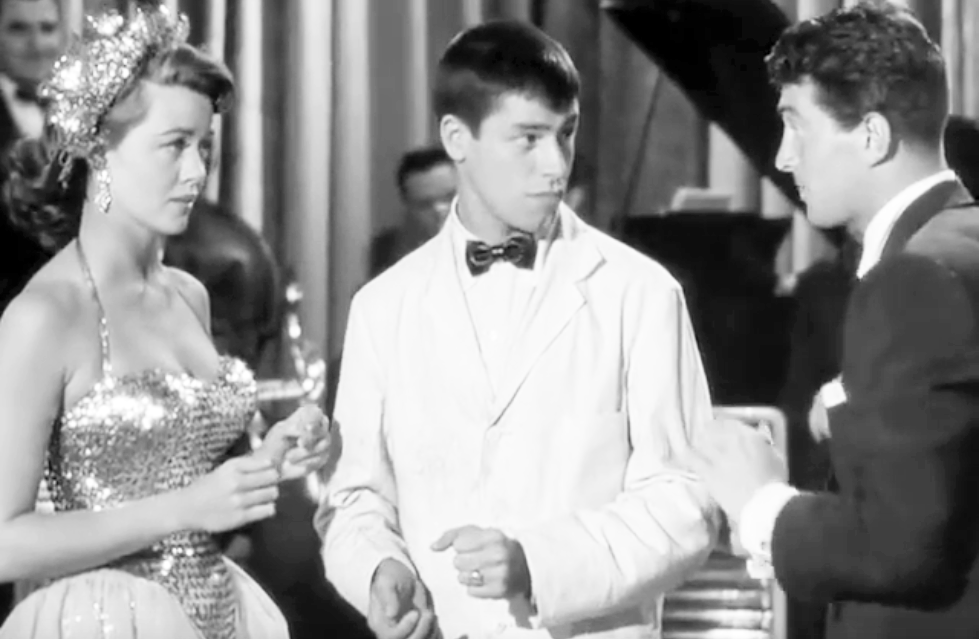 (Dorothy Malone Jerry Lewis & Dean Martin 1953 Scared Stiff Screenshot)
Dorothy Malone co-starred in two movies with Dean Martin and Jerry Lewis, beginning with the horror-comedy-musical Scared Stiff (1953) (above). Her second movie with the comedy duo of Dean Martin and Jerry Lewis was the popular comedy Artists and Models (1955), co-starring Shirley MacLaine, Eva Gabor, Anita Ekberg, and Jack Elam. Below, Dorothy Malone and Dean Martin in a scene from the trailer for Artists and Models.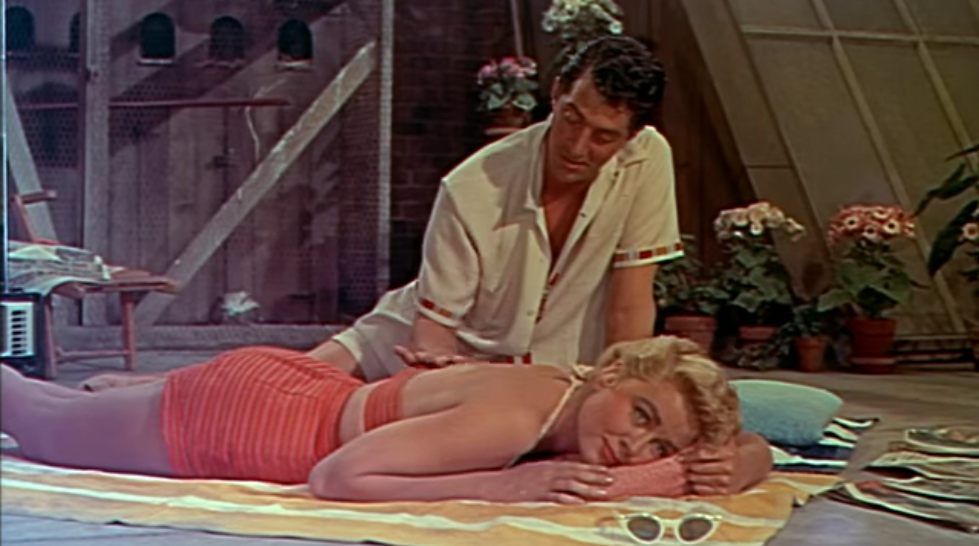 (Dean Martin & Dorothy Malone 1955 Artists and Models Trailer)
The Billboard reported in September 1954 that Dorothy Malone's younger brother Bill Maloney (nee George William Maloney) died at the age of 16 after being struck by lightning while playing golf in Dallas, Texas. 
Dorothy Malone and Fred MacMurray (My Three Sons) co-starred in three movies together. In the crime drama Pushover (1954) starring Fred MacMurray, Kim Novak, and Philip Carey, Malone had a supporting role. She also had a co-starring role in the later Fred MacMurray westerns At Gunpoint (1955) and Quantez (1957) with John Gavin and Sidney Chaplin. 
The studio publicity machines and celebrity magazines in the 1950's were going full steam…in the mid-1950s, Dorothy Malone dated actor-director Roger Corman, as well as closeted gay movie stars Tab Hunter, Rock Hudson, and even the more flamboyant Liberace (a co-star in 1955's Sincerely Yours). Through it all her name was linked periodically with actor Scott Brady.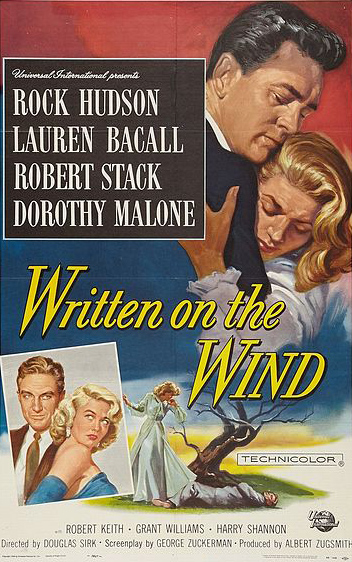 (Written on the Wind Poster: Reynold Brown)
The movie role that baby boomers and seniors may remember Dorothy Malone best from, is as a wealthy Texan alcoholic nymphomaniac in the drama Written on the Wind (1956). 
Written on the Wind was directed by Douglas Sirk and starred Rock Hudson, Lauren Bacall, and Robert Stack, with Edward Platt (Get Smart) also in the cast. 
By this time, Malone had dyed her hair blonde and left the "good girl" image behind. She told the St. Petersburg Independent that Written on the Wind was her favorite film; she enjoyed the producer, the director and the clothes. 
Dorothy Malone won the Best Supporting Actress Academy Award in 1957 for her performance in Written on the Wind. Below, a clip from the 1957 Academy Awards ceremony with Jerry Lewis, Jack Lemmon, and Dorothy Malone. Malone dedicated her Academy Award Oscar for Written on the Wind to her younger brother Bill. 
Dorothy Malone would reunite with director Douglas Sirk and co-stars Rock Hudson and Robert Stack in The Tarnished Angels (1957). Joining them in The Tarnished Angels were former co-star Jack Carson (a co-star from Hollywood Canteen & Two Guys from Texas), as well as Troy Donahue and William Schallert. Dorothy Malone told Gerald Peary that although Tarnished Angels won some critical acclaim, she wasn't happy while filming it; a stunt pilot was killed, and after working days on the set of Tip on a Dead Jockey (1957), she'd work nights on Tarnished Angels. Her co-stars in Tip on a Dead Jockey (1957) were Robert Taylor, Jack Lord (Hawaii Five-O), and Hayden Rorke (I Dream of Jeannie).
Dorothy Malone's final movie with Rock Hudson was the western The Last Sunset (1961) co-starring Kirk Douglas, Joseph Cotten, Carol Lynley, and Jack Elam. Malone worked again with Robert Stack in the ocean liner thriller The Last Voyage (1960), co-starring George Sanders and Edmond O'Brien. Below, Kirk Douglas, Rock Hudson, Dorothy Malone, Carol Lynley, and Joseph Cotton are featured in the movie trailer for The Last Sunset.
Notable movies for Dorothy Malone in the latter half of the 1950's included:
Man of a Thousand Faces (1957), a biography of silent movie star Lon Chaney & his wife. In Man of a Thousand Faces Dorothy Malone co-starred with James Cagney; supporting actors included Jim Backus, Jack Albertson, and Roger Smith.
Too Much, Too Soon (1958), a biography of John Barrymore. Dorothy Malone co-starred with Errol Flynn as Diana and John Barrymore in Too Much, Too Soon. Actor Efrem Zimbalist Jr. (The F.B.I.), Murray Hamilton, and Martin Milner were also in the movie. Malone said that filming Too Much, Too Soon was not a good experience for her; the script was rewritten to include Errol Flynn in a starring role near the end of his career; the movie was in the hands of inexperienced directors, and Errol Flynn wasn't easy to work with.  "It all got to be a mess". Too Much, Too Soon was a critical flop and didn't help her career.
Warlock (1959), a western romance co-starring Richard Widmark, Henry Fonda, and Anthony Quinn; also in the cast of Warlock were DeForest Kelley. Dorothy Malone had worked before with both Henry Fonda in a General Electric Theater episode, and with DeForest Kelley in 1956's Tension at Table Rock. Below, Anthony Quinn and Dorothy Malone in a scene from Warlock.
Newspapers reported that Dorothy Malone began to be seen around town with French actor Jacques Bergerac (divorced from Ginger Rogers since 1957) in March 1958. She attended the premiere of his film Gigi at the Paramount Theatre in July, and they were reported to be vacationing together in Panama that fall. In June 1959 Dorothy Malone and Jacques Bergerac married at a Roman Catholic church in Hong Kong, where she was on location filming The Last Voyage.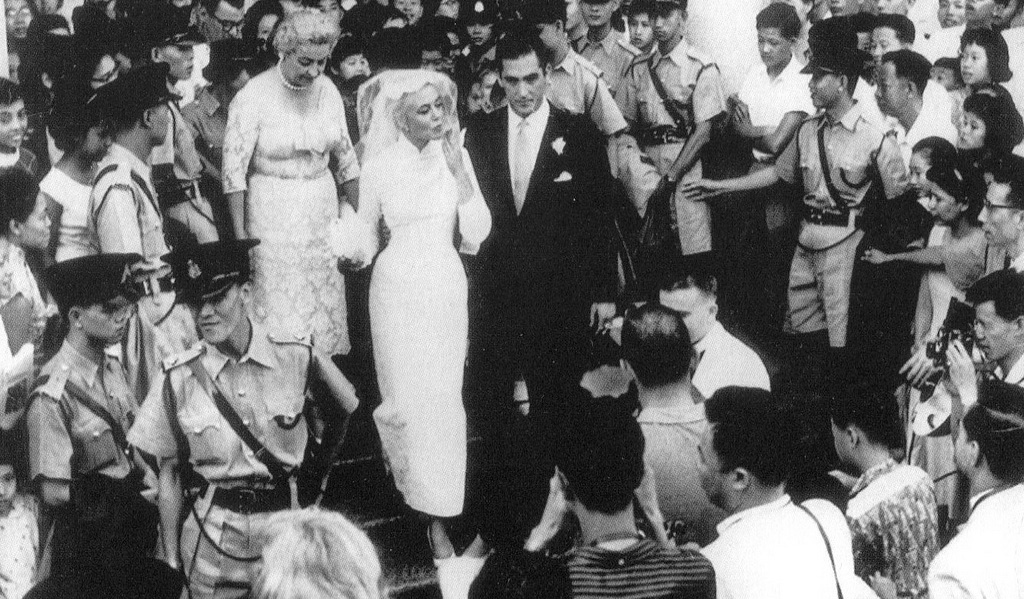 (Photo: kate gabrielle | Flickr)
The newlyweds appeared on stage together in the play Once More, With Feeling in Chicago in July 1959. Dorothy Malone and Jacques Bergerac's daughter Mimi Bergerac was born in April 1960, followed by daughter Diane Bergerac in February 1962. In December 1962 columnist Hedda Hopper quoted Dorothy Malone as saying that although they weren't separated, husband Jacques Bergerac had been Europe for nine months, and Malone was shopping for a smaller house because she had a husband "in name only."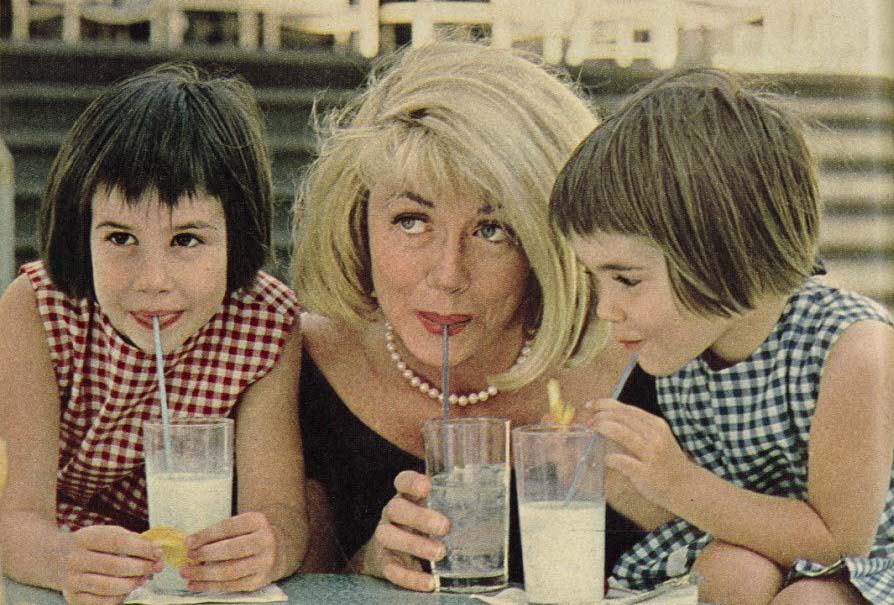 Dorothy Malone with daughters Mimi and Diane Bergerac in 1966. (Photo: Photoplay)
Early 1960's episodic television work for Dorothy Malone included guest-starring appearances in popular baby boomer TV series such as:
Route 66 in 1961 as Christina Summers, a two-part episode co-starring with regulars Martin Milner and George Maharis. 
Dr. Kildare starring Richard Chamberlain, with Joseph Cotten; she also co-starred with Joseph Cotton in the movie The Last Sunset (1961).
The Untouchables co-starring with her 3-time movie co-star Robert Stack, Joseph Campanella, and Dorothy Malone's former boyfriend/fiancee Scott Brady. 
Dorothy Malone co-starred in the musical rom-com Beach Party (1963) with Robert Cummings, Frankie Avalon, Annette Funicello, Morey Amsterdam (The Dick Van Dyke Show), Meredith MacRae, Michael Nader, and Vincent Price. While she was filming Beach Party, Dorothy Malone's husband Jacques Bergerac returned from France, but all was not well in their marriage. 
UPI reported that Dorothy Malone filed for divorce on May 2 1963 and Bergerac counter-filed the next day. Bitter custody battles ensued during and after their divorce proceedings. In December 1964 their divorce was finalized with Malone winning custody of their two daughters. Femme Noir: Bad Girls of Film (1998) author Karen Burroughs Hannsberry said Malone knew of Bergerac's reputation as a ladies man before their marriage, and quoted her as saying
 "He went back to the old freedom-loving ways. After knowing so many winners, I picked a loser." 
By 1963, having taken time off to have children and go through a tumultuous marriage and divorce, Dorothy Malone's career was fading. She had an uncredited role as Lisa Bond in the thriller Fate is the Hunter (1964). Fate is the Hunter starred Glenn Ford, Nancy Kwan, Rod Taylor, Suzanne Pleshette, Jane Russell, Wally Cox, Nehemiah Persoff, Mark Stevens, and Constance Towers. She'd had a supporting role in a previous movie starring Glenn Ford, the crime drama Convicted (1950), and had co-starred with Mark Stevens in 1952's Torpedo Alley and Jack Slade in 1953.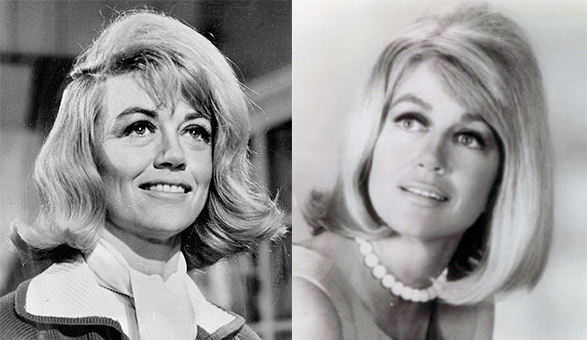 (Dorothy Malone 1960s Peyton Place Photos: ABC Television | Wikimedia PD)
From 1964-1968 Dorothy Malone starred as Constance MacKenzie Carson on Peyton Place, the ground-breaking night-time soap opera.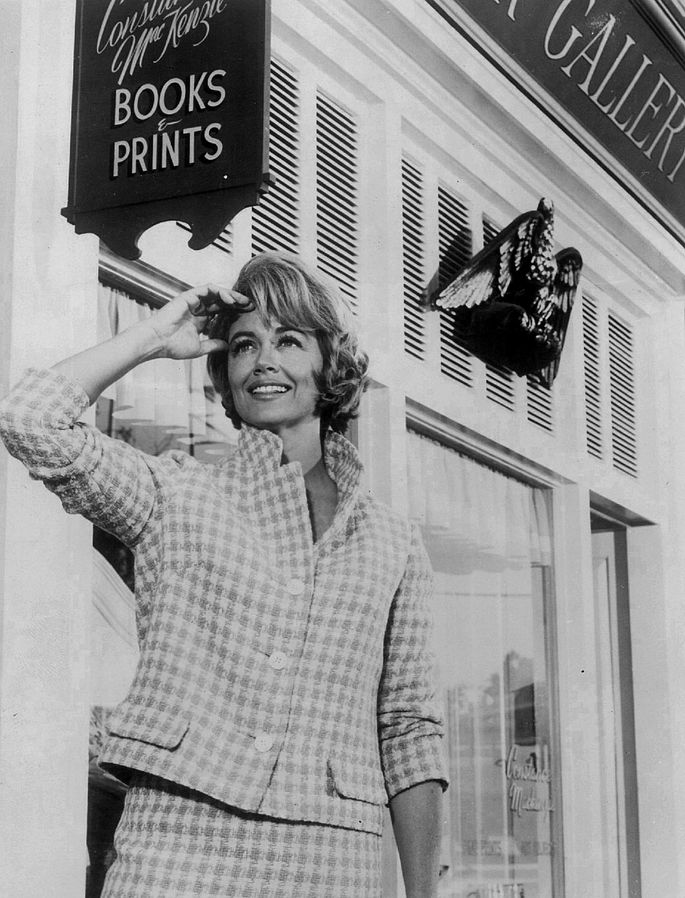 (Dorothy Malone 1964 Peyton Place Photo: ABC Television)
On Peyton Place she worked with a mix of veteran actors and those new to film, including Ed Nelson, Mia Farrow (her on-screen daughter), Ryan O'Neal, Barbara Parkins, Christopher Connelly, Tim O'Connor, Mariette Hartley, Lee Grant, Leslie Nielsen, Barbara Rush, Joan Blackman, Gena Rowlands, and many other faces that would be familiar to baby boomer and senior audiences today.
Dorothy Malone and Ed Nelson had previously appeared in the same episode of Checkmate, starring Doug McClure, Sebastian Cabot, and Ed Nelson.
The series began airing in black and white, but by the time it ended episodes were filmed in color.
She told Gerald Peary that she was so impressed with the writing on the first three Peyton Place scripts that she agreed to play Constance MacKenzie for $3,000 a week less than ABC's offer of $10,000 a week – providing she could be home by 6 p.m. for dinner with her two daughters, and have weekends off.
Below, part of a Peyton Place episode featuring Dorothy Malone, with Ed Nelson as Mike Rossi.
In 2009, octogenarian senior citizen Dorothy Malone and her grown-up daughter Mimi Vanderstraaten recalled for the Los Angeles Times, the 7+ hours-long life-saving emergency surgery Malone had in September 1965. More than 30 blood clots were found in her lungs, and she told the St. Petersburg Independent that she almost died during the surgery – her heart stopped beating several times.
During her several-months absence from Peyton Place to recover the blood clots and surgery, actress Lola Albright temporarily replaced Dorothy Malone as Constance MacKenzie Carson on the series. Lola Albright and Malone had previously co-starred in supporting roles in the 1950 thriller The Killer That Stalked New York (1950). Dorothy Malone returned to Peyton Place early in 1966 and to her dismay, found her storyline gradually diminishing over the next few years. In June 1968 she was written out of Peyton Place and filed a $1.6 million breach of contract suit, which ended with an out-of-court settlement and secrecy requirement (much like her divorce from Jacques Bergerac).
While starring on Peyton Place, Dorothy Malone had once again been linked in the press to her former beaus Scott Brady and Bill Holmes, as well as her manger John Ryan. After having romanced movie stars Dorothy Malone and Gwen Verdon, Scott Brady finally married non-actress Mary Tirony in 1967; they had 2 children and remained married until his death at the age of 60 in April 1985 from pulmonary fibrosis.
Disputes over raising their children continued between Dorothy Malone and her ex-husband Jacques Bergerac. Disappointed over her series run ending in 1968 and feeling alone in California, Malone won a court battle for the right to move back to her hometown of Dallas, Texas with her young daughters, with the intention of leaving acting. 
While committed on Peyton Place, her other film and television work had become minimal. Dorothy Malone did appear in the Italian thriller Carnal Circuit (1969) (original title Femmine insaziabili), co-starring with Luciana Paluzzi and John Ireland. Carnal Circuit was a return to acting for Malone after having moved to Dallas, and her fourth movie with John Ireland (after 1951's The Bushwhackers, 1954's Security Risk, and 1955's The Fast and the Furious).
Dorothy Malone met divorced New York businessman Robert Tomarkin on the set of The Pigeon, a TV thriller co-starring Sammy Davis Jr., Ricardo Montalban (Fantasy Island), and Pat Boone. Robert Tomarkin and Dorothy Malone got married in Las Vegas in April 1969, but only a few weeks later she filed for an annulment and the marriage was over. Malone claimed that Tomarkin tried to cheat her out of her savings. In June 1974, The New York Times reported that independent securities trader Robert Tomarkin had pled guilty to a stock swindle involving the Franklin National Bank.
Divorced Dallas motel chain executive Charles Bell and Dorothy Malone got married in October 1971. Guests at their wedding included former beaus Frank Sinatra and Scott Brady, as well as Jim Nabors (whom she had "dated") and Peyton Place co-star Ed Nelson. Malone has been quoted as saying of Charles Bell that "He didn't marry me for love but for what I could do for him.". Dorothy Malone and Charles Bell divorced in August 1974 after 3 years of marriage.
Meanwhile, Malone's ex-husband Jacques Bergerac had retired from acting himself in 1969, and returned to live in his home country of France. He and his brother Michael Bergerac were executives with Revlon in the mid-1970's. Several newspapers reported Jacques Bergerac marrying Edith Brennan in Paris in July 1975. Bergerac was an 87-year-old octogenarian when he died in June 2014.
During the 1970's and her 50+ years, Dorothy Malone continued to find work on television and in the movies; this picked up after her divorce from Charles Bell.
Her episodic TV show appearances in the 70's included guest-starring on popular baby boomer series like Ironside, as well as:
The Bold Ones: The New Doctors, with regulars David Hartman and Robert Walden, with Michael Lerner. 
Ellery Queen starring Jim Hutton and David Wayne, in an episode with David Hedison, Bobby Sherman, and Tom Reese.
A special two-hour episode of Police Woman starring Angie Dickinson and Earl Holliman, with Brooke Bundy, Joan Collins, and Jerry Douglas. Angie Dickinson and Dorothy Malone had both been in the western Tension at Table Rock; and Jerry Douglas and Dorothy Malone had guest-starred before on the same episode of Arrest and Trial in 1965, and did so again in an episode of The Streets of San Francisco (1976) starring Karl Malden and Richard Hatch. 
The Hardy Boys/Nancy Drew Mysteries starring Shaun Cassidy and Parker Stevenson. Dorothy Malone played Mrs. Blaine and fellow guest-star Melanie Griffith played Stacey Blain.
Flying High starring Connie Sellecca, with Bill Daily (The Bob Newhart Show), Ty Hardin, and Cameron Mitchell.
Matt Houston starring Lee Horsley, Pamela Hensley, and John Aprea, with Lloyd Bochner, Michelle Phillips, George Wyner, and Lori Loughlin.
The blockbuster TV mini-series Rich Man, Poor Man (1976) starred Peter Strauss, Nick Nolte, Susan Blakely, Edward Asner and Dorothy McGuire. Dorothy Malone and Van Johnson played Irene & Marsh Goodwin in Rich Man, Poor Man. Their fellow supporting cast members included Murray Hamilton, Robert Reed (The Brady Bunch), and Gordon Jump (WKRP in Cincinnati). Malone has said she had been a Van Johnson fan and was happy to work with him in Rich Man, Poor Man.
Movies for Dorothy Malone during her 50's were a mix of made-for-television and feature films. Her baby boomer and senior citizen fans may recall seeing her in these 1970's movies:
Good Luck, Miss Wyckoff (1979), a drama starring Anne Heywood, Donald Pleasence, Robert Vaughn, Earl Holliman, Carolyn Jones, and Doris Roberts, with Dana Elcar. Robert Vaughn and Dorothy Malone had worked together almost 20 years earlier, in an episode of Alcoa Theatre in 1960. 
Little Ladies of the Night (1977), a TV drama starring David Soul, Louis Gossett Jr., Linda Purl, Carolyn Jones, Paul Burke, Lana Wood, Kathleen Quinlan, and Katherine Helmond. 
The November Plan (1977), a TV thriller starring Wayne Rogers, with Diane Ladd, Meredith Baxter (Family Ties), Clifton James, Steve Kanaly (Dallas), and Martin Kove (Cagney & Lacey). 
Winter Kills (1979), a thriller starring Jeff Bridges, and veteran (and long gone) actors John Huston, Anthony Perkins, Eli Wallach, Orson Welles, and Sterling Hayden. Dorothy Malone told Gerald Peary that she had fun playing a mentally ill woman in Winter Kills.
High Hopes (1978) starring Canadian actress Jayne Eastwood, was a half-hour daytime drama filled in Toronto Ontario. Dorothy Malone and Nehemiah Persoff played Dr. and Mrs. Aaron Herzog. Their High Hopes cast members included Gordon Thomson (Dynasty), and Geraint Wyn Davies. Nehemiah Persoff and Dorothy Malone had been co-stars before, in the 1964 movie Fate is the Hunter, and they were co-stars again as the 1980's came to a close, in the 2-part mini-series Condominium (1980). Condominium starred Barbara Eden, and Dorothy Malone appeared as Molly Denniver. Her fellow supporting cast members in Condominium included familiar faces Ana Alicia, Richard Anderson, Elinor Donahue, Arte Johnson, Stuart Whitman, and Gary Grubbs.
Katie: Portrait of a Centerfold (1978), a TV drama starring Kim Basinger, Fabian, Tab Hunter, Don Johnson, Don Stroud, and Glynn Turman. Tab Hunter and Dorothy Malone had worked together in the movie Battle Cry in 1955, over 20 years earlier; and had dated back then, when Hunter was keeping up appearances. Below, a look back at the movie trailer for Battle Cry featuring Dorothy Malone, Tab Hunter, Van Heflin, James Whitmore, and Aldo Ray.
A 55+ Dorothy Malone appeared in a few productions of the play Butterflies Are Free in Winnipeg and Florida. She told People magazine in 1981 that after her two expensive divorces and a post-Peyton Place career slump, she was living in her parent's home in Dallas and hoping for a comeback. Her daughters Mimi and Diane Bergerac graduated from Highland Park High School in Dallas, Texas, the same school Malone attended. 
Although only in her 60+ years during the early 1980's, Dorothy Malone's on-screen appearances were very minimal. Rare glimpses of her could be seen in:
Off Your Rocker (1982), a TV comedy movie co-starring Milton Berle, Red Buttons, Helen Shaver, Michael Ironside, and Rosemary Dunsmore.
The Being (1983), a sci-fi big-screen movie starring Martin Landau and José Ferrer, with Ruth Buzzi (Rowan & Martin's Laugh-In). 
He's Not Your Son (1984), a TV drama starring Donna Mills & Ken Howard, with John James. Dorothy Malone had a supporting role in He's Not Your Son as Dr. Sullivan.
Dorothy Malone and several of the original cast members, including Ed Nelson and Tim O'Connor, returned to Peyton Place as their original (aged) characters, for two TV movies:
Murder in Peyton Place (1977) had Janet Margolin, Marj Dusay, Devid Hedison, Stella Stevens, and Catherine Bach in the cast. 
Peyton Place: The Next Generation (1985) added original Peyton Place cast members Patricia Morrow and Barbara Parkins, and introduced Bruce Greenwood and John Beck. Although Peyton Place represented a fictional New England Town, Peyton Place: The Next Generation was filmed in Waxahachie Texas, near Dorothy Malone's home in Dallas. 
Rest in Pieces (1987), a horror movie co-starring Scott Thompson Baker would be Dorothy Malone's last movie for several years. 
After a 5 year absence from movie and TV screens, senior citizen Dorothy Malone came out of acting retirement (she had been selling real estate) to appear in the box-office thriller Basic Instinct (1992). Basic Instinct starred Michael Douglas, Sharon Stone, George Dzunda, Jeanne Tripplehorn, and Wayne Knight. In Basic Instinct Malone played Hazel Dobkins, a mother convicted of murdering her family, and a friend of Sharon Stone's character.
Dorothy Malone became a grandmother thanks to her two daughters, and never remarried. She'd kept a low profile since leaving Hollywood and hadn't been seen on screen since Basic Instinct. Below, a look at Dorothy Malone in her 1950's heyday.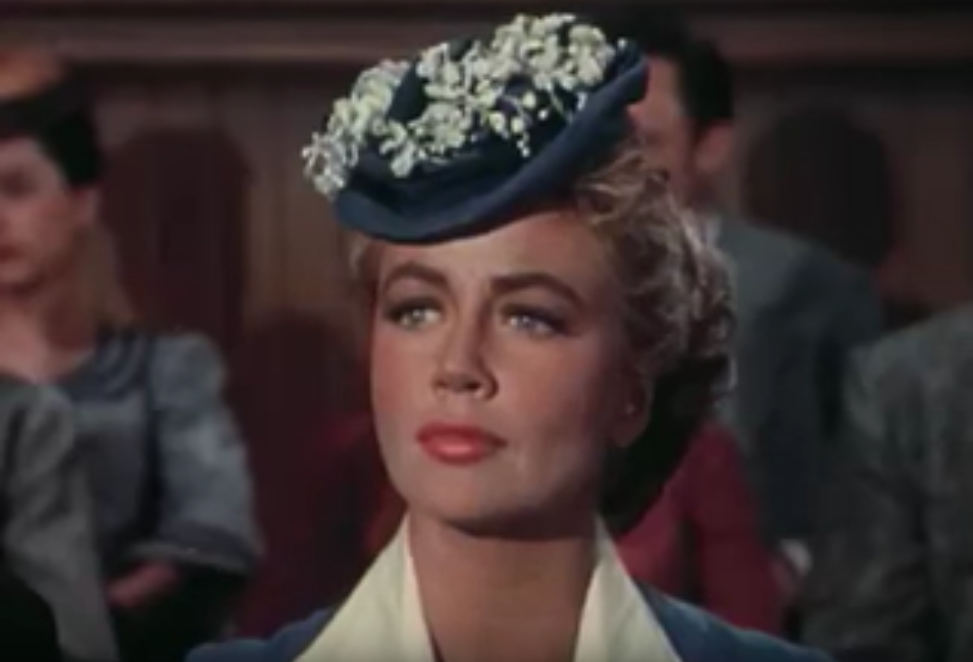 (Dorothy Malone 1956 Tension at Table Rock Trailer Screenshot)
Article updated with new & corrected content on January 29, 2018.
*Images are public domain or Creative Commons licensed & sourced via Wikimedia Commons, Vimeo, YouTube, or Flickr, unless otherwise noted*