TV Trivia: Rowan & Martin's Laugh-In
Q1. Which recurring sketch segment star's famous line on Rowan & Martin's Laugh-In was "Sock it to me"?
Q2. Name two of the regular female cast members who had their bodies painted and go-go danced in bikinis for the Mod, Mod World segments in the first (1968) season of Rowan & Martin's Laugh-In?
The sketch comedy show was titled Rowan & Martin's Laugh-In after the two comedian hosts, Dan Rowan and Dick Martin.
Laugh-In became famous for the stars that got their show-biz start on the series, such as regulars Ruth Buzzi, Judy Carne, Alan Sues, Richard Dawson, Goldie Hawn, Chelsea Brown, Arte Johnson, Lily Tomlin, Henry Gibson,  and Jo Anne Worley, to name a few.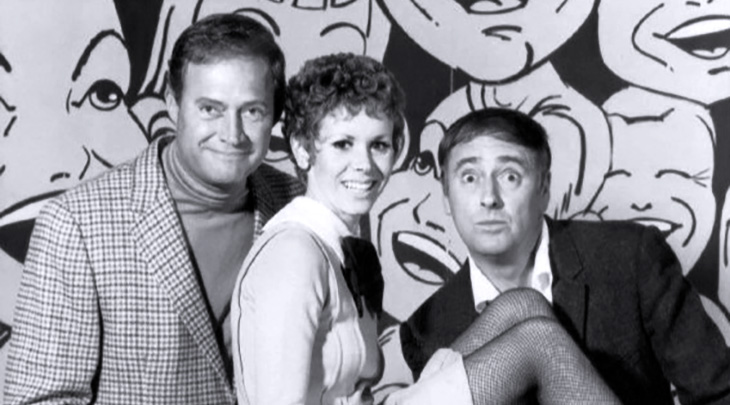 (Dan Rowan, Judy Carne & Dick Martin 1967 Rowan & Martin's Laugh-In Photo: NBC Television)
Seniors and baby boomers will recall that guest performers often included musical acts as well as recurring performer "Tiny Tim" who was often featured. Tiny Tim's falsetto rendition of Tiptoe Through the Tulips became a top 40 hit thanks to airplay Rowan & Martin's Laugh-In.
Airing from January 22, 1968 – March 12, 1973 on NBC, Rowan & Martin's Laugh-In celebrated the hippie culture of the time with psychedelically-painted backdrops, "mod" clothing, etc.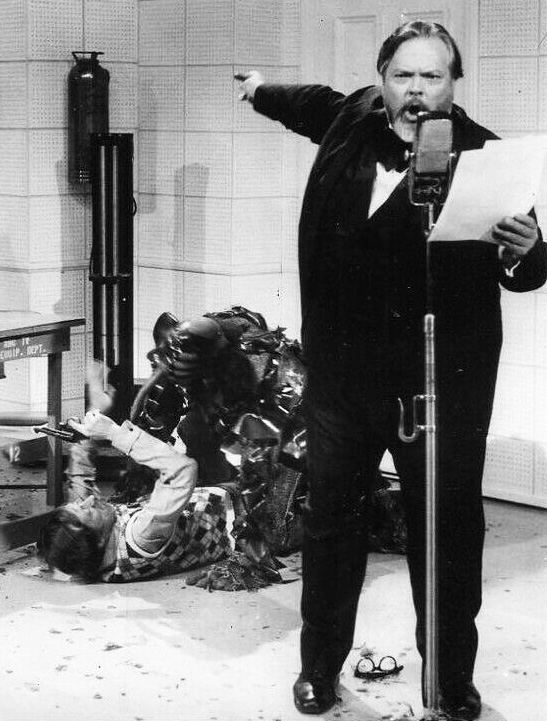 (Orson Welles 1970 Rowan & Martin's Laugh-In Photo: NBC Television Network)
A wildly diverse crop of guest-stars ranged from producer/actor/director Orson Welles, to mime Marcel Marceau, jockey Willie Shoemaker, and everything in between. 
Among the many guest-stars who appeared multiple times on Rowan & Martin's Laugh-In during the series 5-year run were :
Comedians & Talk Show Hosts – Flip Wilson, Jack Benny, Henny Youngman, Rich Little, Tim Conway, Buddy Hackett, Charles Nelson Reilly, Don Rickles, John Byner, Carl Reiner, Milton Berle, Bob Newhart, Phyllis Diller, Johnny Carson, Dinah Shore, Dick Cavett, and Steve Allen.
Singers – Engelbert Humperdinck, Bing Crosby, Robert Goulet, Nancy Sinatra, Sonny Bono, Cher, Davy Jones, Diana Ross, Sammy Davis Jr., and Johnny Cash.
Actors – John Wayne, Peter Lawford, Jill St. John, Carol Channing, Barbara Feldon, James Garner, Vincent Price, Tony Curtis, Greer Garson, Sheldon Leonard, Martin Milner, Debbie Reynolds, Ricardo Montalban, Joey Bishop, Douglas Fairbanks Jr., Peter Falk, Richard Crenna, Michael Caine, Peter Sellers, Nanette Fabray, Janet Leigh, Sandy Duncan, Robert Culp, and Sally FIeld.
(Dan Rowan, Joe Namath & Dick Martin 1971 Rowan & Martin's Laugh-In Photo: NBC Television Network)
NFL quarterback Joe Namath appeared 3 times on Laugh-In between 1971-1972, while he was with the New York Jets.
Unfortunately both Laugh-In hosts have since passed away – Dan Rowan was a new senior citizen when he died in 1987 (age 65), and Dick Martin an 86-year-old octogenarian when he died in 2008.
Regulars Ruth Buzzi, Lily Tomlin, Goldie Hawn, and Jo Anne Worley are still alive, while Judy Carne, Alan Sues, Henry Gibson, Richard Dawson, and Arte Johnson are no longer with us.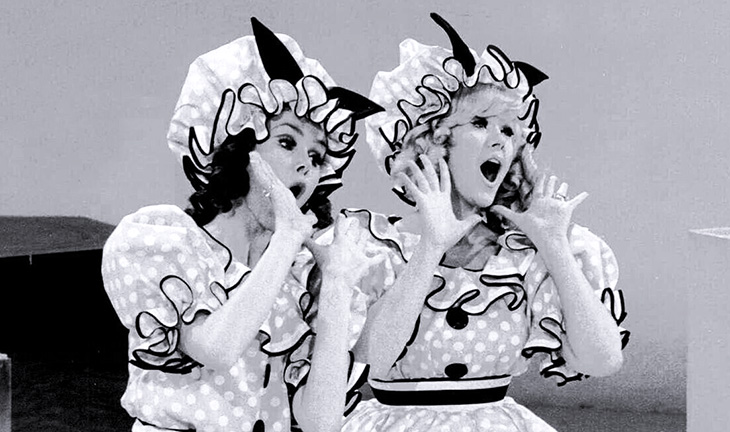 (Judy Carne with guest Connie Stevens 1969 Laugh-In Photo)
A1. Judy Carne was "tricked" into saying "sock it to me" during Laugh-In sketches, after which water was dumped on her.
A2. Goldie Hawn, Judy Carne, Chelsea Brown, Ruth Buzzi and Jo Anne Worley shared the dancing duties in the first season. In later seasons, the dancing was done by extras.
*Images are public domain or Creative Commons licensed & sourced via Wikimedia Commons, Vimeo, YouTube, or Flickr, unless otherwise noted*