The Comedy of Carl Reiner Will Live On
Author, screenwriter, producer, director, and actor Carl Reiner passed away June 29, 2020 at the age of 98. Many fans of the comedy of Carl Reiner may remember his best from his time on the 1950s comedy series Caesar's Hour.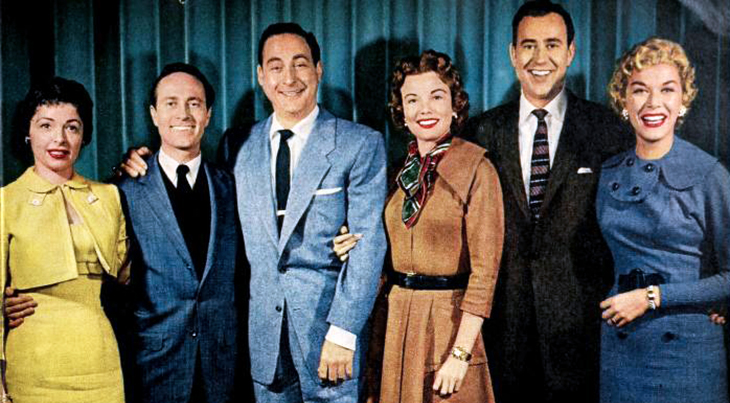 (Carl Reiner & cast of Caesar's Hour 1956 Photo: TV Radio Mirror)
From left, Ellen Parker, Howard Morris, Sid Caesar, Nanette Fabray, Carl Reiner, and Sandra Deel.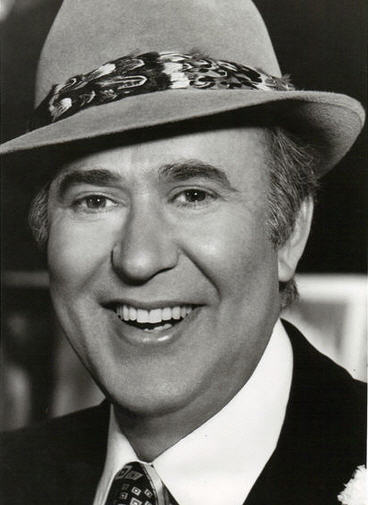 (Carl Reiner 1975 Good Heavens Photo: ABC)
Carl Reiner was born March 20, 1922 in New York City to Jewish immigrant parents. He wrote over 15 books, was in 40+ television series and more than 30 movies, and wrote, directed, and produced numerous screenplays for movies and television
Reiner was a multiple Emmy Award Winner, Grammy Award nominee, and entering both the Television and Emmy Award Hall of Fame. 
A Jazz Age baby, Carl Reiner's interest in a career in entertainment was sparked as a teenager, when his older brother Charlie told him about a drama workshop sponsored by the Works Progress Administration during the Great Depression. According to The Official Dick Van Dyke Show Book, Reiner began practicing his craft in summer stock and traveling stage productions.
While performing in the Catskills (approximately 1942), Reiner was introduced to and began dating singer and artist/scenery painter Estelle Lebost (8 years his senior). Carl Reiner was drafted into the U.S. Army when America joined World War II in 1943; he and Estelle got married on Christmas Eve in  December 1943, while Reiner was on leave.
Reiner served in the U.S. Army Entertainment Section from 1943-1946 and honed his comic improv skills. When his army service ended in 1946, Estelle and Carl Reiner moved to New York  City and he began performing in Broadway musicals and touring productions such as Call Me Mister (1947).
Son Rob Reiner (now an actor, writer, director, producer) was born in March, 1947 and was followed 2 years later by daughter Sylvia (Annie) Reiner (1949), who is today a painter, poet, and writer. When Estelle and Carl Reiner's third child, son Lucas Reiner (now a painter, actor, and director) was born 11 years later, in August 1960, their family was complete.
By the late 1940's, Reiner had also found work on early television comedy and variety shows (The Fifty-Fourth Street Revue). In 1950 Carl Reiner joined the cast of Your Show of Shows, a musical variety series starring Sid Caesar and Imogene Coca. Reiner met Your Show of Shows co-writer Mel Brooks, and began to accumulate screenwriting credits for Your Show of Shows (1950-1954) and other series during the 1950's. Carl Reiner won two Best Supporting Actor Emmy Awards (1957 & 1958) for his performances on a Your Show of Shows spin-off – Caesar's Hour (1957).
Below, a nonagenarian senior citizen Carl Reiner explains in 2015 – 65 years later – how he met his lifelong best friend Mel Brooks.
Carl Reiner's first book, about a struggling actor trying to break into show business was called Enter Laughing and was published in 1958. In the summer of that same year,  Reiner wrote 13 episodes for a new series inspired by his own life – about a comedy writer (like himself) living in the suburbs of New York on Bonnie Meadow Road in New Rochelle (the same street where Reiner and his family lived), with his family (a wife much like Reiner's wife, Estelle, and their son, Rob). The pilot, starring Carl Reiner as head writer Rob Petrie, was called Head of the Family (1960), and it flopped. 
In the meantime Reiner and best friend Mel Brooks were perfecting a comedy routine that began at parties, and evolved into a stage act known as The 2000 Year Old Man. The 2000 Year Old Man spawned a Grammy Award-winning record album. Below, Mel Brooks and Carl Reiner on stage.

Undeterred, Estelle and Carl Reiner moved to California and he began working as a writer and actor on The Dinah Shore Chevy Show (1959-1960); he also made his big-screen movie debut, acting in Happy Anniversary (1959).
Carl Reiner can be seen as Russ Lawrence, Gidget's father, in the romantic comedy Gidget Goes Hawaiian (1961) which starred James Darren, Michael Callan, and Deborah Waller. This movie clip from Gidget Goes Hawaiian features Deborah Waller, Michael Callan, Carl Reiner, and Jeff Donnell as Gidget's parents Russ and Dorothy Lawrence.
Not content with these efforts, Carl Reiner also wrote the script for a future movie called The Thrill of It All, sketches for a Debbie Reynolds TV special in 1960, and recorded his first comedy album with his long-time friend Mel Brooks, 2000 Year Old Man.
In early 1960, retired tough-guy actor-turned-director and producer Sheldon Leonard, met with Carl Reiner to talk about his failed Head of the Family pilot. Leonard persuaded Reiner to take a producer-writer role instead of a starring role, on a new series based on Reiner's original 13 scripts for the show. Sheldon Leonard cast all-new main characters Dick Van Dyke as Rob Petrie, Mary Tyler Moore as his wife Laura, Rose Marie as Sally Rogers, Morey Amsterdam as Buddy Sorrell, and Carl Reiner as Rob's boss, Alan Brady, in The Dick Van Dyke Show (1961-1966).
The Dick Van Dyke Show show was a smash success which has endured for years and spawned sequels and spin-offs, not to mention countless re-runs. Reiner won another 5 Emmy Awards, for his producing and writing contributions to The Dick Van Dyke Show – Outstanding Writing Achievement in Comedy (1962, 1963, and 1964), Outstanding Program Achievements in Entertainment (1965), and Outstanding Comedy Series (1966). Below, Carl Reiner on The Dick Van Dyke Show in 1962.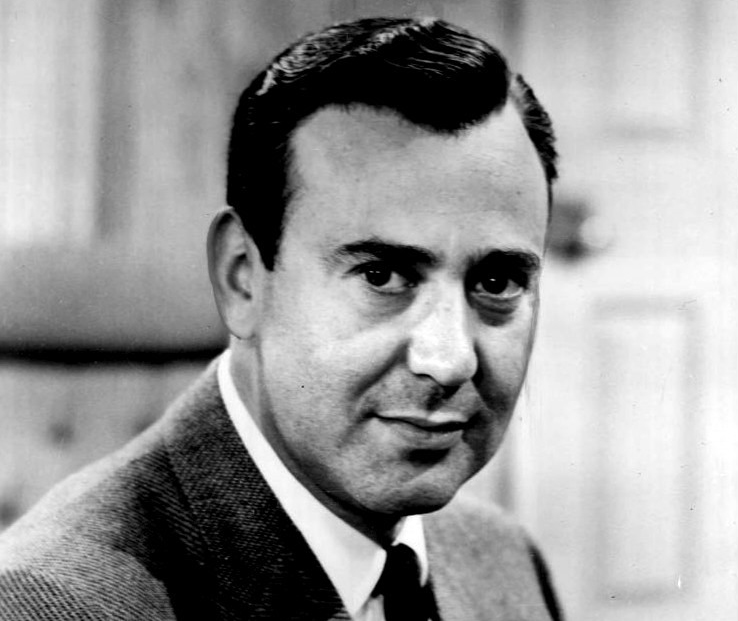 (Carl Reiner 1962 Photo: Rogers & Cowan, PR)
During the The Dick Van Dyke Show run, Carl Reiner found time to continue acting in the movies – It's a Mad, Mad, Mad, Mad World (1963) and The Thrill of it All (1963) starring Doris Day, which was the script he'd written back in 1959. In The Art of Love (1965), which he also wrote the screenplay for, Carl Reiner's co-stars were James Garner, Dick Van Dyke, Elke Sommer, and Angie Dickinson.
Carl Reiner, Eva Marie Saint, John Phillip Law, Alan Arkin, Brian Keith, Jonathan Winters, Theodore Bikel, John Phillip Law, and child actor Sheldon Collins were co-stars in the comedy The Russians Are Coming! The Russians Are Coming! (1966).  Quirky character actor Michael J. Pollard has an uncredited role, as a mechanic. This clip from The Russians Are Coming, The Russians Are Coming (1969) features Carl Reiner and Alan Arkin.
Throughout the 1960's Reiner continued to accumulate acting, writing, and producing credits on television and in the movies. He had an especially busy year in 1967, when he began directed 4 episodes of the series Good Morning, World (1967); directed the movie based on his first novel Enter Laughing; and won another Emmy, for Outstanding Writing Achievement in Variety for The Sid Caesar, Imogene Coca, Carl Reiner and Howard Morris Special.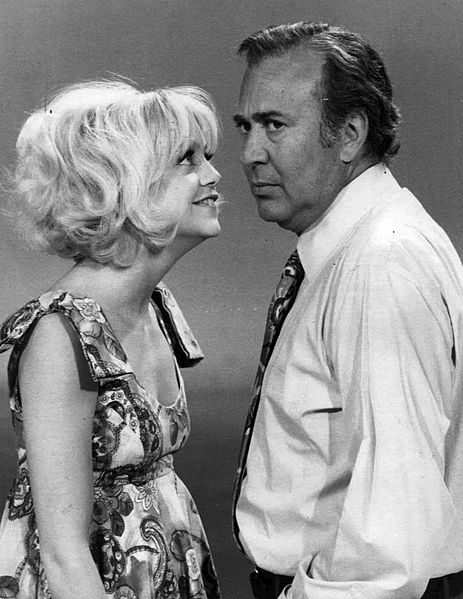 (Goldie Hawn and Carl Reiner 1970 Rowan & Martin's Laugh-In Photo: NBC Television)
In the 1970's and his 50+ years, Carl Reiner kept up his busy pace on and off-screen, on television and in the movies.
His television credits during this time included:
Writing and occasional acting on The New Dick Van Dyke Show (1971-1974)
Executive producing, directing, and starring in the series Good Heavens (1976)
Writing and directing the made-for-television movie Flannery and Quilt (1976).
He directed and acted in both Oh God! (1977) and The Jerk (1979), which was written by and starred Steve Martin – the beginning of a successful working relationship for Steve Martin and Carl Reiner.
Carl Reiner worked on two more Steve Martin-starring movies, co-writing the screenplay and directing The Man With Two Brains (1983), and directing Martin in All Of Me (1984). Reiner's wife Estelle also had a small part in The Man With Two Brains.
Reiner continued to work steadily on and off-screen during the 1980's, 1990's, 2000's and 2010's. In his 70s, Carl Reiner could be seen on the big screen in movies like the spoof Fatal Instinct (1993) and the comedy caper Oceans Eleven (2001).
This clip from Oceans Eleven features Carl Reiner, Andy Garcia, Don Cheadle, Bernie Mac, Julia Roberts in Ocean's Eleven.
On television he shone in guest-starring roles on Mad About You (1995), and won his fourth Emmy Award, as Outstanding Guest Actor in a Comedy Series, for his appearance on Mad About You.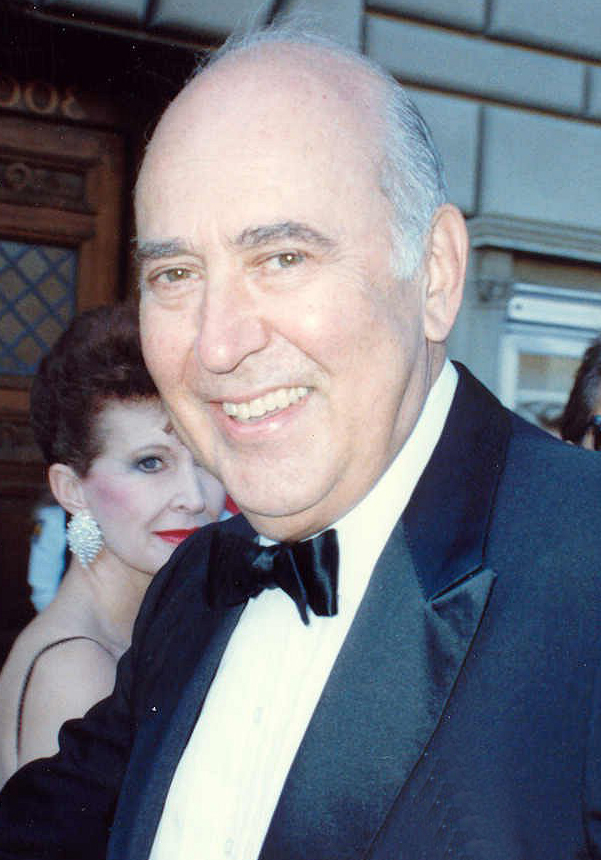 (Carl Reiner 1989 Photo: Alan Light)
Carl Reiner continued writing for the movies and television shows like The Dick Van Dyke Show Revisited (2004), in his 80s. He reprised his Saul Bloom character in the movie Ocean's Twelve (2004), and was a popular guest star on series like Ally McBeal (2002), Boston Legal (2005), Two and a Half Men (2009-2014) and many other shows.
As his career in the movies stared winding down, Carl Reiner's output as an author of humorous tidbits and other stories picked up; he wrote and published 5 books during his octogenarian senior years, between 2002-2010. In what is one of the longest Hollywood marriages on record, Estelle and Carl Reiner celebrated their 64th wedding anniversary in 2007. Estelle passed the following year in October 2008, at the age of 94.
In his 90s, Reiner appeared in a recurring role as Max in Hot in Cleveland (2010-2014), and on the big screen in the movie Dumbbells (2014), as well as doing multiple voice-only roles for animated series.
Ever the prolific writer, Reiner has written and published 5 more books so far in his nineties, including the opus Why & When The Dick Van Dyke Show Was Born (2015), and What I Forgot to Remember (2016). Below, Carl Reiner talked about his lifetime journey in writing.
Grandfather and father Reiner still lives in the Beverly Hills, California home he shared for many years with Estelle, and now has his 3 grown children, 6 grand children, and 5 great grand-children to tell his stories to.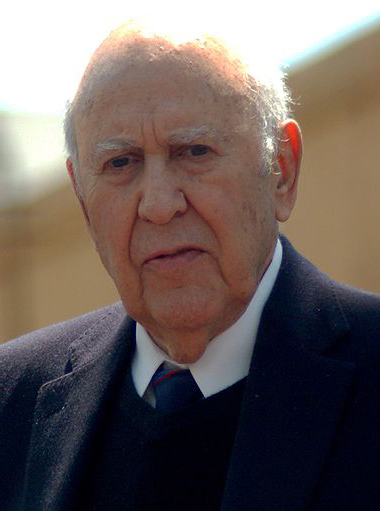 (Carl Reiner 2010 Photo: Angela George)
Some 2016 tweets from Carl Reiner on  on Twitter.
"I awoke this morning and mumbled, "CARL,FOR A PLEASANT DAY, KEEP ALL THINGS OUT OF YOUR PURVIEW,THAT MAY UNNERVE YOU." (so far it's working)"
"All I kept thinking while watching the Grammy Awards is that there was not one song that Frank Sinatra could or would sing."
"Have decided to release 3 unpublished books I have written. As I approach 94 I'd hate for my literary efforts to be released posthumously."
RIP, Carl. You will be missed.
Note: This article was first published in 2016 with the title Celebrating Seniors – Carl Reiner is 94. It has been updated with new & additional content.
*Images are believed to be in the public domain and/or Creative Commons licensed & sourced via Wikimedia Commons or Flickr, unless otherwise noted*